Adorable DIY: how to make Mickey and Minnie Mouse bookmarks
If you have Disney lovers at home, these adorable Mickey and Minnie Mouse bookmarks will make everybody want to grab a book. This step by step DIY will allow you to make this craft for your kids or have them join you for a fun and magical family activity.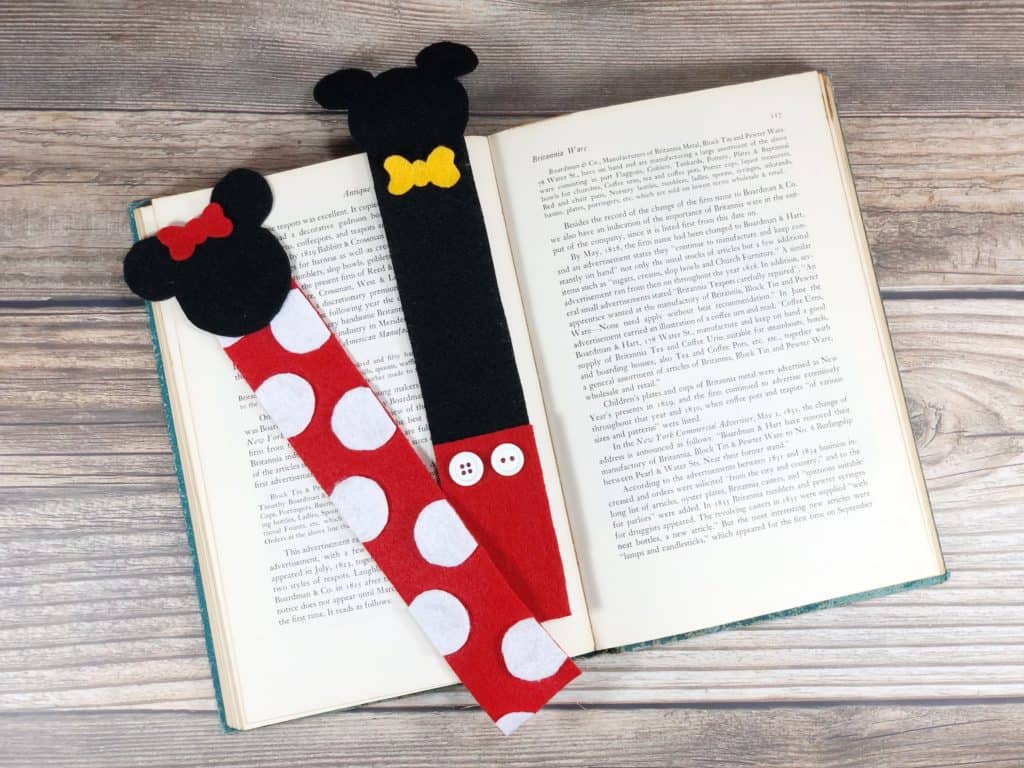 Follow the step by step directions below to create Mickey and Minnie inspired felt bookmark in just about 30 minutes, with a few supplies that are budget-friendly.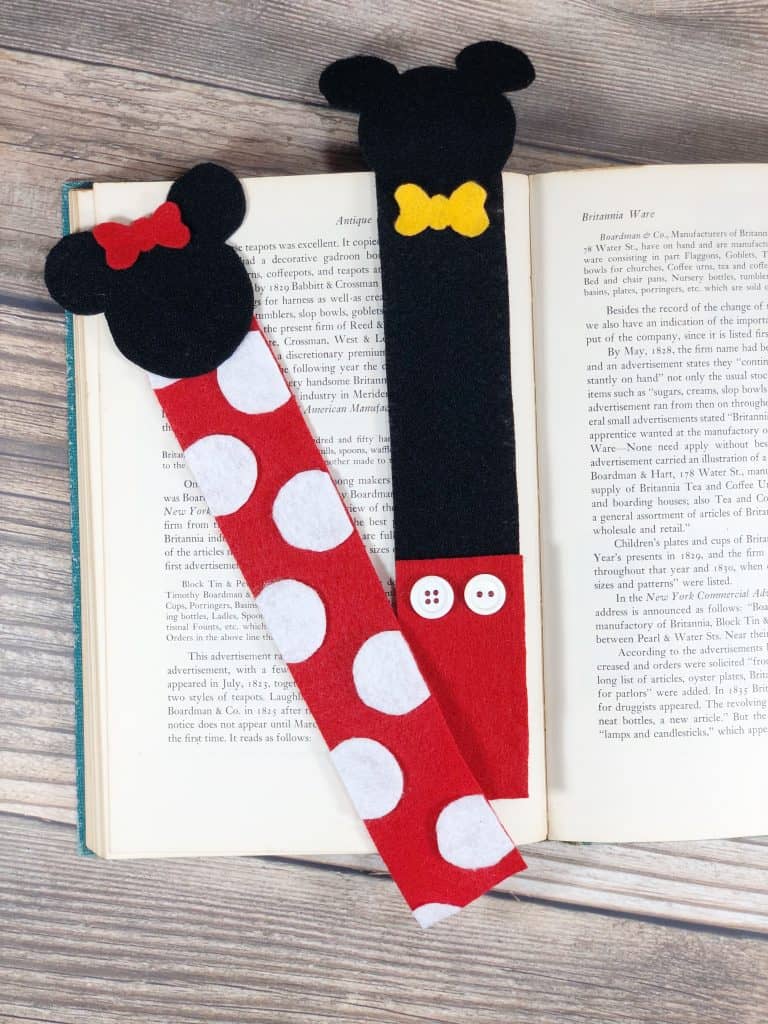 Just make sure to print the patterns before you start. It will save you so much time!
How to make Mickey Mouse and Minnie Mouse felt bookmarks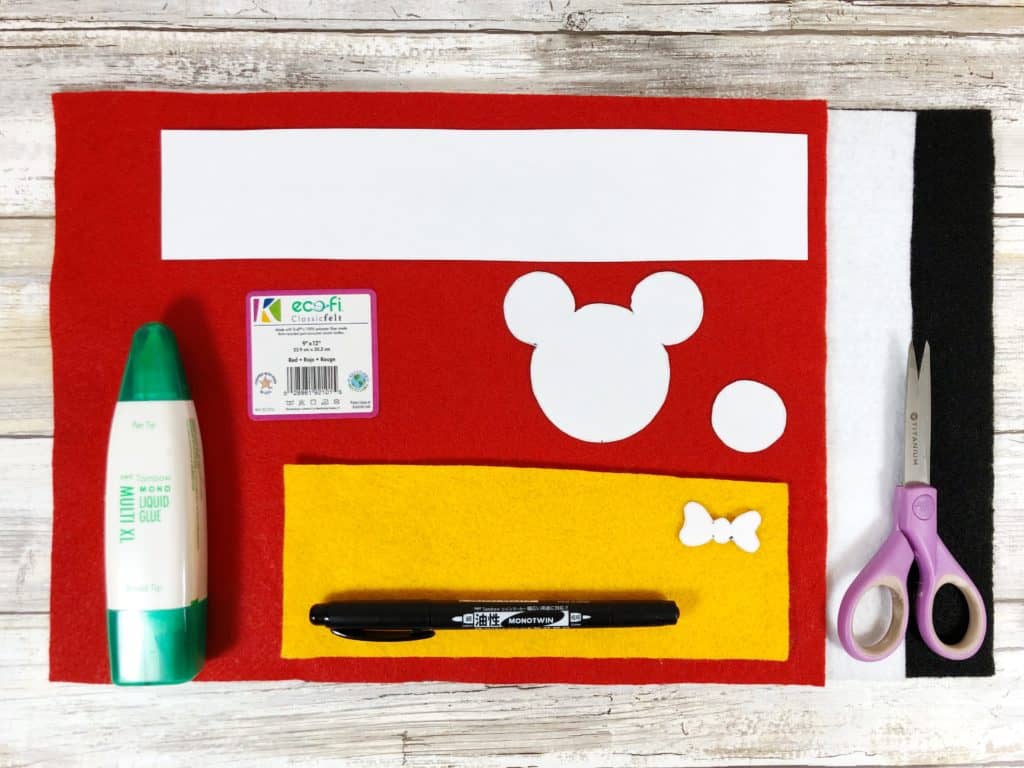 Instructions: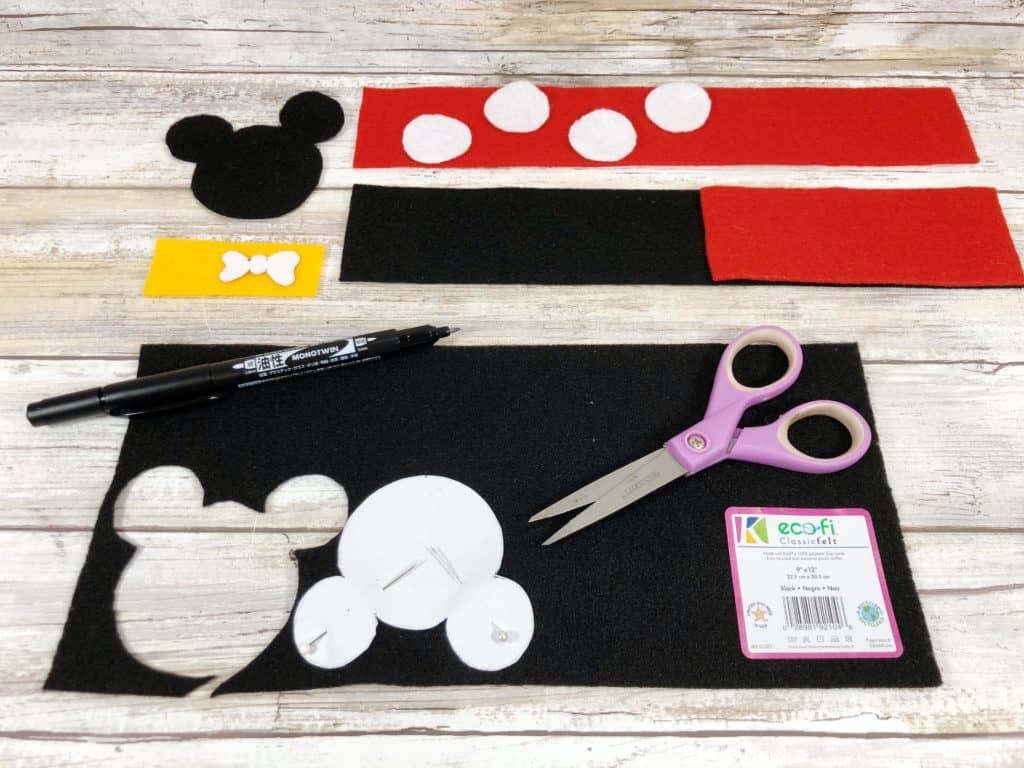 STEP ONE
Download patterns, print and cut out with scissors. Trace patterns on felt with fine tip permanent marker according to directions included on pattern sheet. Cut two black heads for each bookmark.
STEP TWO
Assembling Mickey Mouse: Attach two black felt Mickey heads to either side of the top edge of the black rectangle body. Attach red rectangle pants on top of the bottom section of the black body. To finish, attach gold bow at neck and white buttons to top edge of the pants.
TIP: If you don't happen to have the correct size buttons on hand either paint buttons you already have with white craft paint OR cut buttons from white felt.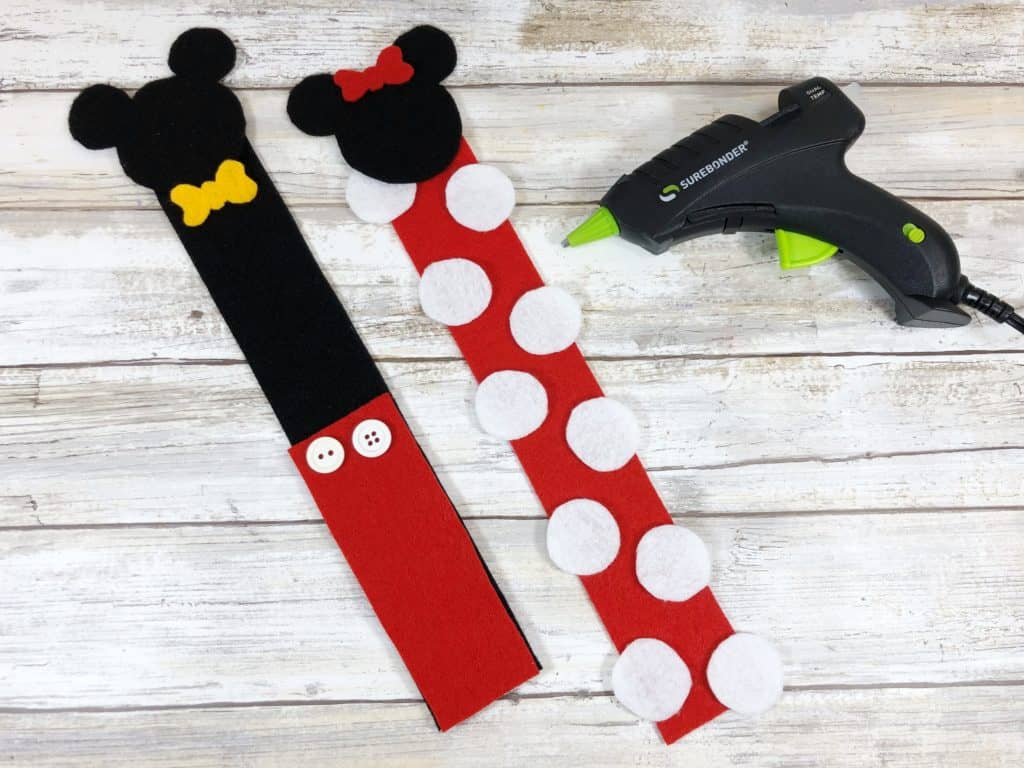 STEP THREE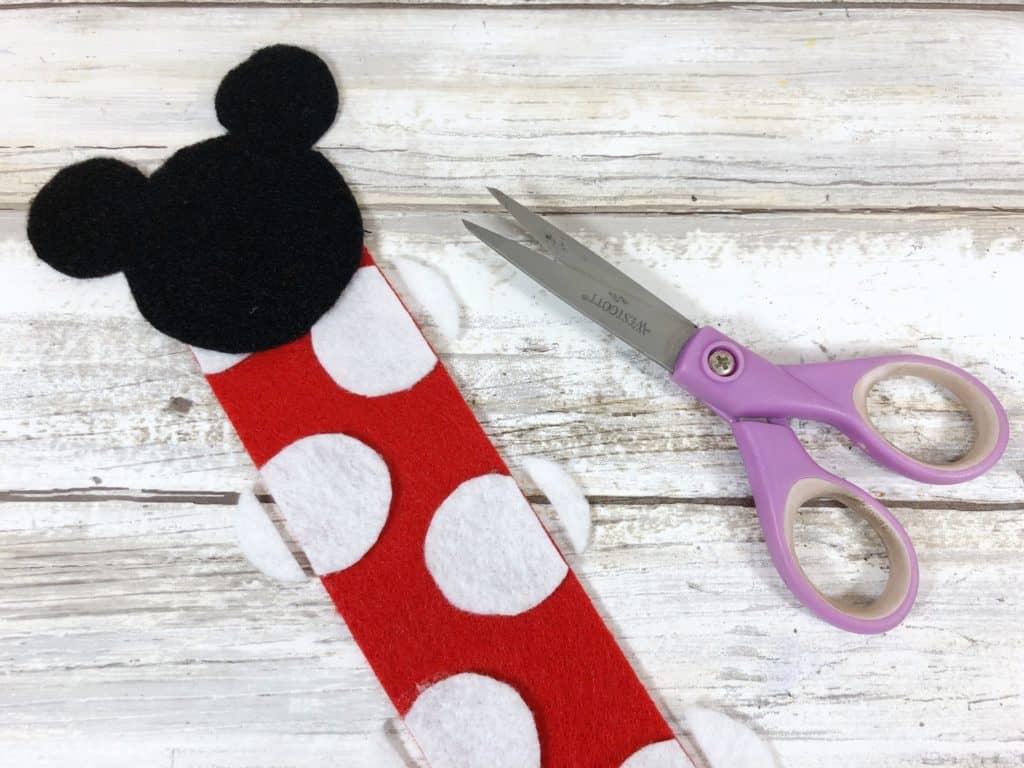 Assembling Minnie: Cut out approximately ten white felt circle polka dots and glue onto red felt rectangle body using photo for placement, let dry. Attach two black heads to either side of the top edge of the red rectangle body. Once dry, flip over and trim excess white felt from the polka dots. To finish, attach red felt bow onto the top of the black felt Minnie head.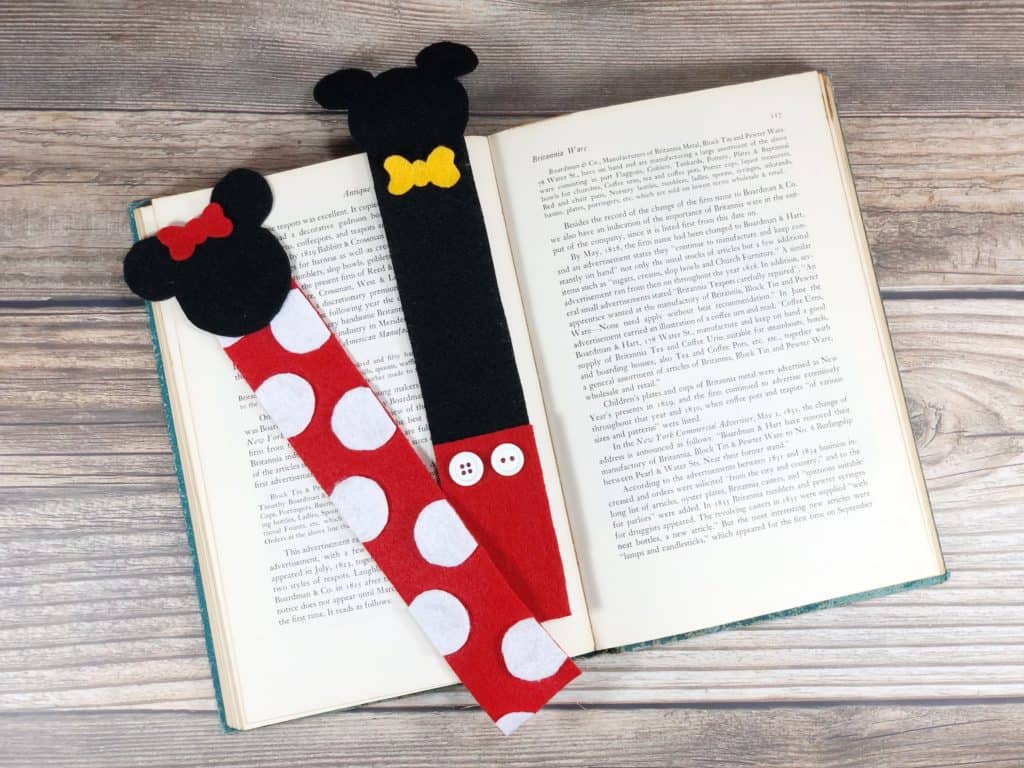 See I wasn't lying when I said this is an easy craft? Create these quick and easy Mickey and Minnie felt bookmarks with the kiddos and share the wonderful experience of reading!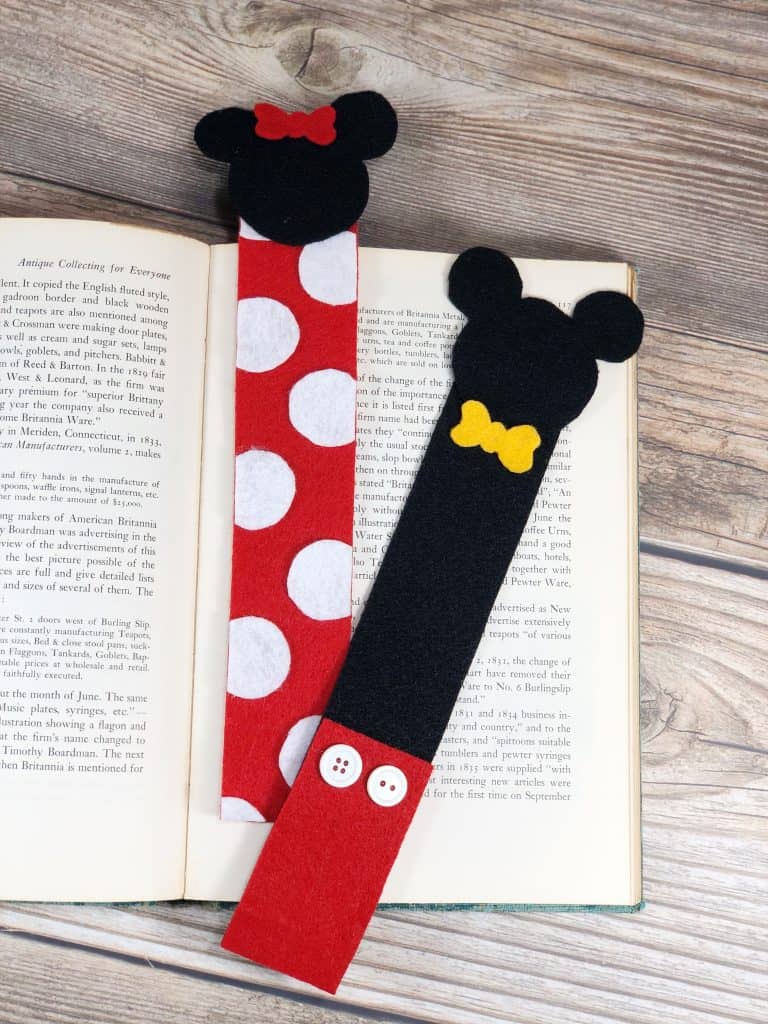 You can also make a set for your family and extras to give as gifts this holiday season. Hopefully this project will transport your kids (or YOU) to the happiest place on earth while they hold the spot in their favorite book! 
More Mickey Mouse and Disney activities