Best tips if you go on the Disney Wish
If you're planning a cruise on the new Disney Wish, just know you are in for a treat. It's a beautiful, elegant and fun ship that has something for every single member of your family. The Disney Wish is also great for an adults-only escape if you love great food, beverages, and service. Disney cruise ships are known for their stellar entertainment, top service from their crew members and immersive live entertainment, so everybody in your family is in for a treat on the new Disney Wish cruise ship.
Since it's a new ship and I got to sail on the Disney Wish's inaugural sailing thanks to a media invitation, I have the top tips to keep in mind so you can enjoy every second of your magical cruise vacation! Things might change a bit in future sailings since the Disney Cruise Line ships are always looking for ways to improve what is already a stellar experience.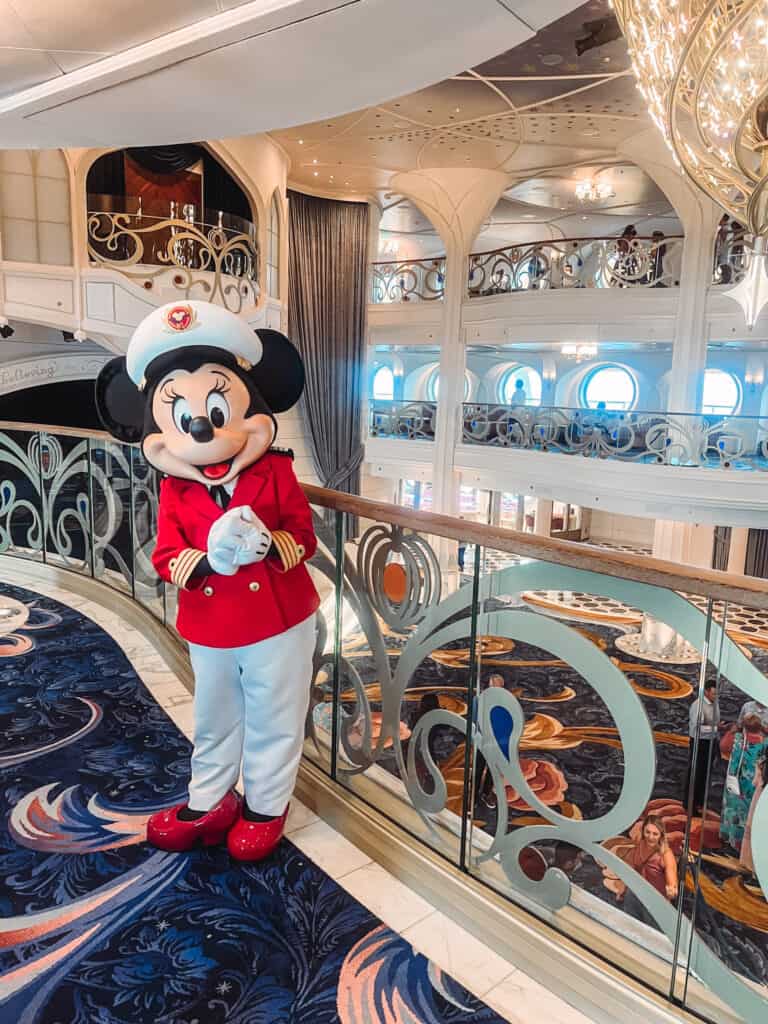 Top Disney Wish Tips
There is so much to see and do aboard the Disney Wish! Here are my top tips so you don't miss anything on Disney's newest cruise ship.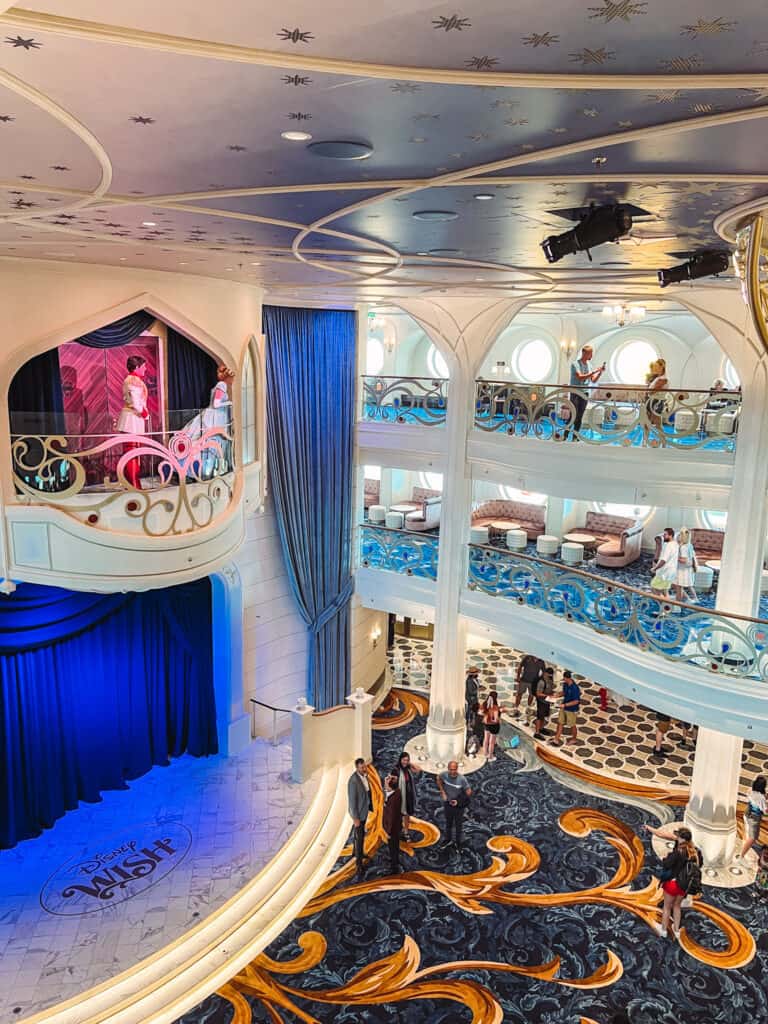 Take a day bag with you when you board with swimsuits, medications, phone chargers, and any essentials. It will come handy on debarkation day because your luggage will be picked up at 10 pm the night before!
Download the Disney Cruise Line Navigator app before boarding on every mobile device. It's the only way to see what's happening at any given time. It also allows you to message other family members and guests. Tip: always use airplane mode on board the ship to avoid (costly) roaming charges. The app also shows you where your favorite Disney characters are and all the available dining options depending on the time of day.
Book activities as soon as you can. The Bibbidi Bobbidi Boutique is always in high demand, as is the Senses spa. Cabanas and certain tours at Castaway Cay also book up quickly. If you're a Star Wars fan like me, make sure to make a reservation at the Hyperspace Lounge.
Avoid standing too close to elevator buttons. they are heat activated so it's very easy to accidentally select them all when the elevators are crowded! Guests have told me that the buttons now have a protective shield to avoid this, but I am still keeping this tip just in case.
There are no mid ship elevators, only aft and forward. Keep it in mind and look at the maps on each floor if necessary.
Safety first! Once you board the Wish and retrieve your key from the stateroom, go to your muster station, scan the code and later pay attention to the safety announcement. So convenient but you MUST do it or else your name will be called. The best news? No more mandatory safety drill in the sun!
Remember that there are free beverage stations on deck 11. Use a new, clean cup to refill your water bottle to help keep everybody healthy! There are soft drinks, hot chocolate, tea and coffee.
Soft serve ice cream is also included. Tip: mix vanilla soft serve with your coffee for a delicious treat!
Order room service breakfast for light continental fare, hot coffee, tea and pastries. It's included! You can also choose from many options during the rest of the day and in the past, I was able to order Mickey bars from the secret menu. Just remember to tip your server. Currently, room service is not available on the day of departure. Tip: find the menu in your Navigator app.
Enjoy every second at Castaway Cay. There are plenty of chairs and umbrellas but remember to hydrate and apply sunscreen often. The water is so clear it's perfect for snorkeling! Kids will love Pelican Plunge and adults, Serenity Bay. Tip: bring your photo ID and key card. You will need both to come back on the ship!
Take advantage of the full service restaurants open for breakfast and lunch. It's a wonderful, relaxed experience in case you aren't in a rush. It also gives you an opportunity to see all the restaurants in case you skipped one of your dinners to dine at Palo or if you ordered room service.
Enjoy the outstanding dinner experiences. Worlds of Marvel and Arendelle are more than just delicious food; they include amazing Disney immersive entertainment. Fans of the Marvel cinematic universe will love the interactive dining experience, while the Frozen dining adventure is more of a singalong hosted by the adorable Olaf. The best part is that they are included in your cruise!
Savor different flavors at Marceline Market. There are so many different food offerings for kids and adults! It's a great quick buffet meal with various stations that change during your cruise. Tip: go all the way to the front for the best views.
Catch up on your favorite movies! The Disney Wish has two movie theaters that show new films and beloved hits. Buy some popcorn before you enter the theater. Concierge guests get popcorn for free.
If you are able to spend time alone, get the Rainforest Experience pass for this special spa area. It is so worth it on board the Disney Wish! There is an outdoor experience for the first time and it might be one of the most relaxing areas on the ship.
Planning on riding the Aqua Mouse? Expect long lines and know that you cannot take anything with you. Leave your shoes and belongings in the cubbies. Tip: go during meal times for shorter queues.
Try the upper decks if there is no seating by the pool. On my cruise, I was always able to find loungers in the upper areas. It can get breezy depending on the time of year.
Splurge on a gourmet meal: Although the Wish's food was delicious, I highly recommend splurging on Palo Steakhouse for a special dinner. The pasta, foccacia, ossobucco and Wagyu beef were outstanding. They even accommodate gluten allergies. If you're looking for a Michelin-worthy experience, then book Chef Arnaud Lallement's Enchanté.
Don't miss the amazing shows. Doors open 30 minutes before show time, so arrive early for best seating options. If you want to take advantage of all the interactivity Disney shows offer, make sure to sit in the first half of the Walt Disney theater. The Little Mermaid is beyond wonderful!
Disneybound during the cruise and go all out on Pirate Night: feel free to plan your outfits inspired by your favorite characters and Disneybound if you wish. On Pirate's Night, many families dress up to enjoy the show, watch Captain Jack Sparrow or simply watch the fireworks at sea. More details on what to wear on the Disney Wish, here.
Remember your luggage needs to be outside your stateroom the last night by 10 pm. Plan accordingly if you have the second dinner seating! Attach the tags left in your room and take a picture of them so you can find the area where you can pick them up at the port. Leave medications, contact lenses, a change of clothes for each member of your family, toothbrushes and passports out of the bags that will be picked up. Keep your day bag or carryon with you.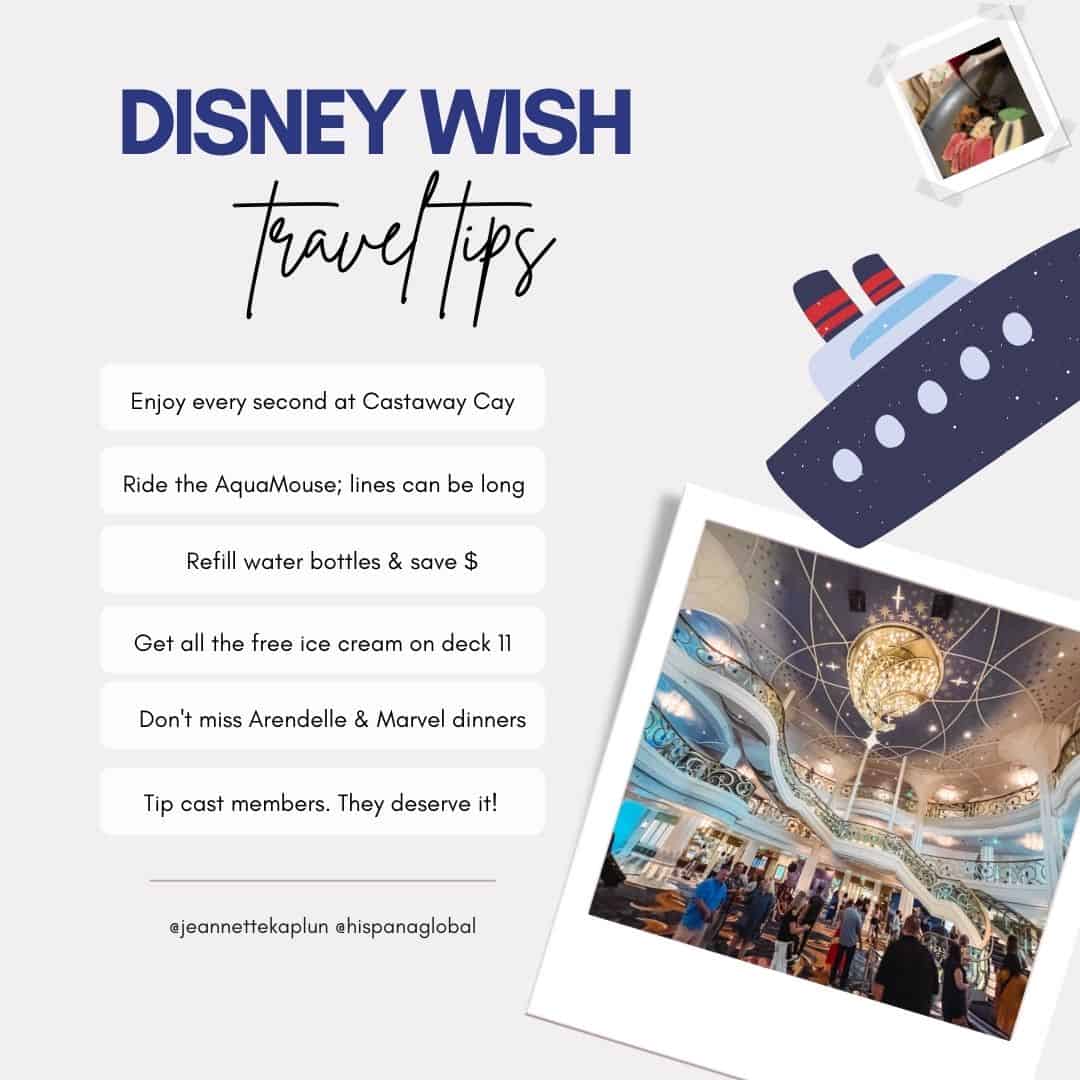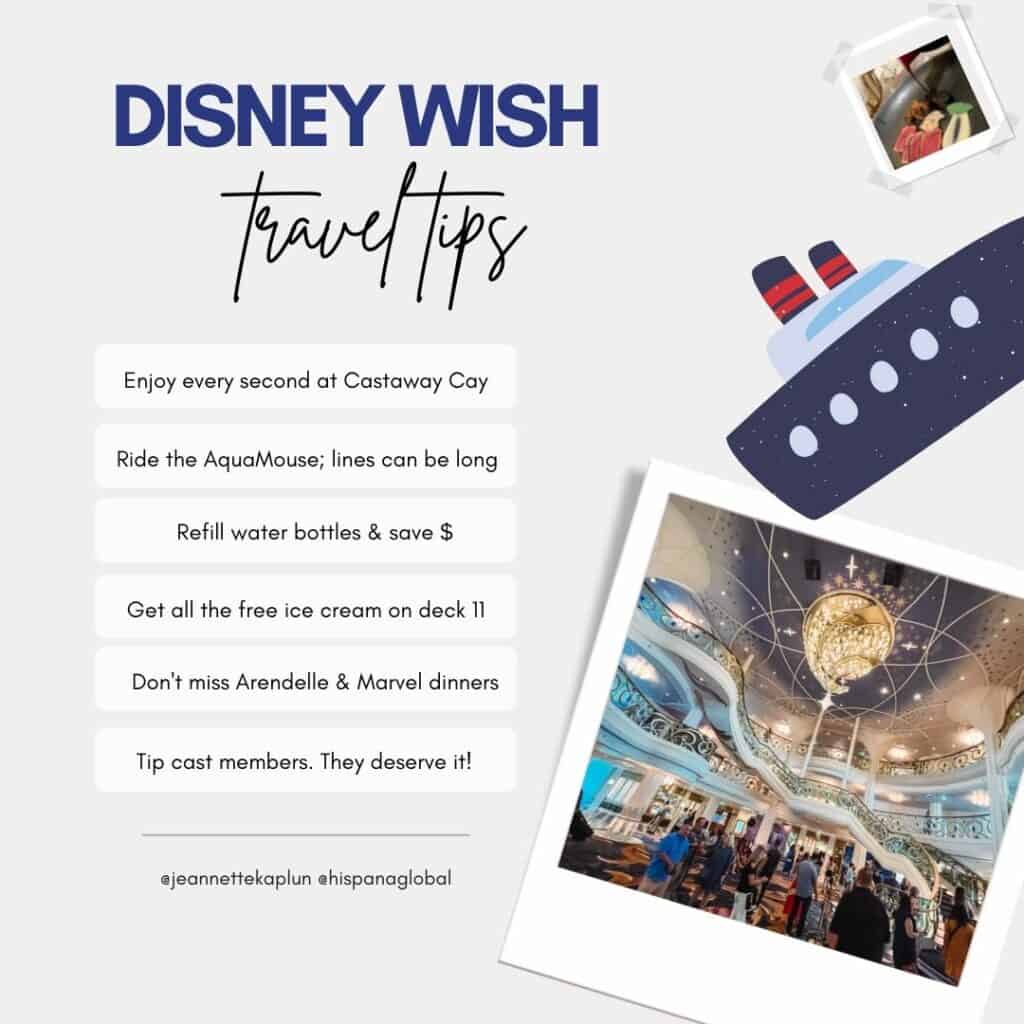 What are your favorite things on the Disney Wish? Let me know!
What should you pack for the Disney Wish?
If you sail on Disney's newest ship, when you pack keep this in mind when planning what to wear:
3-night cruises:
One cruise casual night
One pirate night
One optional formal night —jacket for men, dress or pantsuit for women
4-night cruises:
First night is cruise casual
One pirate night
One optional dress-up night; jacket for men, dress or pantsuit for women
Final night is cruise casual
More helpful posts for your Disney cruise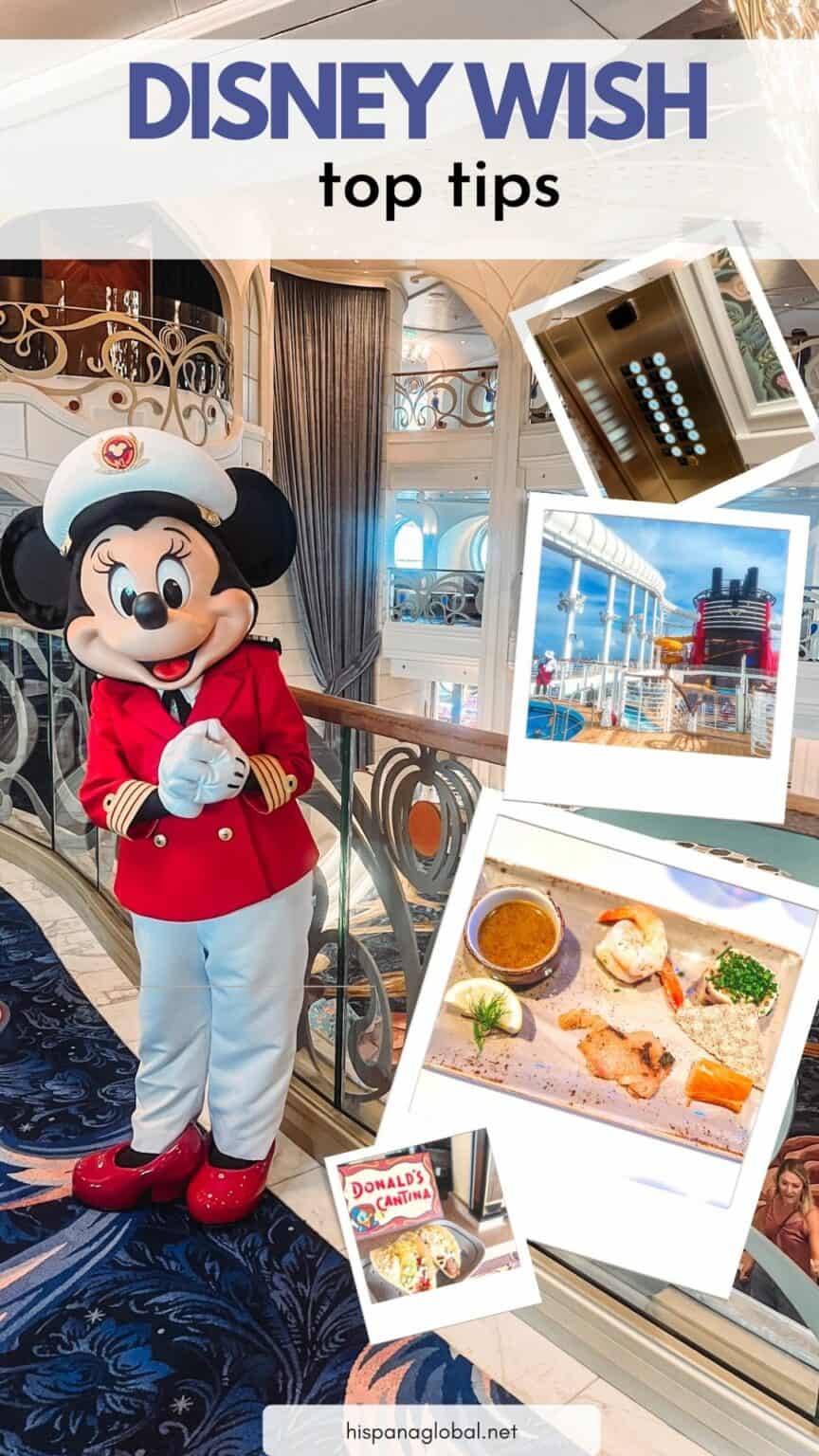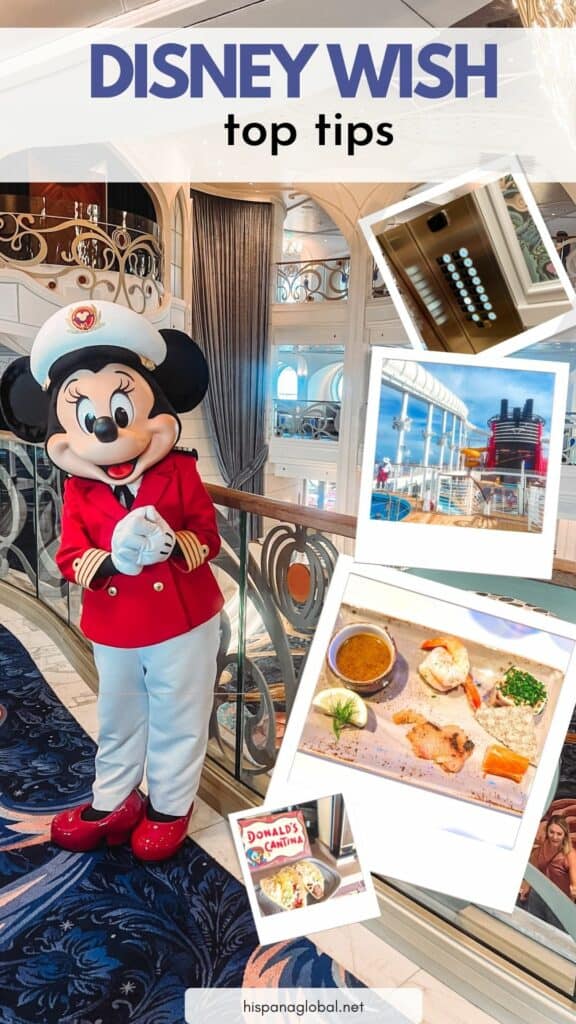 Lee en español: Los mejores consejos si irás en el Disney Wish