Best Natural Eye Makeup Tips for Brown Eyes
Need the best natural eye makeup tips for brown eyes to enhance their beautiful color? Search no more for a step-by-step guide and the best makeup products for brown eyes.
Embracing a more natural makeup approach allows their richness to shine through while accentuating their unique characteristics. Whether you're seeking a subtle everyday look or a soft glam for special occasions, mastering the art of natural eye makeup for brown eyes is easier than you think.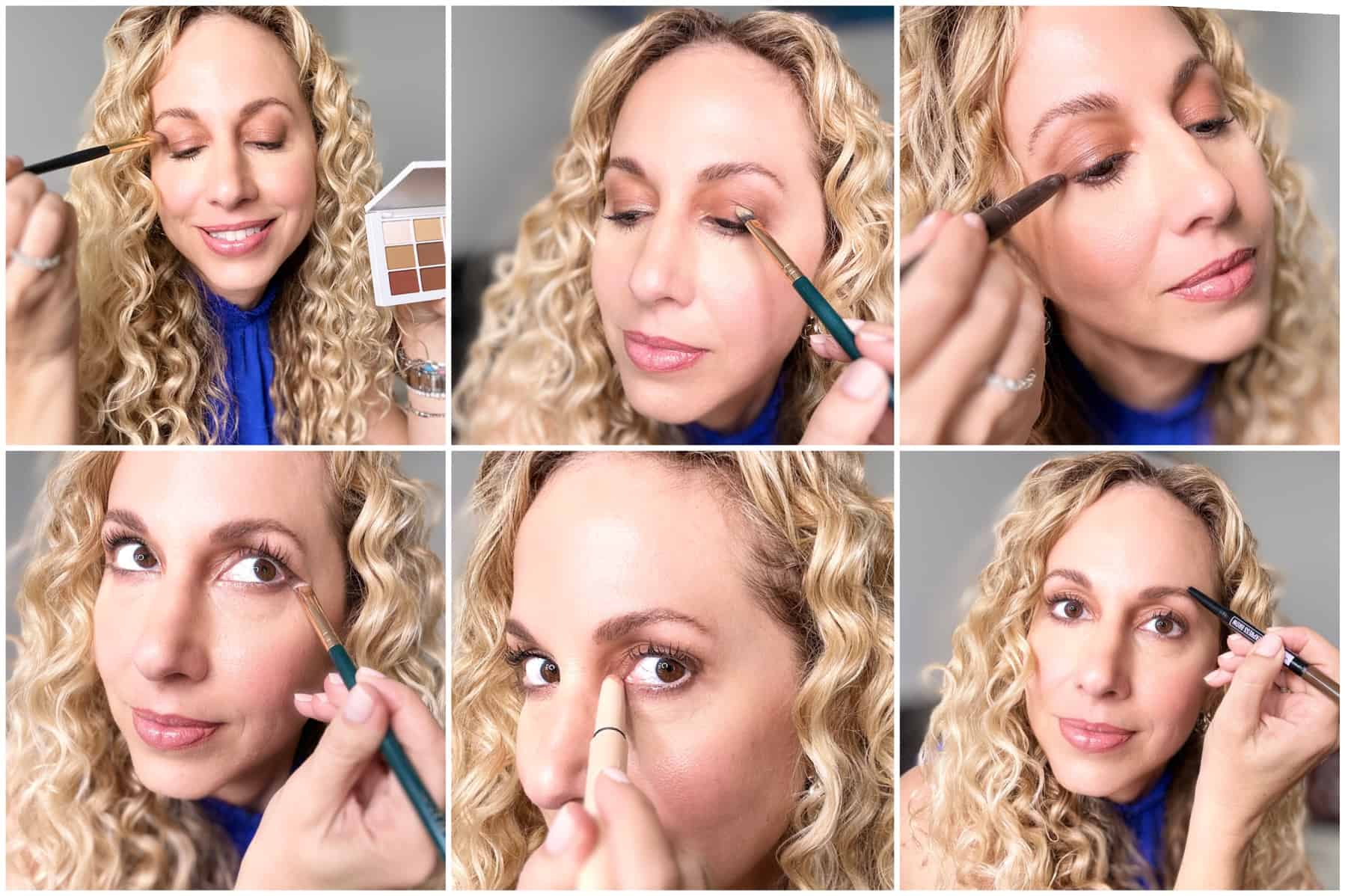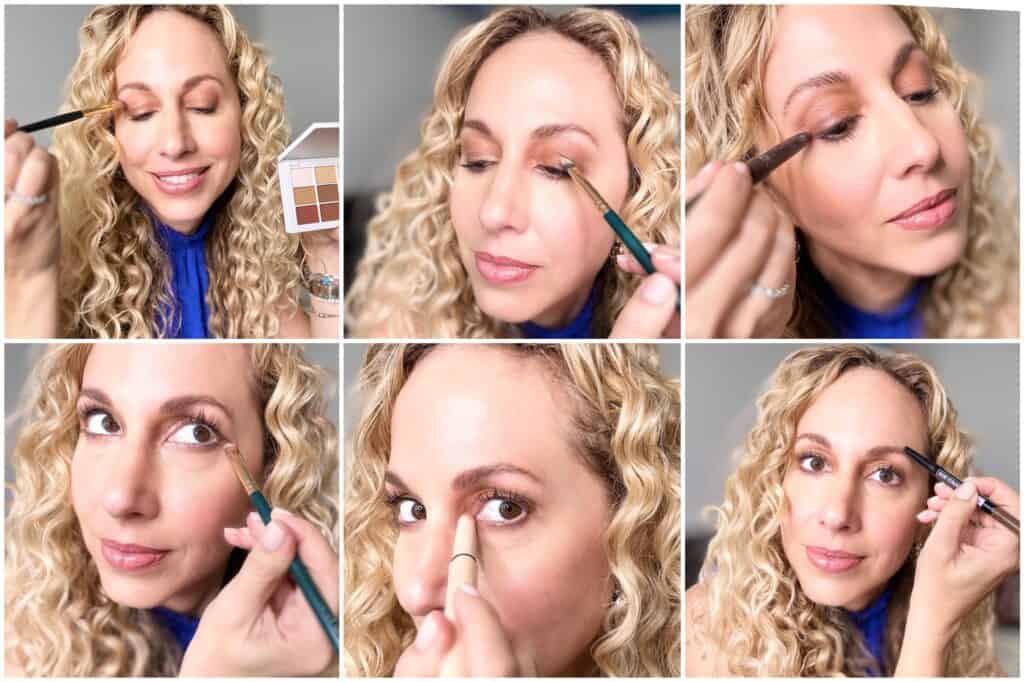 Explore a range of expert tips and tricks to enhance the allure of brown eyes through natural eyeshadow choices, strategic application techniques, and complementary color palettes. Whether you're a makeup lover or a beginner, these simple yet effective guidelines will empower you to achieve stunning eye makeup looks that beautifully enhance brown-eyed beauties without overpowering their inherent charm.
After doing my own makeup for years and learning from some of the best makeup artists, I've learned so many ways to enhance my natural brown color. You too can create the perfect eye makeup look for a daytime look using neutral tones. This transcends makeup trends.
There are different shades of brown eyes. When you have a darker eye color I have noticed that they can look amazing in bold colors or in a bronze smoky eye.
Discover how subtle strokes of different shades of eyeshadow can illuminate your gaze and draw out the mesmerizing depths of your warm brown eyes. Let's delve into the world of natural eye makeup and unlock the secrets to accentuating your most alluring feature – your beautiful brown eyes.
How to create a natural eye makeup look for brown eyes
Brown eyes are incredibly versatile and can be beautifully accentuated with a natural makeup look using neutral shades. By choosing the right eyeshadow shades and techniques, you can enhance the depth and richness of your natural eye color.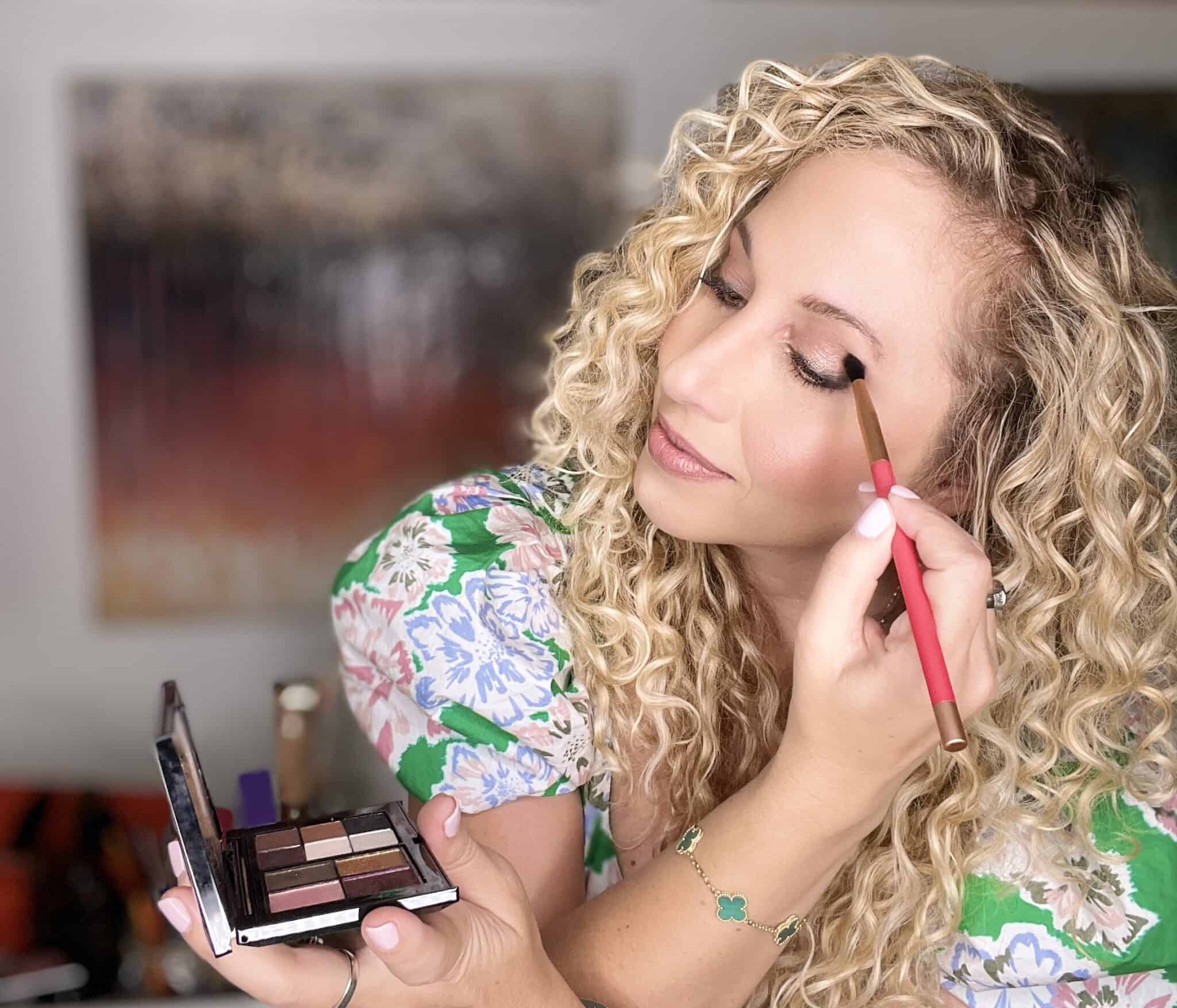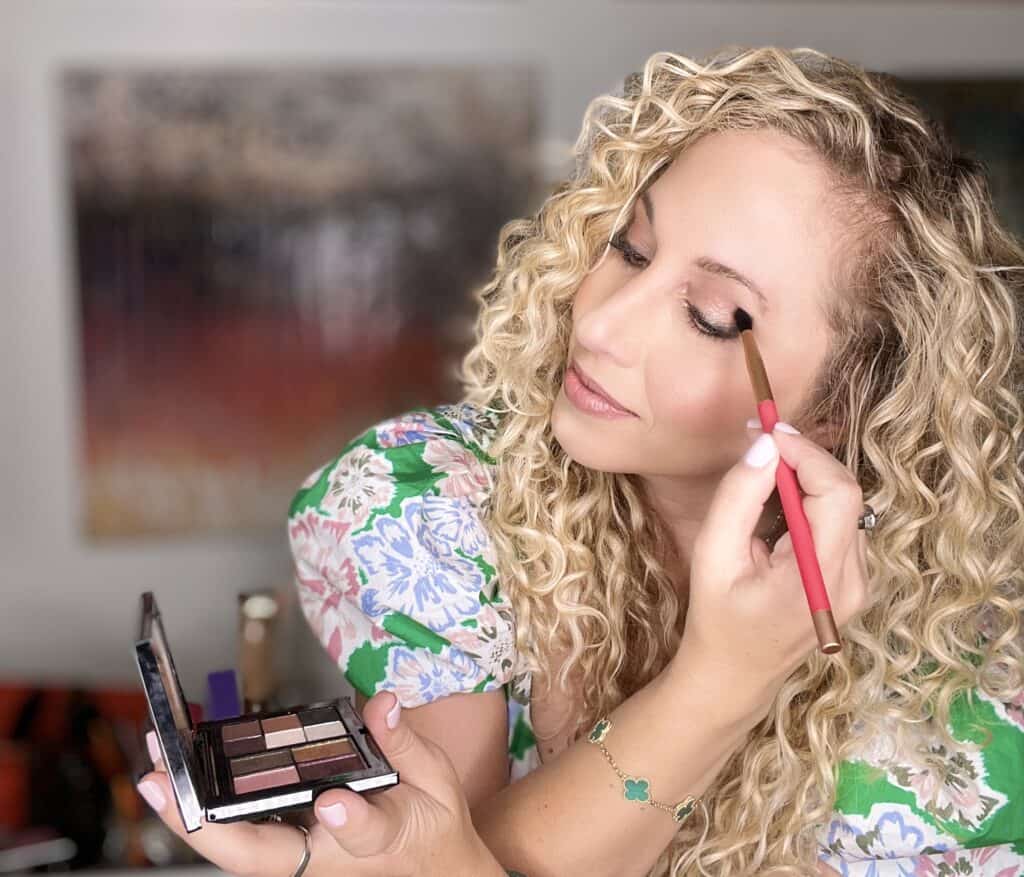 In this step-by-step guide, I will walk you through the process of creating a stunning, natural eye makeup look that will make your brown eyes shine.
Step 1: Prep and Prime
Before diving into your eye makeup, ensure your eyelids are clean. Apply a thin layer of eye primer to create a smooth canvas for your eyeshadow and help it last longer.
Step 2: Define Your Brows
Well-groomed eyebrows frame the eyes and give your face a polished look. Use an eyebrow pencil or powder that matches your natural brow color to fill in any sparse areas, following the natural shape of your eyebrows. Use short, light strokes for a natural effect.
Step 3: Neutral Base Shade
Choose a neutral eyeshadow shade that closely matches your skin tone or is slightly lighter. Apply this shade all over your eyelids using a fluffy eyeshadow brush, blending it softly into the crease. This will create a seamless base for the rest of your eye makeup.
Step 4: Warm Transition Shade
Select a warm, medium-toned eyeshadow shade, such as a soft taupe or a warm brown. Using a blending brush, apply this shade to the crease of your eyelids, starting from the outer corner and blending inward. This will add dimension and depth to your eyes.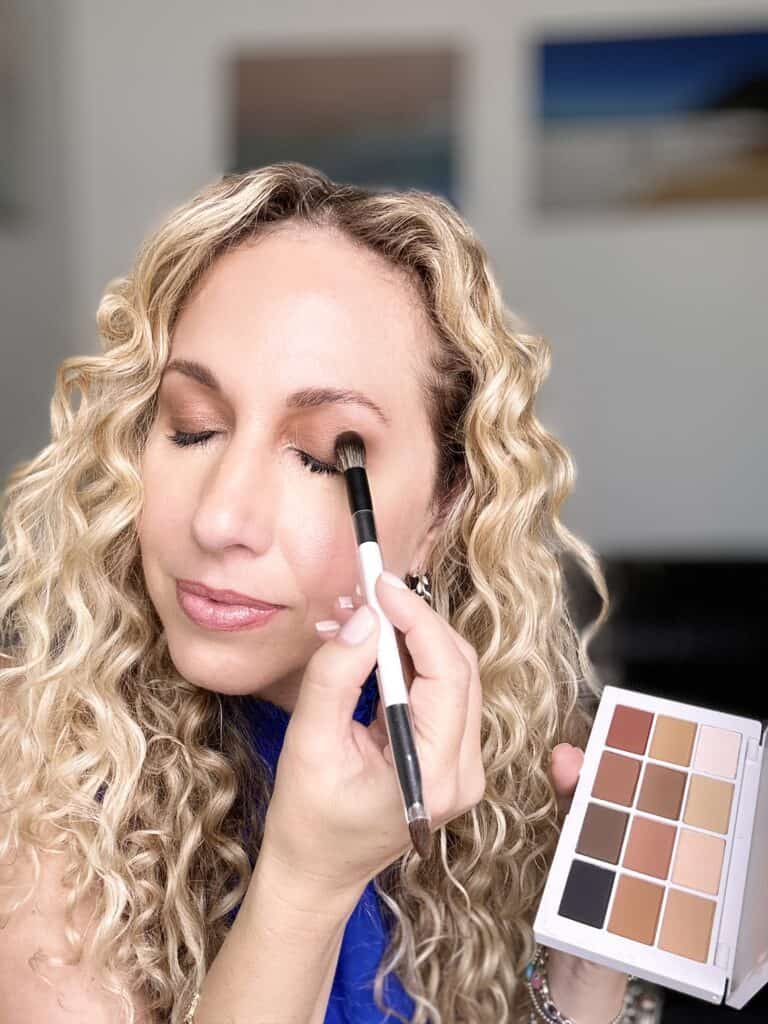 Step 5: Accentuate with a Deeper Shade
To further enhance your brown eyes, choose a slightly deeper shade in the same color family as your transition shade. Apply this shade to the outer corner of your eyes in a V shape, blending it softly into the crease. This will add a subtle smokiness and intensify your eye color.
Step 6: Highlight the Inner Corner
To make your eyes appear brighter and more awake, dab a shimmery or light eyeshadow shade onto the inner corner of your eyes. This will create a subtle highlight that draws attention to your beautiful brown eyes. You can also use an eyeliner in metallic shades.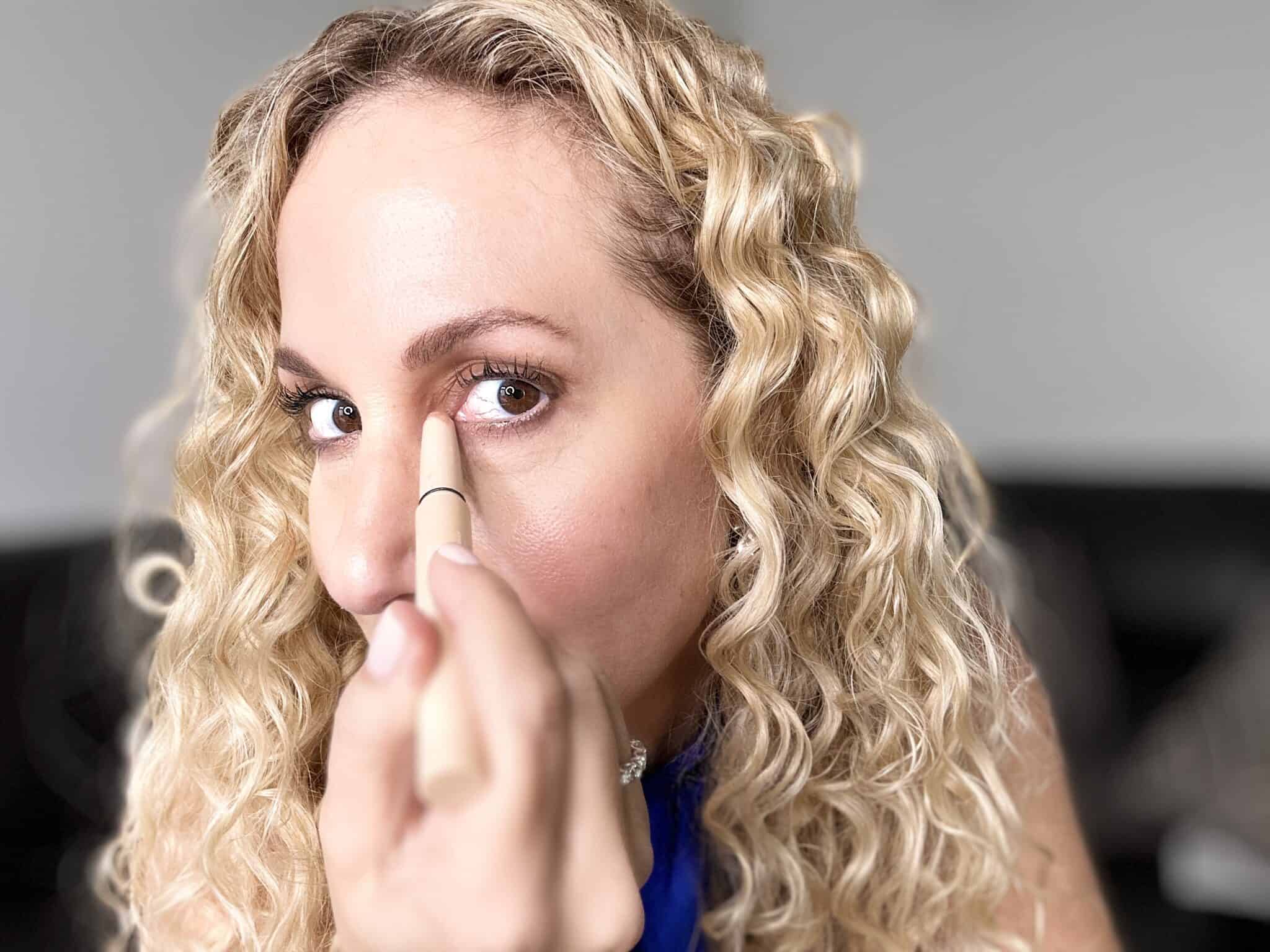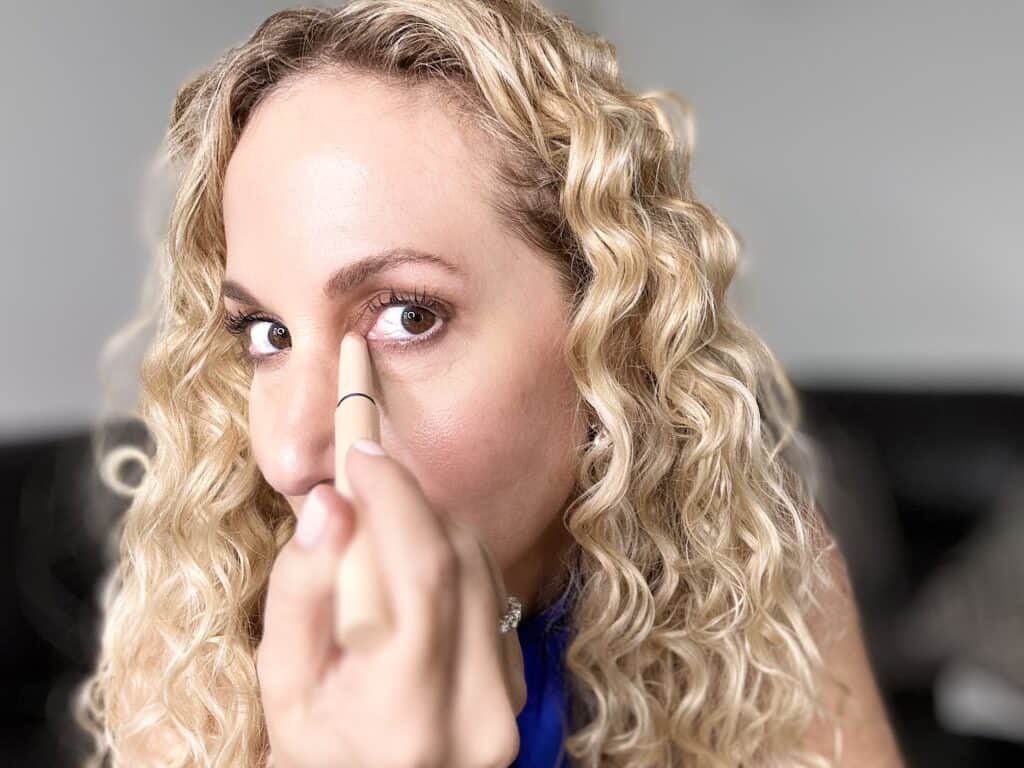 Step 7: Natural Eyeliner
For a more defined look, apply a thin line of brown or black liner along your upper lash line. Keep it subtle by opting for a soft line or a thin wing. This step is optional but can enhance the overall eye makeup effect.
Step 8: Lower Lash Line Definition
To balance the look, apply a touch of the transition or accent shade to your lower lash line using a small, angled brush. Be gentle and keep the color close to the lash line, starting from the outer corner and working inwards.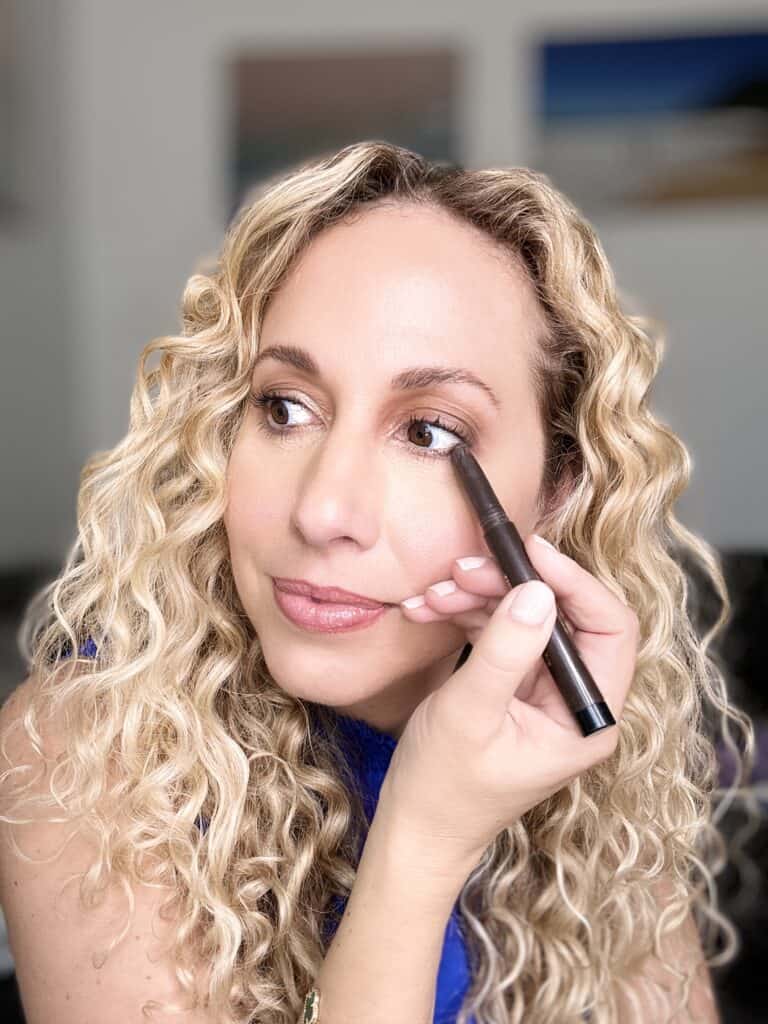 Step 9: Highlight your brow bone
Complete your natural eye makeup look by gently patting a matte, flesh-toned eyeshadow shade onto your brow bone. This will help to highlight your brow area and create a lifted appearance. For a more polished look, apply a nude or champagne-colored eyeliner to your waterline to brighten your eyes further.
Step 10: Define Your Lashes
Curl your lashes using an eyelash curler for an open-eyed effect. Follow up with a coat of mascara to add volume and length to your lashes. Wiggle the mascara wand from the root to the tip, and if desired, apply a second coat for extra impact. Don't forget your bottom lash line!
Expert tips and tricks
Enhancing the allure of brown eyes through natural eyeshadow choices involves using colors and techniques that complement the warmth and richness of brown eyes without overpowering their natural charm. Here are some expert tips and tricks to achieve a stunning and natural eye makeup look for brown eyes:
Neutral and Earthy Tones: Opt for neutral and earthy eyeshadow shades like soft browns, taupes, and beige. These colors blend seamlessly with brown eyes, enhancing their depth without appearing too bold.
Embrace Matte Finishes: Choose matte eyeshadows for a more natural look. Matte textures add dimension without adding excessive shimmer or sparkle, allowing your eye color to take center stage. The best matte eyeshadow palette? For me, it's this one from Makeup By Mario.
Use Highlighting Shades In Key Areas: Apply a light, shimmery eyeshadow in the inner corners of your eyes and just below the brow bone. This technique brightens and opens up your eyes, making them appear more awake and vibrant. I especially like to use gold eyeshadow at night when I want a subtly glamorous look. You can also use a champagne or gold shadow pencil like this one from Charlotte Tilbury.
Define with Soft Liner: Use a soft brown or taupe eyeliner to define your lash line instead of harsh black. This subtly enhances your eyes without creating a dramatic contrast.
Play with Contrasts: For a more defined look, blend a slightly darker eyeshadow into the crease of your eyelid. This creates a soft contrast that adds depth and intensity to your brown eyes. It also helps with hooded eyes.
Avoid Harsh Colors: Stay away from overly bright or harsh colors, as they may distract from the natural allure of brown eyes. Opt for soft and muted shades that harmonize with your eye color.
Blend, Blend, Blend: The key to achieving a natural eye makeup look is seamless blending. Use soft, circular motions to blend your eyeshadow shades for a smooth and natural transition.
Curl Those Lashes: Curled lashes open up your eyes, making them appear bigger and more inviting. Invest in a good eyelash curler and finish with a coat of black mascara for a polished look.
Define Your Brows: Well-groomed eyebrows frame your eyes and draw attention to their beauty. Keep your brows neat and use a brow pencil or powder to fill in any sparse areas. if you have unruly brows like me, use a brow gel.
Use a White Eyeliner In Your Waterline: To make your eyes appear brighter, use a white eyeliner pencil in your waterline. It will help enhance your brown eyes even more!
Remember, the goal of natural eye makeup for brown eyes is to enhance their inherent beauty, not to overpower them. Embrace softness, subtlety, and a well-blended finish to create a look that allows your brown eyes to shine brightly and exude their captivating allure.
Best eyeshadows to make brown eyes pop
To make brown eyes pop, you can use eyeshadow colors that complement the warmth and richness of brown eyes.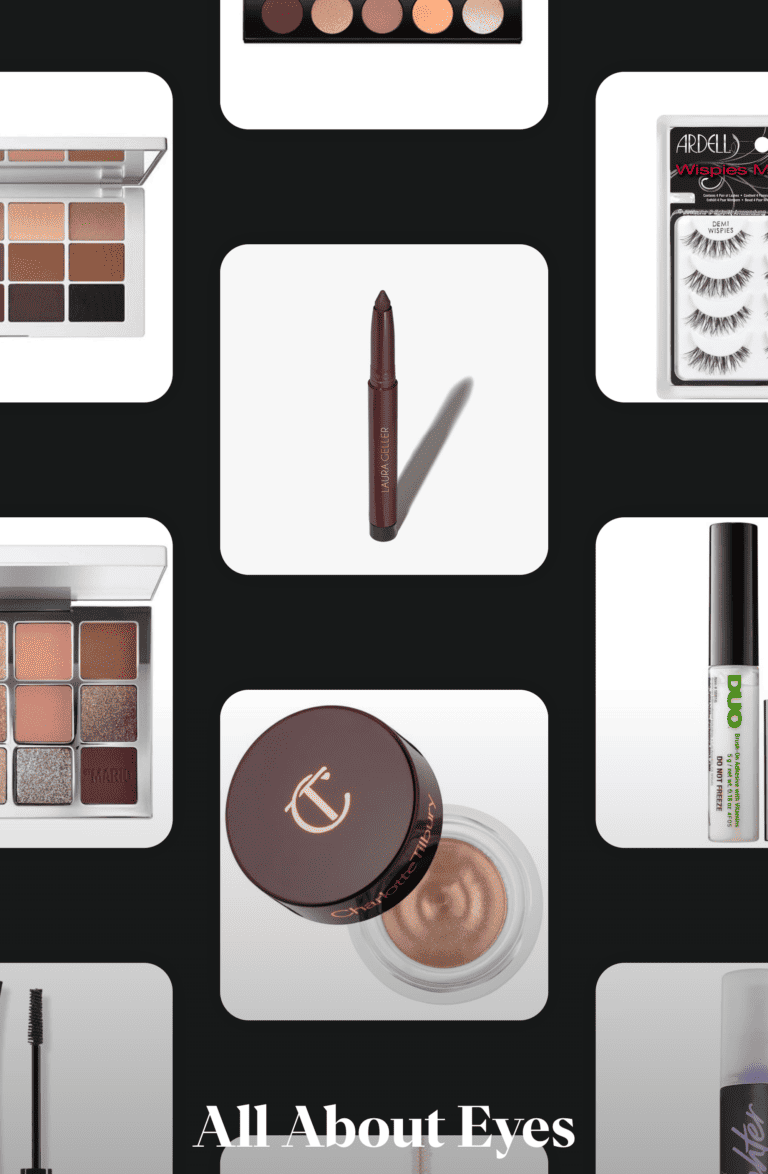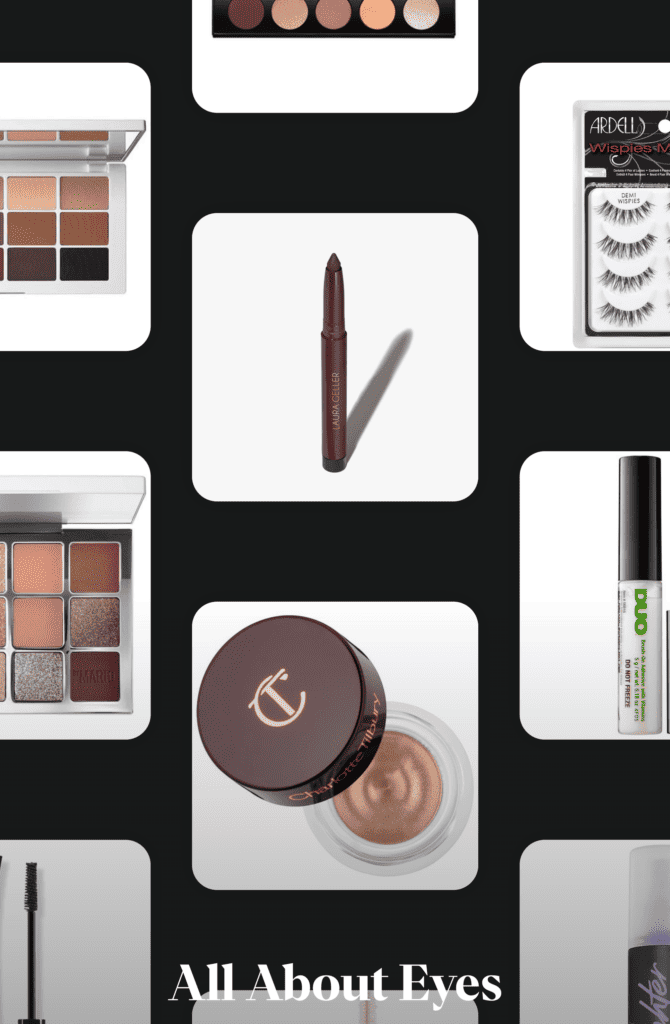 Certain shades and color combinations can help enhance the natural beauty of brown eyes and make them stand out. Here are some eyeshadow colors that work well for brown eyes:
Bronze and Copper Tones: Bronze and copper shades bring out the golden flecks often present in brown eyes, making them appear more vibrant.
Purple and Plum: Purple hues, including deep plums and lavender shades, create a beautiful contrast with brown eyes and make them appear more intense. They also make hazel eyes pop.
Gold and Champagne: Gold and champagne colors add a luxurious and glowing effect to brown eyes, emphasizing their warmth.
Olive Green: Olive green eyeshadows can complement brown eyes beautifully, as the green undertones bring out the warmth in brown eyes.
Warm Browns: Brown eyes can still pop with various warm brown eyeshadow shades, such as terracotta, caramel, and rust.
Teal and Turquoise: Teal and turquoise shades offer a striking contrast with dark brown eyes, making them stand out.
Rose Gold: Rose gold eyeshadows provide a soft and romantic look, which enhances the richness of brown eyes.
Deep Blues: Deep blue shades, like navy or indigo, can make brown eyes look more intense and alluring. I think this is best for a night look.
For a pop effect, consider using shimmer or metallic eyeshadows to add dimension and light to your eyes. Additionally, choose your eyeshadow color after evaluating your skin tone, as certain colors might complement your skin and eye color better than others.
With these easy-to-follow steps, you can create a stunning and natural eye makeup look that enhances the beauty of your brown eyes. Remember to choose shades that complement your eye color and blend them seamlessly for a seamless, effortless finish.
More makeup tips