5 Easy Lunchbox Ideas Your Kids Will Love
Back to school means you need lunchbox ideas that your child will love. Creativity can be a challenge when putting together a delicious, nutritious and portable meal, but lunches can be just as fun as they are yummy.
Here are 5 delicious lunch ideas that kids will actually crave and eat. I also included a few links to lunchbox accessories that instantly upgrade any school lunch. They are from Amazon and I make a commission from each sale at no extra cost to you.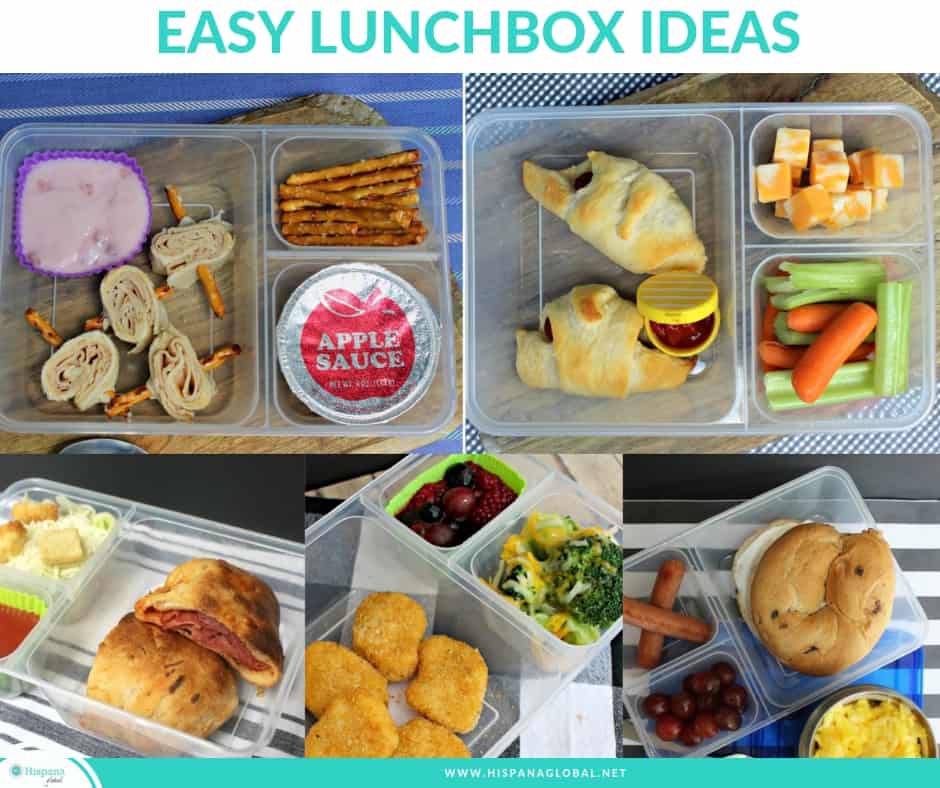 Fun, delicious and easy lunchbox ideas
Stromboli with Caesar salad.  Kids love food that they can dunk and eat with their hands.  And these Stromboli pockets are both!  Make ahead using pre-made pizza dough and fill with ham or turkey, salami and cheese.  Pack with a side of marinara sauce and a Caesar salad for a yummy and fun meal.  You can pack salad dressing and marinara sauce in these containers.
Scrambled eggs, bagel, sausage, and grapes. My kids LOVE breakfast – for breakfast, lunch or even dinner! Pack a bagel with cream cheese, sausage links or small beef franks, and grapes in their lunch box. Fill a Thermos Funtainer with scrambled eggs for a protein filled breakfast. Plus, it will keep the eggs warm until lunch time!
Chicken nuggets, fruit salad, broccoli and melted cheese. This kid-friendly lunch is also a breeze to pack! Frozen chicken nuggets get pre-cooked and added to their box or Funtainer. Broccoli with melted cheese can be added to a smaller Thermos container to keep it nice and warm. To keep the fruit salad from getting warm, packing the warm items separate is ideal.
Turkey and hummus pinwheel, and applesauce with pretzel sticks.Hummus is a great, healthy lunch item that's packed with protein! Spread hummus on a tortilla and top with turkey. Roll tightly and cut into pinwheel shapes. Keep them in place use a pretzel stick as a toothpick alternative. Kids LOVE eating this fun finger food.
Pigs in a blanket, carrots, celery, and cheese cubes. My kids adore this lunch. To make pigs in a blanket, use premade croissant or crescent dough to roll 2 Lit'l All Beef Smokies or similar small beef franks. Bake according to package instructions. Don't forget to include ketchup (some schools might have some available) and ranch dressing or a dip for your veggies!
Great accessories that make lunchboxes fun
Here are a few of my favorite lunchbox accessories to instantly upgrade your child's meal:
Let me know if your kids love these lunchbox ideas!
More Ideas For You