Easy 5-Minute Hairstyles for Curly Hair
Looking for easy 5-minute hairstyles for curly hair? You've come to the right place because after learning to love my curls, I've had to also be practical. After all, I am always on the go and need easy hairstyles that don't take too much time. Plus, I'm no hair expert, so I need hairstyling ideas that anybody can pull off, especially if you have long hair. 
Who wants fabulous hair without spending hours in front of the mirror? Exactly! I really hope these easy, time-saving hairstyles that take just five minutes or less will help you embrace your natural curls and achieve stunning looks effortlessly. These are just a few of my favorite styles.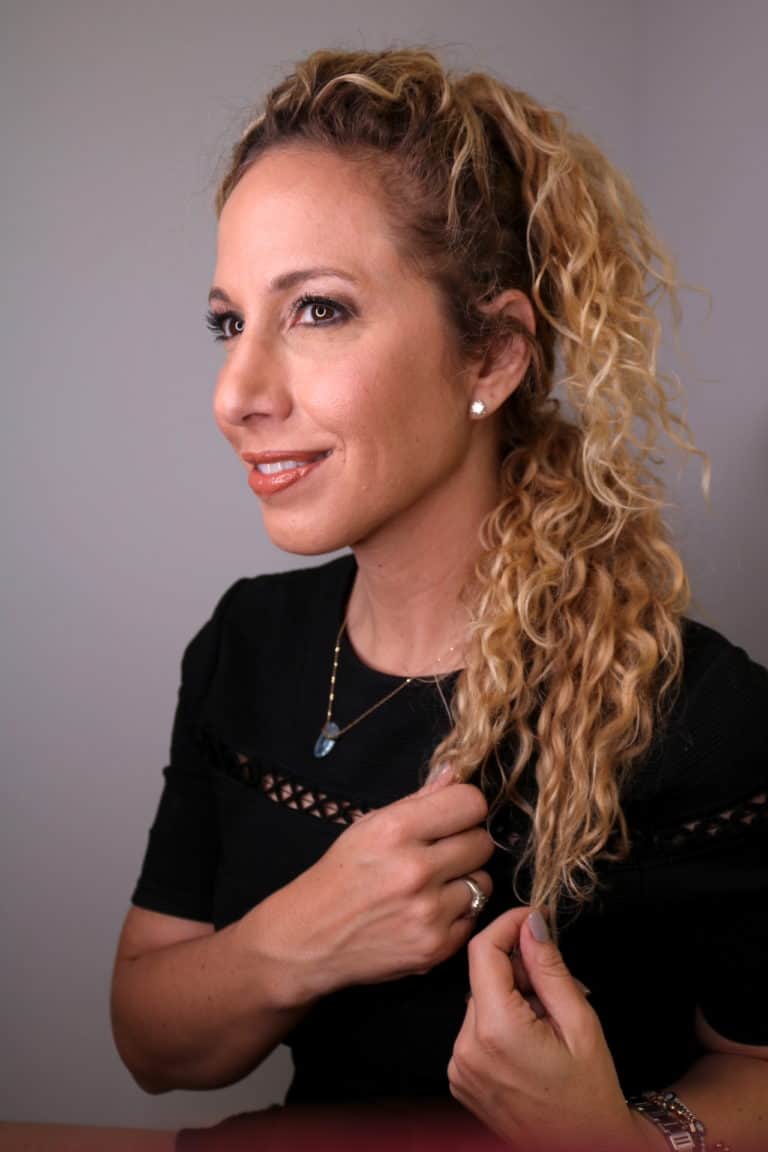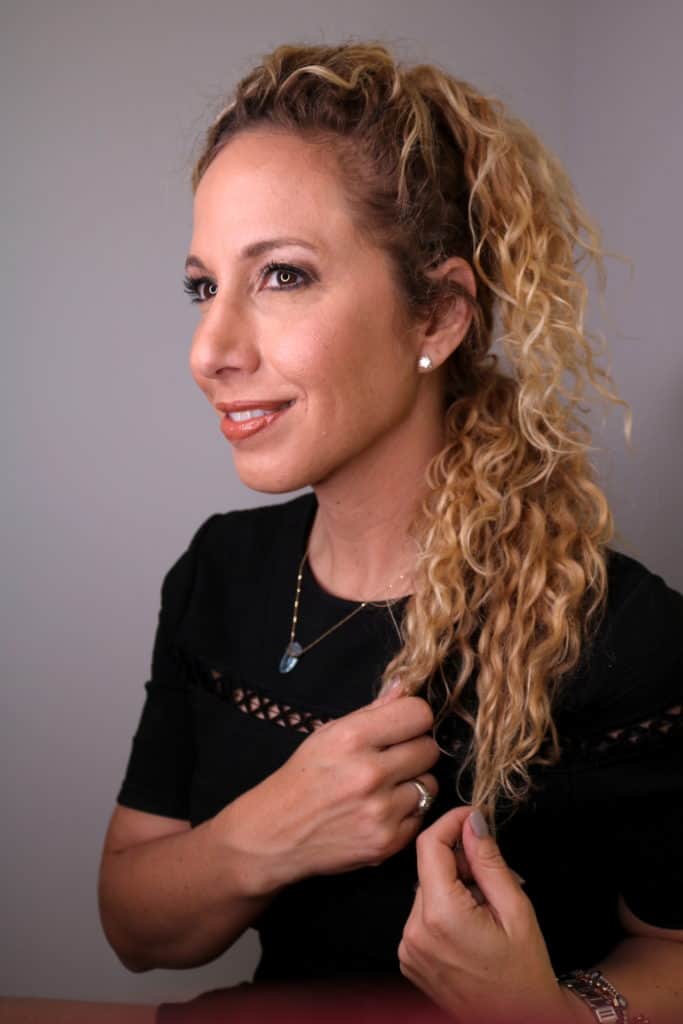 With these fabulous, easy 5-minute hairstyles, you can confidently rock your natural curls without sacrificing precious time. Whether you're rushing to work, attending a last-minute event, or simply looking for a quick style refresh, these effortless looks have got you covered. Embrace the beauty of your curly hair and experiment with these versatile hairstyles. Say goodbye to stressful hair moments and hello to easy, breezy glamour!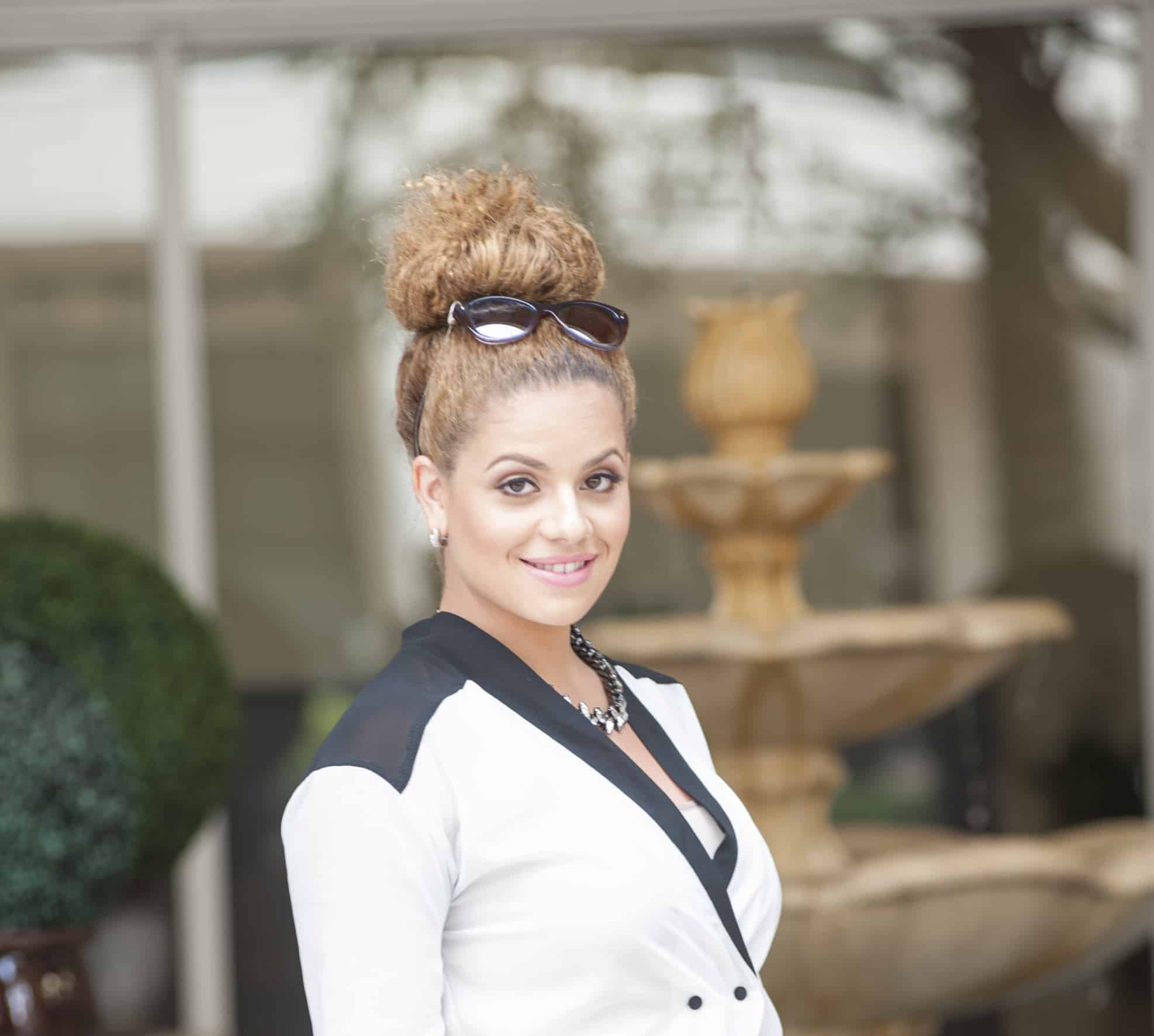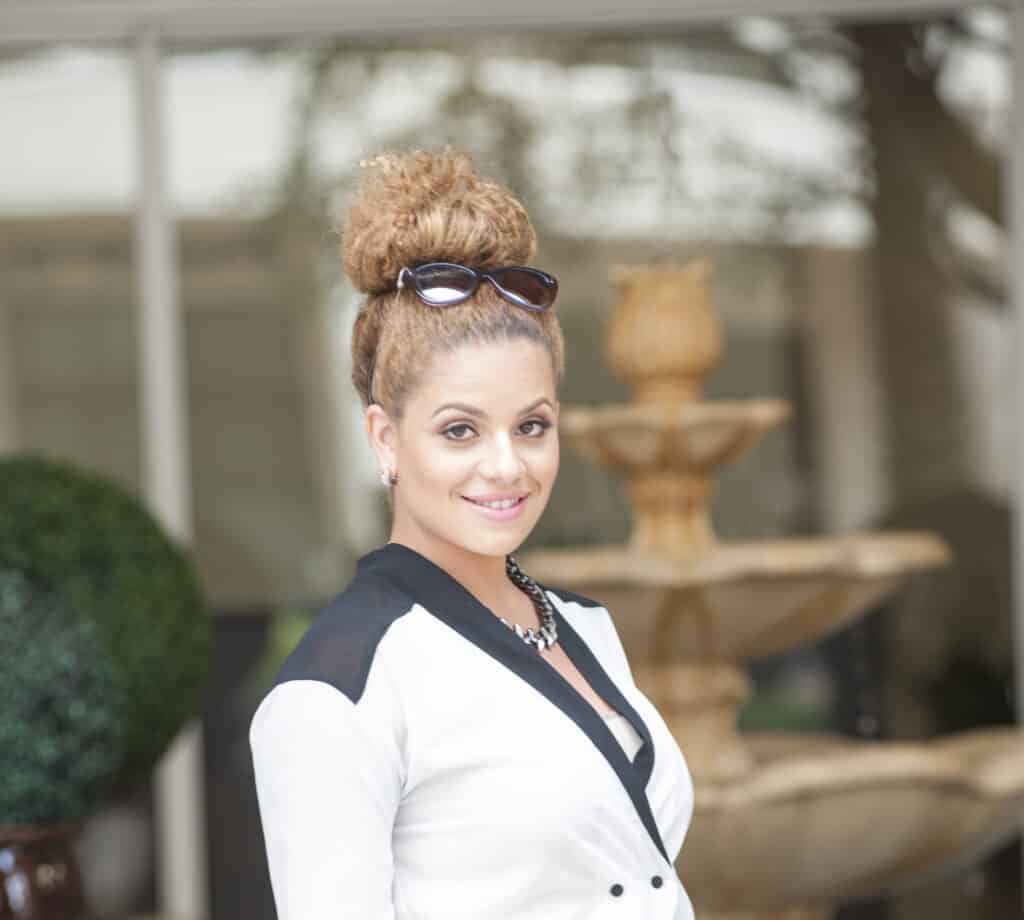 What do I need for these easy hairstyles for curly hair?
These hairstyles don't require hot tools like a curling iron because the idea is to keep it simple. However, I do recommend having these handy to give you more styling options:
clear elastics
silky fabric hair ties
wide tooth comb
paddle brush for thick, curly hair
your favorite hair products, like a curl cream, hair gel, mousse or hair oil
bobby pins
hair accessories such as headband, flowers, pins, hair clips or barrettes
Pro tip: if you need added volume at the roots, apply dry shampoo, wait two minutes and then blast the hair root with a hair dryer for a few seconds.
5 Minute Hairstyles For Curly Hair Ideas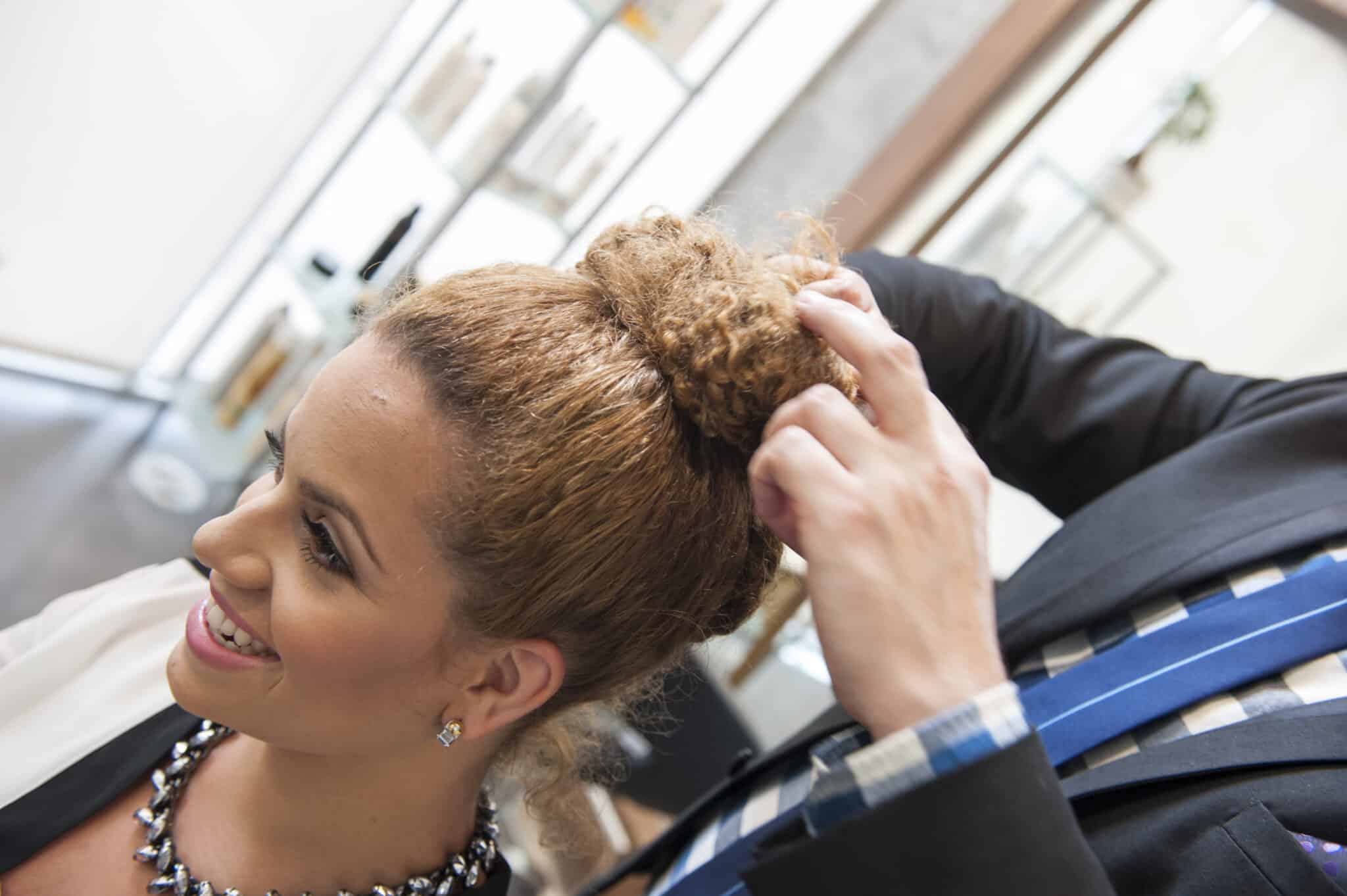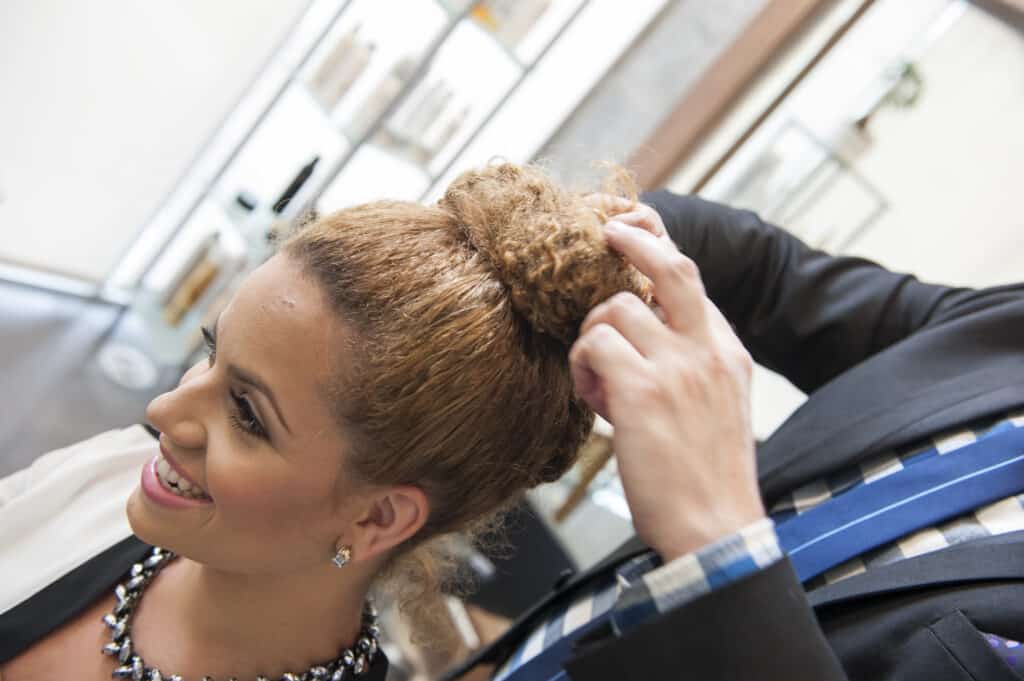 Here are quick and easy hairstyles for curly-haired gals that don't want regular braids:
The "Messy Bun" Magic: The messy top bun is a versatile classic that works wonders for curly hair. Start by gathering your hair into a high ponytail and secure it with a hair tie. Then, twist the ponytail and wrap it around the base, forming a bun. Secure the bun with bobby pins, leaving some tendrils loose for an effortless touch. This go-to style is perfect for both casual outings and formal events.
The Chic Half-Up, Half-Down:This hairstyle strikes the perfect balance between casual and elegant. Simply take a small section of hair from each side of your head, just above the ears. Gather the sections at the back and secure them with a cute hair accessory, such as a clip or a barrette. Allow the remaining curls to flow freely, framing your face beautifully. This half-up, half-down look is a quick way to add a touch of glamour to your everyday style.
The Trendy Top Bun: For a stylish and quick updo, try the trendy top bun. Gather your hair into a high ponytail and twist it tightly. Then, coil the twisted ponytail around its base to form a neat bun. Use bobby pins to secure it and pull out a few curls for a relaxed vibe. This effortlessly chic hairstyle keeps your curls tamed while adding a fashionable flair to your overall look.
The Flirty Side Braid: A side braid is a delightful option that enhances your natural curls while keeping them under control. Sweep all your hair to one side and divide it into three sections. Begin braiding by crossing the outer sections over the center one, adding more hair from each side as you go. Secure the braid with a clear elastic band at the end and gently loosen it for a softer, romantic effect. It's also a great choice for a beach or pool day.
The Quick and Easy Pineapple: When time is of the essence, the pineapple hairstyle is a lifesaver. Simply flip your head upside down and gather all your hair at the crown of your head, securing it loosely with a scrunchie or a hair tie. Allow the curls to cascade down, resembling the shape of a pineapple. This simple yet playful style keeps your curls intact and adds volume to your overall look.
The Chic Double Ponytail: Separate the top section of hair and gather strands from each side of your head, just above the ears. Secure the sections at the back with a hair tie or elastic as if you were doing a half updo. That will be your first ponytail. Then gather the rest of your hair in a low ponytail at the nape, secure with a hair tie and allow the top section of your hair that is in the first ponytail to fall on top of the second ponytail. This simple look is great for special events.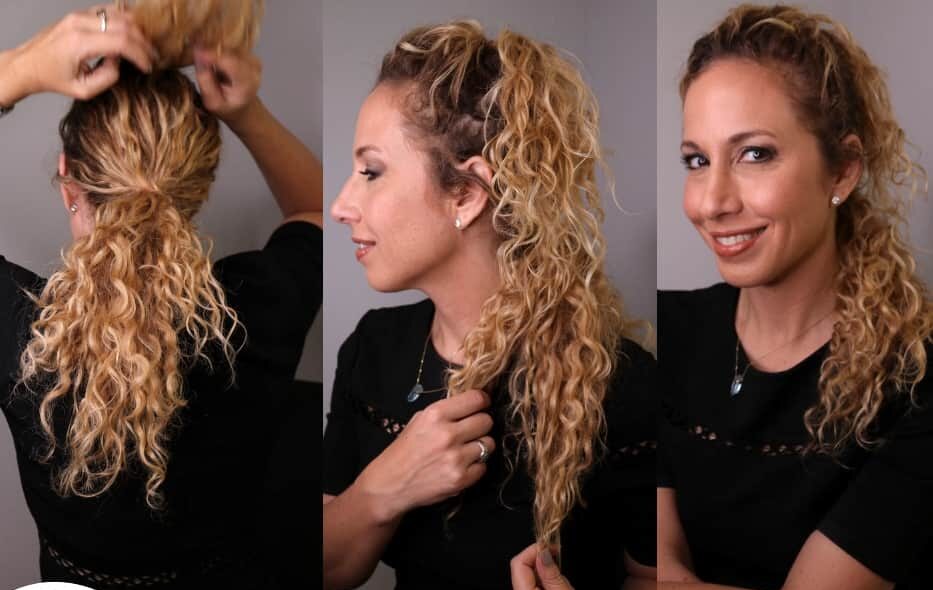 Can I do these hairstyles on curly girls?
Yes! These cute hairstyles are appropriate for all ages. They do work best on longer hair. If your little girl has short hair, it might be easier to use a colorful, silky headband or use a hair elastic for the half-up, half-down hairstyle.
Tips for a Curly Hair Flawless Ponytail
Curly hair can be both a blessing and a challenge when it comes to styling. However, the classic ponytail is one of the easiest hairstyles. It's such a versatile option that allows you to embrace your natural curls while keeping your hair away from your face.
After testing out different ways to do a ponytail with my own curly hair, I've figured out a few steps to help you achieve a flawless one. Say goodbye to frizz and hello to a chic and polished look that takes just minutes to create! Plus, it's perfect for summer days or when you simply don't want to wash your hair.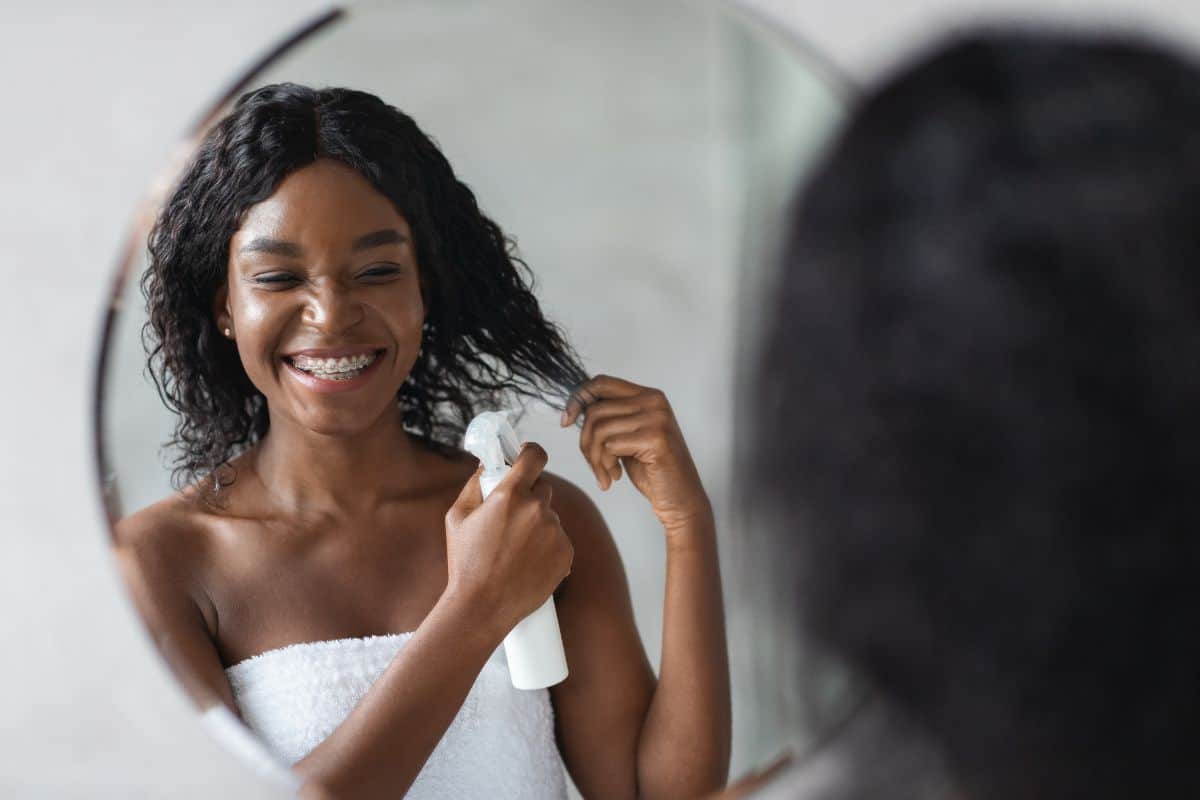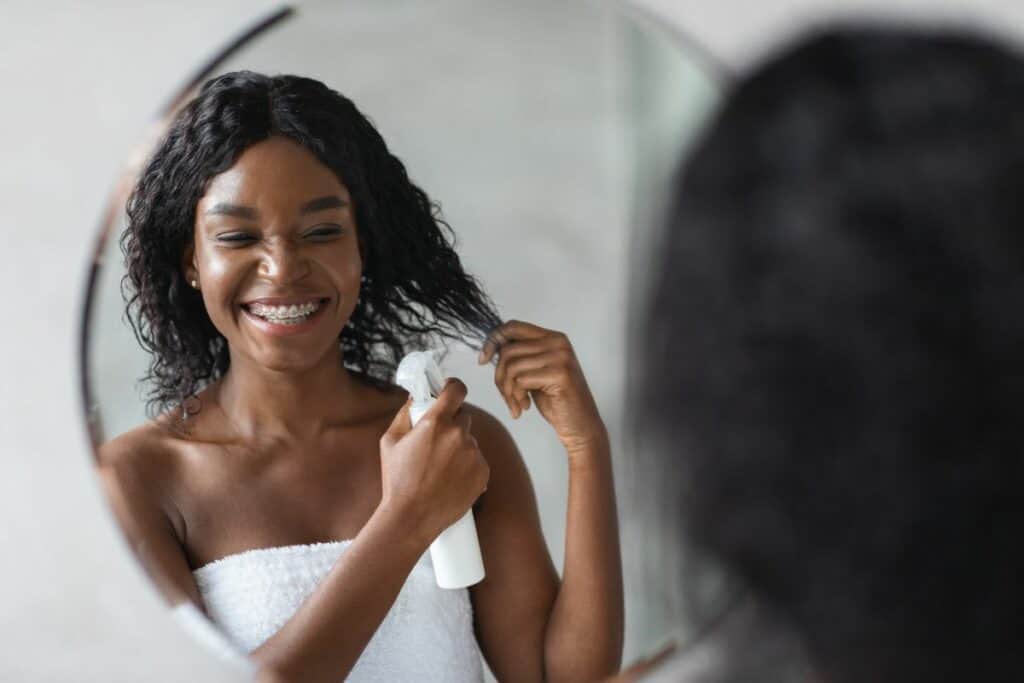 Prep and Protect: Before styling your curly hair, it's important to start with a good foundation. Begin by applying a leave-in conditioner, texturizing spray or a curl-enhancing product to damp hair. This helps to hydrate and enhance your curls. Additionally, consider using a heat protectant spray if you plan to use any hot styling tools.
Detangle with Care: Gently detangle your curls in the shower using a wide-tooth comb or your fingers after applying conditioner. Start from the ends and work your way up to prevent unnecessary breakage. This step ensures that your ponytail will be smooth and free of knots. You can also detangle after washing your hair, squeezing excess water after rinsing and applying your favorite hair styling product for curly hair.
Choose the Perfect Placement: Decide where you want to position your ponytail. For a classic and sleek ponytail, opt for a mid-height placement at the back of your head. If you prefer a more playful and casual style, try a high ponytail positioned at the crown. For a more casual, relaxed look, do a low ponytail. You can even pull it to one side for a more romantic look. Adjust the placement based on your personal preference and the occasion.
Secure with a Gentle Touch: When it comes to securing your curly ponytail, avoid using tight elastic bands or metal accessories that can cause breakage and damage. Instead, opt for snag-free hair ties made of silky fabric or silicone. Gather your hair at the desired height, ensuring that you leave some curls loose around your face for a softer look. Wrap the hair tie around the ponytail, but don't pull it too tight. This allows your curls to breathe and maintain their natural shape.
Embrace the Art of Fluffing: Now it's time to add some volume and dimension to your curly ponytail. Gently tug at the sides of your ponytail to loosen it slightly and create a fuller appearance. Use your fingers to carefully separate and fluff your curls, making them look more voluminous and defined.
Tame Frizz and Flyaways: To combat any frizz or flyaways, apply a small amount of anti-frizz serum or a lightweight hair oil to your palms. Rub your hands together and gently smooth them over the top layer of your ponytail, focusing on the areas prone to frizz.
The Finishing Touch: For an added touch of sophistication, take a small section of hair from the underside of your ponytail and wrap it around the hair tie. Secure it with a bobby pin discreetly placed underneath the ponytail. This simple technique adds a polished finish and conceals the hair tie.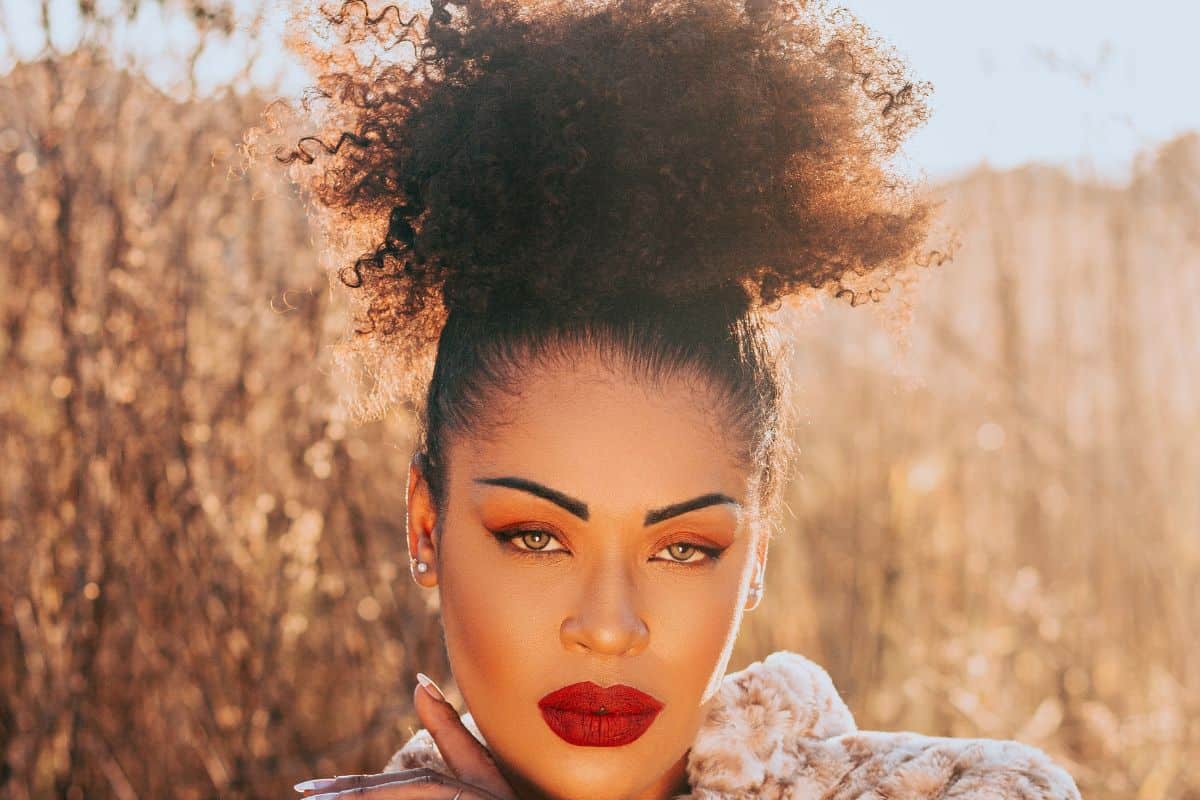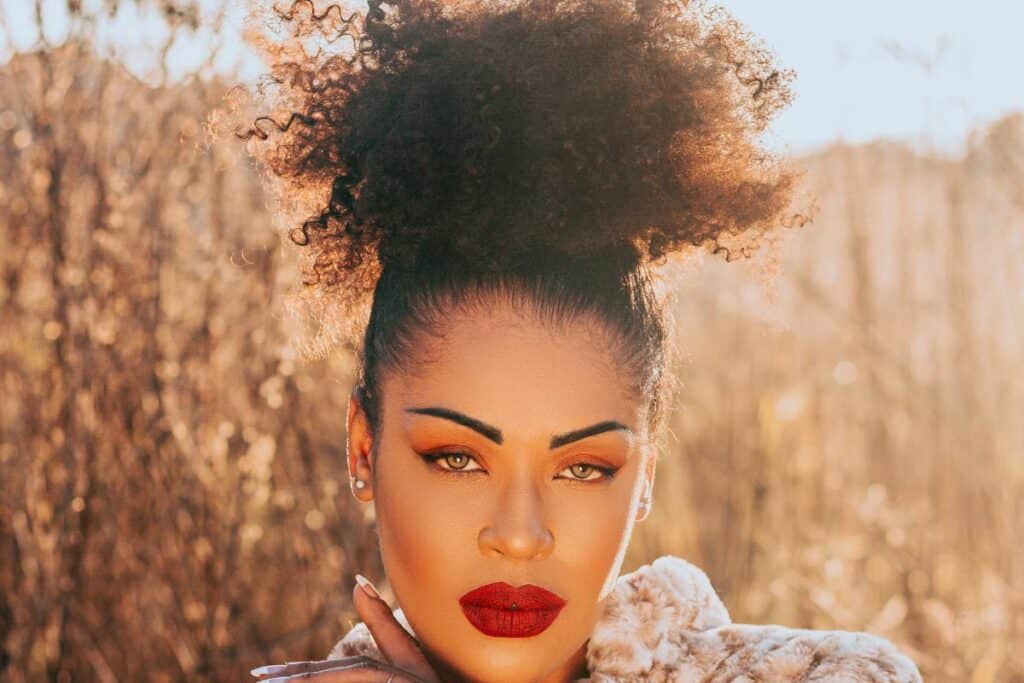 Creating a stunning ponytail for your curly hair doesn't have to be a daunting task. By following these easy steps, you can achieve a stylish and effortless look in just a matter of minutes. Embrace the beauty of your natural curls and rock a ponytail that showcases your unique texture. Say goodbye to bad hair days and hello to a chic and put-together style that will turn heads wherever you go!
Pro tip: Be gentle to avoid breakage
The key to a perfect curly ponytail lies in embracing your hair's natural texture and keeping the styling process gentle. Avoid pulling your hair back too tight to minimize the risk of damage.
Go ahead and flaunt your gorgeous curls with confidence. With these tips and tricks, you'll be a ponytail pro in no time!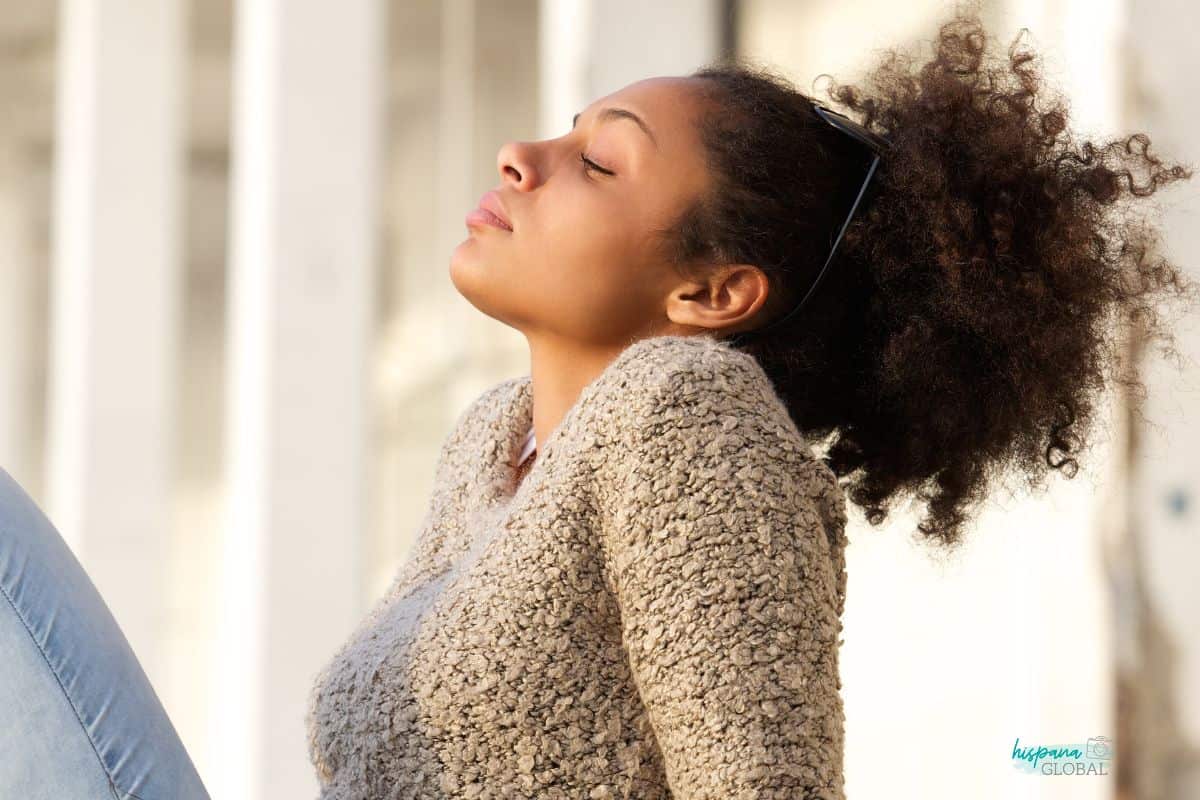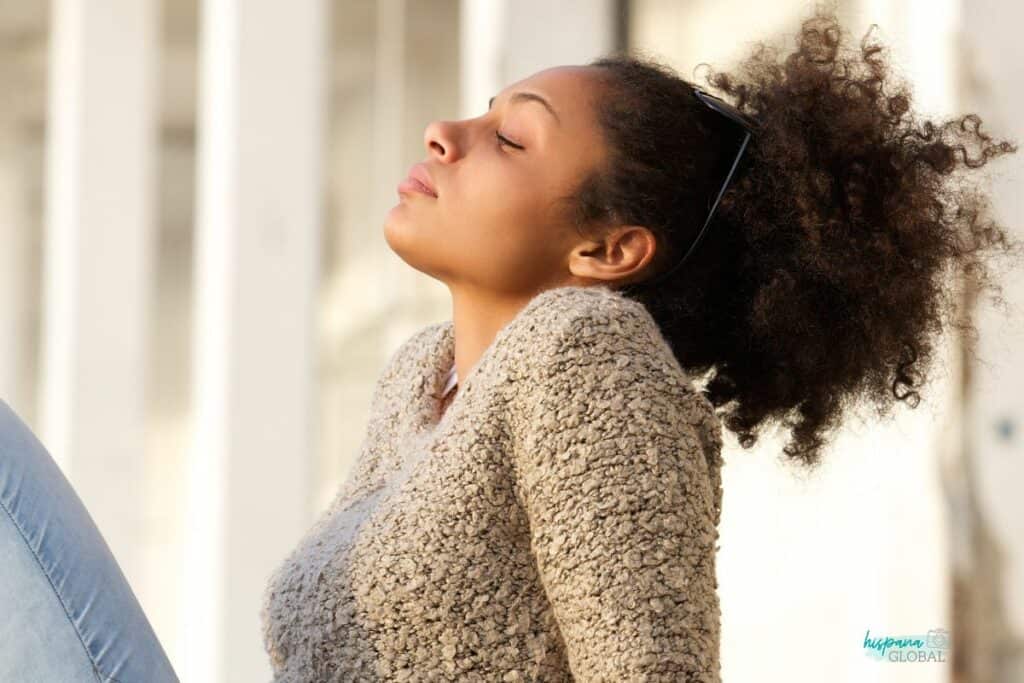 No matter which hairstyle you choose, always embrace and celebrate your unique curls. Now go ahead and rock those beautiful tresses with these time-saving hairstyles. Enjoy the compliments and the extra time you'll save in the morning!
Let me know if you end up falling in love with any of these 5-minute hairstyles for curly hair!
Tips for Curly Hair