What To Wear On The Disney Wish
If you booked a vacation on the Disney Wish, first of all, congrats! It is such a magical cruise ship. Second, don't stress if you don't know what to wear on the Disney Wish or what to pack. I have you covered!
When planning your Disney cruise, choosing what to wear is not so complicated. While the Disney cruise ships' dress code is generally casual, there are a few things to keep in mind to ensure that you're comfortable and dressed appropriately for each occasion. Disneybounding –dressing in outfits inspired by your favorite Disney characters— is a great idea and super fun!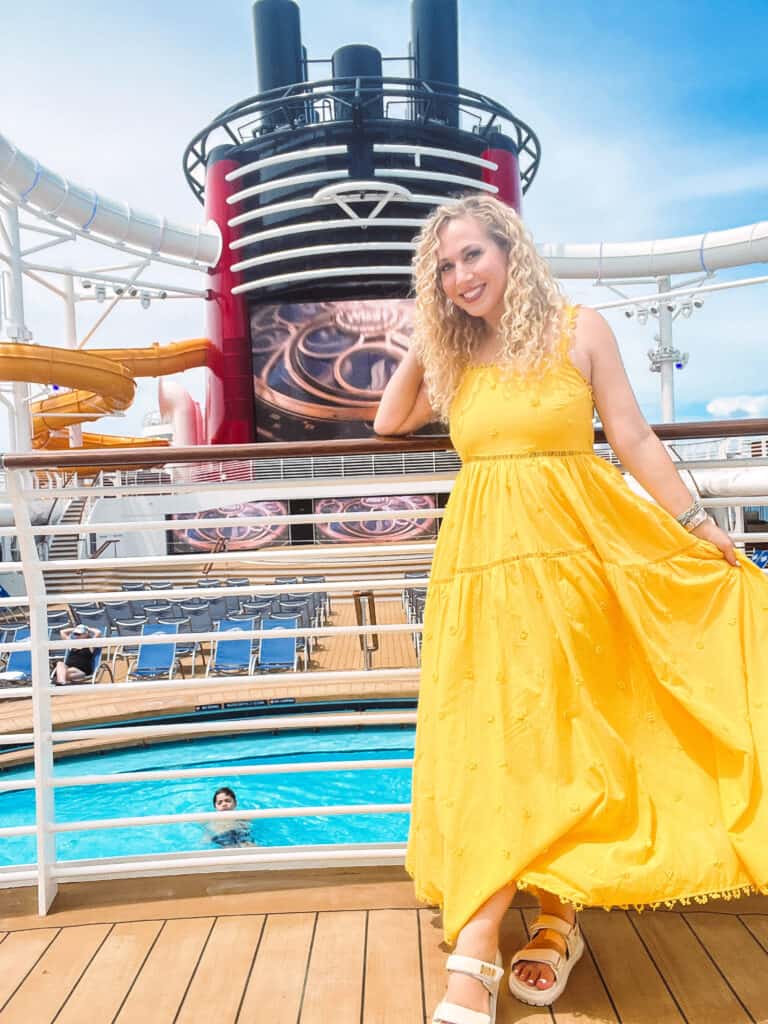 For most of the day, casual attire is the norm. You'll likely spend a lot of time in the ship's public areas, such as the pool or the dining venues, where shorts, t-shirts, caftans, and sundresses are all appropriate. Keep in mind that swimwear is only allowed in designated areas, such as the pool deck. So great swimsuit coverups are essential, especially if you will be having breakfast or lunch at the main dining rooms.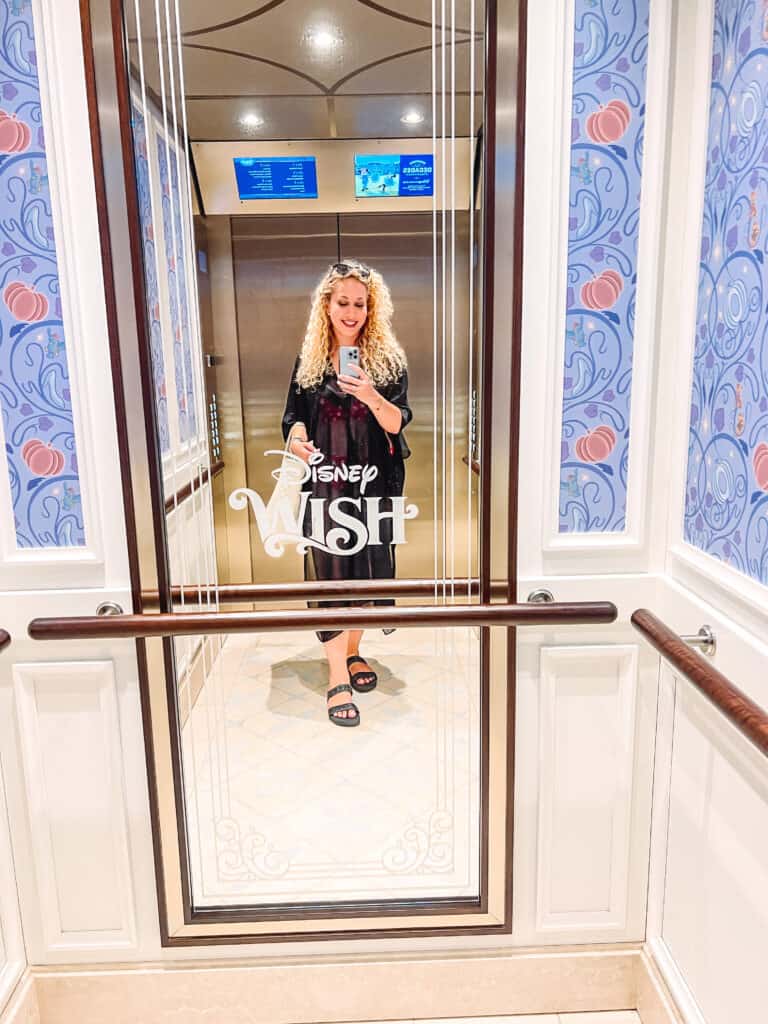 Another important thing to consider is the weather. The ship sails to warm and tropical destinations, so it's important to pack lightweight, breathable clothing and appropriate sun protection. However, the air conditioning in inside areas can be quite cold, so make sure to pack a cardigan, light sweater, sweatshirt or jean jacket.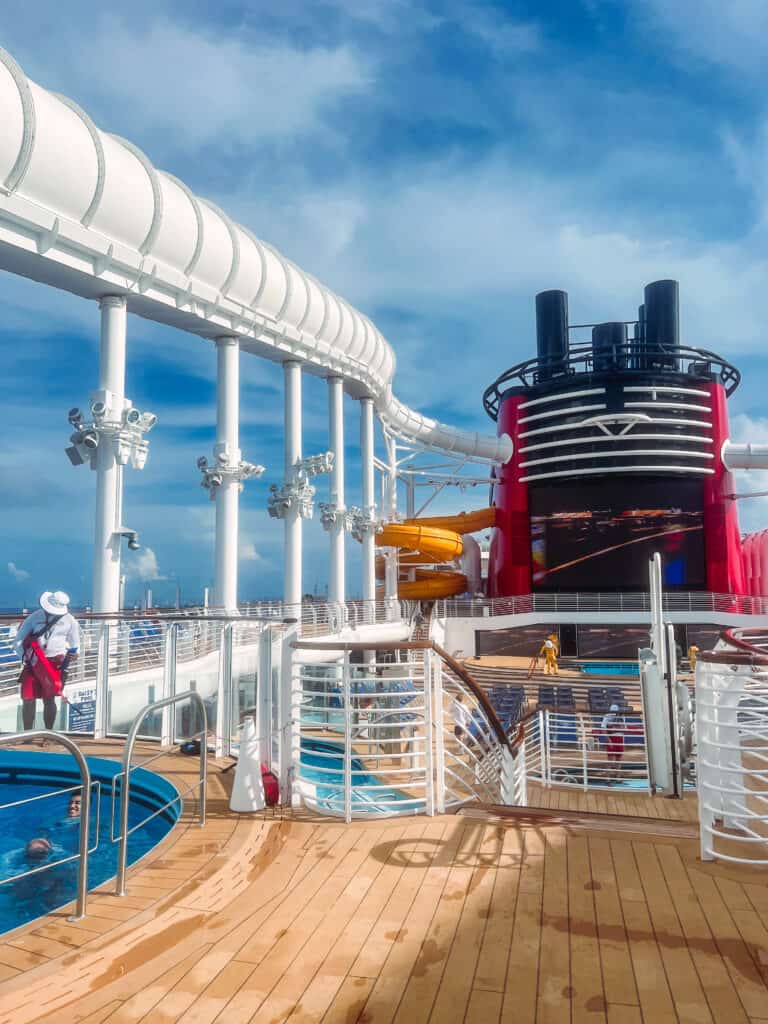 Does the Disney Cruise Line have a dress code?
Yes, but the Disney cruise dress code guidelines are quite relaxed because the official attire is cruise casual. Shorts, t-shirts and jeans are totally okay for the day. Swimwear is not allowed in inside dining spaces.
In the evening, the dress code becomes slightly more formal at certain restaurants, especially Enchanté and Palo. For men, this usually means slacks and a button-up shirt or polo shirts, while women can wear a dress or a skirt and blouse. For formal evenings, especially if you will be taking pictures, a suit and tie is appropriate for men, while women may choose to wear a cocktail dress or dressy pantsuit.
Are there themed nights on the Disney Wish?
According to the Disney blog, most cruises have special theme nights that provide opportunities to dress up for a one-of-a-kind family photo. For example, Pirate Night is a staple of all Disney cruise line ships and ends with a party and fireworks at sea. Don't be surprised if you see families go all out in full pirate costumes.
Disney ships do have a unique dining rotation system that will allow you to have the same servers even though you switch restaurants each night. You can coordinate your wardrobe depending on the restaurant's theme. For example, many friends like to Disneybound as their favorite Marvel characters for the meal at Worlds of Marvel. Personally, I channeled my inner Elsa for our dinner at the Frozen-themed Arendelle. I also saw many girls dressed up like Anna and Elsa; some had even been to the Bibbidi Bobbidi Boutique for a complete princess transformation!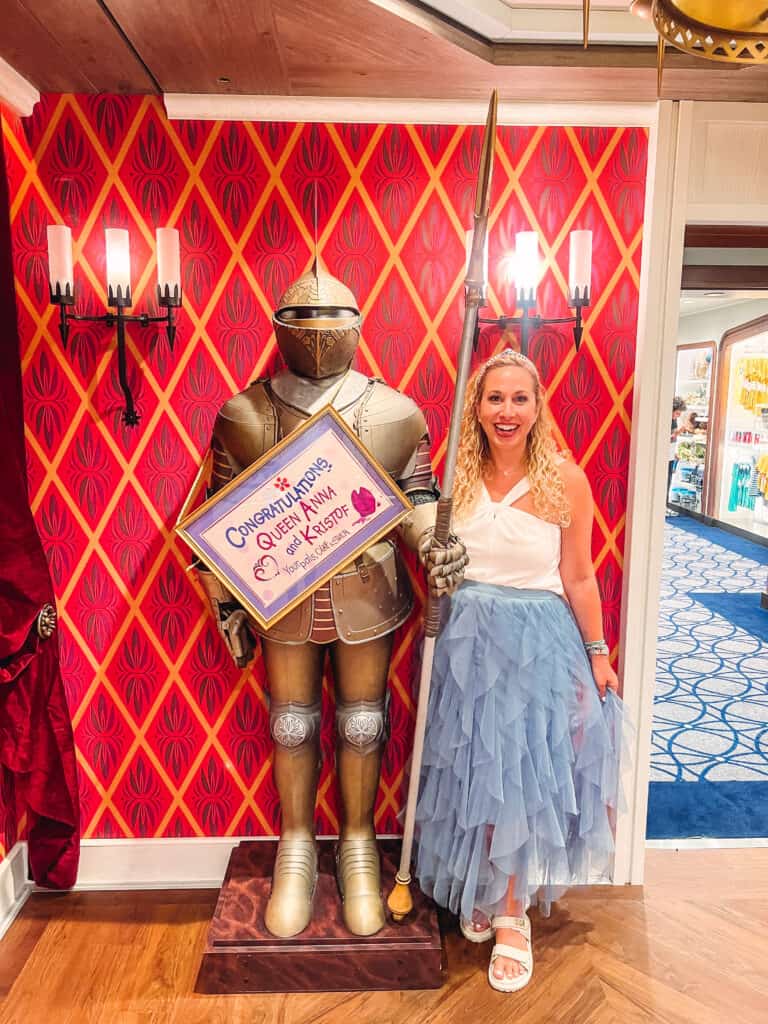 Here's a top level breakdown of what to expect on Disney's newest ship:
3-night cruises:
One cruise casual night
One pirate night themed deck party
One optional formal night —jacket for men, dress or pantsuit for women
4-night cruises:
First night is cruise casual
One pirate night themed deck party
One optional dress-up night; jacket for men, dress or pantsuit for women
Final night is cruise casual
If you're sailing on the Disney Fantasy or Disney Dream, the itinerary might be longer so please double check. The Disney Cruise Line navigator app also displays daily information with dress codes in case you need a reminder.
What is the dress code for the Disney Wish Adults-Only restaurants?
Adult-exclusive restaurants aboard the Disney Wish cruise are upscale and elegant dining experiences. Formal or semi-formal attire is recommended. It can be a casual yet polished look (think dressy pants, jeans in good condition, collared shirts and blouses). What is a definite no no? T-shirts, swimwear, Crocs, and sports attire. You will not be allowed to dine if you look like you just came from the pool, wearing tank tops or swimsuit cover-ups.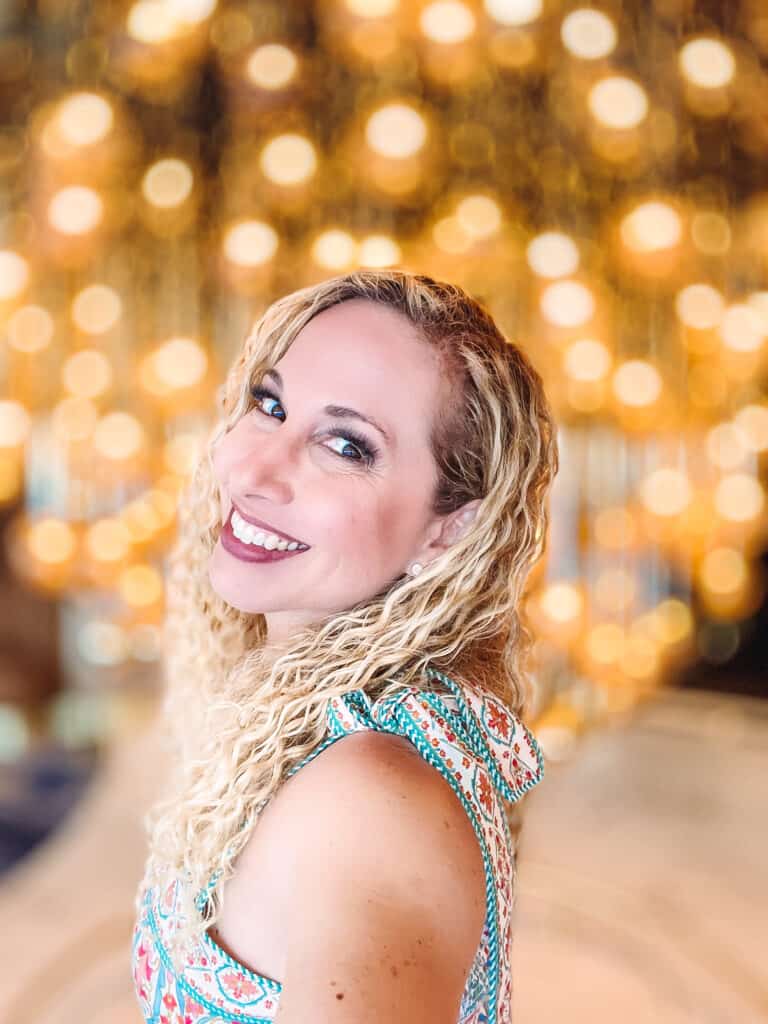 Adults-only restaurants at the Disney Wish include:
Palo Steakhouse: Acclaimed Italian cuisine is paired with world-class steakhouse fare aboard the Disney Wish.
Enchanté: A romantic dining venue featuring French-inspired delicacies aboard the Disney Wish created by Michelin chef Arnaud Lallement.
What shoes should I take on the Disney Wish?
When it comes to shoes, comfort is key. You'll be doing a lot of walking on the ship and in port, so it's important to choose shoes that are easy to walk in, like tennis shoes (trainers) or Crocs. However, keep in mind that some areas of the ship may require closed-toe shoes for safety reasons. Sneakers and flip flops will be fine most of the time but you might want to have a nice pair of sandals for dinner.
Can I Disneybound on a Disney cruise?
Yes! I highly recommend it. And before you spend a fortune on a new Disney-themed wardrobe, I highly recommend shopping in your closet. Yellow sundresses can be used when channeling your inner Belle, while smoky gray blue or baby blue can be used to put together an Elsa or Cinderella-inspired outfit.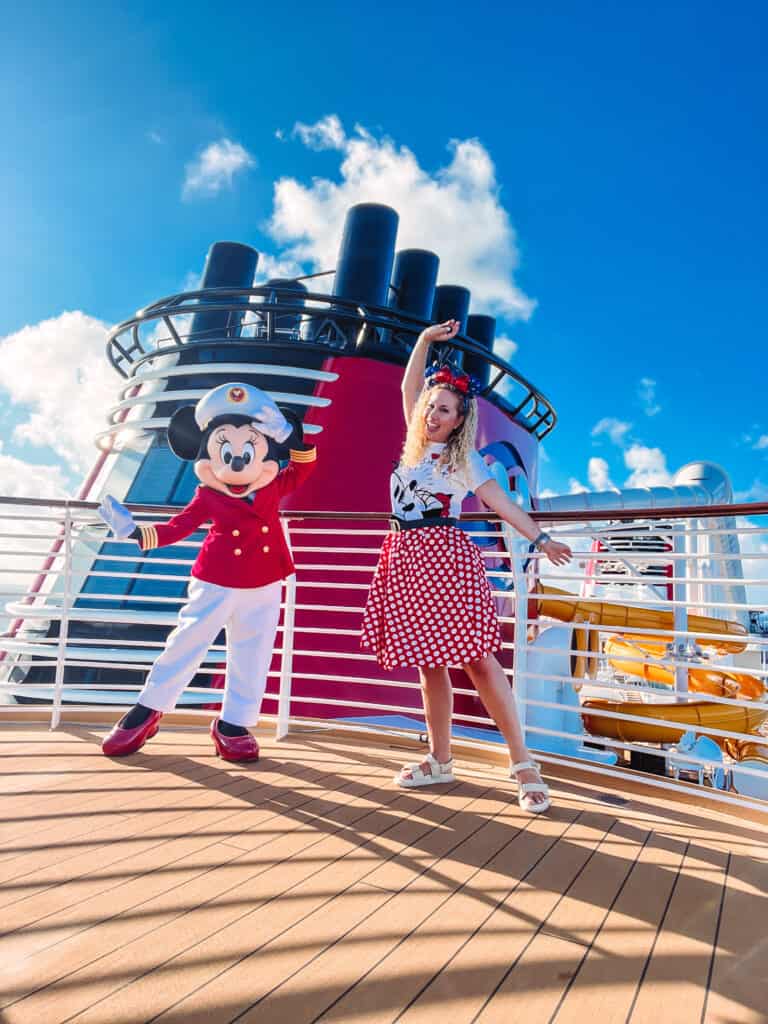 If you are a Minnie Mouse fan, think about outfits in black, white and red. Polka dots are also an easy way to Disneybound as Minnie. By the way,, you can always wear your Mickey ears. I even more mine to the beach!
By the way, if you're a Star Wars fan, feel free to gain inspiration from your favorite Jedi when you visit the Hyperspace Lounge. Make sure to make reservations as soon as you embark on your cruise because demand is high!
What should I wear at Castaway Cay?
Disney's private island, Castaway Cay, is heaven on earth. Wear what you usually wear to the beach. A nice swimsuit, coverup, sunglasses, hat and flip flops will do. If you want extra protection from the sun, a rash guard or long sleeve t-shirt will be very helpful. Don't forget a beach bag to hold all your essentials and SPF. If you book any excursions or are planning to rent a bike, make sure you are wearing appropriate shoes.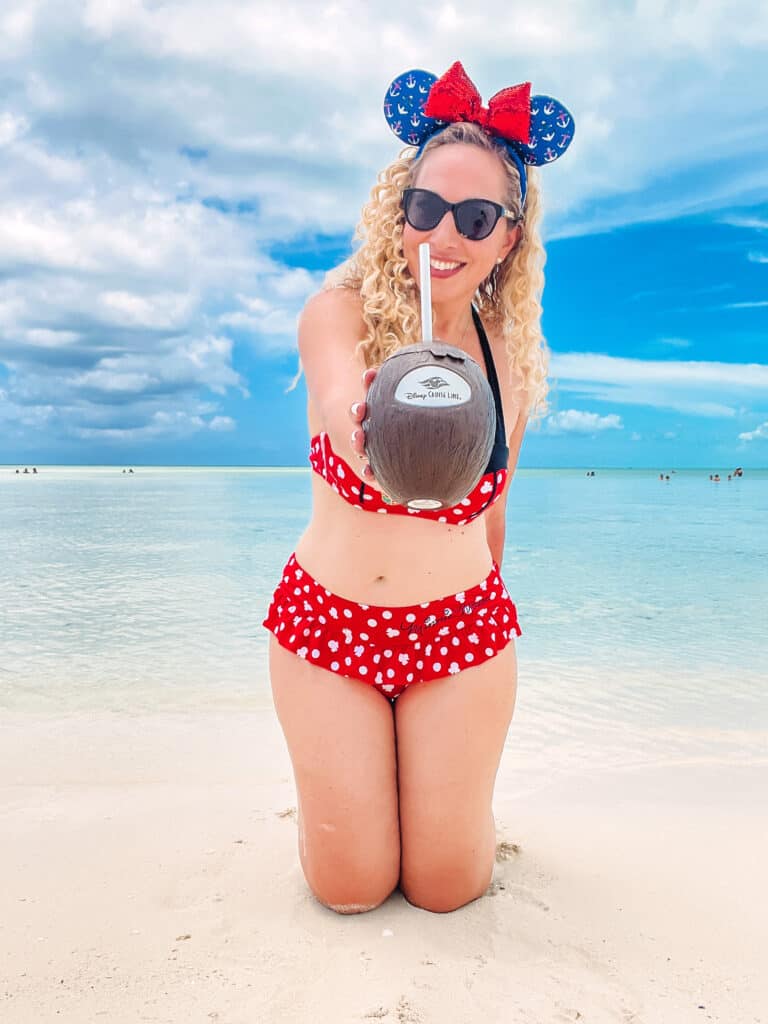 The best tip for embarkation day
Whatever you wear, if this is your first cruise vacation please remember to pack a swimsuit in your carry-on or day bag on the day of embarkation. That way you can start enjoying all the pools and sun in the fun from the moment you get on board your cruise. If you get there early, make sure to have lunch and then enjoy the facilities. Luggage can take several hours to get to your room, so by having a swimsuit in your carry on or day bag, you don't have to wait to enjoy Disney's newest cruise ship.
Overall, the key to dressing for a Disney Wish cruise is to be comfortable and appropriate for the occasion. You'll likely spend a lot of time in casual attire, but it's also important to have something a little more formal for the evening. And don't forget to pack for the weather and bring comfortable shoes!
Where can I get a cruise packing list?
Here! If you need a free, printable cruise packing list, just enter your information and I will send it your way.
More Disney cruise tips