What To Take In Your Travel Makeup Kit
When you travel as much as I do, packing is almost second nature, and when it comes to your travel makeup kit, you learn that less is more. You can take your makeup and beauty essentials, just not all! I try to always take a carry-on instead of checking my luggage, so space is at a premium. By limiting my travel makeup kit to 15 items, I can create all kinds of looks while saving space for clothes or shoes. Just keep in mind that your liquids (moisturizer, serum, liquid foundation) must be under 3.4 oz (100 ml) and should be packed in a separate zippered plastic bag.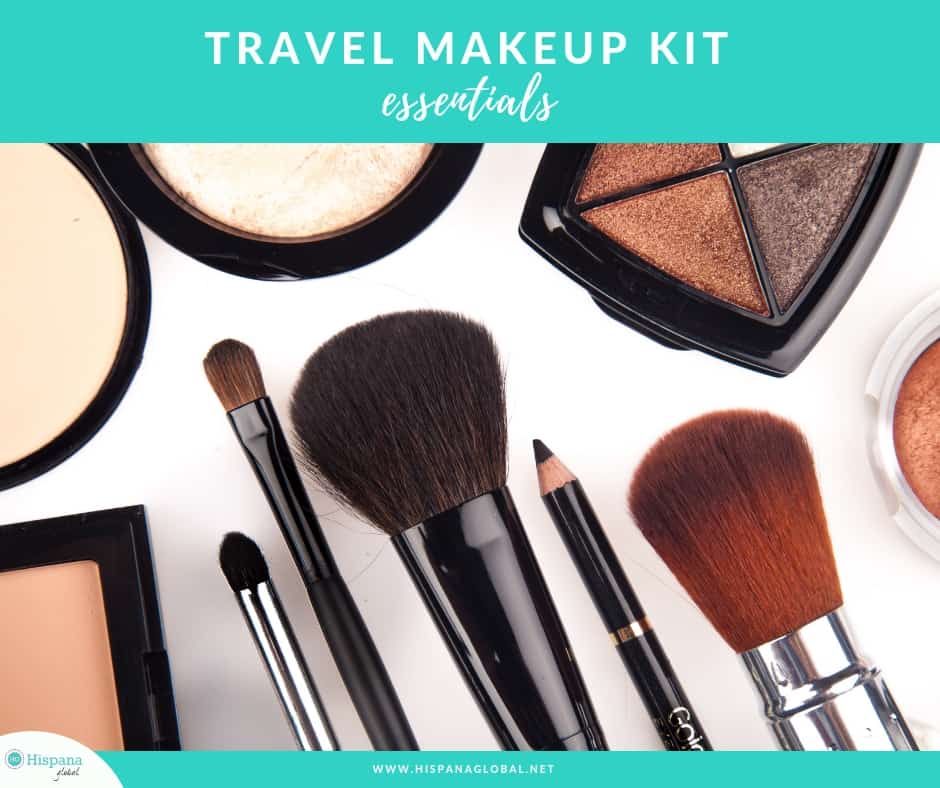 If you want to save even more space, take samples of your favorite skincare products. Many department store brands have small packettes with serum or moisturizer samples that are perfect for travel.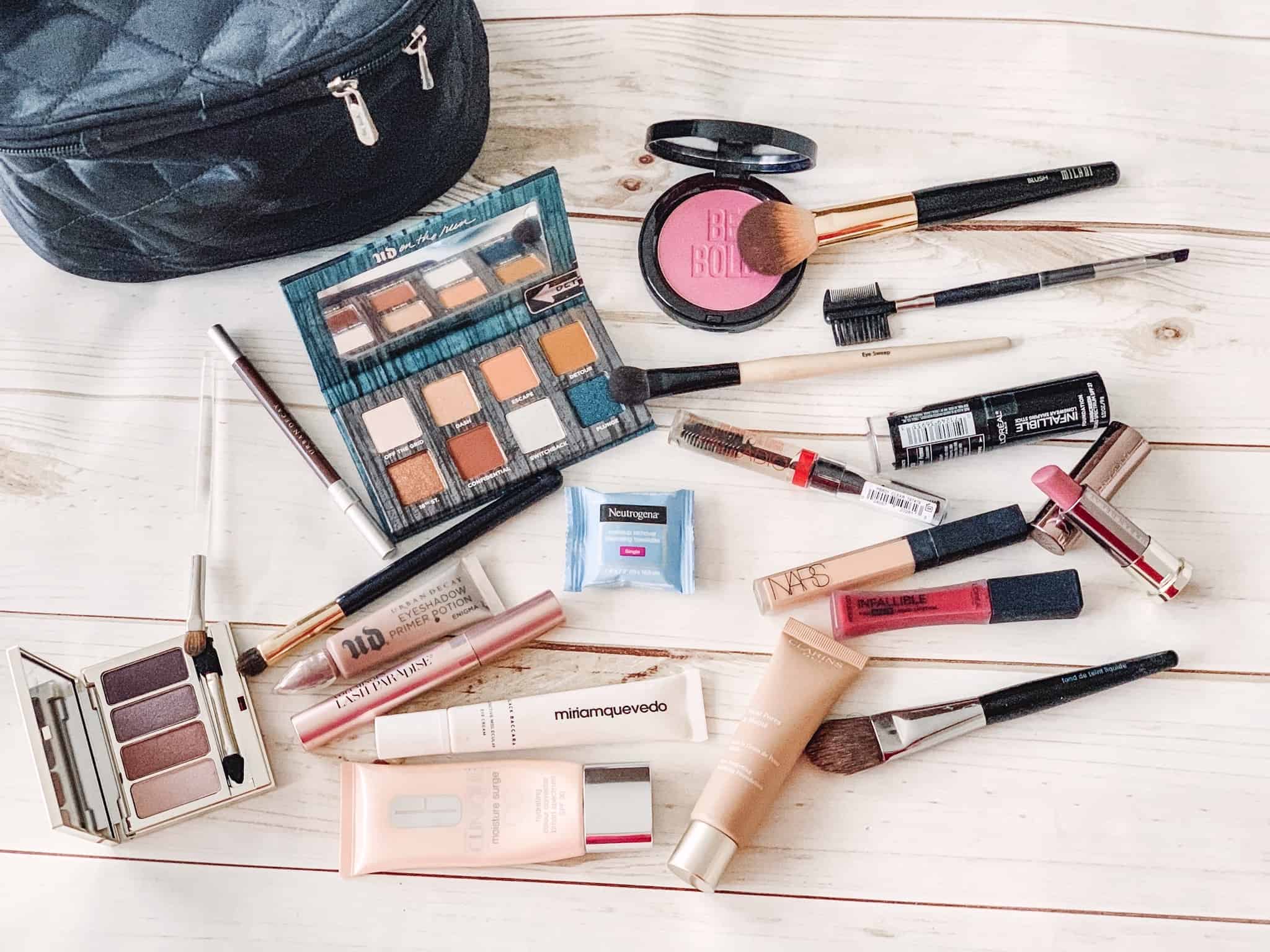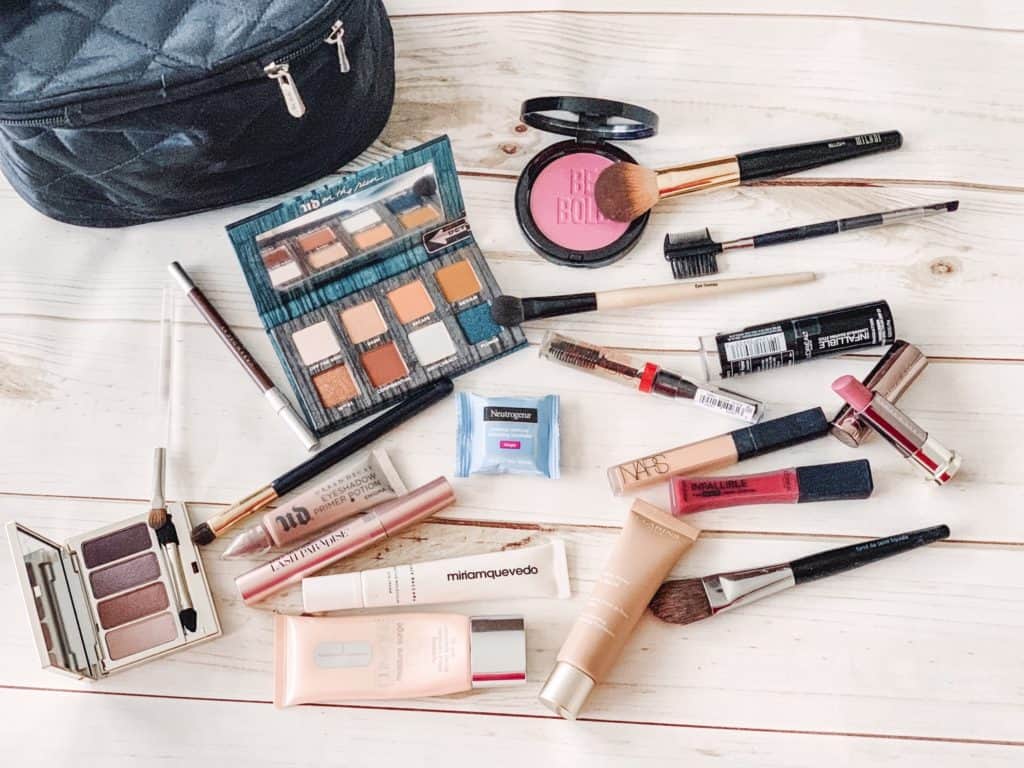 Travel Makeup Kit Essentials
Tinted moisturizer with SPF, BB or CC cream: this way you moisturize, add some color and protect your skin from the sun with just one product.
Concealer: for me it's a must because I have dark circles under my eyes. I also use concealer as a primer for my eyeshadow if I forgot to pack my beloved Urban Decay Primer Potion.
Mascara: a good volumizing mascara in black is always in my makeup kit. If I'm going to a rainy destination or will be spending time at the beach or pool, I take a waterproof mascara as well.
Makeup removing wipes: the easiest way to remove makeup or refresh your skin when you're on the go. Neutrogena now sells these individually wrapped makeup removing towelettes that are great to have in your handbag, beach bag or carryon.
Eye cream: this is a must when you travel a lot, like I do.

The skin around our eyes is very delicate and needs extra TLC when we travel. I prefer non-greasy ones, like the eye creams from Clarins, Miriam Quevedo, Chanel and Beautycounter.

Brow gel: use a clear one to fix unruly brows on the go without fear of messing up.

Palladio Beauty, L'Oreal Paris, and Bobbi Brown have great ones.

Dark brown or black eye pencil: when I don't have time (or patience) to do my eye makeup, I line my eyes and use a shadow brush to gently smudge and give my eyes a smoky look.
Eyebrow pencil:

for best results, remember to use a shade lighter than your natural brow color. You can skip this if you don't need to fill in your brows.
Lip balm: find one that works for you and always keep it in your makeup bag. Your lips might get extra dry and cracked on planes or in different cities. La Mer is pricey but amazing for ultra dry lips. Sol de Janeiro's Brazilian Kiss Cupuacu Lip Butter is also very hydrating and smells like a beach vacation, while Sugar has wonderful lip treatments as well.
Pink or peachy pink blush: a light dusting of blush will freshen up your face even if you're jet-lagged. For me, nothing beats Nars Orgasm and Sephora even offers a small palette with that blush and the Laguna bronzer, which is perfect for travel.
Two lip colors: one natural and a more dramatic hue for night. I prefer pinkish nudes so I don't look washed out, and a red lipstick for night or to glam things up a bit. If you'll spend a lot of time on planes, avoid matte formulations that tend to dry up your lips and show all the imperfections. If you're a fan of liquid lipsticks, choose a demi-matte finish.
Neutral eyeshadows: your ideal travel makeup kit should have a small eyeshadow palette with at least four shades in neutral hues. I prefer earthy browns and beiges because they flatter my brown eyes and look great with anything I wear. Some friends prefer gray palettes, and those are versatile as well. Just make sure you have a light, medium and dark hue so you can create different looks. Tip: you can also use eyeshadow to fill in your brows.
Serum: skincare is super important when you travel and your serum can help your skin stay hydrated. For long flights, I recommend Clarins Double Serum, because it has helped me prevent dryness, or Estée Lauder Advanced Night Repair, a true classic that works well for all types of skin. If your skin is very dry, also pack a good moisturizer.
Brushes: at a minimum, I recommend your travel kit should have a foundation brush, blush brush, eyeshadow brush, eyeshadow contour brush, and a slanted eye lining brush (that can be used to apply define brows as well).
Optional: bronzer and highlighter. Powdered bronzer is always in my makeup kit because I use it in multiple ways. It helps you contour your face, gives you a sun-kissed glow or can even be used as an eyeshadow. Also, I know some cannot live without a little highlighter, and if you have space, pack it for sure! You can use highlighter on the top of your cheekbones and browbone to glow during your trip. Sometimes I even use it as eyeshadow with two coats of mascara and a bold lip for a simple yet glamorous evening look. If you have extra space, take a blush palette that has different shades.
When packing, also remember to take antibiotic ointment, tweezers, band-aids, contact lenses (if you wear them) and hair ties. Safe travels!
More travel tips