Beauty Trend: Personalized Skin Care And Custom Serums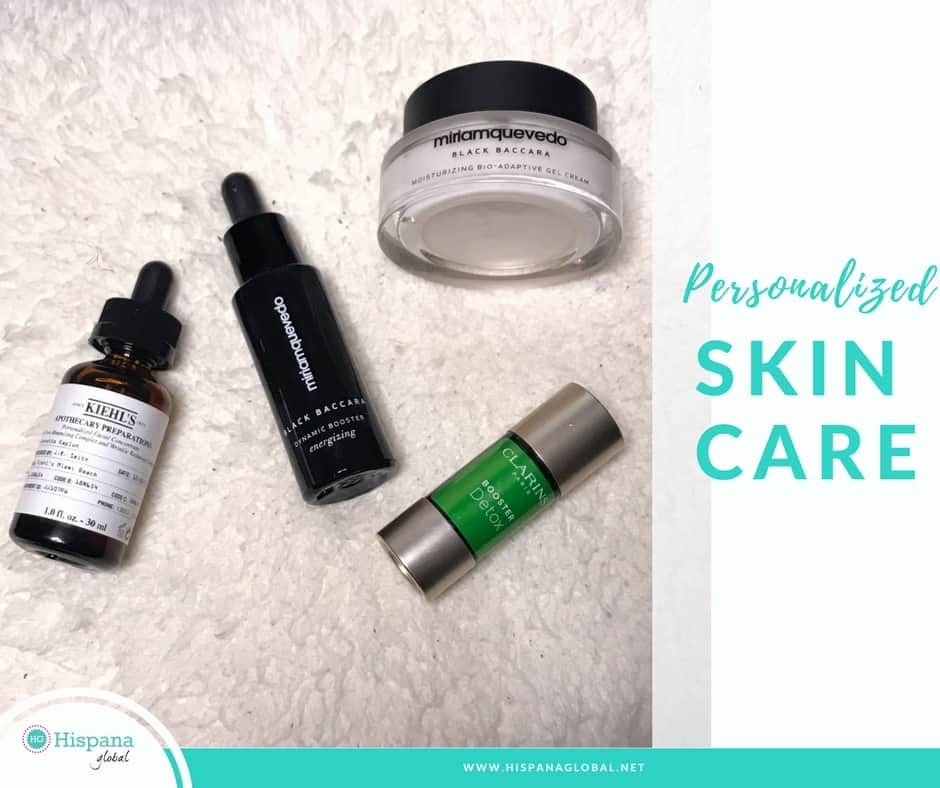 Finding a personalized product or routine that is tailored just for you is a major beauty trend right now. Making a serum or a moisturizer for each person is not realistic (and the cost would be prohibitive!) so leading beauty brands identified the most common problems. Some offer solutions customized to your skin's unique needs and issues. Here are 3 options we love.
Personalized skin care and beauty routines
Kiehl's: Kiehl's recently launched its Apothecary Preparations, which provides in-store serum customization. An expert evaluates your level of hydration in the skin (mine was at 35 percent, or not very well), shows you a book to identify your two main pre-treatments when it comes to skin care and then gives you the instructions to follow. In my case, fine lines and enlarged pores concern me, so my Kiehl's serum was customized with Pro Retinol and salicylic acid to help with those issues.You mix them into your serum when you get  home and that's it. Each bottle comes with your name and instructions so you can reorder easily once it runs out. I have been using the serum for over a week at night and my skin is so soft!
Miriam Quevedo: This luxury beauty line has powerful natural ingredients and is one of the best I've ever tested. It allows you to take care of your skin in a unique way while taking advantage of plants' nutrients. This is something that always fascinated its creator, Miriam Quevedo, whom I had the pleasure of meeting a few months ago. How does this bioadaptive skin care system work? You choose a moisturizer and then add a few drops of the serum that best meets the needs of your skin. The serums are called Dynamic Boosters and although they are expensive, they really work. That is why I recommend that an expert consultant evaluates you in-store and decide what products you will use. As my skin tends to be oily, I use the Black Baccara Rose gel creme moisturizer and then I add three drops of Energizing serum to help diminish the appearance of the pores and prevent acne outbreaks. I also add a couple of drops of the Dynamic Protection booster, to protect my face from free radicals and environmental pollution. At night, instead of using the protective serum, I switch it for the Dynamic Youth anti-aging serum. This system requires more time and you need to mix the drops with the cream every time you use them, but the results are worth it. It is a true luxury treatment for your skin.
Clarins: This line is also known for using natural plant extracts and offers a variety of serums for different needs. However, last year Clarins launched its collection of Boosters, to help resolve specific concerns. Each bottle contains very concentrated drops that must be mixed with a serum or moisturizer before applying to the face. I love using Repair at night or when I notice that my skin is very dehydrated. The Detox, on the other hand, I bring with me during my trips, because I feel that my skin needs extra help after being exposed to the dry (and dirty) airplane air. In the morning, I feel that a couple of drops of Energy mixed with my BB cream helps improve circulation. What I like is that you add a couple of drops to the other products that you are already using. Just a few drops go a long way!
Keep in mind that these products can't solve your problems by themselves; you need to be consistent and follow your skin care routine every single day.
En español: Tendencia de belleza: cuidado de la piel personalizado