10 tips if you take your teen to Halloween Horror Nights at Universal Studios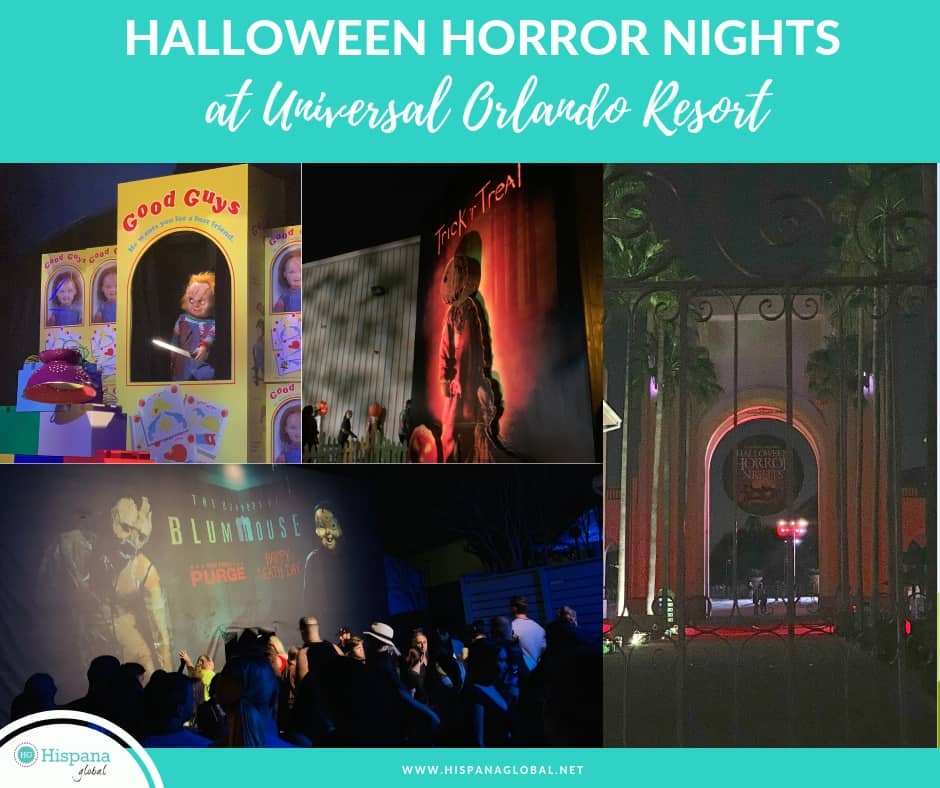 Each year Halloween Horror Nights at Universal Orlando Resort seems to get bigger and more popular. Universal Orlando continues adding more nights for this event and this year you have until November 3 to visit the 10 haunted houses ans 5 scare zones. The biggest tip? Buy your tickets before going to the park. Too many friends have "winged it" and then found out it was sold out for the night.
I recently took my daughter, courtesy of Universal Orlando Resort, and we honestly had an amazing time. I loved how they transform Universal Studios so you feel you're experiencing Halloween from the moment you set foot in the park. From the lights, to the music and the projection shows, you feel that you have entered a different park. The street shows were also quite good and I laughed so much (I know, I'm weird) at the Chucky one, which is interactive. It was creepy to see Chucky in real life, but he was comedic gold.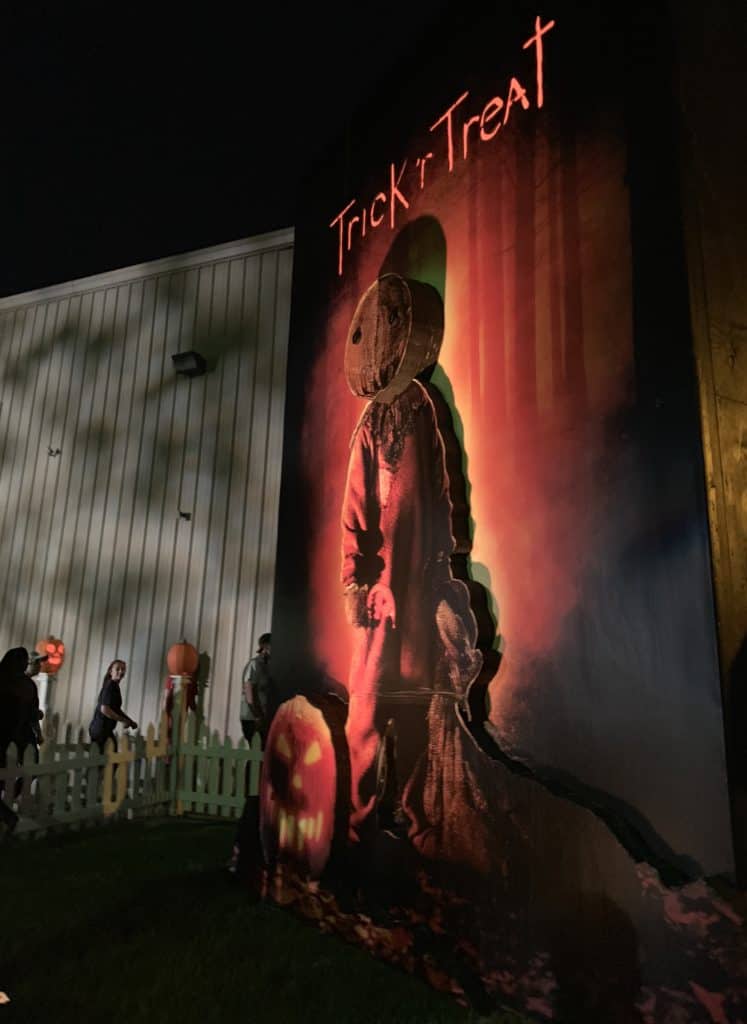 Many people have asked me if Halloween Horror Nights is really scary. If you're a teenager, I guess so, but at this point, it's very hard for me to be scared. The only thing that made me jump was the sound of the chainsaws near The Fast and The Furious Supercharged. Although I did not find the whole experience terrifying, I think it's scary enough. That's why I find it ideal for teenagers and young adults, but would not take young children. Universal Orlando Resort even warns that it is not recommended event for children under 13 years.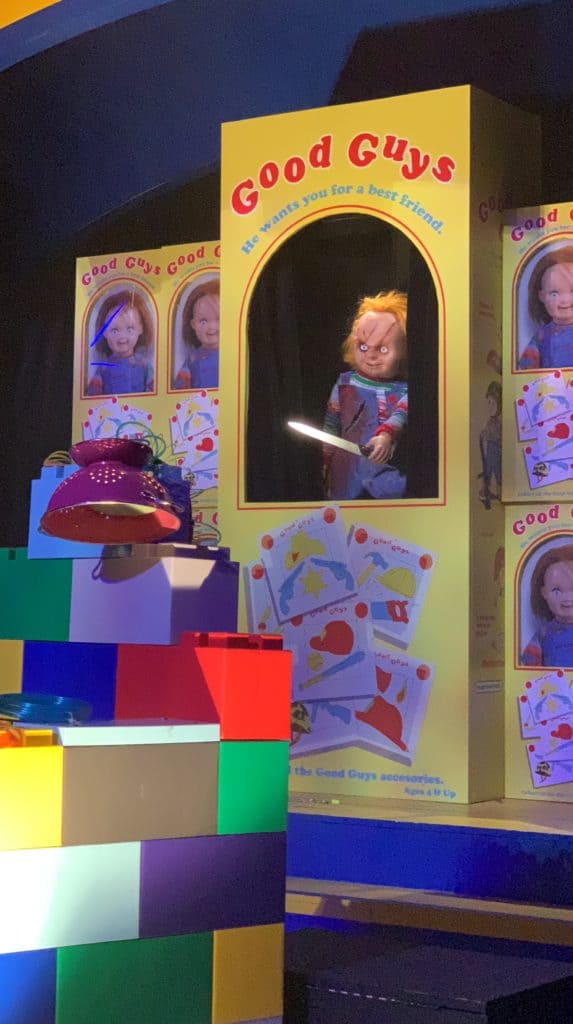 In case you're wondering, the zombies and movie characters from classic horror films can't touch you. Yes, they can chase you but they do not do anything to you. I know I have a strange sense of humor, but you can't imagine how much fun it was watching my daughter scream and run away from the actors. Because the more you scream or run, the more they chase you. For the record, she was happy and that's what she wanted. If you do not want to be approached, ignore them and that's it. Remind your daughter or son that they should not touch or insult the actors at the Scare Zones. They shouldn't touch anything inside the haunted houses, either.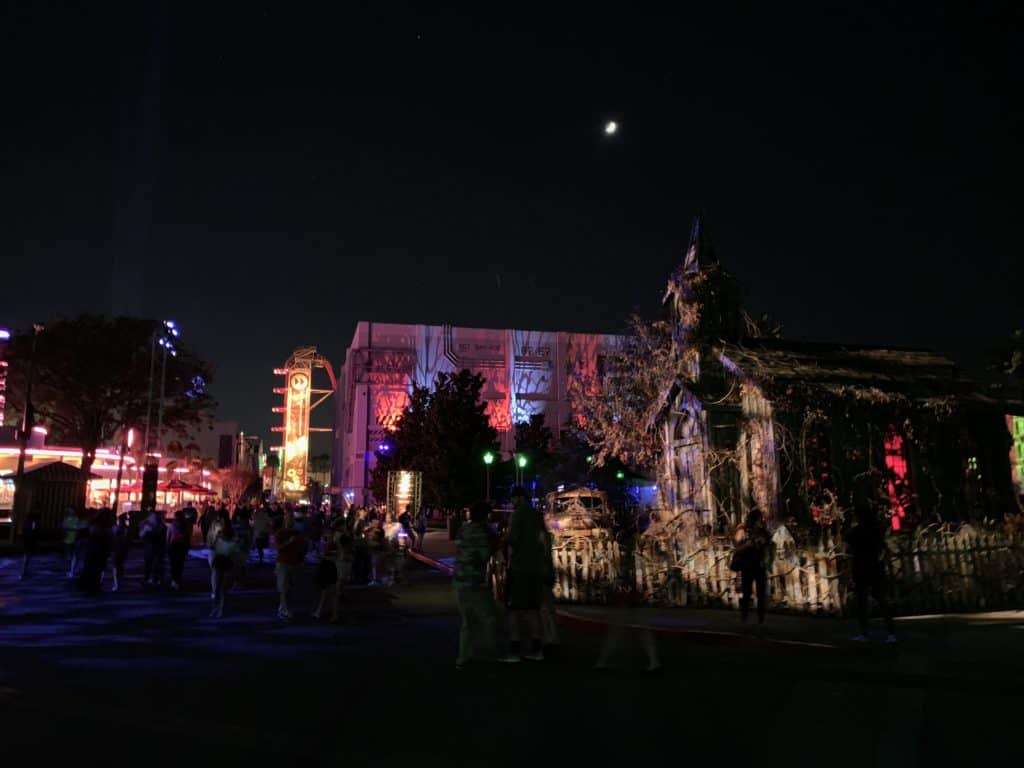 I found the haunted houses vey well executed. Some are better than others, no doubt, but you feel that you stepped into the set of a horror movie. If you grew up in the 80s, like me, the Poltergeist one will bring you many memories. If you're a Stranger Things fan, one of my favorite Netflix series, you will feel transported into the Upside Down and the town of Hawkins. Other houses were specifically created for Halloween Horror Nights by the creative team at Universal. The Blumhouse had scenes from films like The Purge and was also one of the ones that I found exceptionally scary.
Let's not forget the rides! It makes the night even better and more fun. Just keep in mind that before going on many of the attractions, you will have to leave your purse, wallet and belongings in a free locker. It works recognizing your fingerprint and is medium sized, so bring only the essentials to the park. In Hollywood Rip Ride Rockit you can't enter the queue with your mobile phone and you will go through a metal detector, so leave everything in the locker. Pro tip: remember the number of your locker to later retrieve your stuff.
if you want to plan your visit before you go to the park, here's a handy map.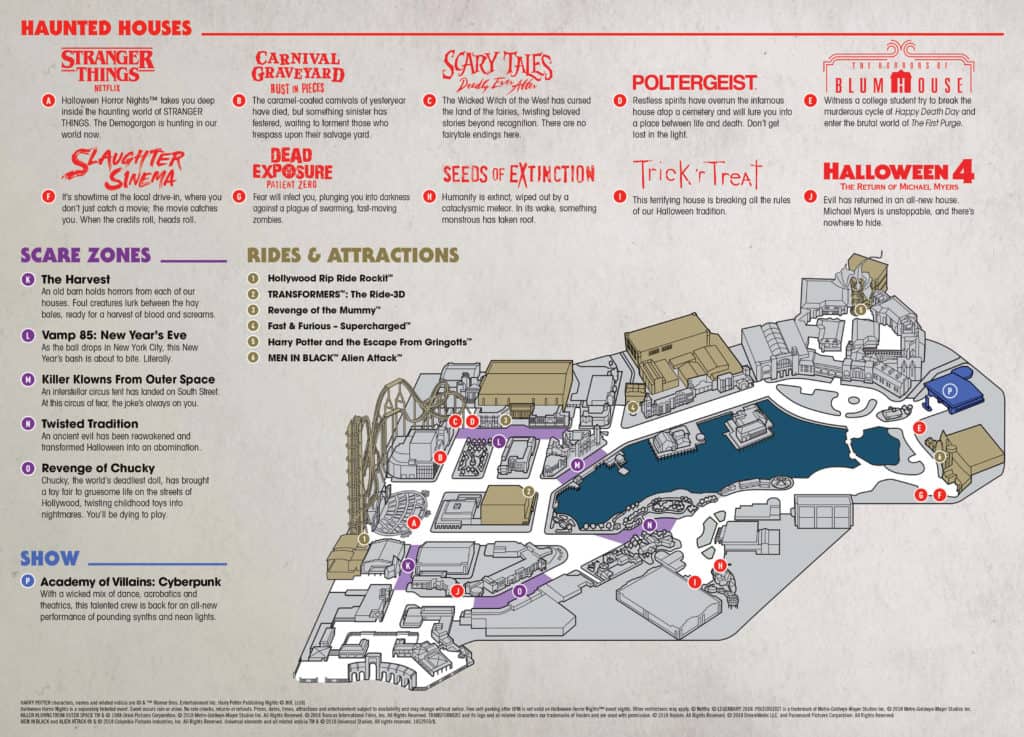 10 tips if you go to Halloween Horror Nights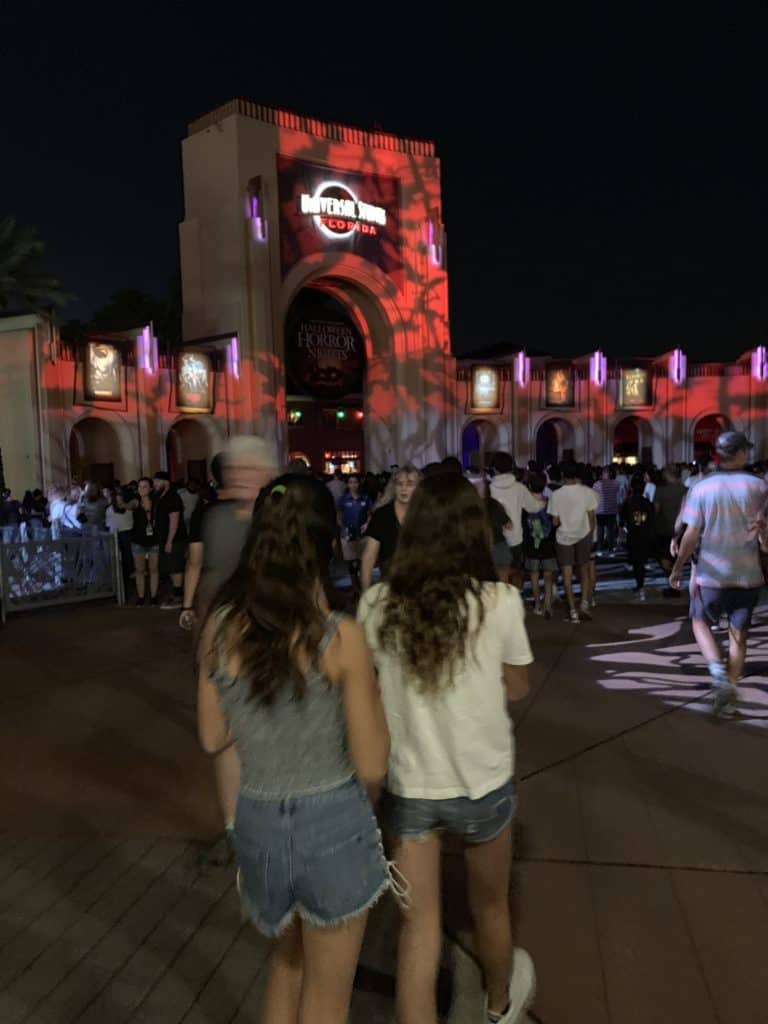 If you go to Halloween Horror Nights at Universal Studios, here are my top tips:
Wear comfortable clothes and shoes. You will walk A LOT. You'll also be standing in line to enter the haunted houses, so sneakers are ideal. The dress code for teen girls seemed to be denim shorts, while jeans and yoga pants were the norm for adults.
Buy your tickets in advance. You can't imagine how many friends I have that arrived at the park and then found out that tickets were sold out for the specific night they wanted. Don't let this happen to you! Also, if you buy your ticket online beforehand, you can save money with different promotions.
Arrive early. You'll be surprised by how many people attend Halloween Horror Nights and if you arrive before they open the doors, you can do so much more. The Universal Orlando website advises you arrive near 5 pm.
If you stay at an official Universal Orlando Resort hotel, use the special entrance. You must show your room key to access it. For me it is one of the main benefits of staying at an official hotel. In addition, you can use the free transportation (buses or boats) to get to the park, something that is so convenient! No stressing out about parking or traffic jams once everyone leaves the park at 2 am.
Have dinner before going to the park. That way you can take advantage of every second exploring the haunted houses and attractions, instead of finding where to eat something.
Bring a bottle of water for each person. Even if you go to the park at night, it's usually hot and you'll walk a lot. That's why it's important to hydrate. Also, you'll save money if you bring your own water.
If you can, pay for the express pass. The express lines are a splurge, but truly save you so much time. By having the pass you can visit all the haunted houses and also go to attractions like Revenge of The Mummy, Men in Black or Hollywood Rip Ride Rockit.
Visit the most famous haunted houses first. If you leave them for the end, even the express line can be very long and you may not get to visit them all. When we went, the longest queues were for Stranger Things, Halloween 4, Poltergeist and Blumhouse. We didn't make it to Halloween 4!
Use the free Universal app to know how long the wait is for each attraction. You can download it here for iOs and here for Android. It has interactive maps that will help you. The app also allows you to buy tickets.
Remember that masks and costumes are not allowed. Inside the park there is the option to get professional Halloween makeup at an extra charge, if that's something that you'd like to do. If you're tight on time, skip, because it might mean you won't be able to explore all the houses.
I hope your teen and you enjoy every moment of Halloween Horror Nights. If you like horror movies or want to share a different kind of Halloween experience with your teen, it's truly fun. Are you planning to go?
En español: Consejos si llevas a tu hijo o hija a Halloween Horror Nights en Universal Orlando