How To Make a S'mores Charcuterie Board
S'mores are a classic campfire treat, but have you ever tried making a S'mores Charcuterie Board? This board is perfect for a party, movie night, or just a fun family dessert. With a variety of toppings and ingredients, everyone can create their own perfect s'more.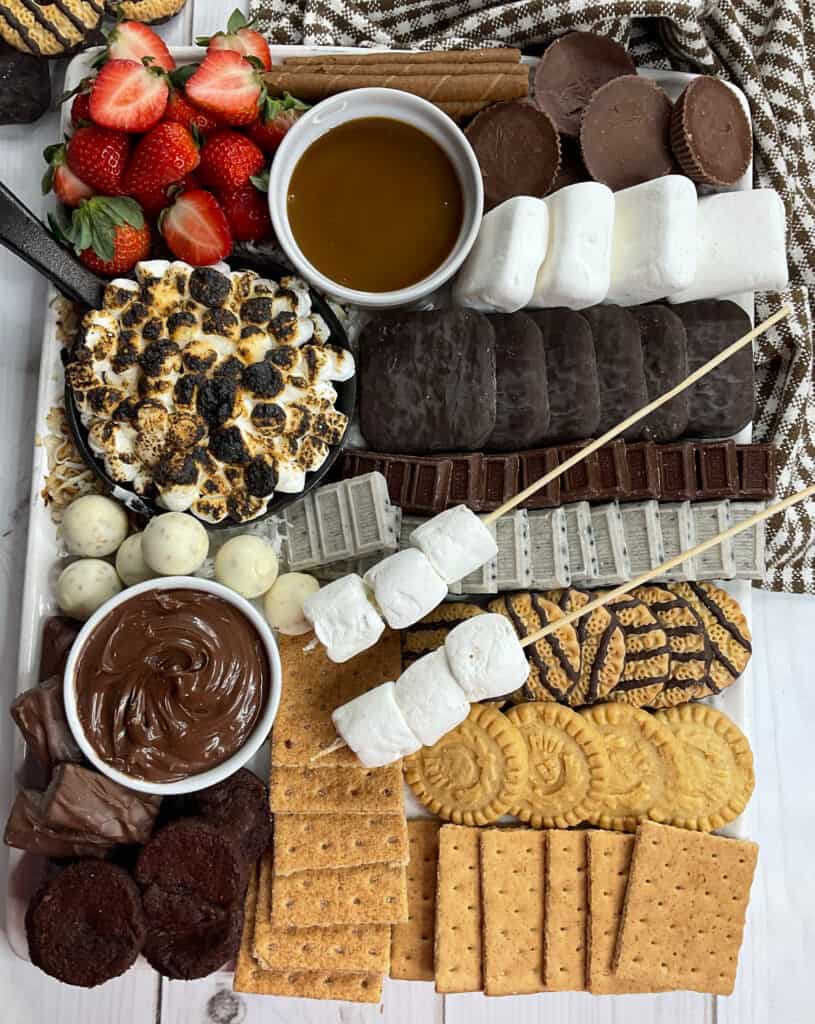 Cheese and dessert boards are so on trend right now that it takes your party platter to the next level. Ideally you will assemble on a wooden board, but feel free to use any other rectangular, square or round platter that fits in all the ingredients. Just make sure to take some time to ensure a beautiful presentation. Traditional charcuterie boards mostly focus on meats and cheese, but this one is more of a candy board.
It's not only ideal for the summer months, but it's also such a fun way to celebrate Mother's Day. It's also a great dessert idea for a barbecue. Try it at your next party and be prepared to delight your guests!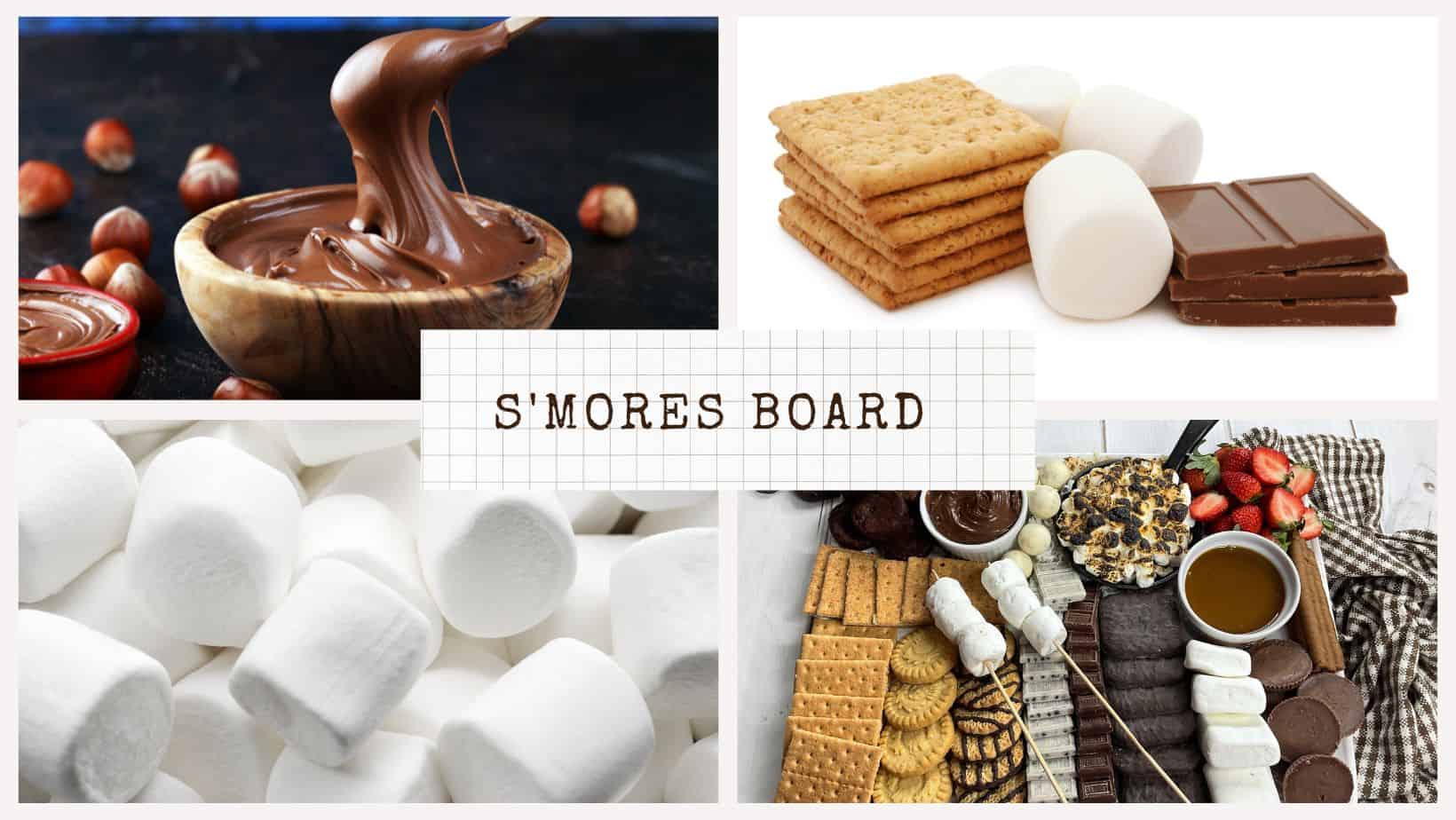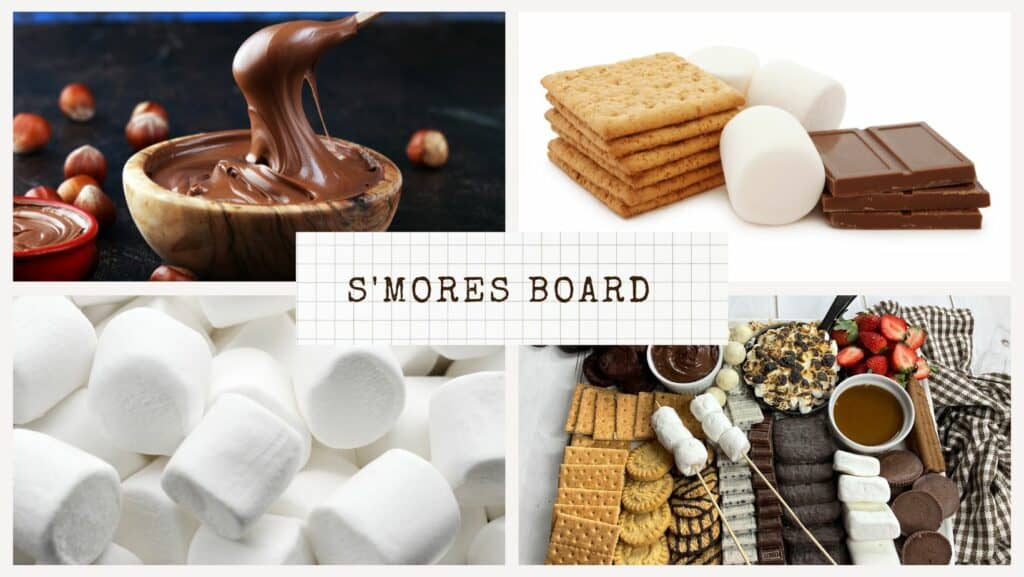 What are s'mores?
S'mores are a classic American campfire treat that consists of a toasted marshmallow and a piece of chocolate sandwiched between two graham crackers. The heat of the toasted marshmallow melts the chocolate, creating a gooey, delicious treat. The name "s'mores" is actually a contraction of the phrase "some more," which describes the feeling of wanting to eat another one.
What is the origin of s'mores?
The exact origin of traditional s'mores is unclear, but it is believed that they were first created by campers in the early 20th century. The first recorded recipe for s'mores appeared in a 1927 publication called "Tramping and Trailing with the Girl Scouts." The recipe was called "Some More" and listed the ingredients as graham crackers, marshmallows, and chocolate. Since then, s'mores have become a beloved American tradition and a popular dessert at summer camps, backyard barbecues, and other outdoor gatherings.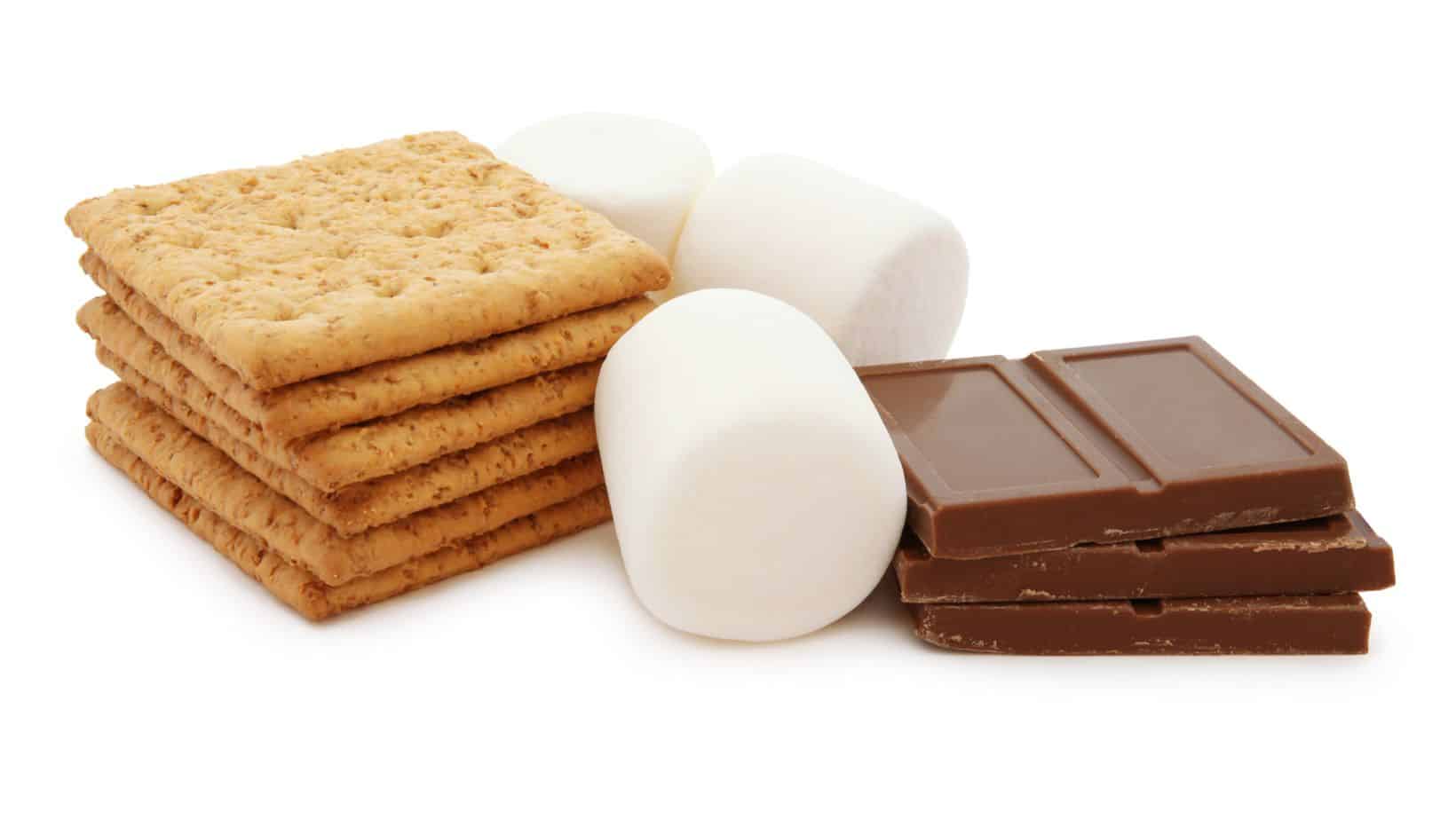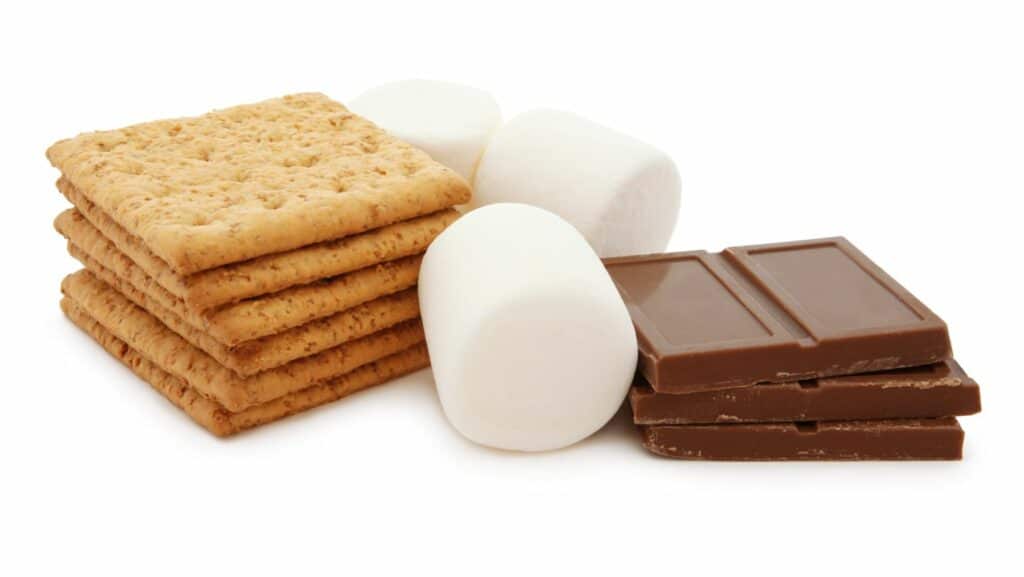 What cookies or crackers do you use to make s'mores?
Traditionally, graham crackers are used for s'mores. Graham crackers are a type of slightly sweet, whole wheat cracker that has a texture that is perfect for s'mores. However, many people also use other types of crackers or cookies to create their own unique s'mores. For example, cinnamon graham crackers, chocolate graham crackers, or shortbread cookies can all be used as a substitute for the classic graham crackers. Ultimately, the choice of crackers or cookies is up to personal preference, and experimentation is encouraged to find the perfect combination of flavors and textures for your ideal s'more.
What sweet treats do I need for an epic s'mores board?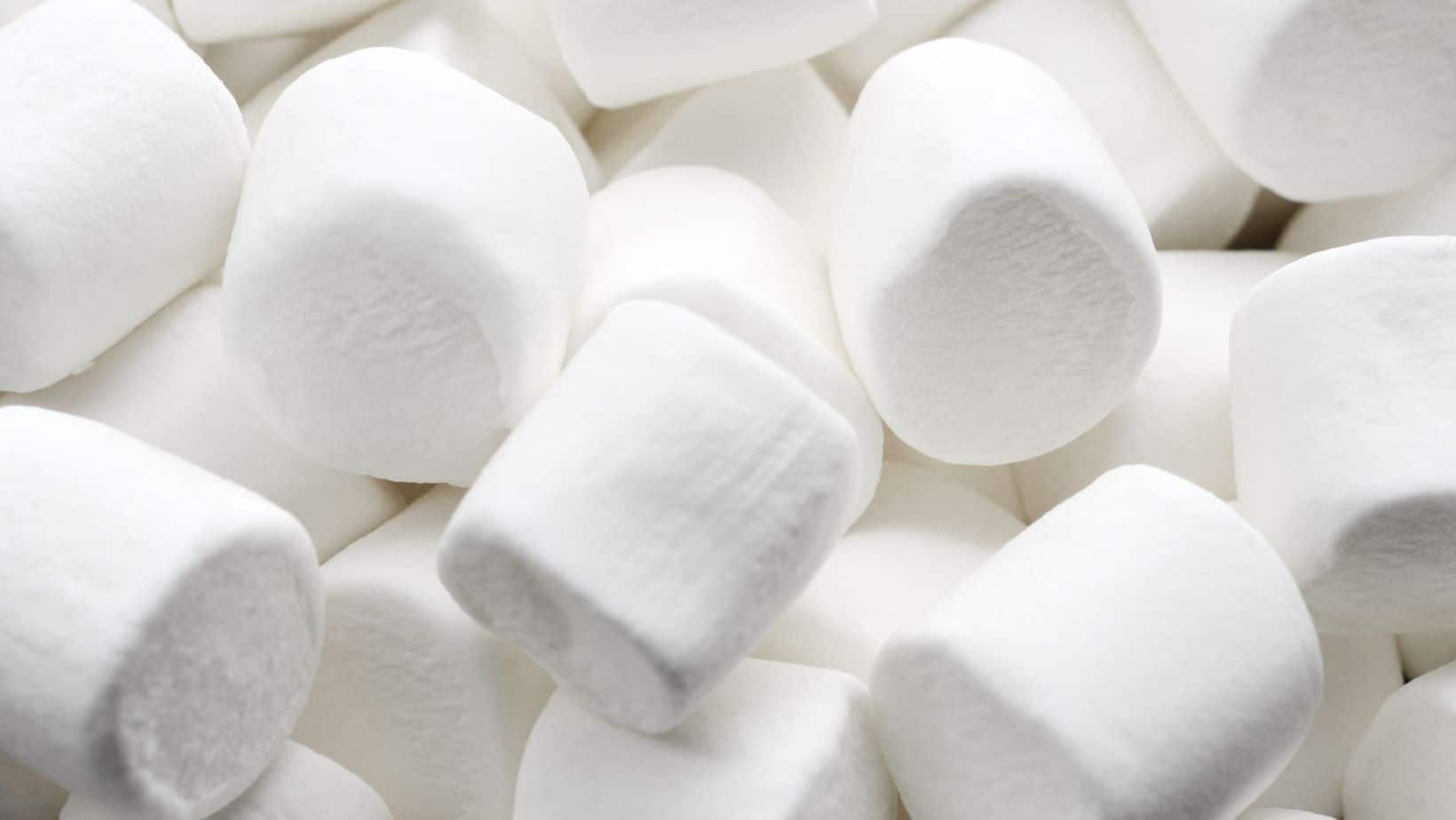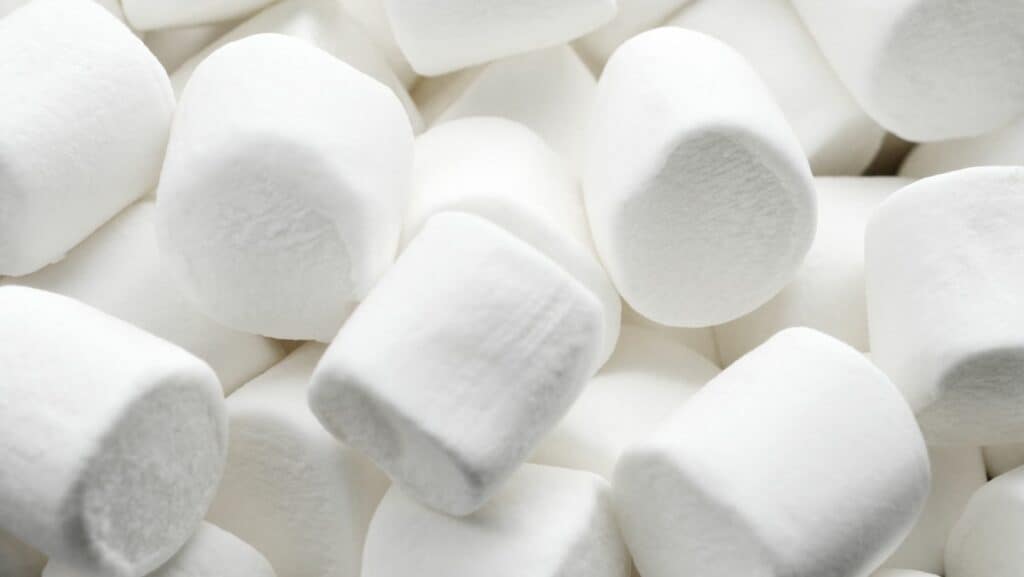 At the very least, you will need Hershey's candy bars, marshmallows and graham crackers. However, to make a truly spectacular dessert charcuterie board, you will also need fresh fruit such as strawberries plus other cookies such as fudge stripe cookies, shortbread or pirouettes. Mini brownies also add a delicious touch, while including Nutella, caramel and marshmallow fluff in small bowls guarantee even more fun for your guests. The best part is that you can use what you have and I have never had leftovers.
How to make a S'mores Charcuterie Board
Here's how to assemble your epic S'mores Charcuterie Board.
Yield: 8-10
Prep Time: 10 min
Total Time: 10 min 
Ingredients:
Marshmallow Large Squares
Marshmallow Mini, Toasted
Marshmallow Large Round
Caramel
Nutella
Strawberries
Graham Crackers
Cinnamon Graham Crackers
Shortbread Cookies
Pirouette Chocolate Fudge Cookies
Fudge Stripe Cookies
Mini Brownies
Chocolate Bars
Cookies n Cream Bars
Peanut Butter Cups
White Chocolate Truffles
Toasted Coconut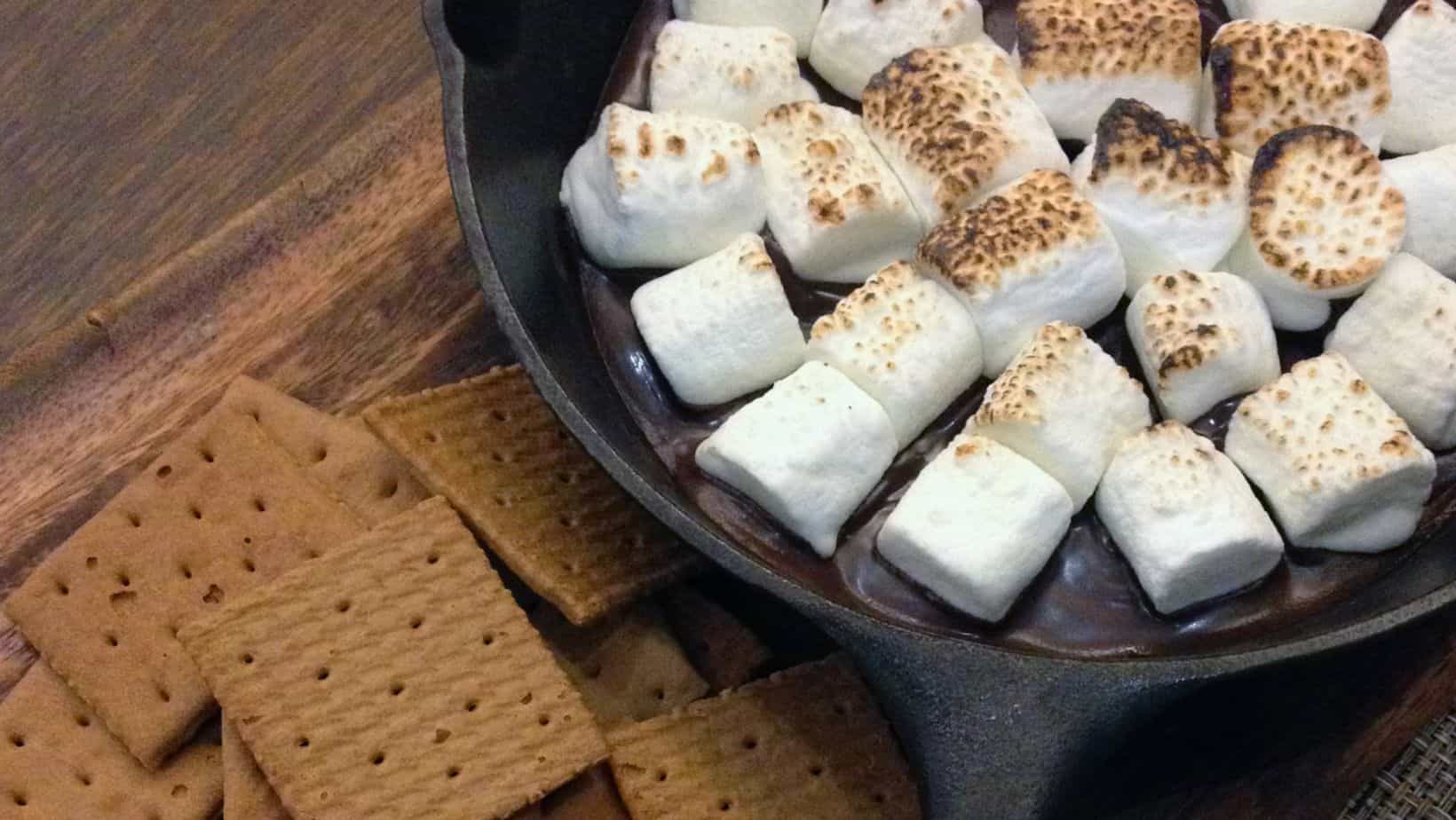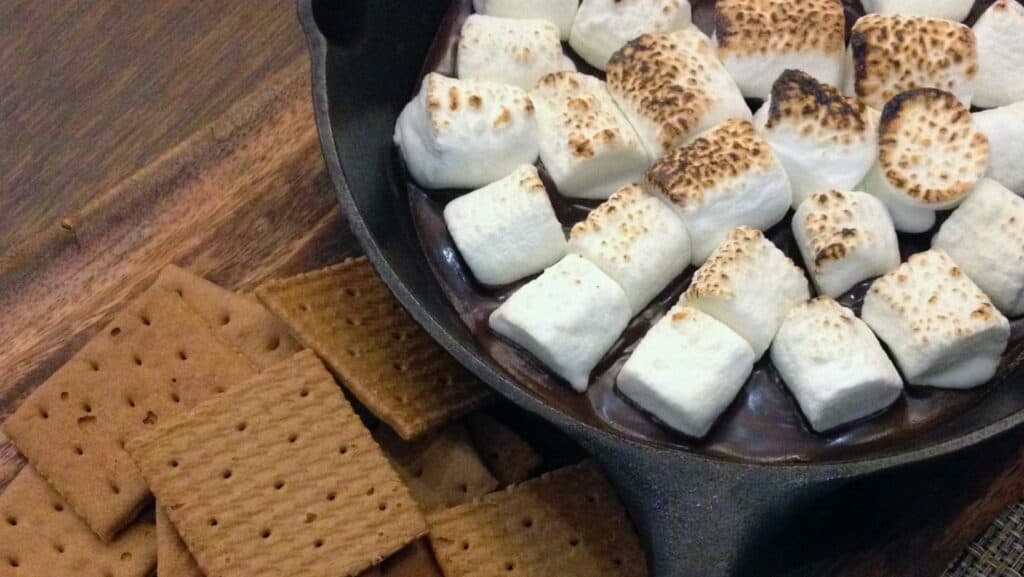 Instructions:
Begin by toasting the mini marshmallows in a small cast iron pan using a torch until they reach your desired color. You can also broil marshmallows in the cast iron skillet but be careful to watch them. You need to remove them from the oven as soon as they turn golden brown.
On a large platter or board, arrange ramekins filled with caramel, Nutella, and strawberries. Place the toasted coconut on the board and place the toasted marshmallow pan on top.
Add your other ingredients in a fun pattern on your charcuterie board. You can arrange the ingredients in groups or spread them out in a random fashion.
Use bamboo skewers or traditional roasting sticks to create your s'mores. You can use the large marshmallow squares or the mini toasted marshmallows as your base. Add any combination of toppings, such as strawberries, graham crackers, shortbread cookies, Pirouette chocolate fudge cookies, fudge stripe cookies, mini brownies, chocolate bars, cookies n cream bars, peanut butter cups, and white chocolate truffles.
Serve and enjoy your delicious S'mores Charcuterie Board with family and friends.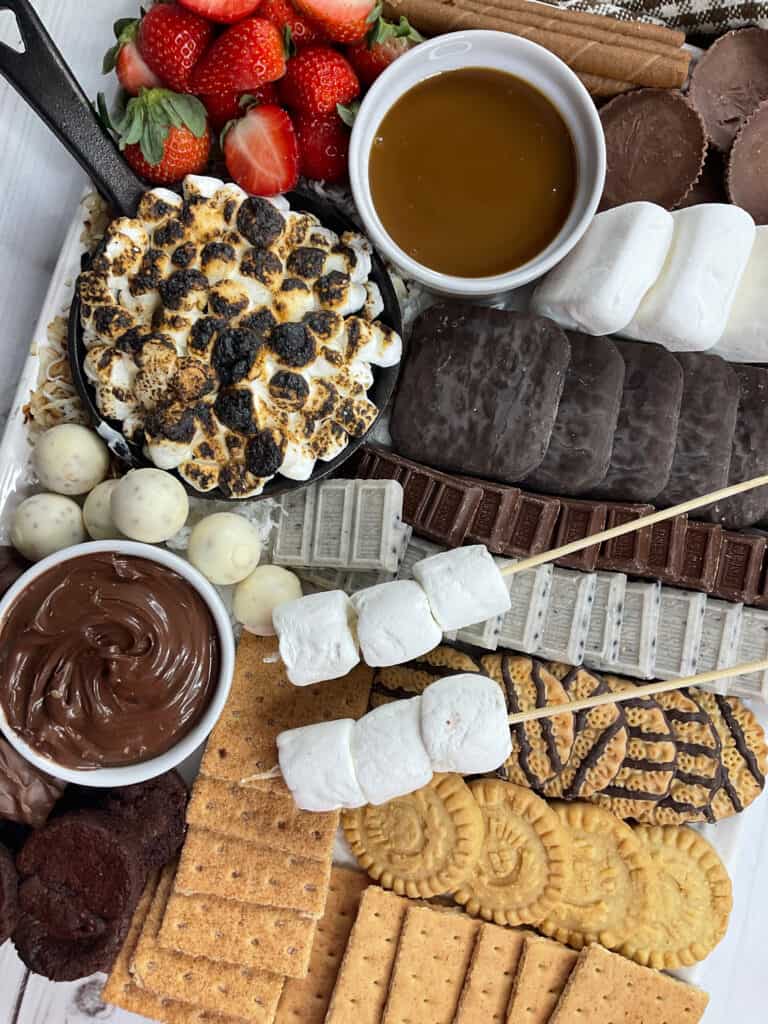 Creating a, easy S'mores Board is not only fun but also delicious. It's a perfect dessert idea for any occasion, and everyone will enjoy creating their own personalized s'mores. With this guide, you're ready to start assembling your own S'mores Charcuterie Board! Let me know if it becomes one of your favorite things to make when you are craving a sweet treat.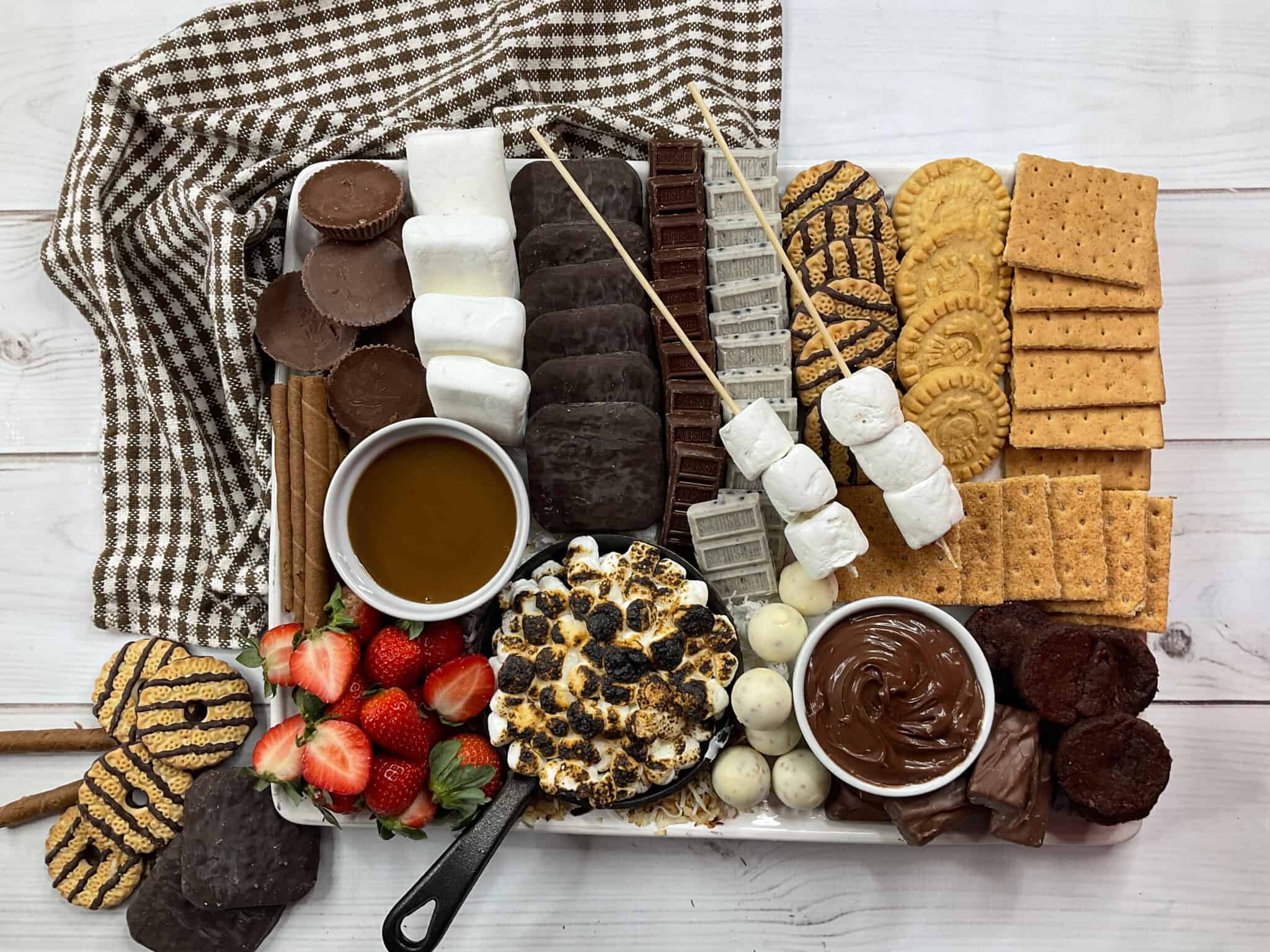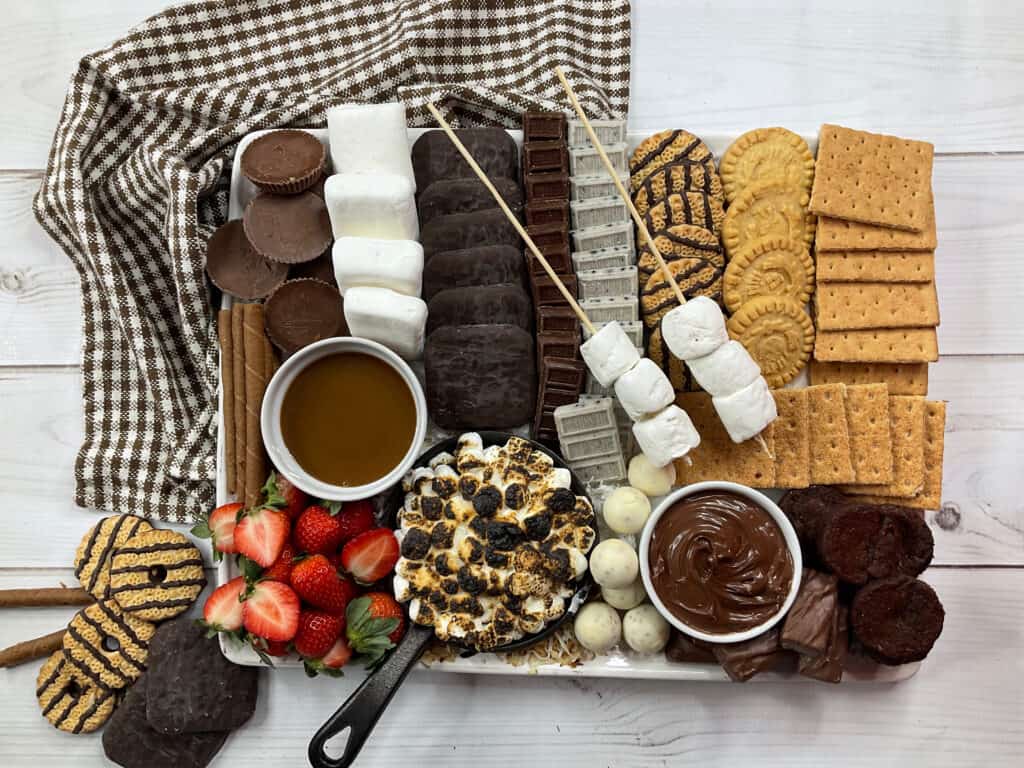 More Charcuterie Boards You Will Love