Low Carb Shrimp Cucumber Bites
If you want a simple yet delicious summer appetizer, these shrimp cucumber bites are the perfect solution. Plus, they are low carb and gluten-free!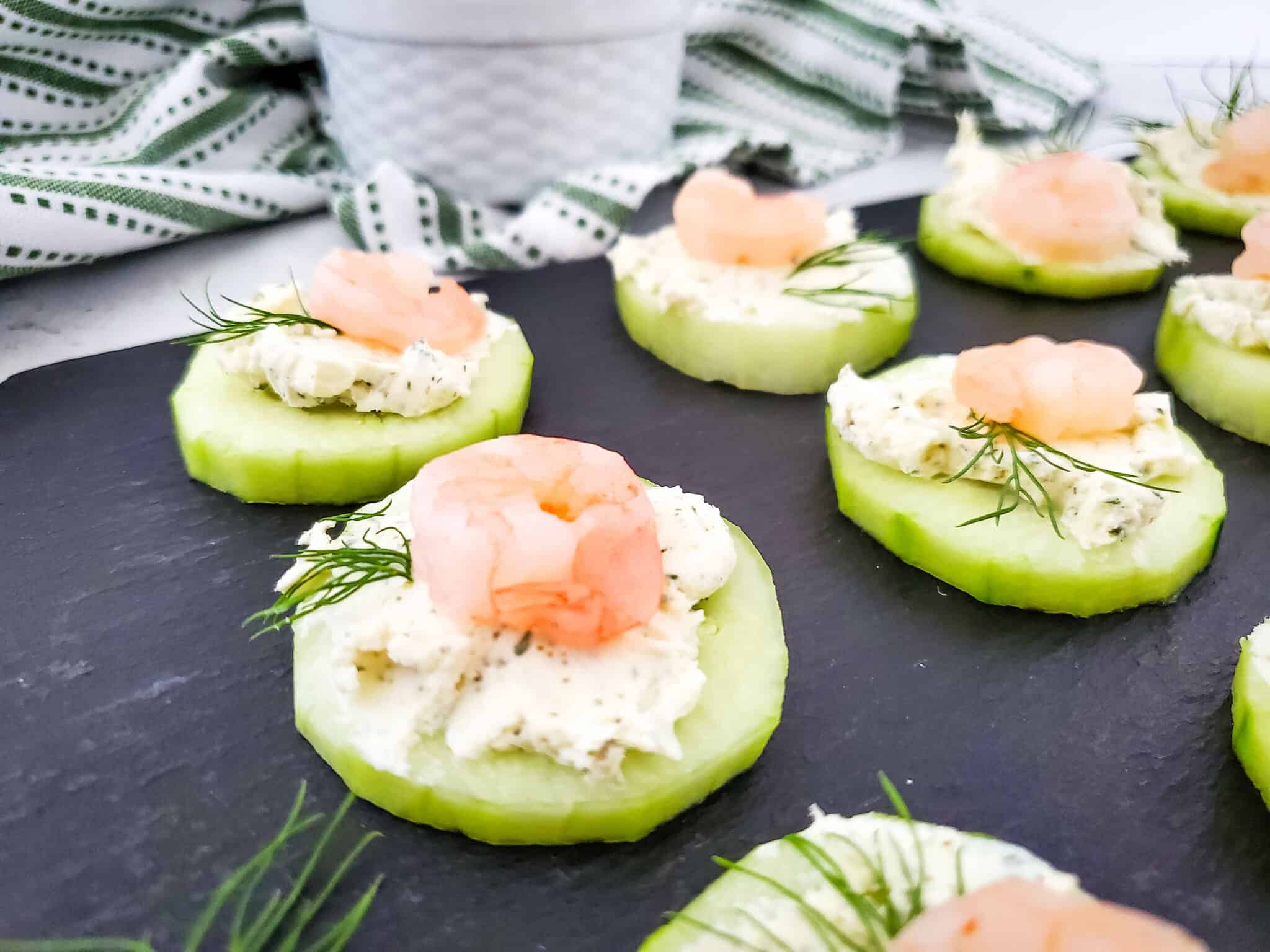 All you need to do is slice fresh cucumbers, spread cream cheese and then top each slice with mini shrimp. Fresh dill gives the final touch as a garnish. You can make them ahead of time as long as you keep these bite sized appetizers in the fridge.
Do I need to slice the cucumbers really thin?
No, I prefer them to be a bit thicker. You can also cut them as if they were small cups if you prefer.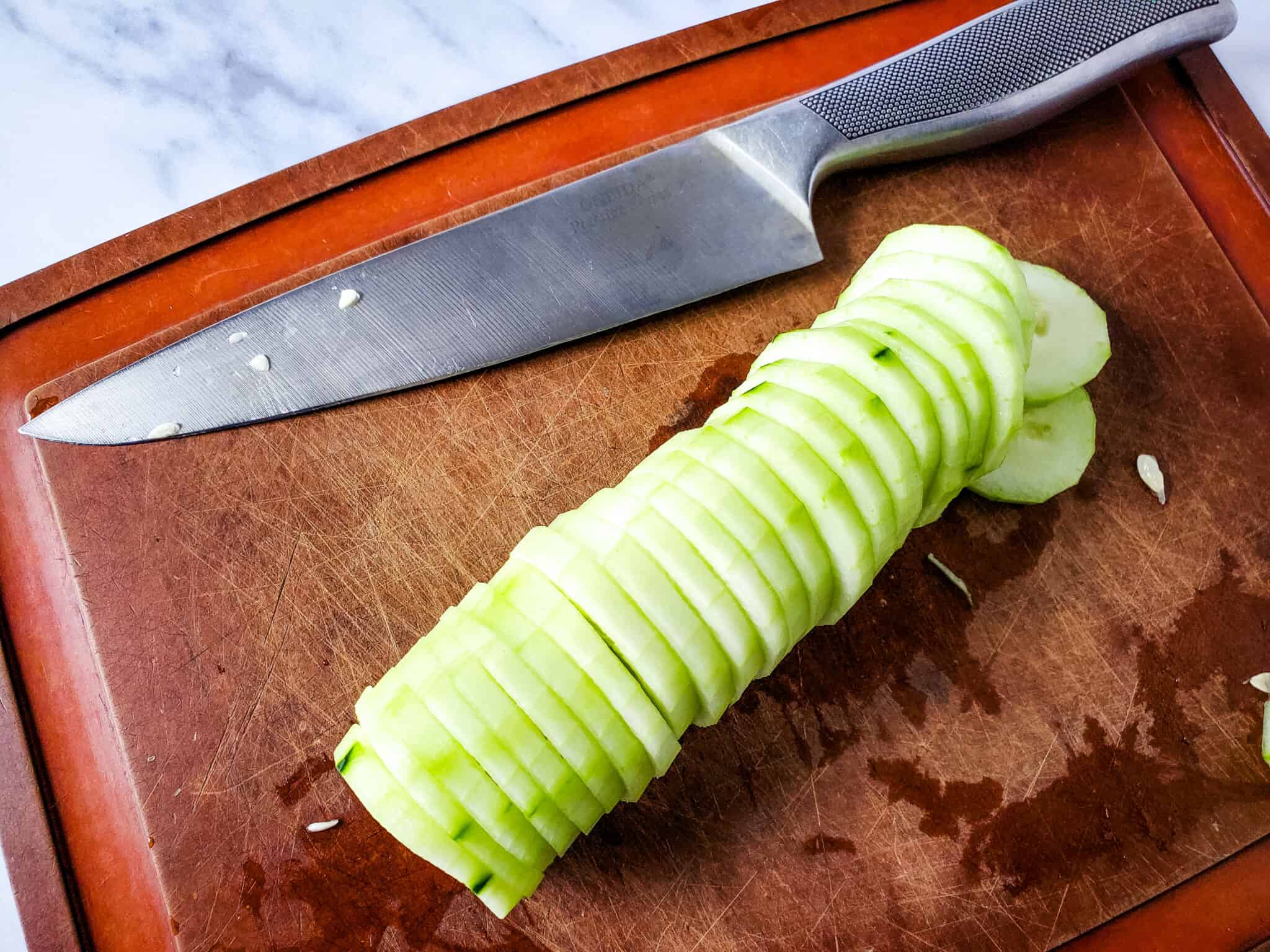 Can I use other sizes of shrimp?
If you cannot find mini shrimp, you can also use small shrimp instead of extra small. You can also cut normal or big shrimp so they will fit on each cucumber slice.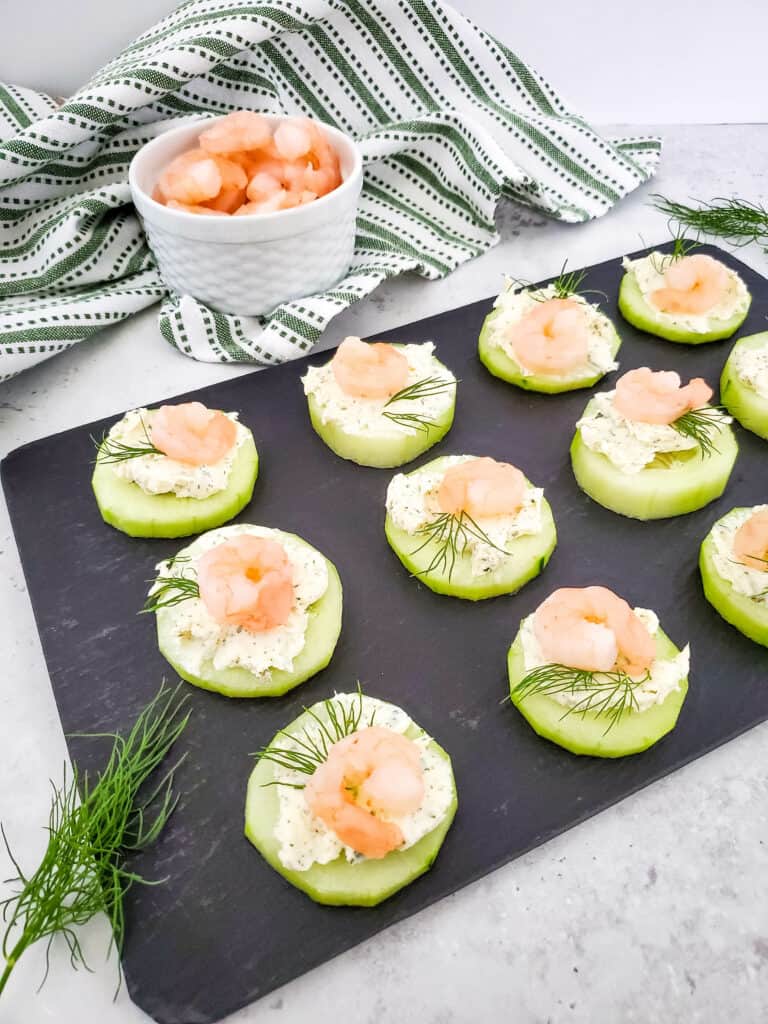 Is it normal to have issues spreading the cream cheese mix?
The cucumber is sort of wet, so don't worry if you can't spread the cream cheese mixture very well. You'll notice that ours are not fully covered, and since this is a bite size appetizer, it really doesn't matter.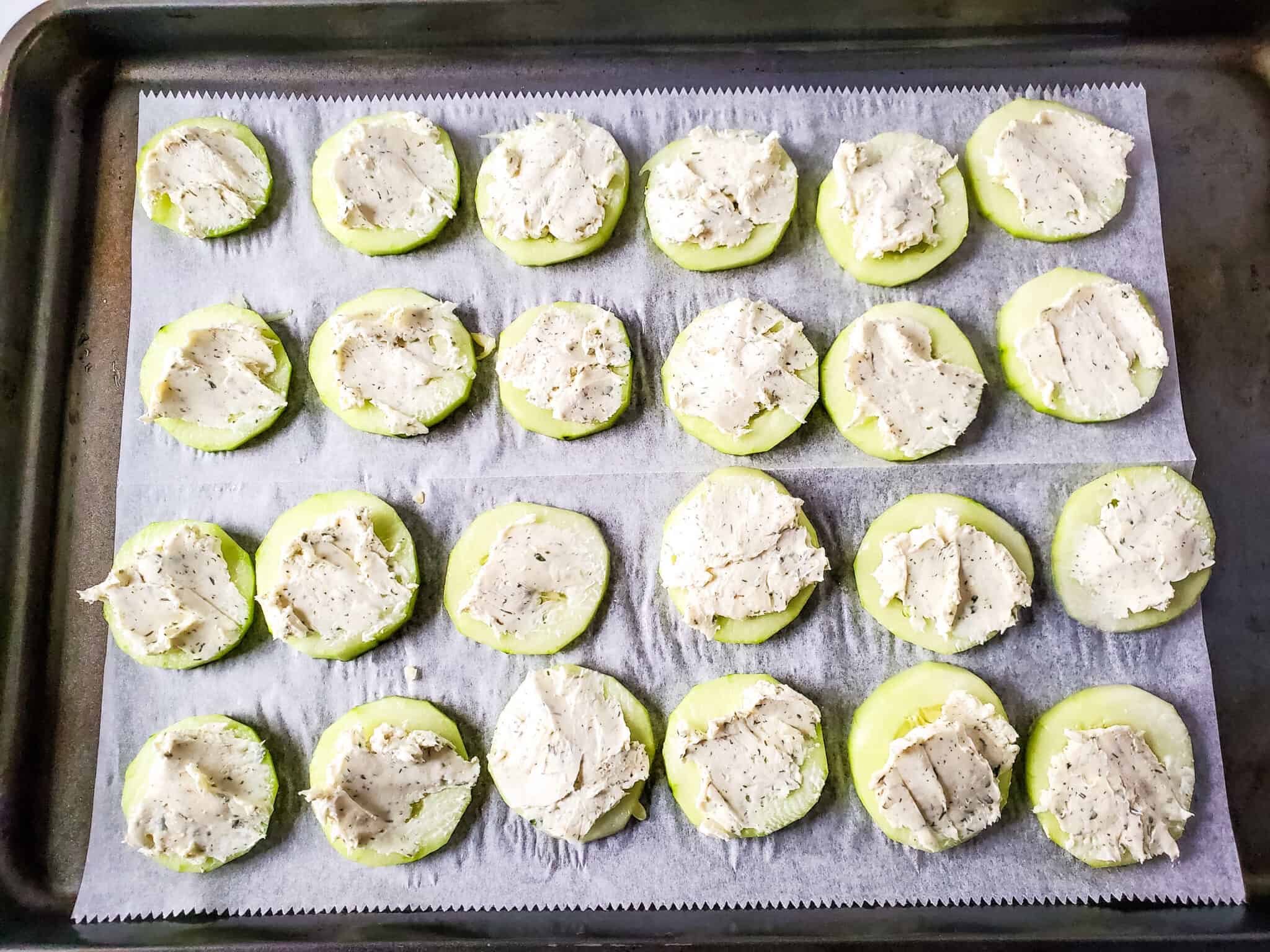 May I substitute shrimp for smoked salmon?
Yes! I have mande these cream cheese cucumber bites with smoked salmon (Nova or Scottish smoked salmon) and they are so good! It's a great alternative if you want a low carb, gluten-free appetizer but want to steer clear of shellfish. Simply cut the smoked salmon in small strips and layer on top of the cream cheese.
Shrimp Cucumber Bites Recipe
Servings: 36-48
Prep time: 20 minutes
Chill time: 1 hour
Storage: Refrigerate covered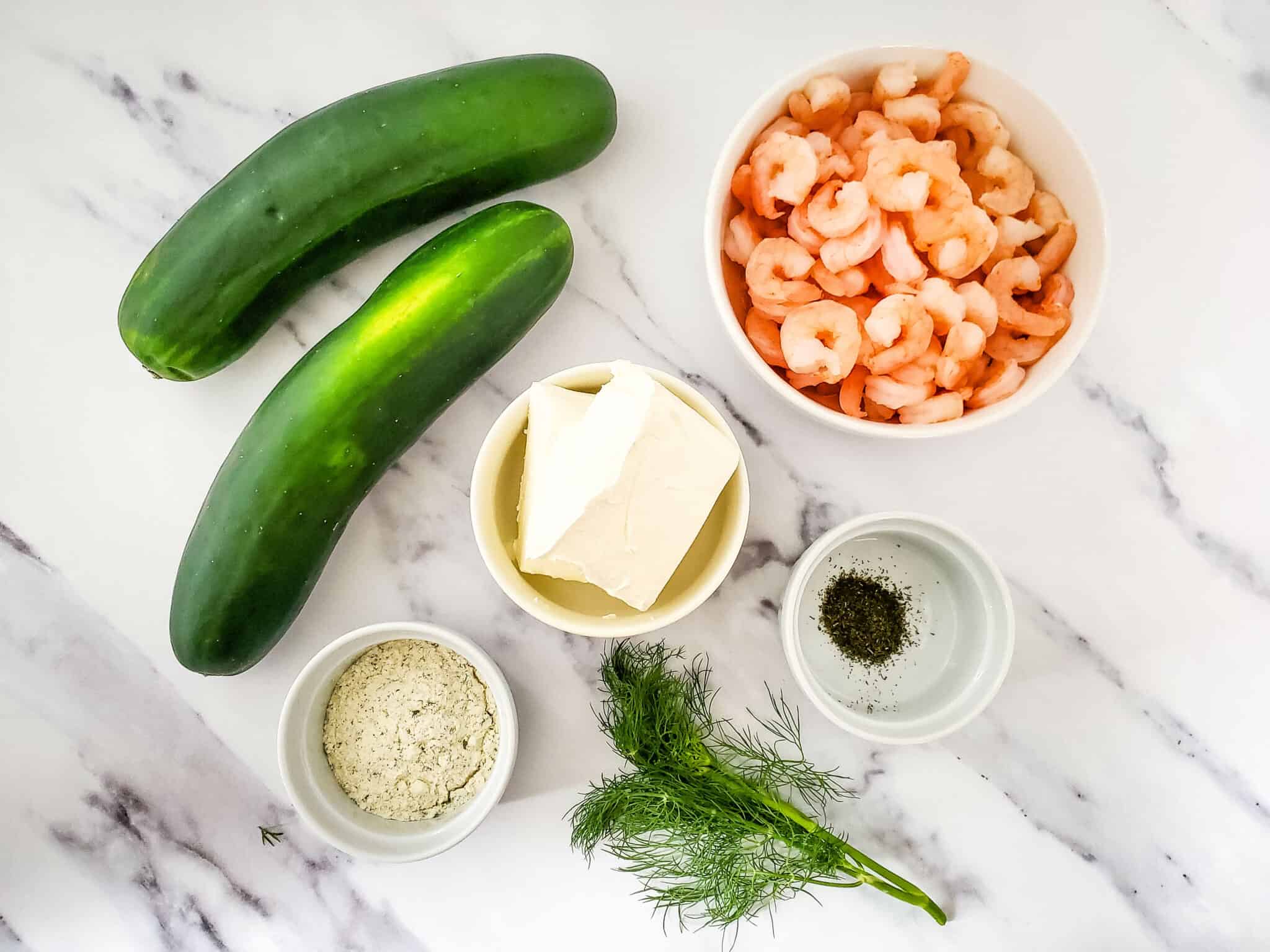 Ingredients:
8 oz cream cheese, softened
1 oz dry ranch mix
½ tsp dill weed
2 large cucumbers
Fresh dill sprigs
6 oz extra small fully cooked shrimp, thawed
Directions: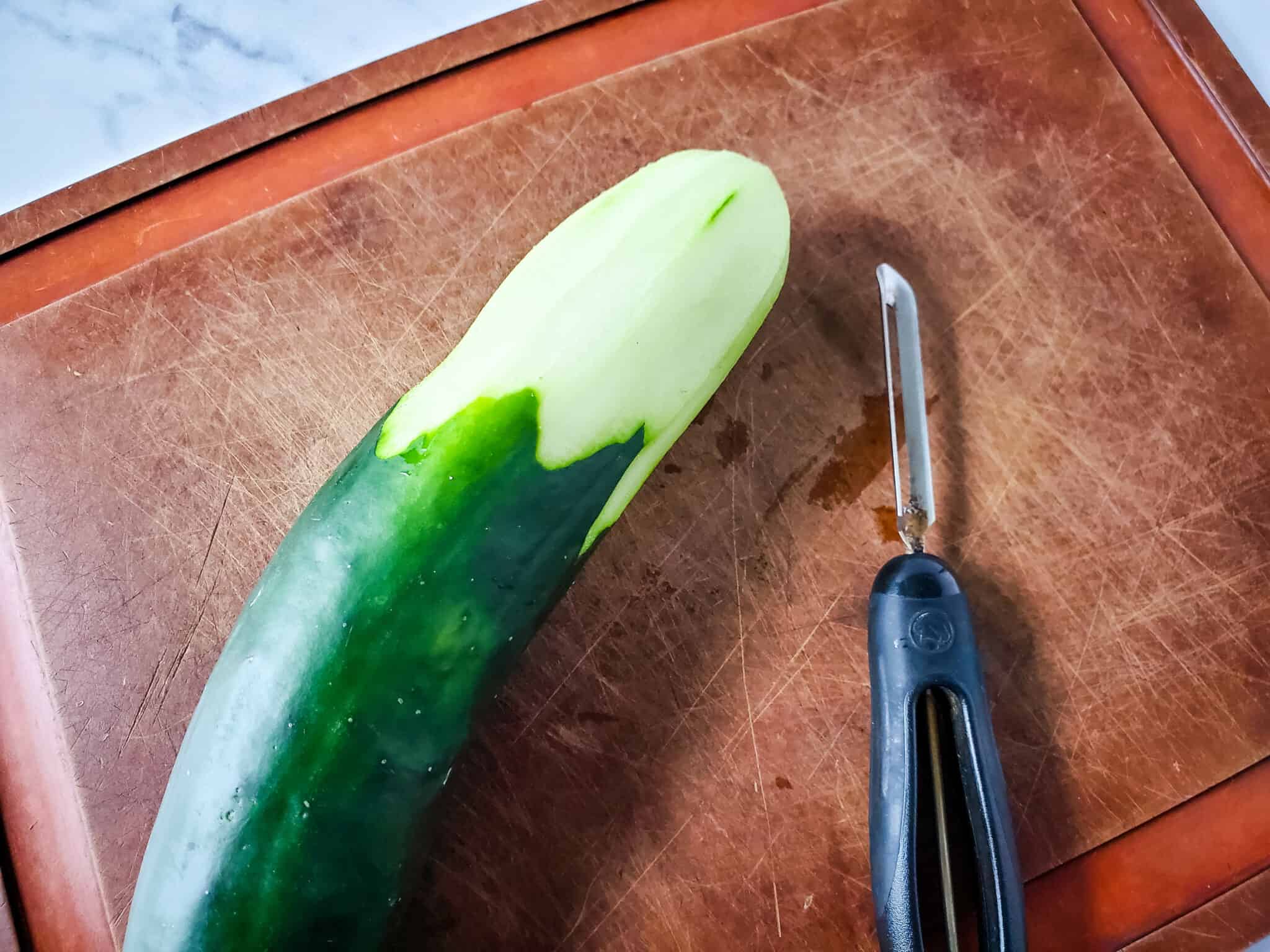 In a small bowl, combine the cream cheese, ranch mix, and dill weed. Stir until completely mixed together.
Rinse the cucumbers in cold water, and peel the skins if desired.
Slice the cucumbers into ¼ – ½ inch slices, and arrange on a baking sheet or tray.
Spread about ½ teaspoon of the cream cheese mixture on each cucumber.
Top each cream cheese covered cucumber with a tiny sprig of dill.
Add one shrimp to the center of each cucumber.
Cover, and refrigerate for 1 hour before serving.
Yield: 36
Shrimp Cucumber Bites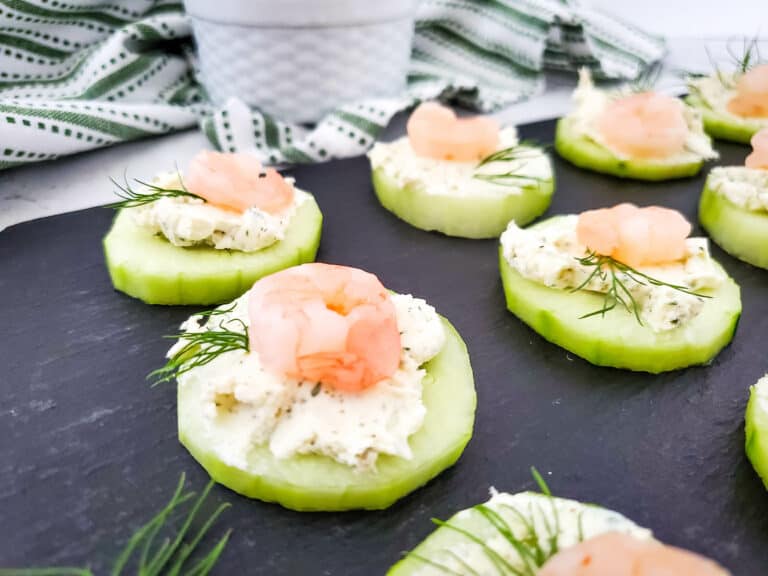 Total Time
1 hour
20 minutes
Ingredients
8 oz cream cheese, softened
1 oz dry ranch mix
½ tsp dill weed
2 large cucumbers
Fresh dill sprigs
6 oz extra small fully cooked shrimp, thawed
Instructions
In a small bowl, combine the cream cheese, ranch mix, and dill weed. Stir until completely mixed together.
Rinse the cucumbers in cold water, and peel the skins if desired.
Slice the cucumbers into ¼ - ½ inch slices, and arrange on a baking sheet or tray.
Spread about ½ teaspoon of the cream cheese mixture on each cucumber.
Top each cream cheese covered cucumber with a tiny sprig of dill.
Add one shrimp to the center of each cucumber.
Cover and refrigerate for 1 hour before serving. Serve chilled
More easy summer recipes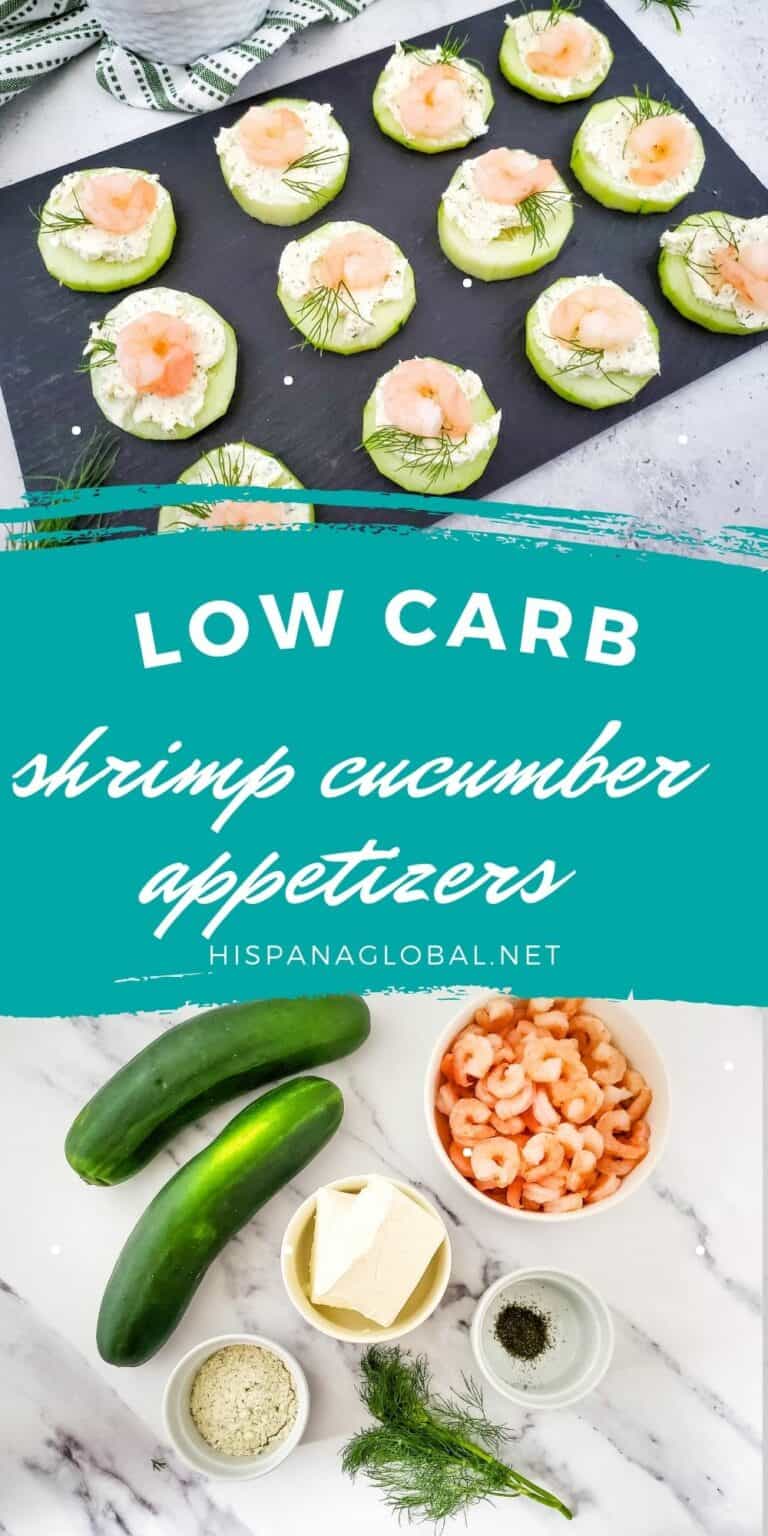 Summary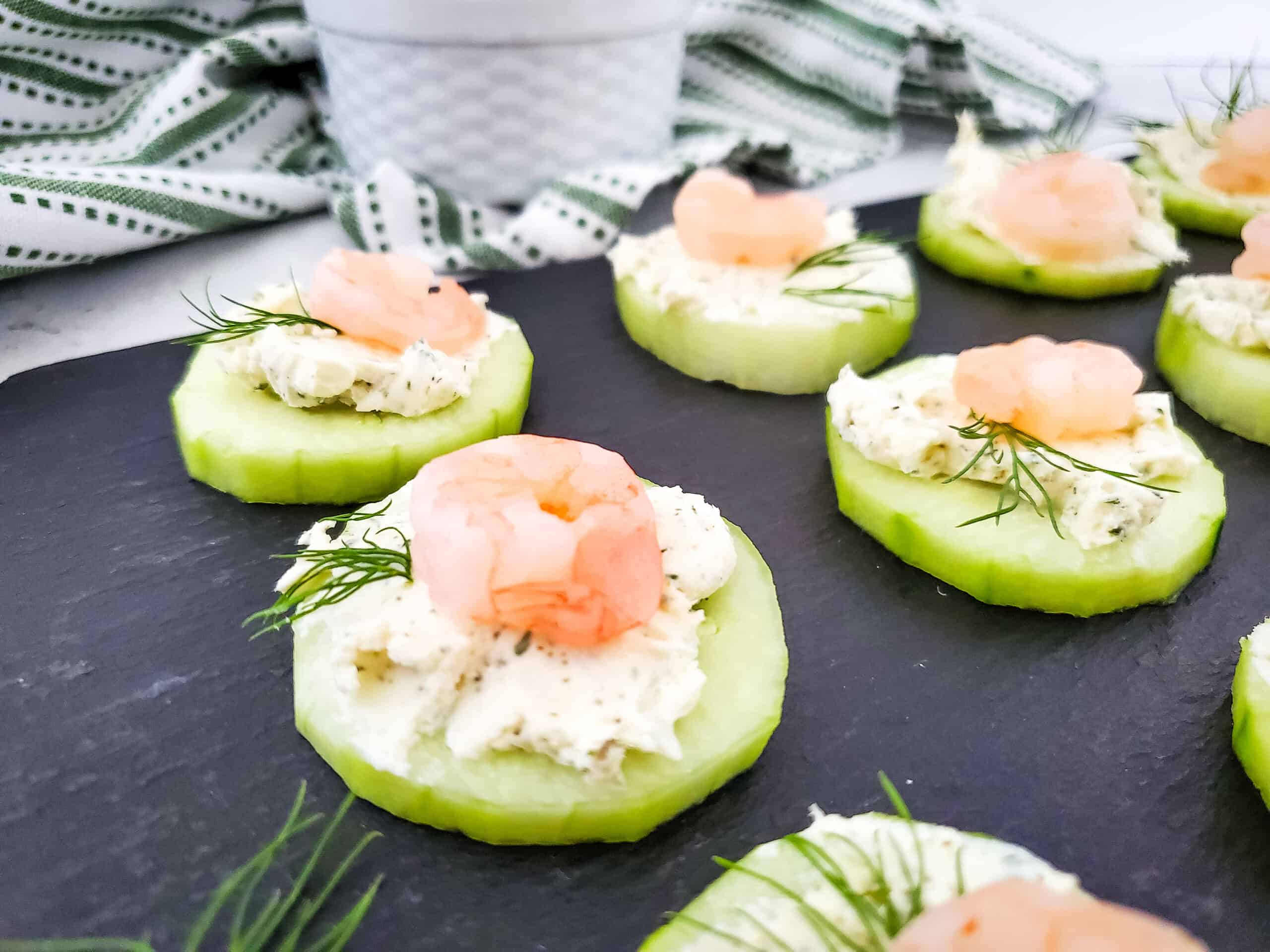 Recipe Name
Published On
Preparation Time