Beautiful Frozen Inspired Hot Chocolate
If you've ever been on a Disney vacation during the holidays you know that they love to make hot and cold holiday-inspired beverages, just for the season. This is a strange time for Disney, if you want to visit Walt Disney World, you'll find that a lot of things including restaurants and holiday festivities have been canceled. You'll find an even tougher time if you try to go to Disneyland, which is closed for the foreseeable future. All the more reason for Disney fans like us to do some of our own R&D for some Disney inspired treats. That's why I have this Frozen inspired hot chocolate recipe. It not only tastes great, but it also looks great, too. Just like my favorite Disney snacks and beverages.
Hot Chocolate Inspired by Disney Parks and Movies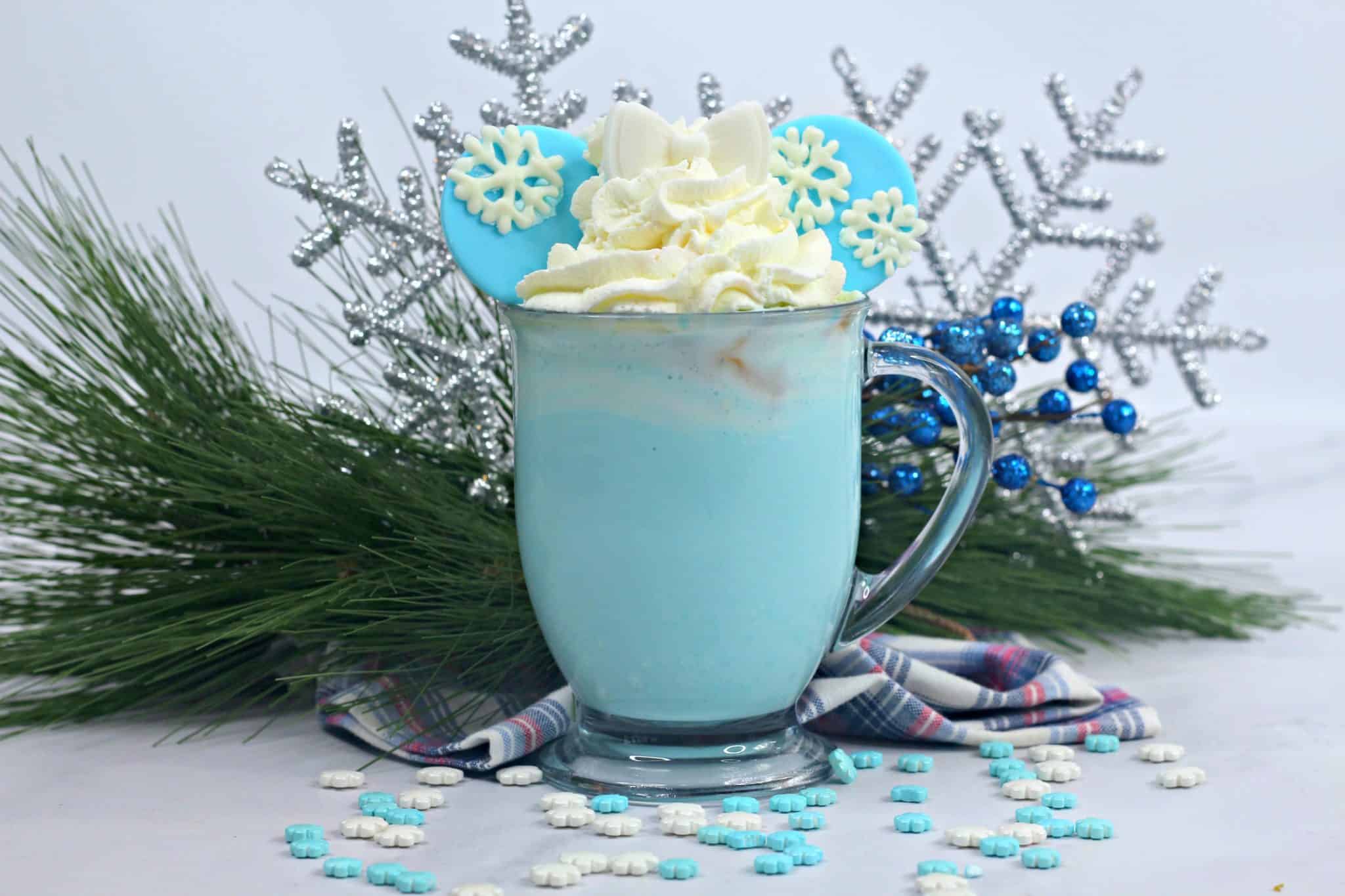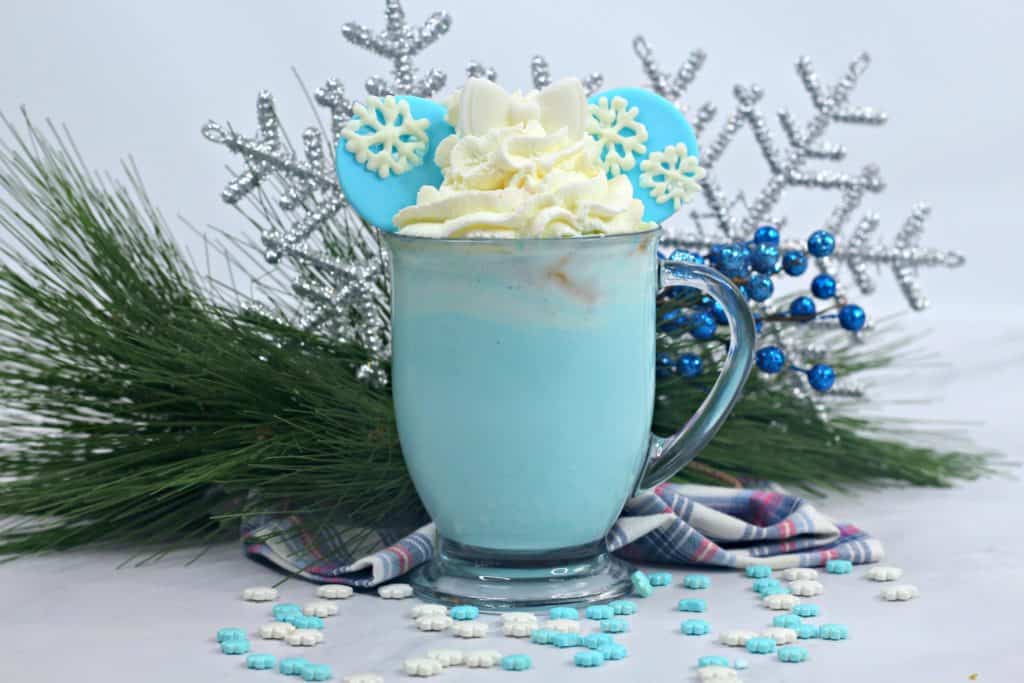 I enjoy visiting the Disney parks and picking up a tasty hot chocolate, or another sweet morsel to partake in as I look around at the fantastic surroundings. One of Disney's most popular franchises is Frozen. So, there are a ton of Frozen inspired menu items, especially during the holidays. Another iconic Disney parks statement is those ubiquitous Minnie Mouse Ears. If you can make a beverage that includes inspiration from these two things, you have a Frozen Inspired Hot Chocolate so special that will taste like magic in every sip.
Quality Ingredients for Your Frozen Inspired Hot Chocolate
Nailing the look of your Disney inspired treat is important, but you also want it to taste as great as possible. This recipe calls for Ghirardelli chocolate, the San Francisco-based chocolatier that has a location at Disneyland Resort and at Disney Springs. Using Ghirardelli chocolate in your Frozen inspired hot chocolate will ensure that you have a rich and smooth taste that matches the level of care you put into your hot chocolate's appearance.
White Chocolate Snowflakes
Ingredients
1 C Ghirardelli white chocolate melting chips

1 disposable piping bag

1 cookie sheet fitted with parchment paper
Directions
Melt the chocolate chips in a microwave on 30 second increments

Scoop into disposable piping bag

Cut the tip off

Pipe out about 20 thick snowflakes in different sizes

Allow to dry overnight!
Fondant Ears
1 light blue fondant package

1 white fondant package

1 wilton fondant mold

1 mini circle fondant cutter

Minnie mouse ears and bow
Directions
Sprinkle some powder sugar onto a cutting board

Roll out the blue fondant into 1/4 inch thickness and cut out 48 circles for the ears
Bow directions
Powder your hands with powder sugar and mold the white fondant into a ball

Pinch off 1 teaspoon size ball of fondant and press it into the larger bow size mold

Make 22 bows

allow to dry overnight
Frozen Hot Chocolate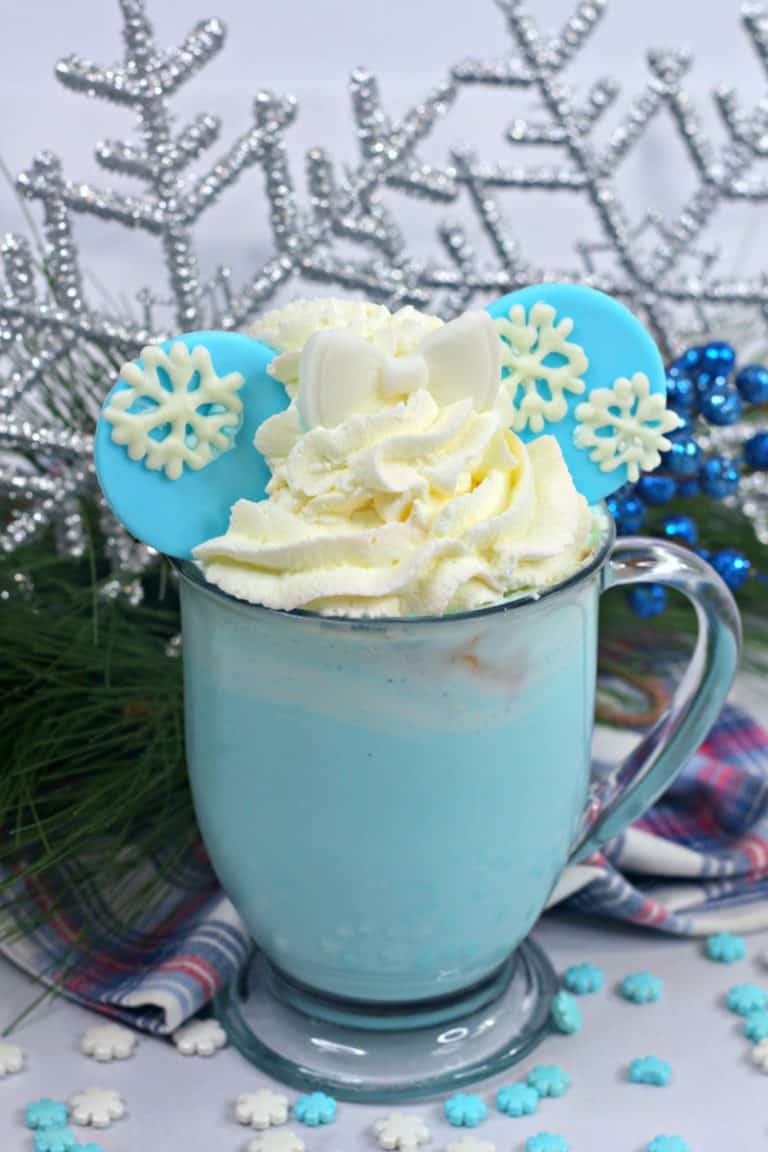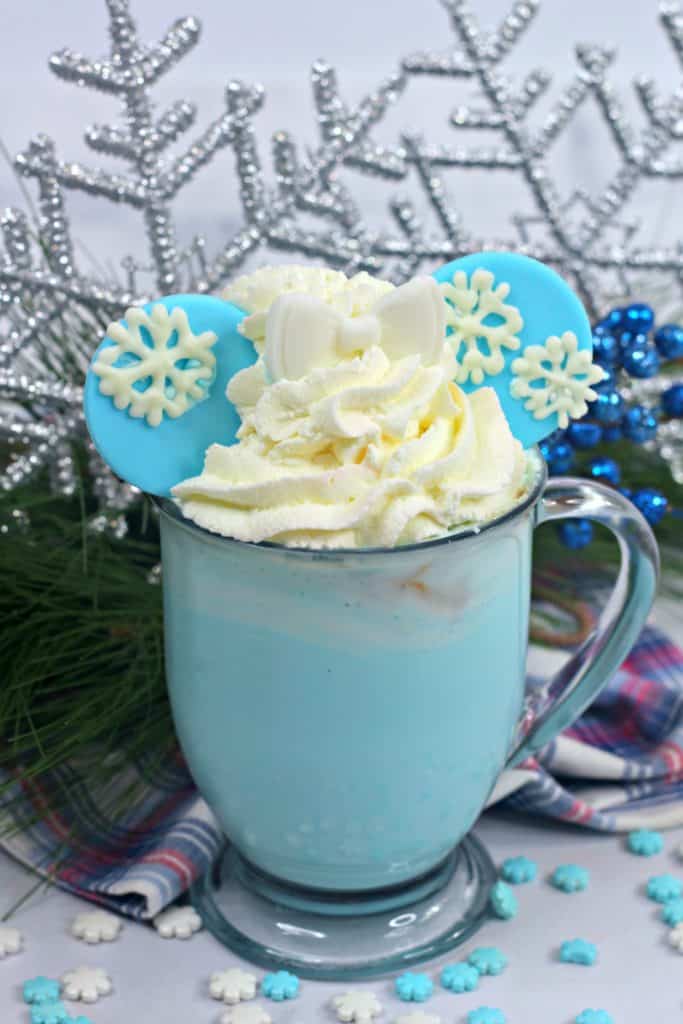 (makes 5 cups)
Ingredients:
4 C whole milk

1 tsp. vanilla extract

1 C Ghirardelli white chocolate wafers, cut into small pieces

whip cream

Several drops of blue gel food coloring

Whip cream
Directions:
Combine milk, vanilla and white chocolate in a medium saucepan, stir to mix.

Heat the white chocolate hot chocolate on medium-low heat, stirring occasionally, until it comes to a simmer.

(Do not let it come to a boil.)

Take off of the heat.

Stir in the blue gel food coloring.

Pour hot chocolate into the glasses

Top with whipped cream

Sprinkle some sprinkles

Place a bow in the middle of the whipped cream

Place two circles on the side for the ears