How to Make A Stunning Rainbow Fruit Board
Are you looking for a healthy and colorful snack that's easy to make and looks great on your table? Look no further than a rainbow fruit board! Not only is it visually appealing, but it's also packed with nutrients and flavor. It's a rainbow fruit platter on a charcuterie board and it looks so perfect at any table, especially for St. Patrick's Day, a unicorn-themed party or any family event.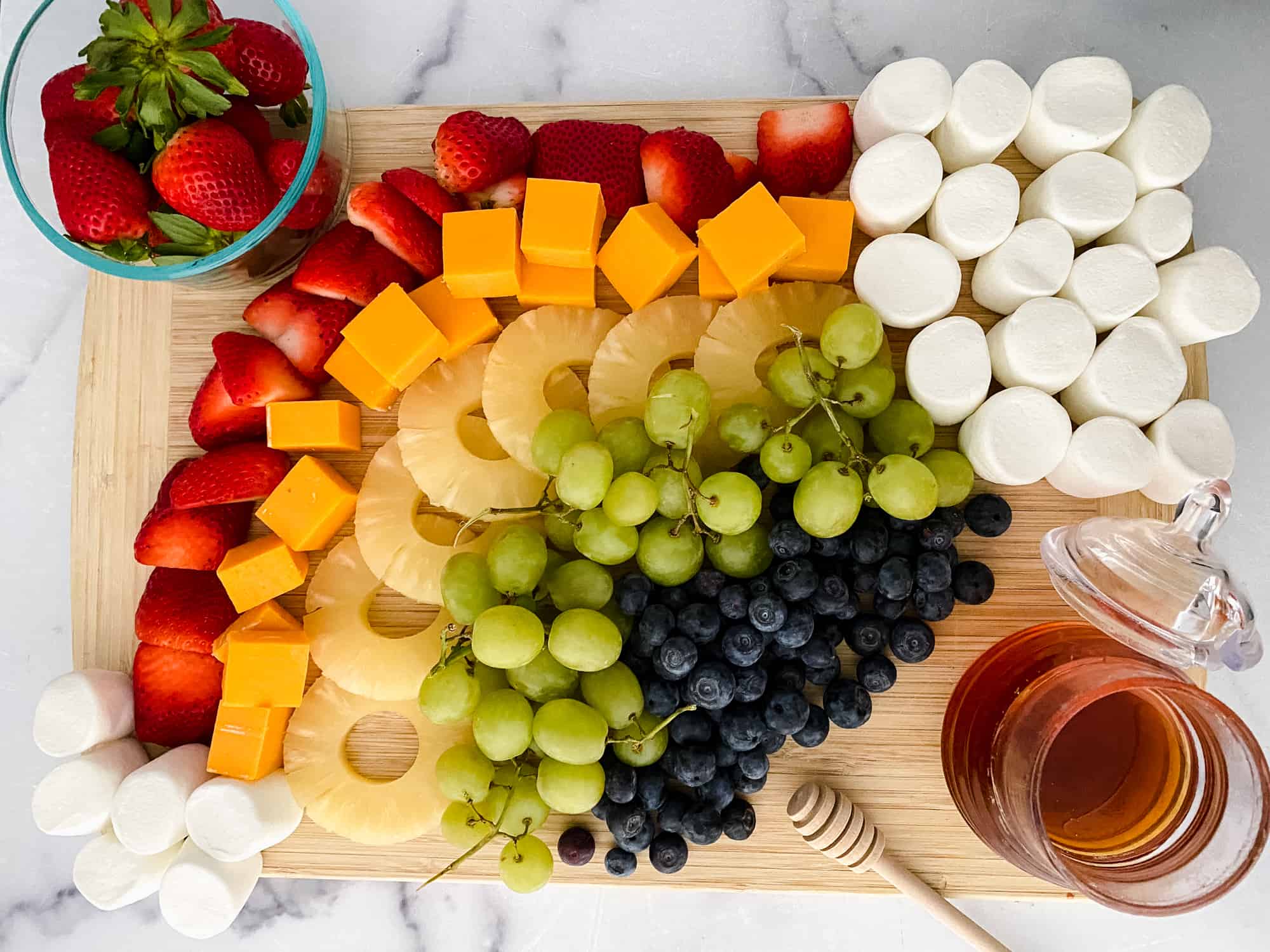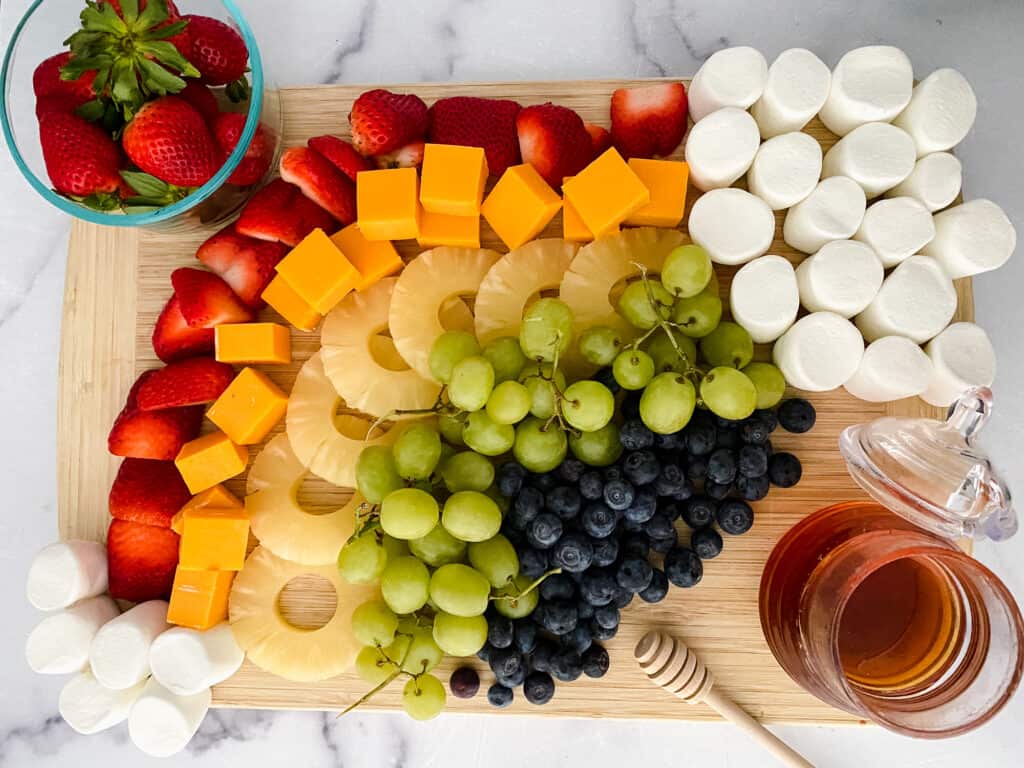 This rainbow fruit charcuterie board has fresh fruit, cheese and marshmallows, but you can easily switch ingredients. You can also add a yogurt dip, honey, peanut butter or Nutella. You can also make a spectacular Lucky Charms S'mores Dip. If you truly want to make it a charcuterie board, add sliced deli meats such as smoked turkey, ham or bresaola.
In what order do I put the fruit?
To make a rainbow fruit board, follow this color order: Red, Orange, Yellow, Green, Blue.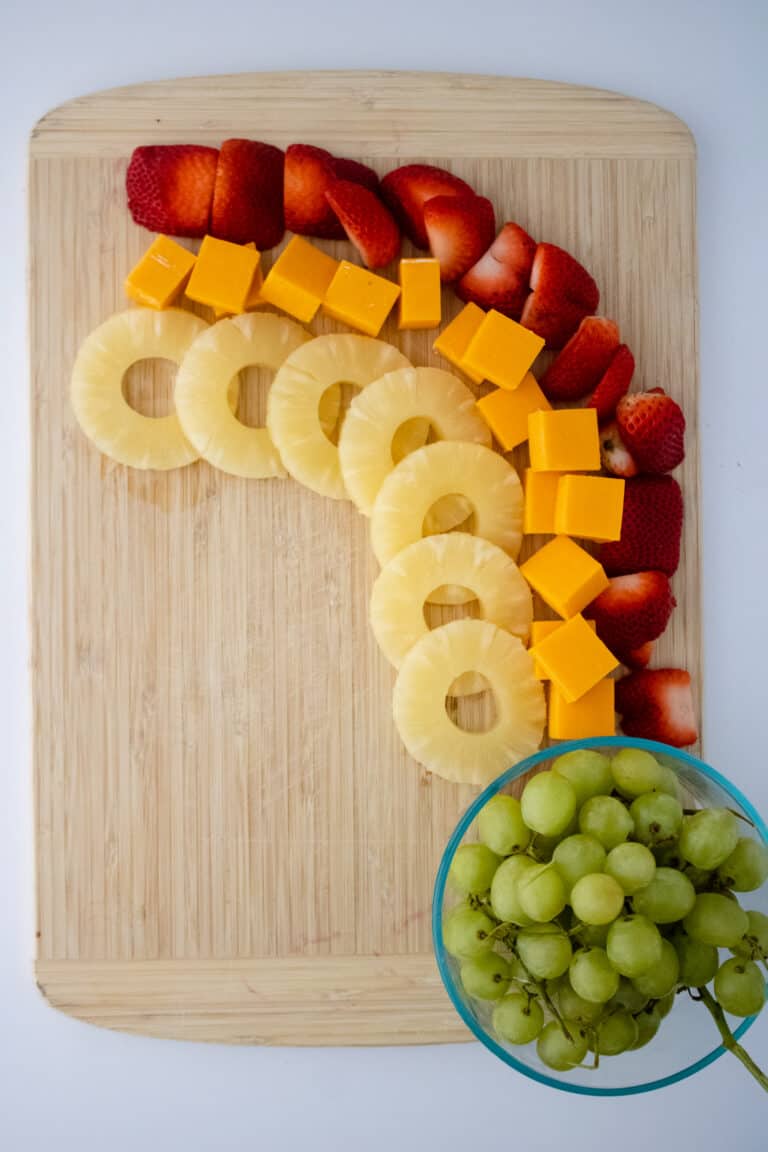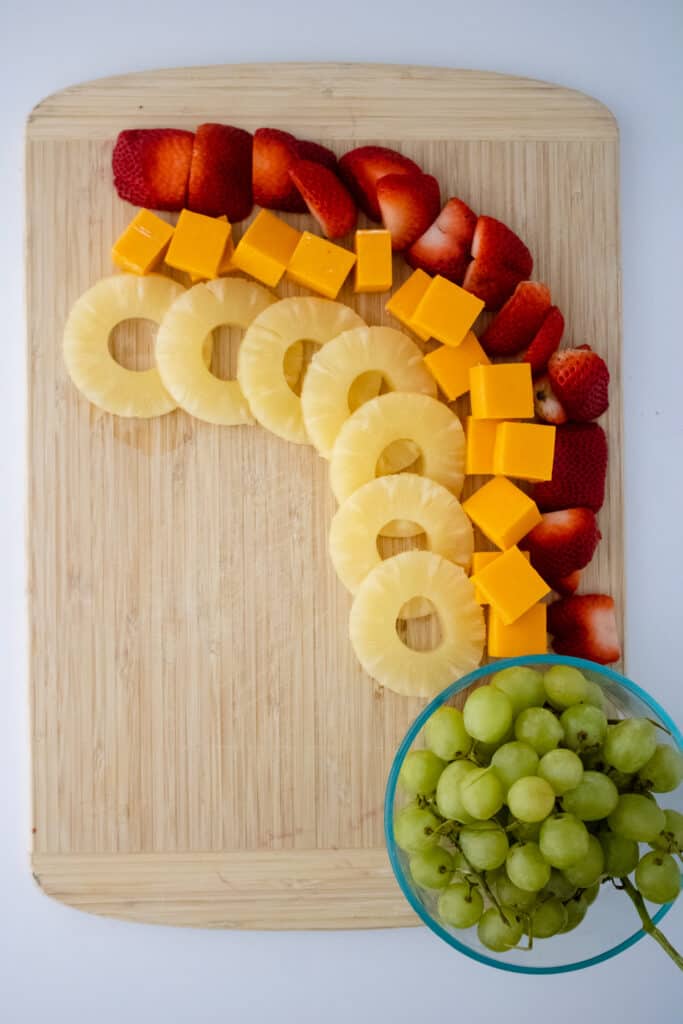 Is this rainbow fruit board dairy-free?
For a dairy-free fruit board, substitute the cheese for oranges or cut cantaloupe melon.
Is this snack board healthy?
This colorful rainbow fruit board a great way to get kids to eat more fruits and sneak in healthy snacks. For example, blueberries are packed with antioxidants that can help protect your body against damage from free radicals. Cantaloupe is a great source of vitamin A, which is important for healthy eyes and skin. Strawberries are rich in vitamin C, which can help boost your immune system. Pineapple contains bromelain, an enzyme that can aid in digestion. And grapes are a good source of resveratrol, a compound that may have heart-protective benefits. Feel free to use green or purple grapes, depending on your preference.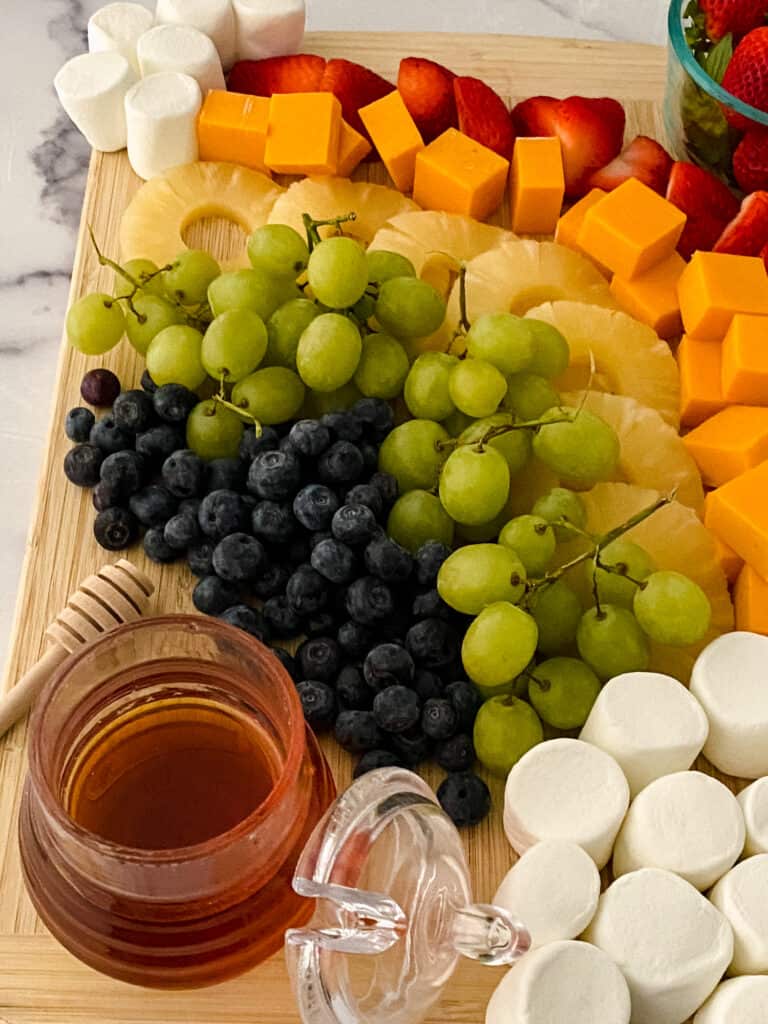 Can I prep everything ahead of time?
Yes! Just prep your favorite fruits and store each type of fruit in an airtight container in the fridge until you are ready to assemble your board.
Should I add lemon juice to the fruit?
Lemon juice is usually added to rainbow fruit salad to enhance the flavors and keep it fresh without oxidizing. Since this recipe does not have apples or bananas, I do not recommend adding lemon juice unless that is how you like your fruit.
How to make your own rainbow fruit board
Step 1: Choose a variety of colorful fruits
The key to making a beautiful rainbow fruit board is to choose a variety of fruits in different colors. Some great options include blueberries, cantaloupe, strawberries, pineapple, and grapes. These fruits not only look great, but they also offer a range of health benefits.
Step 2: Cut and arrange the fruits
Once you've chosen your fruits, it's time to cut them into bite-sized pieces and arrange them on your serving board. Start with a base of strawberries and/or blueberries to create a red/purple section. Then, move on to cantaloupe or mango for the orange section, followed by pineapple or yellow watermelon for the yellow section. Finally, add green grapes or kiwi for the green section, and finish with blueberries, red grapes or raspberries for the final touch of color.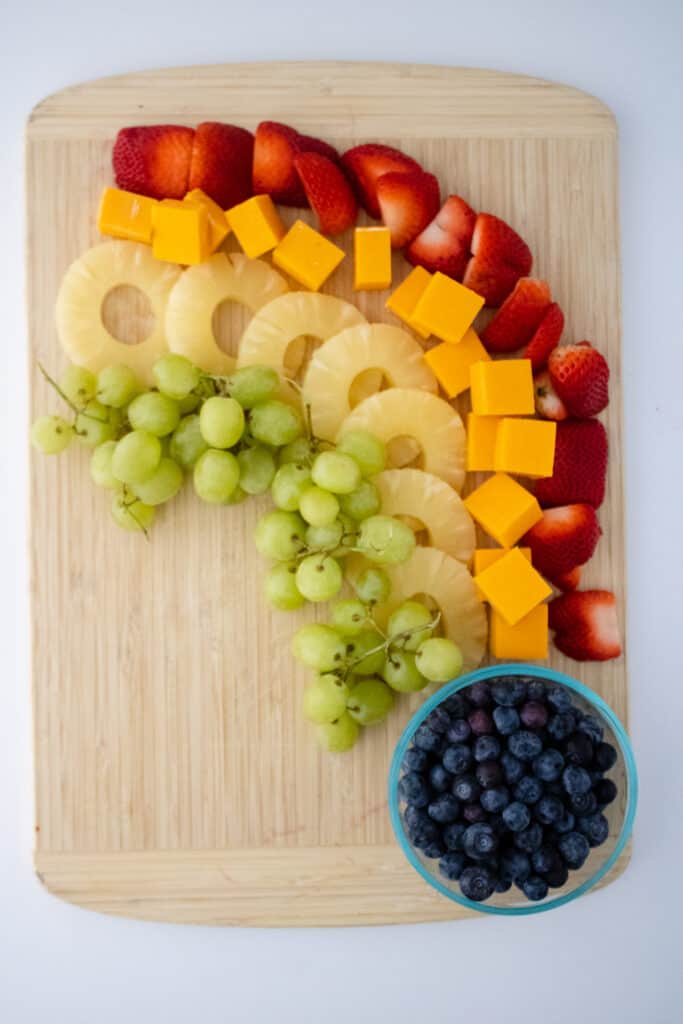 Step 3: Serve and enjoy!
Your rainbow fruit board is now ready to serve! You can enjoy it as a snack or dessert, or serve it as a colorful and healthy party platter. You can also experiment with different fruits and combinations to create your own unique rainbow fruit board. Kids especially love it if you add gold chocolate coins for St. Patrick's Day.
Rainbow Fruit Board
Equipment
Round, Square or Rectangle Board (affiliate link)
Small bowl for honey, peanut butter or Nutella
Yield:12-14 servings
Prep: 5-6 min
Assemble: 5 mins
Total 10 mins
Ingredients
12 strawberries, sliced, halved or whole
20 oz can pineapple slices, drained
8 oz block cheddar cheese, cubed
8 oz green grapes
2 cups blueberries, fresh
10 oz bag marshmallows
Optional: oranges, mandarin oranges or cantaloupe melon, cubed
Optional: honey, yogurt dip, peanut butter or Nutella to dip the fruit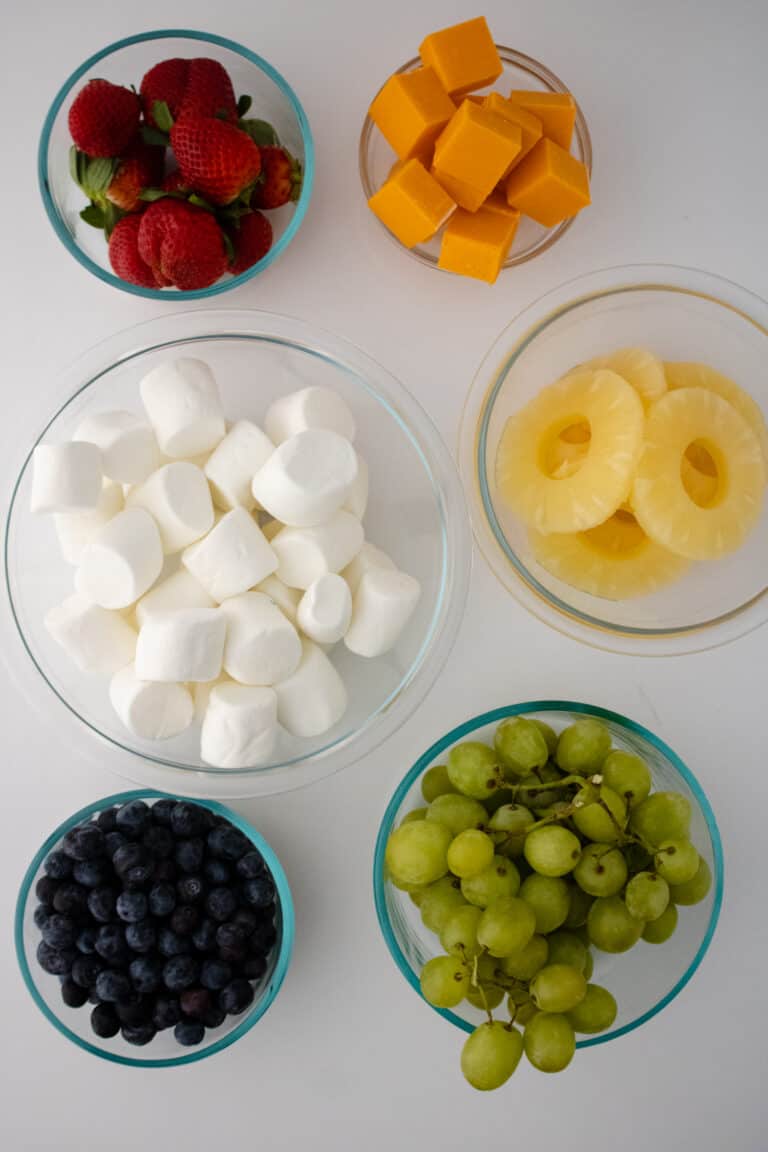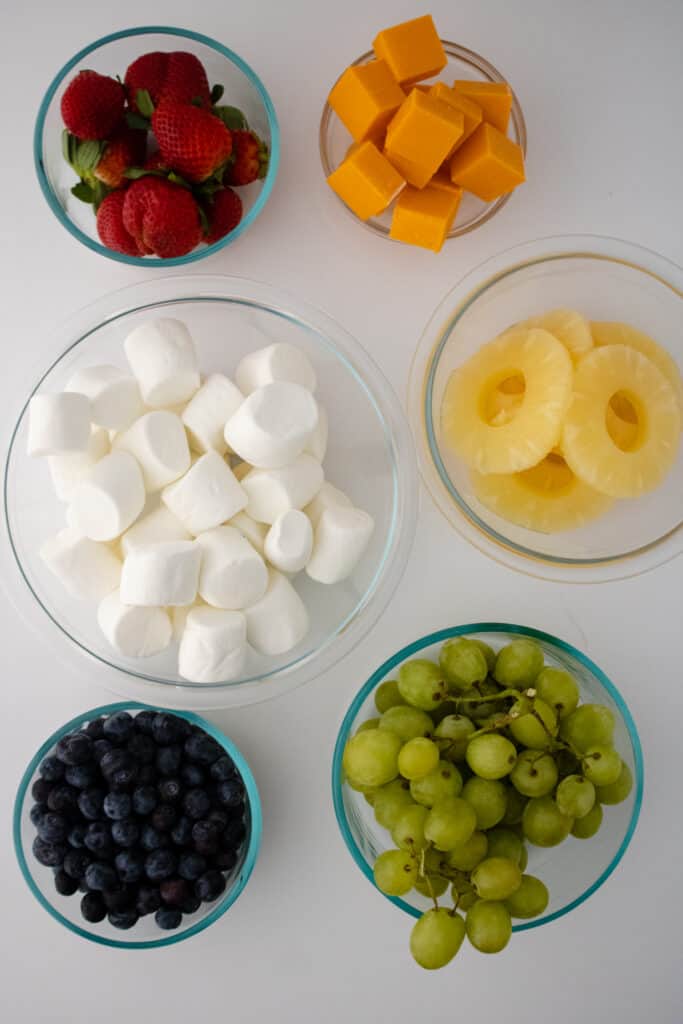 Instructions
Place your fruit and cheese is color order: Red, Orange, Yellow, Green, Blue
Add in the strawberries.
Now add the cheese (you could also use oranges or cantaloupe)
Lay the pineapples overlapping or slice them if you need more space
Cut small bunches of grapes instead of individuals so they look fuller
Add the blueberries or red grapes
Once rainbow is complete, pile on marshmallow clouds and add the bowl with your preferred dipping sauce.
A rainbow fruit board is not only a beautiful and delicious treat, but it's also packed with a range of health benefits. By including a variety of colorful fruits such as blueberries, cantaloupe, strawberries, pineapple, and grapes, you can provide your body with essential nutrients and antioxidants that can help boost your immune system, protect your heart, and improve your overall health. So, next time you're looking for a healthy and colorful snack, give a rainbow fruit board a try, especially for special occasions!
More delicious snack boards to make at home
Here are more unique charcuterie boards you can make in minutes: