Top Reasons Why You Should Visit Abruzzo
Although the beauty of Abruzzo is no secret for Europeans, many are still discovering this beautiful region in Southeastern Italy. Just a couple of hours east of Rome, Abruzzo is much more laid back and has a slower pace that lends itself to enjoying nature, great food and delightful, yet affordable, wines.
Between the Adriatic Sea and the Apennine Mountains you will sometimes feel you stepped back in time as you walk down medieval streets. There is lots to do and enjoy, whether you visit for a couple of days or stay an entire week. There are plenty of parks and during the winter, great ski trails.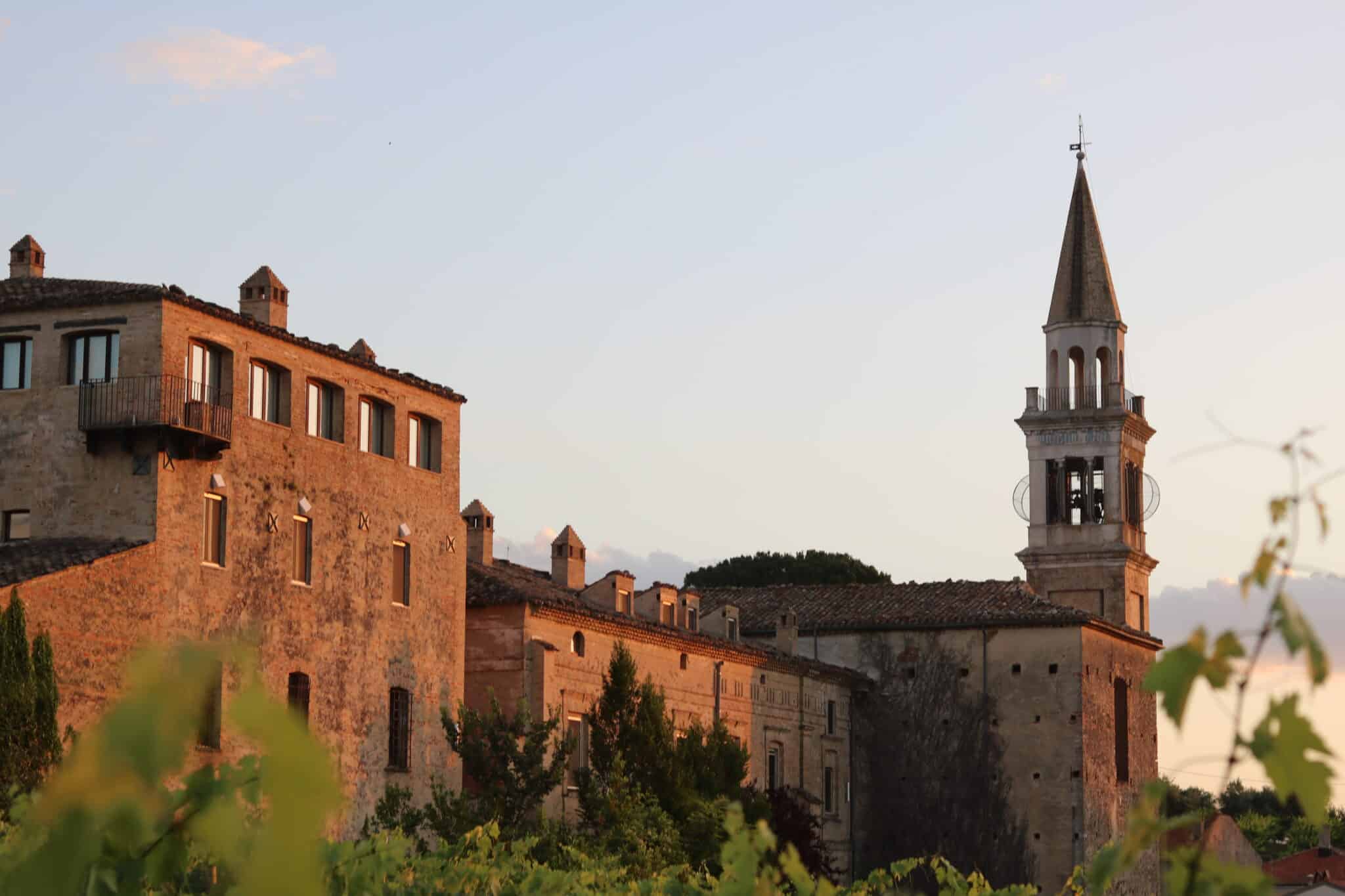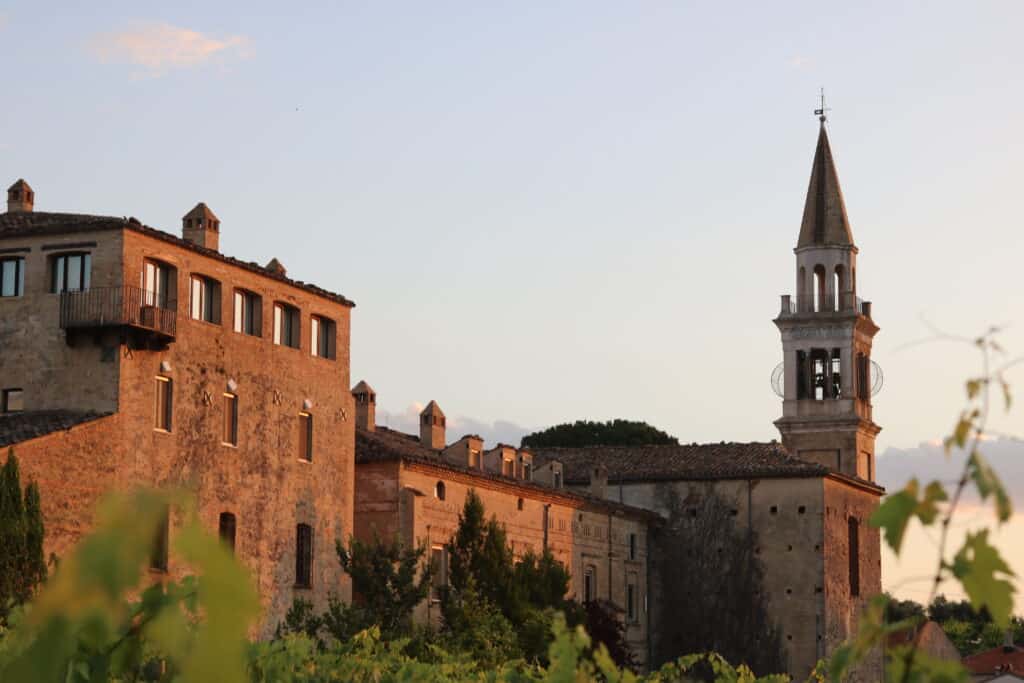 During a recent trip invited by the Consorzio Tutela Vini D'Abruzzo and Ieem USA, I got to explore the region, especially the wonderful wineries. After all, the Montepulciano D'Abruzzo wine is famous around the world. Since the region has different microclimates, cool breezes and great fluctuations in temperatures, it produces great wines. Many are hidden gems that are at a very affordable price point, especially the Montepulciano D'Abruzzo red wines and rosatos or Cerasuolos.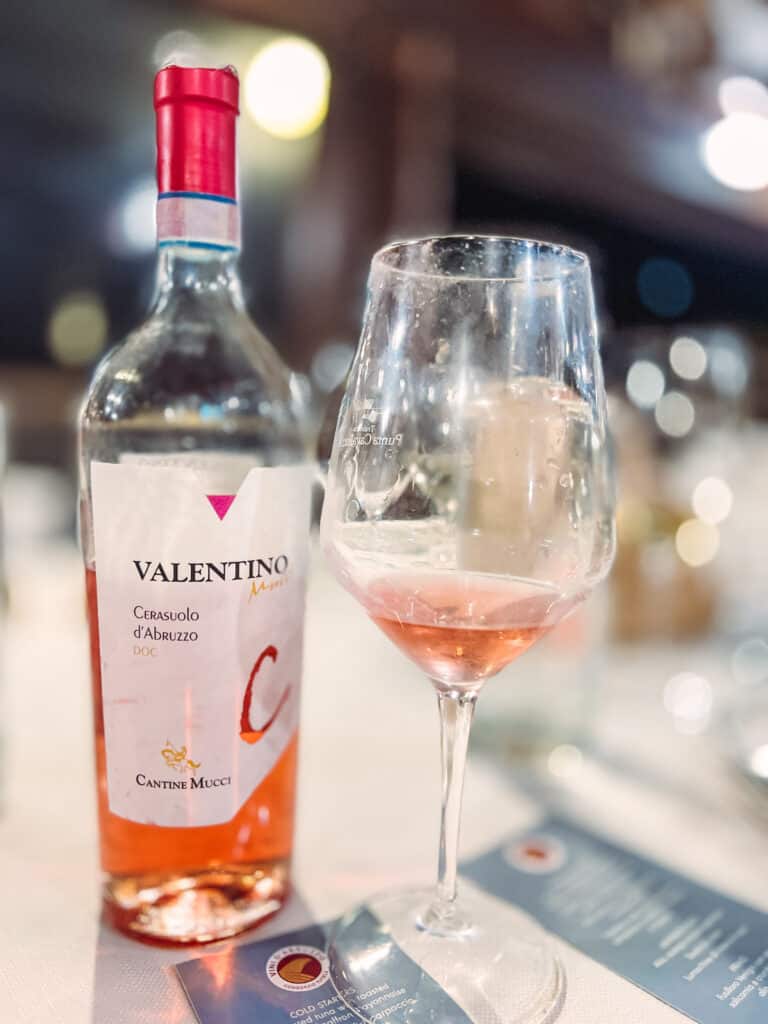 What surprised me the most is how much the winemakers have focused on producing top notch organic wines while also emphasizing sustainability. There are also lesser known wine varieties that are worth trying.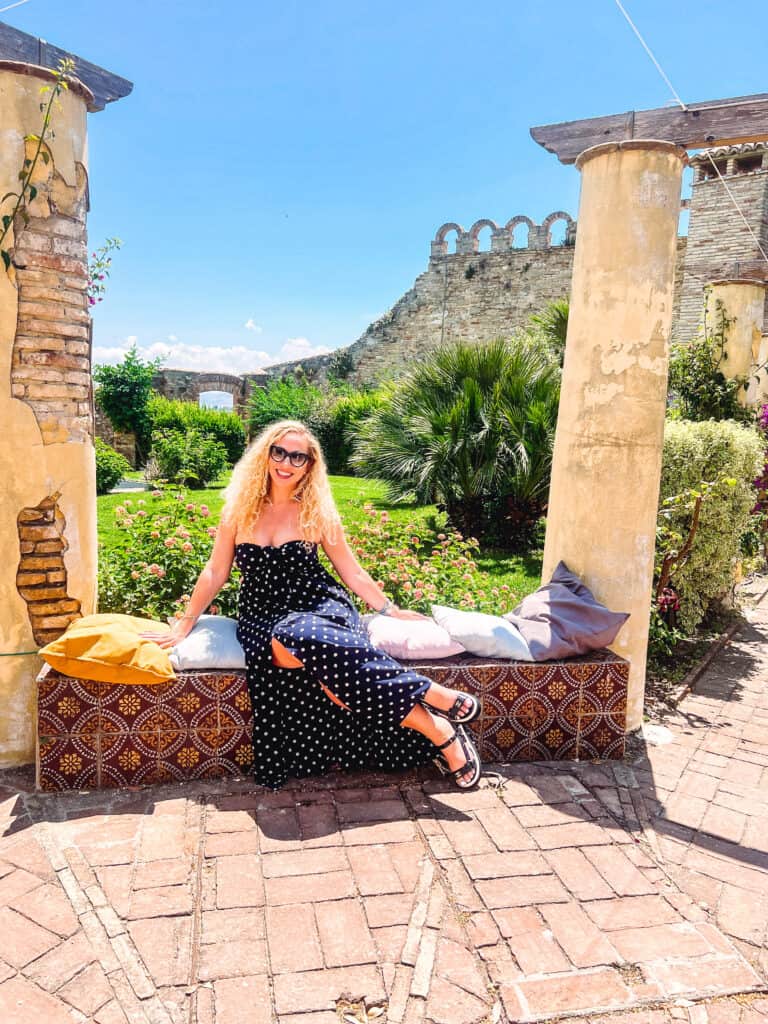 What wines is Abruzzo famous for?
The Abruzzo region is known for its white Trebbiano, the Cerasuolo rosé (or rossato), and the red Montepulciano. Wineries have expanded those varieties and you will now find other varietals like Pecorino, Passerina, and Cococciola.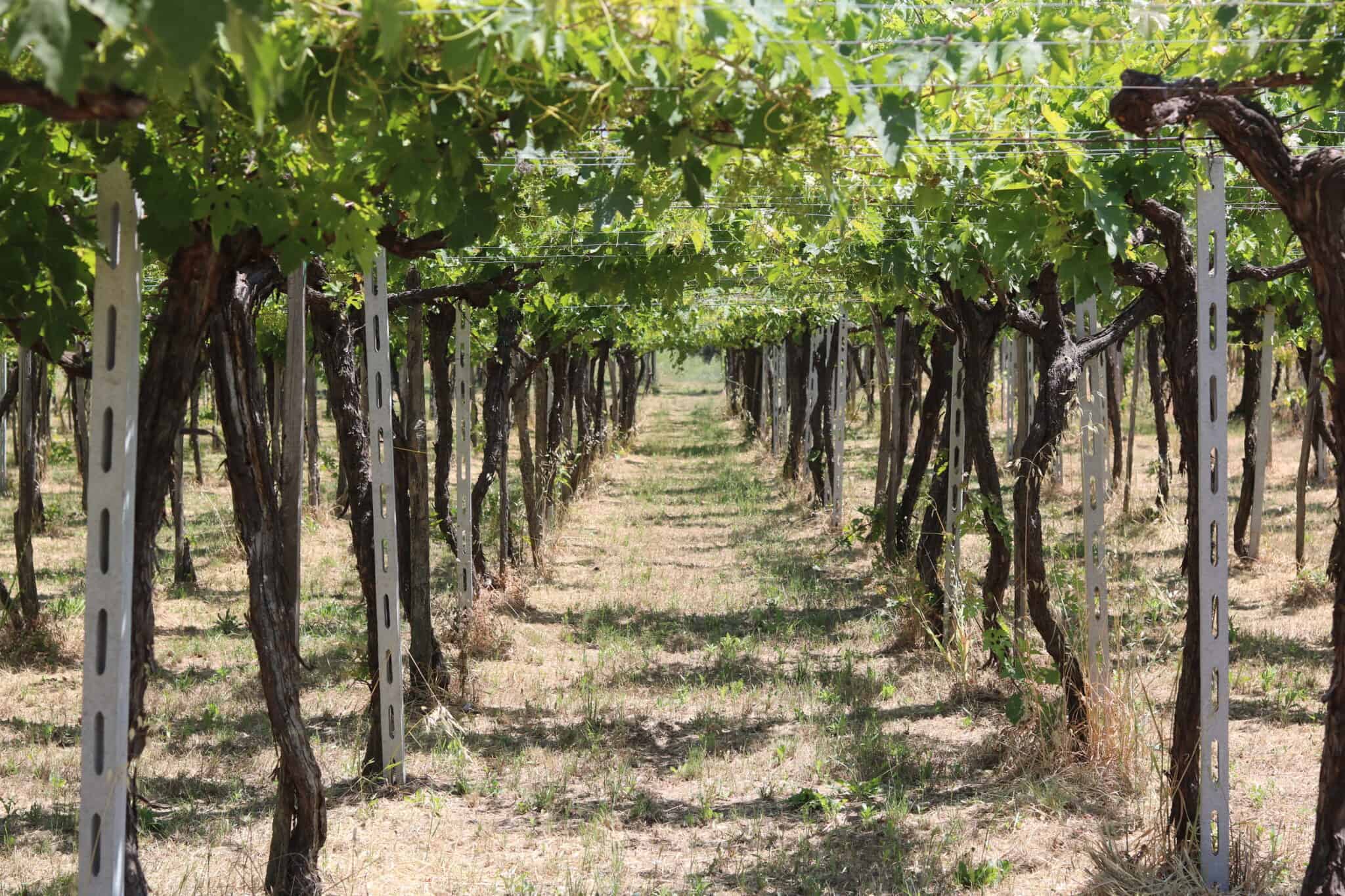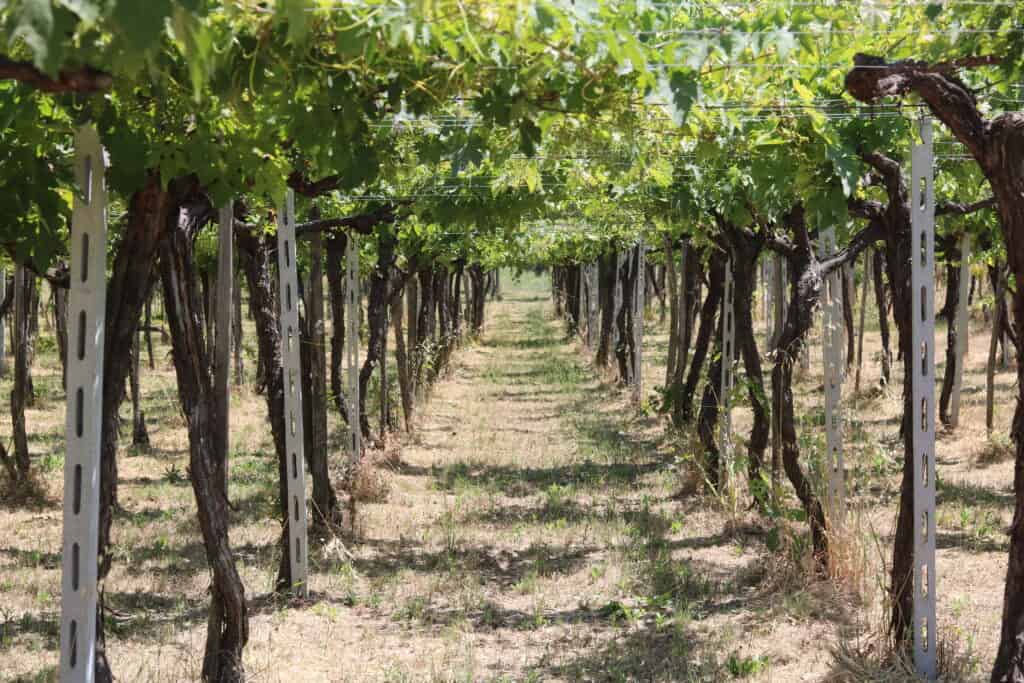 Winemakers in Abruzzo have traditionally used tendones or pergolas, a trellis system that can help provide shade to the grapes in the hot summer months. In some more innovative wineries, they keep exploring ways to turn the grapes away from the sun to help produce the best wines. After all, as all winemakers reminded me over and over again, it all starts with the grapes.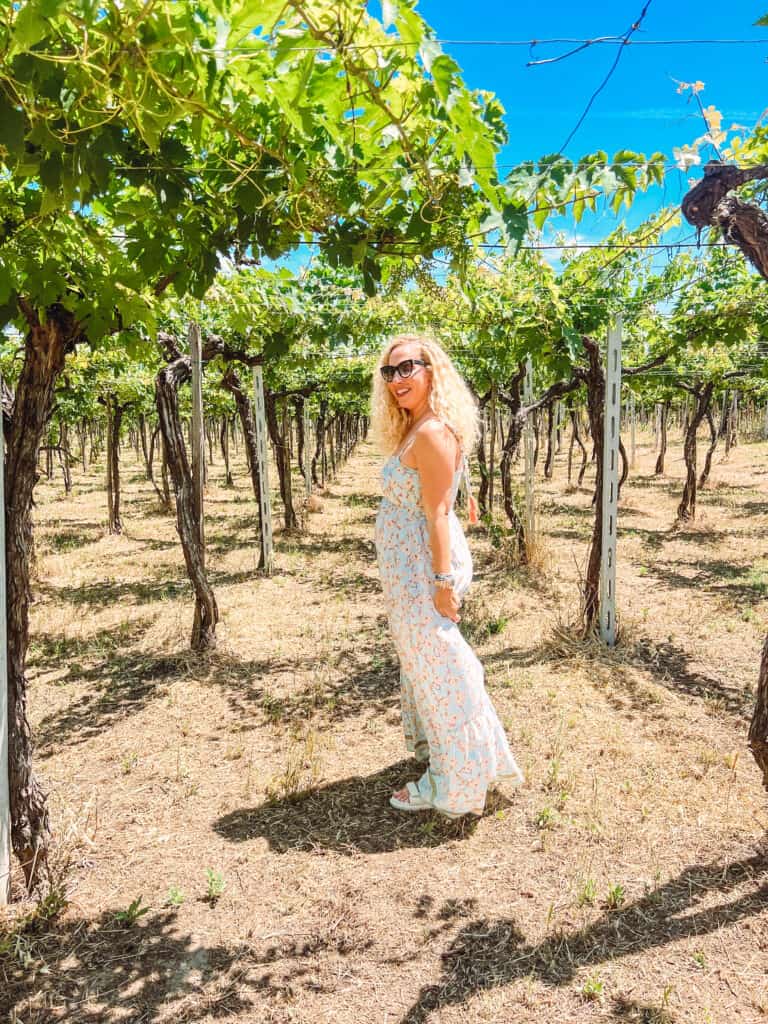 What are the characteristics of Montepulciano D'Abruzzo wine?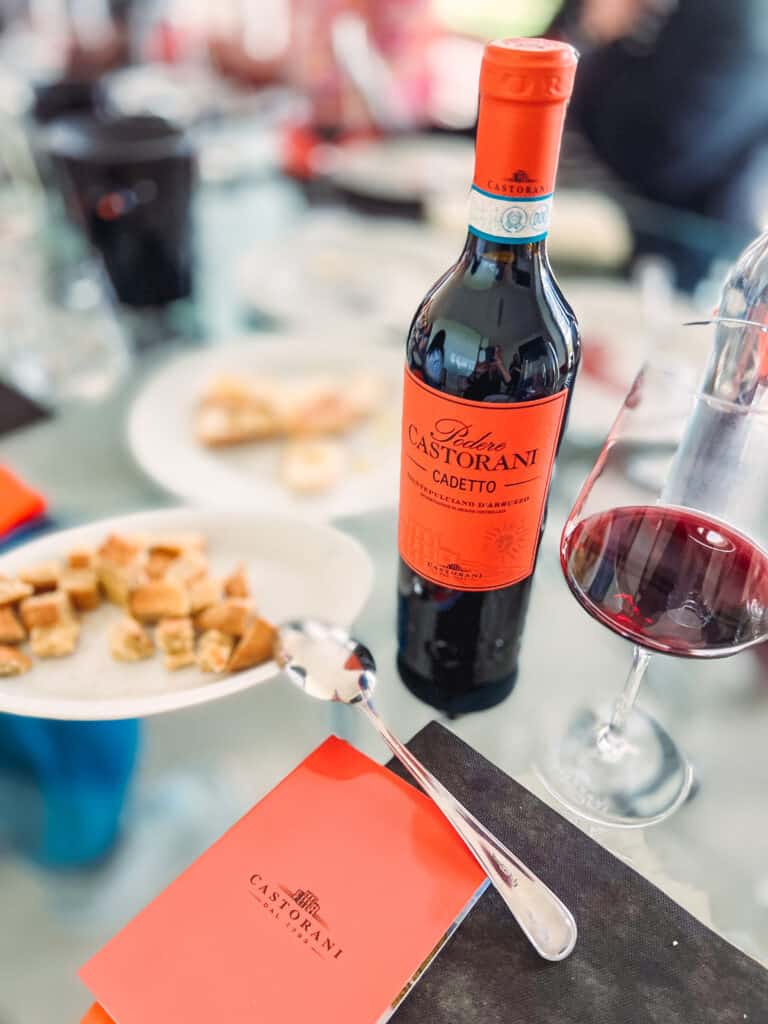 Montepulciano D'Abruzzo wine is known for its:
deep, dark color
ripe tannins
high acidity
notes of red fruits with hints of spices
That is why it pairs well with red meats, cheese and tomato-based savory dishes. Between the tannins and acidity, the wine allows you to savor the different flavors of your meal.
Things to Do in Abruzzo
Enjoy as many wine tastings as you can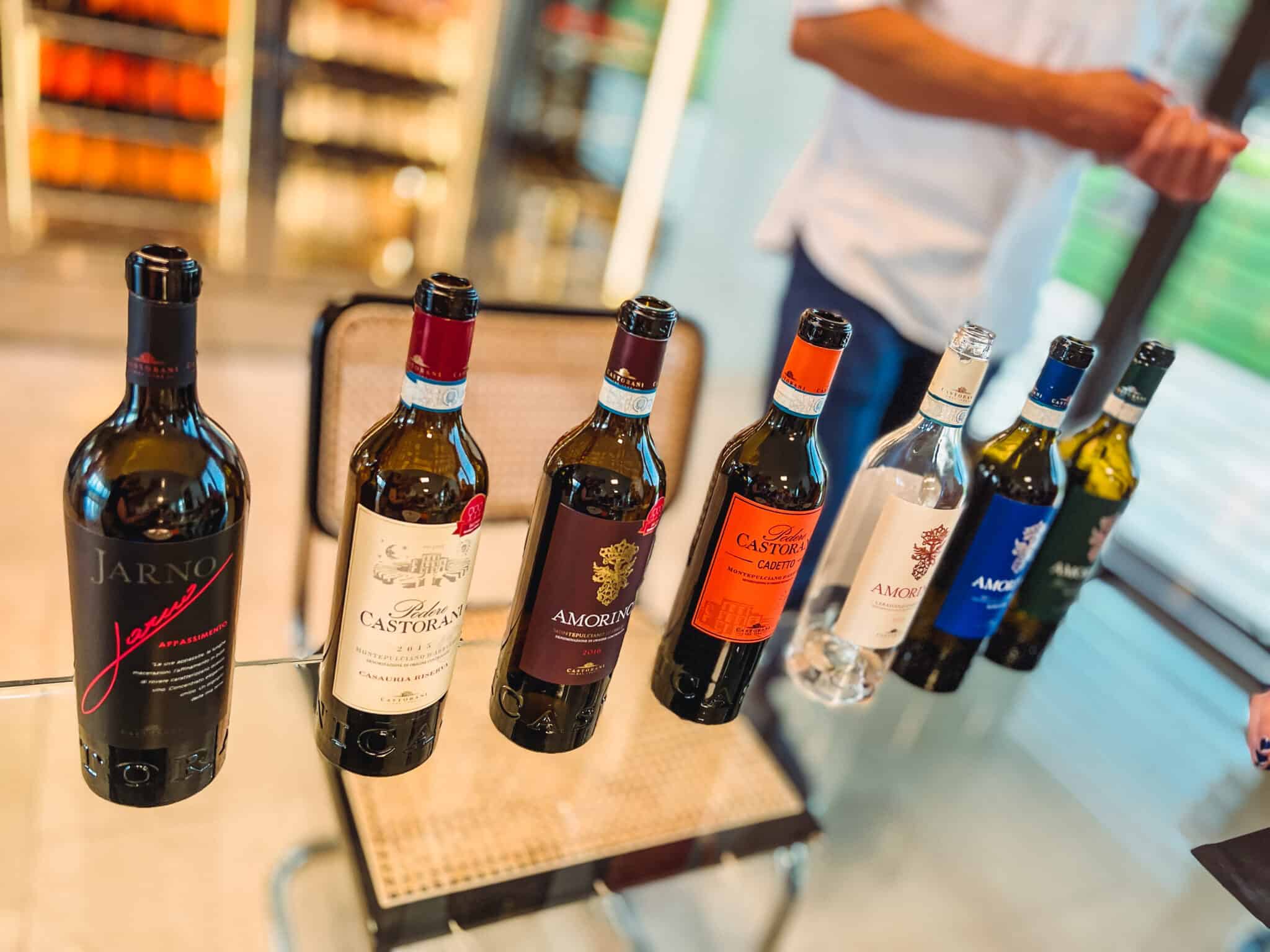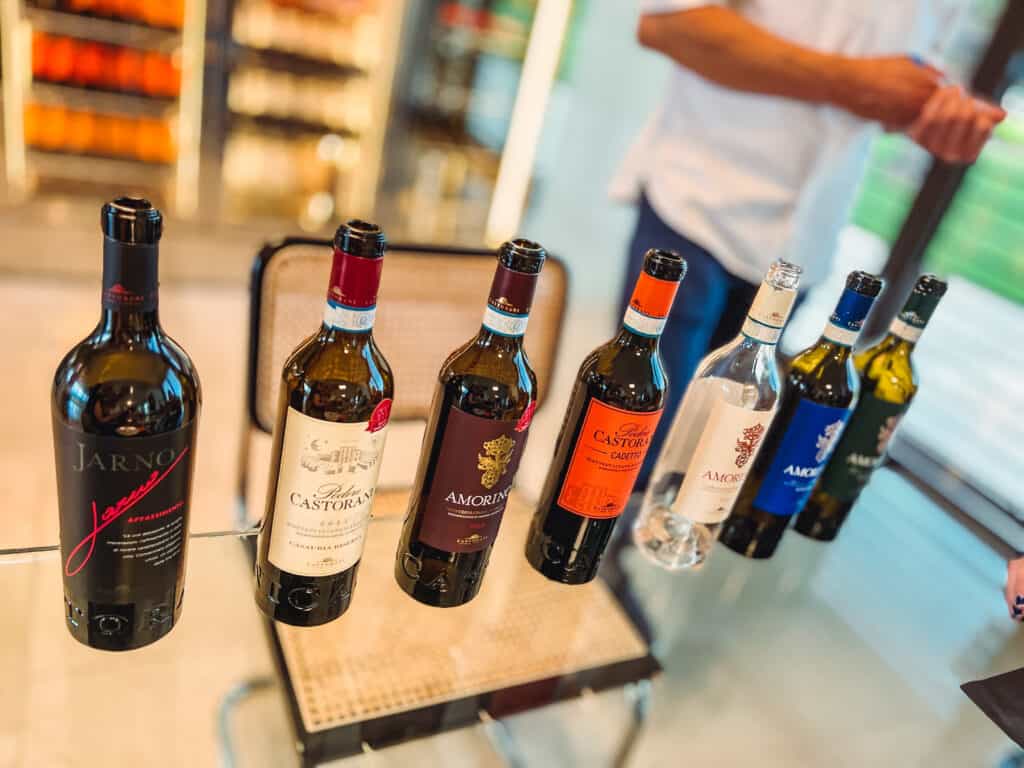 The Abruzzo wineries offer tours and wine tastings to delight your palate. I recommend booking in advance, either online or via email. Some of my favorites: Masciarelli, Feudo Antico (where you will also see Roman ruins), Castorani, Tenuta i Fauri, Pasetti, and Villa Magna.
Buy extra virgin olive oil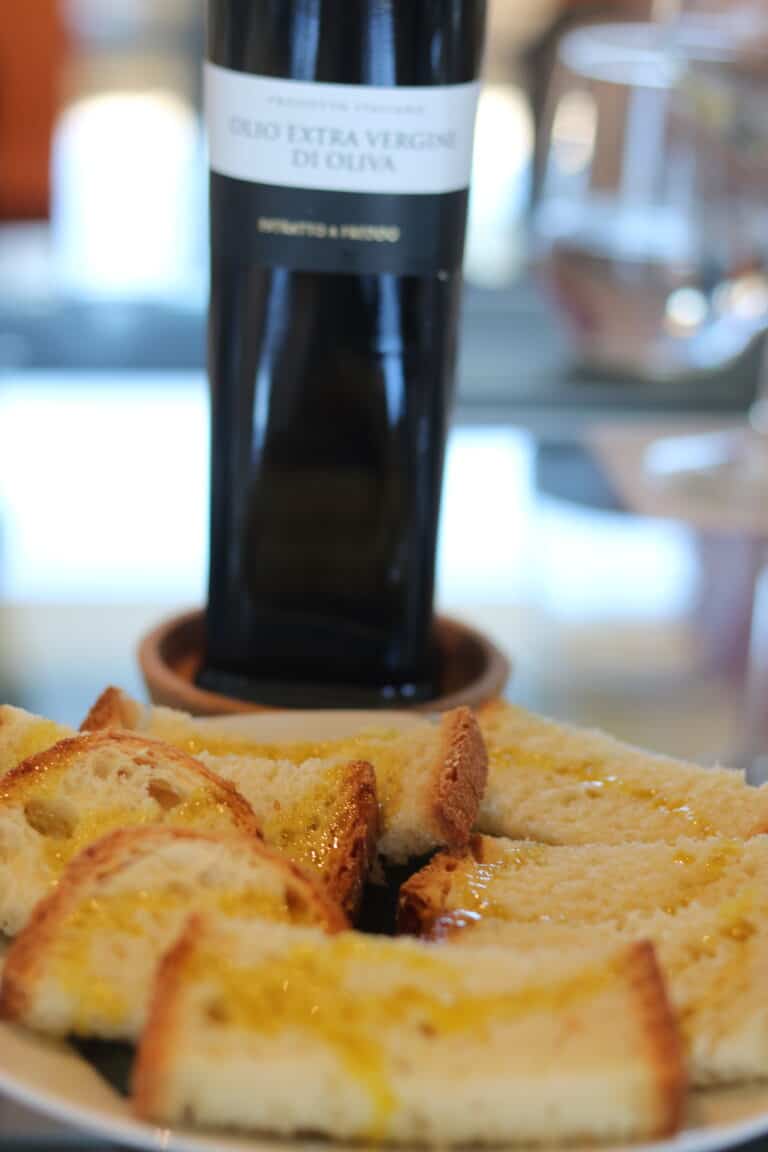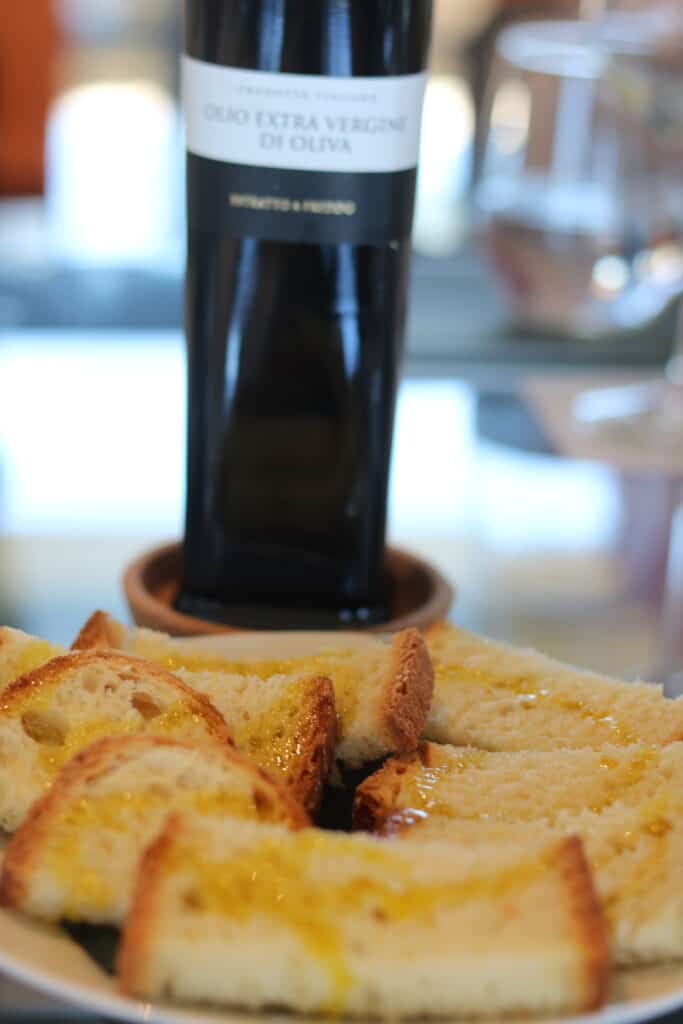 Many winemakers have expanded their offerings to include top quality olive oil that is truly outstanding. Leave room in your luggage to bring home your favorite one. At Masciarelli's Castelo di Semivicoli you can also get small bottles of salad dressings that are great gifts.
Explore medieval towns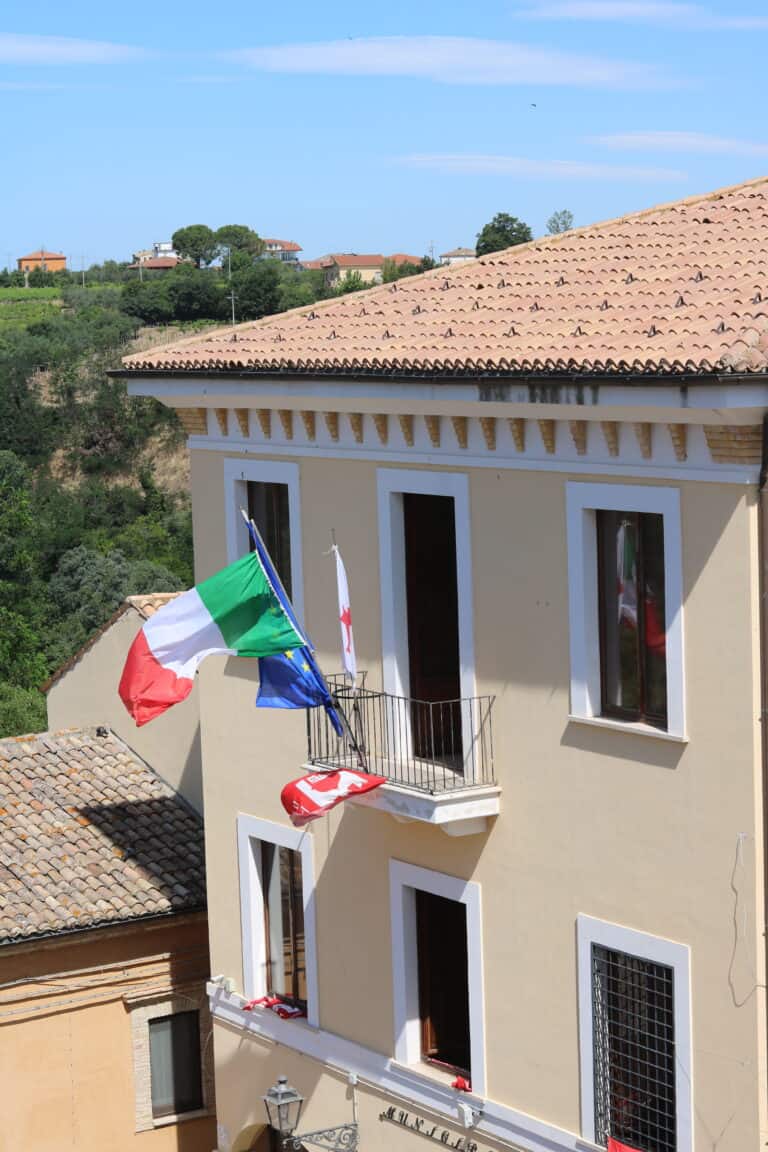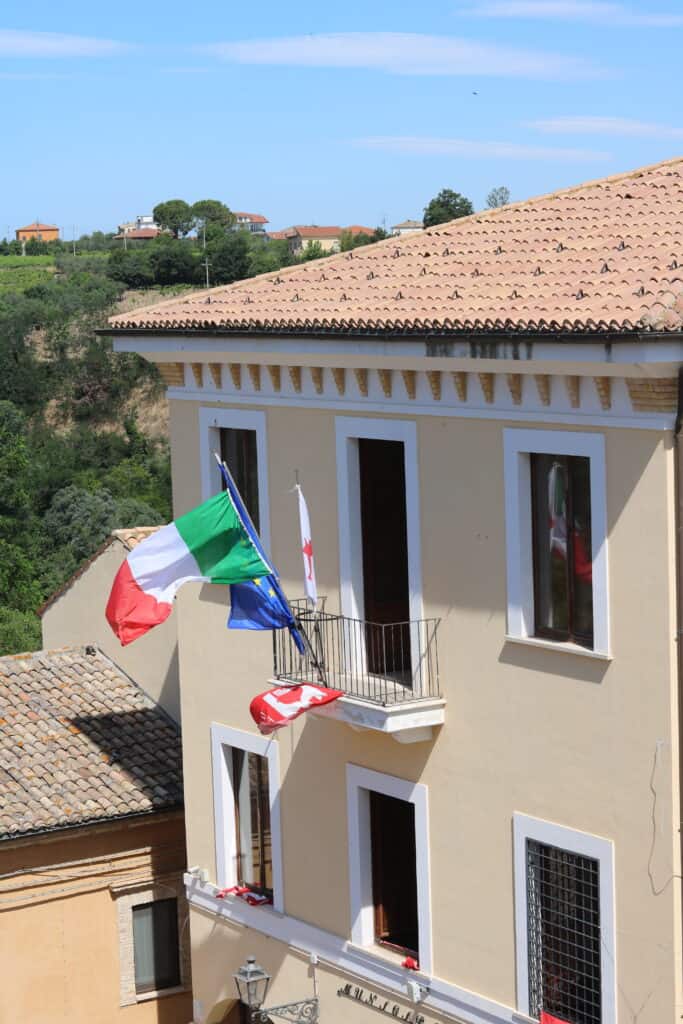 Medieval streets and churches give Abruzzo extra charm. Located in Chieti, the village of Crecchio boasts a wonderful Museum of Byzantine and Medieval Abruzzo in the Castello Ducale.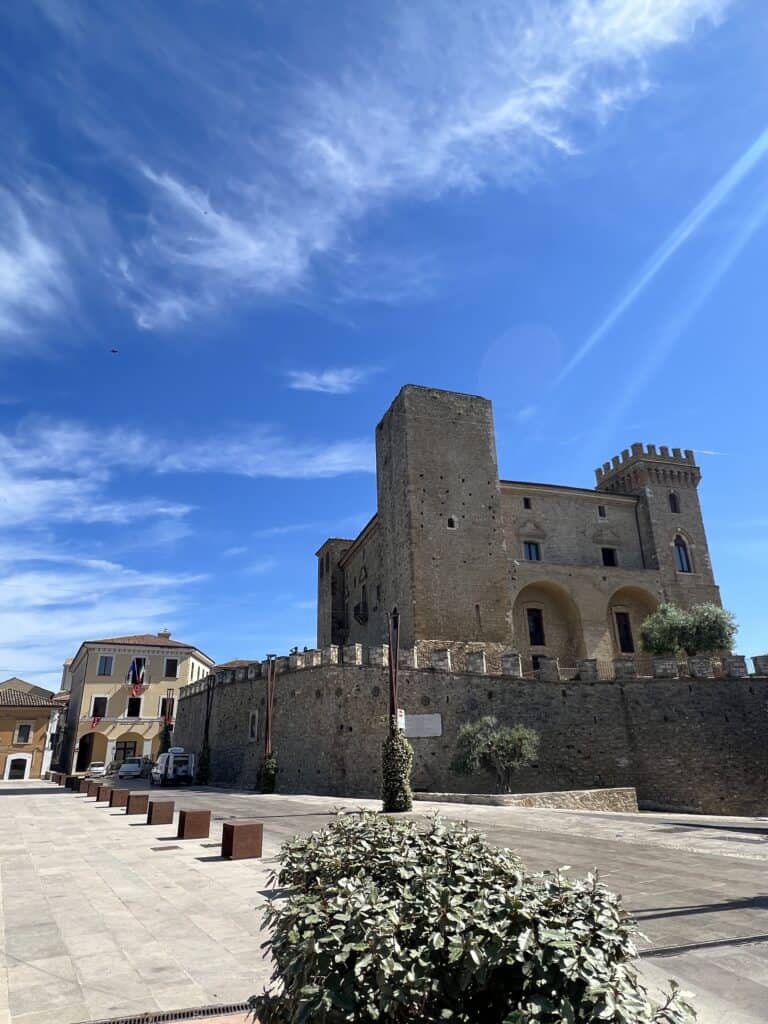 The museum is free and if you are able, climb the circular steps of the tower for breathtaking views of the surrounding olive trees and vineyards.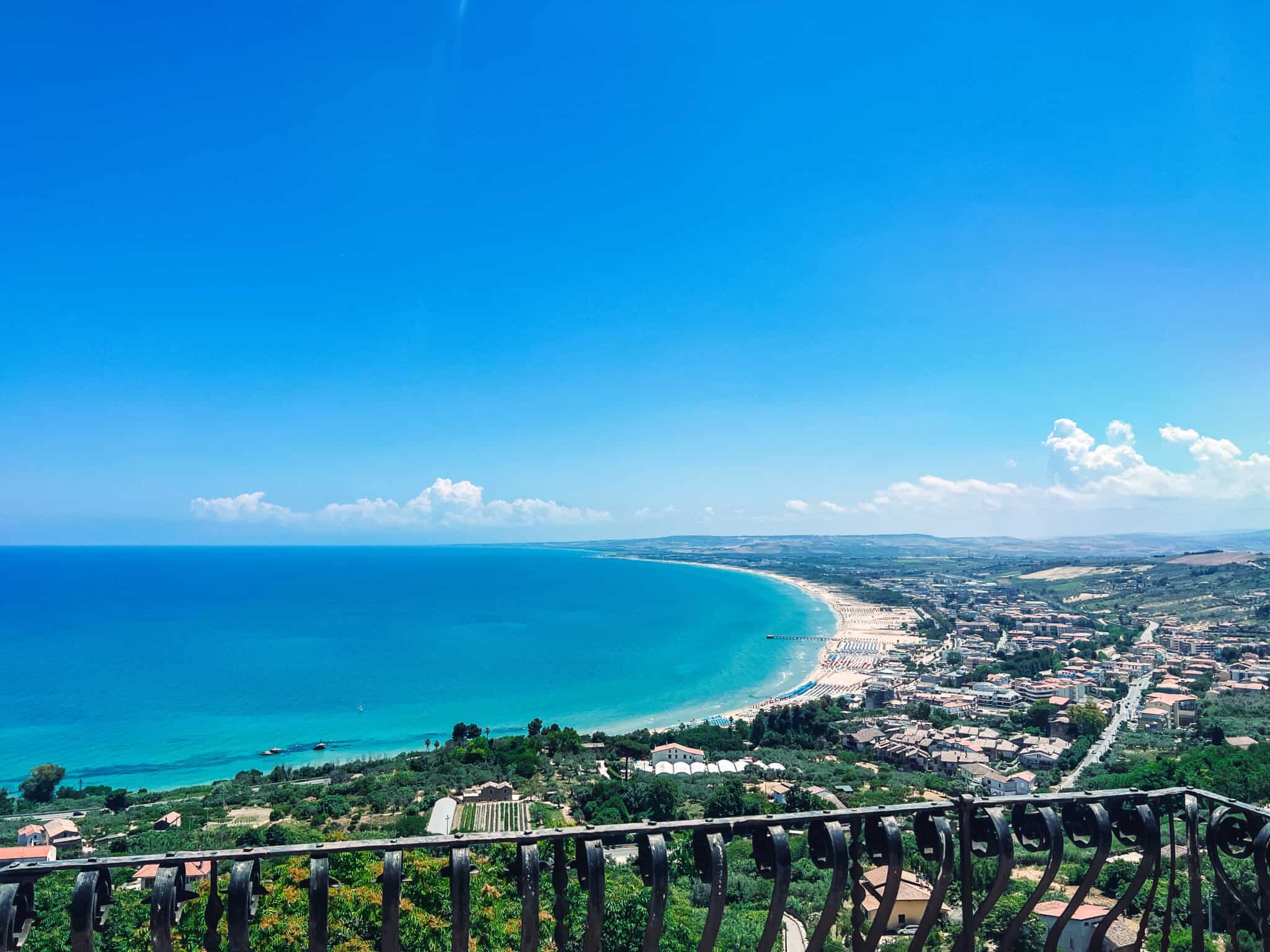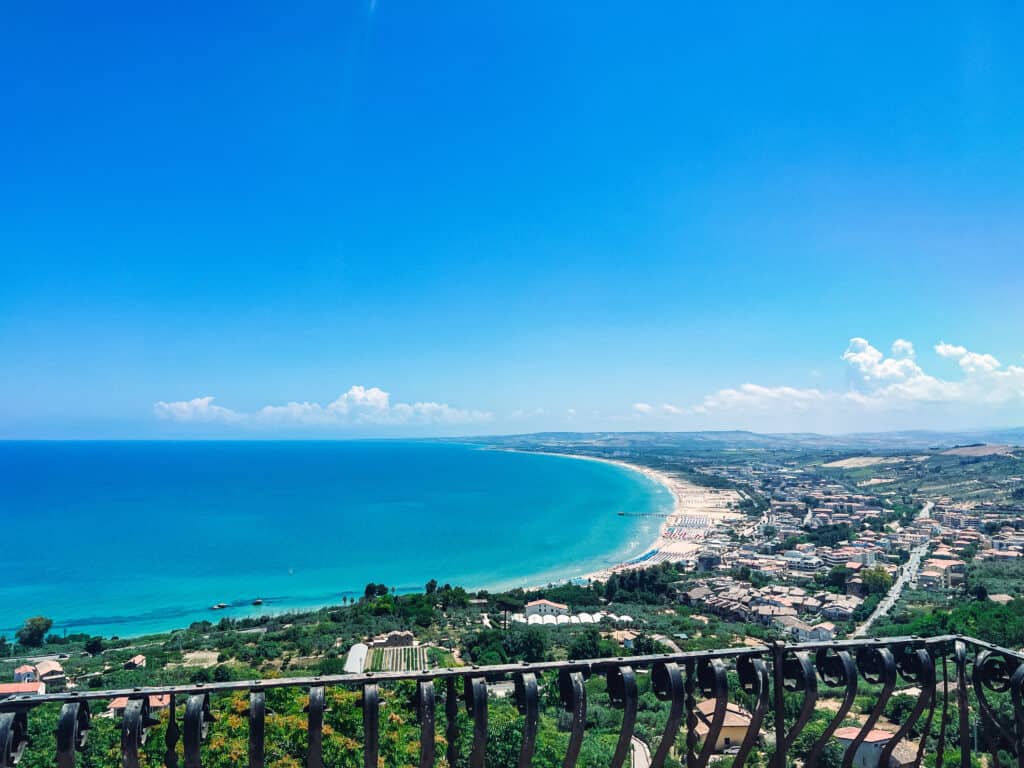 Vasto is another must, with stunning sea views and medieval characteristics. It was a famous Roman fishing village and from the Palazzo D'Avila, which now is a museum, you can see the sandy coastline below.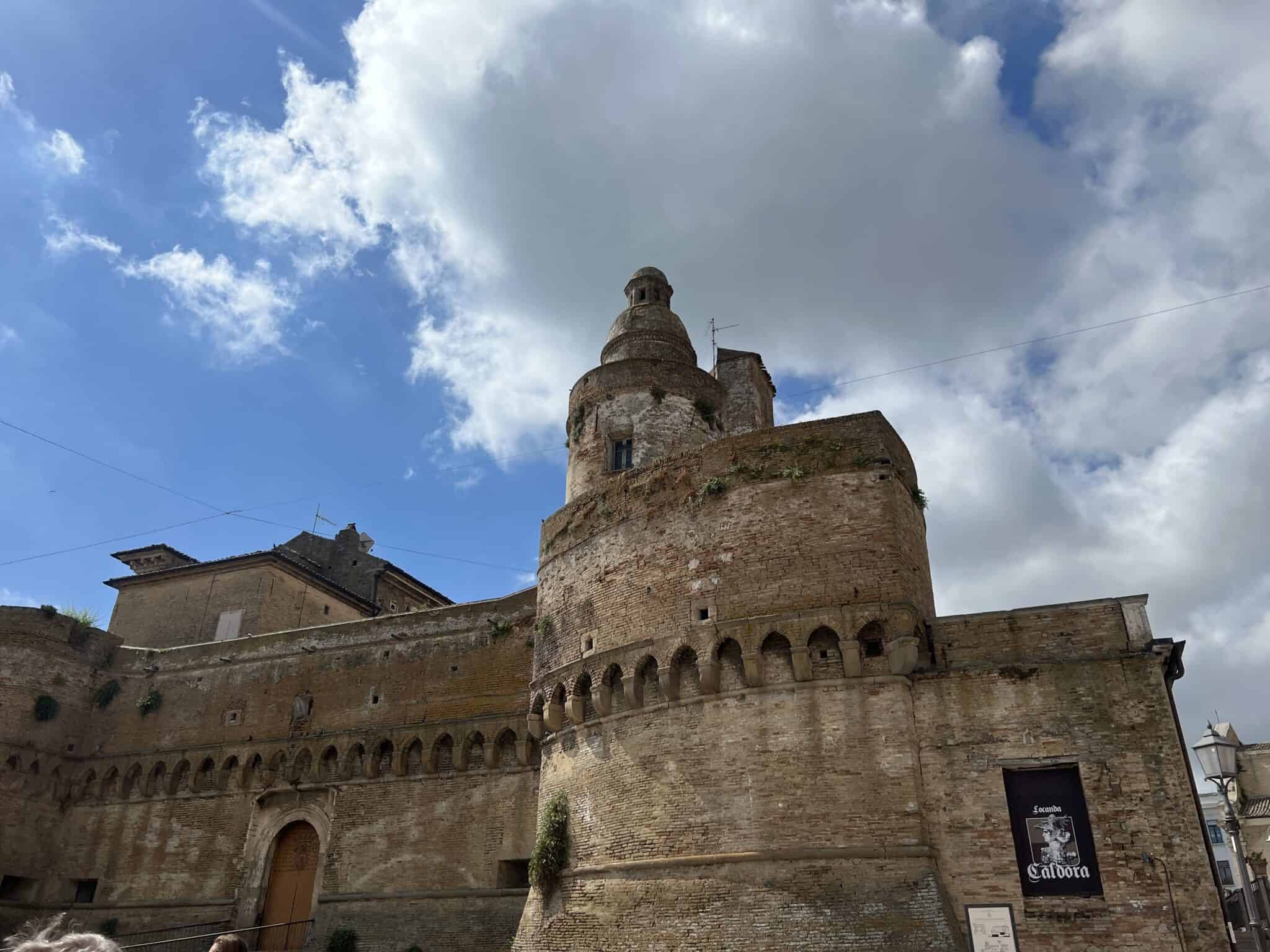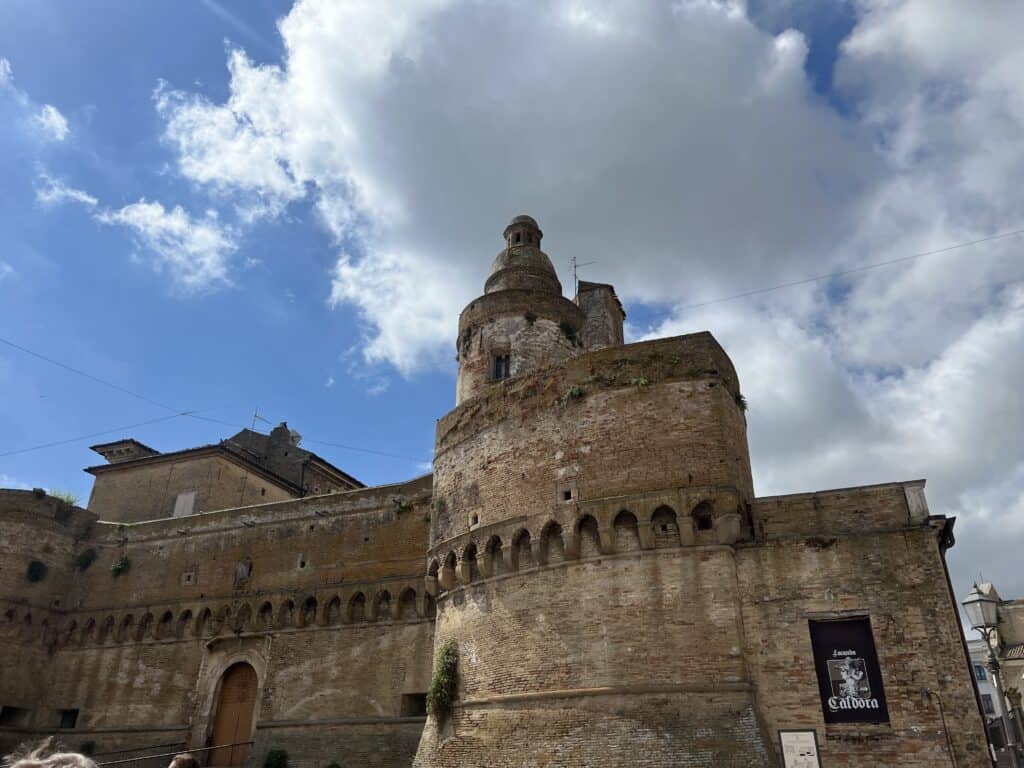 Discover the Trabocchi Coast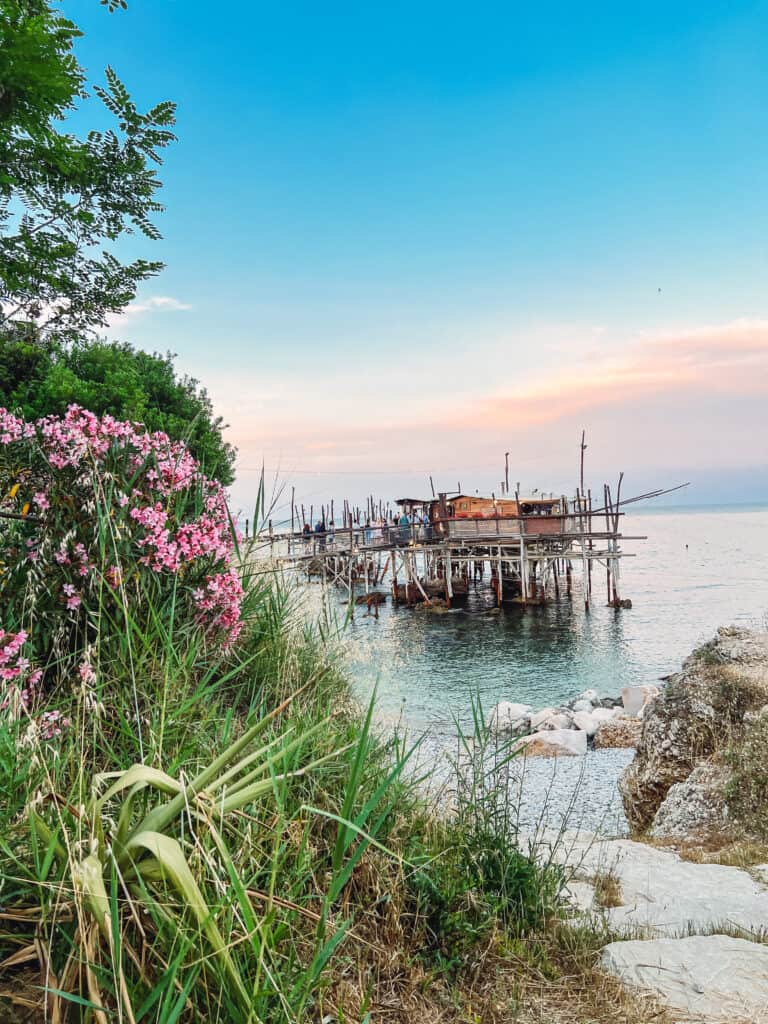 One of the most picturesque sights in Abruzzo is the Trabocchi Coast, a UNESCO World Heritage-protected area in the Chieti province. The name comes from collection of fishing net structures and machines on stilts known as trabocchi. These structures were used by fishermen to avoid deep waters and today many families now operate restaurants featuring delicacies from the sea.
Eat all the fresh seafood and pasta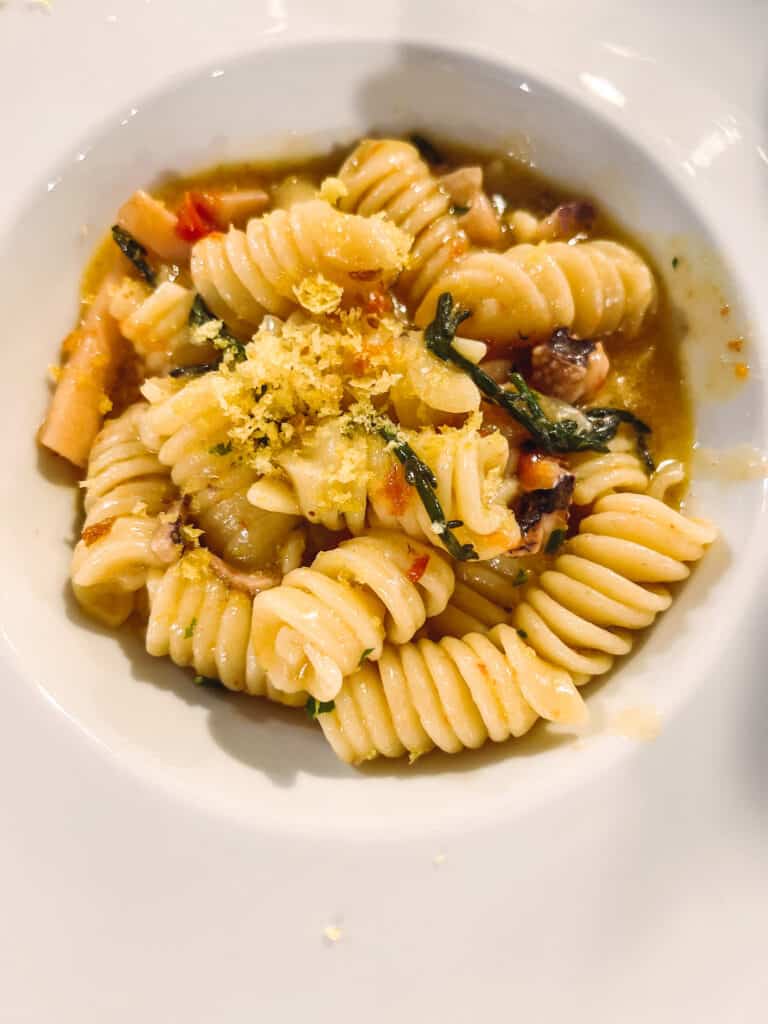 Seafood and pasta lovers will truly be in foodie heaven in Abruzzo. Not only is the fish fresh and tasty, but you will also find mussels, sea snails (similar to escargot), octopus and other delicacies on menus.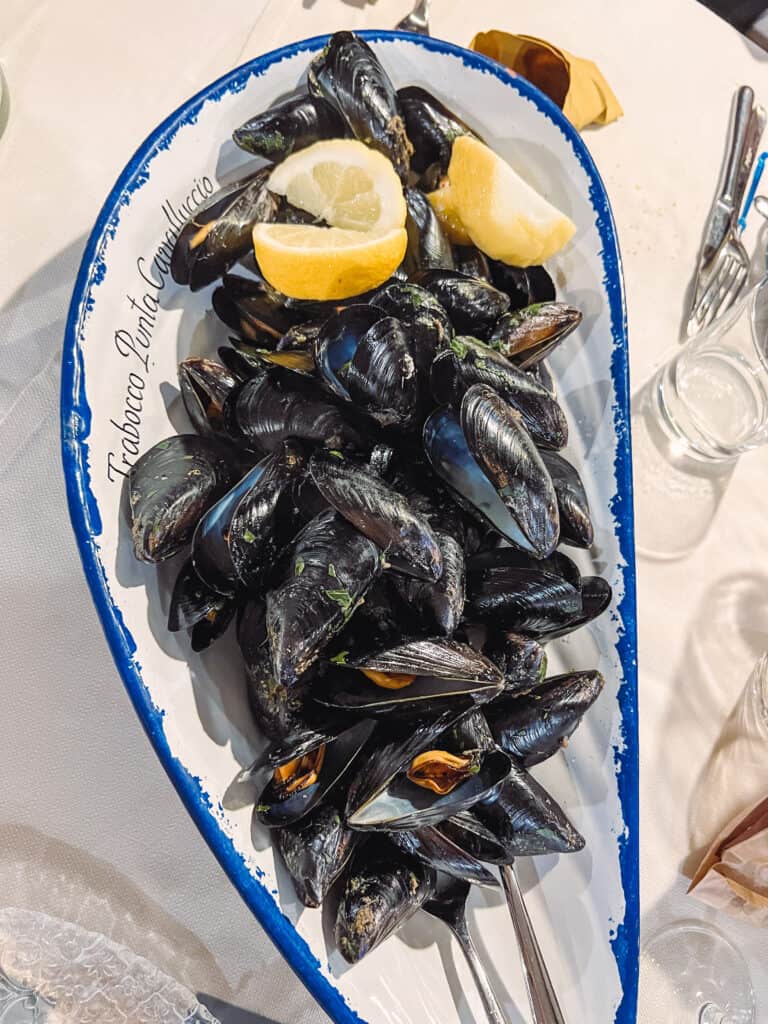 Abruzzo is also known for its fresh pasta so make sure to indulge at every opportunity you have. I highly recommend the Trabocco Punta Cavalluccio, which not only had spectacular views of the Adriatic but also served us spectacular food. 
Stay at a winery
This is on my bucket list for next time I visit Abruzzo.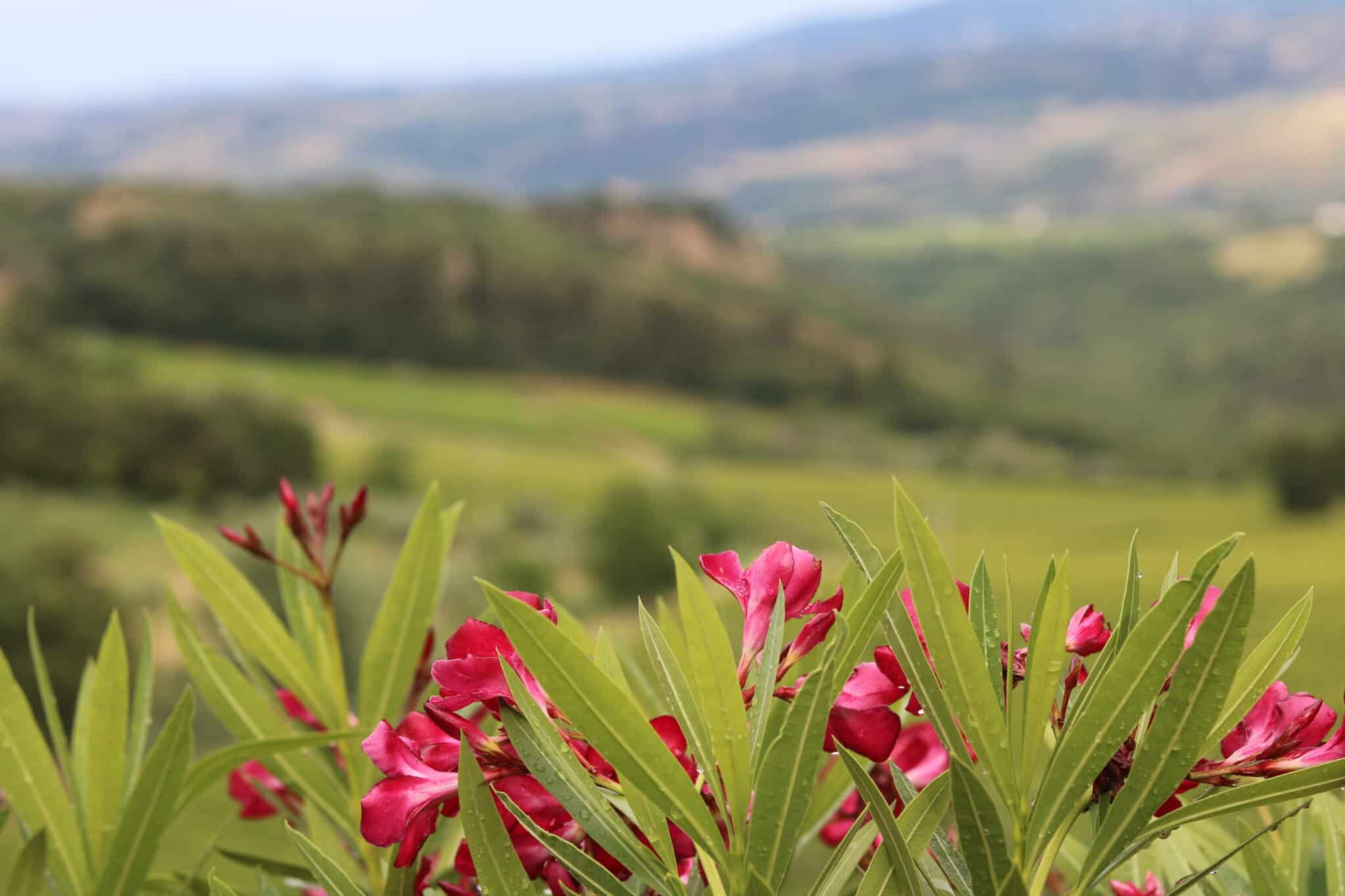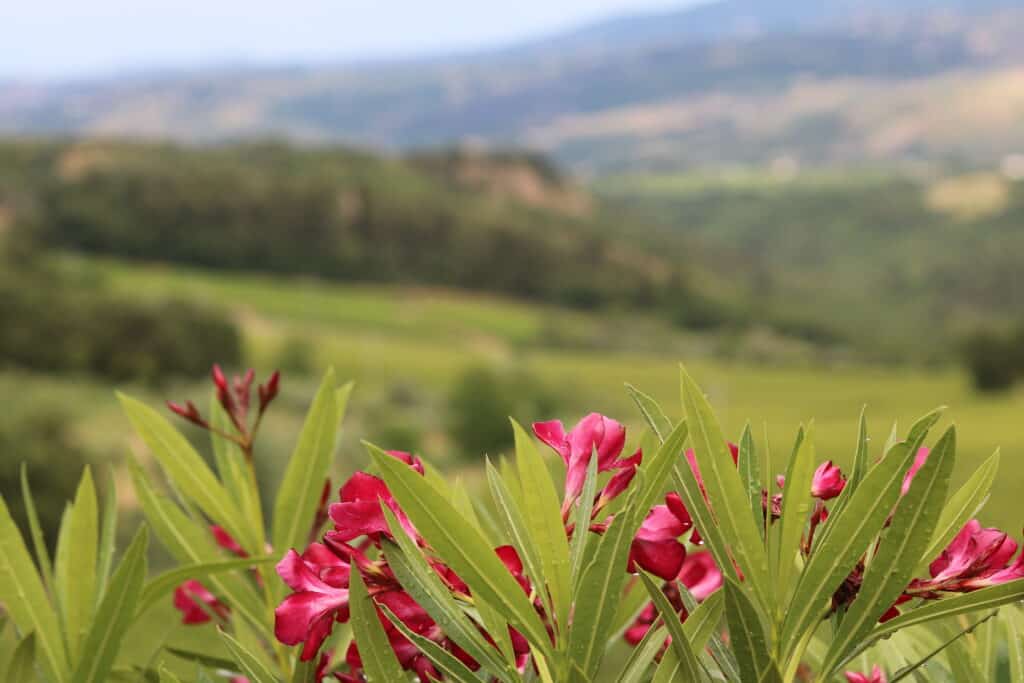 Top of my list? Tenuta Testarossa, in the village of Pescosansonesco, where you can learn about Pasetti wines while enjoying a charming stay at an Italian villa.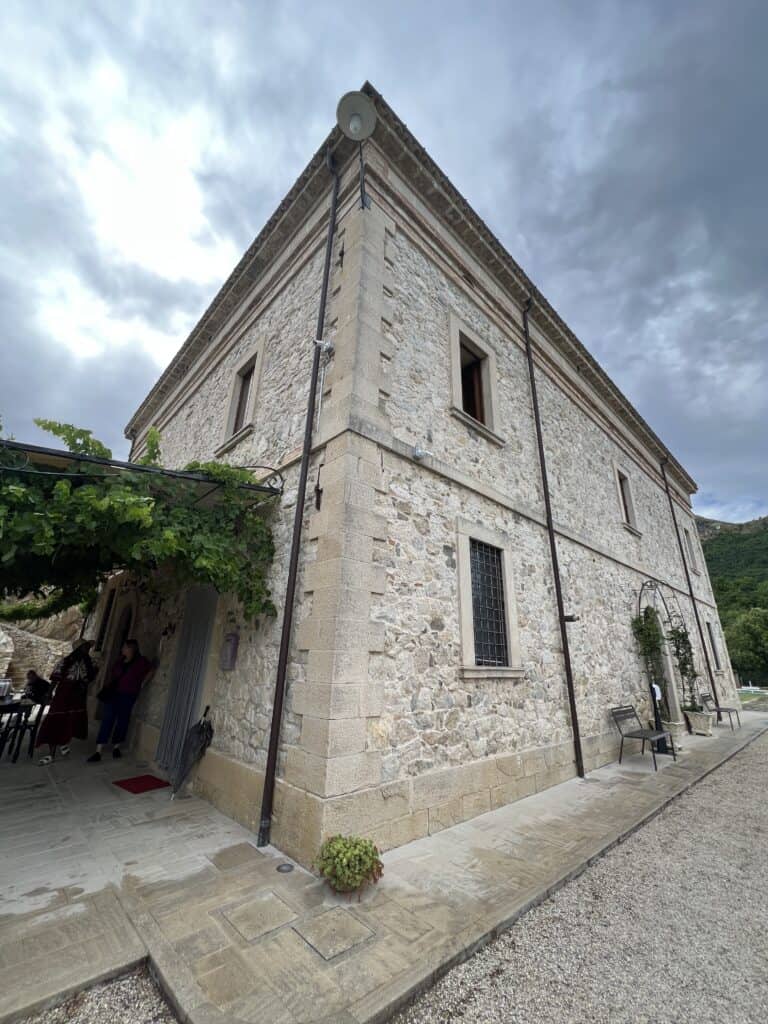 The rooms have traditional Italian decor, there is a lovely pool but most importantly, everything is supervised by the Pasetti family, which will treat you like one of their own.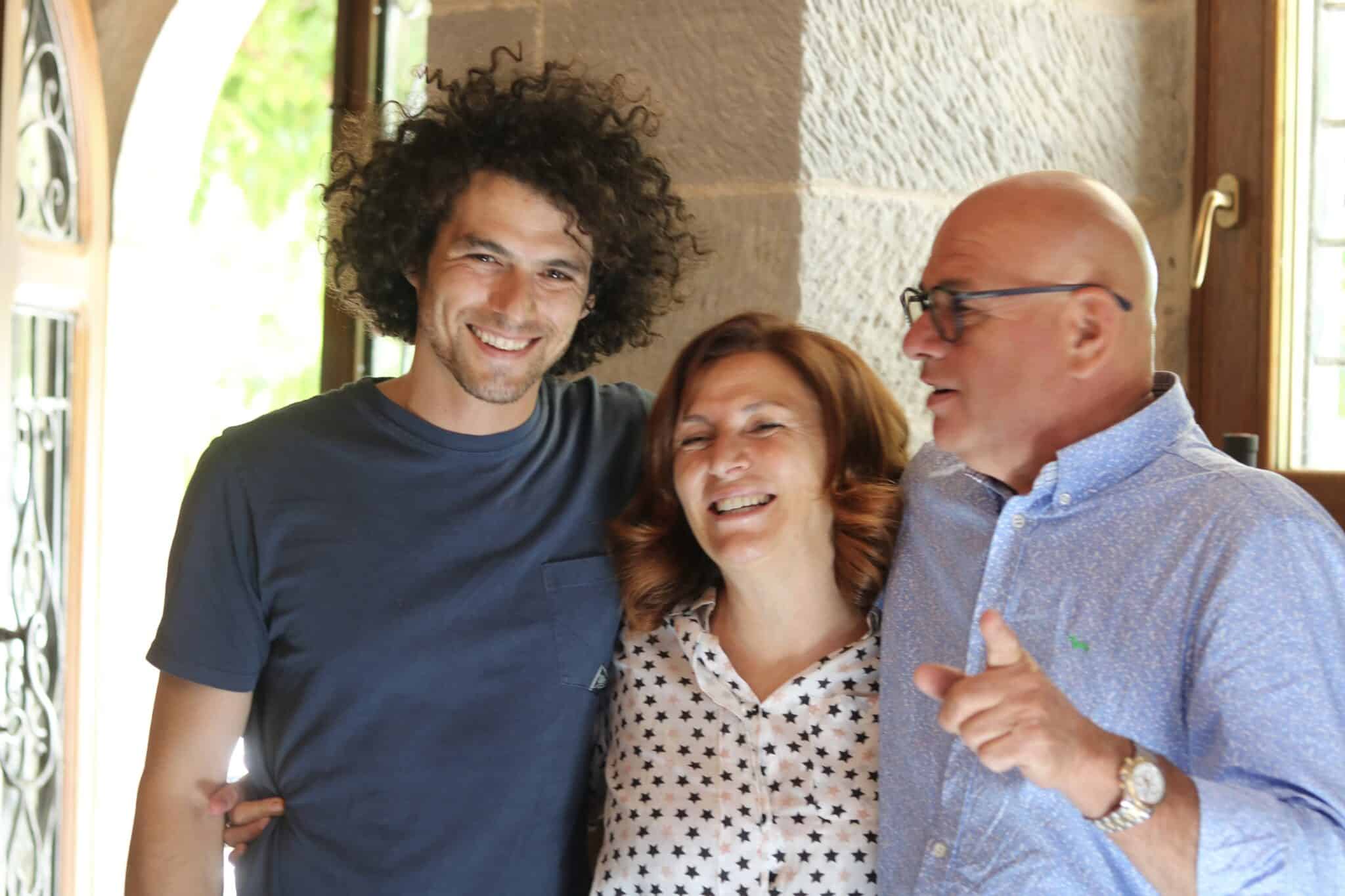 Tips if you travel to Abruzzo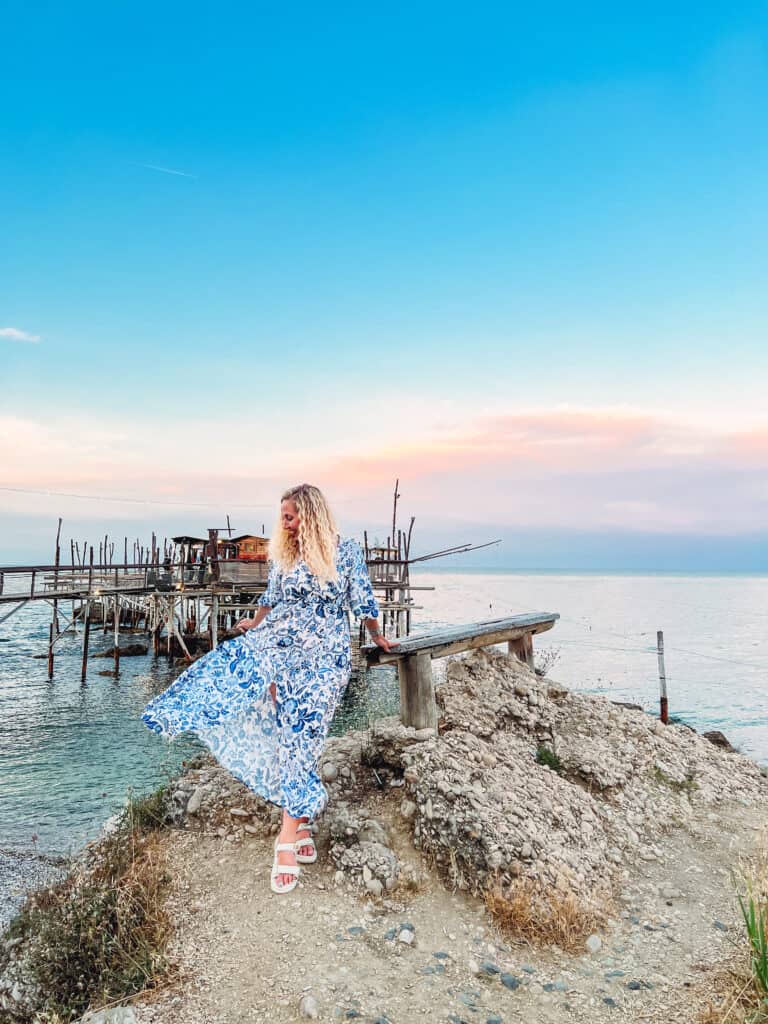 Plan on staying at least two nights.
Book a wine tasting tour. You can do it directly with the wineries or use Viator.
Bring water shoes so the tiny pebbles don't bother your feet at the beach.
Relax and be prepared for a slower pace.
Wear comfortable shoes or sandals that you can walk in. Medieval pebbled streets are not the place to wear high heels! Also, in the summer your feet might get swollen.
Rent a bike and take advantage of the newly reopened bike trail next to the Trabocchi Coast.
Let me know if you include Abruzzo in your next travel itinerary!
More travel tips
All photos: Jeannette Kaplun