Flaky and delicious homemade honey butter biscuits
Are you craving homemade flaky honey butter biscuits that are worth every calorie? This is a sweet and savory decadent biscuit recipe.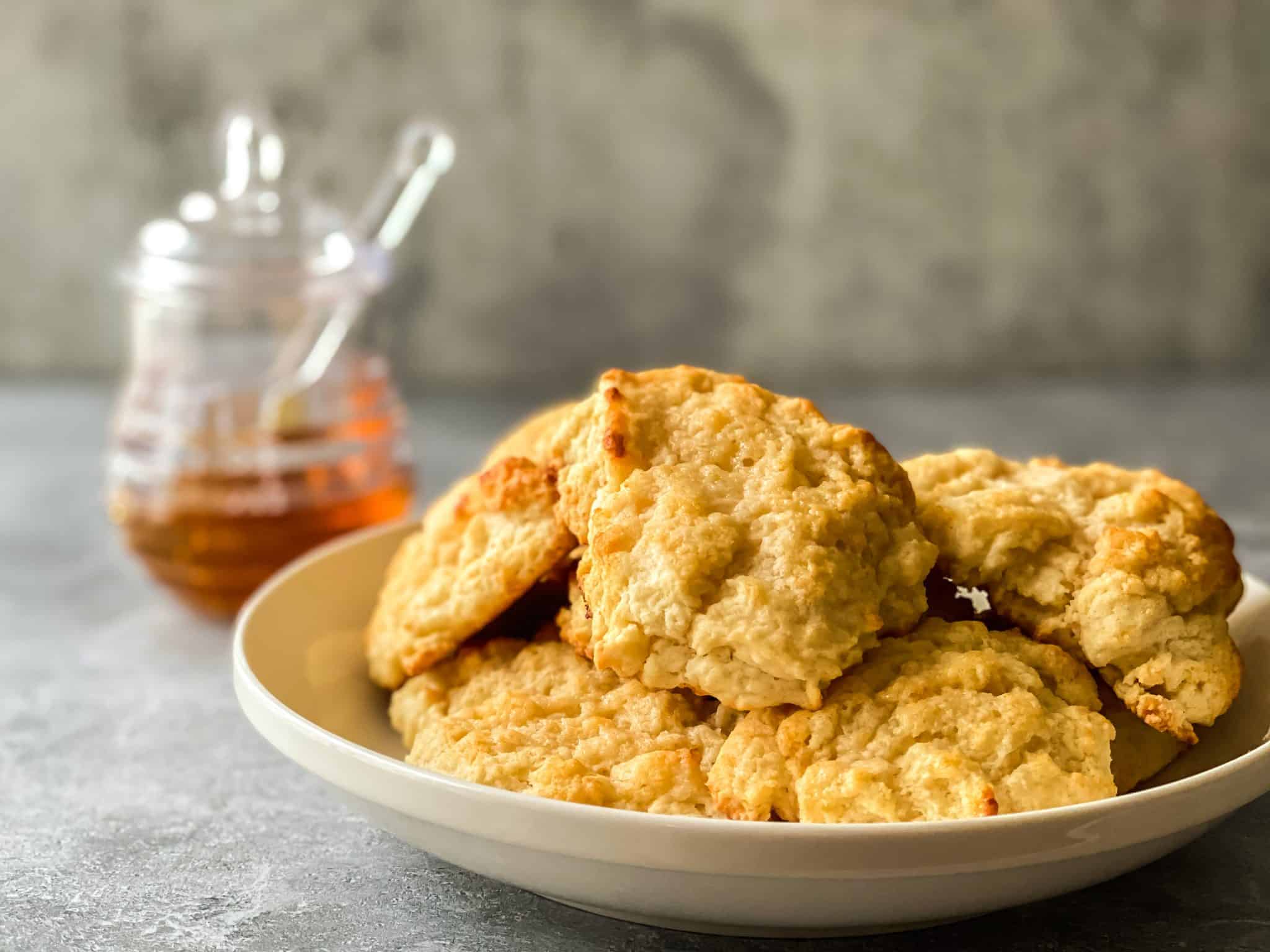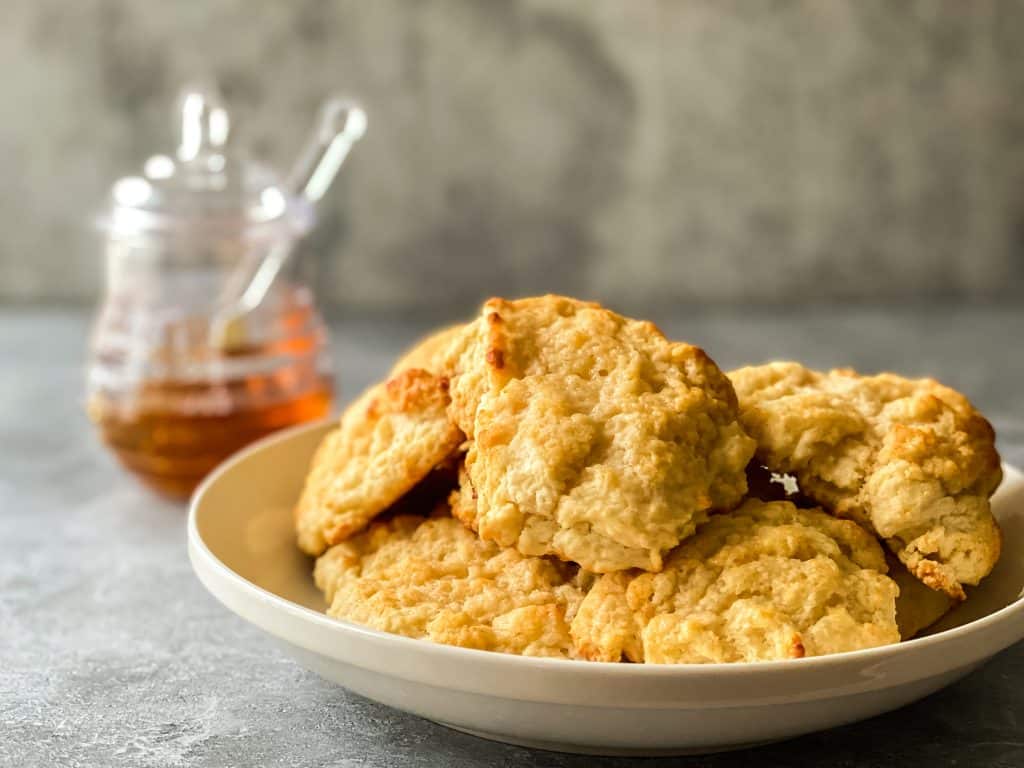 The honey butter takes minutes to make and is the perfect complement to warm hot biscuits. The best part is that this is a honey butter biscuit recipe you can make for breakfast, lunch, or even dinner. Just follow a few simple steps and in less than 30 minutes you will have the most delicious biscuits with melted honey butter.

Ingredients For Buttermilk Biscuits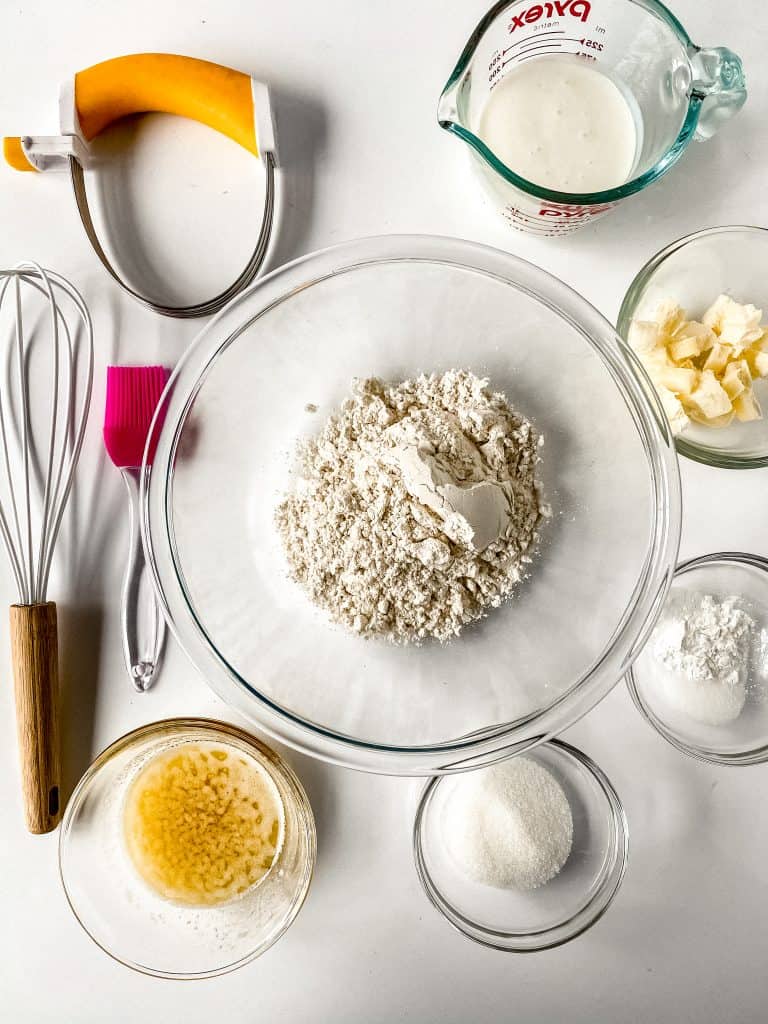 Flour

Salt

Buttermilk

Baking Powder

Cream of Tartar

Sugar
Honey Butter Ingredients
How to Make Biscuits and Honey Butter Recipe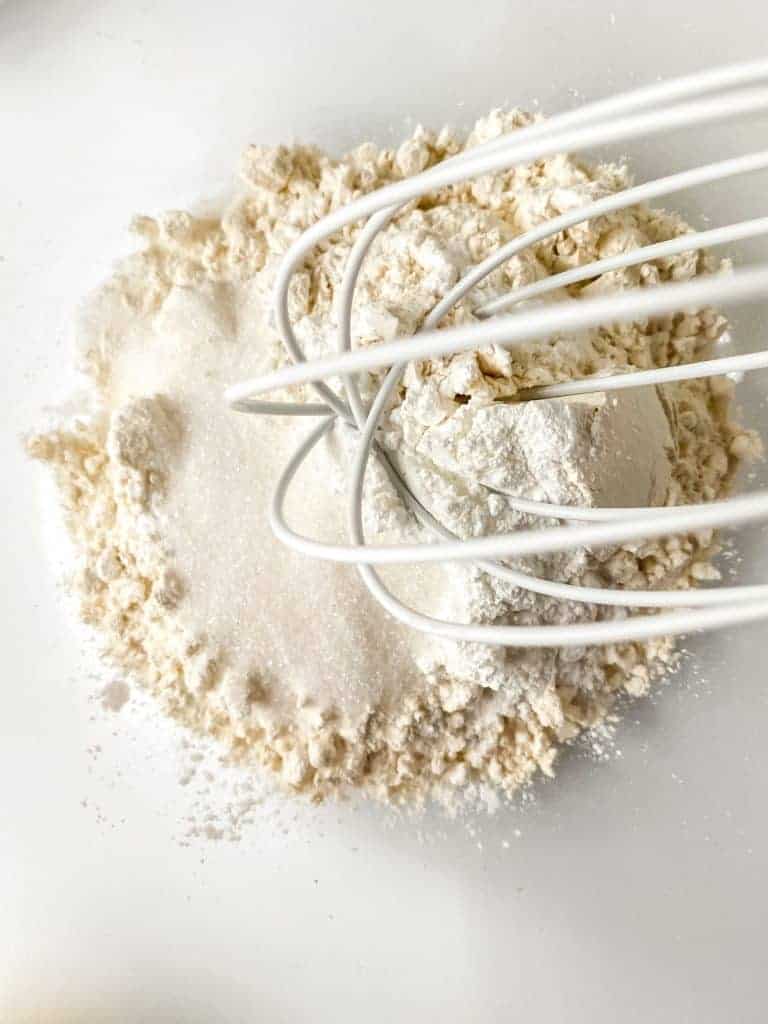 To make the biscuits you are going to start by mixing the dry ingredients together. Whisk baking powder, sugar, salt, and flour in a bowl.
Now you are going to cut cold butter and use a pastry cutter or fork and work it into the dough.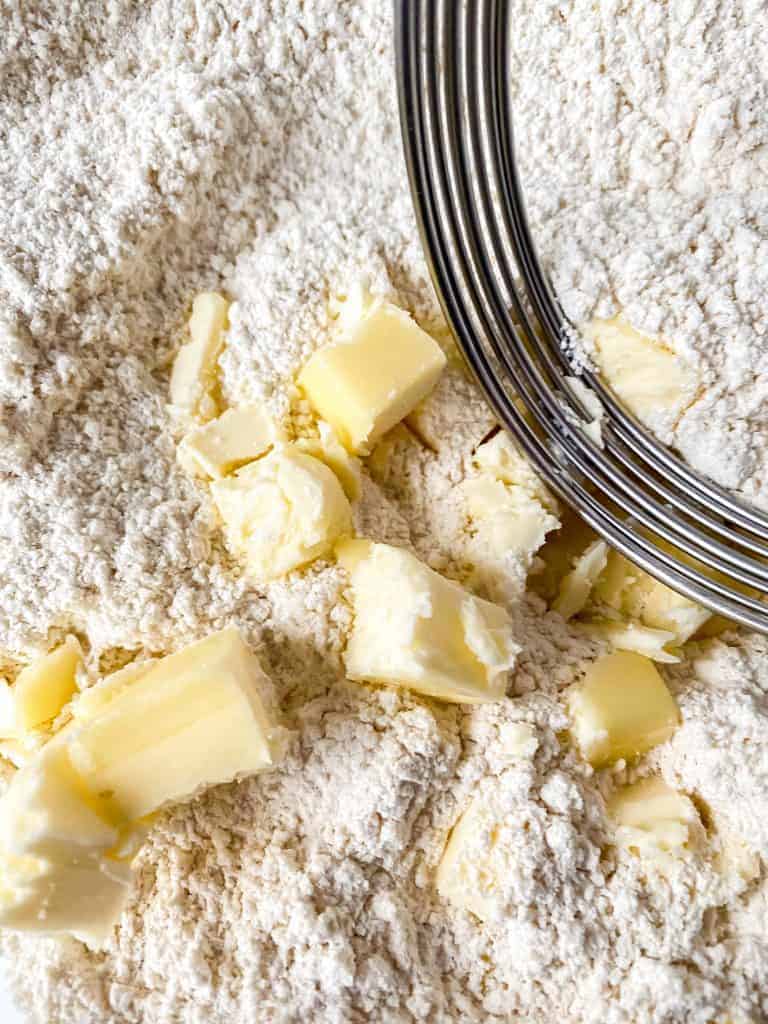 Then add in the buttermilk and mix until incorporated.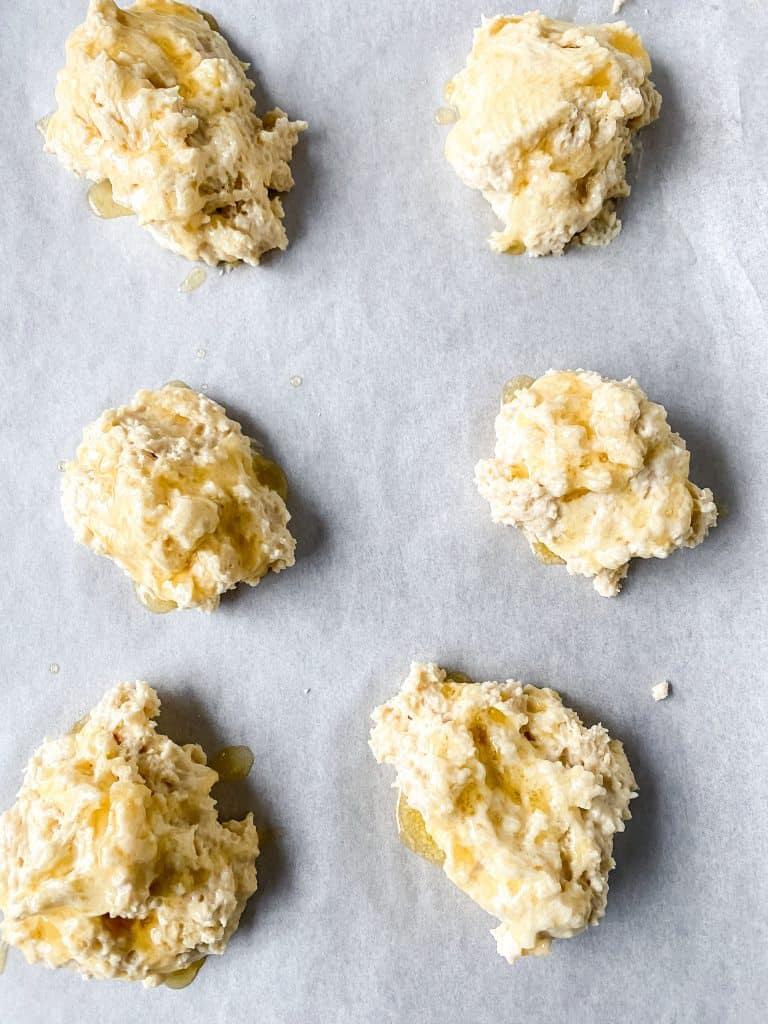 Now form balls with the biscuit batter. Drop them onto the lined baking sheet. Brush with your homemade honey butter and bake.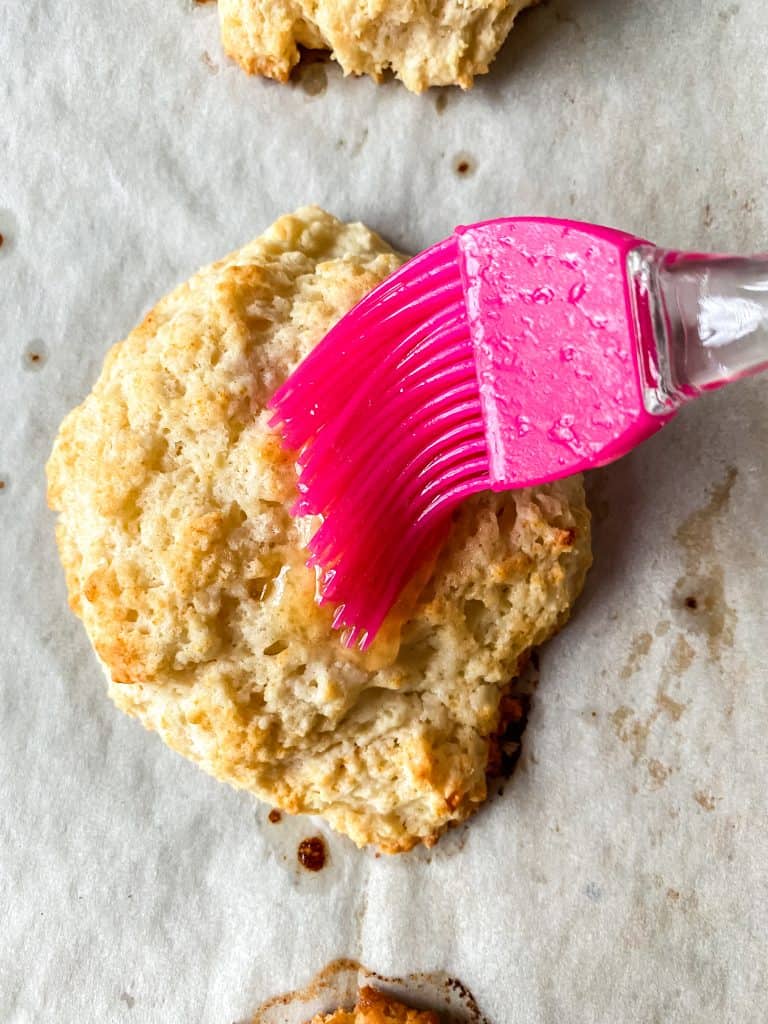 Once your biscuits are done, brush with more honey butter glaze and serve warm. You'll love the delicious aroma of these amazing biscuits!

Honey butter biscuits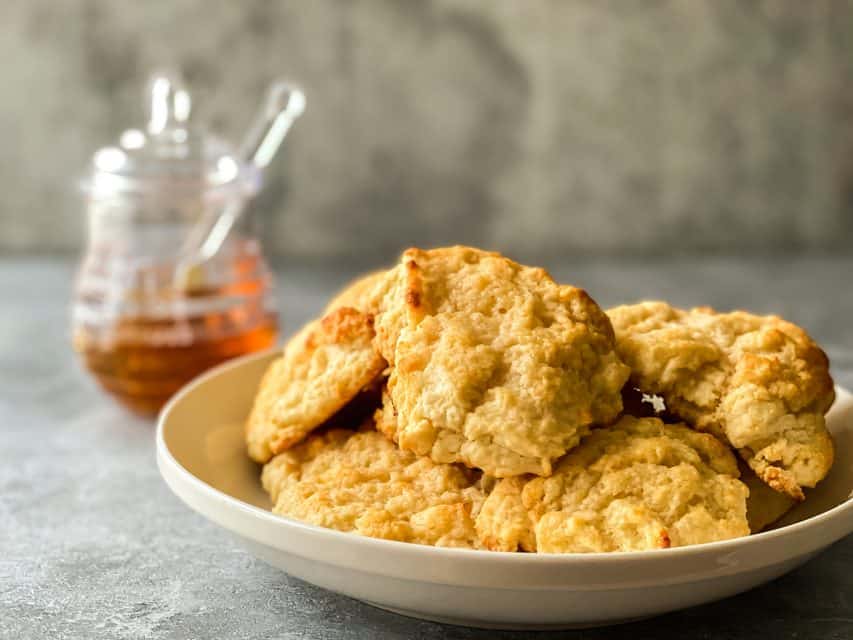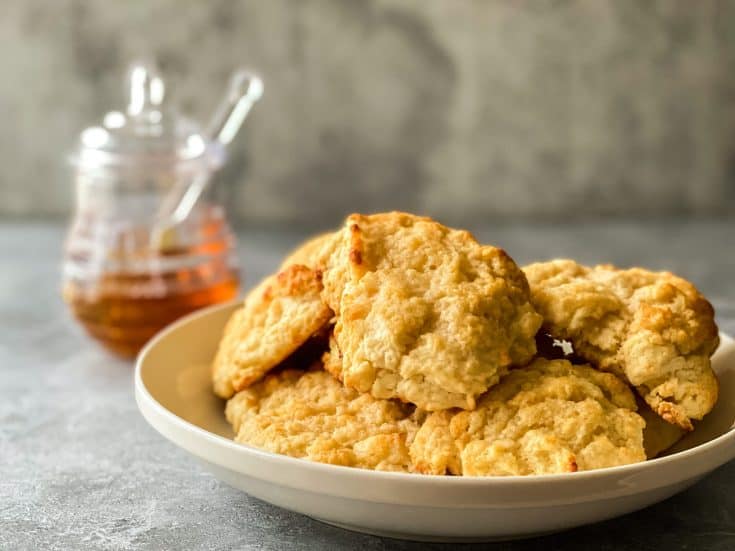 Ingredients
1 cup all-purpose flour
1/2 tablespoon sugar
2 Teaspoons baking powder
1/4 teaspoon salt
1/2 cup butter, chilled and chopped.
1/3 Cup buttermilk, chilled
1/2 tsp cream of Tartar
Honey butter:
1/2 cup butter, melted.
1/3 cup honey
Instructions
Whisk together flour, sugar, baking powder and salt in large bowl.
Cut in chopped butter with pastry cutter or fork.
Add buttermilk and combine until fully incorporated.
Drop rounded spoonfuls of butter to the parchment-lined baking sheet. Brush with honey butter
Bake for 10-12 minutes or until golden brown.
Brush with more honey butter glaze when finished
How To Make Homemade Honey Butter
To make the honey butter you are going to take melted butter and mix with your honey. Use a spoon to stir it up until it is fully combined.
Then you will use this to brush your biscuits.
With any leftover honey butter, you can place in an airtight container and I like to store in the fridge. It will set up, but you can easily spread on bread, biscuits, etc.
Tips For Making Homemade Biscuits
For this recipe, you want to use cold butter. You can shave it on a cheese grater or chop it into small pieces. Then with a cutter or fork work it into the dough.

You can also use frozen butter.

You can also do the dough in a food processor but make sure to not overwork the dough, or it will be tough, making your biscuits cutter.

If you use salted butter omit the salt in the recipe. Otherwise you can reach for unsalted butter.

Store leftover biscuits at room temperature in an airtight container.
Can You Freeze Biscuits?
These flaky layer biscuits do freeze nicely. Just allow your biscuits to fully cool and then transfer to a freezer friendly container. Freeze the biscuits for 2-3 months.
When you want to eat some, thaw on the counter. Or wrap tightly in aluminum foil and place in a 350 degree oven and heat until the biscuits are fully warmed through.
I wrap them in aluminum foil so they don't dry out. If you don't wrap them they will go from golden brown to over done really fast.
How to Make Homemade Buttermilk
If you don't have buttermilk on hand, no need to run to the store. Vinegar and milk are all you need to make your own buttermilk.
In a bowl add 1 tablespoon white distilled vinegar or lemon juice, and then pour in about 1 cup of whole milk. You want it to be just under the 1 cup mark.
Stir together, and then let the mixture sit for 5-10 minutes on the counter. After waiting, give it a mix, and then use in the recipe as directed!
You can use this DIY buttermilk for any recipe that calls for it.
Here Are More Must Make Recipes
Can You Double This Biscuit Recipe?
Want to make extra biscuits? Go right ahead and double the batch. Then just serve up as you would. If you need batch cook the biscuits.
I recommend making these the day you plan to serve them for best quality. Biscuits dry out, and if you pre-make them then wrap tightly in foil and warm in the oven before serving.
It softens the biscuits up and gives them a fresh out of the oven texture.