Omelettes: Not Just For Breakfast!
Growing up, omelettes, or "tortilla de huevo" was something my mom made when there was nothing left to eat. This usually meant that she was overdue for a trip to the supermarket. So I always thought of omelettes like that: something we make when there is nothing left in the fridge.
Moving to France, however, changed my perception on omelettes. In France, you can order omelettes at a restaurant for lunch, with a nice side salad. You can have omelettes for dinner, too. So I have embraced omelettes and realized that they're not only for brunch or when the fridge is running on low, they are actually quite versatile! They can be quite healthy too, making it a perfect choice for Meatless Monday!
Another great thing about omelettes? They're easy enough to make with kids! Kids can learn to crack eggs pretty early on (my four year old does it) and they love to whisk the eggs, stir in the ingredients and help you in the kitchen. Children can help cut veggies, shred cheese, or sprinkle the herbs into the egg mixture. Teens can even make their own omelettes in the skillet.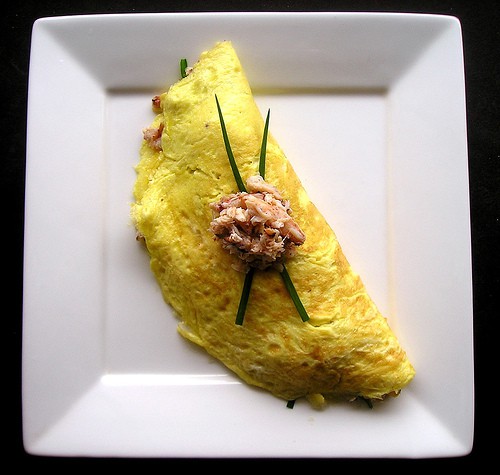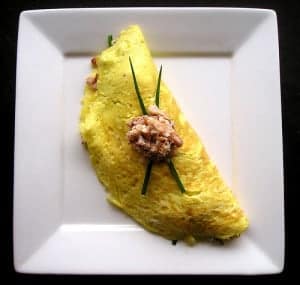 Here are some delicious and healthy toppings that you can add to your omelette:
Tomatoes
smoked salmon
tuna
peppers
spinach
any kind of cheese
zucchini
fresh herbs
potatoes
ham
onions
avocado
mushrooms
Looking for fun omelette ideas?
Here are some five recipes worth checking out:
Do you make omelettes for your family? What do you add to yours? Share in your comments below!
I love hearing from you! You can find me here: Facebook | Instagram | Twitter
Featured image photo credit: Spinach Mushroom Omelette via photopin (license)
photo credit 2: Jumbo Lump Crab, Garlic Chive and Sweet Corn Omelette via photopin (license)