Air Fryer Teriyaki Drumsticks 
Four ingredients are all it takes to make these juicy teriyaki air fryer chicken drumsticks. A sweet and savory teriyaki drumsticks recipe that requires minimal prep.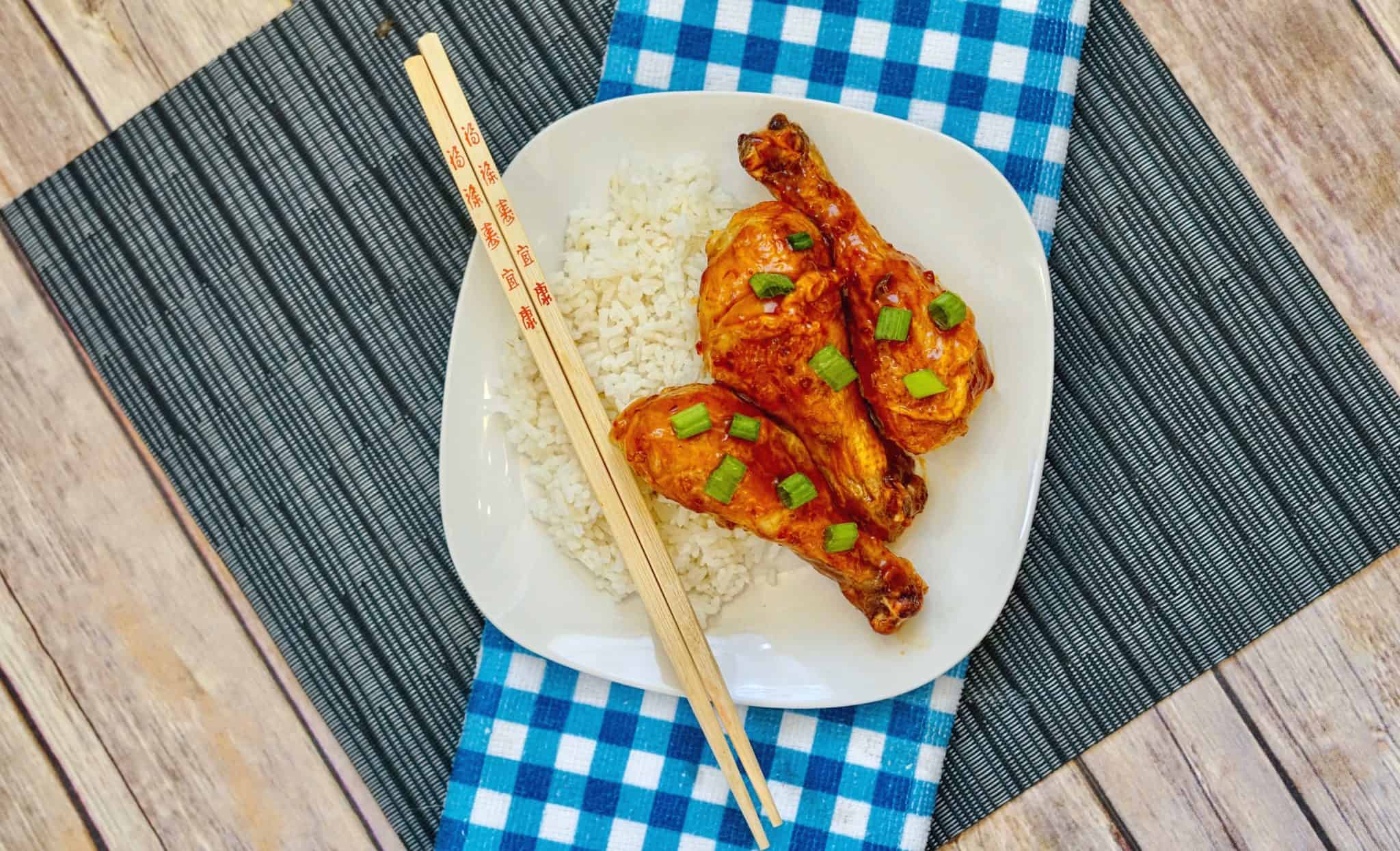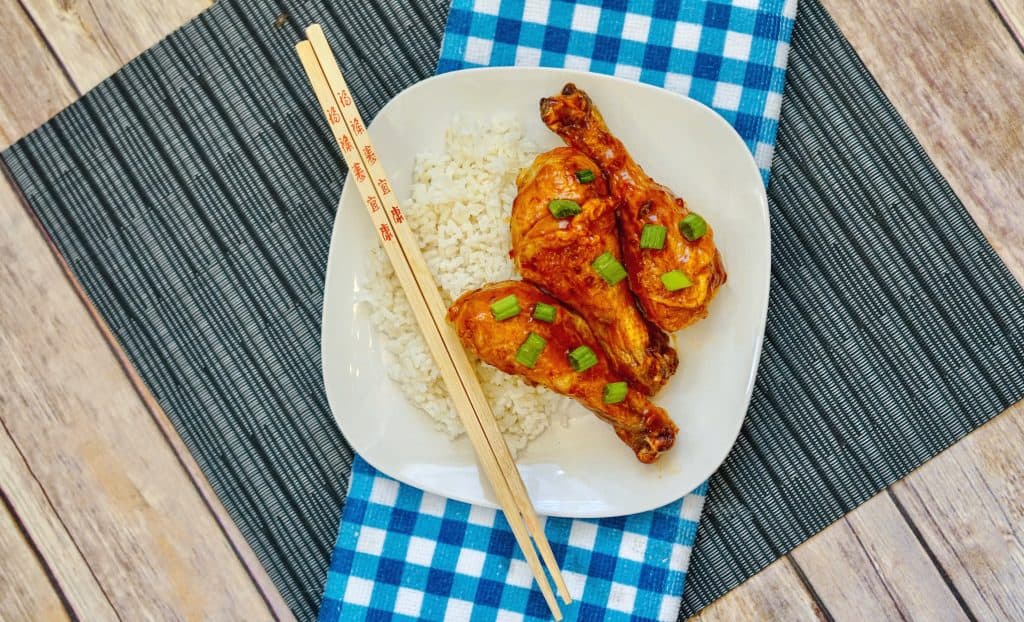 Air fryer chicken drumsticks cook up perfectly and leave your chicken juicy while give a nice crispy and sticky glaze outside.
A healthier alternative to frying your drumsticks. Teriyaki chicken legs are delicious paired with a side of rice, steamed veggies, and mashed potatoes.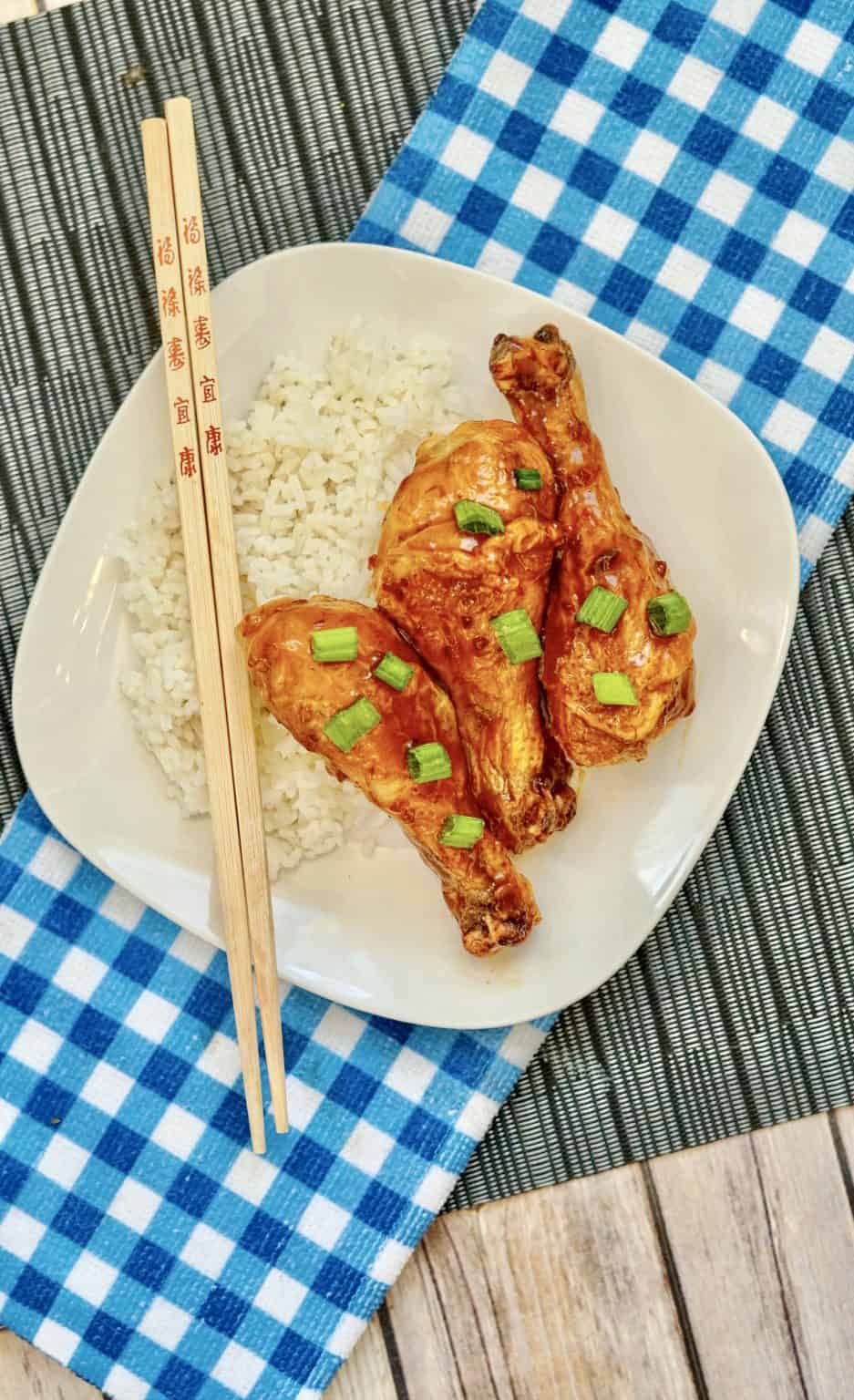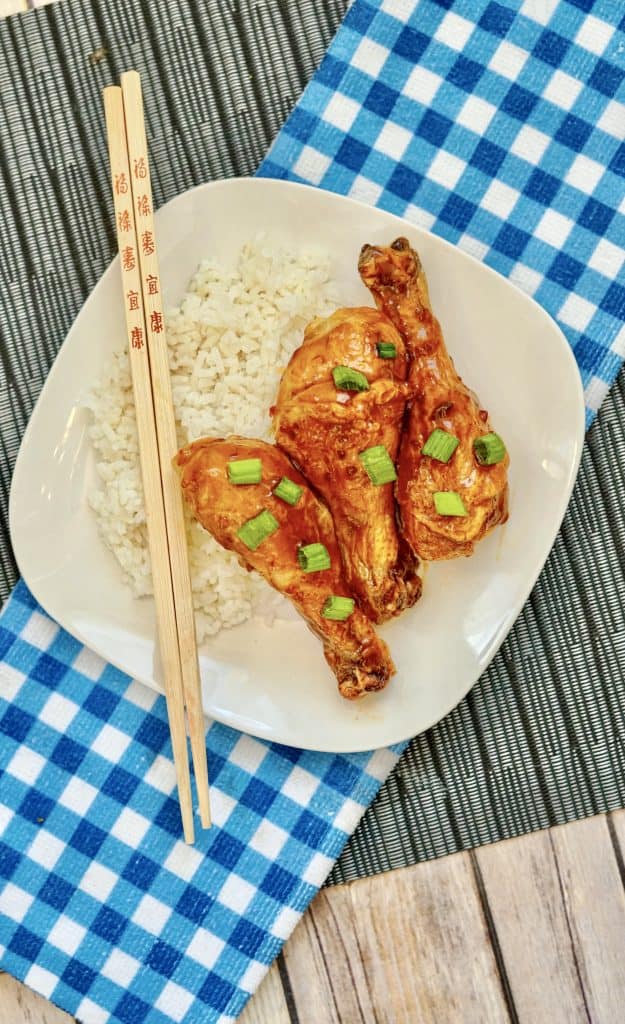 Why You Will Love These Teriyaki Chicken Legs
Affordable to make

5-minute prep

Four ingredients

Crispy skinned chicken drumsticks that offer a sticky teriyaki glaze

Family-friendly
Ingredients For Air Fryer Teriyaki Chicken Drumsticks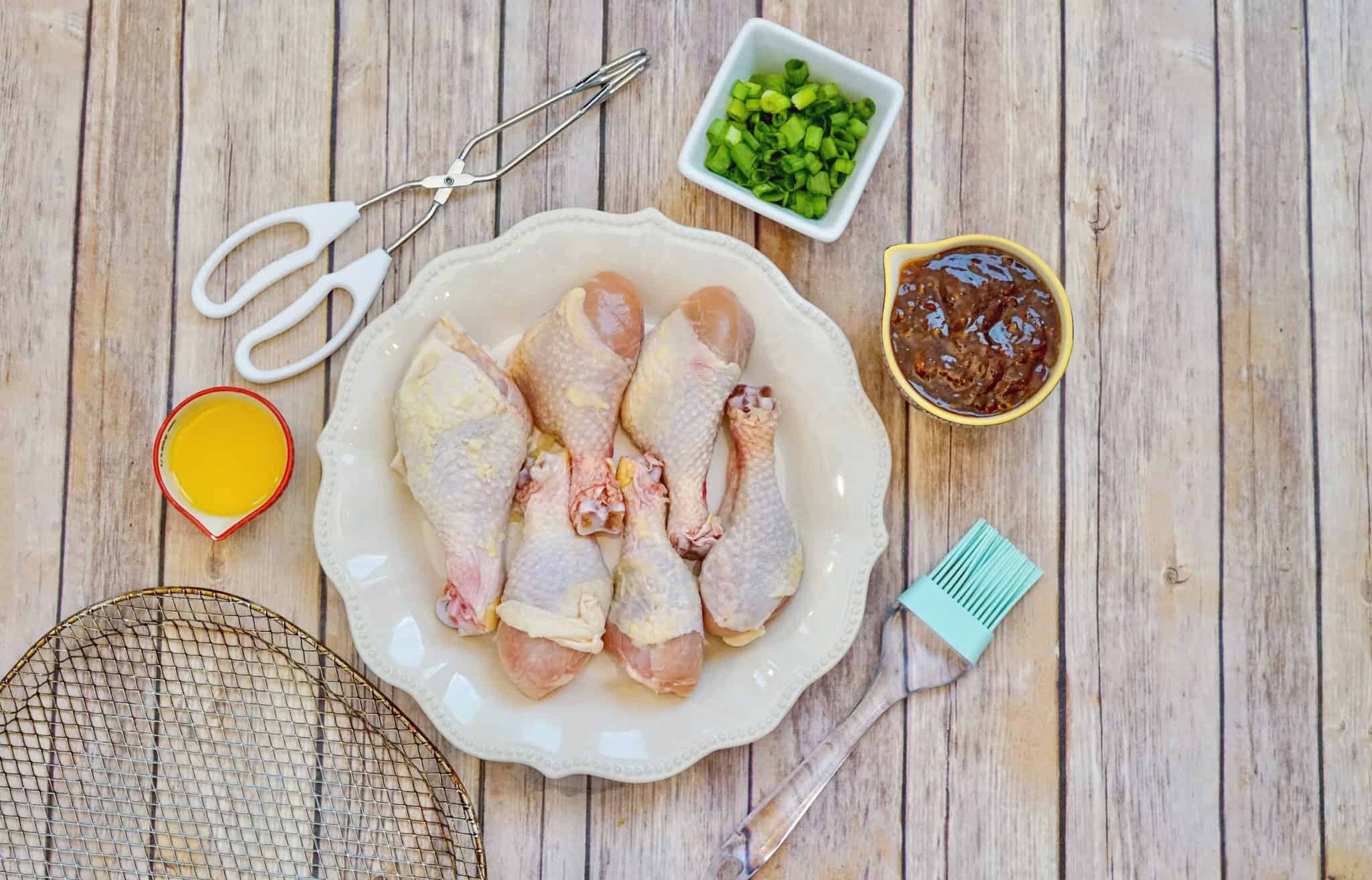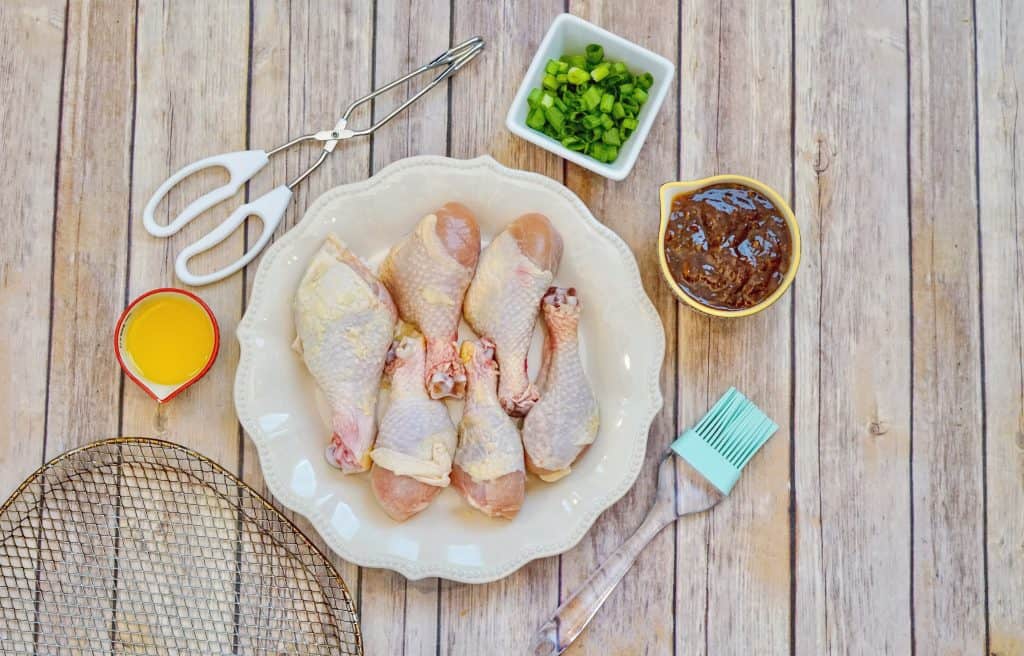 Drumsticks

– I love air fryer chicken legs; they cook up perfectly. But feel free to swap with like chicken thighs, wings, etc. Just adjust the cooking time according to the meat.

Teriyaki Sauce

– Consider making your own or buy your favorite bottle of teriyaki sauce at the grocery store.

Green Onion

– Adds incredible flavor to the dish with a nice kick of onion flavor.

Butter

– I recommend real butter, not margarine, for this recipe. You are welcome to do salted or unsalted butter.
How to Make Air Fryer Chicken Legs
The first thing you will want to do is take some paper towels, and pat dry your chicken. Then coat the chicken in butter all over.
Place the drumsticks in the air fryer basket, leaving room between each chicken piece.
Cook at 375 degrees F for 35 minutes; the chicken will not be fully cooked at this point.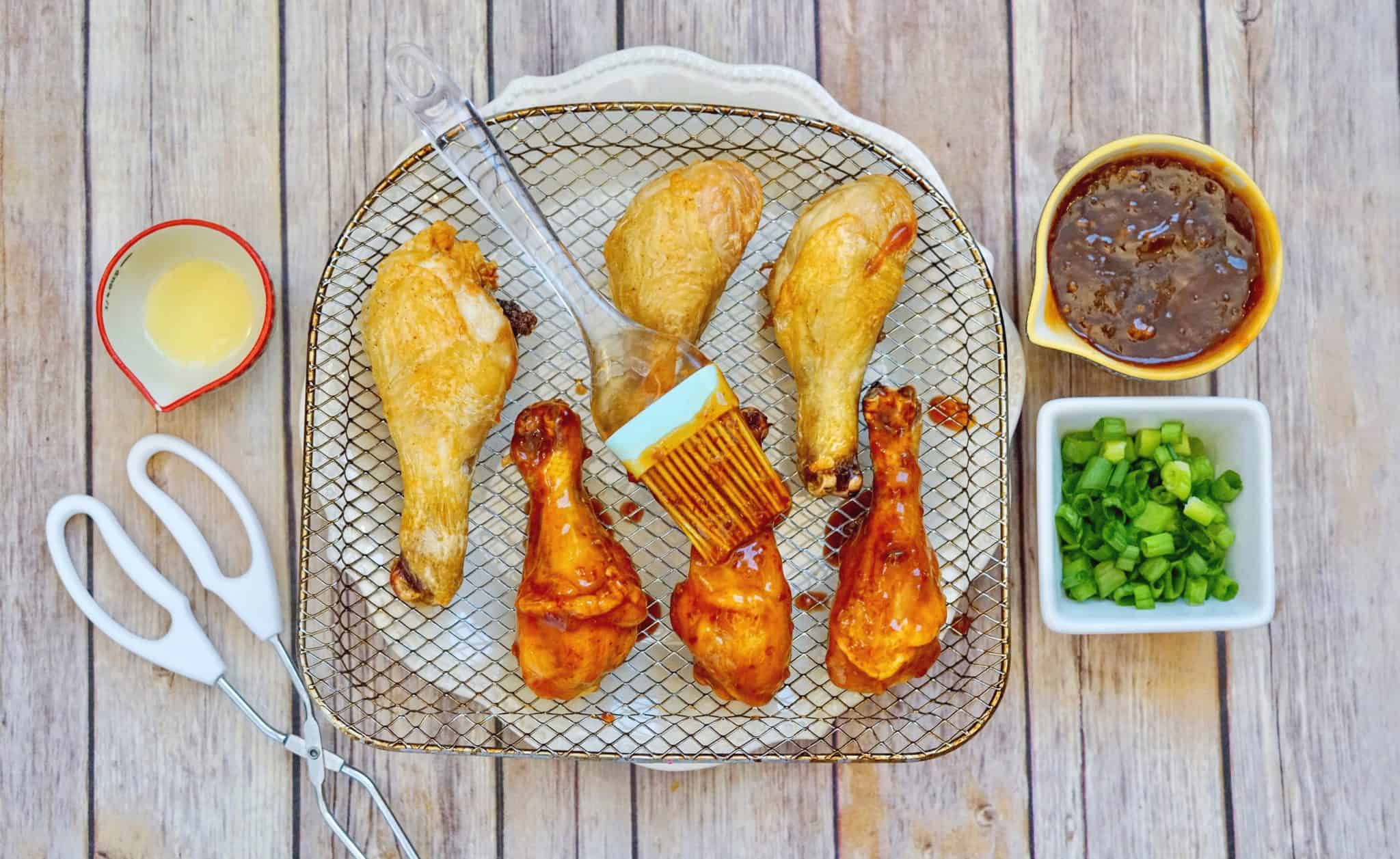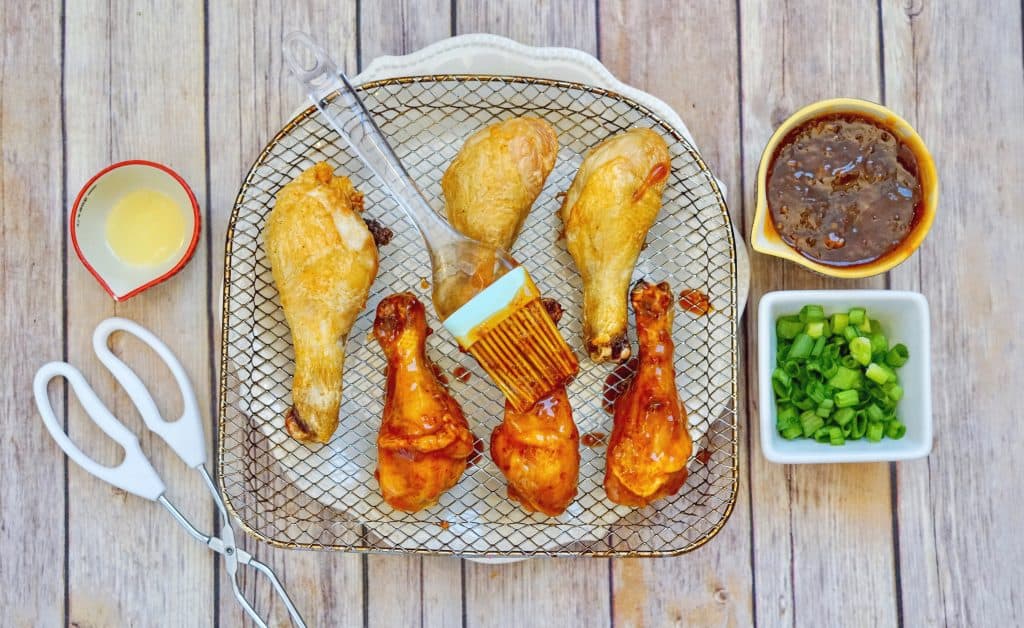 Remove the chicken, and you will then baste the chicken with the teriyaki sauce. Then place back in the air fryer to cook for another 5 minutes or so to finish cooking and make the chicken full of teriyaki flavor.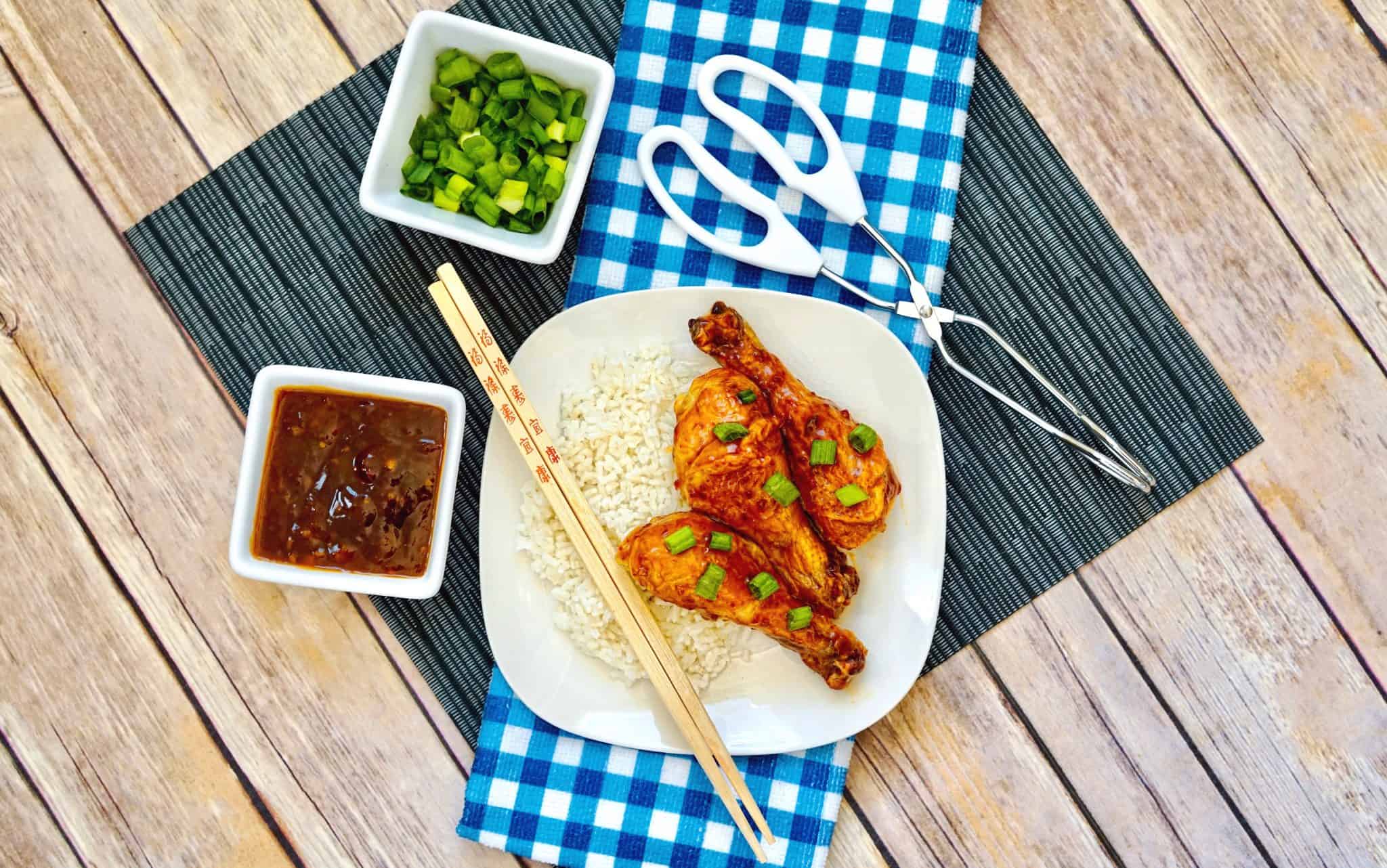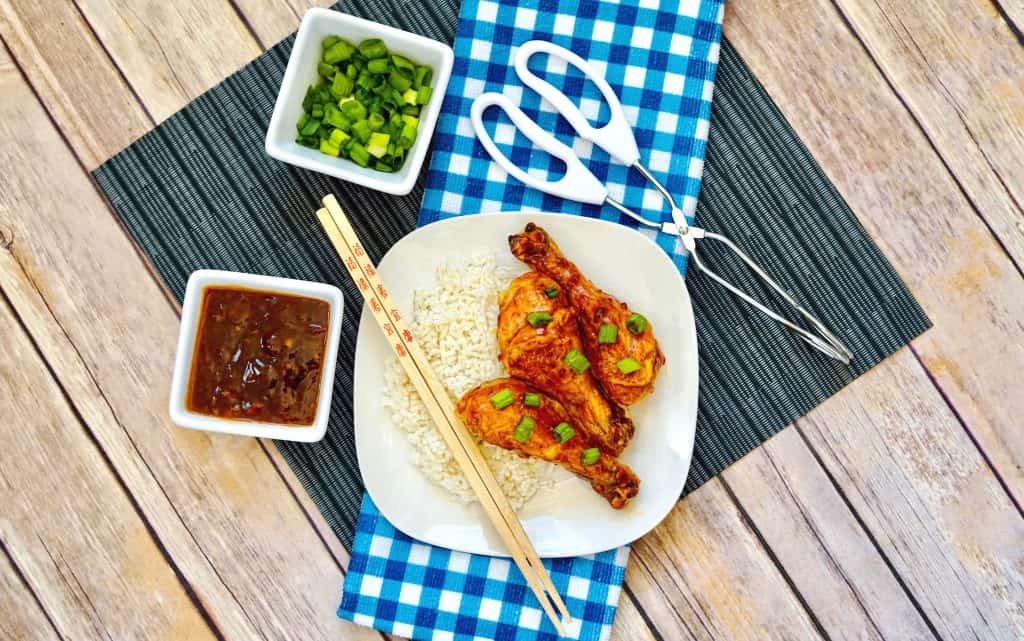 Serve up the teriyaki chicken from the air fryer with your favorite sides!
Air Fryer Teriyaki Drumsticks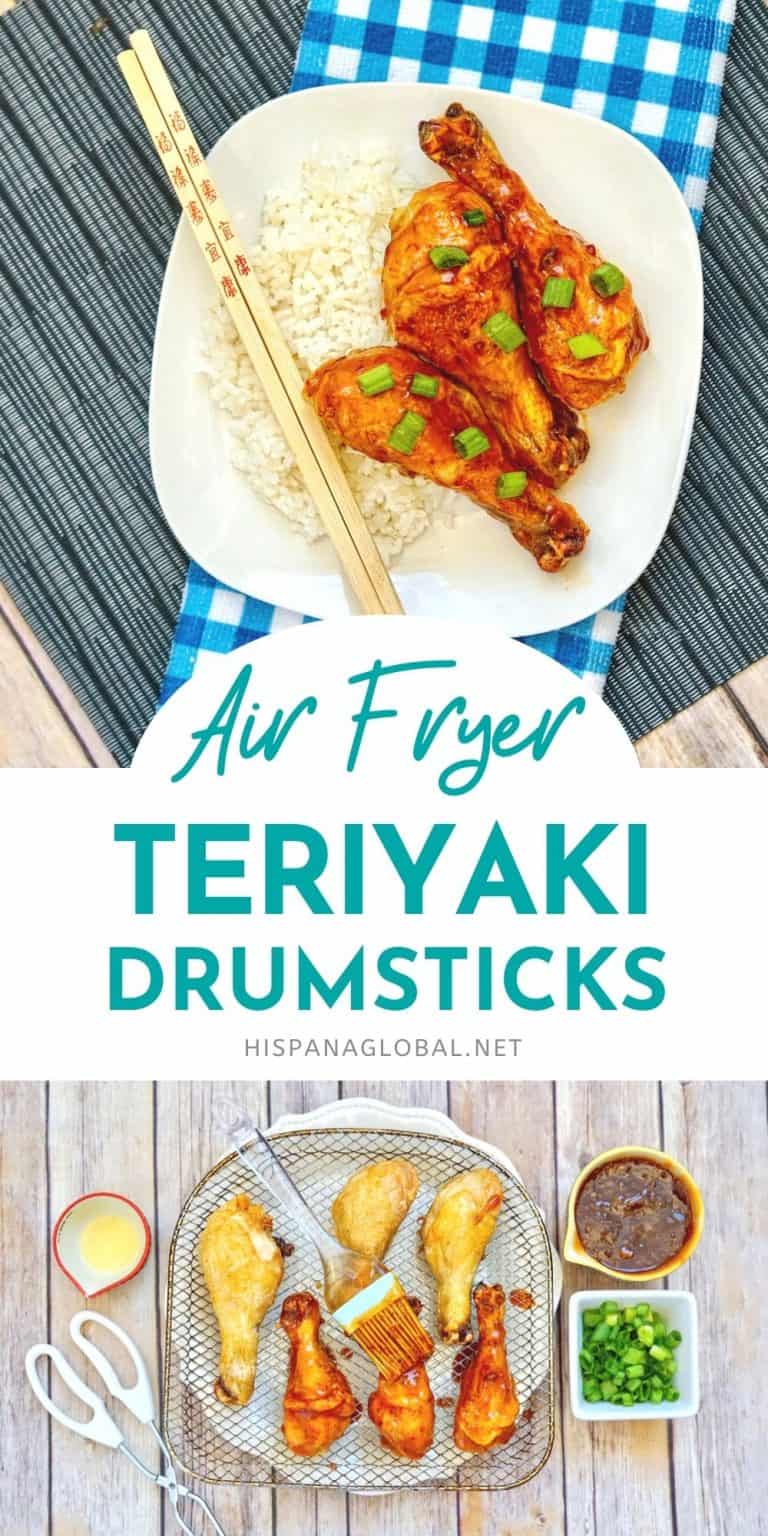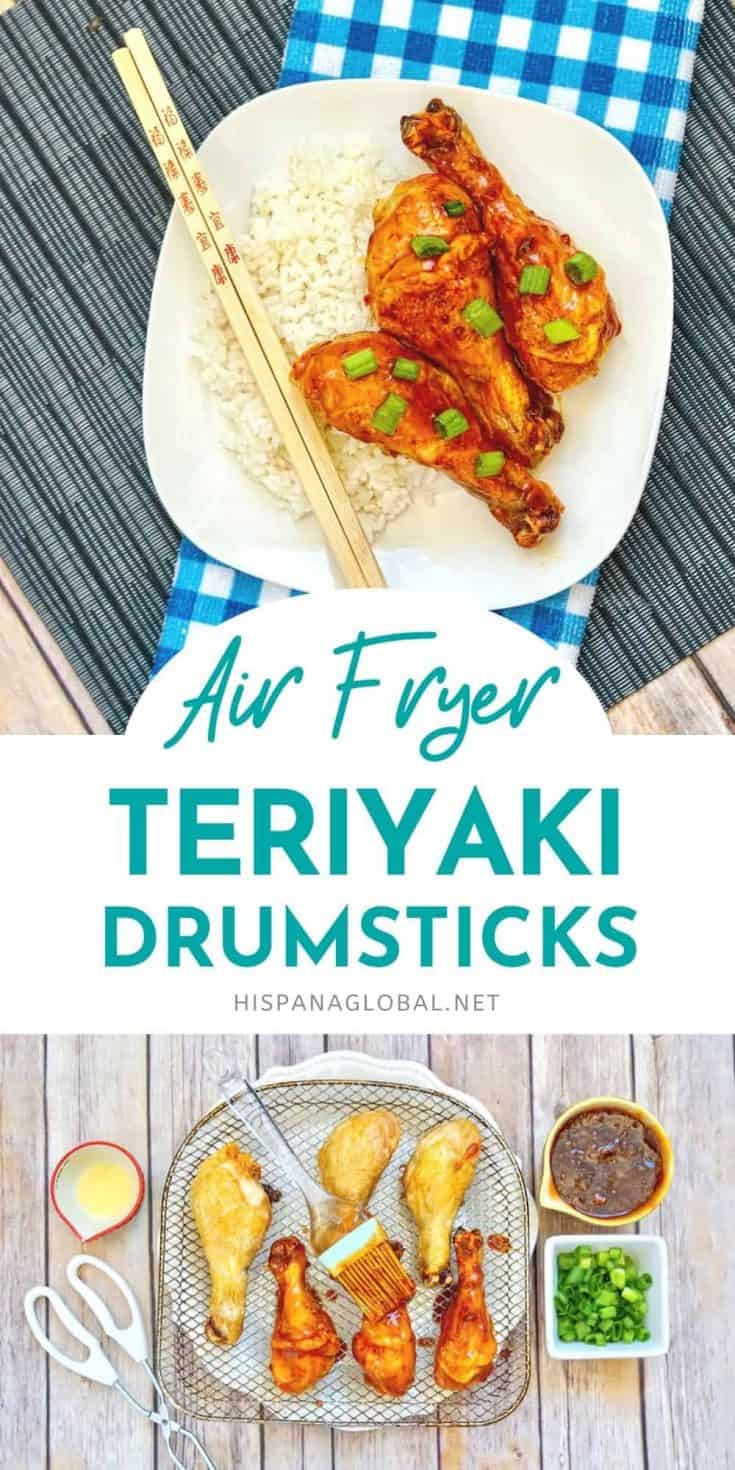 Ingredients
6 Drumsticks
Teriyaki Sauce
Green onion, diced
1 Stick Butter (Melted)
Instructions
Make sure drumsticks are as dry as can be by patting them down with a towel.
Coat each drumstick in butter.
Place drumsticks in air fryer basket without overcrowding.
Cook at 375 degrees F for 35 minutes.
Remove from air fryer & coat in teriyaki sauce.
Place back in air fryer for another 5 minutes.
Garnish with green onions & enjoy!
Variations To Recipe
Swap chicken legs with bone-in chicken breast, wings, chicken thighs for this air fryer recipe.

Sprinkle with sesame seeds

You can make a

homemade teriyaki sauce
Best Way To Store Leftover Chicken
If you have leftover teriyaki chicken, you can place it in an airtight container and refrigerate it for up to three days.
Then you will be able to reheat in the microwave or oven on a small pan on the stove. If you heat on the stove, add a little water or broth to prevent the chicken from drying out.
Freezing: You can freeze your leftover chicken as well. Just allow the chicken to cool and place it in a freezer container. Place the chicken in the fridge to let it fully cool. Then transfer to the freezer, and you can freeze for 3-4 months.
Thaw in the fridge overnight, or heat the chicken from frozen.
Looking For More Chicken Recipes
How to Know When Chicken Is Done
The chicken needs to read an internal temperature of 165 degrees F. When you use a meat thermometer with bone-in chicken, it is important not to touch the bone.
It will give a false reading if you touch the bone, showing a higher heat than what the chicken can be.
You will also know chicken is fully cooked when the juice runs clear, and there is no pink left to the meat. But, the best policy is to use a meat thermometer to ensure you serve fully cooked chicken.
Expert Tips For Air Frying Chicken
Make sure to leave space between each piece of chicken. Batch cook your chicken.

You can place aluminum foil in the very bottom of your air fryer to catch drips of the chicken for easier cleanup. Or even place two pieces of bread on the bottom under the racks. As the chicken drips, it will soak into the bread.

Feel free to adjust how you season and baste your chicken. If you want different flavors to go right ahead. If it is a sugar-based sauce, then brush it on at the end, just as you did with the teriyaki.

To keep chicken warm, batch cooking, place cooked chicken on a baking sheet and place in a single layer in the oven to keep warm until you are ready to serve.
What to Serve With This Teriyaki Chicken
Serve up some rice next to your chicken legs, or even a kale salad. This chicken is nice and flavorful, but most sides work well—Cucumber salad, pasta salad, bean salad, cauliflower rice or mash, etc.
The options are truly endless in terms of what to serve with this dish.