The Easiest Tuna Salad Recipe You'll Ever Make! 
When you need a quick meal, this is the easiest tuna salad recipe you will find. In just two steps, make this mouthwatering salad that is a great source of protein and is a great option for quick school lunches.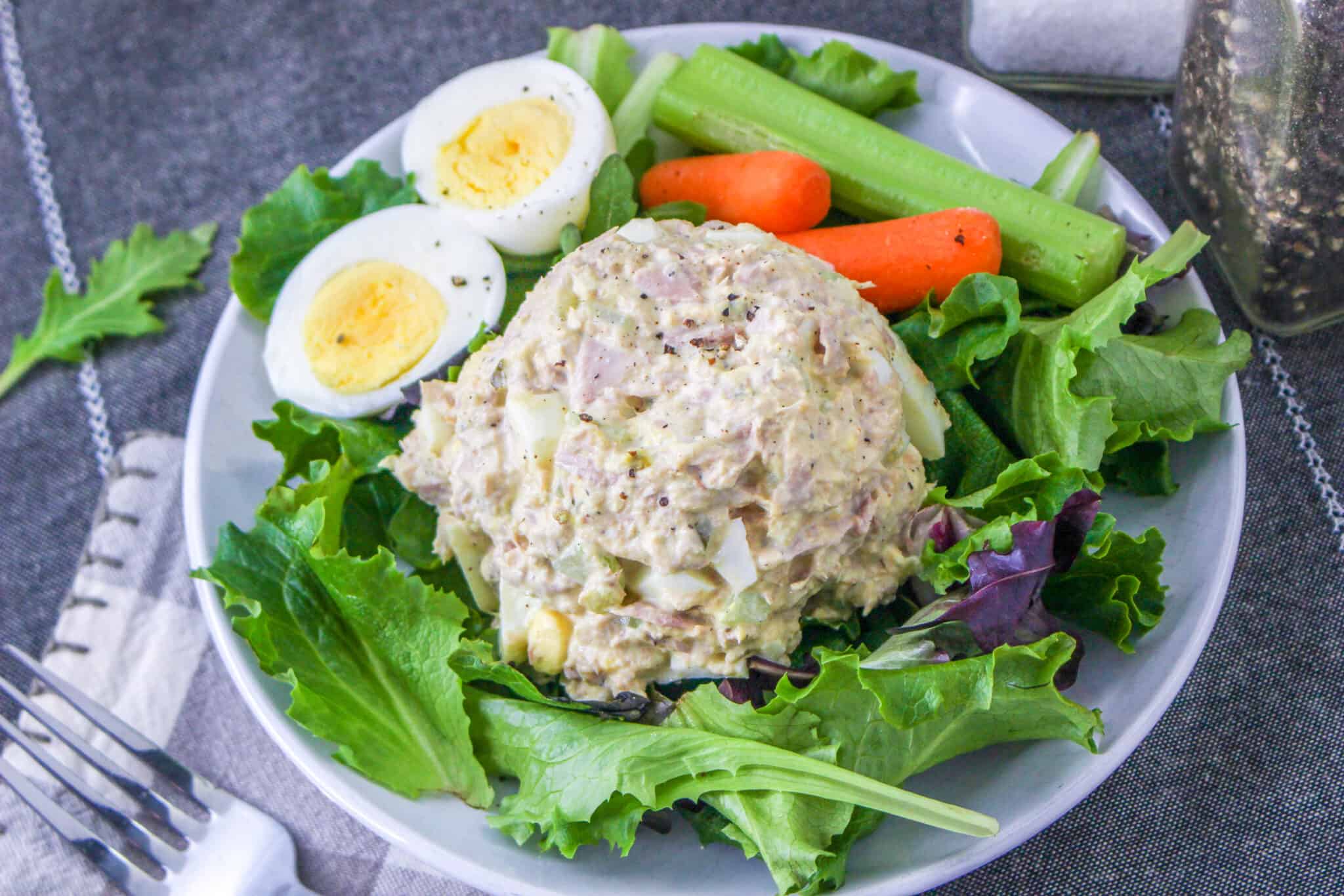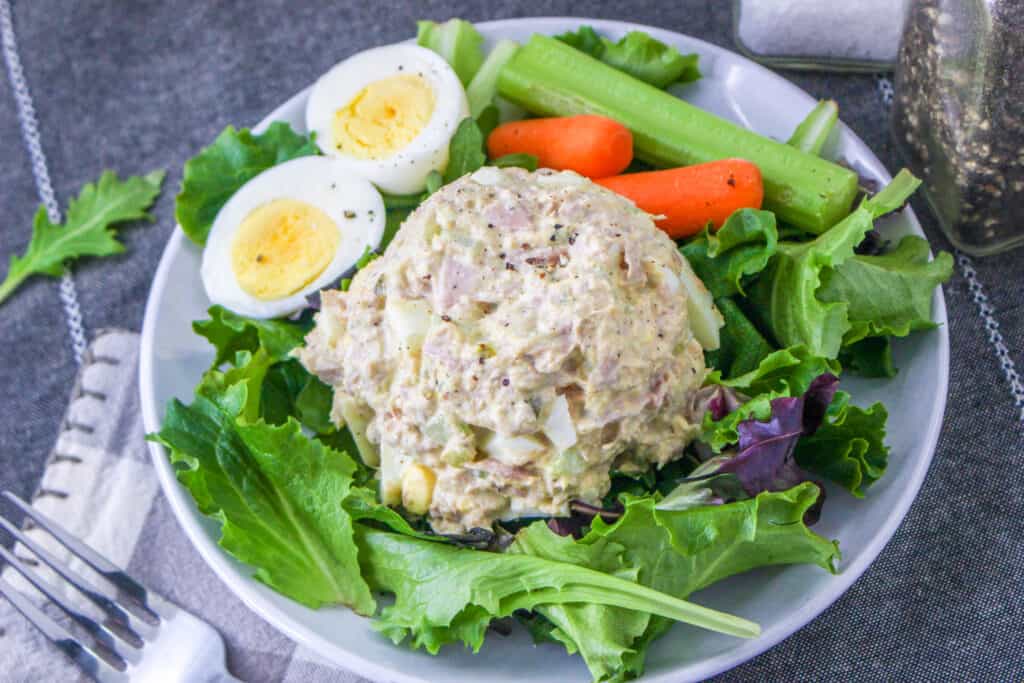 This super easy classic tuna salad recipe is designed to become a go-to in your kitchen. With minimal prep time and a handful of basic ingredients, you'll be able to whip up a delicious tuna salad that's perfect for any occasion. From classic tuna salad sandwiches to creative lettuce wraps, this recipe offers versatility and flavor in every bite. Plus, we're adding a dash of excitement with tantalizing variations that are sure to tickle your taste buds.
This budget-friendly salad is such an easy lunch. You only need one can of tuna!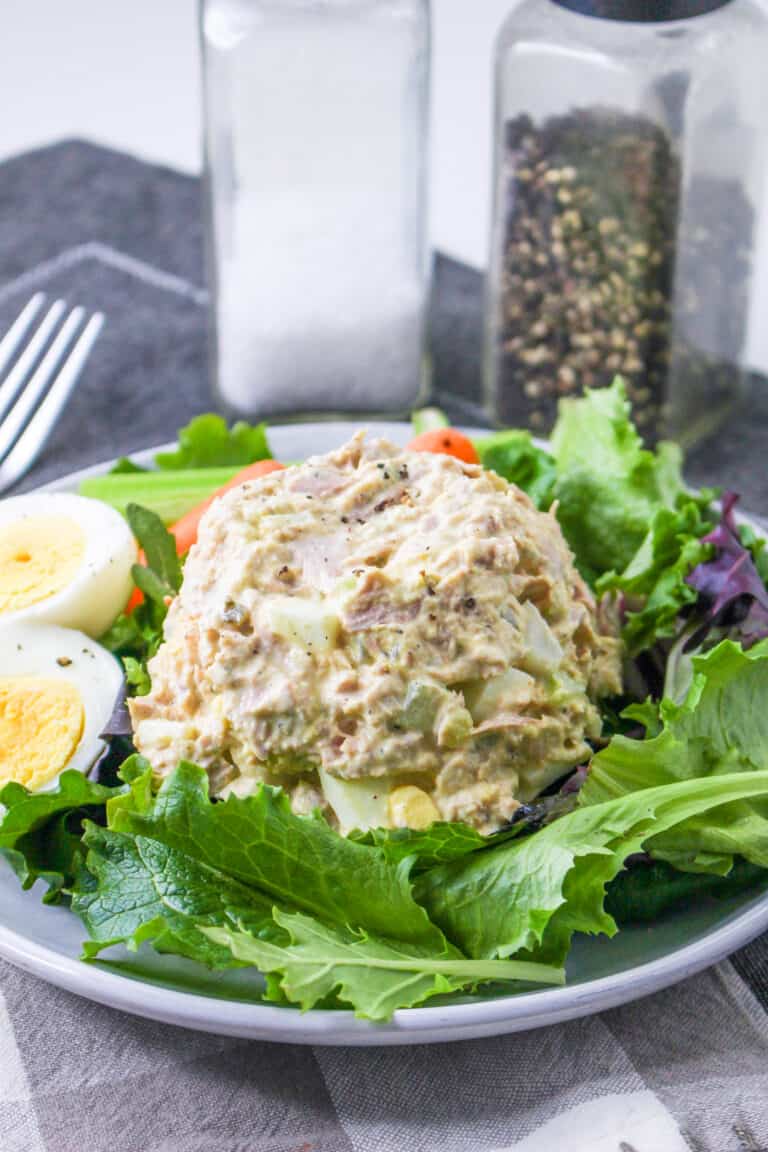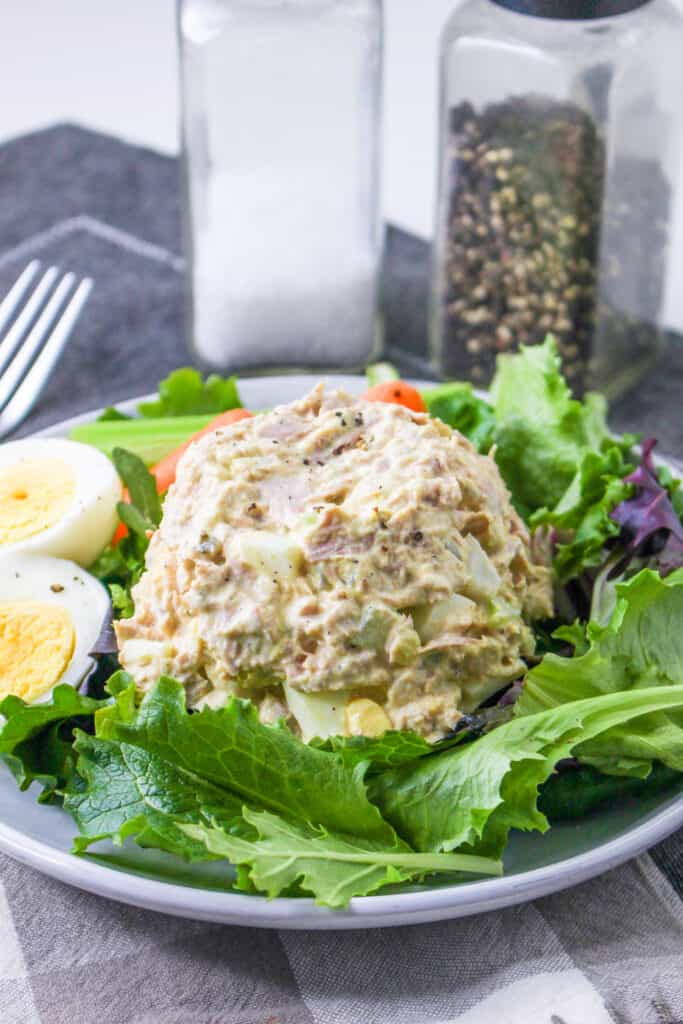 Are you craving a satisfying meal that's as simple as it is delicious? Then let's make my family's favorite tuna fish salad. I even included simple changes to the classic recipe in case you want to try something different.
Easy Homemade Tuna Salad Recipe
​Prep Time: 10 minutes
​Yield: 4 servings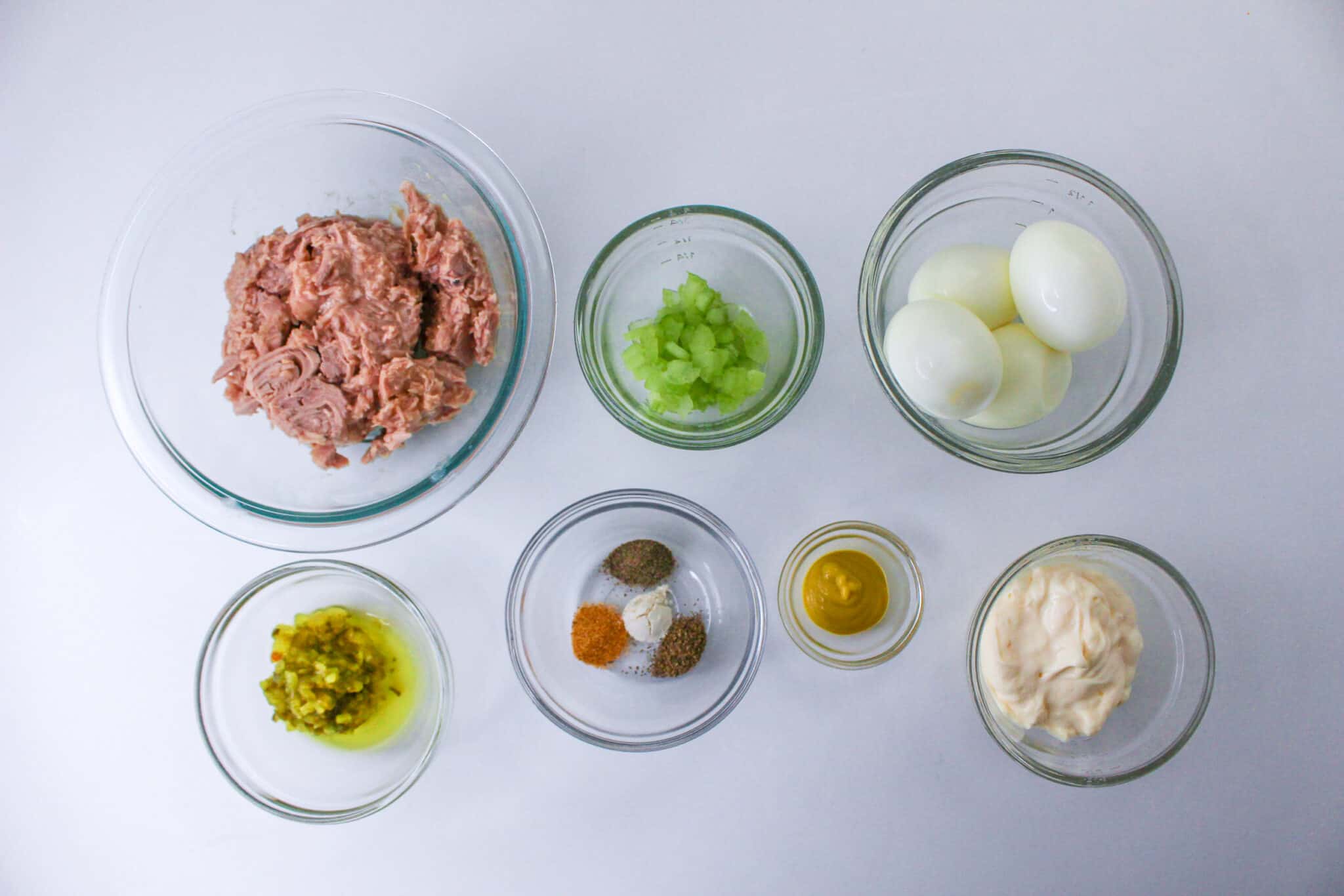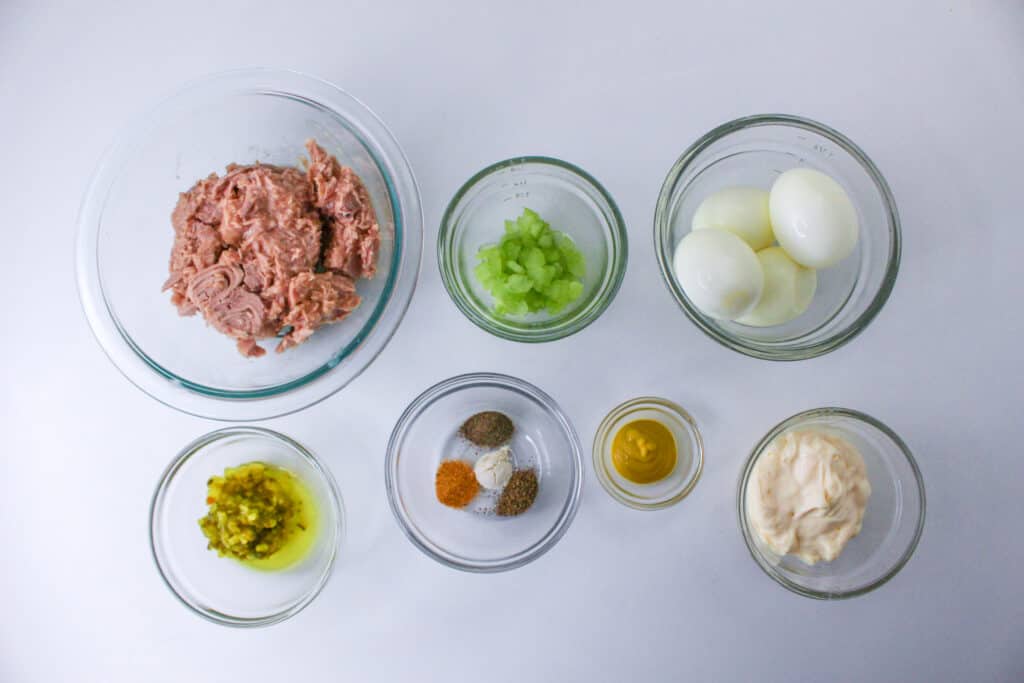 Ingredients:
1 (12-ounce) can water-packed tuna, drained
3 hard-boiled eggs, diced
2 tablespoons finely chopped celery
¼ cup mayonnaise
1 to 2 tablespoons dill relish
1 teaspoon yellow mustard
¼ teaspoon celery seed
¼ teaspoon seasoned salt
¼ teaspoon black pepper
Instructions: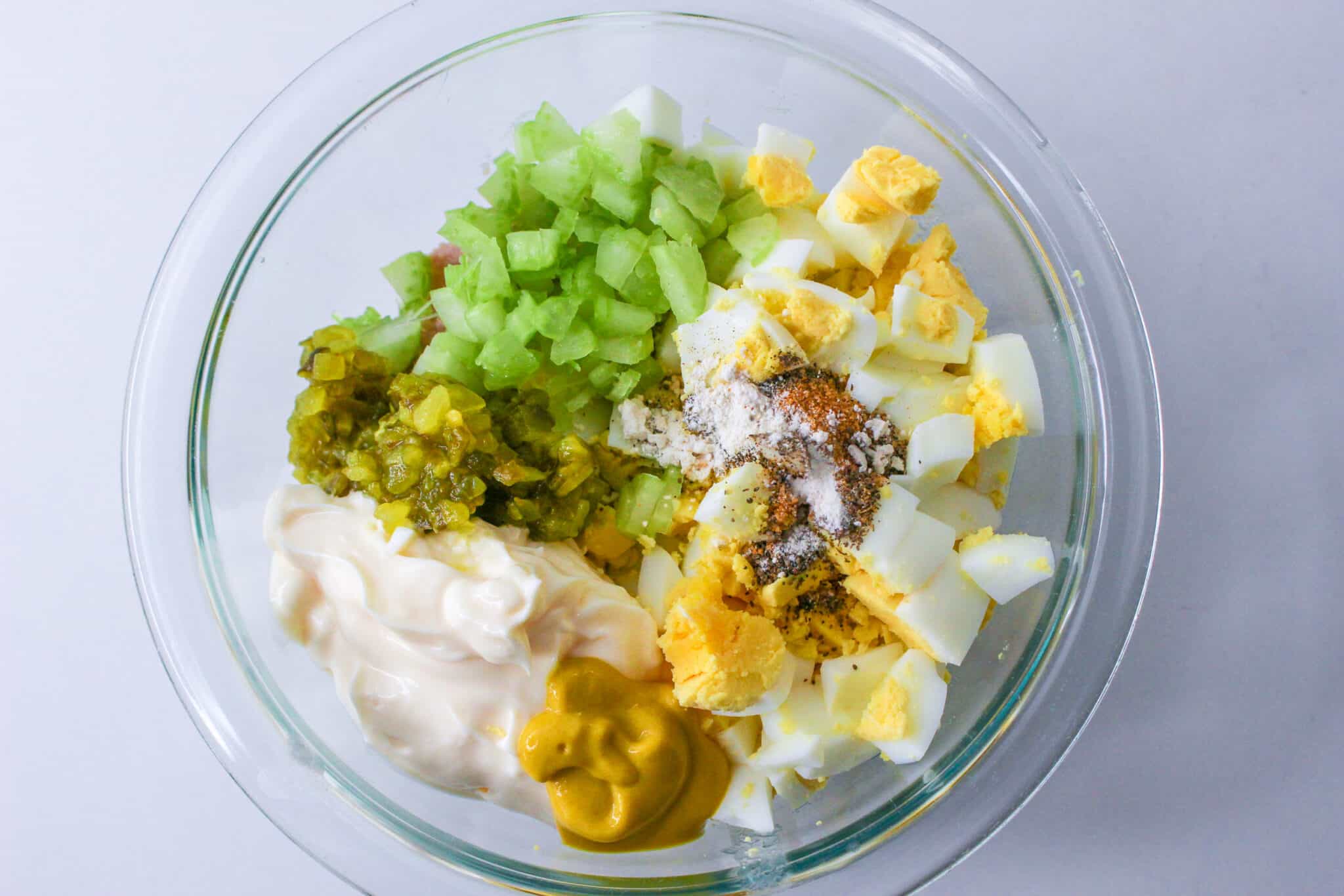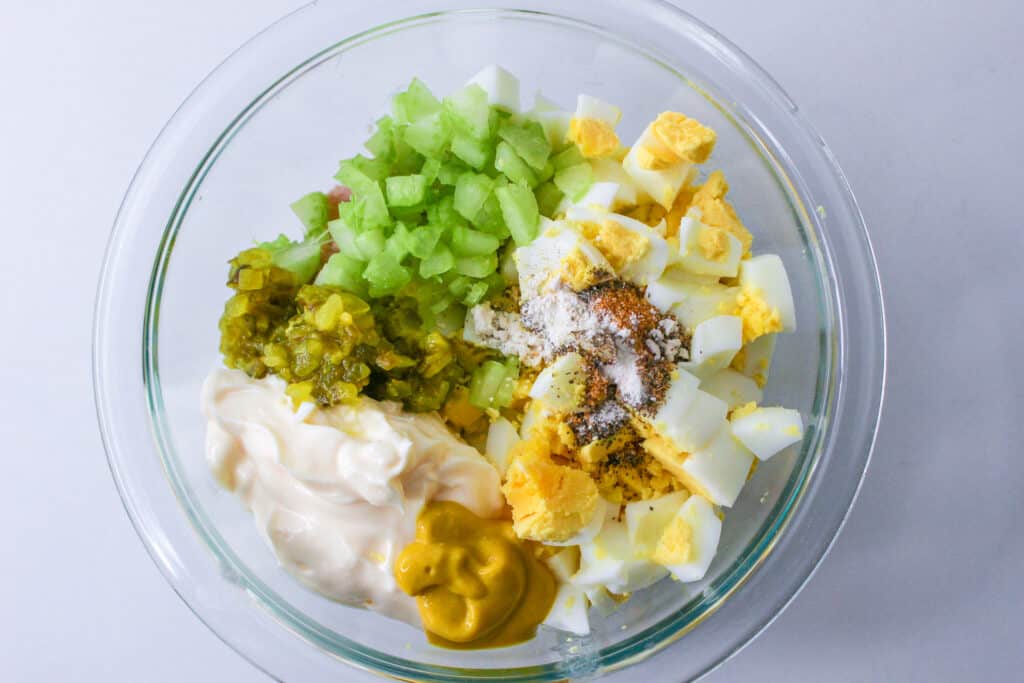 Begin by combining the drained tuna, diced hard-boiled eggs, finely chopped celery, mayonnaise, dill relish, yellow mustard, celery seed, seasoned salt, and black pepper in a generously sized mixing bowl.
Gently mix the ingredients until they're perfectly blended, ensuring each element is coated in the creamy goodness of the dressing.
To preserve the flavors and textures, cover the bowl with plastic wrap or a fitted lid, and let the salad chill in the refrigerator until it's ready to take center stage.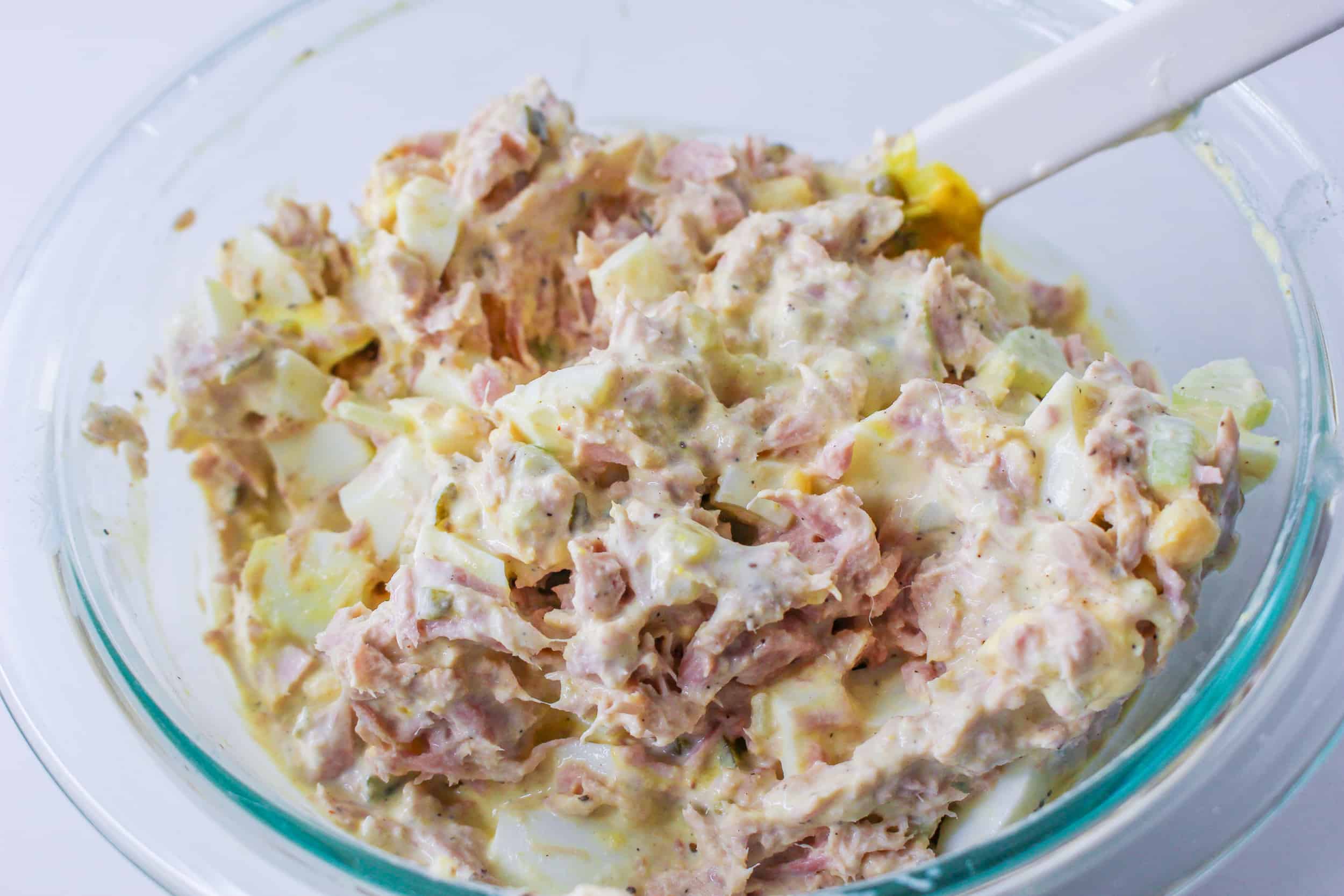 Store any leftovers or chill until serving in an airtight container. Please let me know if you also think this is the very best tuna salad recipe!
Ingredients
1 (12 ounce) can tuna, drained
3 hard boiled eggs, diced
2 tablespoons finely chopped celery
¼ cup mayonnaise
1 to 2 tablespoons dill relish
1 teaspoon yellow mustard
¼ teaspoon celery seed
¼ teaspoon seasoned salt
¼ teaspoon black pepper
Instructions
Mix all of the ingredients together in a large bowl.
Cover and refrigerate until ready to serve.
How to Savor Your Tuna Salad
You can use this recipe in so many ways! Here are just 3 suggestions:
Classic Tuna Sandwich: Construct a timeless favorite by layering your delectable salad between slices of your preferred bread. Add a layer of crisp lettuce and juicy tomato slices to complete your mouthwatering masterpiece.
Tuna Wrap: Embark on a culinary adventure by encasing your salad in large, soft tortillas. Enhance the experience with a medley of shredded carrots, cucumber slices, and a drizzle of zesty ranch dressing.
Tuna Salad Lettuce Cups: Embrace the lighter side by scooping spoonfuls of the freshly made salad into fresh, crisp lettuce cups. Elevate this refreshing dish by adorning it with creamy avocado slices and a zesty squeeze of lemon.
Variation Ideas
This easy tuna salad recipe not only promises a speedy preparation process but also boasts an astounding degree of adaptability. Whether you're aiming for efficient meal prepping or seeking an impromptu lunch solution, this recipe has your back.
Here are a few ingredients you can add for subtle variations and to spice up your classic salad in different ways:
chopped green onions
chopped dill pickles
sprigs of fresh dill
a teaspoon of dijon mustard
cubed avocado
sweet pickle relish
In general, you can easily elevate your basic recipe by adding any kind of crunchy vegetables or fresh herbs.
You can also try making these simple salads:
Mediterranean Tuna Salad: Elevate your tuna salad game by incorporating the rich flavors of the Mediterranean. Introduce chopped Kalamata olives, diced red onion, crumbled feta cheese, and a dash of dried oregano. Present your creation on a bed of mixed greens for an authentically delightful experience.
Spicy Tuna Salad: Turn up the heat with a touch of fiery Sriracha or your preferred hot sauce. Infuse diced jalapeños, chopped cilantro, and a zingy squeeze of lime to ignite your taste buds with a burst of exhilarating flavors.
Apple Walnut Tuna Salad: Immerse yourself in a harmonious blend of textures and flavors by folding in diced apples and chopped walnuts. Drizzle with a hint of honey to introduce a touch of sweetness. Serve on hearty whole grain bread or roll it up in a wrap for a balanced and delectable meal.
Tuna Pasta Salad: this easy recipe is a protein-packed meal with minimal prep time.
Feel free to explore the variations and tailor them to suit your unique taste preferences. Experience the joy of crafting a delightful and nourishing meal in a matter of minutes!
Frequently Asked Questions About Tuna Salad
Is tuna salad healthy? It can be a healthy option, especially if you use lean protein like canned tuna packed in water, and incorporate plenty of veggies and a balanced dressing. However, the nutritional content can vary based on ingredients used, such as mayonnaise or other high-calorie additives.
How do I make my tuna salad less calorie-dense? To make a healthy tuna salad, you can use reduced-fat or light mayonnaise, Greek yogurt as a mayo substitute, or even opt for avocado for creaminess. Also, focus on adding more fresh veggies and herbs for flavor and volume.
What can I substitute for mayonnaise in tuna salad? Greek yogurt, mashed avocado, hummus, or even olive oil with a splash of lemon juice can be used as alternatives to traditional mayonnaise in tuna salad.
Can I make tuna salad ahead of time? Yes, it is great for meal prep. Just be sure to store it in an airtight container in the refrigerator and consume it within 3 days to maintain freshness.
What are some creative ways to serve tuna salad? Besides the traditional sandwich or wrap, you can serve it on a bed of lettuce, stuff it into a hollowed-out tomato or bell pepper, or even use it as a filling for stuffed pasta shells.
Can I freeze tuna salad? No. It's not recommended to freeze it, as mayonnaise-based dressings can separate and become watery when thawed. The texture and taste may also be compromised.
What's the best type of tuna to use in tuna salad? Canned tuna packed in water is commonly used for tuna salad. White or albacore tuna is a popular choice for its mild flavor, while chunk light tuna is a budget-friendly option.
How can I add more flavor to my tuna salad? Experiment with different herbs and spices, such as dill, parsley, chives, or even a pinch of paprika. You can also add chopped pickles, capers, or different types of relish for added tanginess.
Is tuna salad safe for pregnant women? Pregnant women should avoid consuming raw or undercooked seafood, but tuna salad made from cooked canned tuna is generally safe to eat. There are concerns about high levels of mercury found sometimes in tuna, so it's advisable to limit consumption to 1-2 servings per week. However, they should consult with a healthcare provider for personalized guidance.
How can I prevent my tuna salad from being too watery? Ensure you drain the canned tuna well and pat it dry with paper towels before mixing it with other ingredients. Using less mayonnaise or opting for alternatives like Greek yogurt can also help control the moisture content.
More Easy Dinner Recipes