Protein-rich Niçoise Buddha Bowl Recipe
Before the trendy Buddha Bowls, came the delicious Niçoise salad created by the French, which is a salad packed with protein (tuna, anchovies and hard-boiled egg). It is delicious since it has all the flavors of the Mediterranean, including black olives, capers and tomatoes, all served on fresh lettuce leaves.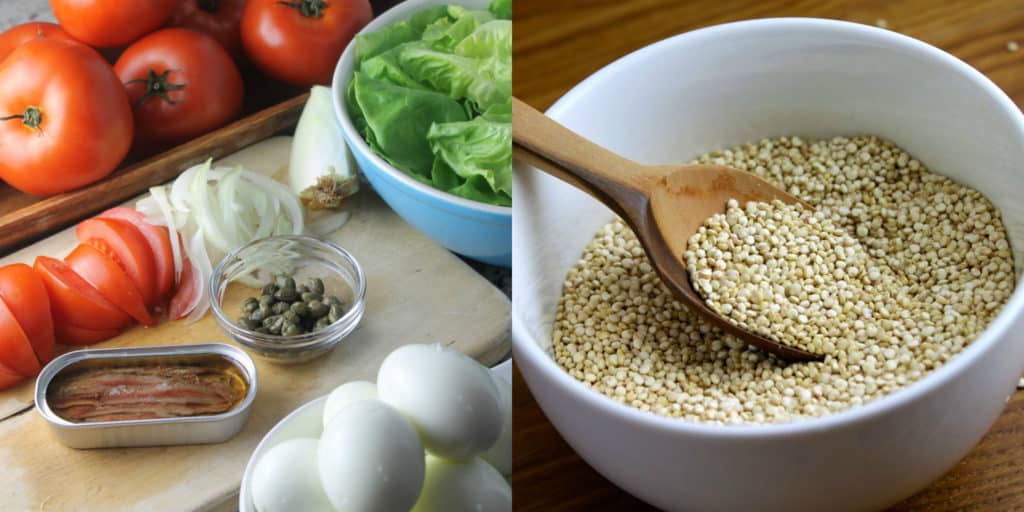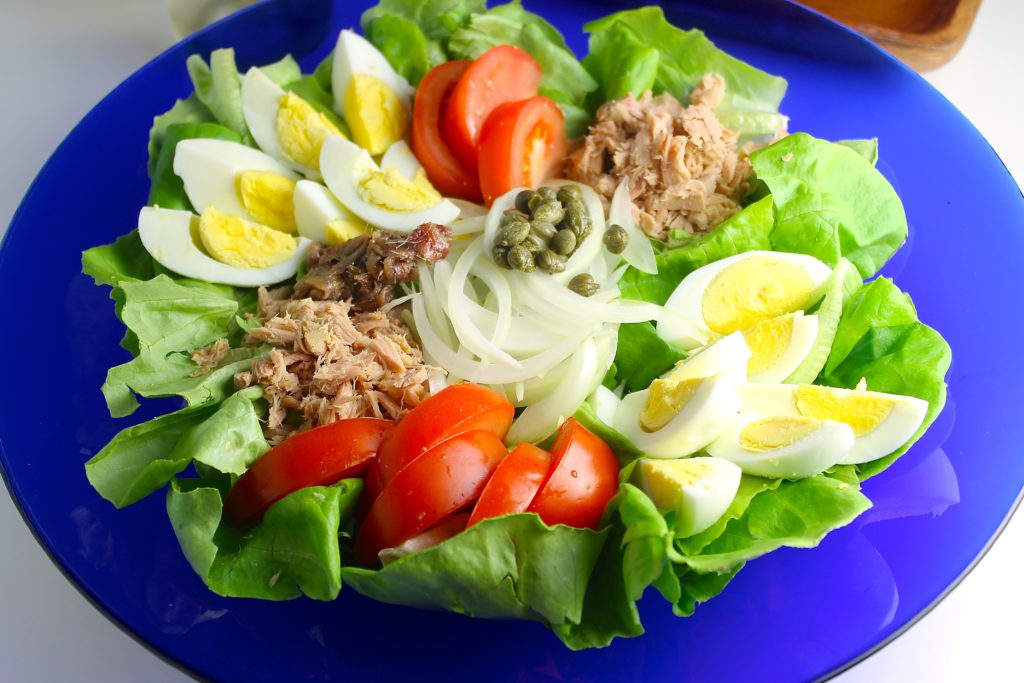 What is a Buddha Bowl and why are they insanely popular?
A Buddha bowl is visually appealing since it shows you all the fresh ingredients and usually includes seeds and grains such as quinoa and beans, aside from green leafy vegetables. They are in-demand because they are very convenient and easy to prepare.

Niçoise Buddha Bowl
These bowls are super healthy. We came up with a protein-packed version that combines the classic Niçoise salad with a Buddha bowl. It has eggs, tuna and anchovies, in addition to the quinoa that also provides 16 grams of protein.
It's a meal in itself and is perfect for lunch or dinner.
Buddha Bowl
Author:
Prep time: 10 mins
Total time: 10 mins
Ingredients
4 cups lettuce leaves, washed and dried
1 cup cooked quinoa
4 Roma tomatoes, cut in 8 pieces
½ small onion, julienned
2 tuna cans, drained
1 can anchovies, drained
4 hard boiled eggs, cut in strips
1 tablespoon baby capers
4 tablespoons olive oil
2 tablespoons white vinegar
1 teaspoon honey
Salt
Instructions
Prepare the dressing using the olive oil, vinegar, honey and salt.
Arrange the lettuce leaves in a bowl.
Add the quínoa in the center of the bowl. Cover it wth the rest of the ingredients, organizing them symmetrically: tomatoes, onion, tuna, anchovies, eggs and capers.
Dress with the vinaigrette you made earlier.
3.5.3251
Save and share this Buddha Bowl recipe on Pinterest.
Healthy recipes to try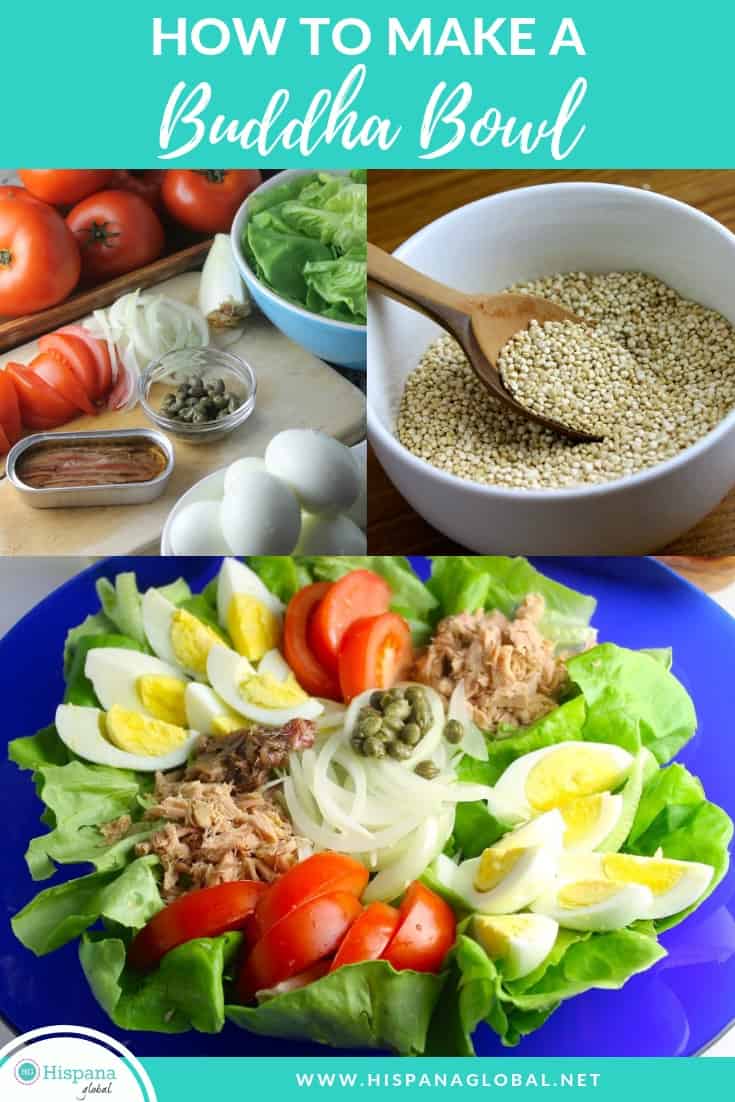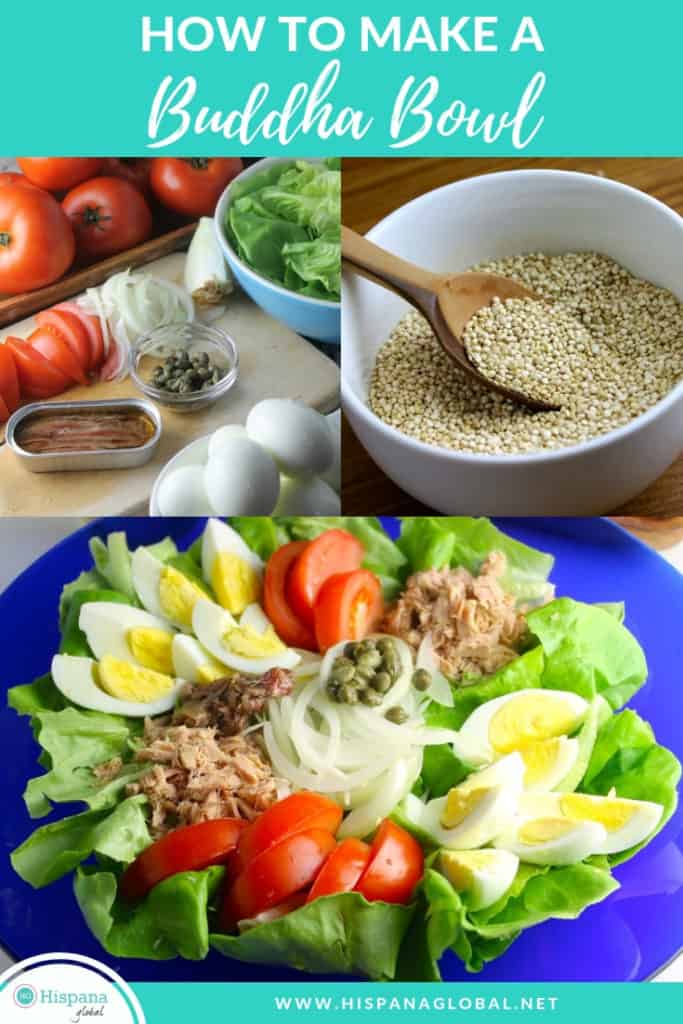 En español: Receta fácil de Buddha Bowl de proteínas estilo Nicoise