The Ultimate Tuna Pasta Salad Recipe
In the realm of budget-friendly dinner options, few dishes stand out like the classic Tuna Pasta Salad. Bursting with flavors, textures, and a satisfying blend of ingredients, this dish proves that a delightful meal doesn't have to break the bank. Whether you're a student on a tight budget or a busy parent looking for a quick and economical dinner solution, the Tuna Pasta Salad is a timeless choice that never disappoints.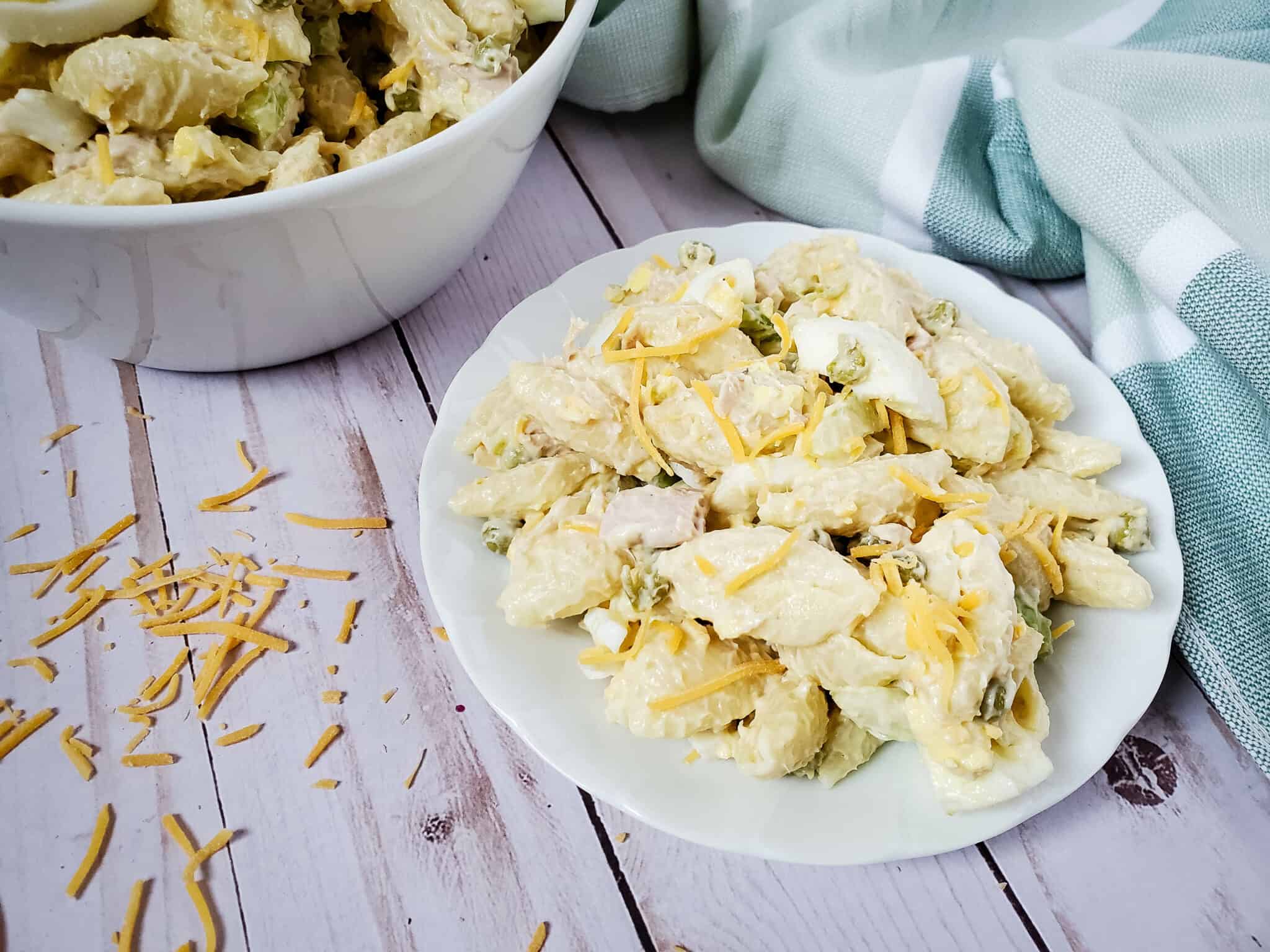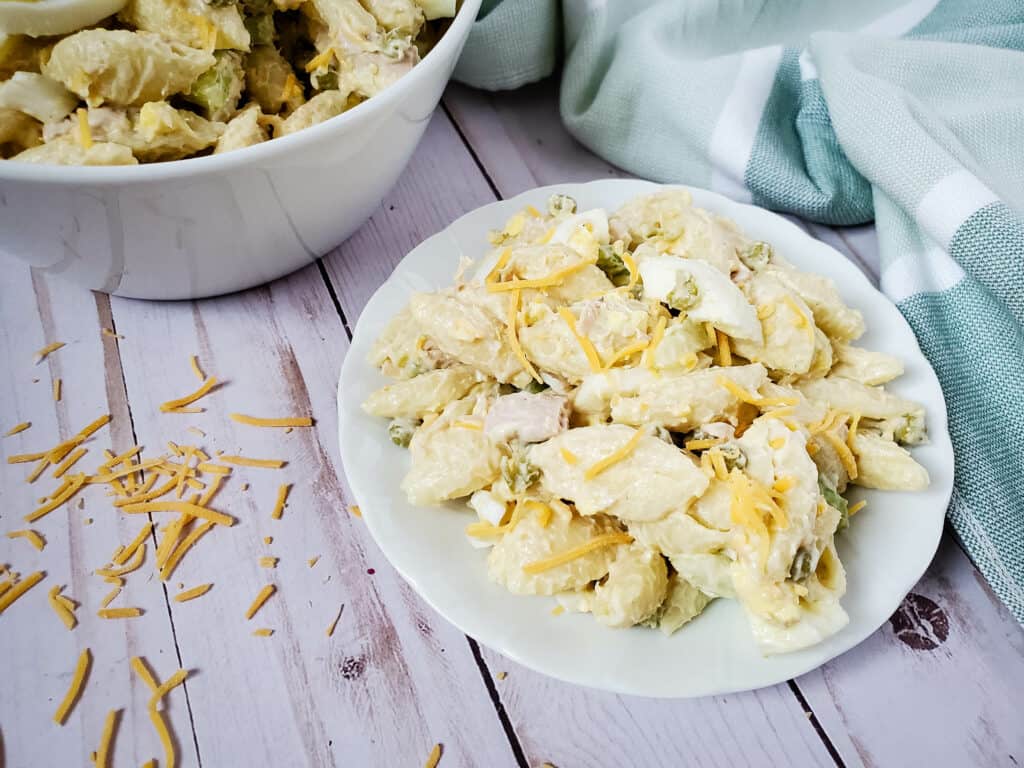 Notably, the secret to its distinct flavor lies in the use of Miracle Whip, a key ingredient that elevates this salad to a whole new level. This classic recipe calls for canned tuna and hard-boiled eggs, so it's a great source of protein.
Since it is served cold, it's also the perfect light lunch or easy dinner option for hot summer days.  Served as a main dish or delicious side, it's also a delicious option for your next backyard barbecue or summer picnic.
You can also make it ahead the night before and store in the refrigerator covered in plastic wrap or in an airtight container. It tastes delicious the next day!
Why Choose Tuna Pasta Salad?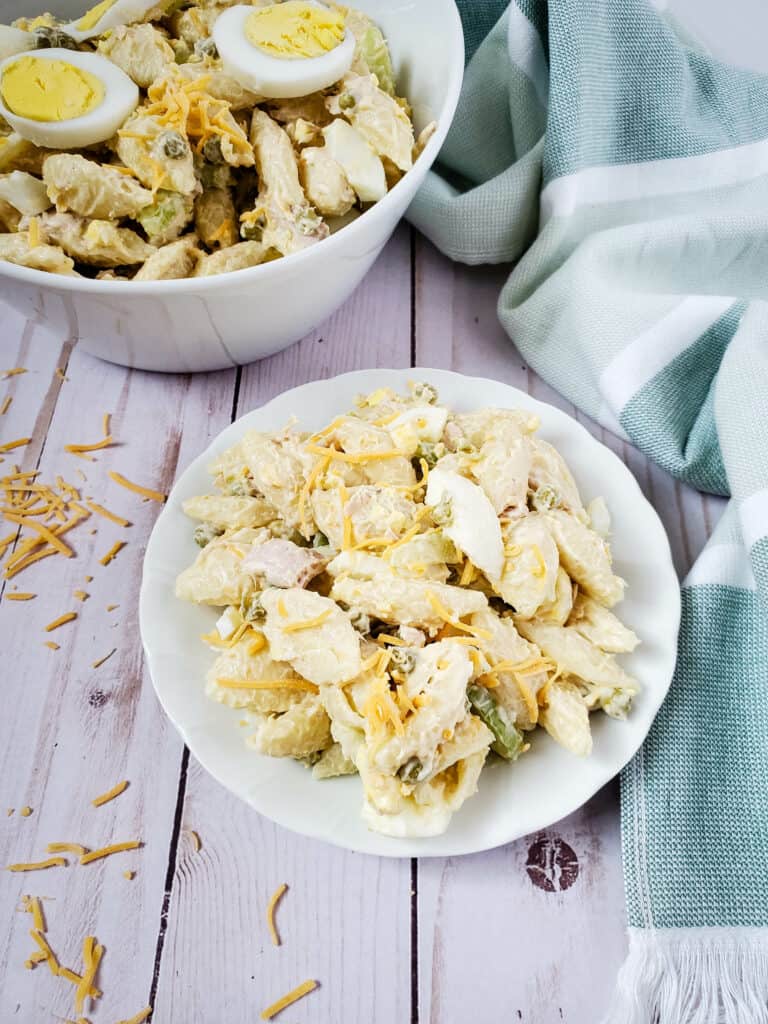 Tuna Pasta Salad is more than just a convenient dinner option; it's a medley of comfort, nutrition, and taste. Here's why this dish deserves a spot in your culinary repertoire:
Affordability: Tuna Pasta Salad is a testament to the fact that budget-friendly meals can be both satisfying and delicious. The use of simple ingredients ensures you don't have to spend a fortune to enjoy a wholesome meal.
Ease of Preparation: With a prep time of just 5 minutes and a cook time of 10 minutes, this easy recipe is perfect for busy individuals and families. It's a go-to option for those evenings when you need something quick yet scrumptious.
Nutritional Balance: Packed with protein from tuna fish and eggs, it provides essential nutrients to keep you fueled and satisfied. The inclusion of sweet peas, celery, and cheese in this great recipe further enhances its nutritional value.
Customizability: While the provided recipe is a tried-and-true classic, the perfect pasta salad is incredibly versatile. Feel free to experiment with additional vegetables, herbs, or spices to suit your taste preferences.
What pasta should I use for this recipe?
I used small shells for this creamy tuna pasta salad recipe but you can use smaller pasta as well. You can use the same steps to make an easy tuna macaroni salad.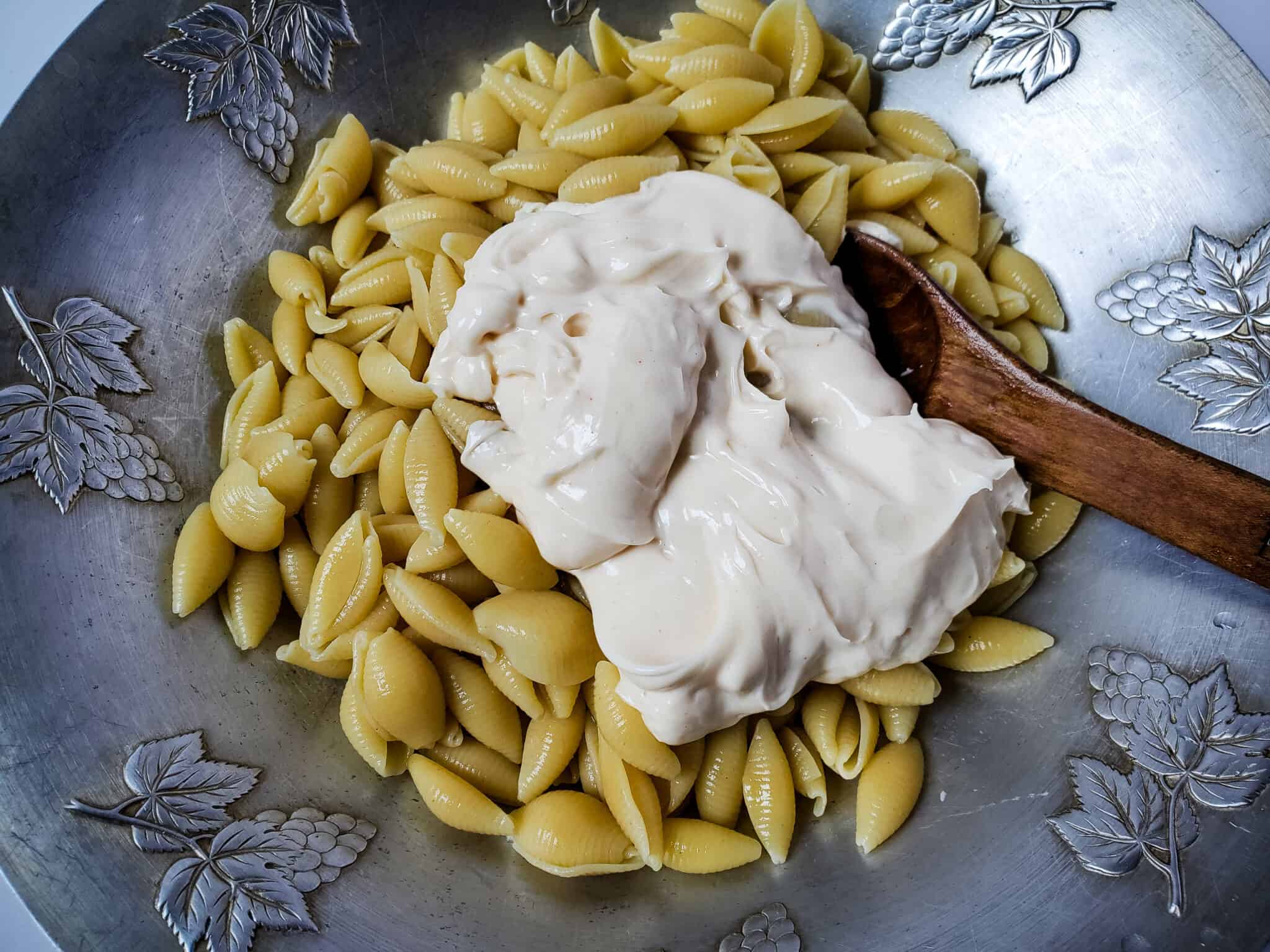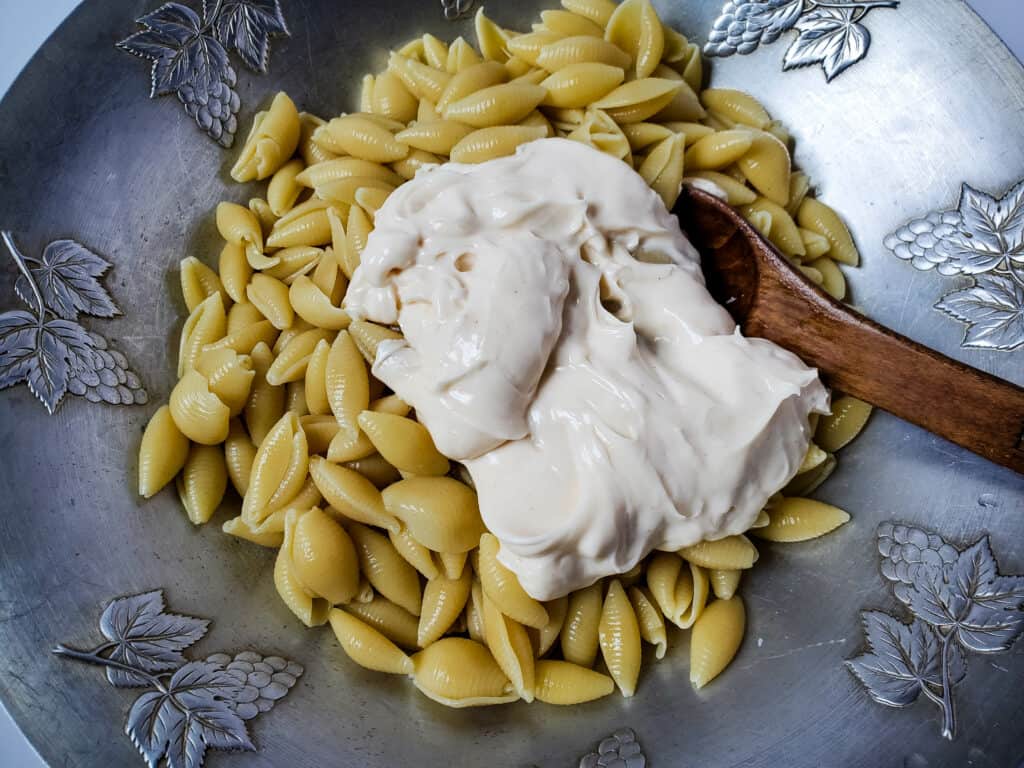 The Best Tuna Pasta Salad Recipe
Prep time: 5 minutes
Cook time: 10 minutes
Additional Time: 10 minutes
Total Time: 25 minutes
Serves: 4-6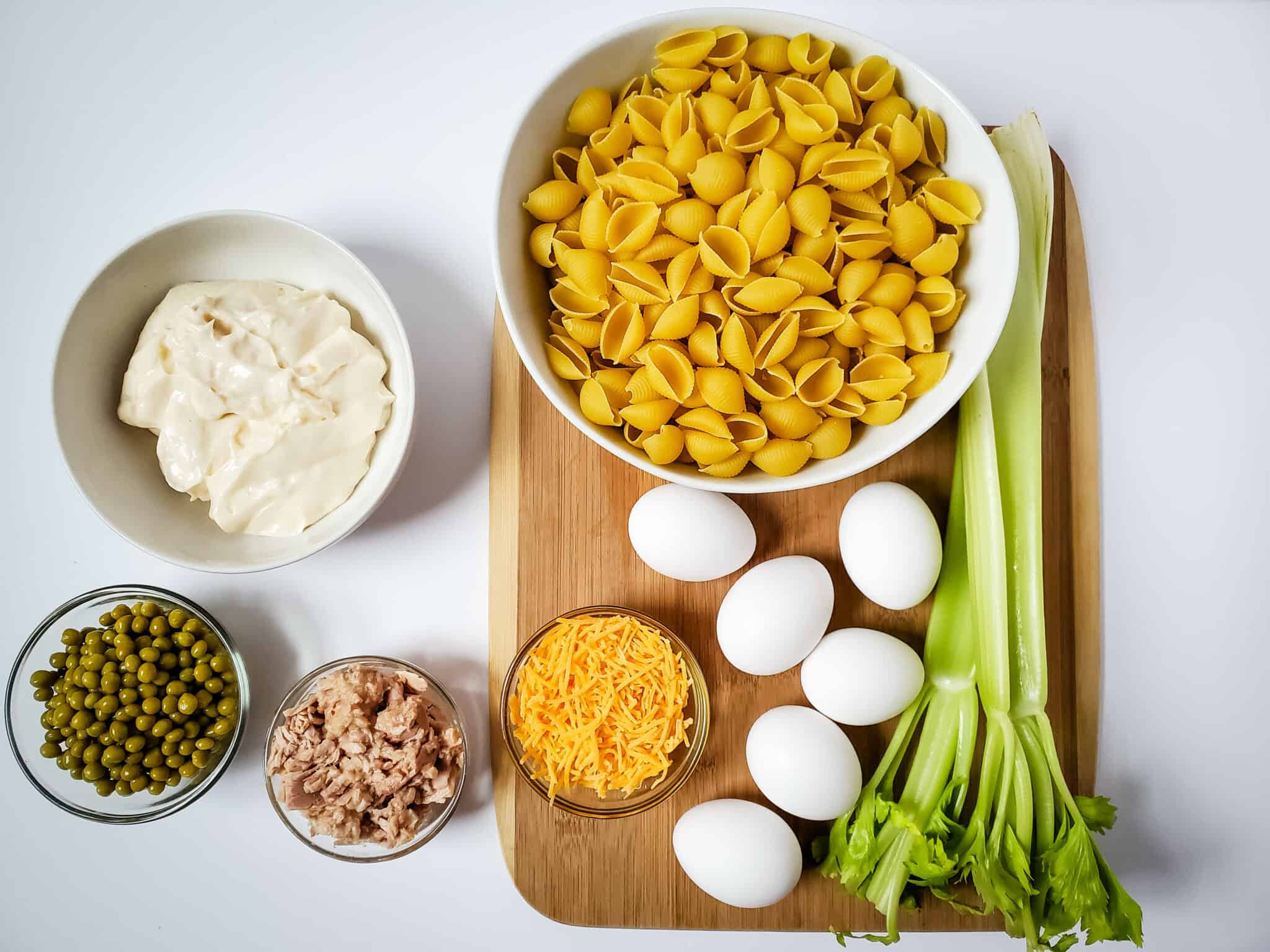 Ingredients:
16 oz medium shells
1 cup Miracle Whip
5 oz can water-packed tuna
8.5 oz can sweet green peas
½ cup cheddar cheese
1-2 celery stalks, chopped
6 boiled eggs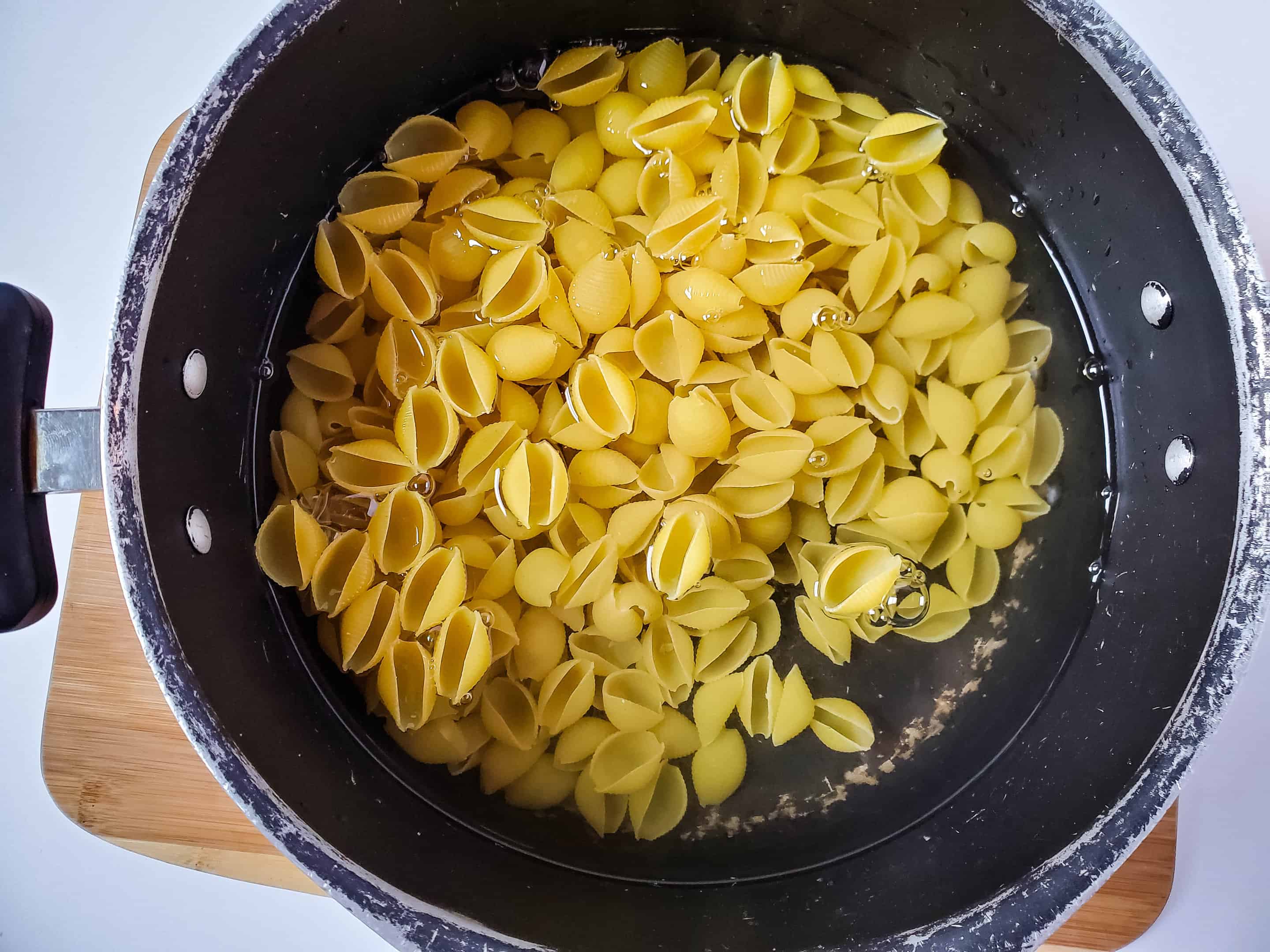 Directions:
Fill a large pot halfway with water and bring it to a boil. Add the pasta and cook for 10-12 minutes or until the pasta is tender or al dente. Once cooked, drain the water and rinse the pasta under cold water to cool it down.
In a separate medium pot, place the eggs and cover them with water. Boil the eggs for 10 minutes. Remove from heat, cover, and let them sit for an additional 10 minutes. Then, cool the eggs under cold running water and peel them.
Chop the celery stalks into small pieces.
Transfer the cooked pasta to a large bowl. Add Miracle Whip and gently stir until the noodles are thoroughly coated.
Incorporate the tuna into the pasta mixture, ensuring it's evenly distributed.
Introduce the sweet peas, cheddar cheese, and chopped celery to the bowl. Mix everything together until the ingredients are well combined.
Peel the boiled eggs, chop them into pieces, and add them to the salad. Gently toss the salad to distribute the eggs evenly. For a visually appealing touch, consider slicing 1-2 eggs and arranging them on top of the salad.
Allow the completed salad to chill in the refrigerator for at least an hour before serving. Chilling enhances the flavors and brings all the elements together harmoniously.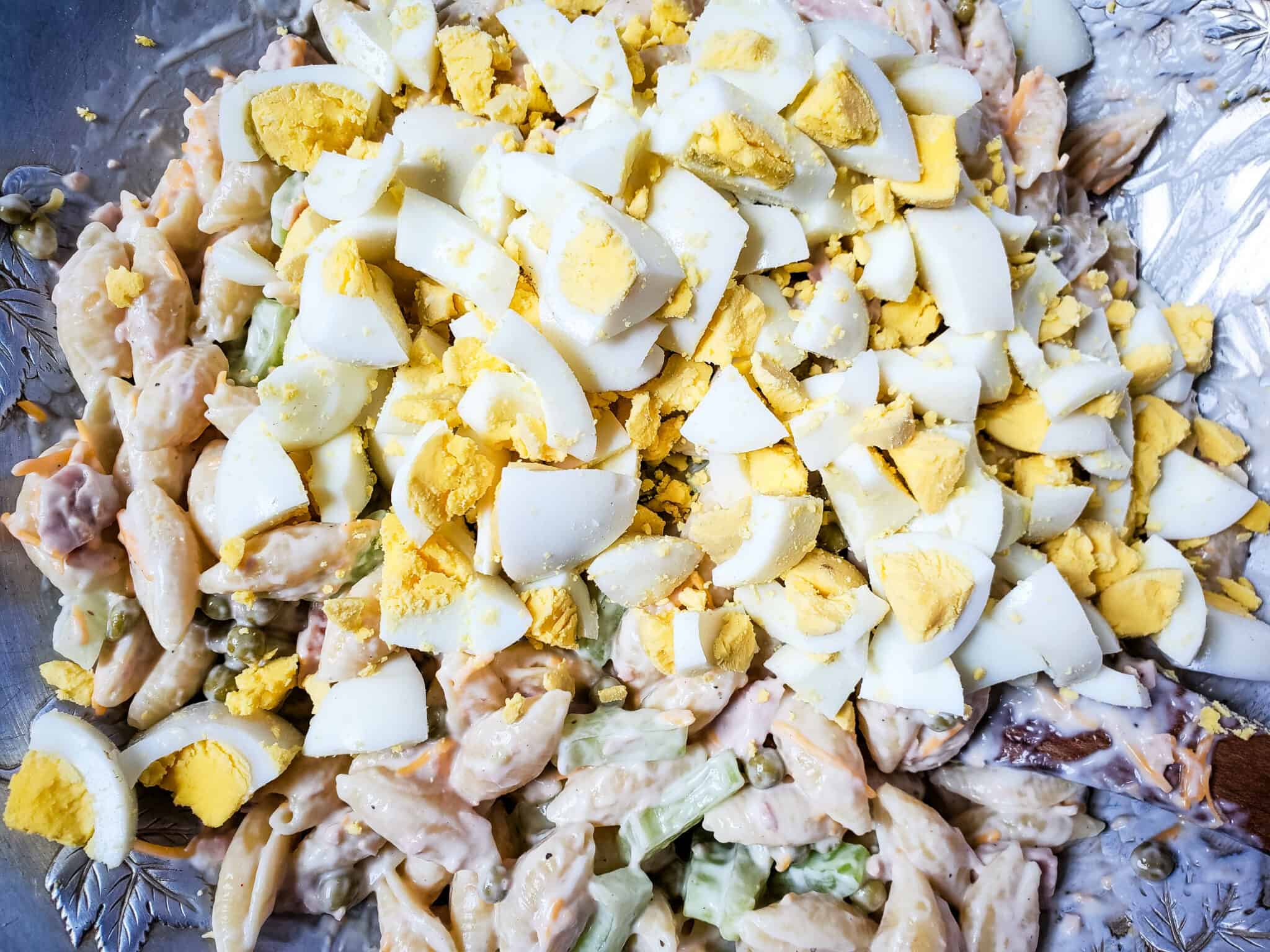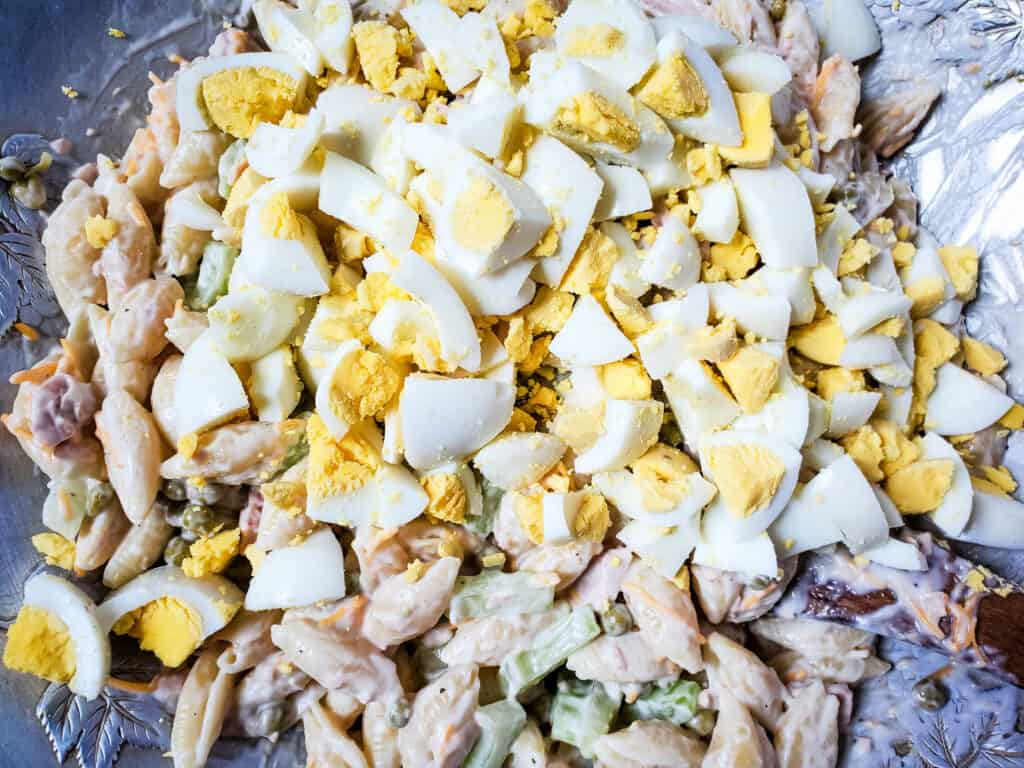 The Tuna Pasta Salad embodies the essence of a budget-friendly yet delectable dinner option. With its quick preparation and an array of flavors and textures, this dish proves that culinary delight doesn't have to come at a high cost.
Easy Tuna Pasta Salad Variations
Once you have added this delicious tuna pasta salad into your dinner rotation, you might want to try a few variations. Here are a few easy options to consider:
Spicy Kick:

Mix in a bit of hot sauce or Sriracha to the Miracle Whip for a spicy tang.
Include diced jalapeños or crushed red pepper flakes for an extra kick.
Add diced red bell peppers and red onion for a burst of color and flavor.

Healthy Greek Inspiration:

Use plain Greek yogurt in place of Miracle Whip for a creamy yet tangy twist.
Add diced cucumber, red onion, and crumbled feta cheese.
Toss in some Kalamata olives and fresh dill for a Greek-style profile.

Tex-Mex Vibes:

Mix in a bit of salsa or taco seasoning to the Miracle Whip.
Add black beans, corn, diced avocado, and shredded Mexican cheese.
Garnish with chopped cilantro and a squeeze of lime or fresh lemon juice.
Remember, the beauty of this easy pasta salad lies in its adaptability. Feel free to combine ingredients that resonate with your palate, and don't hesitate to experiment with different seasonings and textures. For example, you can add chopped green onions or your favorite pickle relish if you crave a classic tuna salad. Whether you're craving a zesty, spicy, or refreshingly herby experience, these variations will inspire you to create a tuna pasta salad that's uniquely yours.
More delicious summer salads
Here you have more great options for delicious recipes when the weather is hot: