How to Bake and Decorate a Spectacular Unicorn Cake
Feast your eyes on this incredible unicorn cake that you can bake and decorate at home! It is the perfect choice for a birthday party because it is such a popular cake. After all, social media seems obsessed with unicorns.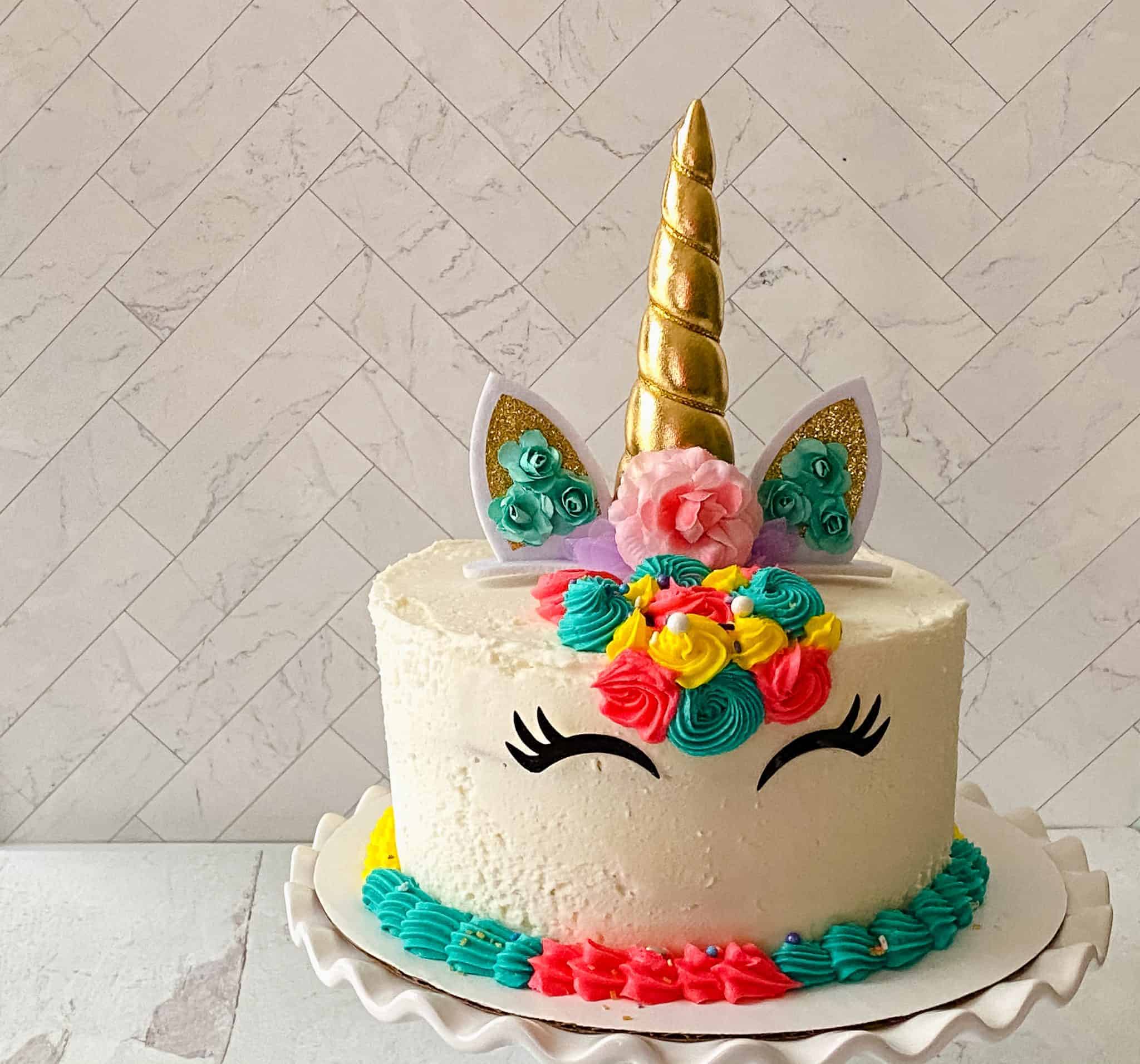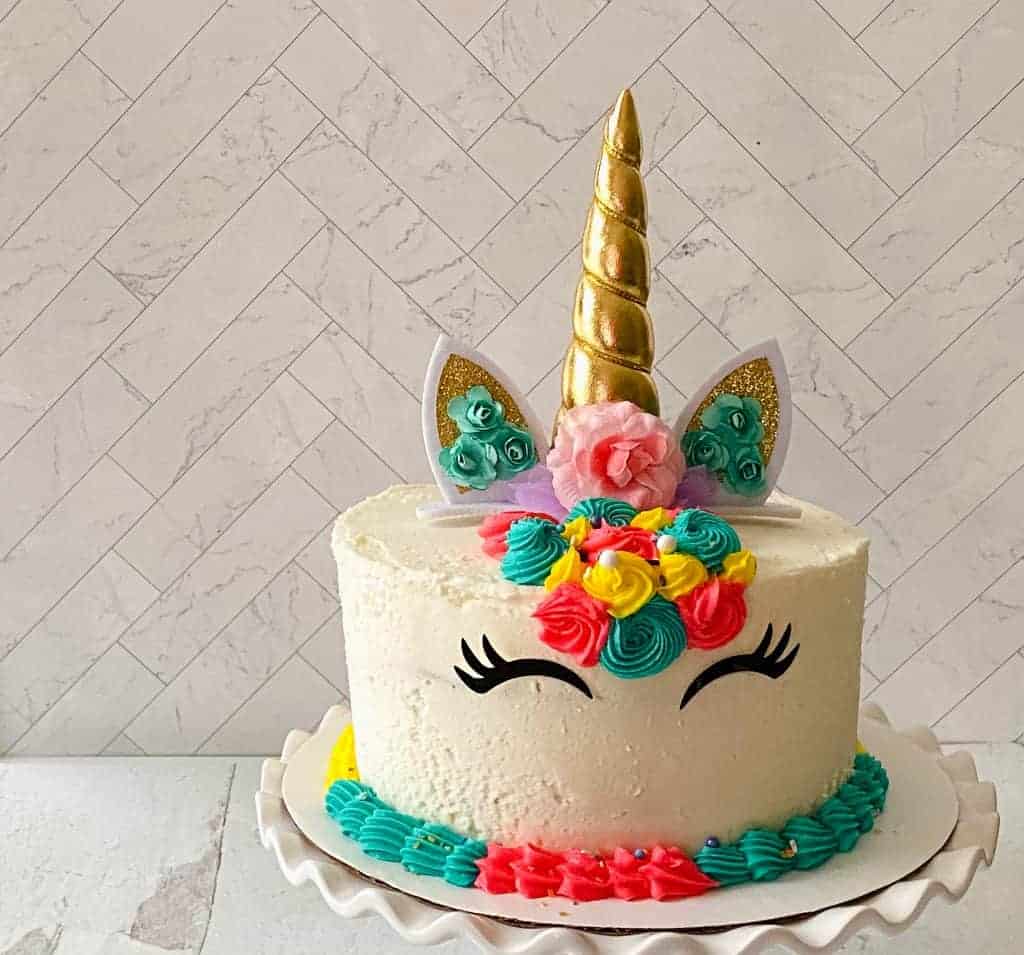 A layered rainbow unicorn cake that is so fun, festive, and could make an incredible birthday cake or even baby shower cake. There is something so whimsical and adorable about magical unicorn cakes that make them a great choice for any celebration.The color combination is always a hit with children and grownups. The first step is getting all your supplies, including the topper with unicorn ears.
Unicorn Cake Video Tutorial
This colorful and easy unicorn cake recipe isn't too complicated to make if you follow the instructions. I will walk you through the steps on how to make this fun unicorn dessert and you can check out the video to make the process even easier. With these step-by-step instructions on how to bake and decorate a unicorn cake, you will surprise everybody with the spectacular results.

Top Tips To Make A Unicorn Cake
Make this easy rainbow unicorn cake keeping in mind these simple tips:
Remove the unicorn horn topper and place it on the cake. Add the eyes to the front of the cake. Then begin to pipe roses around the unicorn head. You can trail down the flowers keeping them close together.
Using metal tips you can change them out for different tip designs. Plastic ones can be used but you can swap them out.
Make sure you have a thicker frosting so it holds shape.
Have your piping bag at a 45 degree angle when you go to pipe on your frosting roses.
It is such a cool cake that the effort is totally worth it!
.
How to make vanilla buttercream from scratch
Ingredients
1 cup of Crisco
1 cup of unsalted butter
6 cups powdered sugar, scooped and leveled
1 tsp pure vanilla extract
3-4 tbsp milk (can also be substituted with heavy cream, half in half, coffee creamer, or water)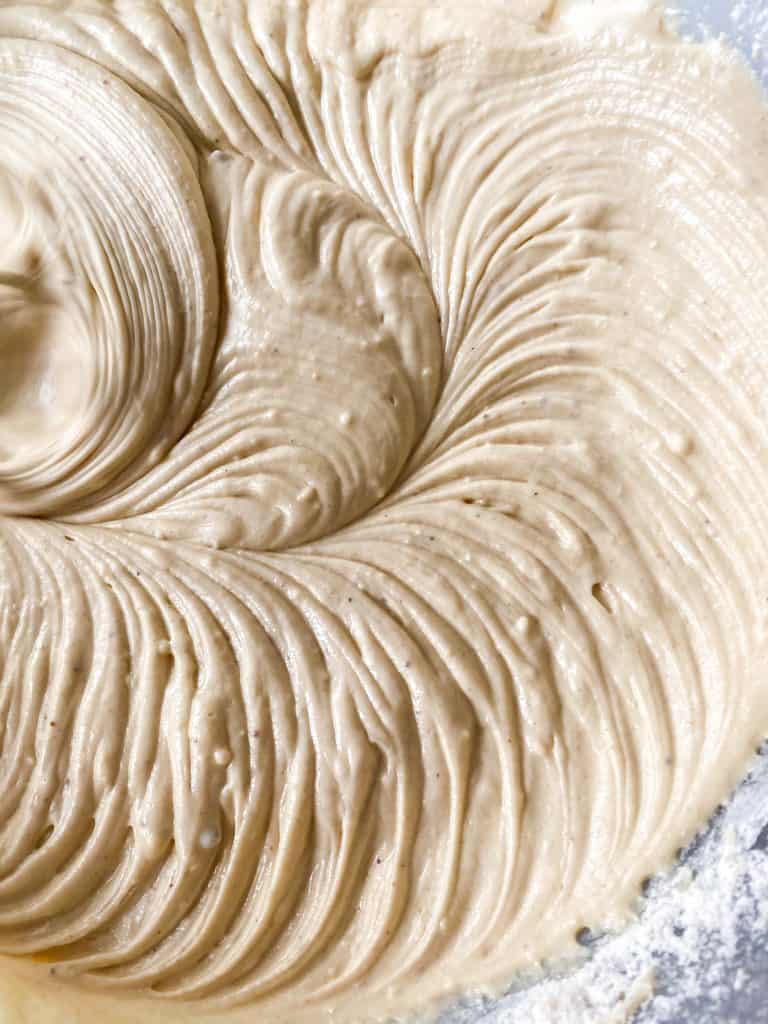 Instructions
Add Crisco and butter to a large bowl. Use a hand or electric mixer to blend well using low speed.
Add powdered sugar and vanilla.
Pour in milk
Whip on HIGH for 4-5 mins so that the buttercream doubles in volume
This homemade white frosting can be used for rainbow cakes, unicorn cakes or any baked goods you make.
How to Make Boxed Cake Taste Like Bakery?
Even boxed cake batter can taste like a high end bakery with a few simple tips:
Add an extra egg to what the box says.
Replace the oil with butter. Just melt the butter and use in replace of oil.
Use milk instead of water. Just use the same amount of liquid.
You will mix the cake and bake it the same. Just swap out the ingredients with the suggested ingredients you see above. This will give you that light, fluffy, delicious rich cake you would get at a bakery.
Can you use this recipe to make a rainbow cake?
Yes! This step-by-step unicorn cake recipe can easily be used to bake a multicolor layer cake. The only thing you need to change is the unicorn topper or decoration. You may use fruit roll ups as a rainbow topping and if you want to use it for St. Patrick's Day, fill green plastic pots or cauldrons with candy or gold chocolate coins to simulate a pot of gold.

Storing Cake
The cake needs to be stored in the refrigerated covered. The buttercream frosting will break down too much if left out at room temperature. You can freeze any cake you don't eat, for up to three months.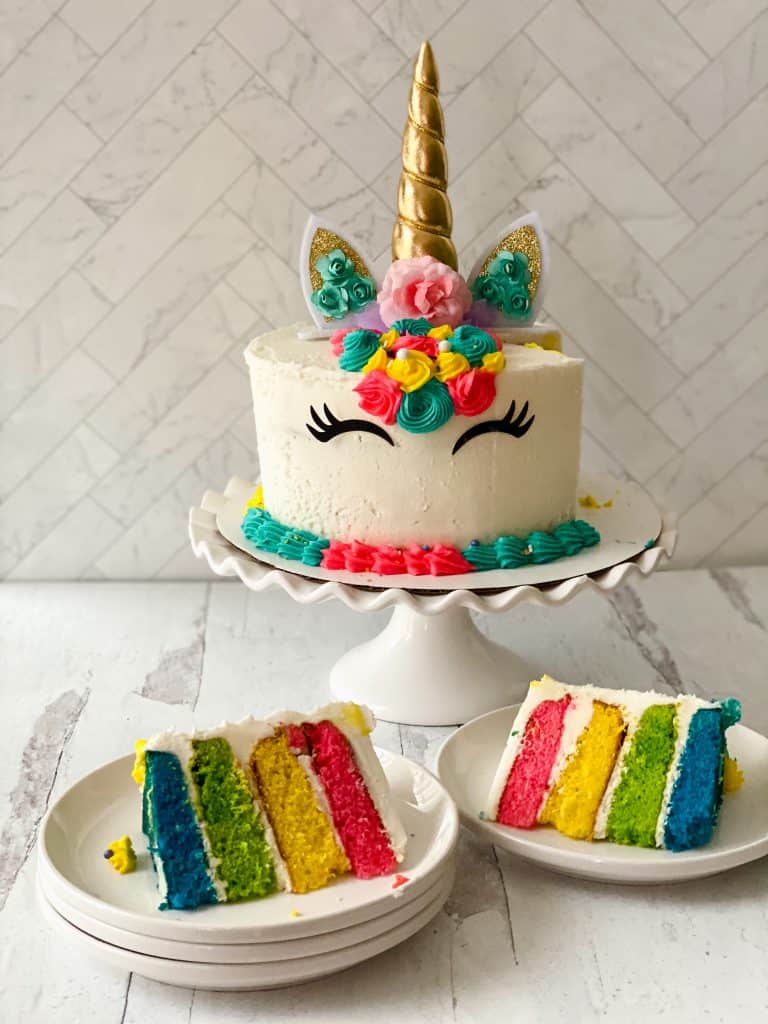 This is a really fun unicorn birthday cake idea, so have fun and enjoy!
More Dessert Recipes
Unicorn Cake Tutorial
This unicorn cake might seem daunting but all you have to do is follow the instructions.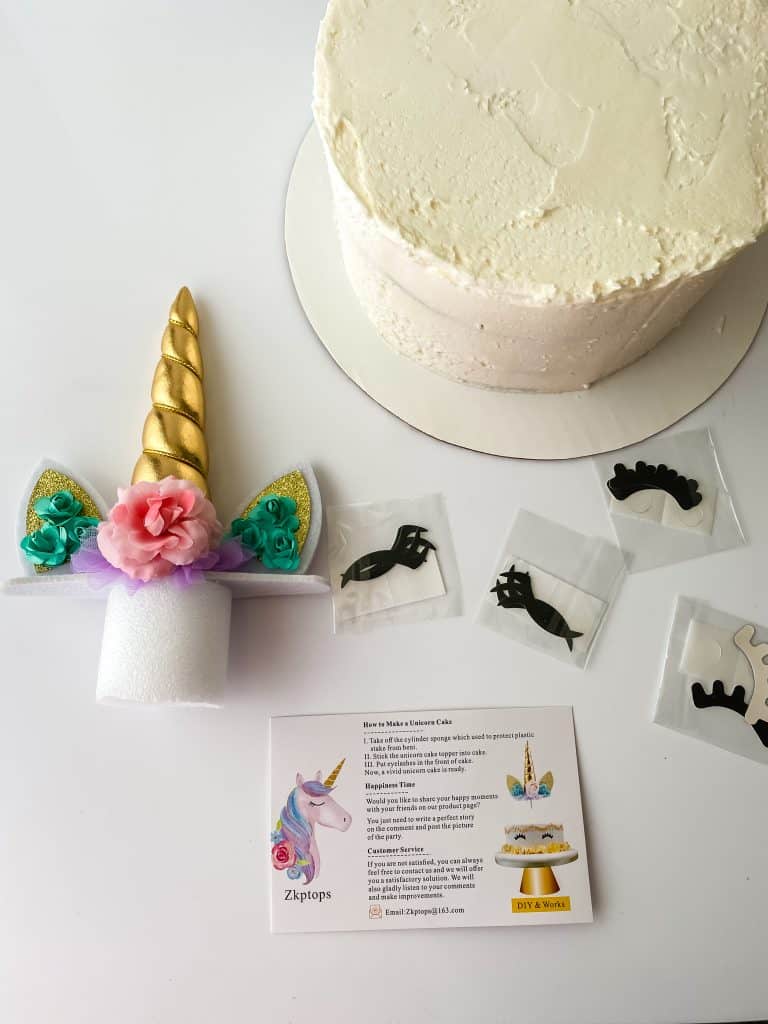 Ingredients
2 White or vanilla cake mix and any ingredients the box mix requires (like oil, eggs, and water)

Buttercream icing (see recipe above)
Instructions
Prepare cake mix according to box instructions.

Divide batter into four bowls.

Add gel food coloring. 1 to 2 drops of coloring will be enough for each cake color.  

Lightly grease cake pans with vegetable oil or cooking spray, and transfer batter into each pan.

Bake according to box instructions.  Since

these are 1 inch cake layers, they may cook faster than your box tells you. Begin to check them at the 15 minute mark.  Cakes are done when you stick in a toothpick in it and it comes out clean.  
Remove from the oven and allow to cool at room temperature until the cakes can be wrapped in plastic wrap in the freezer.
While freezing the cakes is not necessary, it is strongly encouraged as it will make the icing of the cake easier when it's time to assemble. If you are in a rush, chill the cakes in the fridge for at least two hours before attempting to assemble the cakes or else the cakes can come apart when you are icing them.
Coat the outside of the cake with a thin layer of buttercream frosting, making sure to put the buttercream in between each cake layer as you build it.
Give the cake time to rest before moving on to the next step. The buttercream icing will crust over, meaning when you touch it with your finger after about 15 minutes the Icing is no longer wet.
Prepare the colored frosting and put into piping bags with star tips. While using a color is not necessary for this particular activity it will be helpful to change the tips out.
Remove the unicorn horn cake topper from its package and center at the top of the cake
After placing the unicorn horn topper on top of the cake, select your eyelashes and place them as symmetrical as possible.
A medium stiff consistency icing is going to be required to create the roses on top of the unicorn's head. Use a star tip to create roses on top of the cake.

Make sure you hold your piping bag at a 45° angle. Apply even pressure when squeezing out the

icing. Stop squeezing and then pull your tip away.
Frequently asked questions
What do I do if I don't have a piping bag?
While I strongly encourage you to purchase piping bags, you may use a small sandwich bag but it will require you to have a piping tip
Can I use plastic tips?
Yes, you can use the plastic decorating tips. However you will not be able to change out the tips while you're decorating.
Why do we use couplers when decorating?
The couplers make it easy for you to change the piping tip while still using the same color
What's the best way to clean the piping tips?
Boil them in hot water and allow them to air dry.
More Unicorn Themed Fun
The unicorn trend is not going anywhere so if you need even more ideas, check out: