Honey Glazed Grilled Fruit Kabobs Recipe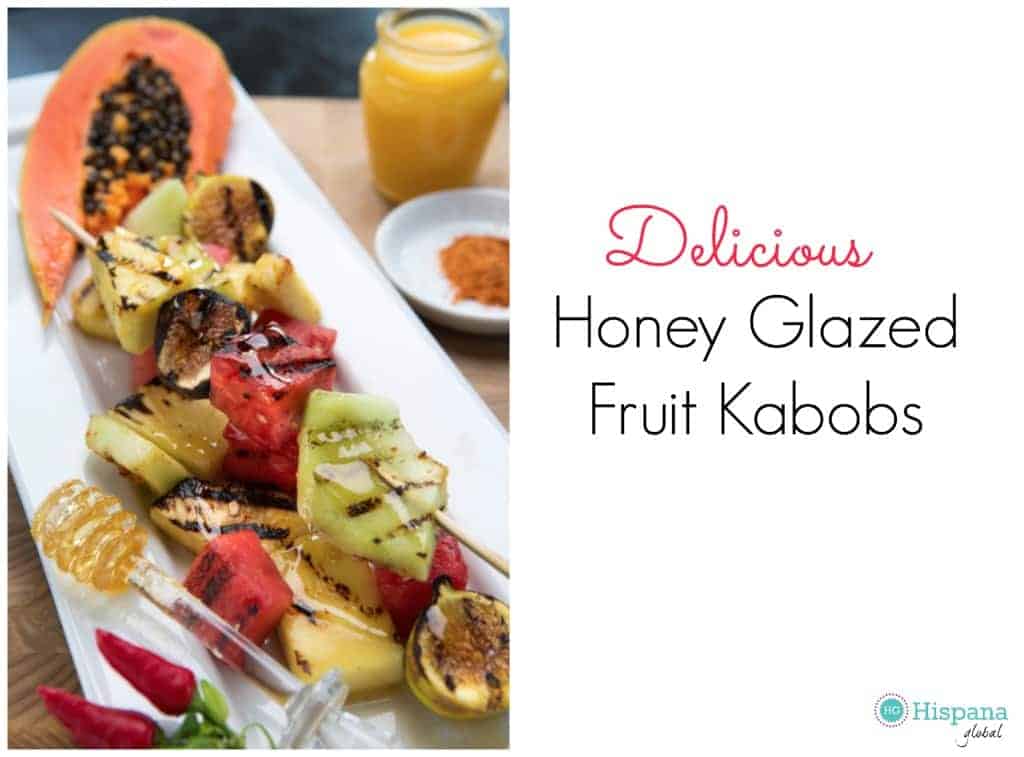 With the summer barbecuing season quickly coming to a close, you might want to switch up things a bit and try a grilled fruit kebob recipe that everybody will love. It's healthy and so yummy! The National Honey Board has partnered with award-winning grilling expert, restauranteur and bilingual TV personality, Chef Michell Sanchez, to offer his best honey-inspired recipes and grilling tips to make end of summer barbecues flavorfully memorable.
"My usage of honey on the grill goes far back into my childhood," shared Sanchez, whose uncle is a local honey bottler in South Florida. "It's a quick and easy natural addition for any marinade or glaze. It not only creates a contrast of flavors over an open fire, but it also adds and locks in moisture when used on meat."
Honey Glazed Grilled Fruit Salad Kabobs
Serves 6-8
Ingredients:
1 large watermelon
1 pineapple
1 Honeydew melon
8 Mission figs
1 cup orange juice
1 cup honey
2 limes
Pinch of salt
Chile (Mexican chili pepper) fruit seasoning
Wooden skewers, soaked in water
Directions:
Peel and slice watermelon, pineapple and Honeydew into 1 inch chunks and figs in half.  Preheat grill to medium heat and wipe grill with halved lime. Place cut fruit into large mixing bowl, and pour orange juice over and toss with a pinch of salt. Assemble fruit into kabobs by piercing it through the soaked skewer and stacking the fruit, alternating as you go. Leave at least 2 inches of space on blunt end of the skewer to handle kabob safely while grilling.  Place fruit on hot grill, turning on each side every three minutes. Remove from grill and drizzle with honey and sprinkle with chile (Mexican hot chili pepper) fruit seasoning.  Serve warm on the skewer.
To optimize the outdoor cooking experience, Sanchez also shares his best tips when marinating and grilling with honey on www.mielpura.org. ¡Buen provecho!
Lee en español: Receta de brochetas de frutas glaseadas con miel