What To Pack For A 7 Day Cruise Vacation + Free Packing List
Planning a 7 day cruise vacation and you're feeling a tad overwhelmed by the packing process? Here's what to pack plus a free printable packing list. This comprehensive and friendly guide is here to rescue you from any packing predicaments, ensuring you embark on your maritime adventure fully prepared and in style.
Whether you're a seasoned cruiser or a first-time sailor, I've got you covered. I know that packing for a week-long cruise can be a bit of a puzzle—balancing practicality with fashion, anticipating diverse weather conditions, and ensuring you have all the essentials to make your voyage seamless and memorable. After taking more than two dozen cruises, I have compiled my top cruise packing tips to help you stress less.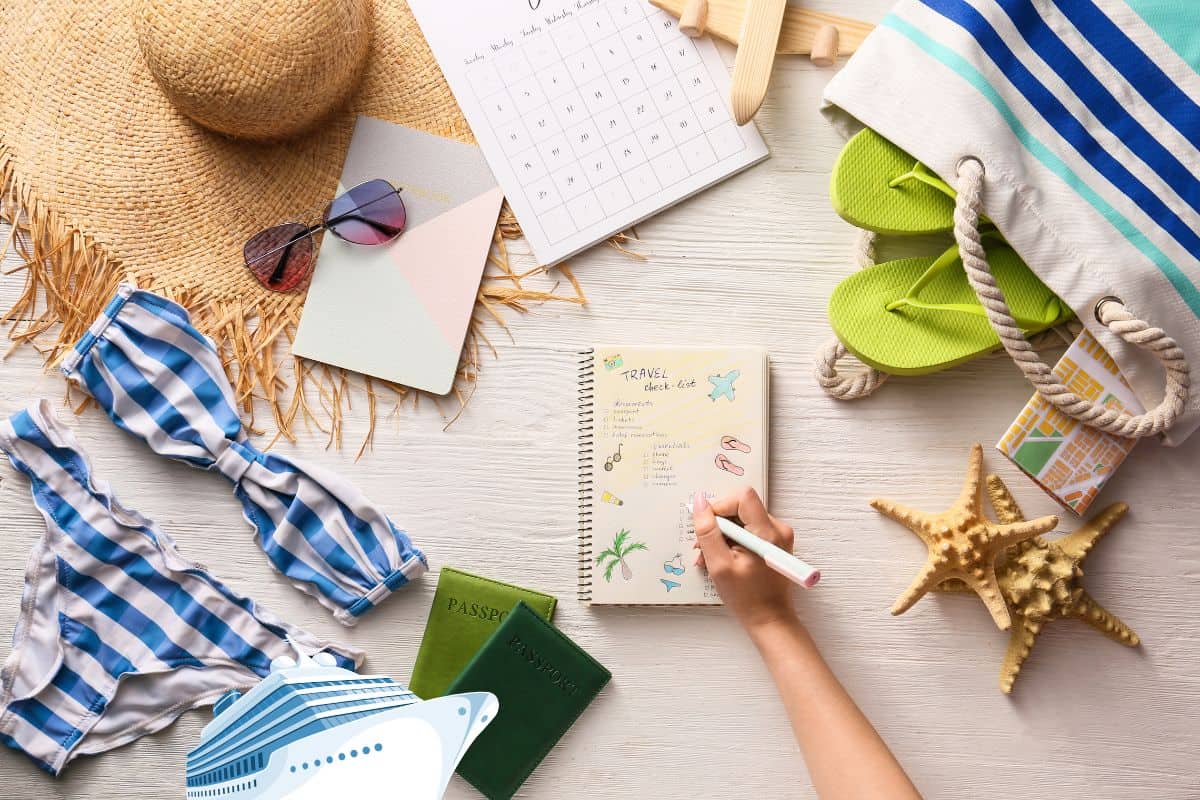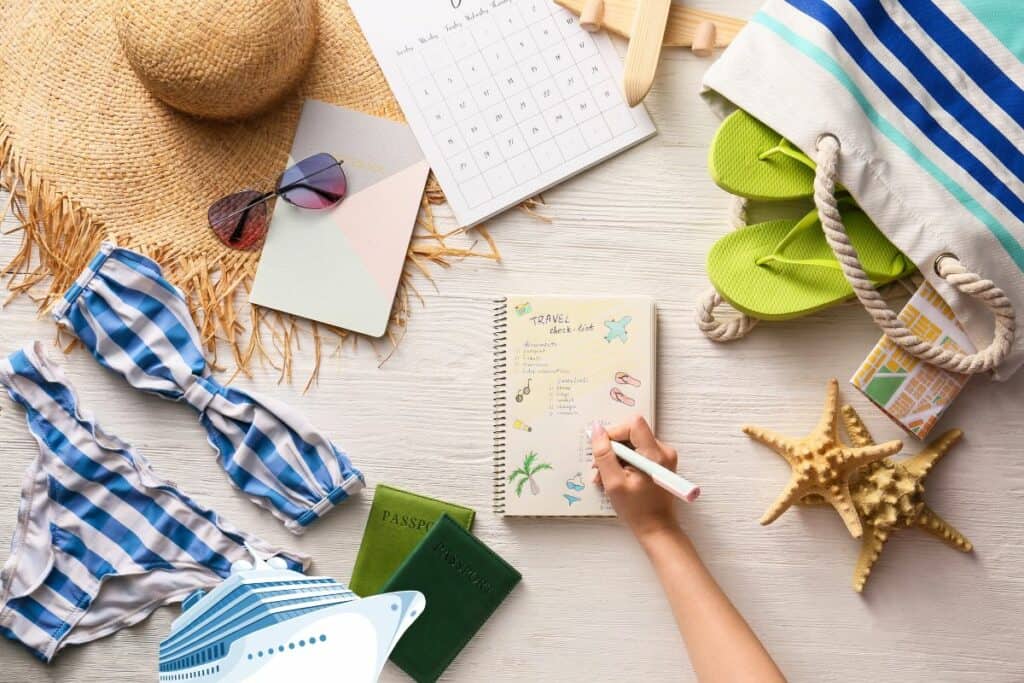 From assembling the perfect cruise capsule wardrobe to packing those must-have accessories, discover the ideal balance of comfortable and chic attire for leisurely days on deck and exciting shore excursions. Get ready to dine like royalty on those formal nights with outfits that exude elegance and grace.
Embarking on a 7-day cruise vacation is a thrilling and unforgettable experience. Whether you're a seasoned cruiser or a first-time adventurer, packing efficiently and thoughtfully can make all the difference in ensuring a smooth and enjoyable journey. Plus, I've included a free packing list to assist you in organizing your essentials and ensuring nothing is left behind. So, get ready to set sail with confidence and embark on a hassle-free cruise adventure filled with relaxation, exploration, and unforgettable memories.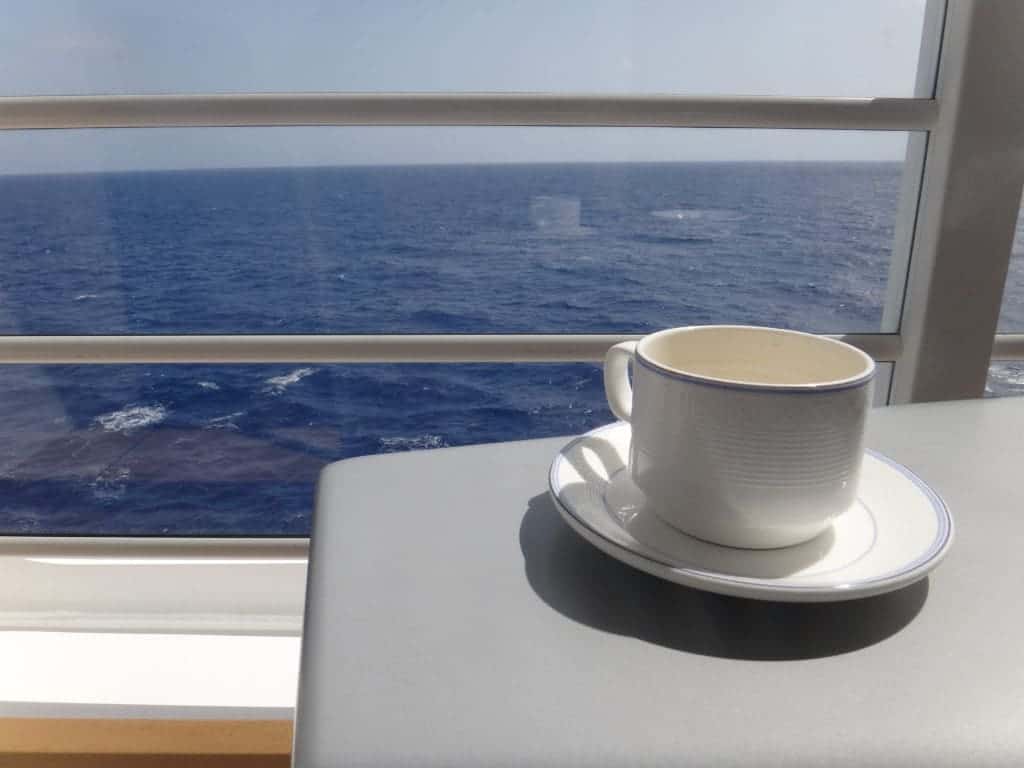 In this article, we'll cover everything from clothing and footwear essentials to must-have accessories, toiletries, and electronics. We'll also share tips on how to pack efficiently and maximize your suitcase space, as well as highlight important considerations specific to cruise vacations. With our expert advice and handy packing list, you'll be well-equipped to navigate any situation, whether lounging poolside, exploring exotic ports of call, or indulging in the exciting onboard activities.
So, take notes or download our free packing list, as we dive into the essentials you need to pack for a fabulous 7-day cruise vacation. Get ready to sail away in style and create memories to last a lifetime!
Essential Packing Guide for a 7-Day Cruise Adventure
As you prepare for your adventure, it's crucial to pack strategically to ensure you have everything you need for a comfortable and enjoyable journey. Keep in mind cruise ship cabins can be small, so try to not overpack. In this packing guide, we'll provide you with a comprehensive list of essential items to bring along on your week-long cruise.
Clothing: Consider both daytime activities and evening events on the ship. To cover all your bases, include:
Swimwear: Pack a few swimsuits and cover-ups for relaxing poolside or on the sun-kissed beaches.
Casual daytime attire: Lightweight and comfortable clothing like shorts, t-shirts, sundresses, and breathable fabrics are ideal for exploring the ship and participating in daytime activities.
Formal Wear: Depending on the cruise line, you may have formal or semi-formal nights. Plan accordingly and bring a few dressier outfits such as cocktail dresses, button-down dress shirts, or suits.
Outerwear: Carry a light jacket or sweater for cooler evenings on deck or when exploring ports of call. If visiting a rainy area, a windbreaker, poncho or raincoat is a must.
Footwear: Choosing the right footwear is essential for any cruise. I recommend at least three pairs of shoes. Consider the following options:
Comfortable walking shoes: Bring sturdy and comfortable shoes for exploring ports of call or taking part in on-board activities.
Sandals or Flip-flops: Ideal for lounging by the pool or on the beach.
Dress shoes: If you plan to attend formal dinners or semi-formal events, pack appropriate footwear to match your evening attire.
Accessories: Don't forget these items:
Sun protection: Sunscreen, sunglasses, and a wide-brimmed sun hat to shield yourself from harmful rays.
Day or beach bag: A small backpack or tote bag for carrying essentials during shore excursions.
Waterproof phone case: Protect your phone during water-based activities or unexpected rain showers.
Travel adapter: Ensure you can charge your electronic devices without any issues if traveling internationally.
Cell phone charger
Toiletries and Medications: While most cruise ships provide basic toiletries, it's advisable to pack your own. Now most cruise lines just offer refillable pumps with shampoo, conditioner and body wash and not individual small bottles. Remember to bring:
Toothbrush, toothpaste, and floss.
Shampoo, conditioner, and body wash, unless you are okay with the ones provided by the cruise line.
Deodorant and other personal hygiene products
Haircare products and styling tools.
Prescription medications, contact lenses and a basic first aid kit.
Seasickness medication, if necessary.
Electronics and Entertainment: To stay connected and entertained during your cruise, consider packing:
Portable Chargers: Keep your devices powered up, especially during long shore excursions.
E-reader or Books: Relax by the pool or on your cabin's balcony with a good read.
Headphones or airpods: Enjoy your favorite music or movies while on the go.
Miscellaneous essentials: Don't forget these additional items!
Travel Documents: Carry your passport, identification, cruise documents, and any necessary visas. You will need your photo ID to board the ship every time you go to ports of call.
Cash and credit cards: Ensure you have enough money for onboard expenses and shore excursions.
Reusable Water Bottle: Stay hydrated during your cruise and reduce plastic waste.
Snacks: Pack some non-perishable snacks for day trips or late-night cravings.
Pro tip: check the cruise line's website
It's always a great idea to check the cruise line's dress code on their official website. Also make sure to read what is allowed onboard. Many cruise lines limit the use of certain appliances, like steamers or high potency hair dryers.
Packing for a 7-day cruise requires a balance between practicality and style. With this comprehensive packing guide, you'll have everything you need to enjoy your cruise to the fullest. Remember to consider the destination's climate, cruise line dress codes, and your personal preferences when selecting your wardrobe and accessories. 
If you prefer to pack light and use the laundry facilities, bring along laundry detergent or pods.
Should I take a carry-on plus a larger suitcase on my cruise vacation?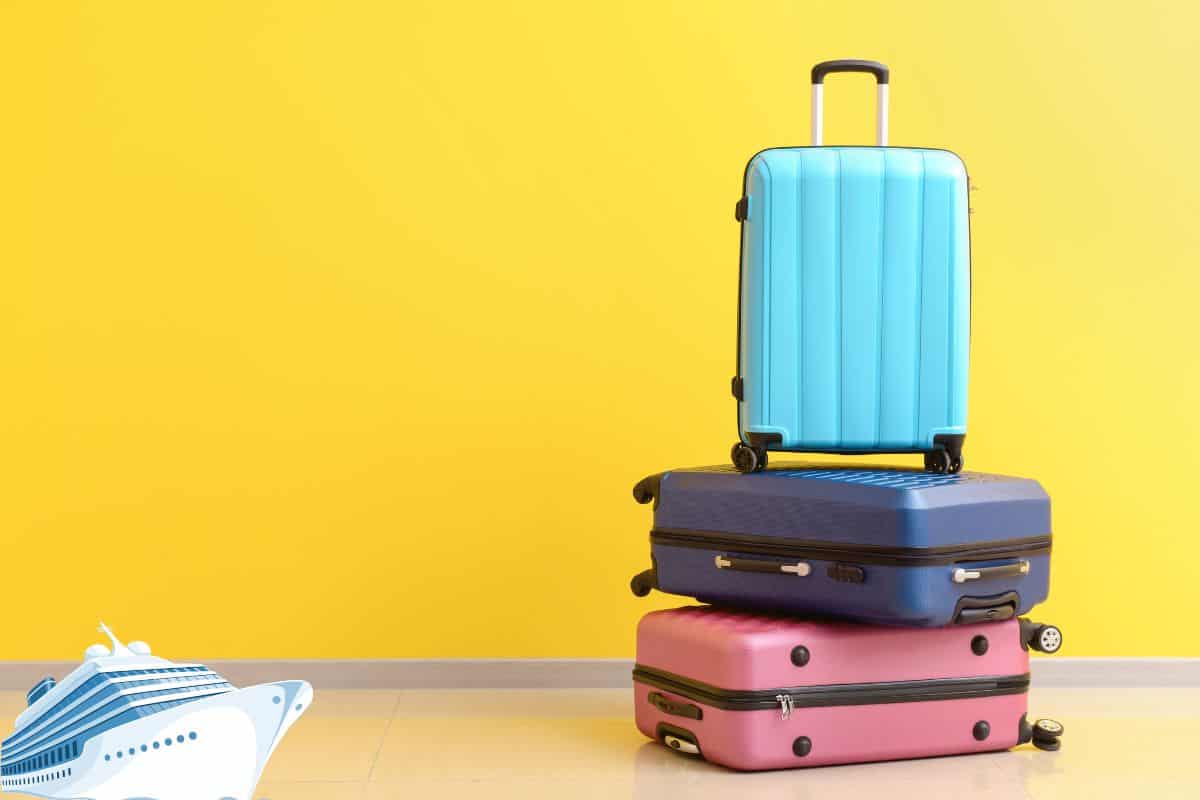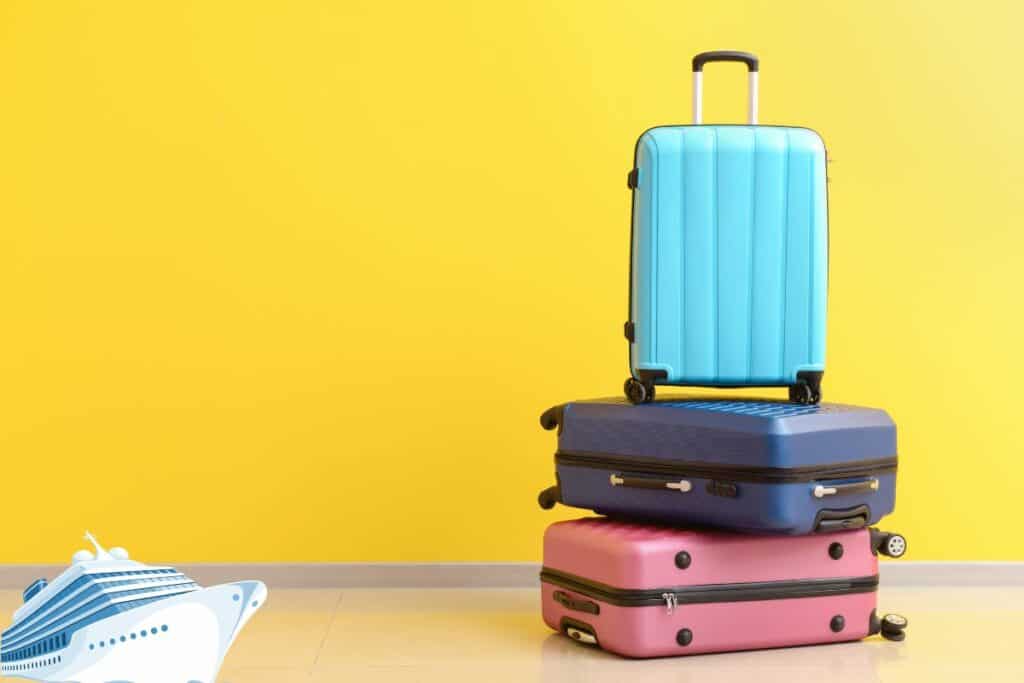 Taking both a carry-on suitcase and a bigger bag for your 7-day cruise is a good idea. It can be a smart and practical choice. Here's why:
1. Convenience and efficiency: Bringing a carry-on bag allows you to have all your essential items easily accessible during your embarkation day. You can keep important documents, medications, a change of clothes, a bathing suit, and and any valuable items close at hand. This ensures you won't have to rummage through a larger suitcase to find what you need when you first board the ship. Plus, it can take hours for your luggage to be delivered to your stateroom.
2. Avoiding baggage delays: Due to various reasons, checked luggage might be delayed in reaching your cabin. By carrying your essentials in a carry-on, you won't be left without vital items like medications, a swimsuit for the pool, or an outfit for dinner if your larger suitcase takes longer to be delivered to your stateroom.
3. Easy packing for the first day: On the first day of your cruise, you might want to hit the pool, explore the ship, or even dine at a casual restaurant. Having a carry-on with a change of clothes allows you to freshen up quickly and start enjoying the ship's amenities without waiting for your larger suitcase to arrive.
4. Keeping valuables safe: If you plan to bring valuable items like electronics, cameras, designer bags or expensive jewelry, you might prefer to keep them in your carry-on rather than checking them in with your larger suitcase.
5. Easy disembarkation: On the last night of your cruise, you'll need to pack up and leave your bigger suitcases outside your cabin. Having a carry-on allows you to keep your essentials with you until it's time to leave the ship, making the departure process smoother.
In summary, bringing both a carry-on and a larger suitcase provides you with the convenience of having essential items readily available and the practicality of having extra storage space during the cruise. It ensures a stress-free embarkation, smooth exploration of ports, and a comfortable disembarkation, making your cruise vacation even more enjoyable.
7 Day Cruise Packing List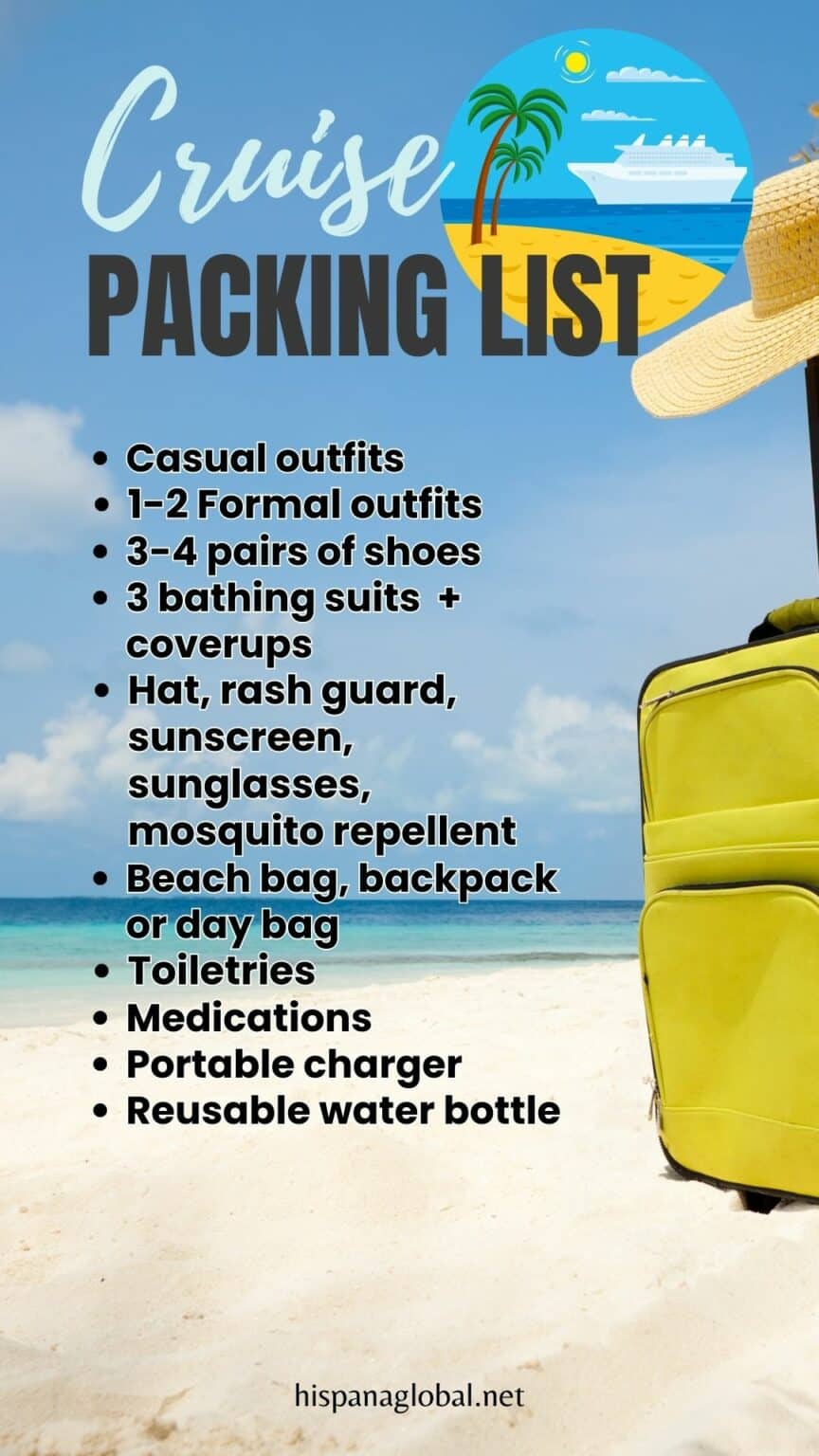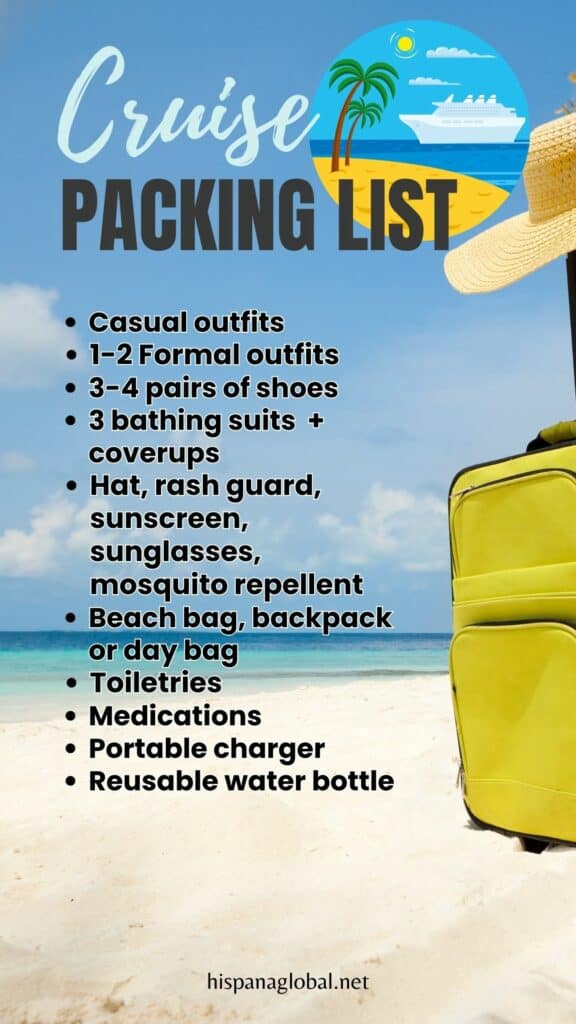 What cruise essentials should you pack? Here is a comprehensive cruise packing list to ensure you have everything you need for your fabulous 7-night cruise:
Clothing:
Casual outfits (shorts, t-shirts, sundresses) for daytime explorations.
Elegant attire (formal outfit) for formal nights and themed parties.
Comfortable walking shoes for shore excursions.
Dressy shoes for evenings.
Flip flops or waterproof sandals
Swimwear and cover-ups for poolside lounging and beach days.
Light jacket, windbreaker, denim jacket or shawl for cooler evenings or air-conditioned spaces.
Undergarments and socks.
Sleepwear.
Small or crossbody handbag
Sun Protection and Accessories:
Wide-brimmed hat to shield from the sun.
Sunglasses with UV protection.
Sunscreen (high SPF) to protect your skin. I prefer reef-safe sunscreen to avoid harming marine wildlife.
Aloe vera gel or after-sun lotion for soothing sun-kissed skin.
Scarf or sarong for versatile use
Rash guard if you use one.
Formal Night Glam:
Formal dresses or gowns.
Tuxedo or suits with dress shirts and ties.
Dress shoes or a pair of sandals to complement formal attire.
Evening clutch or small handbag.
Cruise Documents and Essentials:
Passport and necessary visas.
Cruise tickets and boarding passes.
Travel insurance details.
Credit/debit cards and some cash (check the cruise's currency policy).
Photocopies of important documents (keep separate from originals).
Lanyard or pouch for keeping cruise ID card handy.
Cruise itinerary and any pre-booked excursion vouchers.
Medications and Toiletries:
Prescription medications in their original containers with prescription attached.
Over-the-counter pain relievers, motion sickness medication, etc.
Small first-aid kit with adhesive bandages, antiseptic wipes, antibiotics ointment, tweezers, etc.
Toiletries (shampoo, conditioner, body wash, deodorant) – consider travel-sized versions.
Toothbrush, toothpaste, and dental floss.
Contact lenses, case and cleaning solution.
Razor and shaving cream.
Moisturizer and lip balm.
Hairbrush or comb.
Bags and excursion essentials:
Sturdy beach bag, day bag or backpack for shore excursions.
Refillable water bottle.
Camera or smartphone for photos and videos.
Foldable tote or shopping bag for carrying souvenirs back to the ship.
Tech and Entertainment:
Camera or smartphone with a good camera for capturing memories.
Power bank or charger for electronics.
E-reader or books for leisurely moments.
Power strip to charge electronics in case of limited outlets
Themed party accessories:
Some cruises have white parties or pirate night events, so bring appropriate attire for those festivities.
Remember, this packing list can be adjusted based on your cruise destination, weather conditions, and personal preferences. Check with your cruise line for any specific dress code requirements or amenities provided on board to avoid unnecessary items. You can also download my free printable packing checklist.
Should I use packing cubes?
Packing cubes can be incredibly helpful when packing for a cruise. Here's why:
1. Organized packing: Packing cubes help you keep your belongings neat and organized in your suitcase or travel bag. You can use different cubes for various categories, such as clothes, toiletries, accessories, etc. This makes it easier to find what you need without rummaging through your entire luggage.
2. Maximizing space: Cruises often have limited cabin space, and packing cubes can help you maximize every inch. By compressing your clothes and other items in the cubes, you can create more space in your suitcase and keep everything tidy.
3. Easy unpacking: When you arrive at your cruise cabin, you can simply place the packing cubes directly in the drawers or shelves provided. Unpacking becomes a breeze as you don't need to take out each individual item and can quickly settle into your cozy abode.
4. Seamless transfers: If you're extending your cruise with a land-based stay or exploring multiple destinations, packing cubes make transitioning between accommodations much smoother. No more clothes strewn all over the place—just grab the cubes you need and pop them into your new room.
5. Keeping things separate: Packing cubes help you keep clean clothes separate from dirty laundry. Some packing cubes come with separate compartments or laundry bags for this purpose, ensuring you don't mix up your fresh outfits with used ones.
6. Staying organized throughout the cruise: As you'll be packing and unpacking at different ports of call during shore excursions, having your belongings organized in packing cubes will make the process faster and more convenient.
7. Family packing made easier: If you're cruising with family or friends, each member can have their own set of packing cubes, making it simpler to keep everyone's belongings separate and easily identifiable.
Overall, packing cubes are a fantastic travel accessory that can save you time, stress, and space. They add an element of order and efficiency to your packing routine, ensuring you make the most of your cruise experience without worrying about the state of your suitcase.
Do I need to pack beach towels?
No, pool towels are provided aboard. However, if you plan on doing shore excursions to public beaches at ports of call, you will need to bring a towel from the cruise ship. Depending on the cruise line, they will give you a towel as you debark but you must bring it back. If the cruise stops at a private island, beach towels will be provided free of charge.
Can I take a steamer on my cruise?
The policies regarding bringing a steamer on a cruise can vary depending on the cruise line and ship. Generally, most cruise lines have restrictions on bringing steamers or irons onboard due to safety concerns. These appliances can pose fire hazards and are often prohibited to maintain a safe environment on the ship.
Instead of a steamer, you can consider other alternatives to address wrinkled clothing during your cruise. Here are a few options:
Wrinkle-Release Spray: Pack a wrinkle-release spray, which can help smooth out minor wrinkles from your clothing. Simply spray it on your garment and gently tug or smooth the fabric to remove the wrinkles.
Downy Wrinkle Releaser Plus: This is another convenient option. It is a spray-on fabric relaxer that helps release wrinkles from clothes. Similar to the wrinkle-release spray, simply spray it on the garment and smooth out the wrinkles.
Ship Laundry Service: Most cruise ships offer laundry services where you can have your clothes professionally laundered and pressed. This can be a convenient option, especially for formal attire.
It's always recommended to check with your specific cruise line or consult their website for the most up-to-date information regarding their policies on steamers or irons. They may provide alternative options or offer additional services to assist with garment care during your cruise.
More travel tips