Mom Of Twins Shares Her Best Tips For Beyoncé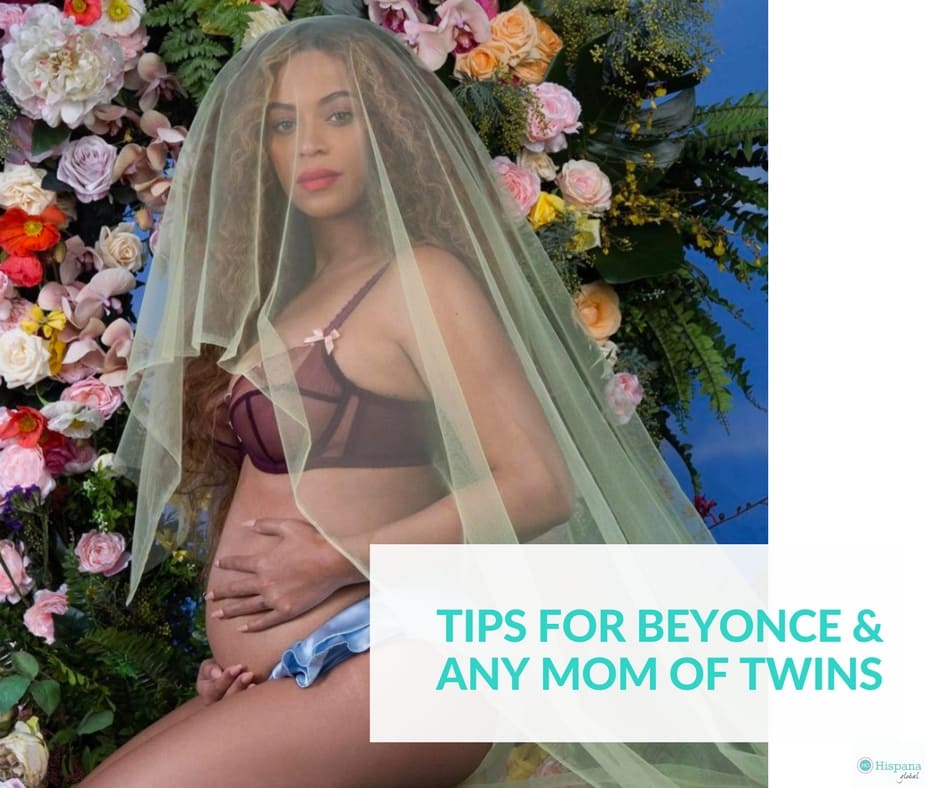 By now you probably heard that Beyoncé and Jay Z are expecting twins. I had never seen so many reposts on Instagram!
We're sure Queen Bey is thrilled with her pregnancy but at the same time, she must have so many questions. Having twins is quite extraordinary and requires stepping up your parenting game even before your babies are born. That's why we decided to ask THE expert on twins, Natalie Diaz, author of the US's top twins book What To Do When You're Having Two for her best tips.
Listen to your body during pregnancy
Great prenatal care is a must when expecting multiples. "Twin pregnancies aren't ALWAYS considered high risk, however they should be treated differently as a singleton pregnancy," says Diaz. "The number one tip I would give her is to rest! It sounds so simple, but when women are as busy as Beyoncé is, it's easy to ignore what your body is telling you and just solider on. I would urge her to really LISTEN to her body. If she's tired, she has to rest. If she's hungry, she has to eat. This all sounds like such simple advice, but it's VERY difficult if you are used to burning the candle at both ends most of the time."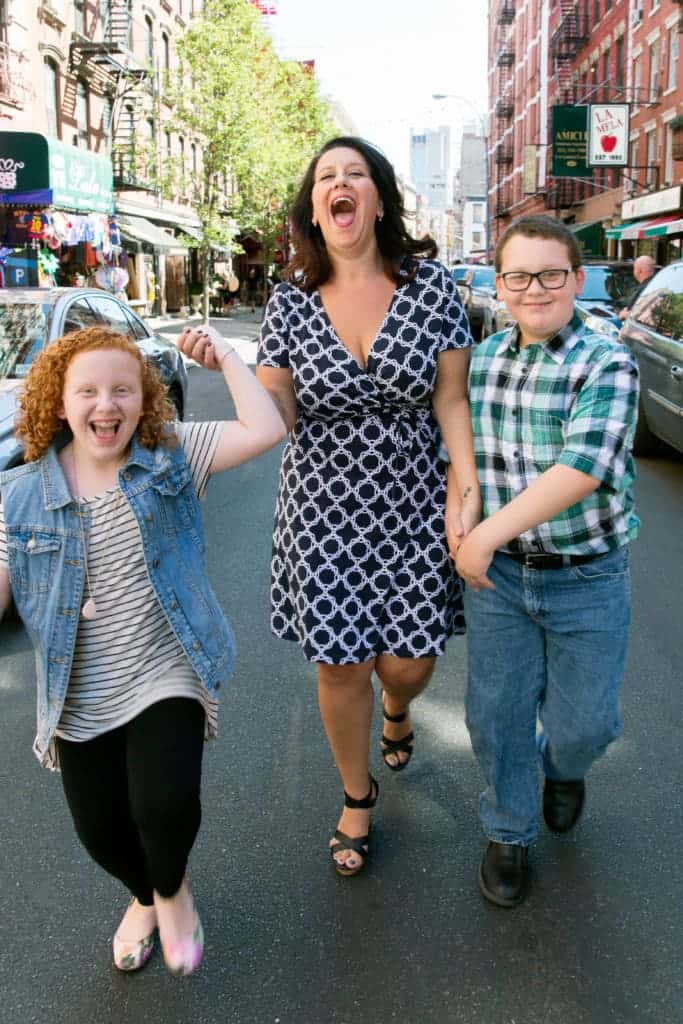 Natalie Diaz knows the challenges (and joy!) of expecting and raising twins. She is a NYC-based mother of 12 year old twins and founder of the world's first global support network for families of twins, Twiniversity.
Her best advice for Beyoncé after she gives birth? To ask for what she needs. "New moms often have a hard time asking for help because they think they can do it all. That's where things sometimes start to go wrong. New moms have to ask anyone and everyone for help if/when they need it…especially a new mom of twins. My next tip would be to STAY MEDICATED! If she has a C-section or vaginal delivery her doctor will tell her how much and when to take her pain medicine. If she stays ahead of it, she will be significantly more likely to get out of bed, breastfeed and get discharged in better shape."
READ ALSO Important: Moms Also Need Postnatal Care
Tips once you go home with twins
After you leave the hospital with your twins, things can get a bit complicated. Natalie is full of practical advice. "My final tip would be to figure out a seating assignment! In the hospital families take a ton of pictures, but with twins, you go home and play "Which baby is that?" with the photos. Maybe Baby A always has a bunny in her bassinet and Baby B has a dino. Maybe Baby A is always on the right and B on the left. Figure this out before you click that shutter for the first time. It will save you a WORLD of trouble when she and Jay Z are reviewing the pictures later on," shares Diaz.
Humor is your friend
Also, people will always have something to say, which can be annoying at times. "She is going to hear "Are they twins?" more then she's sold singles! It's the number one question that parents of twins get. She should have her comeback ready," advises the blogger and author. She also recommends using humor. A few suggested comebacks? "'No, this one is a loaner, this one is ours.' or 'Twins? I have two kids in this stroller?'  You have to come back with laughter, because folks don't know that you were asked the same question 10 times within the last 10 minutes. The other popular questions are 'Are they natural?' 'Are you breastfeeding?' 'Who's the older one?'. When strangers, or even family members, see twins, they lose their filter. They ask odd questions and can't believe their eyes."
Be prepared
"While having twins is still common, some folks still treat twin parents like they are a feature in a circus side show," says Natalie Diaz, who reaches over one million families a week in over 100 countries via Twiniversity. "So get ready! It's going to be amazing."
It will be wonderful to watch Beyonce, Jay Z, and Blue Ivy welcome two new members to their family, and we couldn't be happier for them. We wish the Carters all the best!
Find more parenting advice here.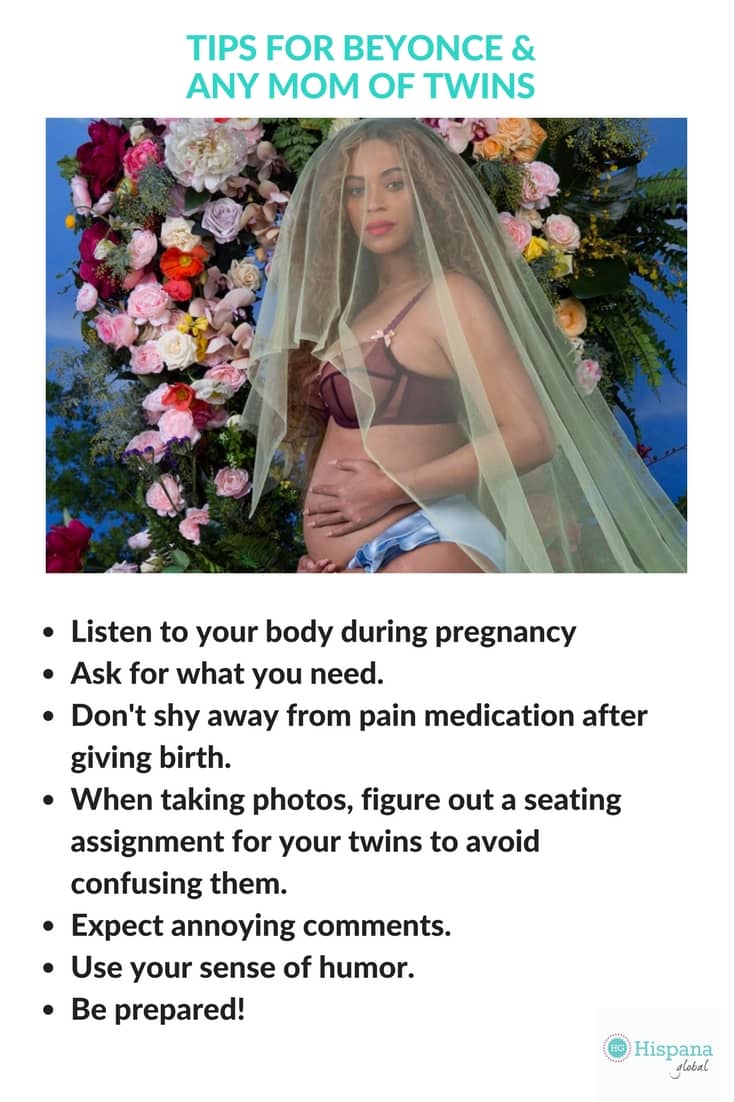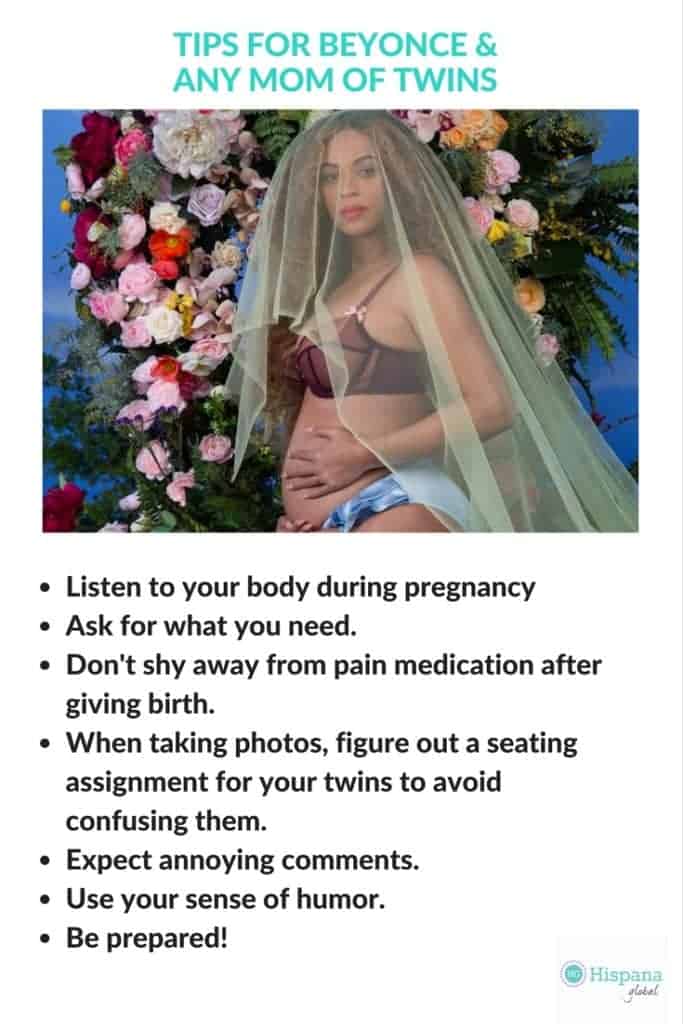 Summary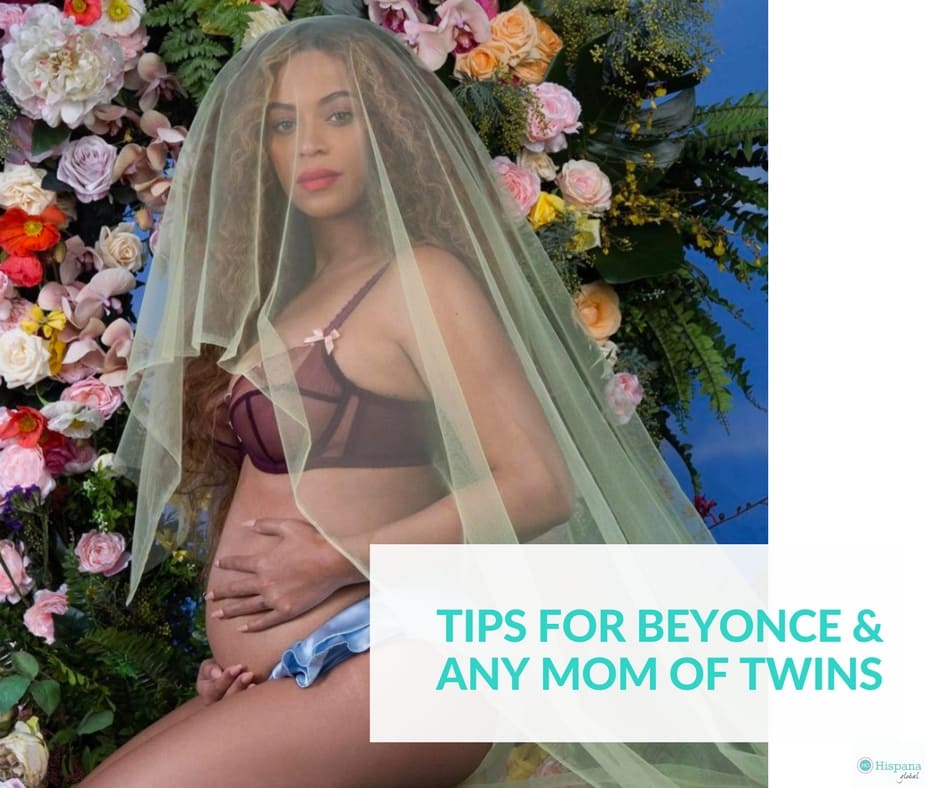 Article Name
Mom Of Twins Shares Her Best Tips For Beyonce
Description
Bestselling author and mom of twins Natalie Diaz has practical advice for pregnancy and beyond for Beyoncé.
Author
Publisher Name
Publisher Logo