7 Cool Facts About Olaf's Frozen Adventure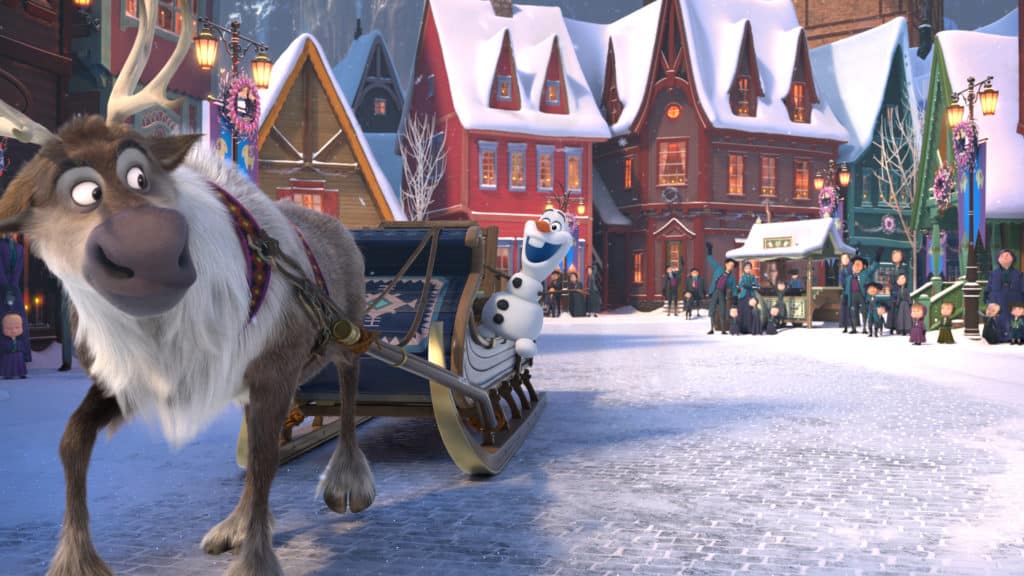 Frozen fans are over the moon now that Olaf's Frozen Adventure will be shown for a limited time right before the new Disney Pixar film Coco starting November 22. The adorable snowman now has his own featurette but you also will get to see Elsa, Anna, Sven and Kristoff.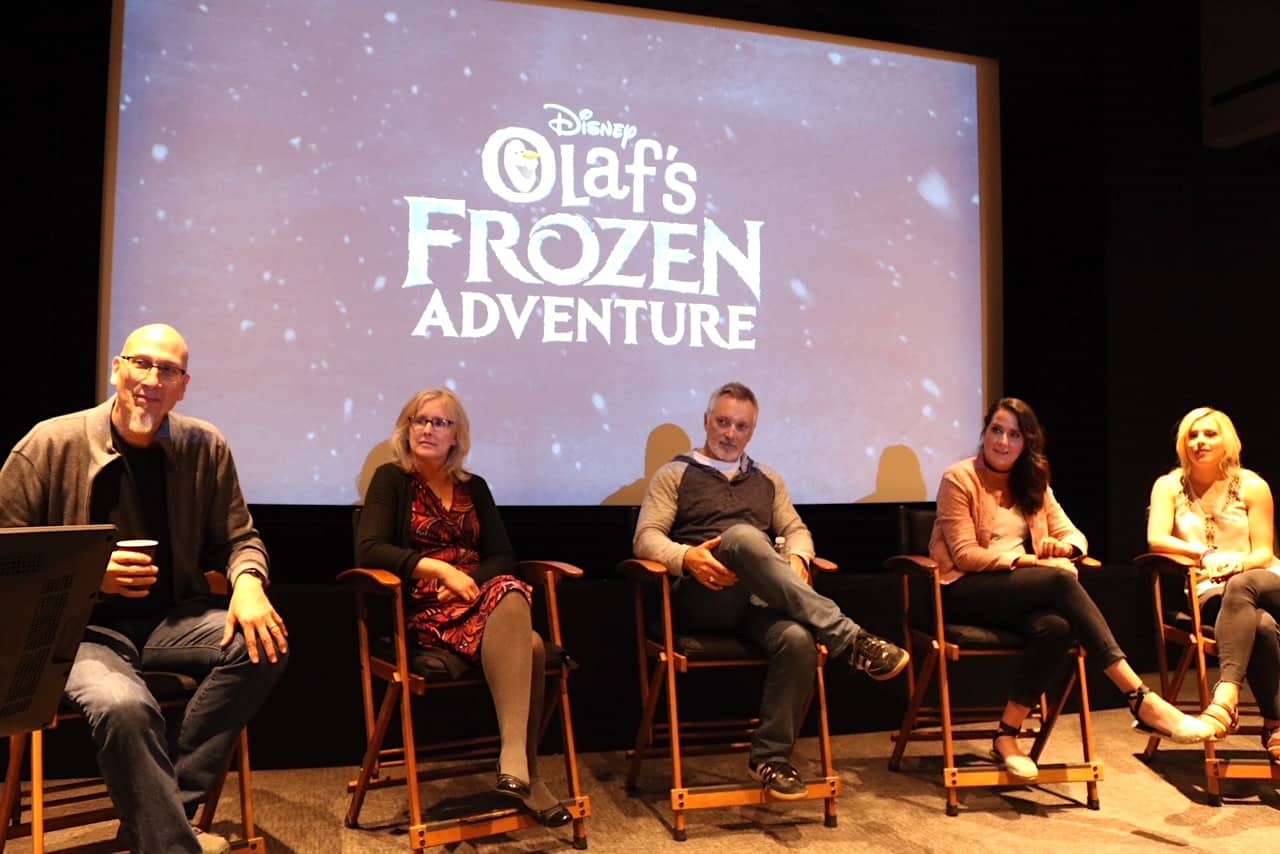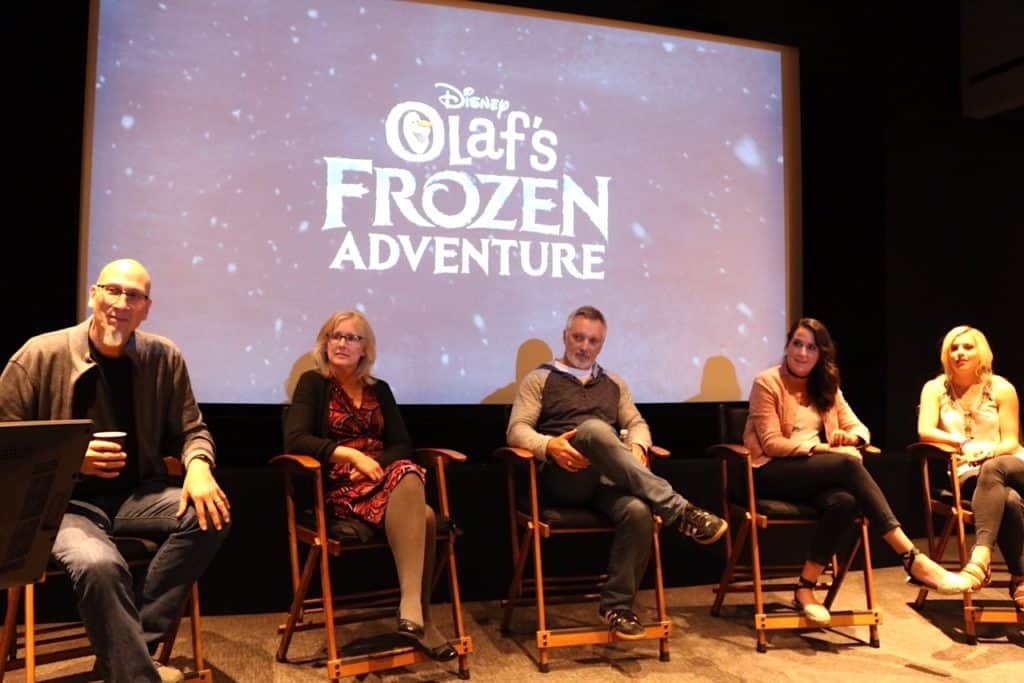 Filmmakers Roy Conli, Stevie Wermers-Skelton, and Kevin Deters were able to turn the sidekick, voiced by Josh Gad, into the main character of this 21 minute short film. The time constraint was their biggest challenge, and they even had to cut out a new character, Mr. Jingles.
What is Olaf's Frozen Adventure about? When the kingdom of Arendelle empties out for the holiday season, Anna and Elsa realize that they have no family traditions of their own. So Olaf sets out on a merry mission to bring home the very best traditions and save Christmas.
7 fun things to know about Olaf's Frozen Adventure
Here are 7 cool facts that I learned during a press event at Disney Animation Studios:

Olaf's Frozen Adventure takes place during the first holiday season after Arendelle's gates were reopened.
It took around a year and a half to make the 21 minute film.
The biggest challenge for the songwriters was the final song. Songwriters Kate Anderson and Elyssa Samsel said John Lasseter jokingly told them that he expected When We'e Together to be as memorable as Silent Night. No pressure, joked Kate Anderson. They also wrote 3 more original songs, and did the voiceover for the cute kittens you see during Olaf's big song.
Different family traditions are central to Olaf's Frozen Adventure. During Olaf's song "That Time of Year" you will see diverse holiday traditions represented. Aside from a Christmas tree, stockings, caroling and Scandinavian celebrations, there is even a Jewish menorah (also called Chanukkiah), and children playing with a dreidel. Pay close attention to all the objects in the sled. You will find several Easter eggs, including Baymax's fist!
Holiday sweaters inspired a beautiful scene. It required the filmmakers to use hand painted animation and stop motion techniques to get it right. The result was worth all the extra hours!
The animators had their own unique challenges. Animating the snow and getting it right was key. Also, animation supervisor Chad Sellers acts out the scenes while he is animating them to ensure they are realistic and that he captures the characters movements and personality.
Pay special attention to Elsa and Anna's dresses. The color palette reflects how closer they are. Also, Elsa's gown and cape overlay are spectacular. Watch how the cape moves throughout the initial scenes.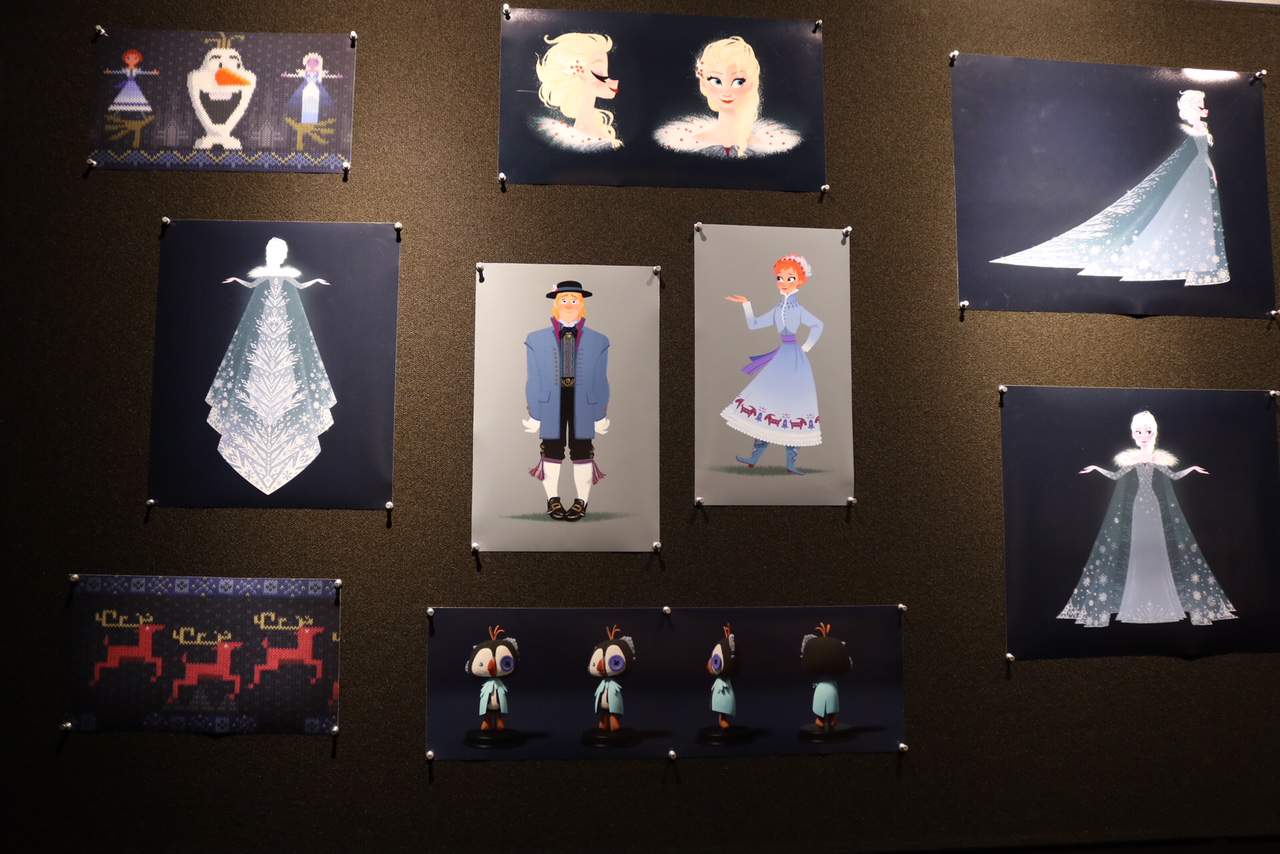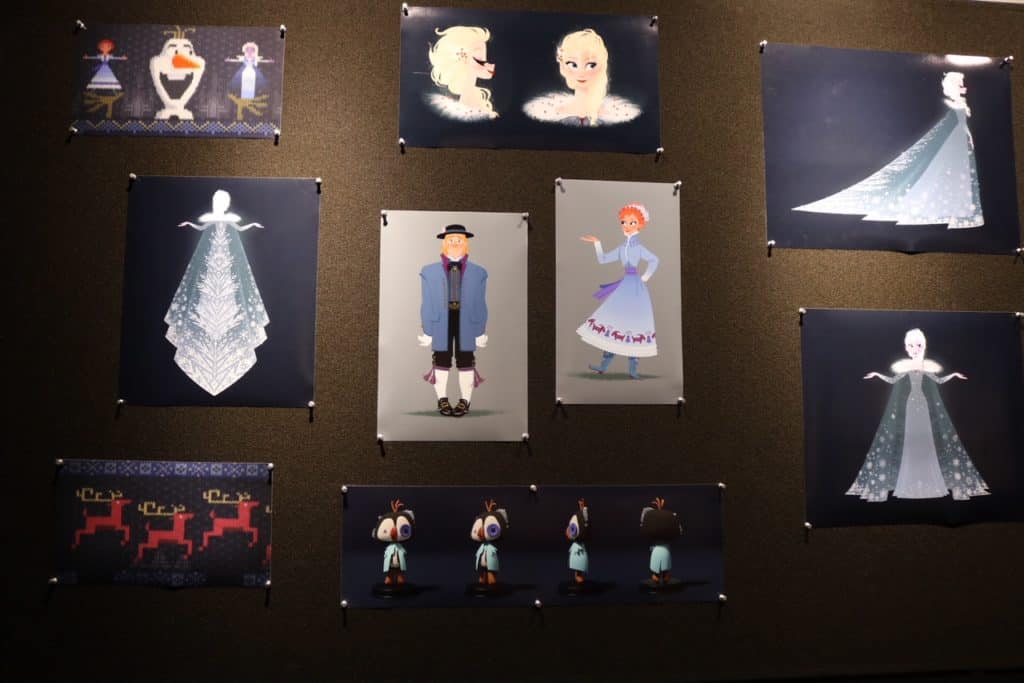 Are you excited to see again your favorite characters from Frozen? Let me know what you think of Olaf's Frozen Adventure once you see it.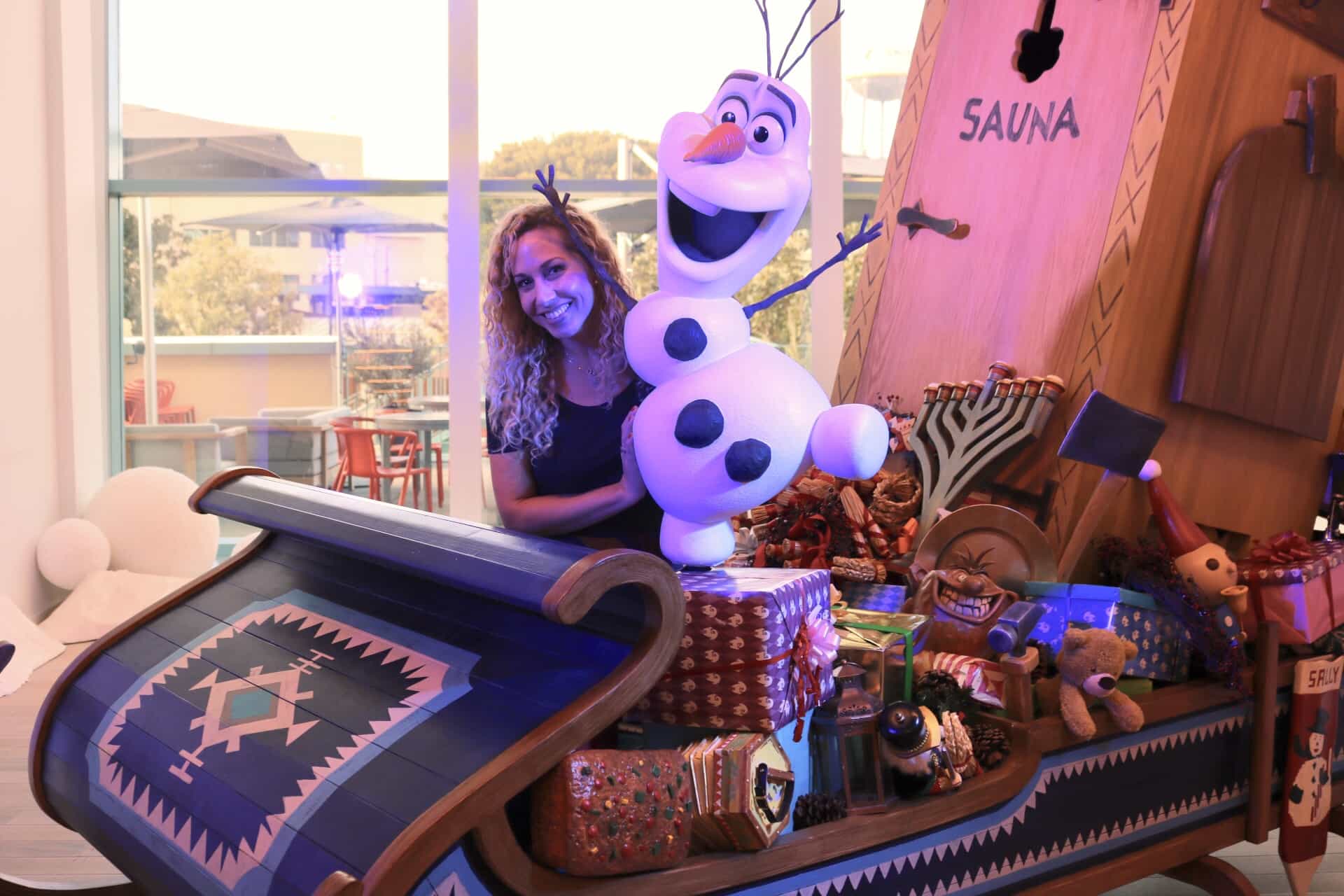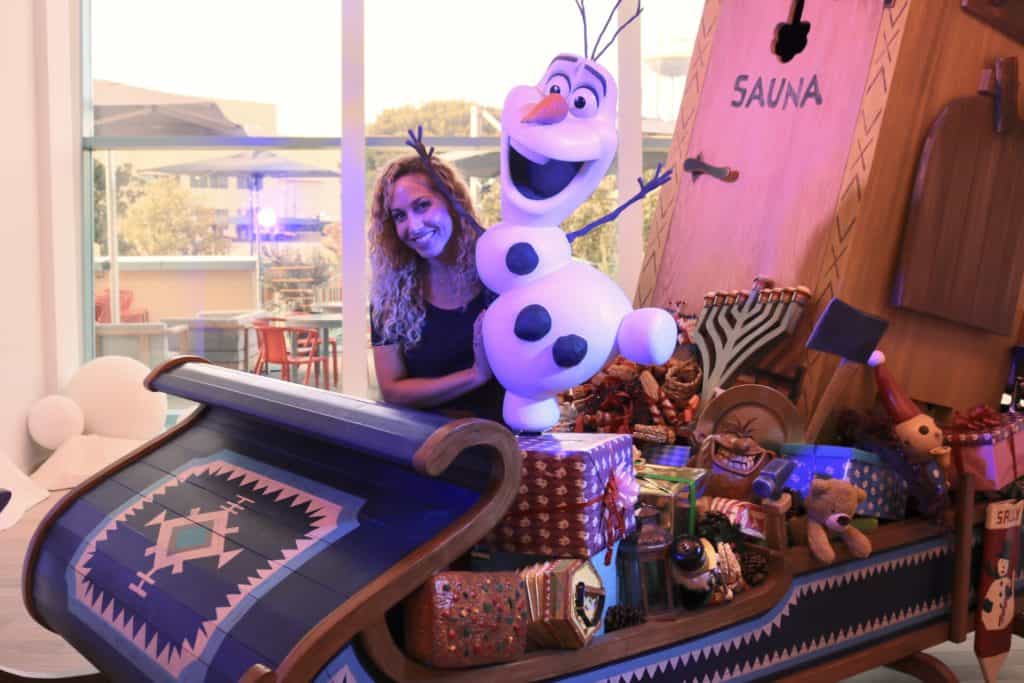 Disclosure: Disney invited me on a press trip for Coco's premiere but I did not receive compensation for my posts.