Refreshing Watermelon Blueberry Salad Recipe
When it comes to finding a refreshing summer recipe, nothing beats this delicious watermelon blueberry salad. It's the perfect side whenever you want something fresh and healthy, especially if you're planning a barbecue.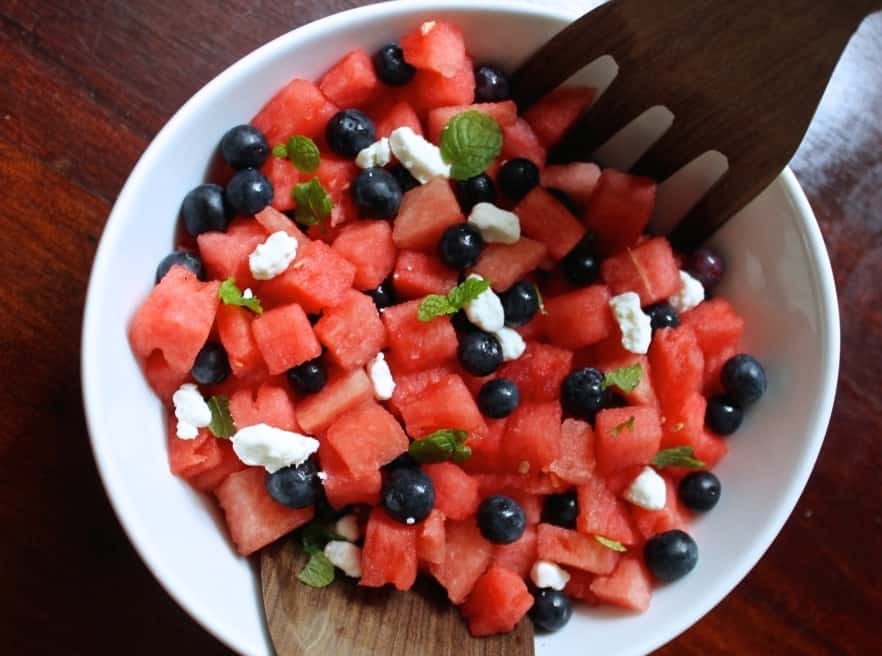 This watermelon, blueberry, and feta salad is not only super refreshing, but it's also very budget-friendly since both watermelon and blueberries are in full season. You just have to cube the watermelon, make sure it does not have seeds and mix it with the blueberries. If you add the juice of one lemon mixed with two tablespoons of honey, you will have an easy and healthy dessert or snack. Bonus? It's red, white and blue, so it's perfect for any 4th of July or patriotic celebration.
It's also especially yummy if you add a few leaves of fresh mint, feta cheese (or goat cheese, farmer's cheese or mozzarella) and dress with a little reduction of balsamic vinegar at serving time. I promise this will be your favorite summer salad!
More watermelon salad options
Whether you serve this salad as a dessert, snack, or as a side dish, if you want to vary it, you can add other seasonal fruits such as strawberries and melon, either cantaloupe or honeydew. If you like unexpected twists, add a chili powder like Mexican Tajin, which is amazing on watermelon.
Watermelon blueberry salad recipe
Refreshing Watermelon Blueberry Salad Recipe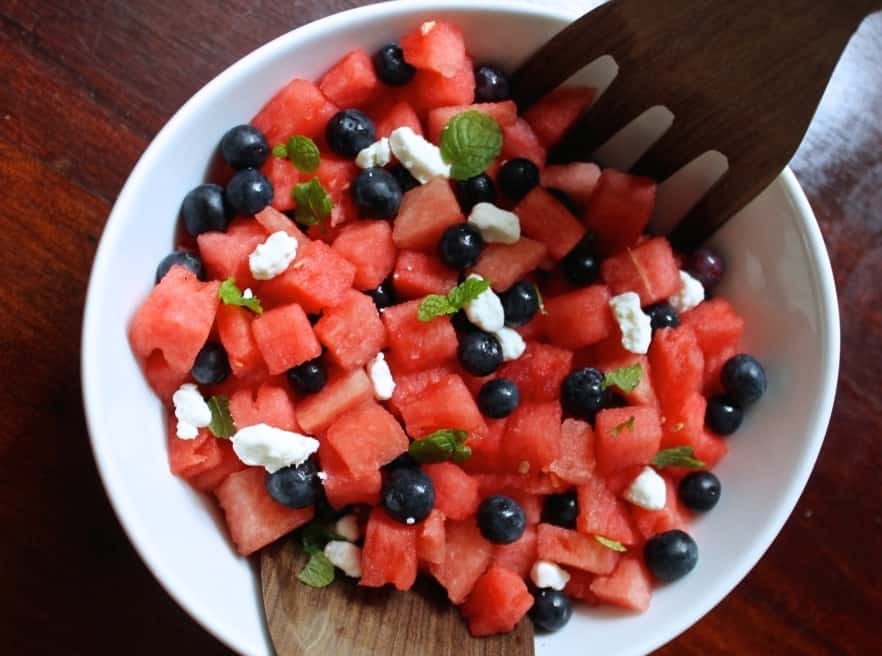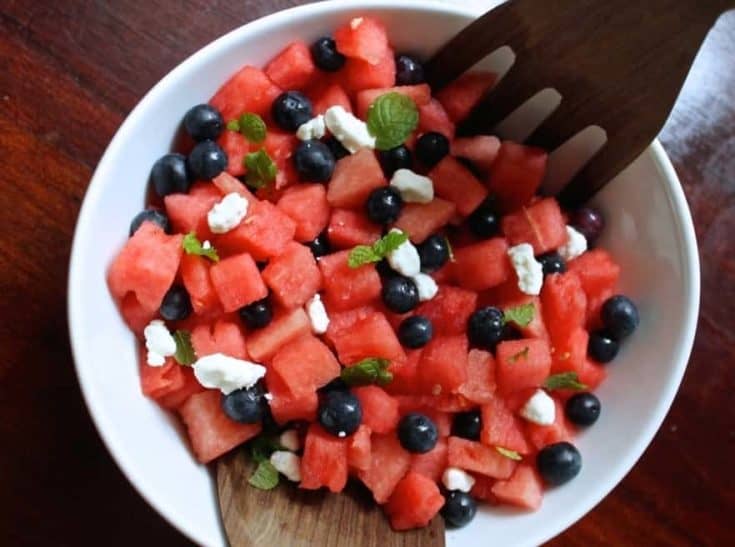 This refreshing and healthy watermelon salad has blueberries and feta cheese. Serve it with a balsamic vinegar reduction or try it with Mexican spices.
Ingredients
6 cups seedless watermelon, cubed (1/2 inch)
1 ½ cups blueberries
¾ cup of cheese, such as feta, goat cheese or mozzarella
2 tablespoons fresh mint
Balsamic vinegar, reduced
Instructions
In a big salad bowl, combine all the ingredients, except the balsamic vinegar reduction.

Cover and chill in the fridge until serving time.

Add the balsamic vinegar reduction right before serving.
We hope you try this delicious salad. Please remember to pin it on
Pinterest
!