Recipe for dessert lovers: banana crème brulée
With just six ingredients, this banana cardamom crème brulée recipe is a dessert lover's dream. Inspired by "The Hundred Foot Journey", DreamWorks Pictures' latest movie directed by Lasse Hallström, chef Bal Arneson crafted this delicious variation on the classic French favorite. Just print it out to have it handy next time you want to surprise everybody with a delectable dessert. The mix of banana, cardamom and fennel seeds give this crème brulée a very unique flavor. If your kids are not into spices, take out the fennel and cardamom and substitute for 1 tablespoon of real vanilla extract and when heating the mixture, add a vanilla stick.
Find more recipes inspired by this movie here.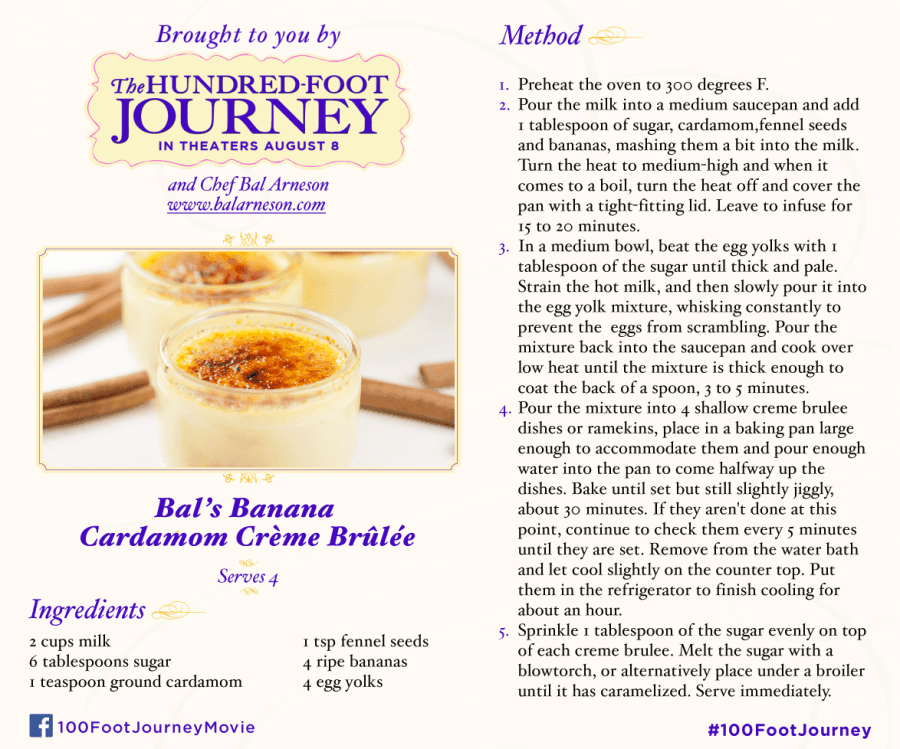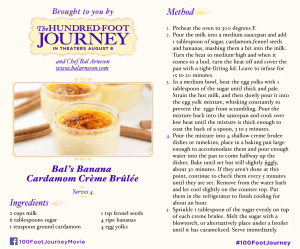 About The Hundred Foot Journey
In "The Hundred-Foot Journey," Hassan Kadam (Manish Dayal) is a culinary ingénue with the gastronomic equivalent of perfect pitch. Displaced from their native India, the Kadam family, led by Papa (Om Puri), settles in the quaint village of Saint-Antonin-Noble-Val in the south of France. Filled with charm, it is both picturesque and elegant – the ideal place to settle down and open an Indian restaurant, Maison Mumbai. That is, until the chilly chef proprietress of Le Saule Pleureur, a Michelin-starred, classical French restaurant run by Madame Mallory (Academy Award®-winner Helen Mirren) gets wind of it. Her icy protests against the new Indian restaurant a hundred feet from her own escalate into a heated battle between the two establishments until Hassan's passion for French haute cuisine — and for Madame Mallory's enchanting sous chef, Marguerite (Charlotte Le Bon) — combine with his mysteriously-delicious talent to weave magic between their two cultures and imbue Saint-Antonin with the flavors of life that even Madame Mallory cannot ignore. At first Madame Mallory's culinary rival, she eventually recognizes Hassan's gift as a chef and takes him under her wing.