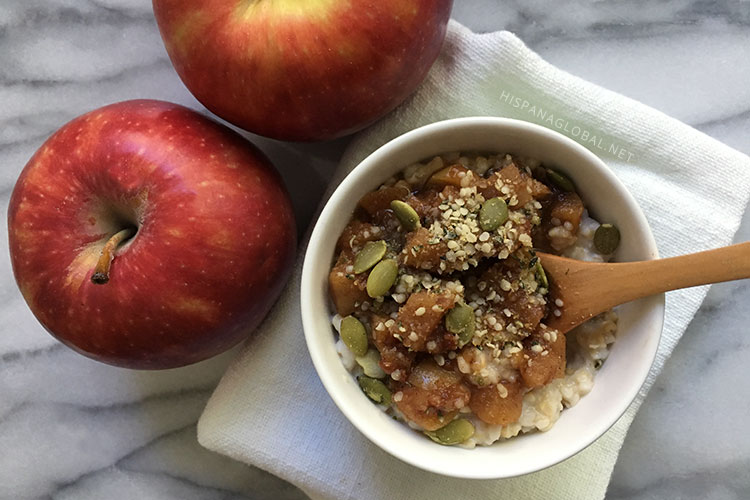 Although steel cut oatmeal takes longer to make, it also takes longer to digest, which means it will keep you (and the kids) feeling fuller, longer. This recipe is really easy to make in advance and portion out for weekdays to either heat up in the morning or put in a container to take on the go and microwave at the office. Adults and kids alike will love this hearty breakfast!
Steel cut oats are slightly less processed than regular old-fashioned rolled oats; they have more protein and calcium than old-fashioned rolled oats and instant oats, and twice the amount of soluble fiber. Each 1/4 cup of steel cut oats makes about 1 cup of cooked oats and contains about 170 calories.
The brown rice syrup in this recipe provides just a little sweetness in addition to the Medjool dates, but also serves as a thickening agent when paired with the dates so the apples don't get watery when you cook them down. This way, you don't have to add any refined table sugar at all to sweeten the oatmeal. Although brown rice syrup is still considered a sugar, one serving is two tablespoons of syrup (the same amount used in the recipe here) and when divided by the amount of servings, there's actually very little added sugar per serving (about 5.5 grams if you divide this recipe into four servings). Most of the flavor comes naturally from the apples, cinnamon and the nutty-tasting topping.
You can store the cooked apple mixture in an airtight container in the refrigerator for up to a week.
ALSO READ: 3-Ingredient Breakfast Cookies for Busy Mornings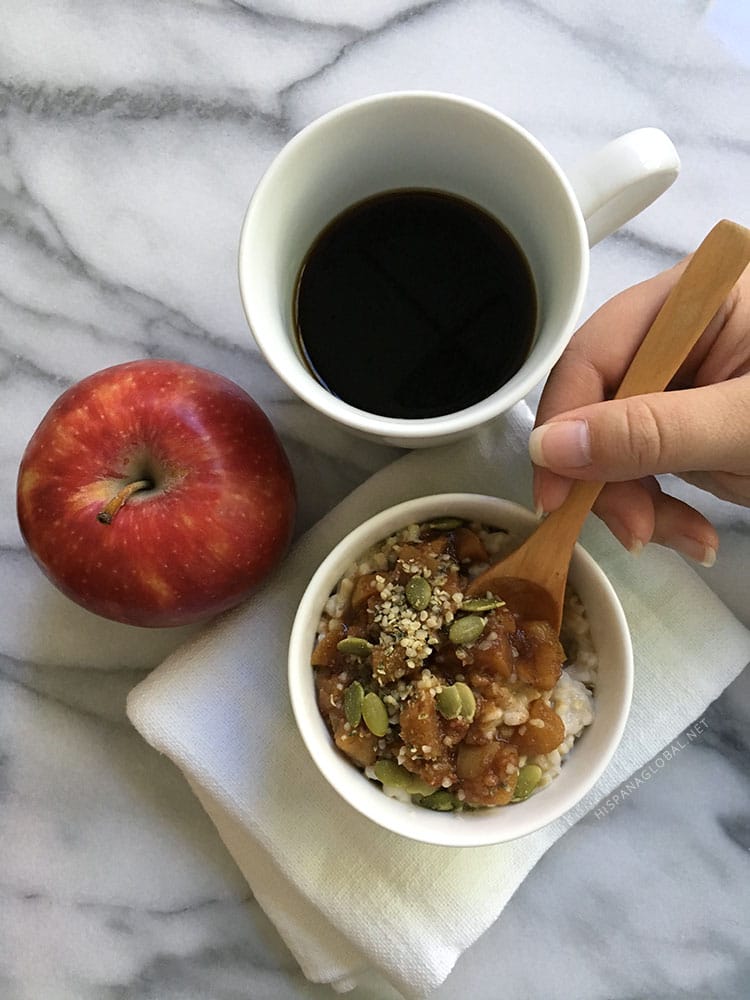 Oatmeal With Apple Cinnamon Compote and Pepitas
Author:
Maura Wall Hernandez
Prep time:
Cook time:
Total time:
An easy, homemade breakfast that you can make in advance and portion out for the week ahead.
Ingredients
OATS
1 cup steel cut oats
¼ teaspoon kosher salt
3 cups water
(or prepared to package directions)
Optional for serving: a few tablespoons of almond milk to moisten the oatmeal and make it creamy
APPLE CINNAMON COMPOTE
⅓ cup hot water
3 Medjool dates, pitted and soaked in the ⅓ cup hot water to soften
1 large, firm apple (such as Jonagold or other firm apple suitable for baking) diced
2 tablespoons brown rice syrup
1 to 1½ teaspoons ground cinnamon, or more to taste
PEPITA TOPPING
2 tablespoons pepitas (the green shelled pumpkin seeds)
2 tablespoons hemp seeds
1½ tablespoons ground flax seed
Instructions
TO MAKE THE APPLE CINNAMON COMPOTE: Heat ⅓ cup water for about 1 minute in the microwave in a glass measuring cup. Add 3 pitted Medjool dates to the hot water to soak for about 10 minutes while you move on to the next step.
Dice one large firm apple, leaving the skin on.
After the dates have softened a bit, pour the water and dates into a small food processor or blender and blend until mostly smooth.
Add diced apple, blended dates, 2 tablespoons brown rice syrup and 1 to 1½ teaspoons of ground cinnamon to a small saucepan. You may need a spatula to get the date mixture out of the blender or food processor cup. Mix with a spoon to evenly coat the apple with the cinnamon and brown rice syrup, and cook over medium heat.
Stir occasionally. If it begins to boil, reduce heat to low. Cook about 20 minutes or until apples are soft, but not mushy.
TO MAKE THE OATMEAL: Bring 3 cups water and ¼ teaspoon kosher salt to a boil, then add steel cut oats. Stir to wet all the oats, turn the heat down to medium-low and cover. Cook for 20-25 minutes, depending on the consistency you like. (Or prepare according to package directions.)
TO MAKE THE TOPPING: Mix 2 tablespoons pepitas, 2 tablespoons hemp seeds and 1½ tablespoons ground flaxseed. Store in an airtight container.
TO ASSEMBLE THE OATMEAL: Spoon portion of oatmeal into a bowl. Add two tablespoons almond milk per serving and stir to make oatmeal creamy, if desired. Top with a heaping spoonful of the apple compote and a sprinkle the pepita, hemp seed and flaxseed mixture on top.
Notes
This recipe is gluten-free and dairy-free, but please read the packaging on all products you buy to ensure safety if you have food allergies.
ALSO READ:
Beet, Orange and Carrot Juice with Honey