Recipe: Delicious Day of the Dead Bread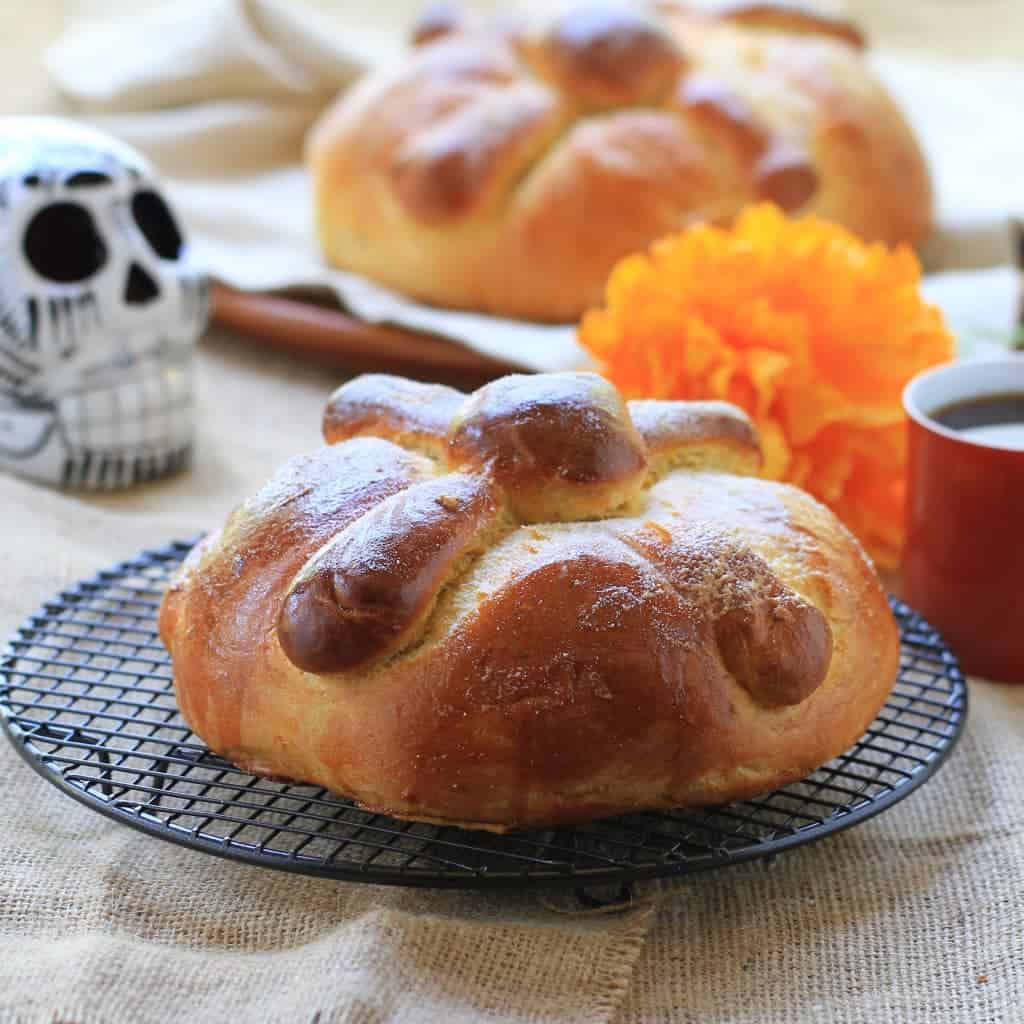 In many countries like Mexico loved ones who have passed away are honored and remembered on the Day of the Dead or Dia de los Muertos on November 2nd. It's also traditional to bake Pan de Muertos or a special Day of the Dead bread, which is actually truly delicious. With just the right combination of crisp and sweet,  loved ones eat pan de muerto as well as the dead relative's favorite foods as part of this special day. Check out more recipes here.
READ ALSO: Easy Dia de los Muertos or Day of the Dead Makeup Tutorial
Pan de Muertos or Day of the Dead Bread
Ingredients:
BREADS
4 1/2 to 5 1/2 cups all-purpose flour plus additional,divided
1/2 cup granulated sugar
1 tablespoon anise seeds
1 teaspoon salt
2 packets (1/4 oz.each) rapid-rising dry yeast
2/3 cup (5 fl.-oz. can) NESTLÉ® CARNATION® Evaporated Milk
1/3 cup water
1/2 cup (1 stick) butter, cut into pieces
4 large eggs, slightly beaten
GLAZE
1/2 cup granulated sugar
1/3 cup orange juice
Granulated or coarse ground sugar
Directions
FOR BREADS:
COMBINE 1 1/2 cups flour, 1/2 cup sugar, anise seeds, salt and yeast in large mixer bowl.
HEAT evaporated milk, water and butter over low heat in medium saucepan until mixture reaches 115° to 120° F. and butter is melted. (If too hot, let it cool a bit before adding to dry ingredients.)
MAKE a well in the center of the flour mixture; pour in milk mixture. Beat with electric mixer on medium speed until blended.
ADD eggs and 1 1/2 cups flour; mix well. Gradually add remaining 1 1/2 to 2 1/2 cupsflour (1/2 cup at a time) mixing well after each addition until dough is smooth but not sticky (You may not need all the flour).
PLACE dough on lightly floured surface; knead 10 to 15 minutes or until dough is moderately stiff, smooth and elastic. Additional flour may be needed to help prevent sticking.
PLACE dough in large greased bowl; turn over. Cover with greased plastic wrap. Let rise at room temperature for 60 to 75 minutes or until doubled in size.
PUNCH dough down.
CUT dough into 4 equal portions to make 3 "loaves" and 1 for decorations.
SHAPE 3 of the portions into round loaves on lightly floured surface, kneading as necessary. Place on greased baking sheet(s). Keep all dough portions covered with greased plastic wrap to prevent drying of dough.
SHAPE remaining dough portion into 3 small balls, tears, braids and/or bones.
TO DECORATE, place 1 small ball on top of round loaf, surrounding each ball with the remaining decorations. To adhere shapes to dough, gently score decorations, as well as areas on each loaf that decorations will be attached to. Adhere with dabs of water.
LOOSELY COVER with greased plastic wrap. Allow to rise at room temperature for another 30 minutes or until nearly doubled.
PREHEAT oven to 350º F.
BAKE loaves for 20 minutes. Meanwhile, prepare the glaze.
FOR THE GLAZE:
COMBINE 1/2 cup sugar and orange juice in small saucepan. Bring mixture to a boil over medium heat. Continue cooking, stirring frequently, until syrup is formed, about 5 minutes. (Mixture may bubble up; remove from heat if it does, stir and then return to heat.) Remove from heat.
FINAL TOUCHES:                                    
BRUSH loaves with syrup.
SPRINKLE with sugar; return to oven. Continue baking for an additional 5 to 10 minutes or until golden brown and sounds hollow when tapped.
TIP: Sprinkle colored sugar on loaves.
En español: Receta deliciosa de pan de muerto