3 Easy recipes to honor the Day of the Dead or Dia de los Muertos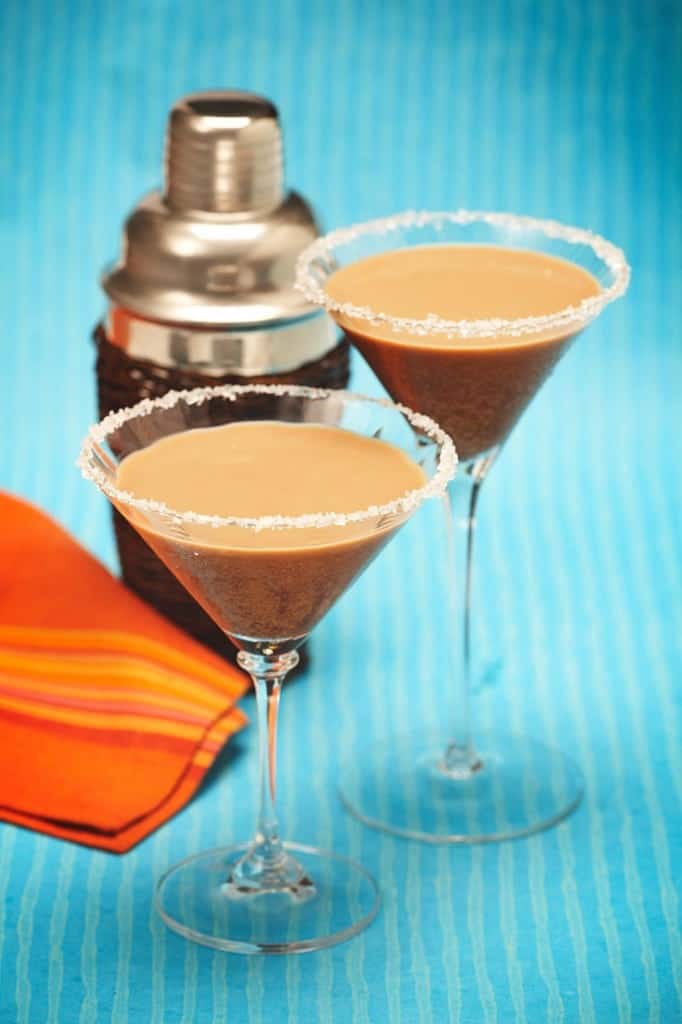 The Day of the Dead or Día de los Muertos as it is called in Mexico is quickly approaching. On November 1, our Hispanic culture remembers those loved ones that have passed away on this special day. It is customary to make sugar skulls (calaveras), chocolate skulls or even use a paper plate to make your own calaverita, like the craft I showed on Despierta América. Michael's has a great line of crafts for the Day of the Dead o Día de los Muertos created by Kathy Cano Murillo (Crafty Chica), which I highly recommend.
If you're looking for typical food, here are 3 recipes that are super easy so you can honor your loved ones while enjoying a special treat for the Day of the Dead. You can also find the recipe for the traditional Pan de Muertos here.
READ ALSO: Easy Dia de los Muertos or Day of the Dead Makeup Tutorial
Recipe: Coffee Martini for Dia de los Muertos
Prep Time: 5 mins
Servings: 4 Martini glasses
Ingredients
3 tablespoons hot water
2 teaspoons instant coffee like NESCAFÉ CLÁSICO Pure Instant Coffee Granules
1 cup milk
1/4 cup chocolate syrup
2 tablespoons vodka
2 tablespoons coffee liqueur
Instructions
Fill pitcher or cocktail shaker with hot water and coffee granules; stir until coffee is dissolved.
Add milk, chocolate syrup, vodka, and coffee liqueur.
Fill with ice cubes.
Stir or shake for 10 to 15 seconds.
Strain into 4 Martini glasses. Serve immediately.
Sugar Skull Cookies or calaveritas recipe for the Day of the Dead


Prep Time: 20 mins
Cooking Time: 13 mins
Standing Time: 20 mins
Servings: 24
Ingredients
1 3/4 cups all-purpose flour
3/4 teaspoon baking soda
1/4 teaspoon salt
1/2 cup (1 stick) butter
2 tablets (90 grams each) NESTLÉ ABUELITA Chocolate
2/3 cup granulated sugar
1 large egg
4 individual boxes WONKA SweeTARTS Skulls N' Bones (found in WONKA Monster Treats assorted candy bag)
Instructions
Preheat oven to 375° F.
Combine flour, baking soda and salt in medium bowl; set aside.
Place butter and chocolate in medium saucepan. Cook over medium-low heat, stirring frequently, for 5 minutes or until completely melted and smooth; let cool for 10 minutes.
Beat chocolate mixture and sugar in large mixer bowl. Add egg; beat until combined. Gradually add flour mixture, beating just until blended.
Shape rounded tablespoon of dough into ball. Flatten ball into a disk and shape into a skull by pinching sides of bottom quarter of dough. Repeat with remaining dough.
Place cookies 2 inches apart on ungreased baking sheets.
Bake for 8 to 9 minutes or until golden around edges. Immediately press Skulls N' Bones onto cookies to form eyes and mouth.
Cool on baking sheets for 2 minutes; remove to wire racks to cool completely.
Café de Olla Atole recipe
Prep Time: 5 mins
Cooking Time: 15 mins
Yield Size: 4
Yield Description: up to 6 servings
Ingredients:
4 cups milk
3 tablespoons cornstarch
1/2 cup granulated sugar
3 tablespoons instant coffee like NESCAFÉ Café de Olla
2 teaspoons vanilla extract
Ground cinnamon for garnish
Instructions:
Combine milk and cornstarch in medium saucepan and whisk until combined.
Add sugar and coffee granules; cook over medium-low heat, stirring constantly for about 15 minutes or until thickened (do not boil).
Remove from heat and add vanilla extract.
Serve warm and sprinkled with cinnamon.
Serving Suggestions: This fragrant atole is wonderful with pan de muertos.