Do we need a Latina Disney Princess?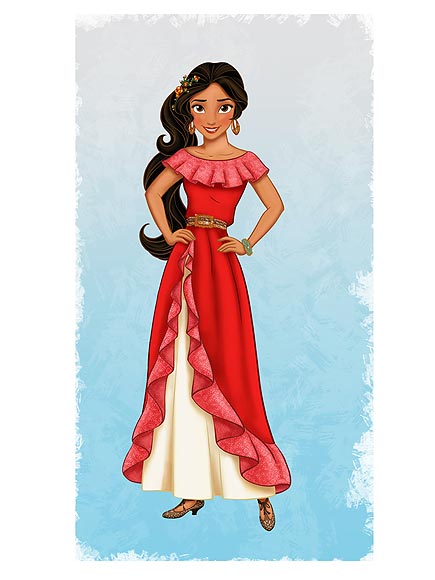 Disney Junior finally announced that there will be a Latina princess named Elena and there have been mixed reactions.  I still remember the controversy that erupted a couple of years ago with Princess Sofia the First, because at first it was said that she was Latina, something Disney later denied. At that time I defended the fact that Sofia, just like my own daughter, did not look like the typical Latina we see in movies and television but could totally be a Hispanic girl. Both the dress and appearance of Princess Elena of Avalor, a fictional character who is trapped in Princess Sofia's amulet, have been amply criticized in just a few hours. Many say that she looks too much like Jasmine, something that does ring true if you look at both princesses side by side.
Others criticize Disney for once again featuring the typical Latina stereotype with tan complexion, dark eyes and a traditional Central American dress. Although my daughter does not look anything like Elena, I hope that this Disney Princess reflects the Latino culture. That's what matters most to me, because I'm proud of my Hispanic roots and I want my daughter to be proud, too, when she sees Spanish speakers represented in the media.
So when some people even question whether it was necessary to have a Latina Disney princess, my answer is clear: of course we needed one! Our girls need to be reflected in Dinsey's stories, either physically or because they identify culturally. I always said that the most important elements are the context, history and cultural significance of the character, much more than the color of the heroine's hair or eyes. In my case, my daughter is more like Belle but I'm sure she'll feel closer to Elena since her grandmother plays such an important role in her life. Seeing Latin American traditions, references and culture on a TV show will also help her identify with this princess. That's what I hope!
We won't really know until 2016, when Princess Elena will debut during a Sofia the First episode and then will get her own series. The voice belongs to the Dominican actress Aimee Carrero, so at least we know that a Latina will give life to this new Disney princess.
What do you think? Do you like Disney's first official Latina princess? Do you agree that it was necessary to have one?
Photo courtesy of Disney Junior