Fun DIY: How to make a heart wreath with puzzle pieces
If you're looking for a fun yet frugal Valentine's Day craft, this heart wreath is a clever way to reuse puzzle pieces. Even better: it's a smart way to use puzzles that have missing pieces.
Upgrade your home décor with this cute wreath and let your family know that you love them to pieces!
Dollar Store Heart Wreath DIY with puzzle pieces
Puzzle, 100 Piece
Washable Markers
Craft Paint – White, Red, Light Pink and Hot Pink
Baker's Twine – Red and White
Cardstock – White, 1" by 11" Rectangle
Chipboard (think recycled cereal or cracker boxes)
Newspaper or Freezer Paper (to protect work surface)
Glue Gun and Glue Sticks
Scissors
Craft Knife and Self-Healing Mat
Paper Trimmer
Ruler
Paintbrush
Pencil
Heart wreath pattern
Instructions:
STEP ONE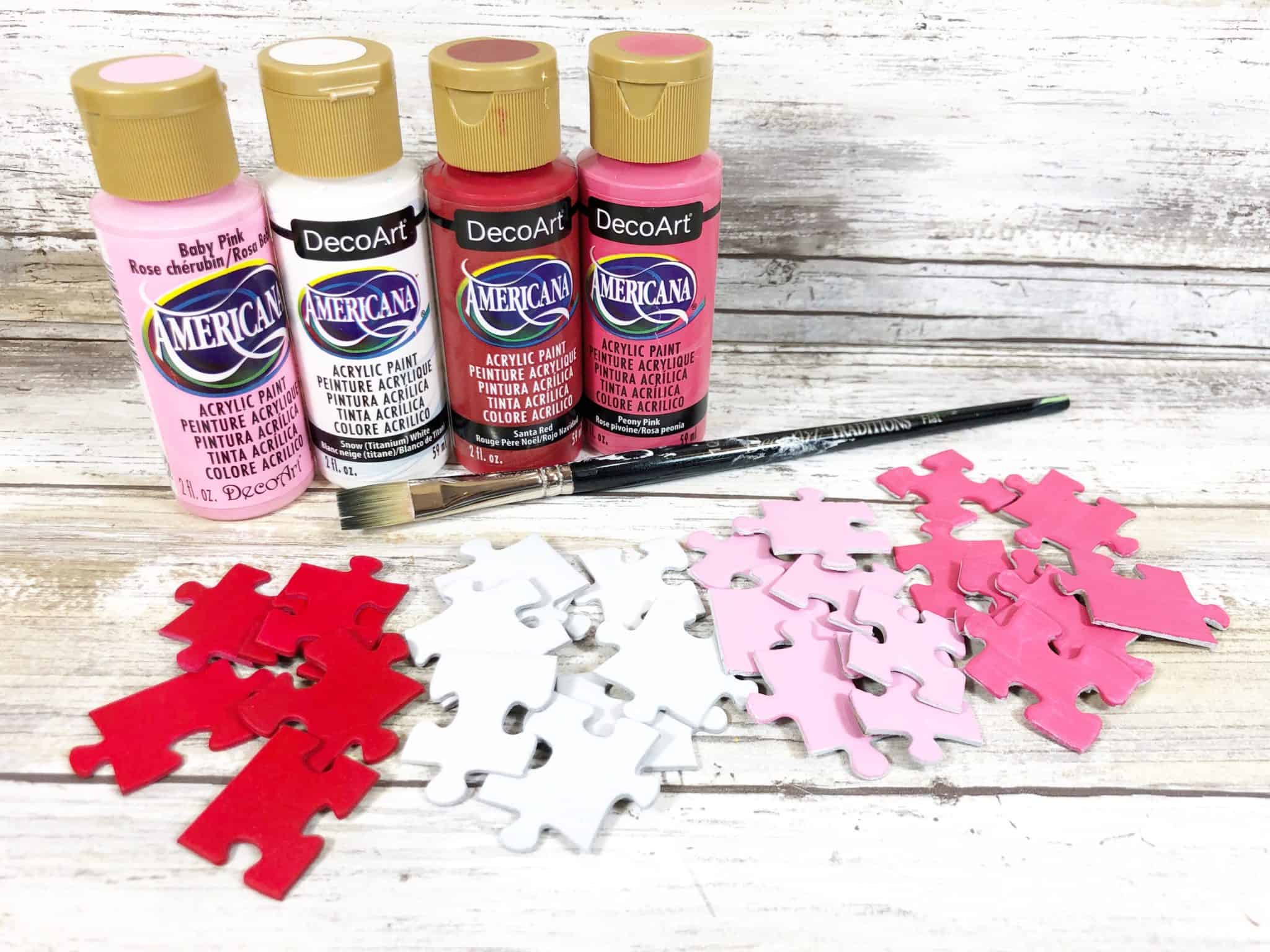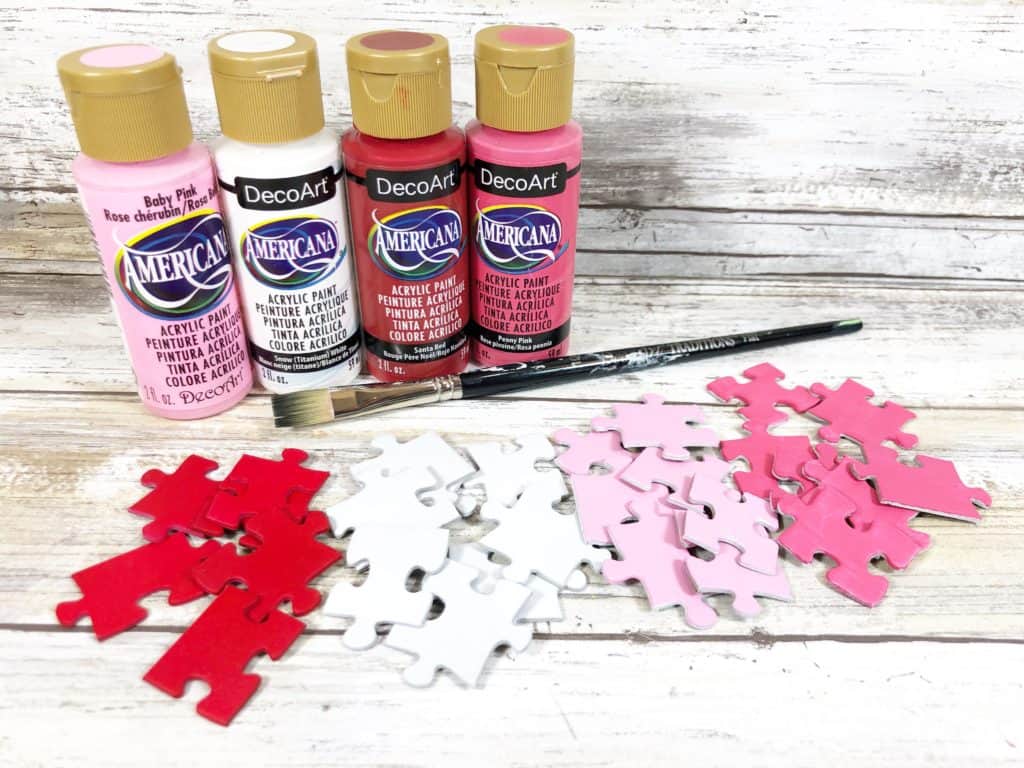 Gather all supplies. Basecoat 25 puzzle pieces white, 25 red, 25 hot pink and 25 light pink. Set aside to dry and apply a second coat, if necessary. Freezer paper makes a great, inexpensive cover for your work surface.
STEP TWO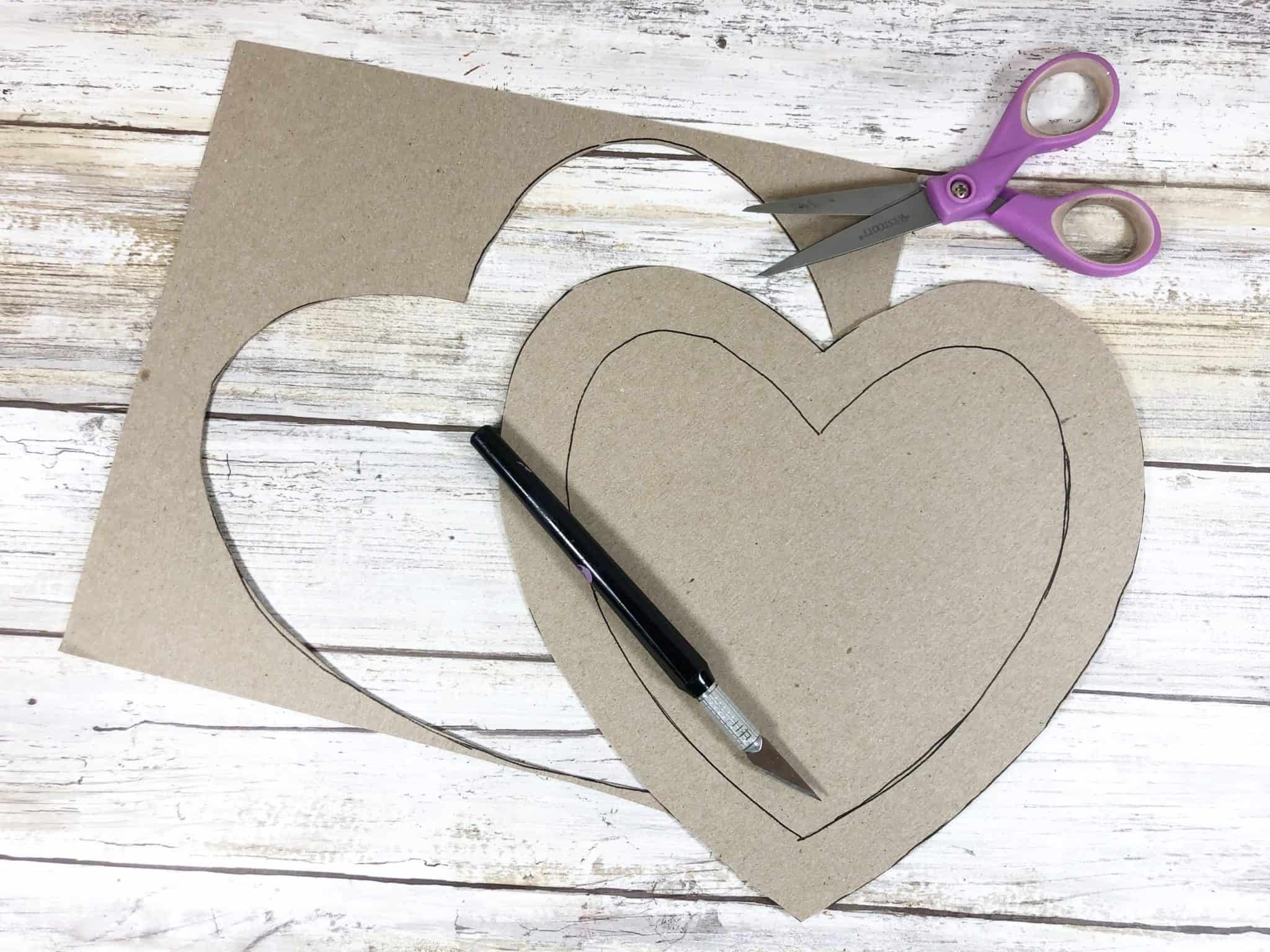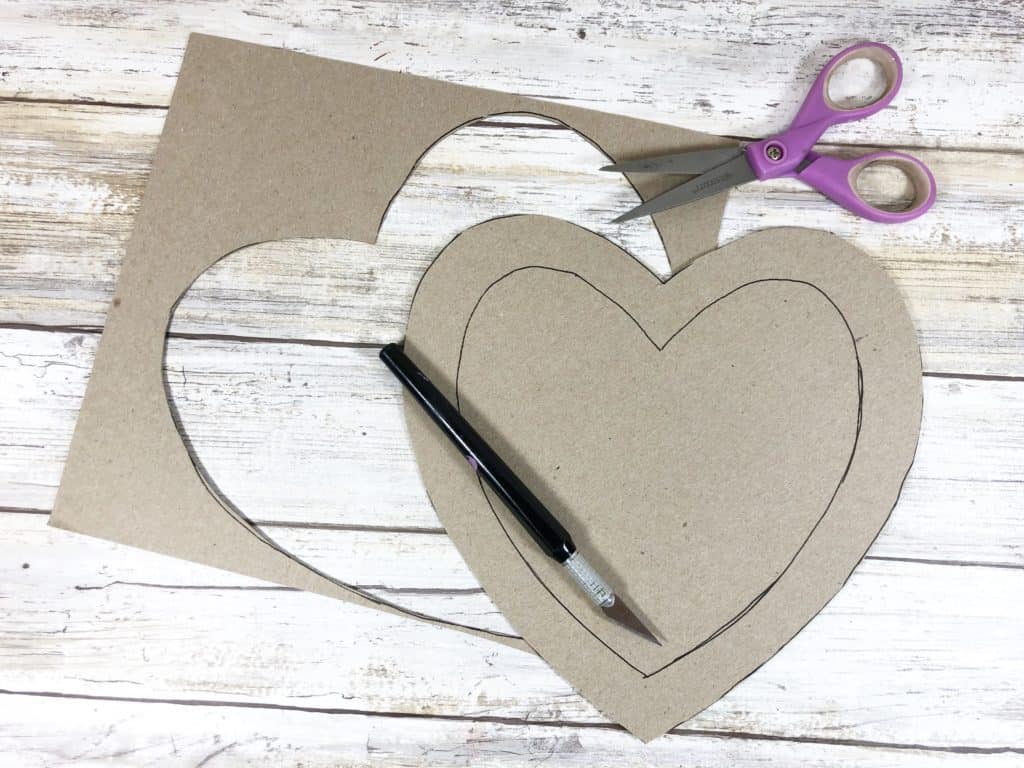 Download, print and cut heart wreath pattern . Trace onto chipboard, cut outside with scissors and inside with craft knife on a self-healing mat.
STEP THREE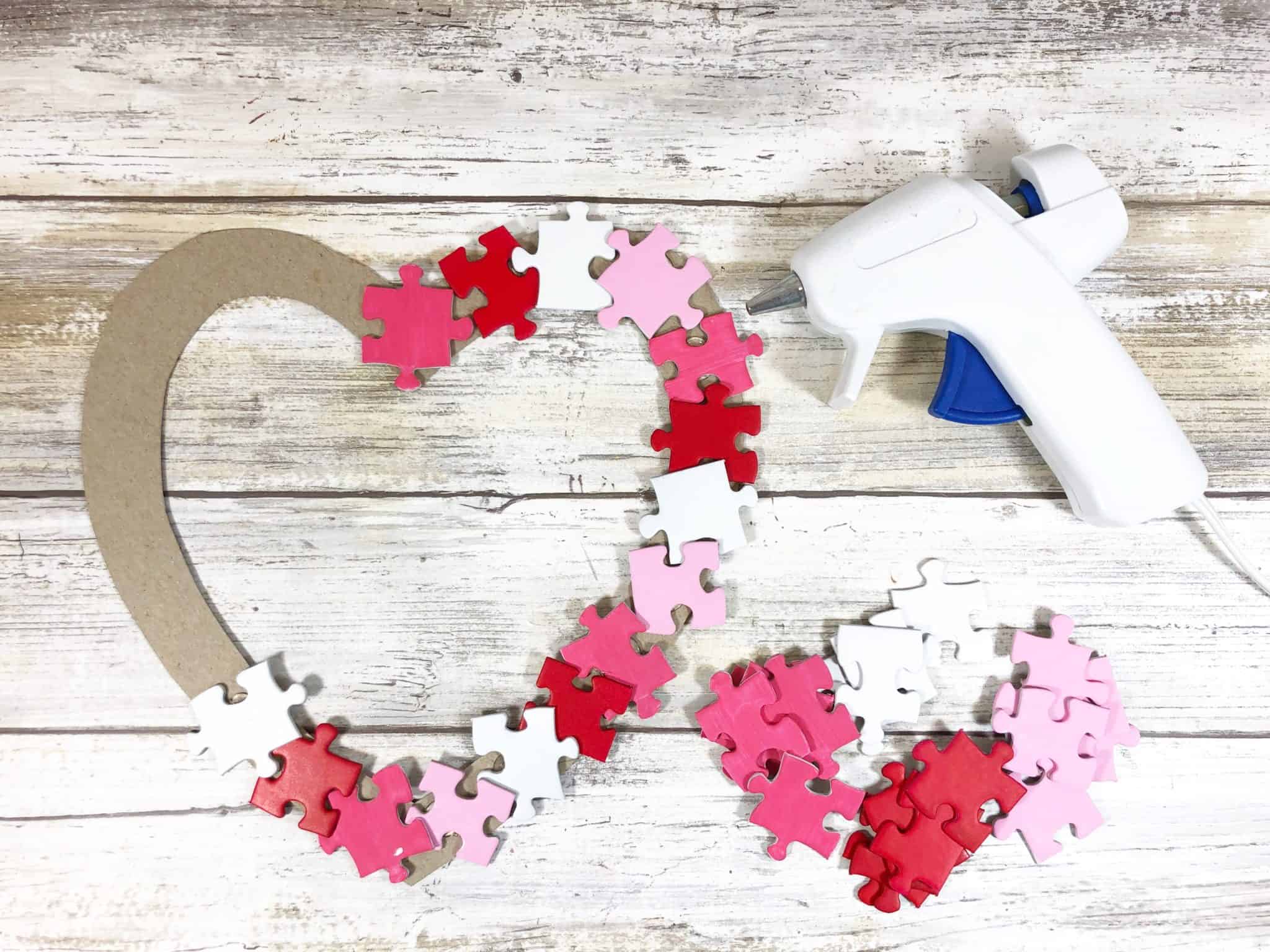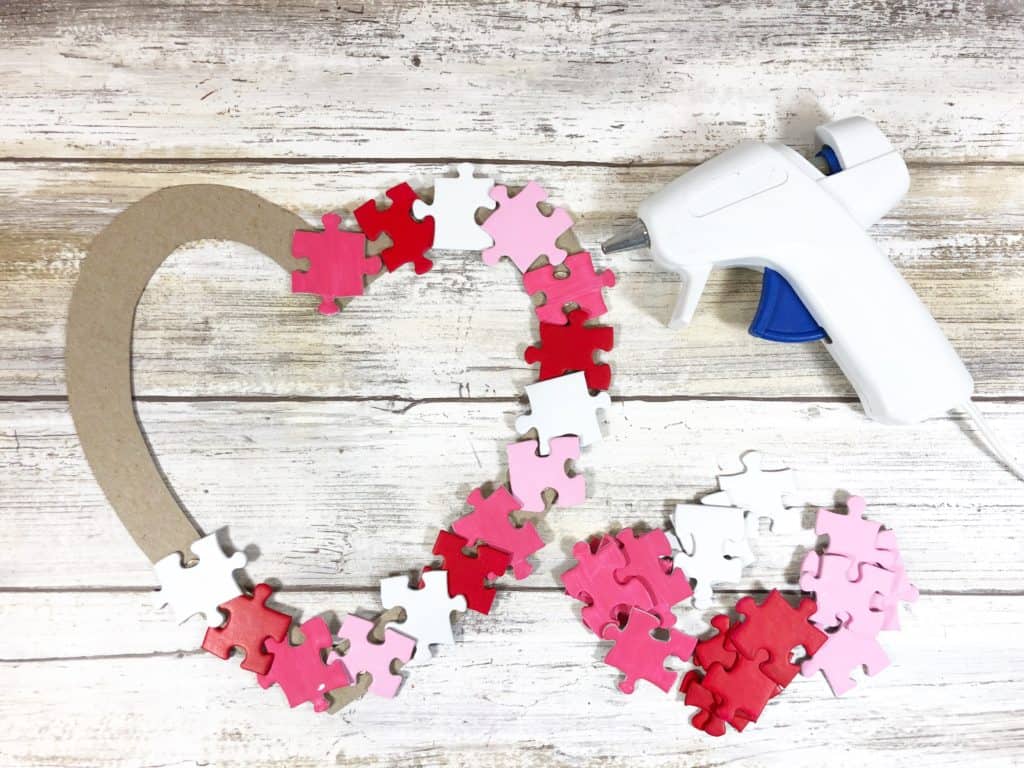 Randomly attach puzzle pieces to heart wreath base with the glue gun and glue sticks.
STEP FOUR
Apply a second layer of puzzle pieces over top of the first layer. Mix and match the colors and shapes to create an organic pattern.
STEP FIVE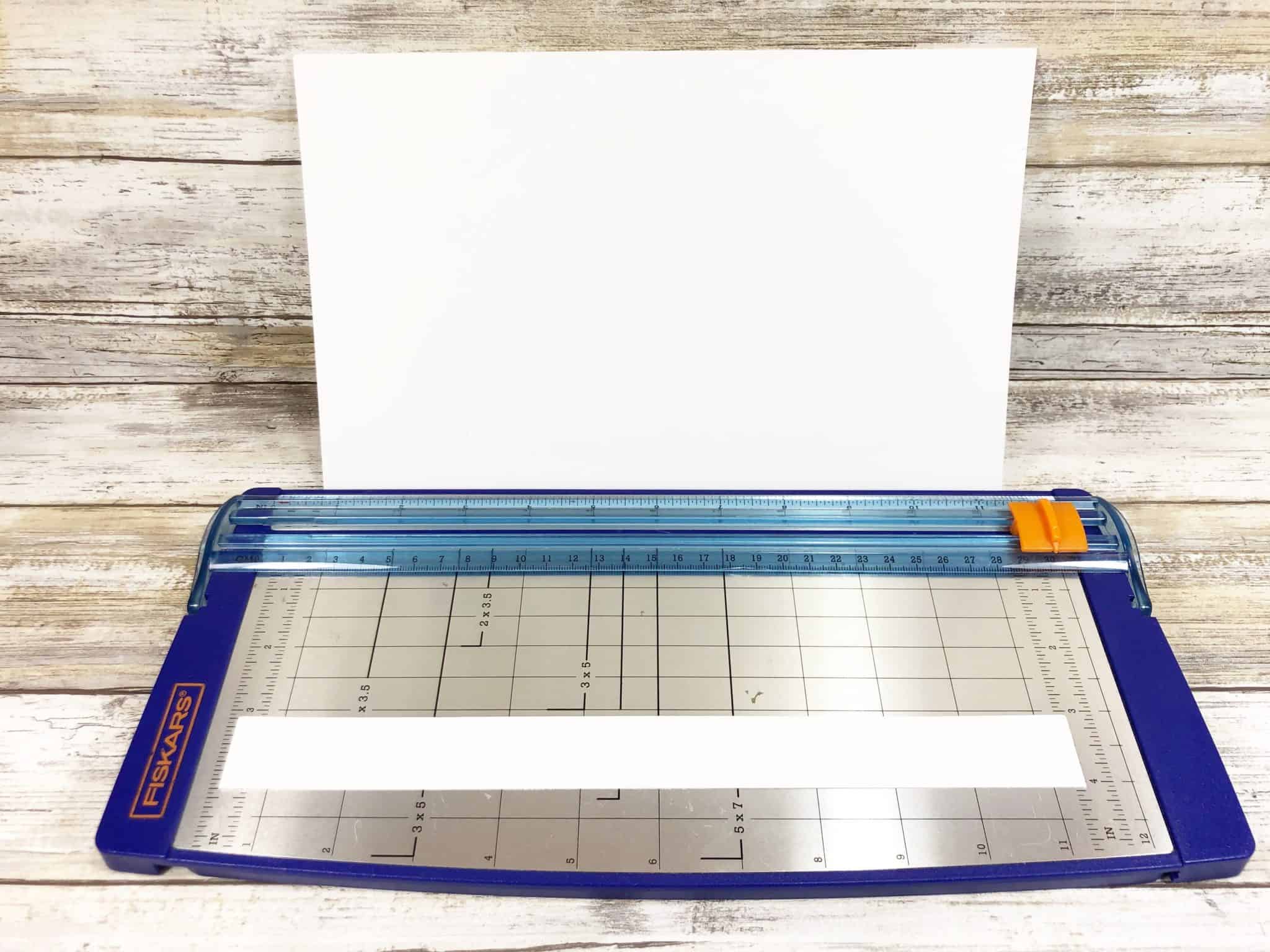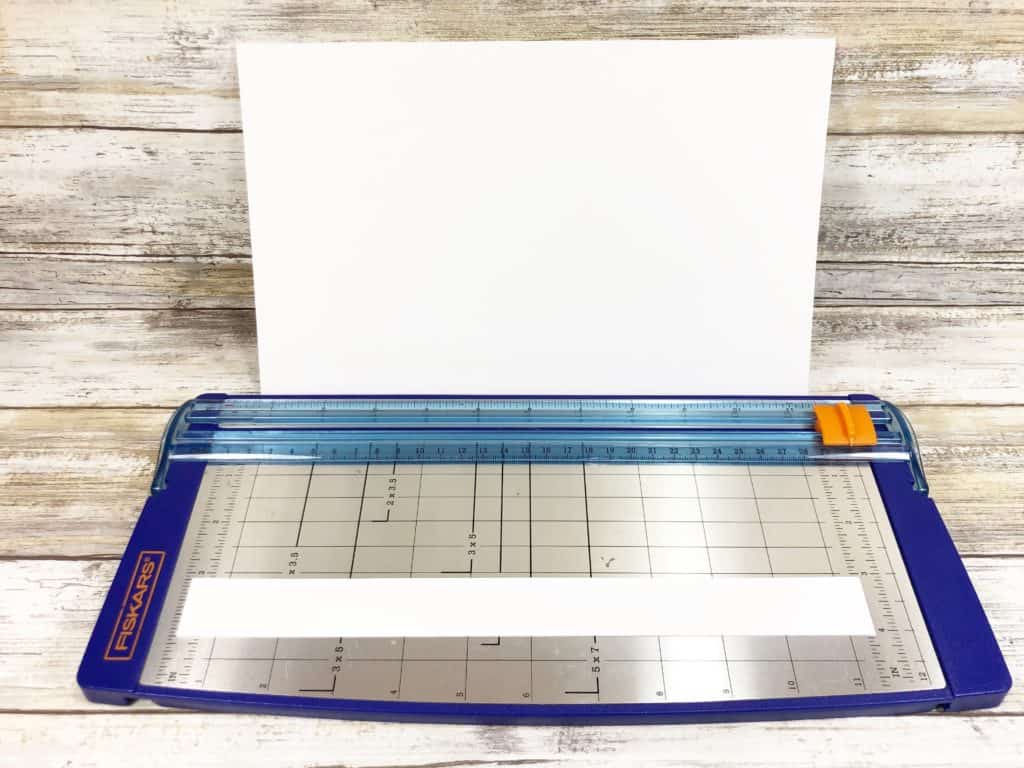 Measure and cut a rectangle of white cardstock one-inch wide and eleven-inches wide.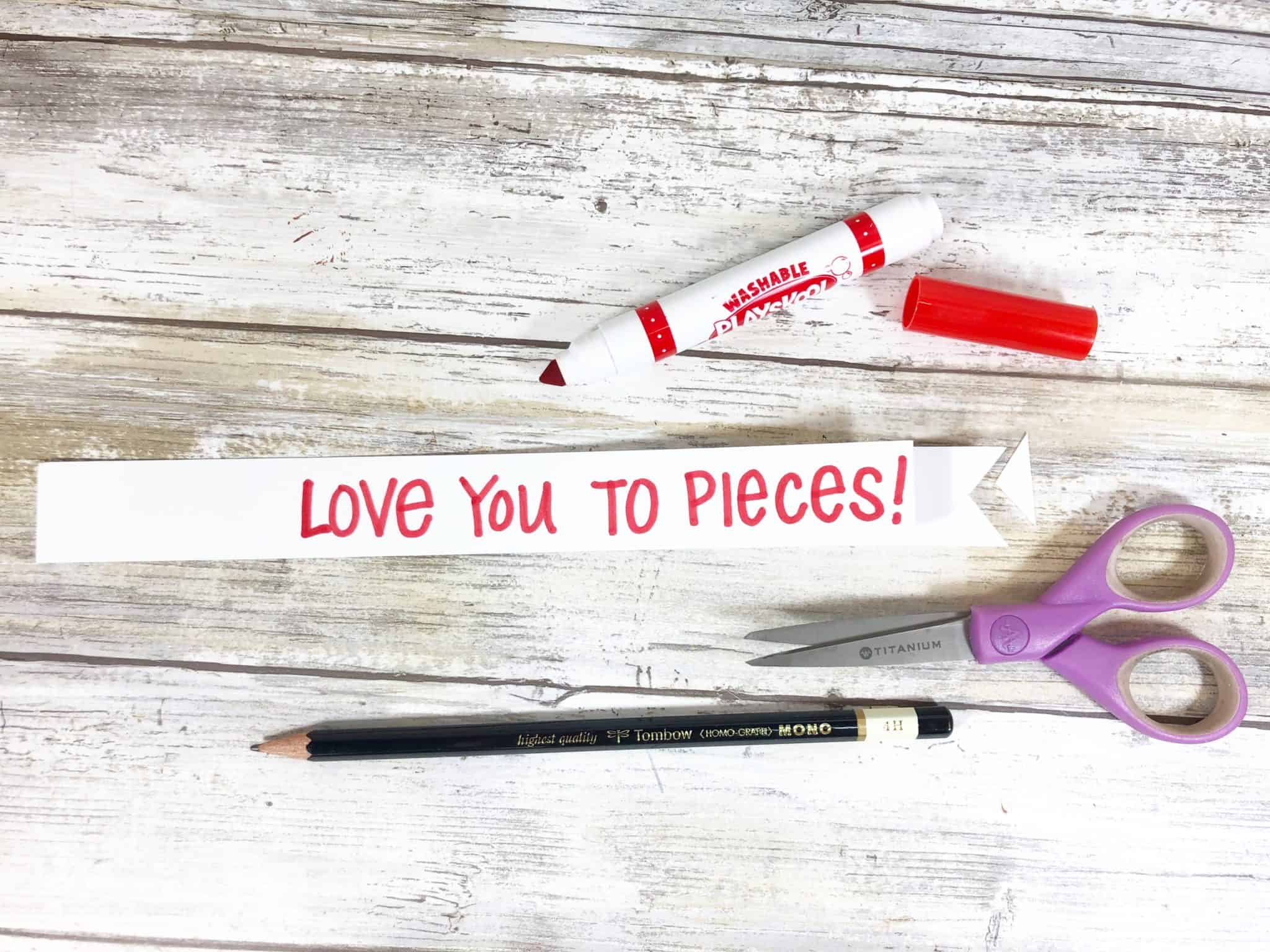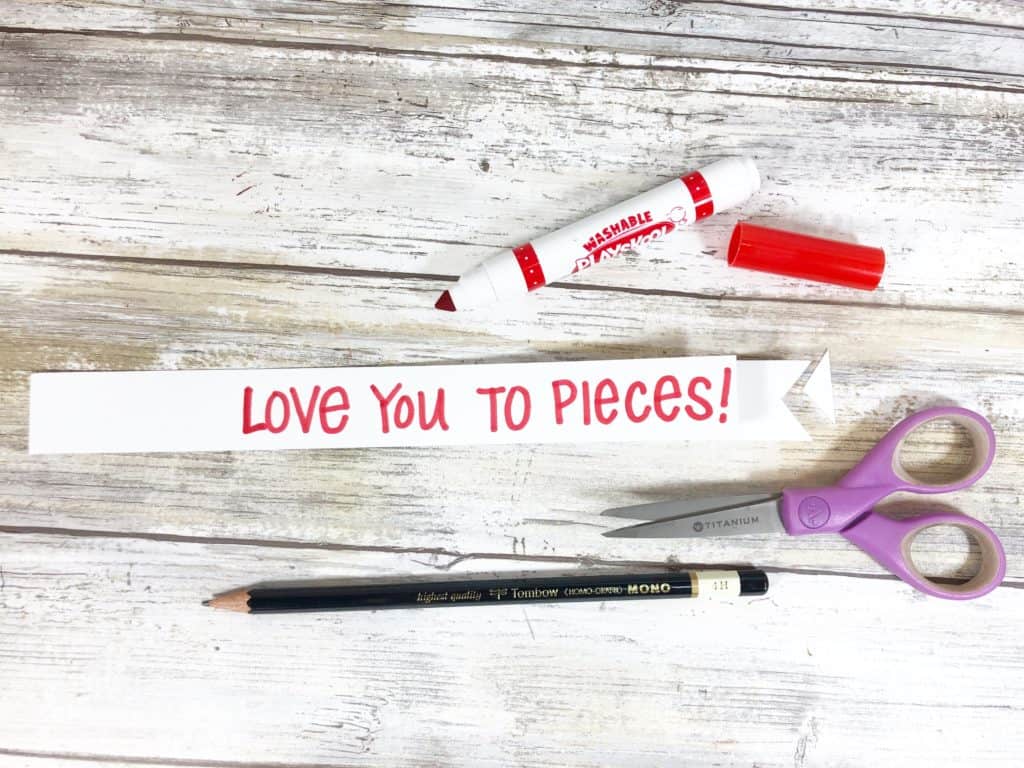 Find the center and write the message "Love You To Pieces" in pencil and then in red marker. Cut a fishtail in each end of the cardstock with scissors.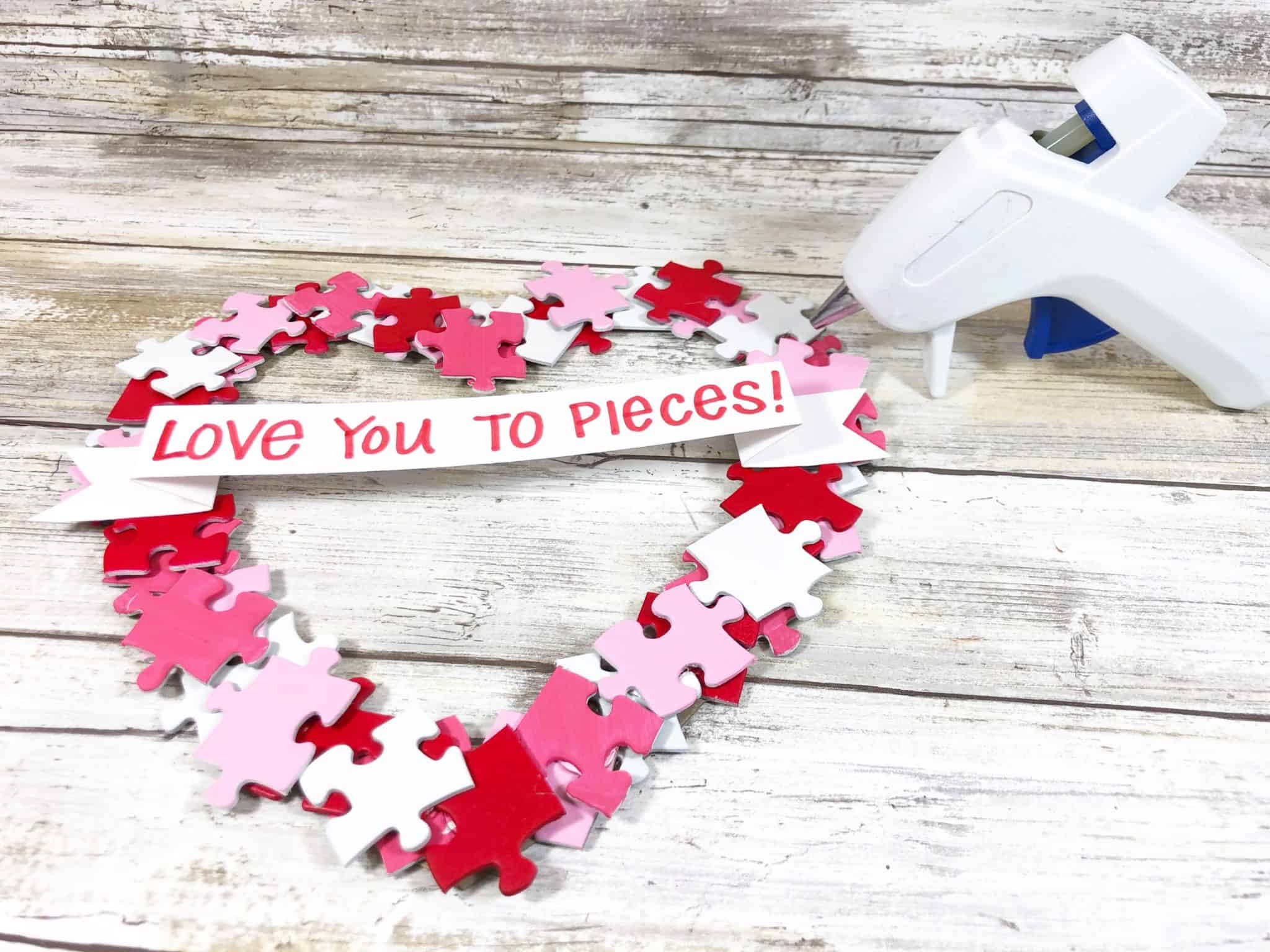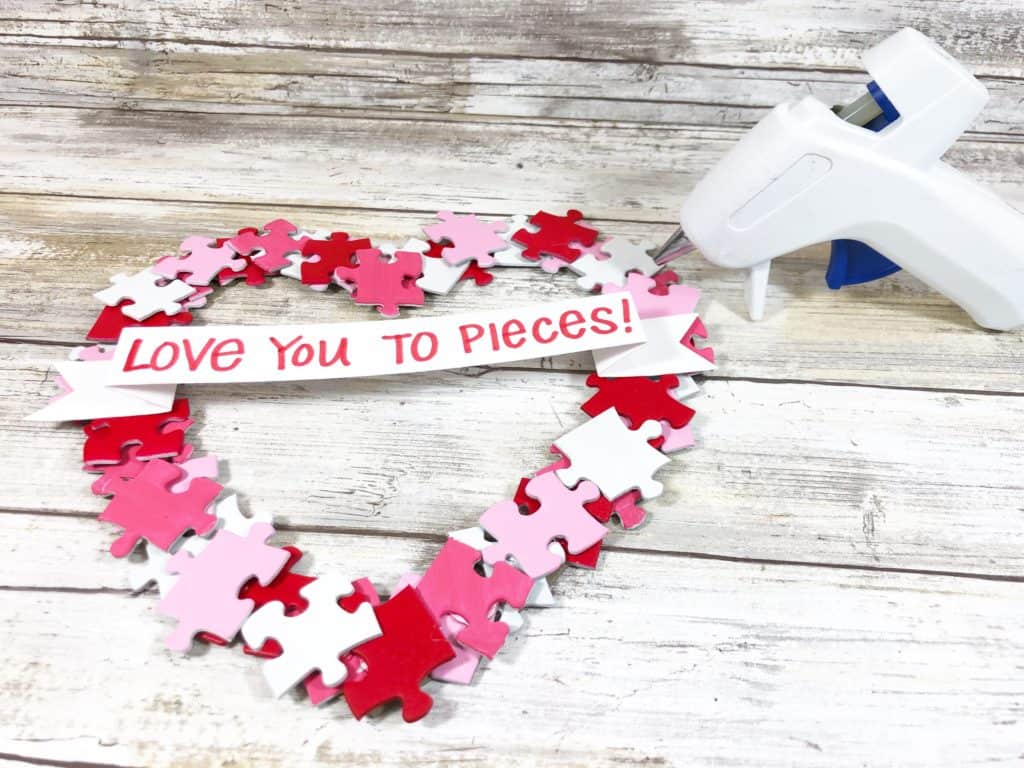 Fold the ends into a "Z" pattern and attach to the heart wreath with the glue gun and glue sticks.
STEP SIX
Measure and cut a twelve-inch length of red and white baker's twine and glue to the back of the wreath to use as a hanger.
Tie a bow in a second twelve-inch length of baker's twine and attach to the wreath to finish.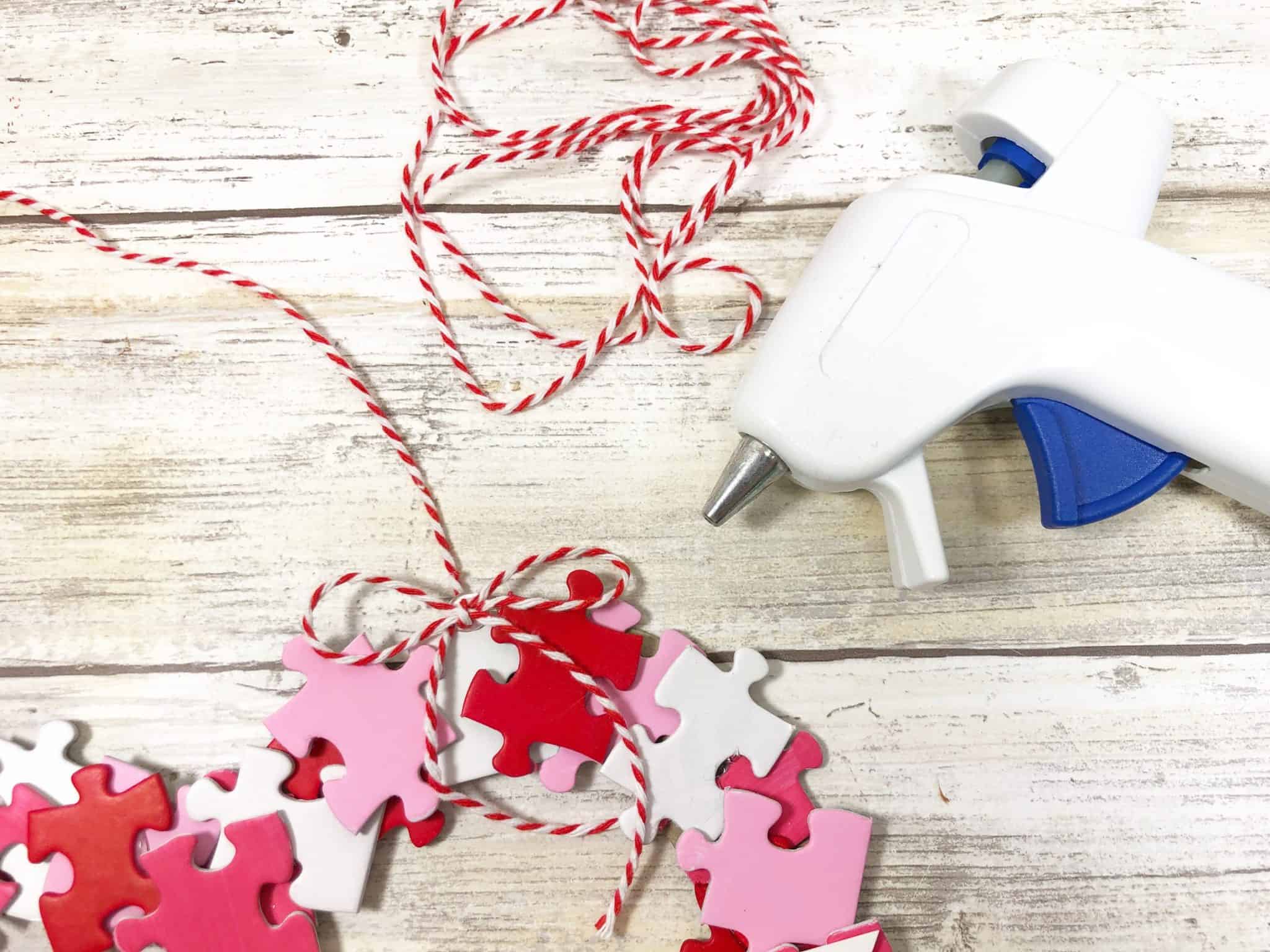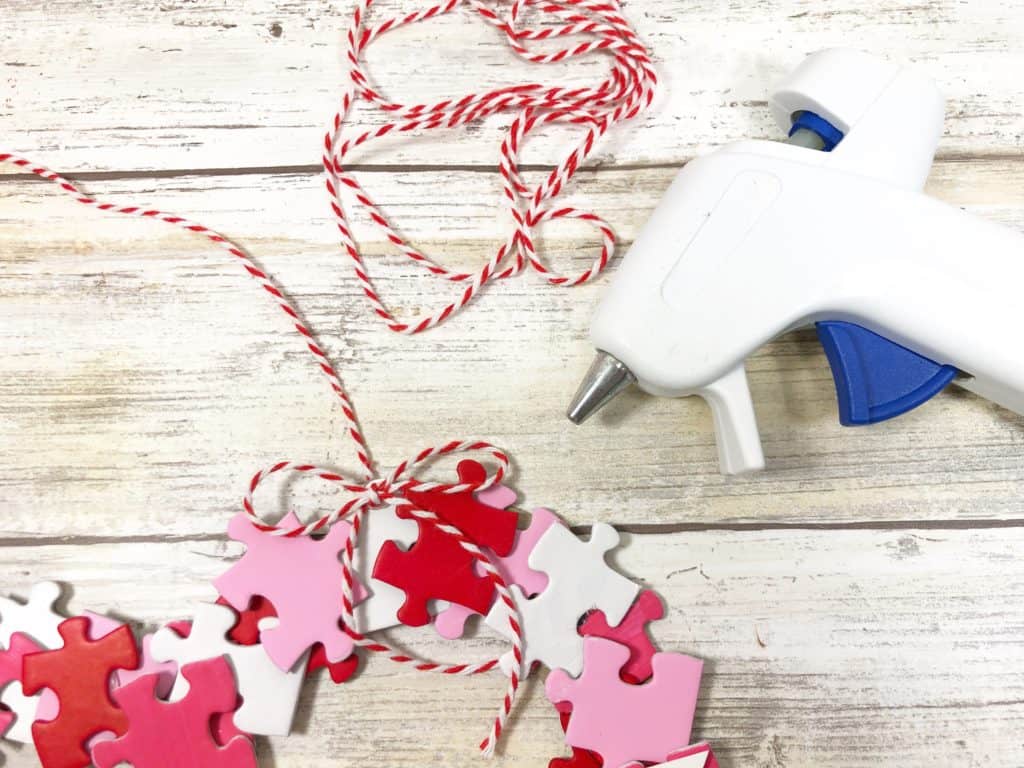 This is a fun activity to create with your tweens and teens. Make this Dollar Store heart-shaped puzzle piece wreath in just about 30 minutes! Remember though that there's no need to wait until Valentine's Day to tell our friends and family that we love them.
More Valentine's Day fun