Easy Pasta Alla Vodka Recipe
When you're looking for a delicious yet easy weeknight meal, it doesn't get any better than this easy pasta alla vodka recipe. It is foolproof and perfect for beginners. Don't be surprised if it becomes one of your favorite dishes thanks to its yummy, creamy sauce!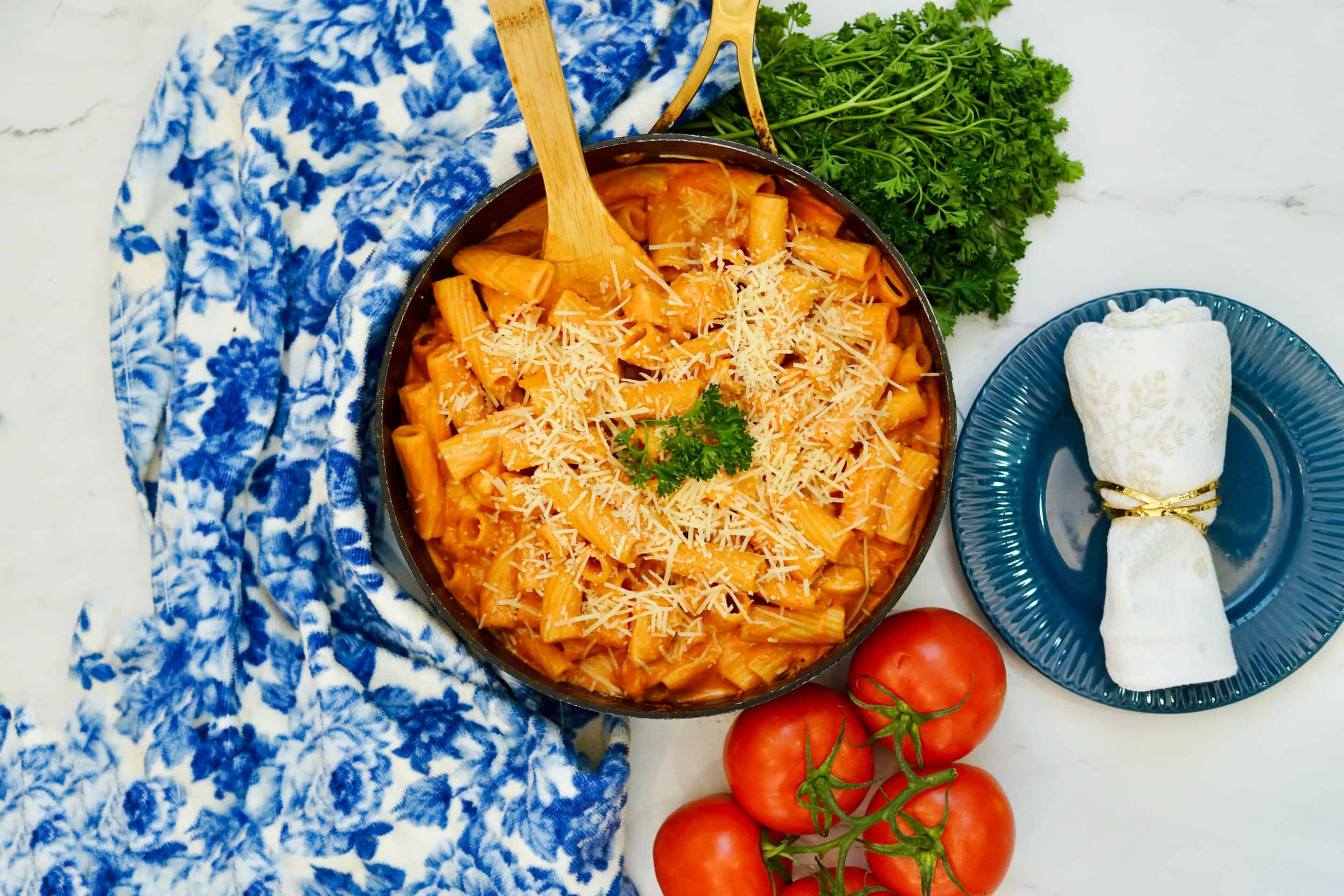 Pasta dishes are a great choice when you want to keep things simple. The only thing you need to be careful is to not overcook it; follow the instructions on the package so it's al dente. You can easily switch use rigatoni, penne or your favorite noodles. You can even use gnocchi.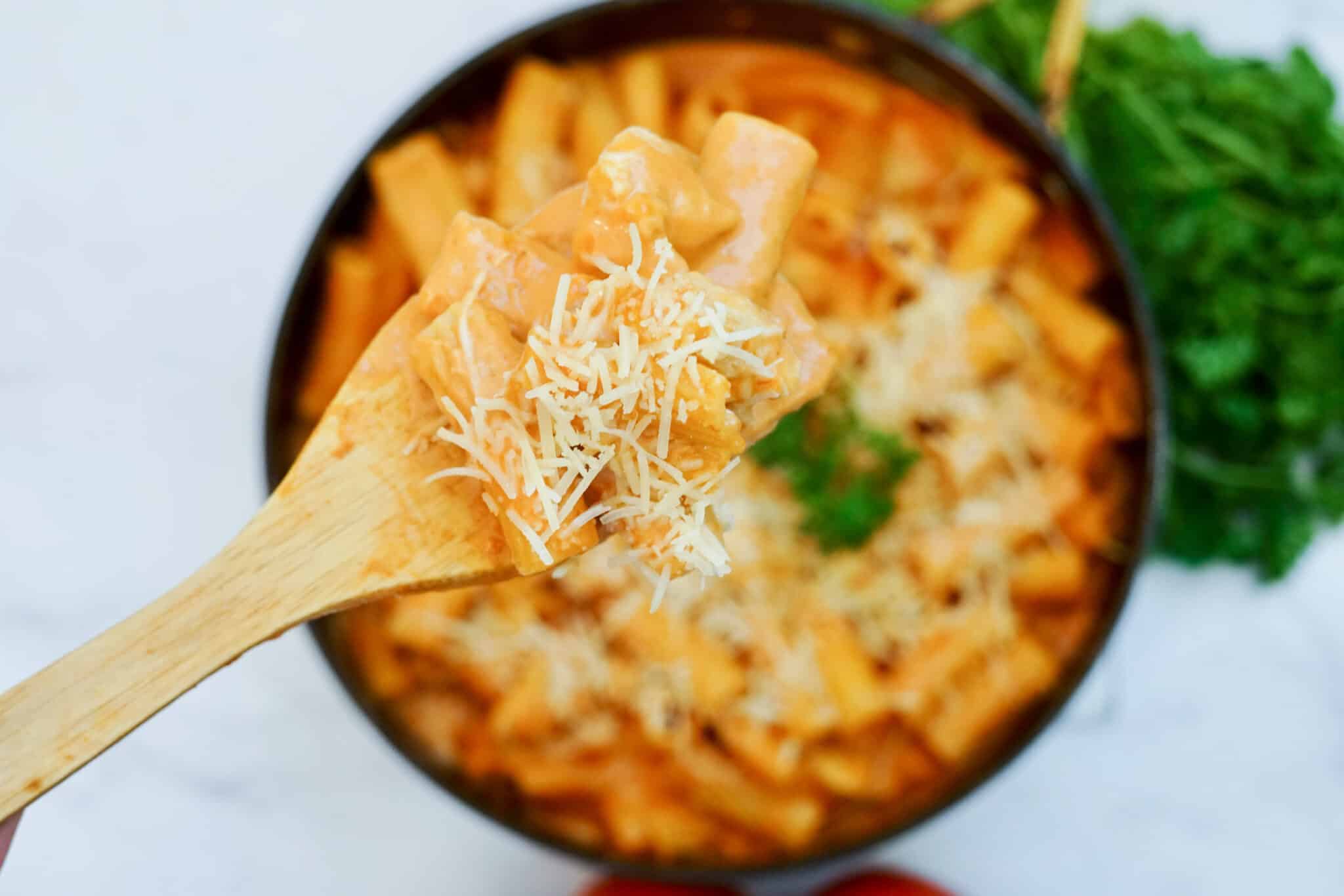 I love that this delicious recipe uses common ingredients that you can find in your pantry. It's also very budget-friendly and works with the pasta of your choice. Even better: it should take you around 30 minutes to prepare.
Italians usually do not add chicken to their pasta, so feel free to skip it if you want to make it without extra protein.
What can you serve vodka pasta with?
Pasta or penne alla vodka goes really well with garlic bread or any crusty bread. You might even be tempted to dip it in the pasta sauce! As a side dish, I always recommend a Caprese salad with fresh tomatoes or a caesar salad. The flavors complement the vodka pasta in a fresh and delicious way.
How can you make spicy vodka pasta?
To make it spicier, just add red pepper flakes. I suggest using one teaspoon of red chili flakes at first and then add more if you want to turn on the heat. I would also add an extra teaspoon of freshly ground black pepper to this spicy vodka sauce.
How do you cook the pasta?
The easiest way to cook the pasta is to boil a large pot of water, add a teaspoon of salt and cook the pasta according to the package instructions. Pro tip: don't throw away the pasta water! I always save at least a cup of pasta water. Add a tablespoon of the water to the sauce for even better results. Also, add a teaspoon of olive oil to the pasta after you drain it so it doesn't stick together.
Can I make this recipe without vodka?
Yes! If you prefer to cook without alcohol, it is perfectly fine to skip the vodka. Technically, it will just be pasta with a delicious pink sauce.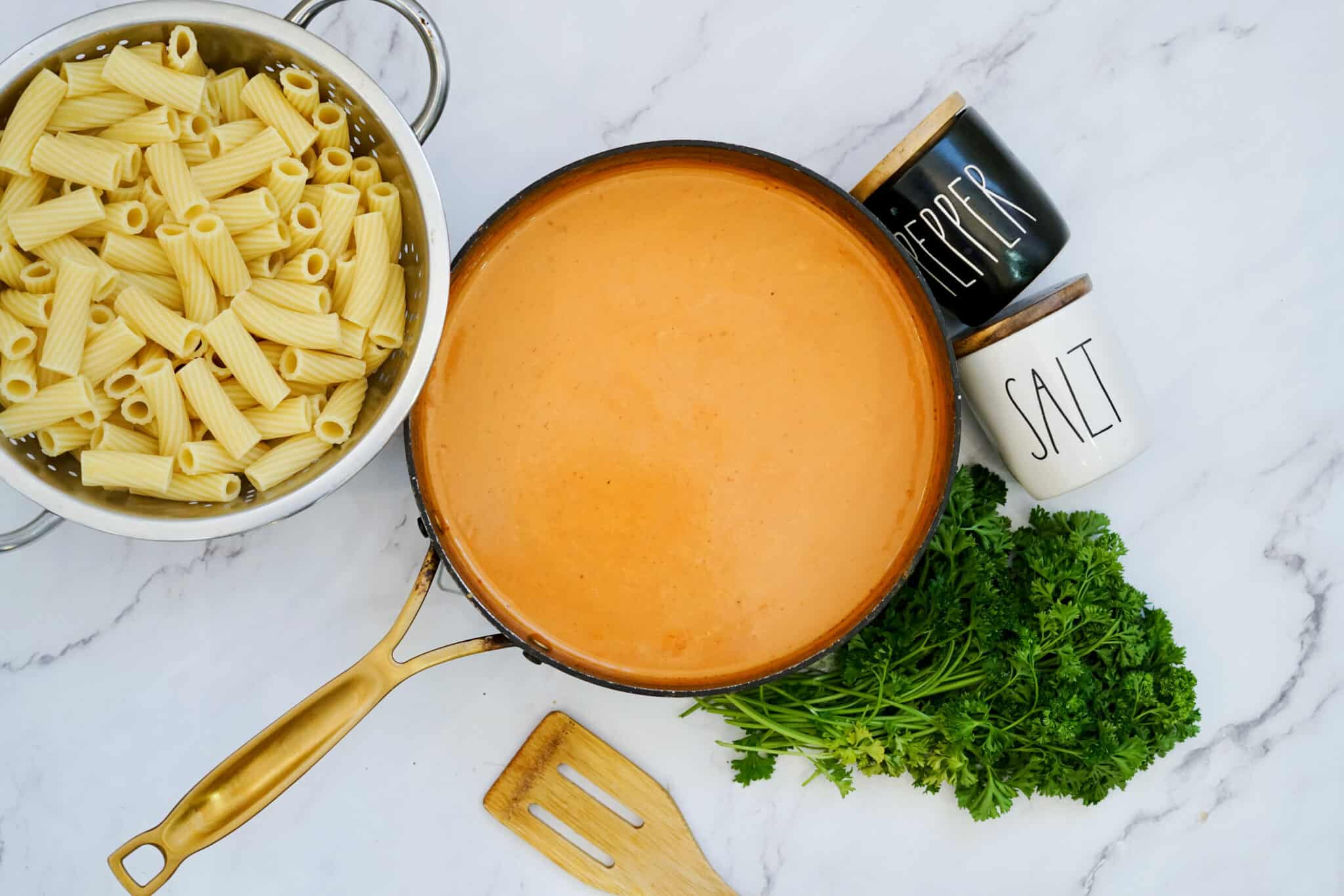 Is this recipe vegetarian?
If you exclude the chicken, this easy pasta alla vodka becomes a tasty vegetarian dish.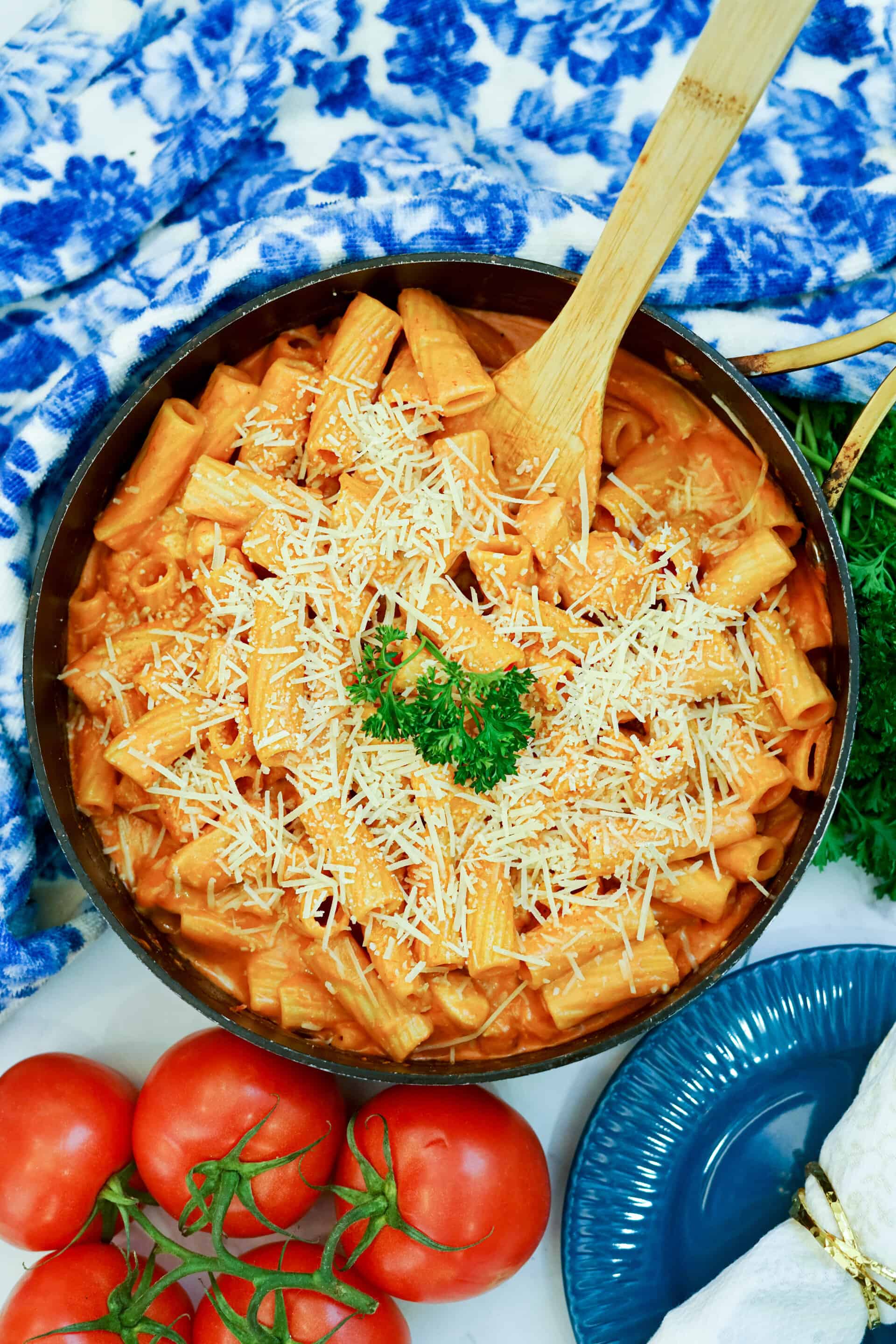 Pasta Alla Vodka
4 servings
Cooking time: 30 min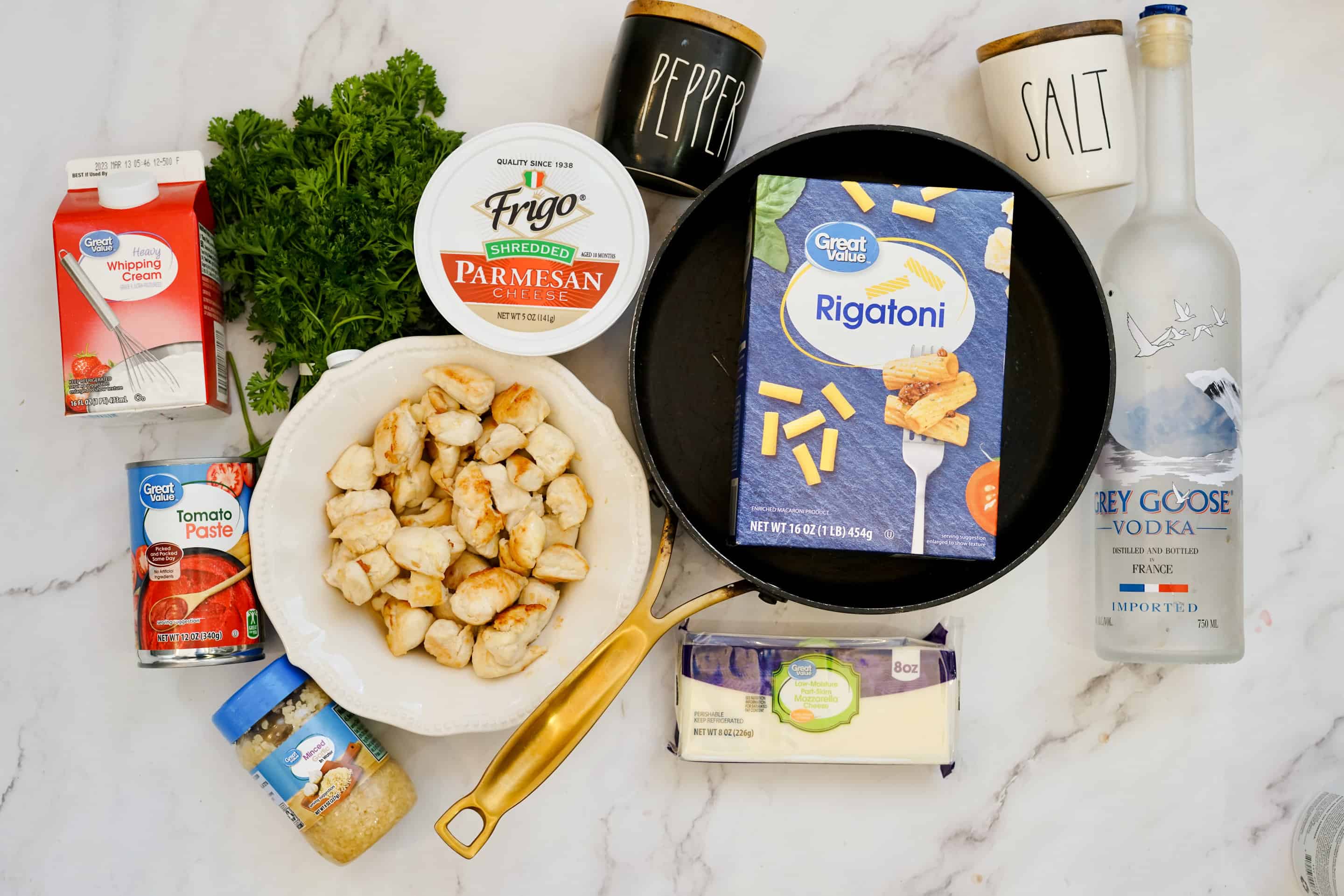 8 oz cooked pasta noodles, rigatoni or penne pasta
1 Tbs minced garlic cloves
1/4 Cup of vodka
1/4 Cup tomato paste, tomato purée or tomato sauce
1 Cup of heavy cream
Salt & pepper to taste
1/4 Cup grated Parmesan cheese
1 Cup diced chicken (optional)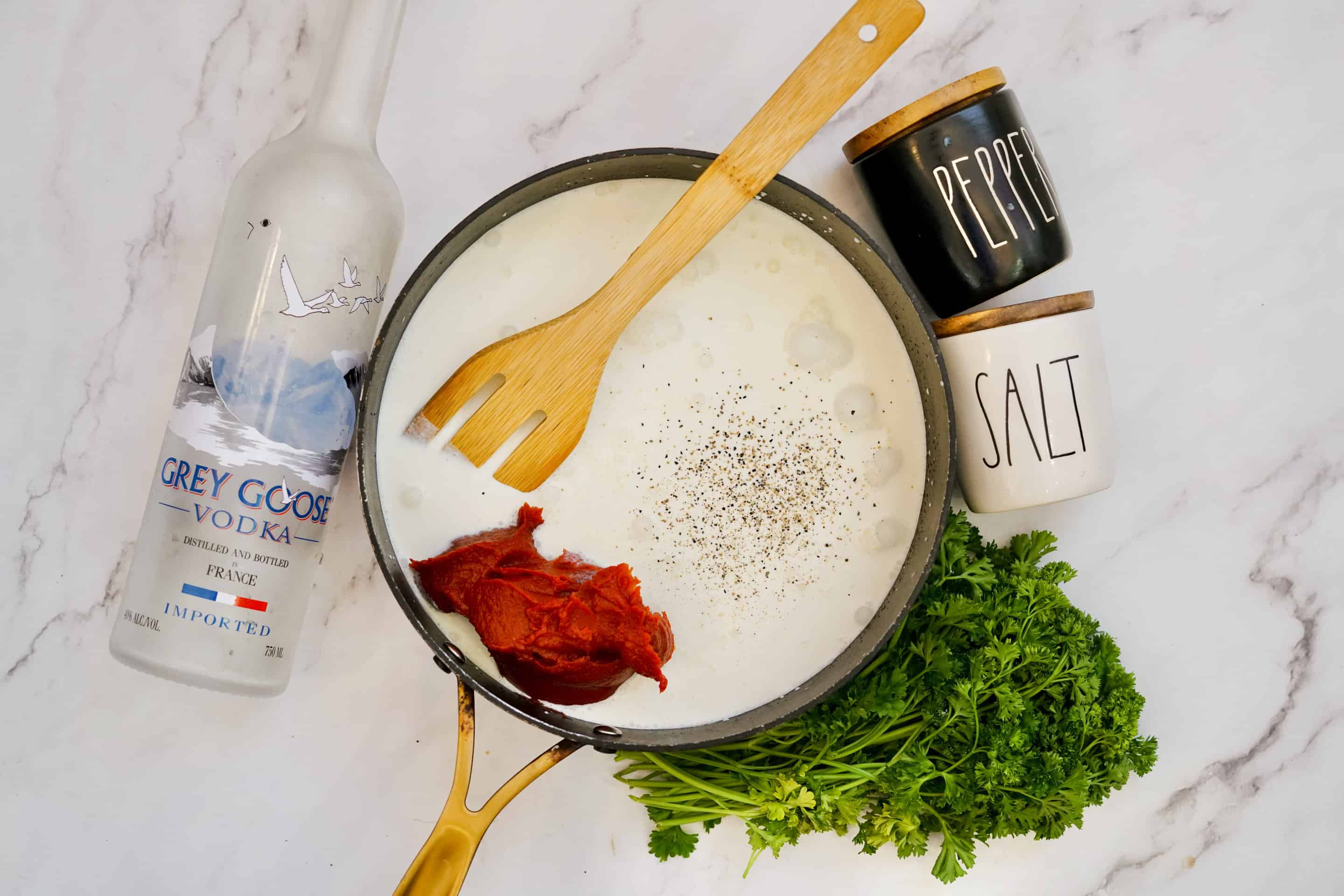 Instructions:
In a large sauce pan, pour in the vodka, heavy cream & tomato paste.
Add the garlic, salt & pepper.
Stir and bring to a boil over medium heat.
Slowly stir in the noodles or pasta and if desired, the chicken.
Reduce heat to low and let simmer for 20 minutes while occasionally stirring.
After 20 minutes, and then stir in the Parmesan cheese.
Serve & enjoy.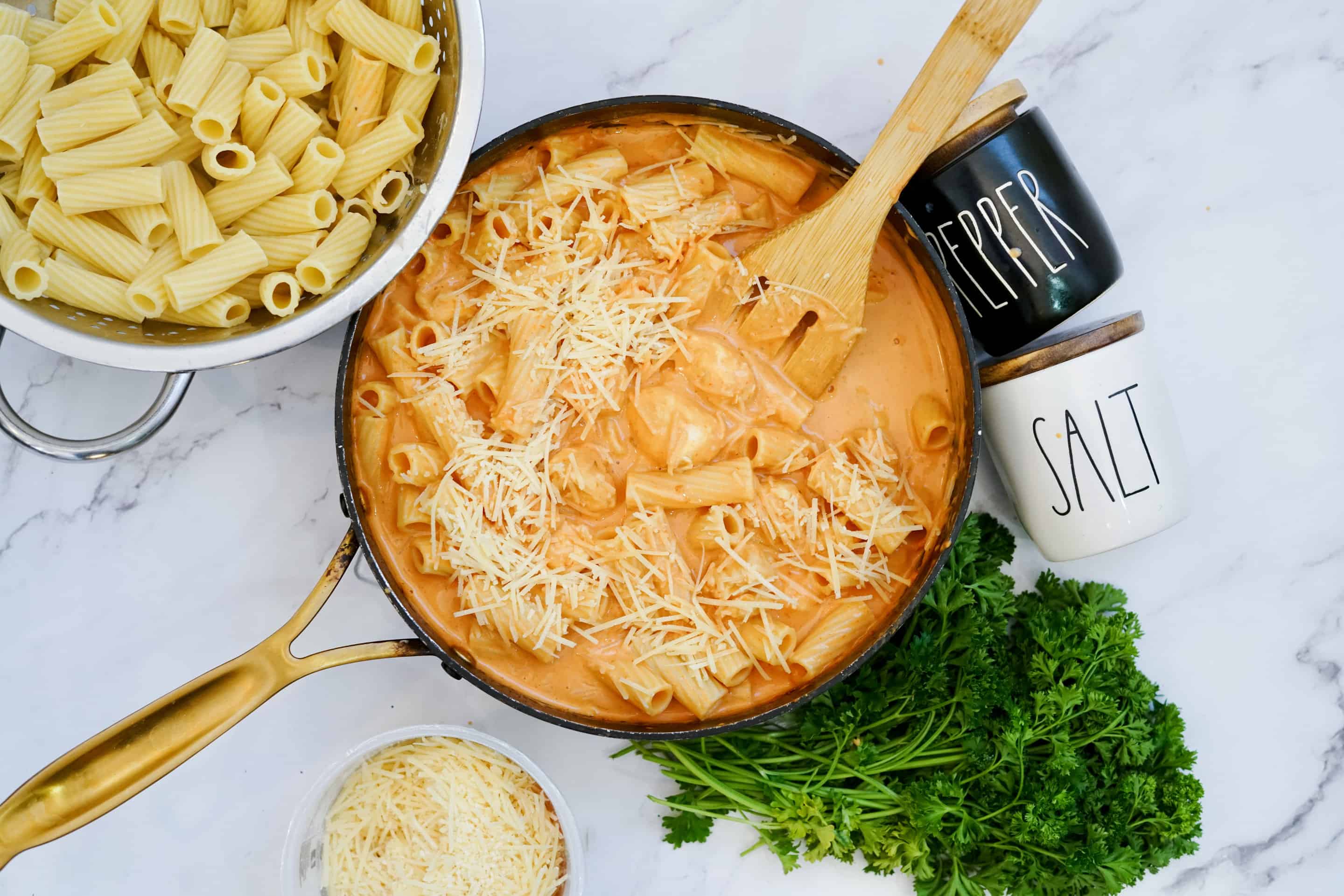 Store any leftovers in an airtight container for up to 3 days.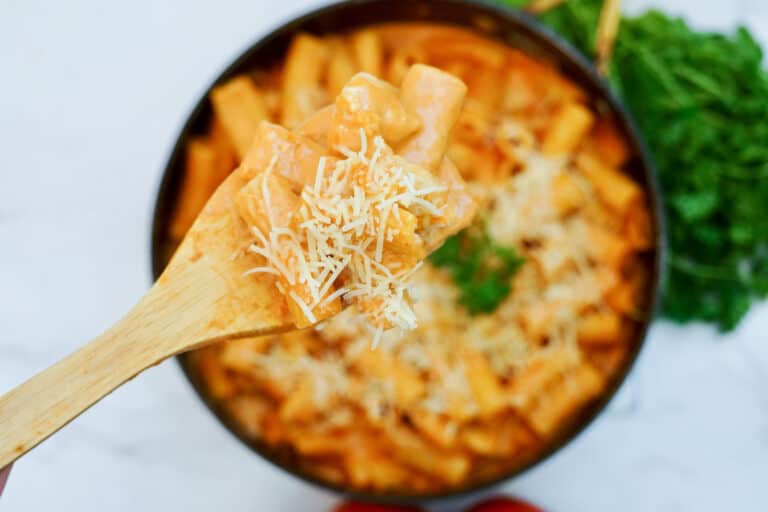 This easy pasta alla vodka recipe can be made with noodles, rigatoni or penne. The creamy vodka pasta sauce is simply delicious!
Ingredients
8 oz cooked pasta noodles, rigatoni or penne pasta
1 Tbs minced garlic cloves
1/4 Cup of vodka
1/4 Cup tomato paste, tomato purée or tomato sauce
1 Cup of heavy cream
Salt & pepper to taste
1/4 Cup grated Parmesan cheese
1 Cup diced chicken (optional)
Instructions
In a large sauce pan, pour in the vodka, heavy cream & tomato paste.
Add the garlic, salt & pepper.
Stir and bring to a boil over medium heat.
Slowly stir in the noodles or pasta and if desired, the chicken.
Reduce heat to low and let simmer for 20 minutes while occasionally stirring.
After 20 minutes, and then stir in the Parmesan cheese.
Serve immediately
Notes
More easy dinner recipes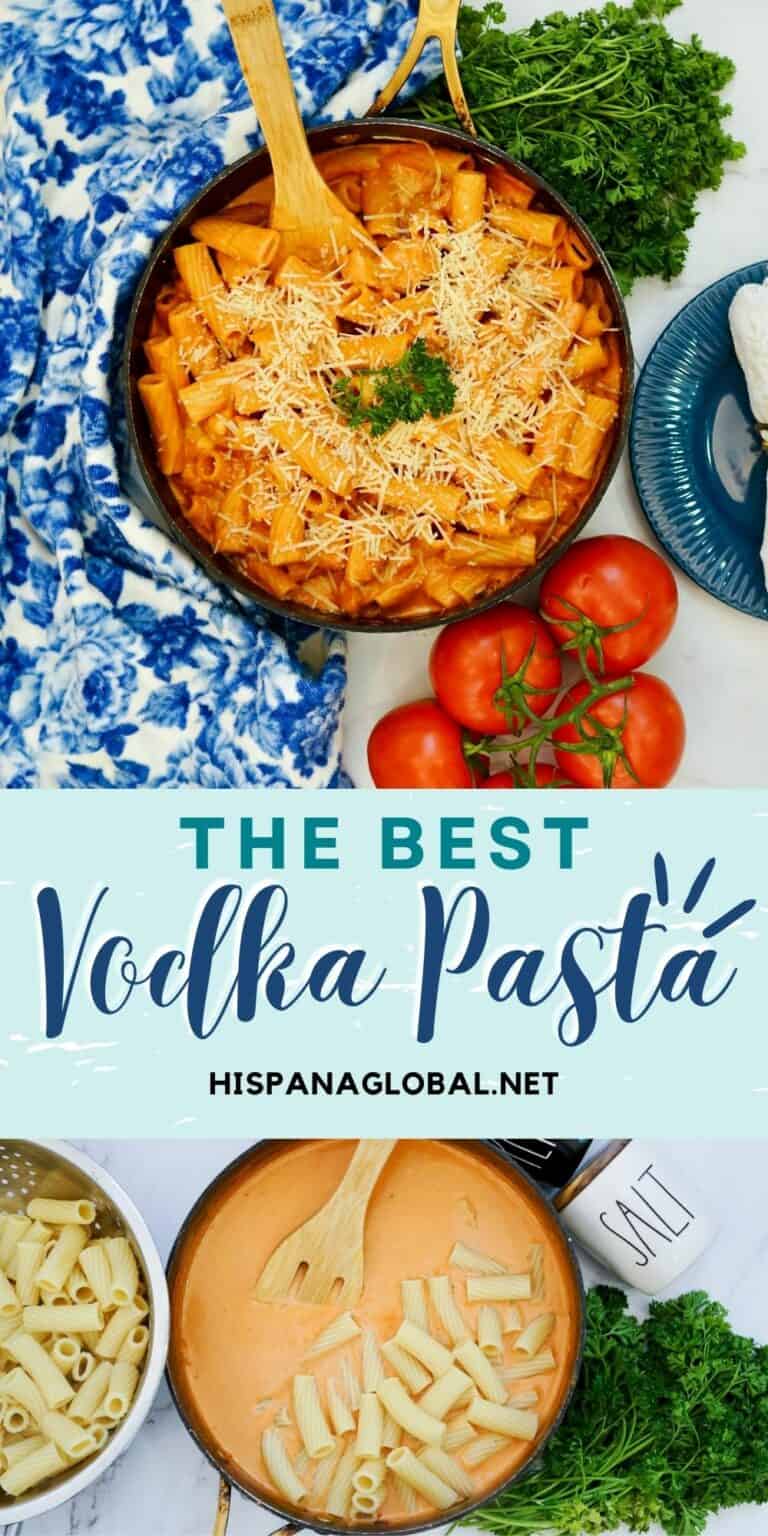 Summary