Easy makeup tutorial in just 7 steps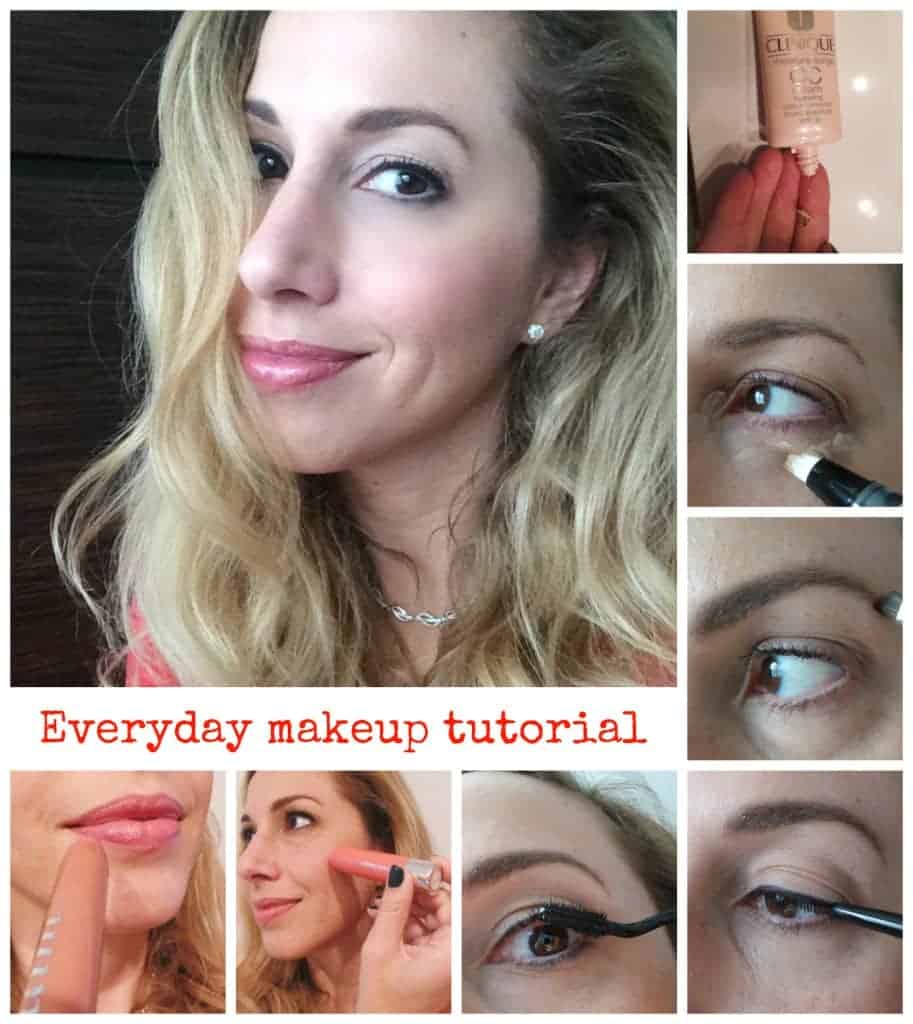 I love watching makeup tutorials but sometimes they are too complicated. Or they are too glamorous for the everyday. I've been fortunate enough to have met amazing makeup artists and I constantly try to learn new tips and tricks. So many friends have asked me how I manage to do my own makeup in the mornings when there seems to be no time at all, so I decided to share my current routine.
As you'll see, a little makeup goes a long way. The whole idea of this makeup tutorial is that it should not take you more than 5 minutes. Once you master it, you can even do it in less.
Apply a BB or CC cream. It's lighter than foundation and gives you SPF. I like the ones by Clinique, Mary Kay, L'Oreal Paris and Estee Lauder.
If you have under eye circles (like I do), use concealer. The Smashbox Camera Ready BB cream eyes is great because it's light and has its own brush. Other great concealers: Bobbi Brown, MAC, L'Oreal Paris and Laura Mercier. I like to apply the concealer all over the eyelid, especially in the inner corner right next to the nose bridge.
Brush your brows and fill in with powder or a brow pencil. This will really open up your eye. Tip: don't use a color that is too dark or else it will look too dramatic.
Apply eyeliner. I used waterproof kohl eyeliner in black, but brown looks softer and is another great choice. If you want to do a cat eye, remember to first do the end of the cat eye and then fill in the rest. Gel eyeliner is also one of my favorites, especially the ones by Bobbi Brown, L'Oreal Paris and Mary Kay, but you will need to use an eyeliner brush, something that I know can be intimidating.
Now use mascara. I prefer black mascara to make my eyes stand out. Lancôme Paris's new Grandiose mascara is simply spectacular. Its angled handle and brush really allow you to avoid clumps.
Time to give a little color to your cheeks. Lately I'm obsessed with Clinique's Chubby Stick Cheek Colour Balm in Robust Rhubarb, a peachy blush that looks super natural. You can apply with your fingers or with a foundation brush.
Finally, apply lip-gloss or a tinted lip balm. L'Oreal Paris Glossy Balm comes in great colors. My favorite is Lovely Mocha.
In case you are short on time, just apply your lipcolor in the car. That's it! You'll look polished and will feel ready to face anything your hectic day might bring.