7 Things I Learned At Pixar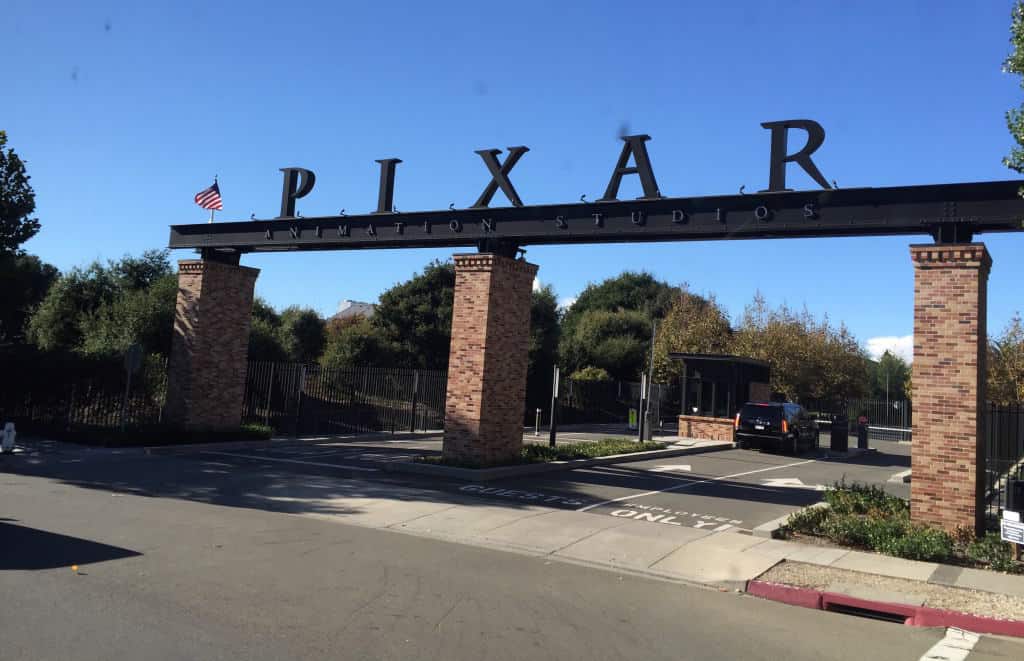 There are days when you pinch yourself because you simply can't believe the opportunities you have. That happened to me in early October when I had the chance to visit Pixar's campus. Yes, Pixar, the animation studio founded by Edwin Catmull, Alvy Ray Smith and Steve Jobs. The studio that revolutionized (and is revolutionizing) animation and is synonymous with creativity, innovation and technology. For the first time it will release two films in the same year, once The Good Dinosaur opens in theaters on November 25.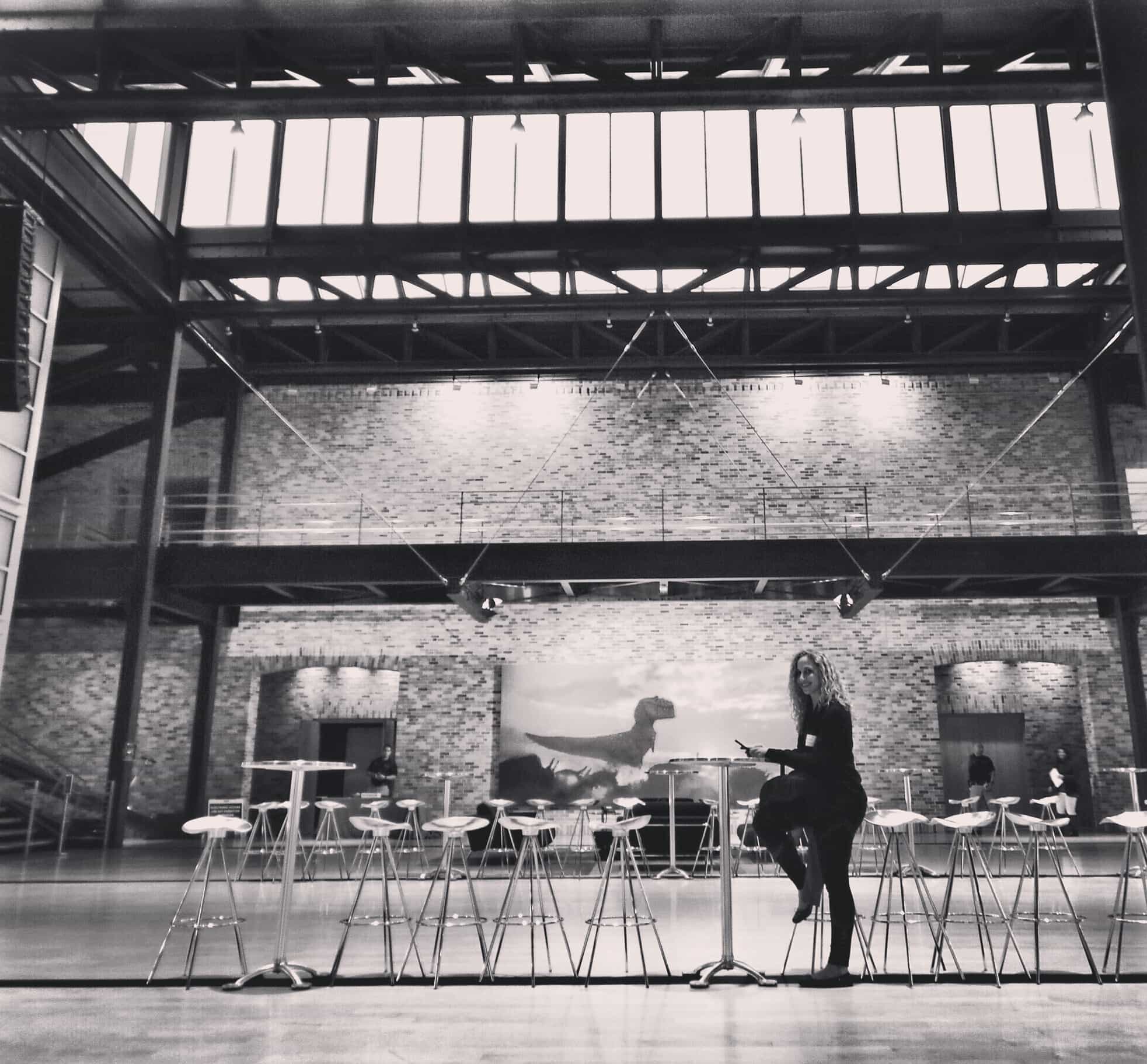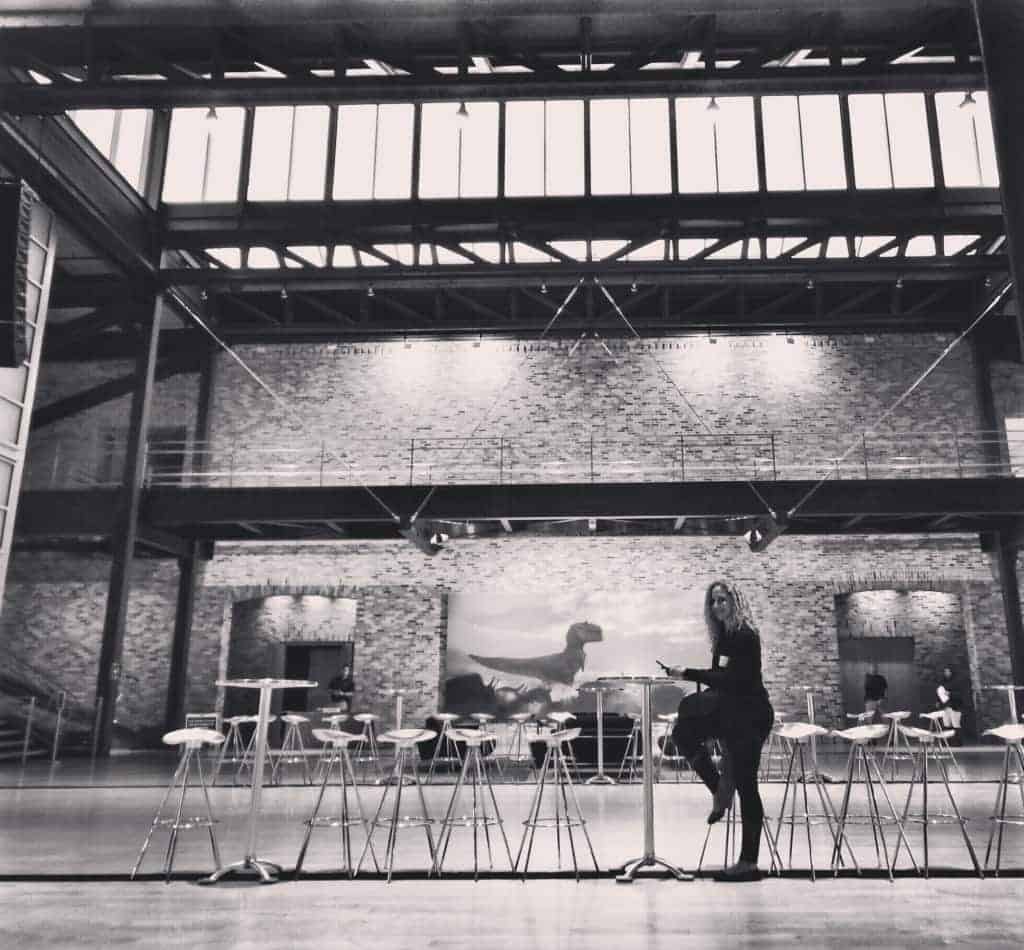 And what could be better for a film buff (like me) than visiting Pixar once in a lifetime? Well, visiting two days in a row. The first night was extremely special because I saw an extended preview of The Good Dinosaur. The photography, landscapes and extremely realistic animation blew me away! They really are crucial elements in this adorable story about the friendship between an 11 year old dinosaur, Arlo, and a boy named Spot, who looks like a puppy.
But I was even more impressed by the friendliness of The Good Dinosaur's director, Peter Sohn. Wearing his trademark baseball cap (with Arlo) and a cheerful smile that reminded me of the innocence of a six year old boy, he answered all the questions we asked him in a very casual dinner around a fire in the Brooklyn building inside the Pixar campus.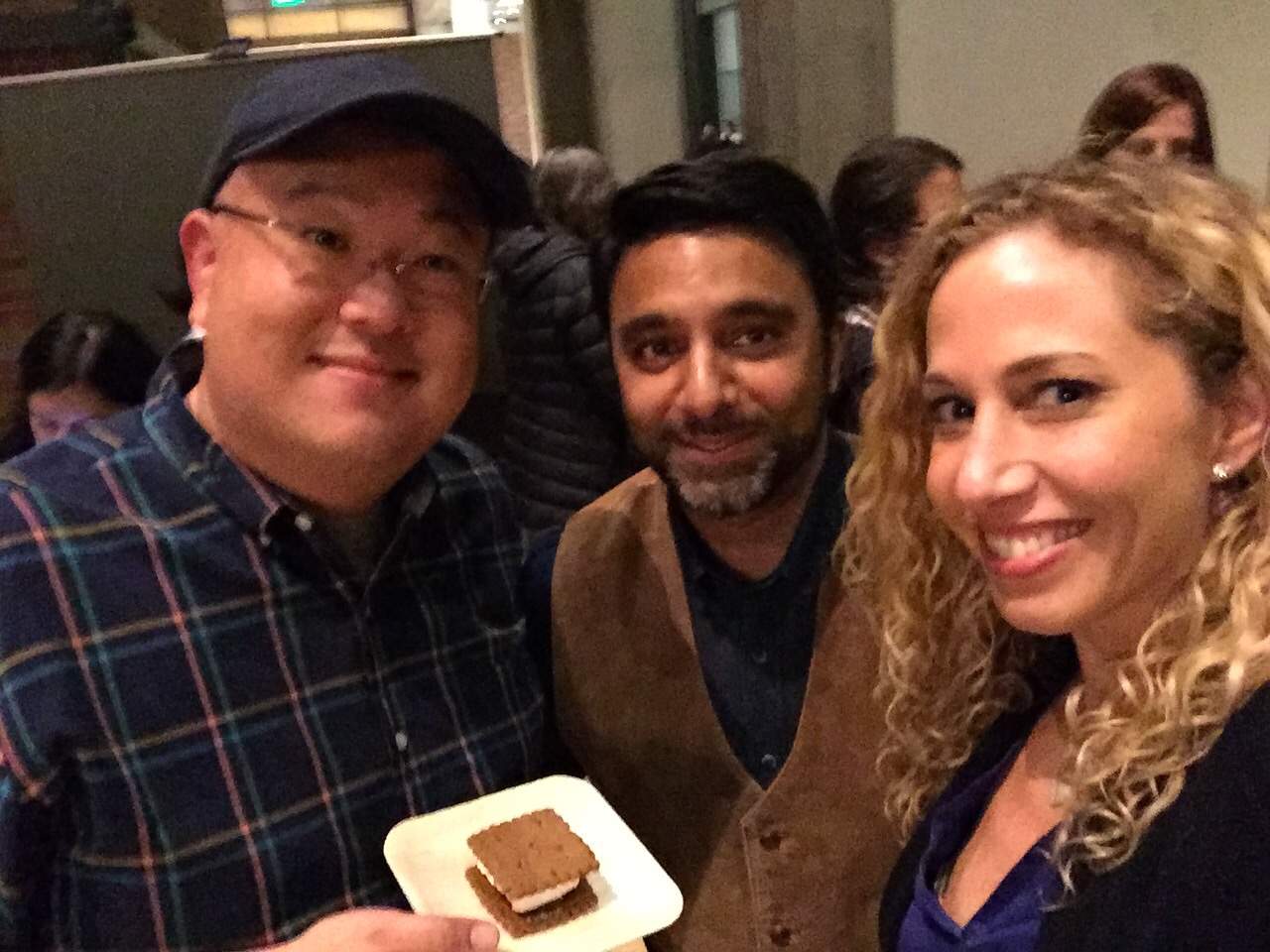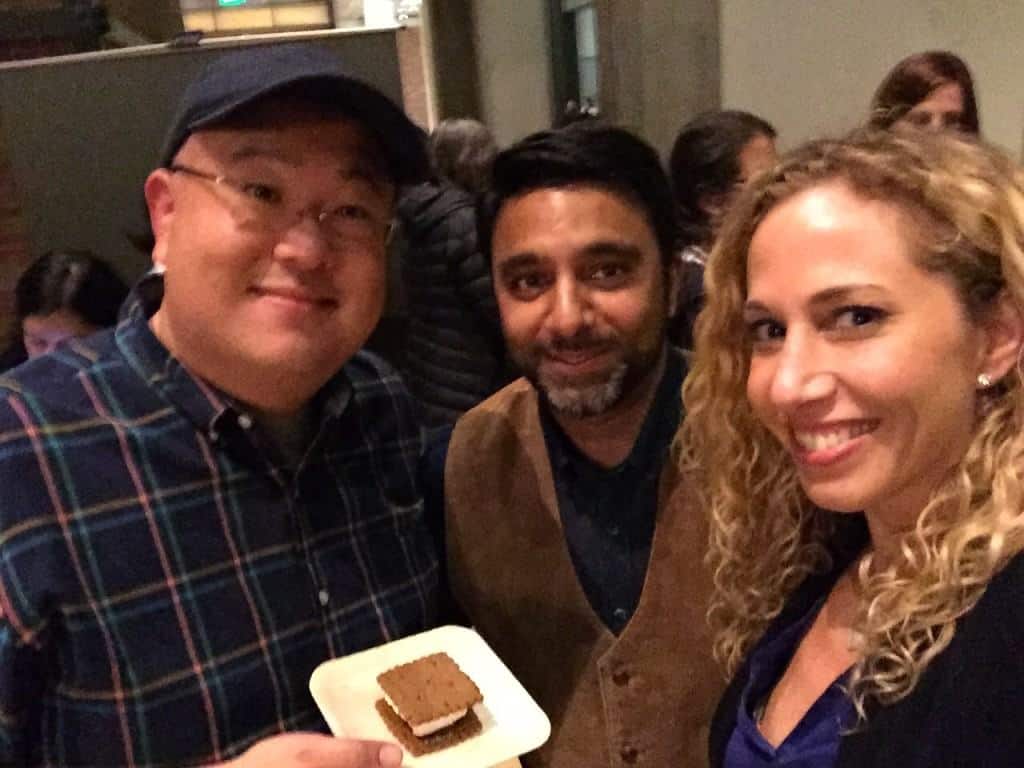 It was so funny when he confessed that he had to go with executive producer Denise Ream to explore the parks of the American Northwest to understand nature. He grew up in New York. Other key members of the production team went with them to Wyoming on this adventure. The team also lived with a family of ranchers to give realism to certain scenes from the movie. The experience was worth it. In the end, nature in all its glory became a real antagonist in the film.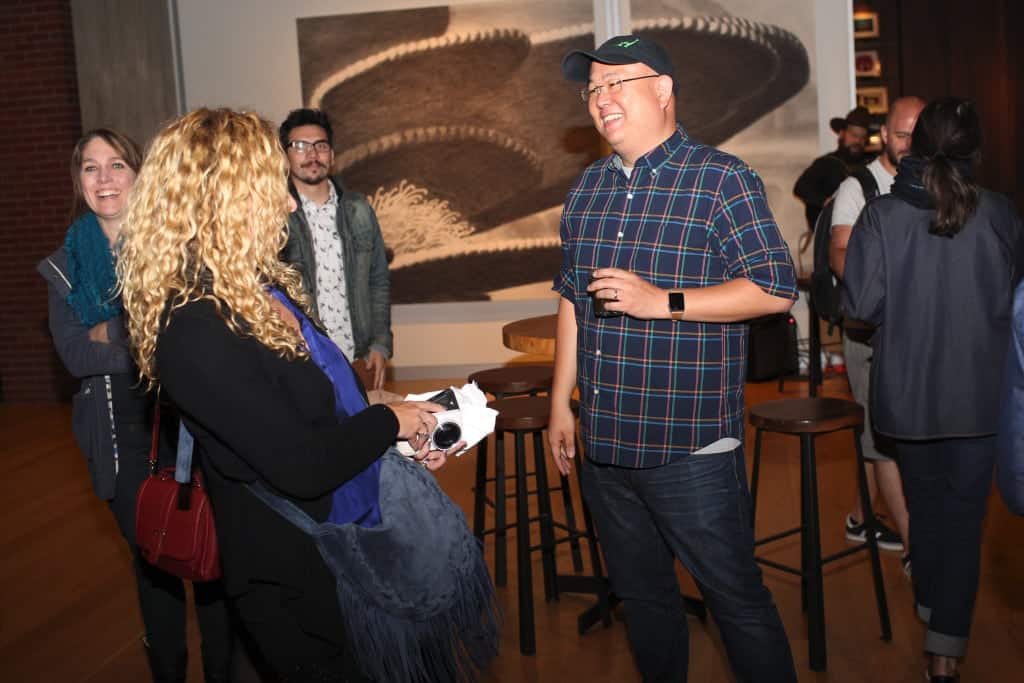 When I congratulated Peter Sohn for The Good Dinosaur and the stunning water scenes, he was extremely humble and said it was the work of his team, especially his supervising technical director Sanjay Bakshi.
Honestly, the end result couldn't be more beautiful.  I simply loved the paintings by director of photography Sharon Calahan! While visiting Oregon, Yellowstone and Wyoming she would paint outside. Those paintings inspired the breathtaking landscapes and backdrops you'll see in the movie. I was so excited to bring home a bit of the look and feel of Sharon Calahan creativity with this photo.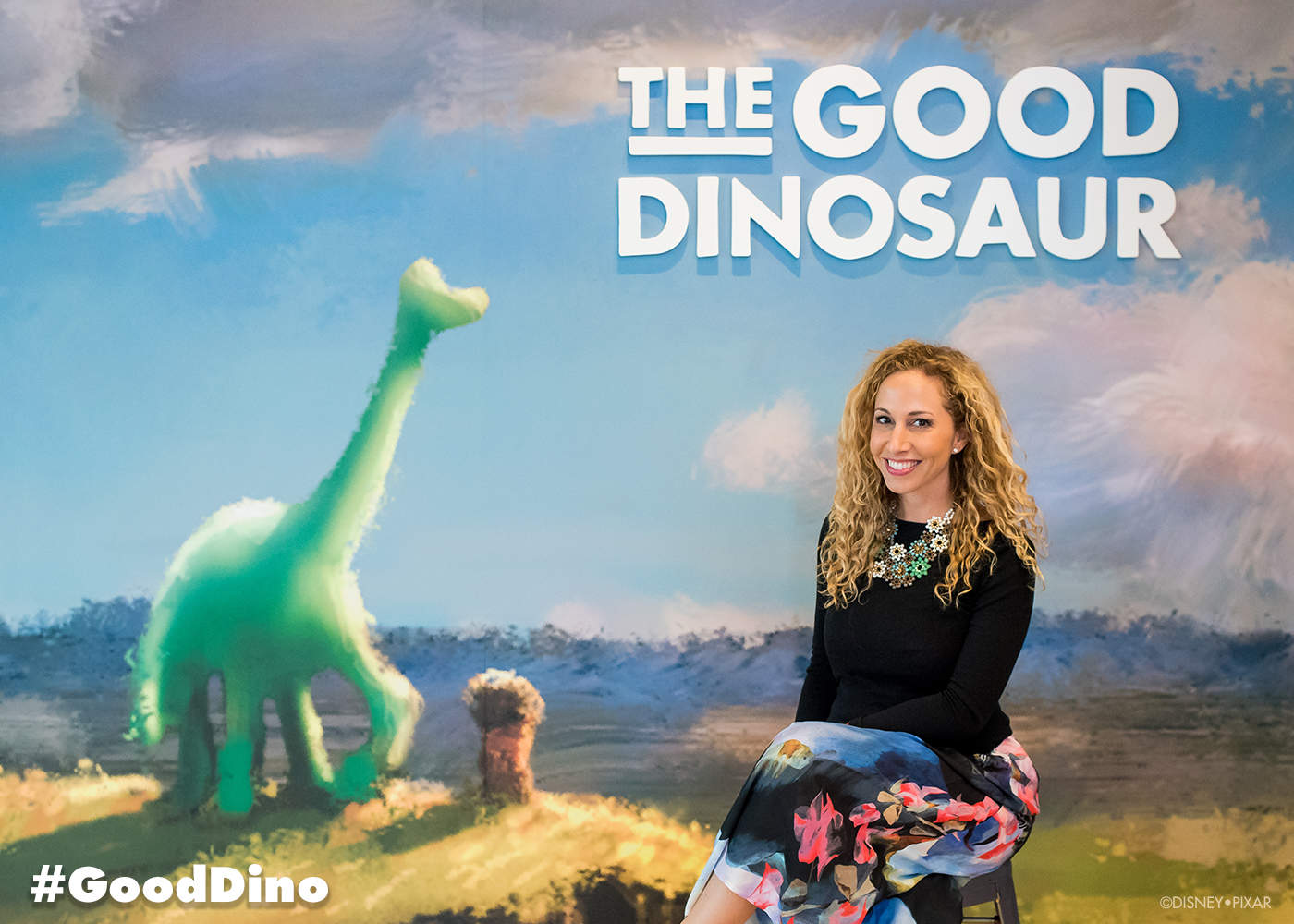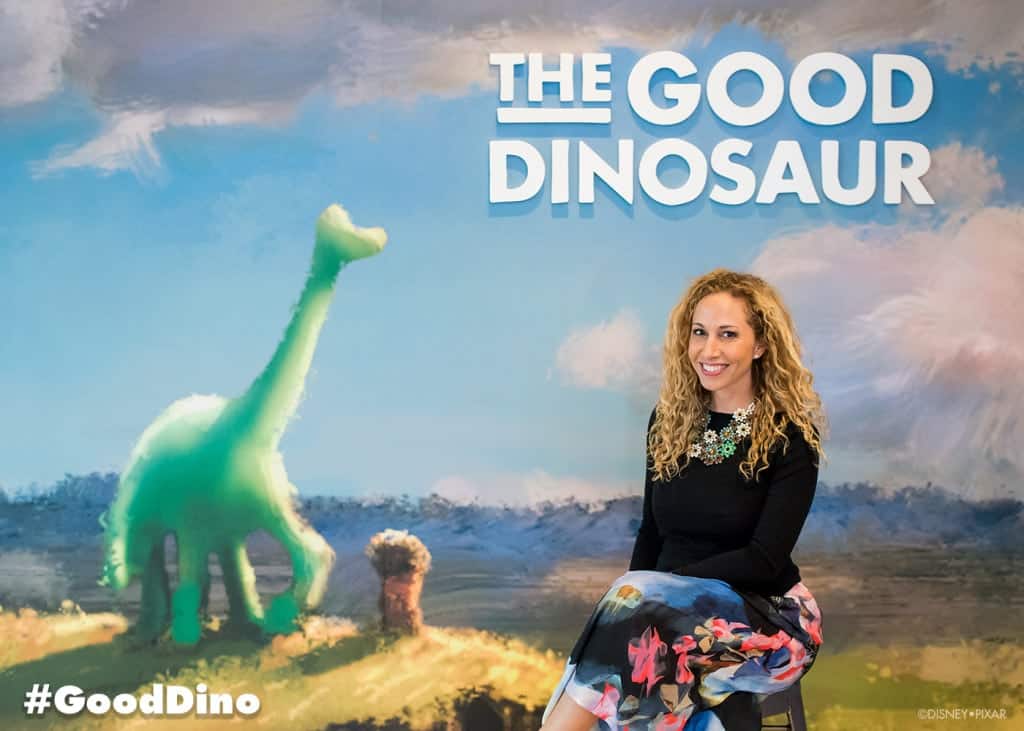 7 things I learned at Pixar
I know visiting Pixar is truly a remarkable experience so I wanted to share what I learned and discovered while I was there.
You'll find 10 different types of cereal in the common kitchen area. The one that gets reordered the most? Raisin Bran. Either it spoils quickly or creative people take their digestive health very seriously…
There's a culture of collaboration. Close-knit teams are formed for each movie. Every single member, from the screenwriter to the head of special effects, express their opinions and shares their input. For The Good Dinosaur the director, producers, head of story and screenwriter worked in the same room so everybody could be as closely as possible. As they were boarding sequences, other team members could jump in with ideas, something that had never been done until that moment.
Animators are valued as artists, like they should be, in my opinion. When you walk through the hallways on the second floor, you can see exhibits of their artwork, something director Sanjay Patel mentioned when he presented his short film Sanjay's Super Team. While I was admiring the art from The Good Dinosaur, I actually ran into Peter Sohn. His drawings, in case you were wondering, blew me away.
The storytellers become experts at pitching their ideas. Each sequence needs to be pitched to the director and the rest of the team working on the screenwriting and boarding.
Frequently team members, from directors to animators, will lend their voices as scratch (or test) voices until everybody's sure about the final treatment of the film. What surprised me is how many times those scratch voices end up being used in the film! Peter Sohn is an accomplished voice artist; he was Emile in Ratatouille and Squishy in Monsters University. In The Good Dinosaur, he brings to life The Pet Collector, one of my favorite characters in the movie.
Do things well even if it takes you more time. I realized that even if changing the director, voices and storyline meant spending more money on making The Good Dinosaur and delaying its release, Pixar would rather do that than release a film they weren't entirely convinced about. The Good Dinosaur was conceived in 2009 and Peter Sohn was the codirector.
Creativity seems to be amplified when you respect nature. The buildings at Pixar, with New York-inspired names, are tremendously ecofriendly. Recycling bins are everywhere and the gigantic entrance windows seem to erase the barriers between the inside and the outside (something Steve Jobs really wanted to achieve) aside from allowing plenty of natural light to come in. The Pixar geese like to wander over the soccer field and are treated with utmost respect. Pixar might be a high tech company but it is so warm that it surprised me.
Creativity is everywhere. You can almost breathe it in. It was so inspiring that I even brought a bit of Pixar home. Its trademark ball was supposed to be a gift for my kids, but every time I see it, it reminds me of the power of dreams and your imagination.
Check out more photos taken at the Pixar campus
Disclosure: This is not a sponsored post but I was invited on an all expenses paid trip to visit Pixar Animation Studios.
En español: 7 cosas que aprendí en Pixar Animation Studios