10 Oscar de la Renta quotes to remember him by
When I was a little girl, I was fascinated by Oscar de la Renta's designs. I would grab my mother's fashion magazines and stare at his ball gowns, admiring the ruffles and taffeta skirts. As I learned of his passing at 82, I was deeply saddened. It's true I never met him but I hoped that some day I would. He inspired me not only with his creativity and his elegant, feminine and intricate dresses, but also with his philanthropy and entrepreneurship. A week before he passed he did something rarely seen in the design world: he named his successor.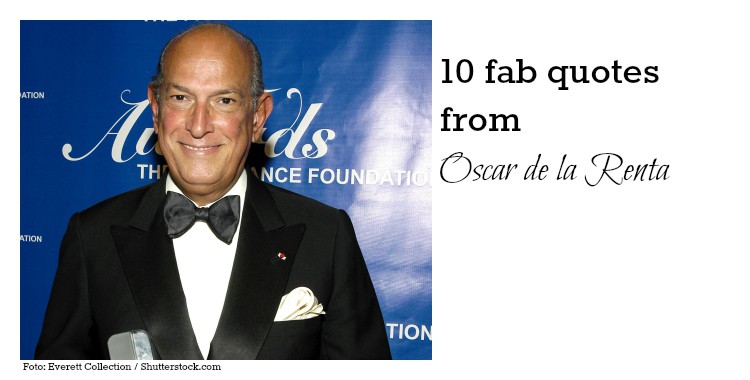 Here are 10 quotes to remember Oscar de la Renta's legacy and inspire you.
The qualities I most admire in women are confidence and kindness.
There is always an emotional element to anything that you make.
Fashion is about dressing according to what's fashionable. Style is more about being yourself.
I always say: To be well dressed you must be well naked.
Elegance is a discipline of life.
Walk like you have three men walking behind you.
There is no sound more feminine than a woman in a taffeta dress.
The most important thing? Perfect lighting at all times.
A woman makes an outfit her own with accessories.
I love to compete. And rules were made to be broken.
Photo: Everett Collection / Shutterstock.com
Encuentra este artículo en español con frases de Oscar de la Renta aquí