Powdered Sugar Biscuit Donuts
Powdered sugar biscuit donuts are a classic American treat. Not only are these biscuit donuts so easy to make, but they are also super delicious. These homemade easy donuts are always a hit with my family. They are so good, they will have you coming back for more. Plus, they don't require a lot of ingredients which makes for a perfect budget-friendly dessert.
Jump to Recipe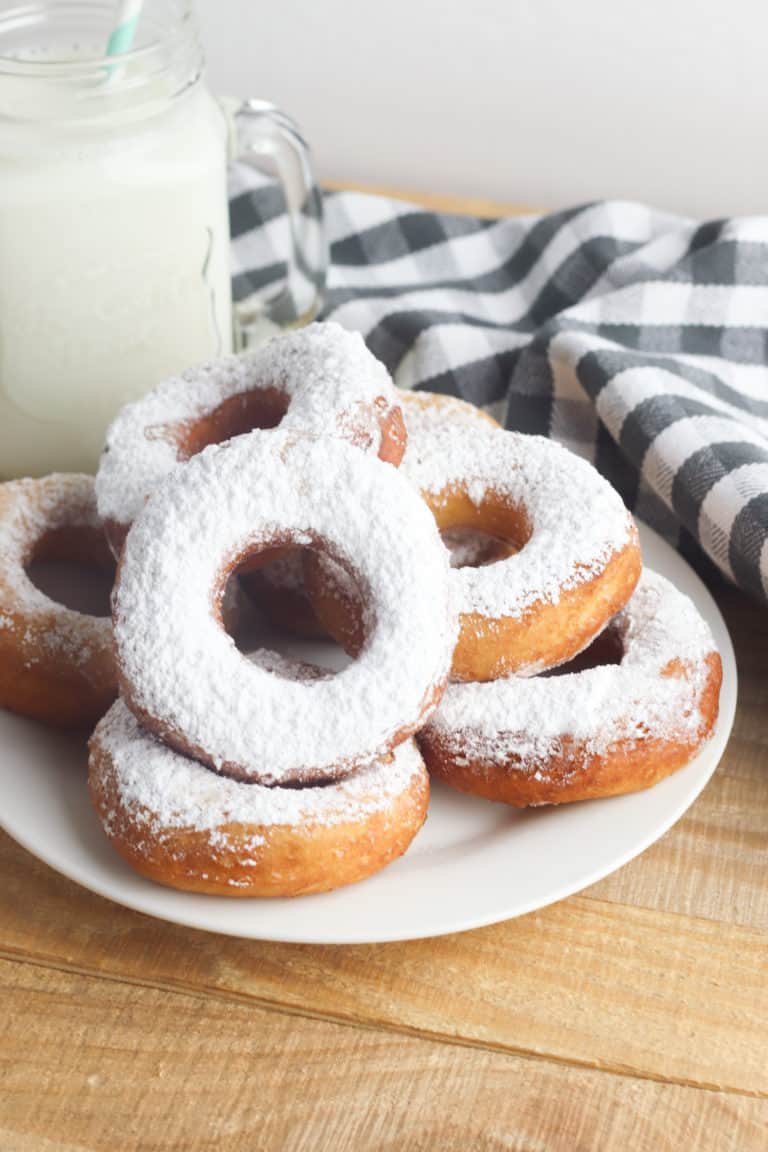 WHY MAKE BISCUIT DONUTS?
Biscuit donuts are quickly becoming popular these days, mostly because of their low cost and wholesome taste. They're also easy to make at home with minor equipment. These easy donuts are tasty and flavorful without a whole lot of work because they use premade dough.
DO BISCUIT DONUTS TASTE LIKE BISCUITS
No, biscuit donuts don't taste like biscuits. They're sweet and buttery on the inside with a crunchy outside crust. It's amazing how buttery these biscuits turn out when you are finished cooking them.
CAN I AIR FRY THESE POWDERED SUGAR DONUTS
Yes, you can. They're not as crunchy as the oil-fried biscuit donuts but they definitely taste good and are a lot more nutritious! The best part of air frying these donuts is that they have so much less fat in them. Also check out this recipe for air fryer glazed donuts.
Though I will be honest you can't beat the taste and crispiness of the deep-fried biscuit donuts.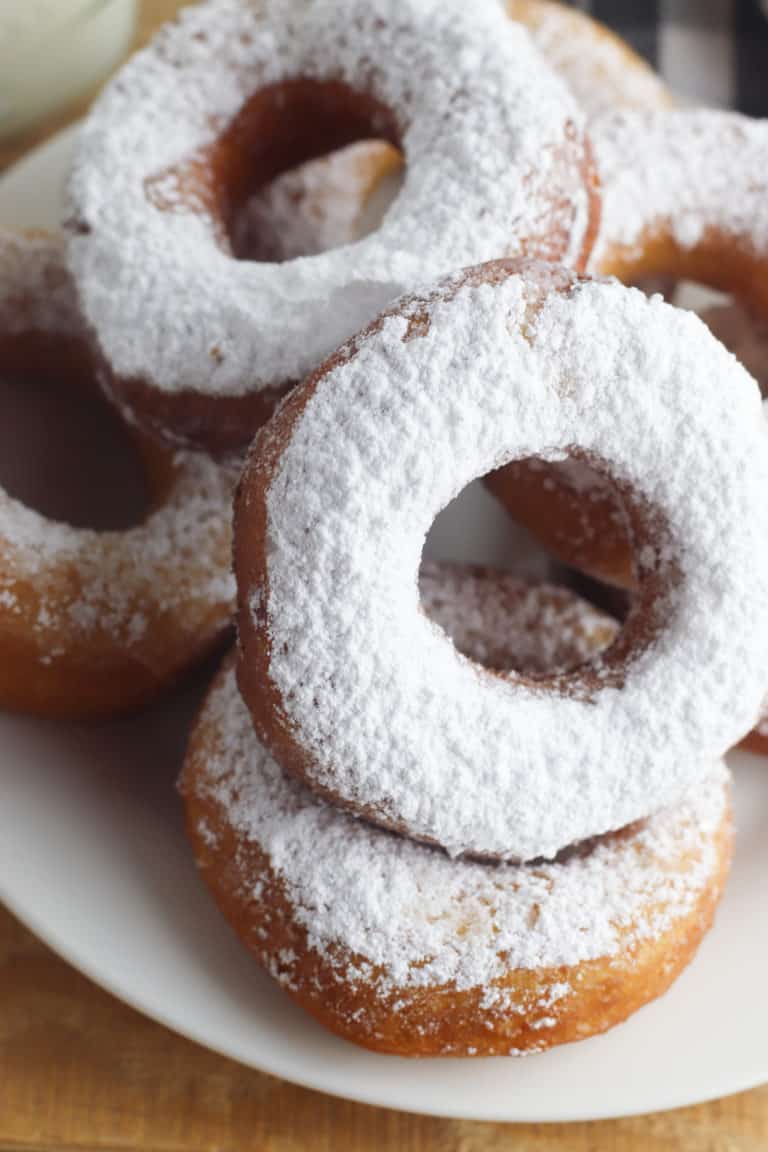 HOW SHOULD I SERVE THESE POWDERED SUGAR DONUTS?
These powdered sugar donuts taste good by themselves but you can also top them off with some glaze or frosting. You can even make your own glaze at home. This is one of the best parts about making these biscuit donuts because it's so much cheaper than buying expensive, pre-made ones in the store. And, they taste amazing!
Another way to serve these donuts is to add a dipping sauce with them. I personally like them by themselves but my family enjoys them with chocolate sauce for dipping. You could also dip them in caramel or strawberry sauce. The choice is yours!
CAN I MAKE THESE INTO CINNAMON SUGAR DONUTS?
Yes! Instead of adding powdered sugar to the coating, add cinnamon mixed with granulated sugar. They taste just as good but have a slightly different flavor. You can also try adding both cinnamon and powdered sugar for added deliciousness! I love them with cinnamon and without!
HOW DO I STORE LEFTOVER BISCUIT DONUTS?
Store leftover biscuit donuts in an airtight container outside of the refrigerator for up to one day. You can also freeze them if you want to keep them for longer. Just pop them into the microwave before eating and enjoy again!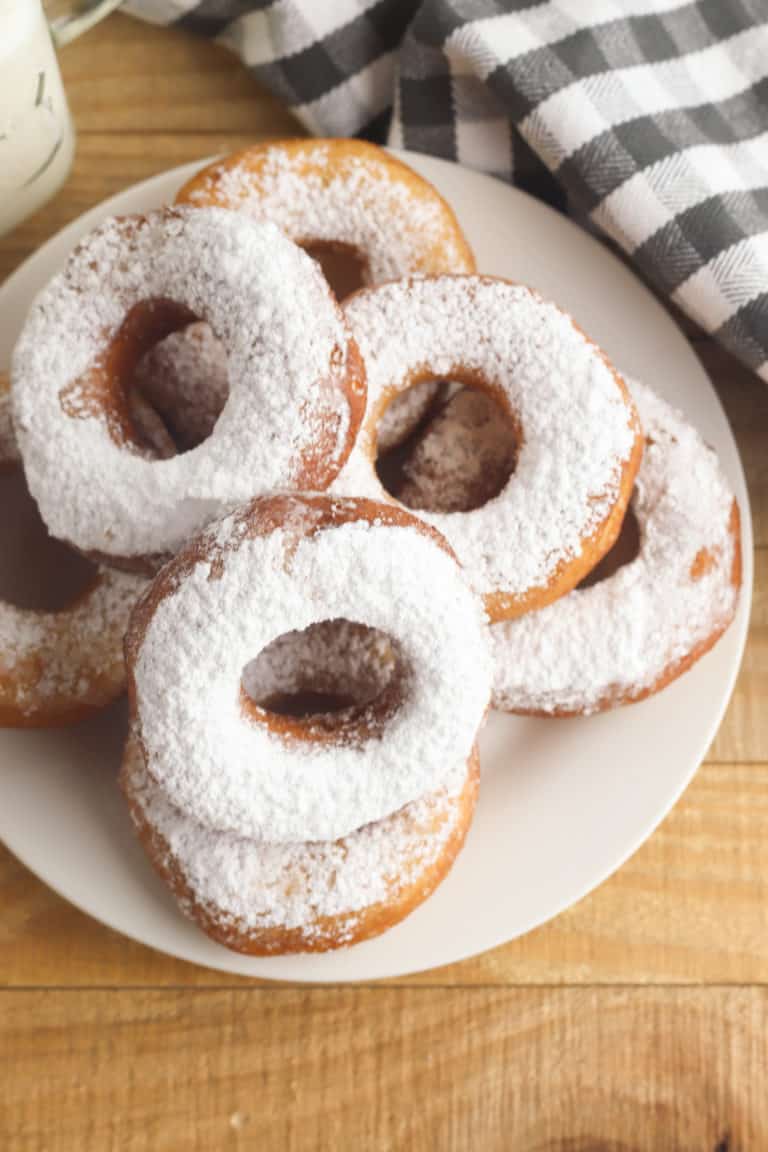 SHOULD I REHEAT LEFTOVER BISCUIT DONUTS?
If you'd like to heat up your leftover biscuit donuts, simply place them in the oven on a cookie sheet and bake at 350 degrees Fahrenheit for about 5 minutes. Alternatively, you can microwave them however microwaving them will cause them to lose their crispy texture.
WHAT KIND OF COOKIE-CUTTER SHOULD I USE?
I used a small circle cookie cutter to punch out the center of these donuts. Using a small 1/2 inch or 1-inch cookie cutter works best. However, you could use other shapes like small hearts or stars.
If you don't have a small cookie cutter, you can also use a knife to cut out the center of the donut. Doing it by hand might not result in a perfectly evenly donut but I promise it will still taste amazing.
INGREDIENTS FOR POWDERED SUGAR BISCUIT DONUTS
biscuit dough

powdered sugar

Oil for frying
HOW TO MAKE POWDERED SUGAR BISCUIT DONUTS
Step 1. Fill a pan with two inches of oil and heat over medium heat.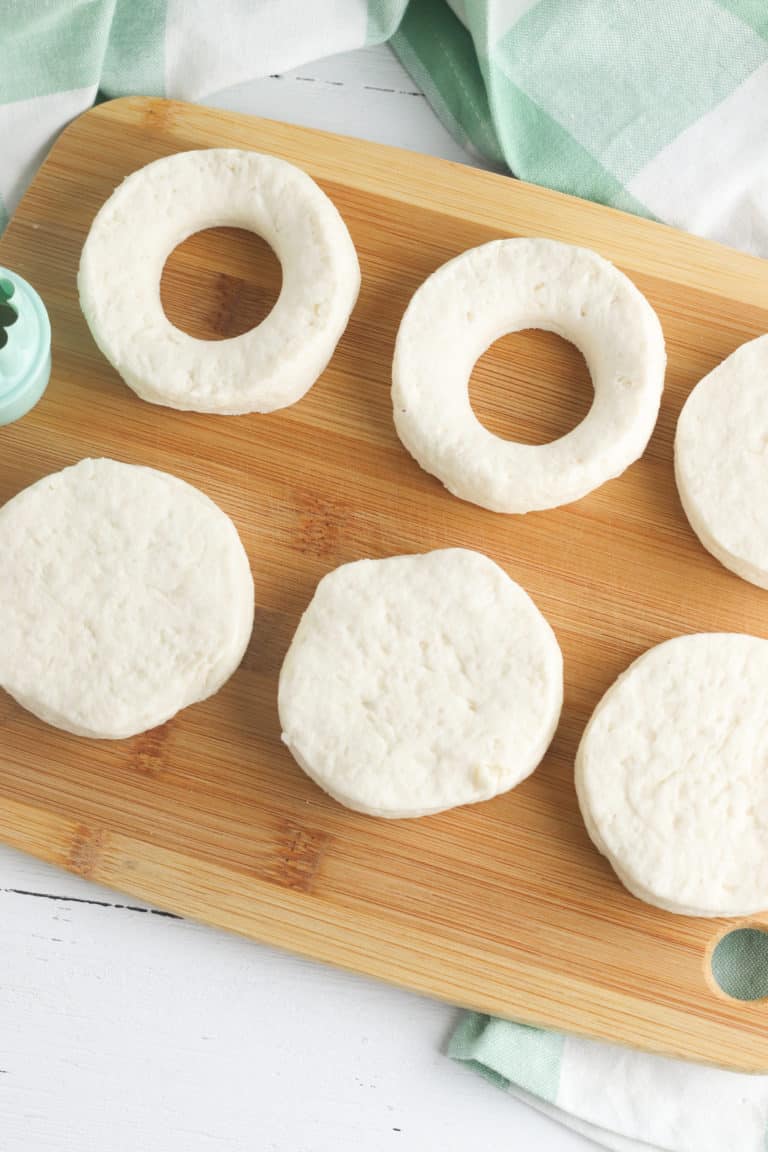 Step 2. While the oil is heating, remove the biscuits from the can. Use a small round cookie cutter to cut holes from the center of each biscuit.
Step 3. Place the donuts in the hot oil in groups of three. Cook one side for two minutes, then flip each donut and cook for an additional one to two minutes.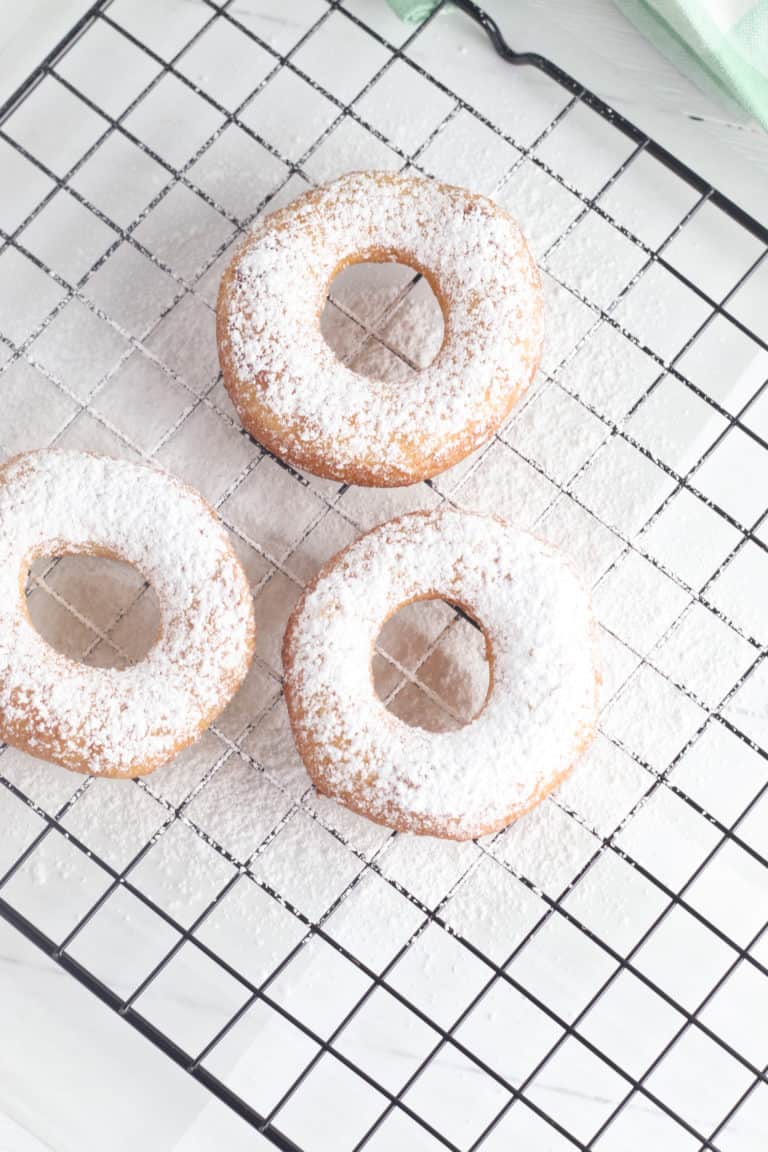 Step 4. Remove the cooked donuts from the oil and immediately top with powdered sugar. Flip each donut over and coat the bottom with powdered sugar.
Step 5. Continue cooking the donuts and topping with sugar until all the biscuits are cooked.
Step 6. Cook the centers of each biscuit in the hot oil to make donut holes. Cook each donut hole for one minute on each side, then remove from the oil and top with powdered sugar.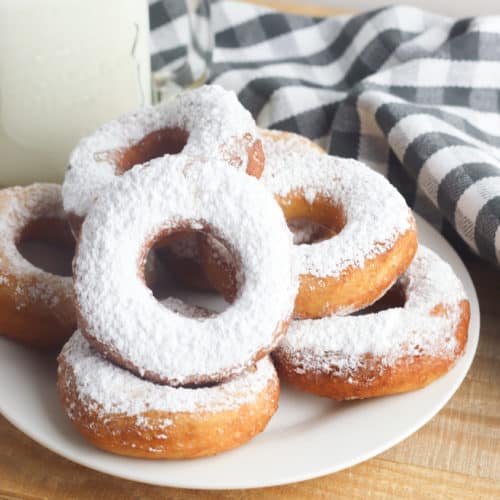 Powdered Sugar Biscuit Donuts
Powdered Sugar Biscuit Donuts are so easy to make, but yet so delicious. These homemade donuts are perfect for a quick snack for the family.
Equipment
Large Pan for frying

Metal Spatula or Fork

Cookie Cutter
Ingredients
1

can biscuit dough

1

cup

powdered sugar

Oil for frying
Instructions
Fill a pan with two inches of oil and heat over medium heat.

While the oil is heating, remove the biscuits from the can. Use a small round cookie cutter to cut holes from the center of each biscuit.

Place the donuts in the hot oil in groups of three. Cook one side for two minutes, then flip each donut and cook for an additional one to two minutes.

Remove the cooked donuts from the oil and immediately top with powdered sugar. Flip each donut over and coat the bottom with powdered sugar.

Continue cooking the donuts and topping with sugar until all the biscuits are cooked.

Cook the centers of each biscuit in the hot oil to make donut holes. Cook each donut hole for one minute on each side, then remove from the oil and top with powdered sugar
Nutrition
Serving:
1
Donut
Calories:
71
kcal
Carbohydrates:
17
g
Protein:
1
g
Fat:
1
g
Saturated Fat:
1
g
Polyunsaturated Fat:
1
g
Monounsaturated Fat:
1
g
Cholesterol:
1
mg
Sodium:
32
mg
Potassium:
8
mg
Fiber:
1
g
Sugar:
15
g
Vitamin A:
1
IU
Calcium:
2
mg
Iron:
1
mg
More easy desserts