Patriotic Red, White And Blue Cookie Sandwiches
Looking for a fun and festive patriotic cookie recipe? These 4th of July cookie sandwiches are a delicious and festive dessert. Two cookies sandwiched together with frosting… and don't forget the sprinkles!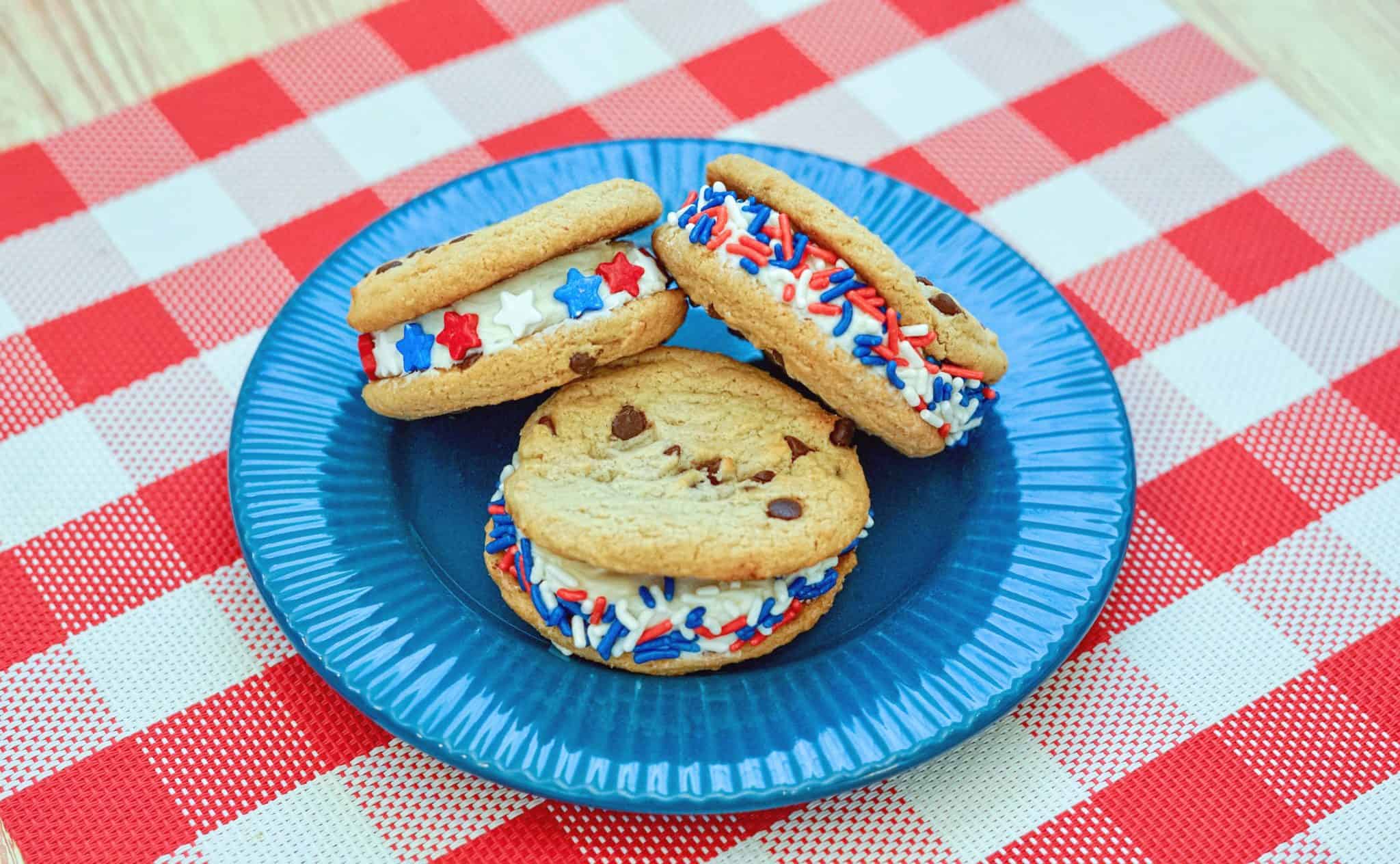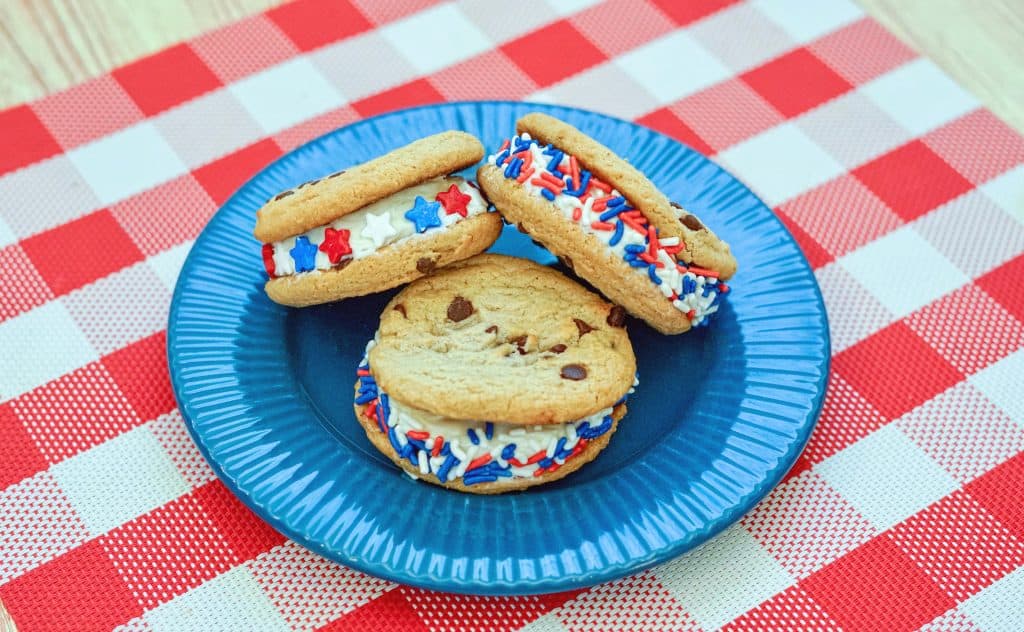 A red, white, and blue patriotic cookie sandwich recipe that is fun, tasty, and gets you feeling like celebrating within the first bite.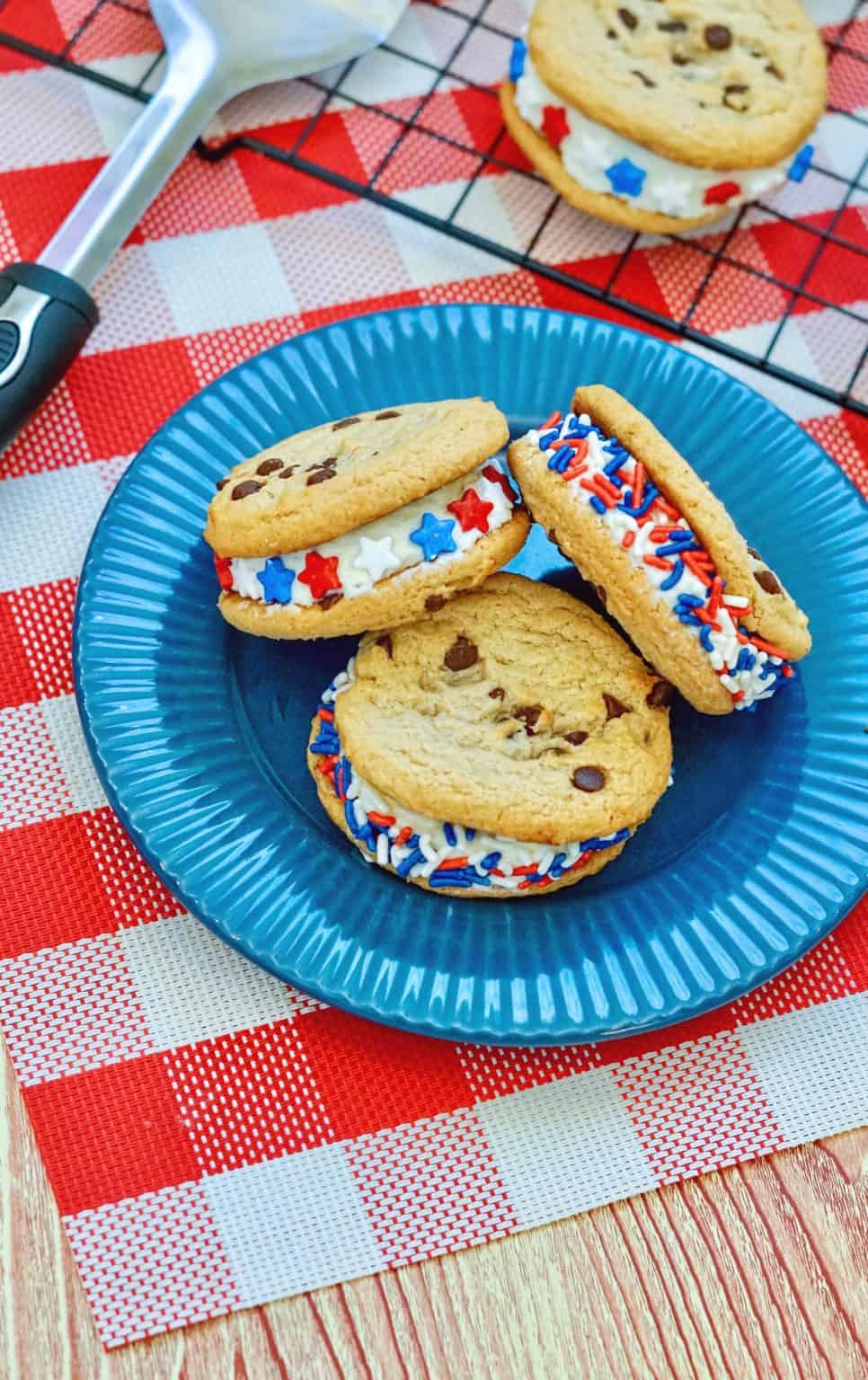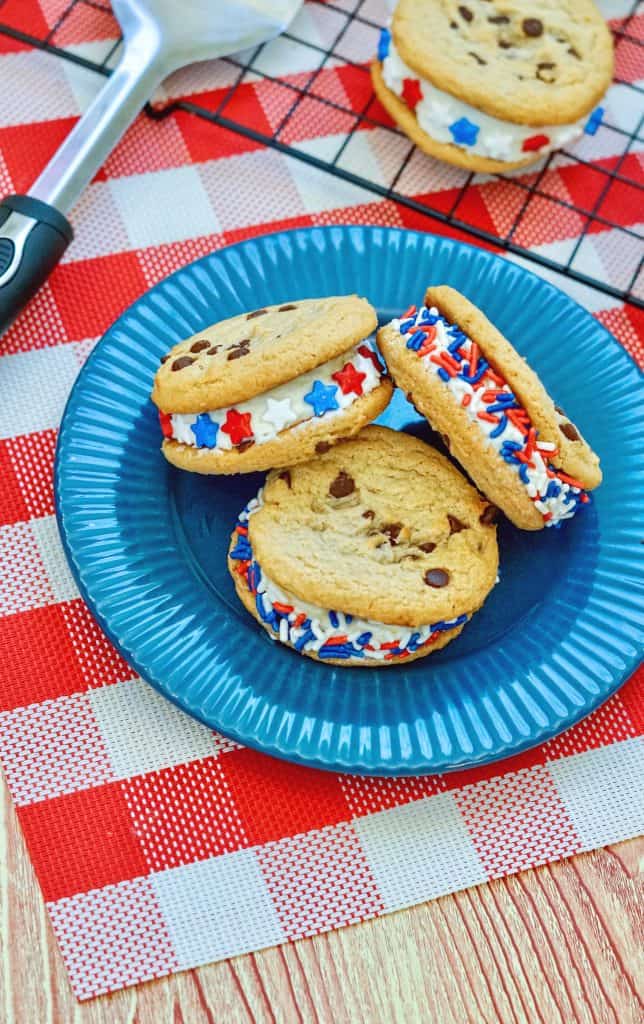 Ingredients For Fourth of July Cookie Sandwiches
Flour

Granulated Sugar

Brown Sugar

Butter

Egg

Chocolate Chips

Frosting

Sprinkles
How to Make Cookie Sandwiches
Preheat the oven to 350 F and prep your baking sheet as directed in the recipe card.

Then in a bowl you will add in the flour, both sugars, butter, and baking powder. Add in the egg, and mix until fully combined.

Fold in your chocolate chips at the end.
Now with a cookie scoop drop balls on your baking sheet.
Bake your cookies until they are golden.
When the cookies have cooled, frost one cookie, and then place the other cookie to sandwich them together.

Finally, apply sprinkles.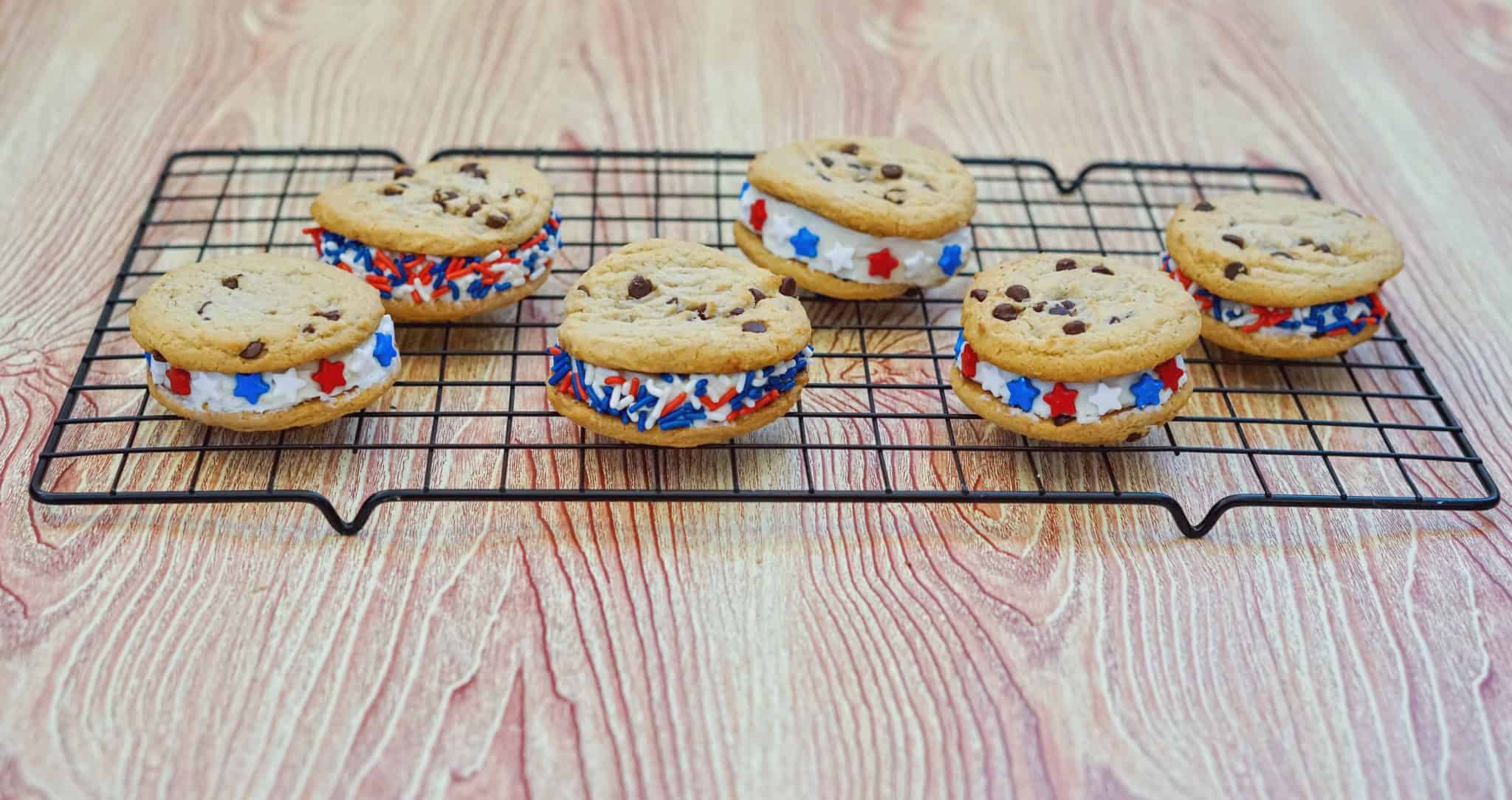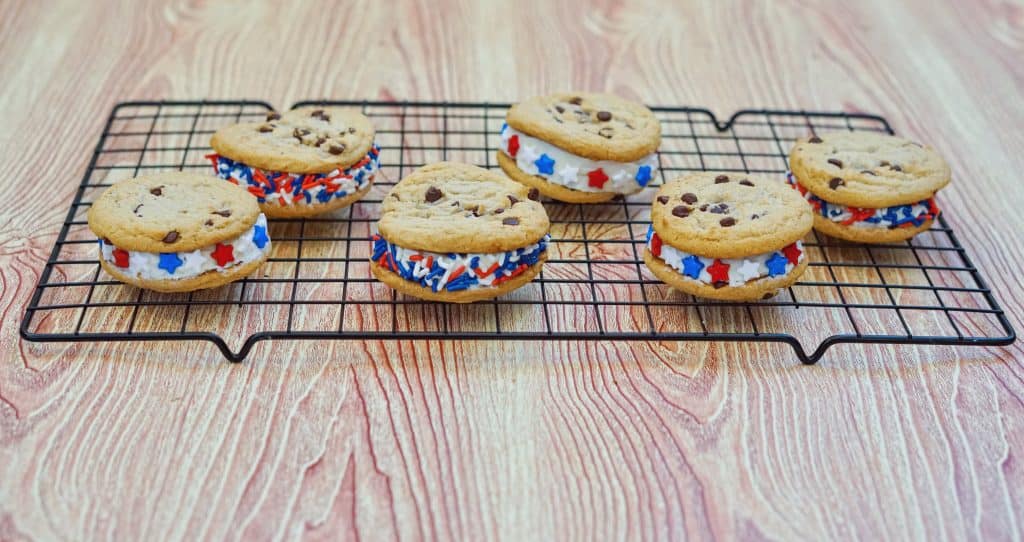 Serve up this simple but delicious homemade sandwich cookie! Great for a patriotic dessert, but you can also make these any time of the year. This sandwich cookies recipe could be great for a Memorial Day barbecue as well.
Variations To Recipe
You could easily use food coloring to flavor the cookie dough, for more of a festive feel.

Instead of frosting consider doing ice cream for an patriotic ice cream sandwich instead.

You can use store bought frosting or opt to make homemade. A buttercream frosting would be tasty!
Storing Cookies
You will want to store in an airtight container. Now, if you use a buttercream style frosting, store the cookies in the fridge. Otherwise, if the frosting can be left out on the counter then you can store at room temperature.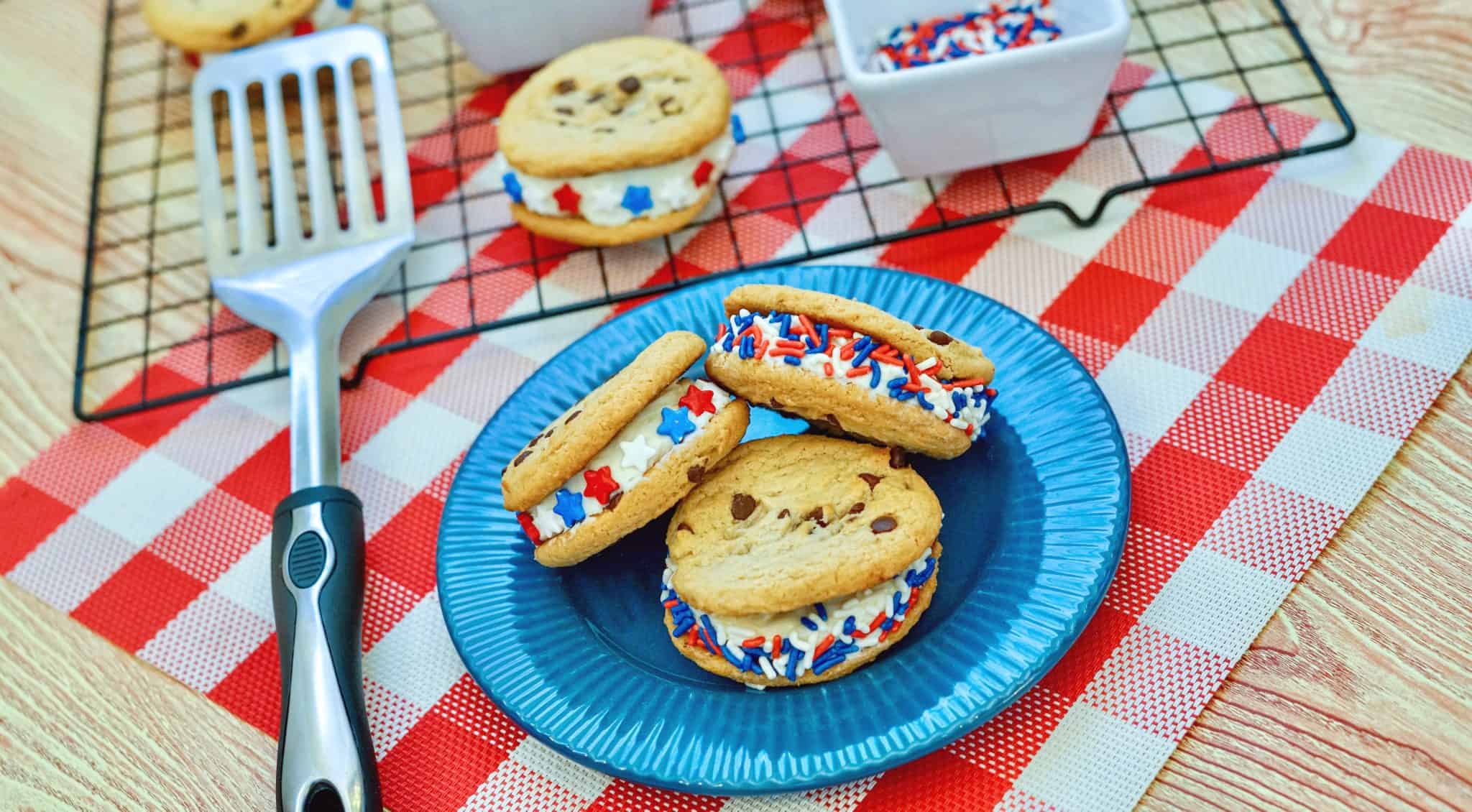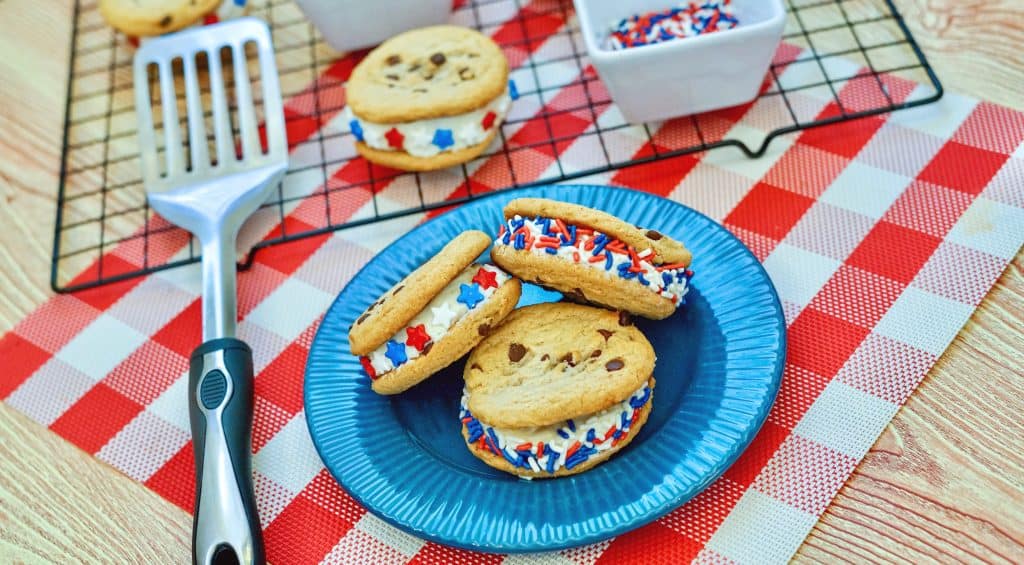 These red white and blue cookies do freeze well! Just allow the cookies to cool completely. Then freeze for 3-4 months in the freezer.
Can I Use Store-Bought Cookie Dough Instead
Not feeling up to making homemade cookies? Make a cake mix cookie or even opt for refrigerated cookie dough. Either method works great.
Just bake up the cookies as directed, and then allow them to cool. Then serve these cookies up at your 4th of July party or whatever the occasion may be.
Tips For Getting Sprinkles on Side Of Cookies
You have two options here on how to get sprinkles on all the edges of your cookies. You can hold the cookie sideways, and sprinkle the festive sprinkles directly on the cookies.
Or you can add sprinkles onto a plate and then dip the cookies in the sprinkles. This only works if your frosting is around the edges of the cookies. Otherwise, you can't actually dip them.
Patriotic Red, White And Blue Cookie Sandwiches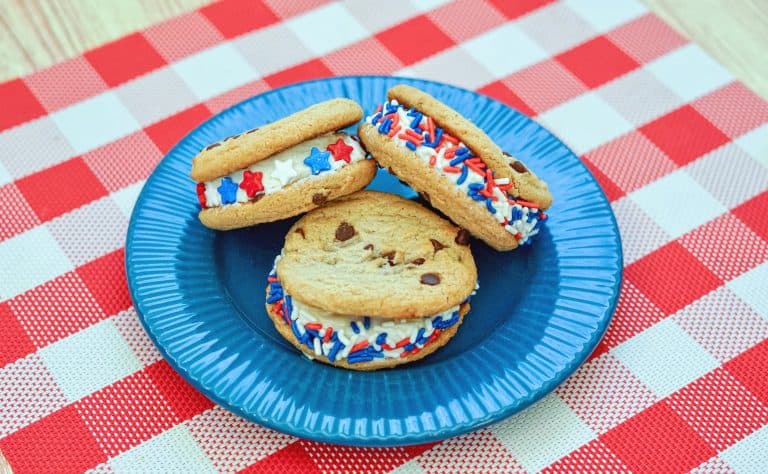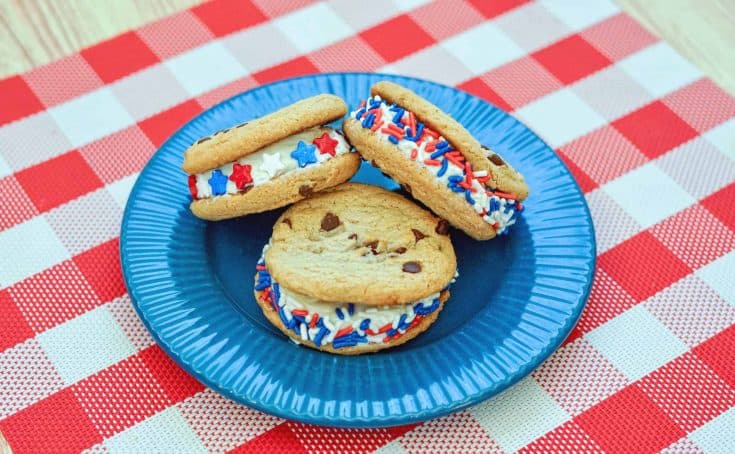 Ingredients
1 1/2 Cups All Purpose Flour
1/4 Cup Brown Sugar
1/2 Cup Butter (Room Temperature)
1/2 Cup Sugar
1 Egg
1/2 Cup Chocolate Chips
1/2 Teaspoon Baking Powder
Frosting
Sprinkles
Instructions
Preheat oven to 350 degrees F.
In a large mixing bowl combine flour, brown sugar, sugar, butter, & baking powder.
Stir in chocolate chips.
Make into tablespoon sized balls and place on a nonstick pan or a parchment paper lined pan. Use a spoon to slightly flatten.
Bake for 10-12 minutes.
Remove from oven. Place on cooking rack.
Once cookies have cooled, spread frosting on the inside of every other cookie.
Place a cookie on top to make a cookie sandwich.
Sprinkle the edges.
Serve & enjoy.
Do You Have To Chill The Cookie Dough?
What I enjoy about this cookie recipe, is it doesn't require you to chill the dough. So it makes the recipe so much easier than other cookie recipes.
Just use a bowl and spoon, mix up the dough, scoop, and bake. Easy, simple, and no chilling the dough for a few hours.
Do I Need To Pipe Frosting Into The Cookies?
No piping skills are needed for this recipe. If you want to use a spoon or spatula and spread it on the cookies, go right ahead.
Or if you want to showcase some pretty frosting, reach for your piping supplies. It is up to you on how you want to serve up these cookies. But, just know you don't need to pipe the frosting onto the cookies, which makes the process so much easier.
Interested In More Patriotic Desserts?
Also, check out my Rainbow Sugar Cookies for a fun swirled sugar cookie.