Sugar cookies are a holiday staple, especially when you cut them into festive shapes and then glaze them.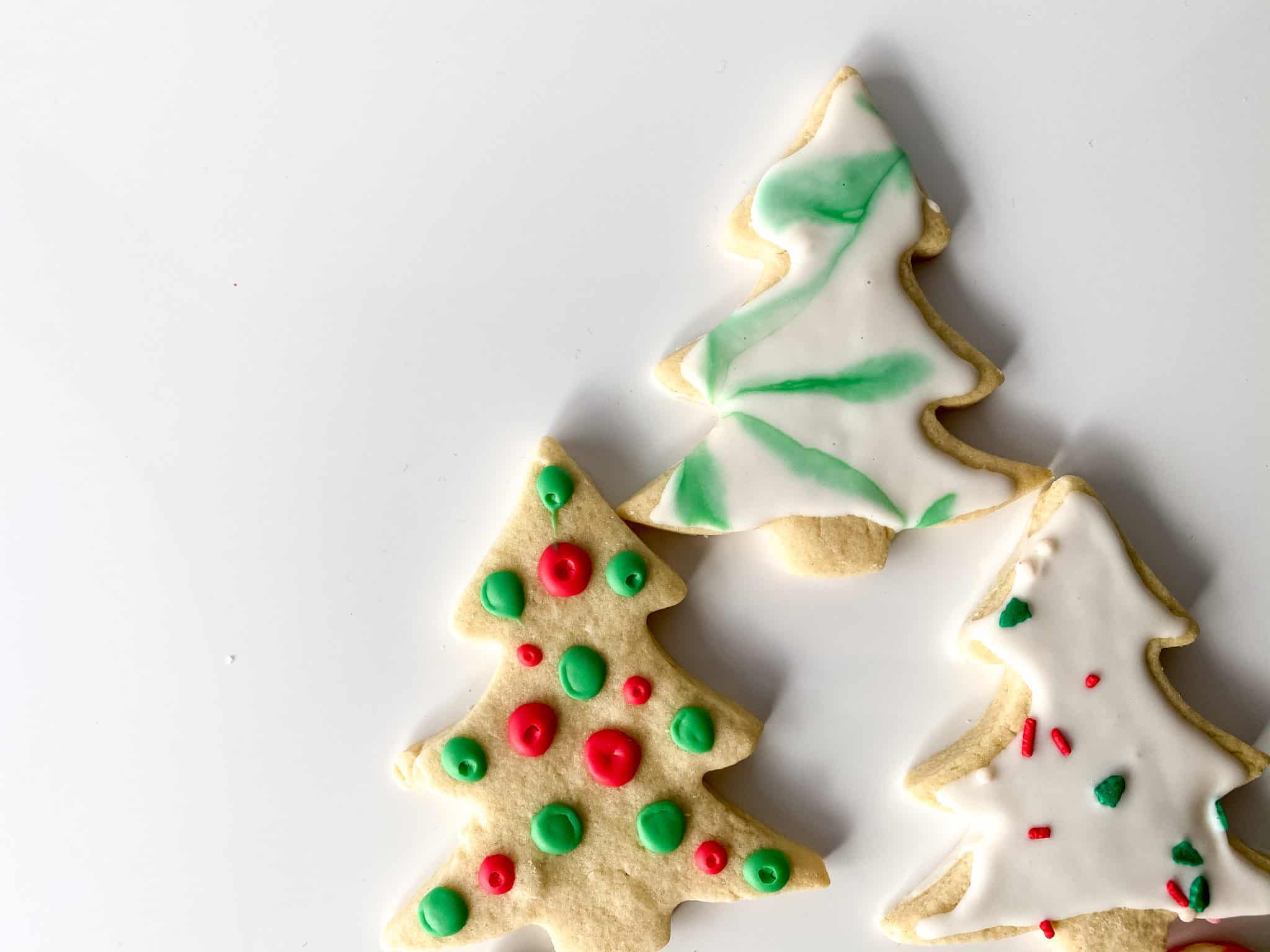 Baking is a fun family activity, too. Kids love to be a part of the process, whether by measuring ingredients, mixing them or decorating the sugar cookies. Plus, who doesn't like the smell of cookies in the oven?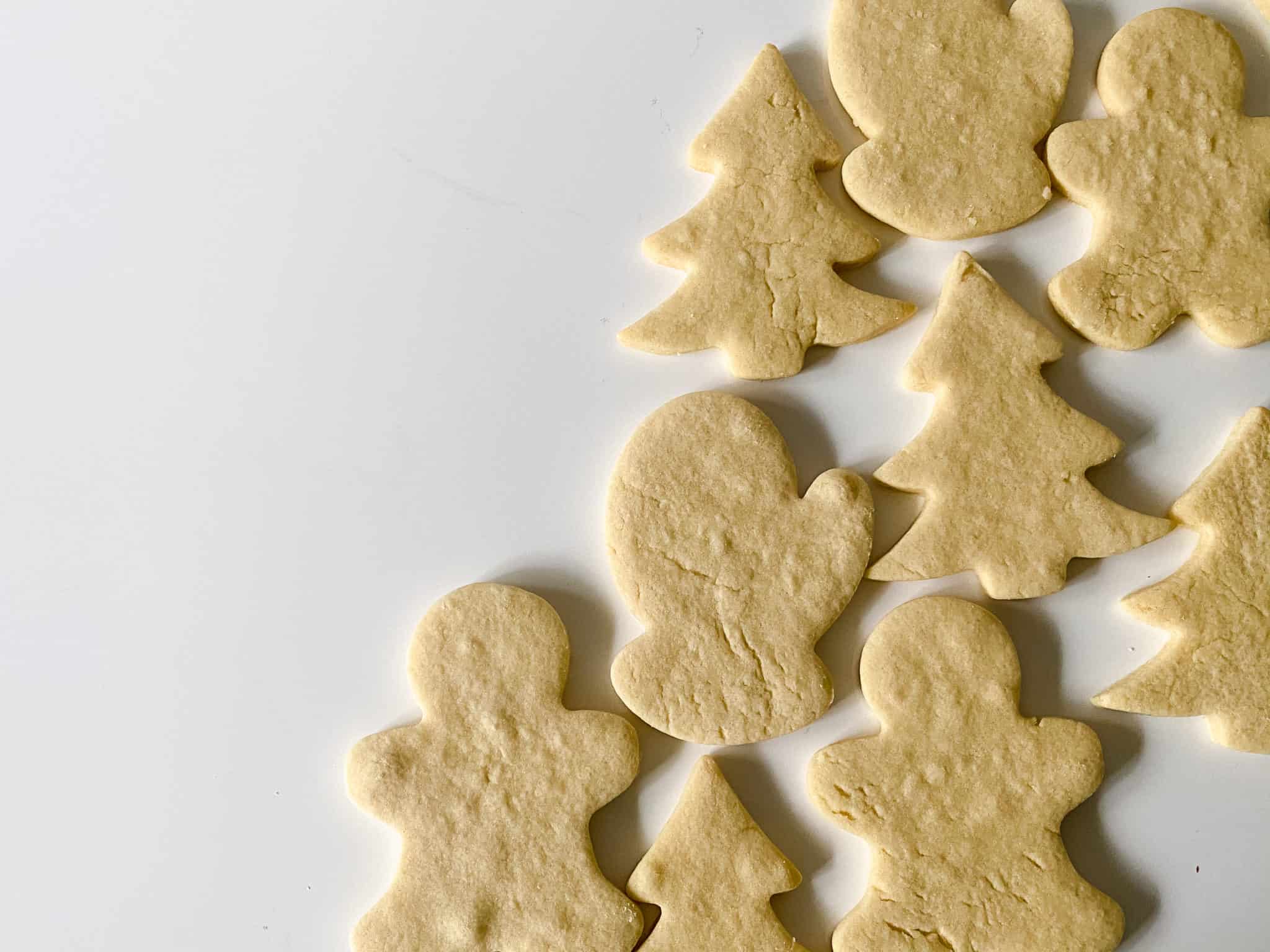 The biggest challenge can be avoiding the cookie batter from spreading. More than once I thought I had the most perfect cookies only to have a spread out, amorphous blob once I took them out of the oven. They were yummy, but not pretty.
If you've also had this issue, you will LOVE this no spread sugar cookies recipe. It is honestly the best one I've tried when making holiday cookies. I also included an easy yet beautiful glaze recipe so you can decorate them.
Best No Spread Sugar Cookies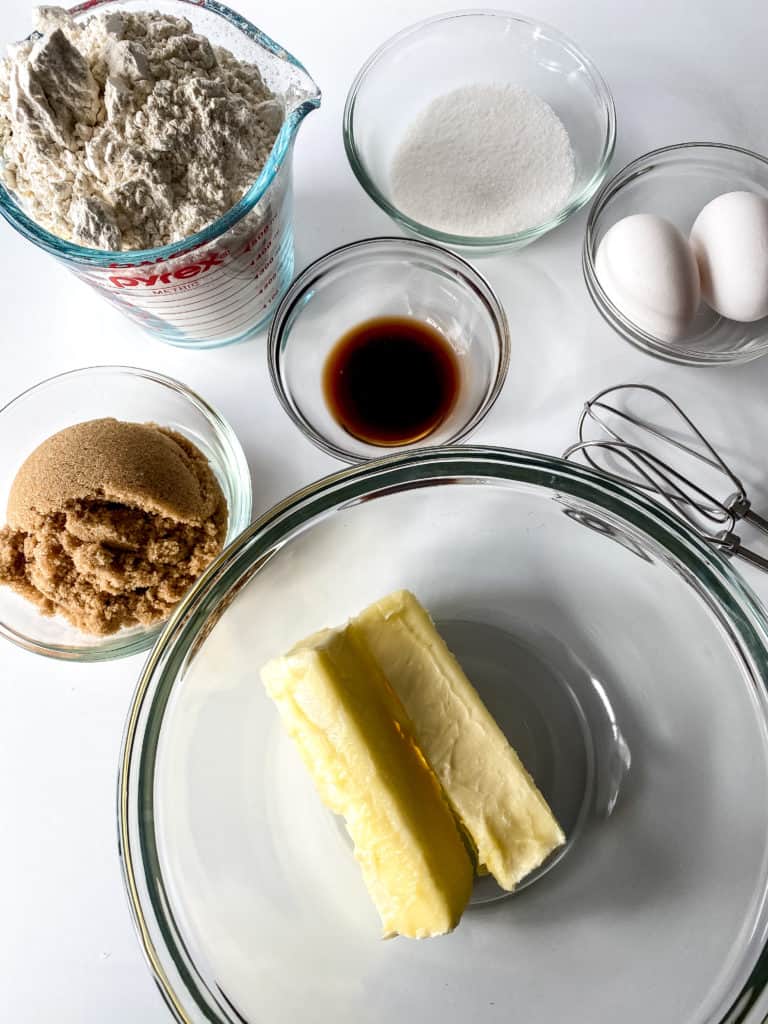 You will need:
Cookie Sheets
Parchment Paper
Cookie Cutters
Mixer (hand or stand)
Gel Colors (white gel coloring is optional)
Joseph Rolling Pin or Skewers (optional)
Ingredients:
Cookie Dough:
1/2 cup softened unsalted butter
1/2 cup light brown sugar
1/4 cup granulated sugar
1 large egg
1 tsp vanilla
A pinch of salt
5 cup all purpose flour (plus extra for rolling out the dough)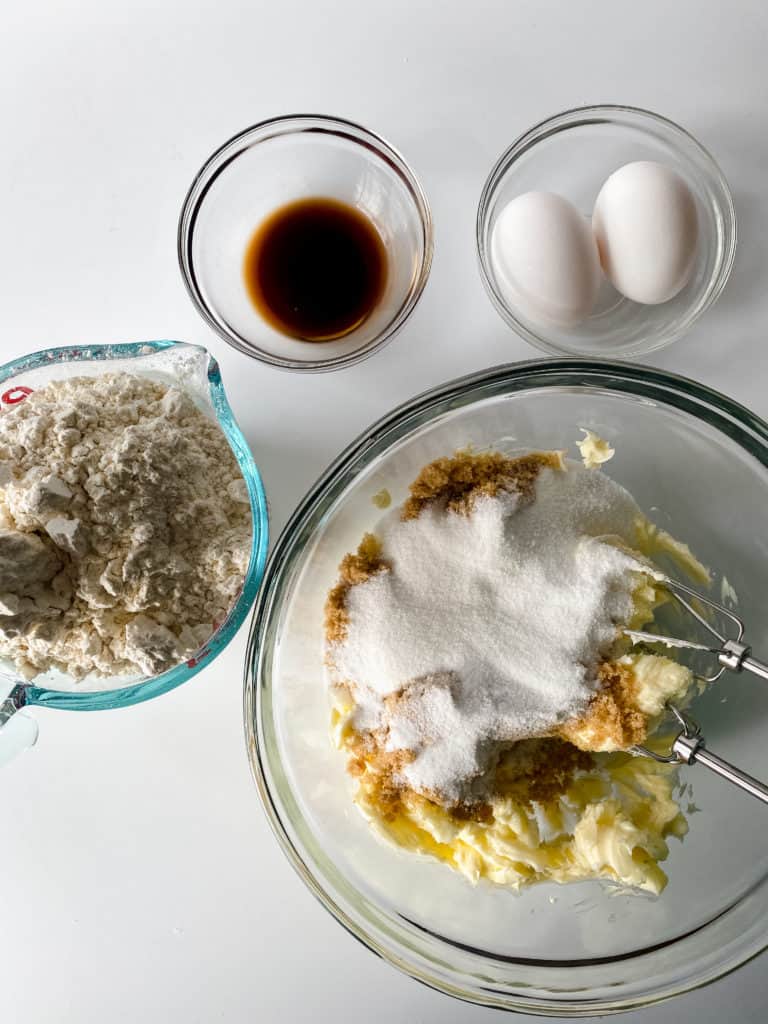 Instructions:
Preheat the oven to 350F (177 C)
Cream together butter and sugars (3-5 mins) depending on speed of mixer
Add egg and vanilla. Mix until incorporated.
Add flour and salt. Mix until dough forms.
Sprinkle a dusting of flour on your work surface.
Knead your dough gently to bring it together before rolling it out.
Lightly flour the top of the dough and make sure any exposed surface area your dough can touch is floured.
Roll out dough.
Cut out shapes and place onto a parchment lined baking sheet.
Bake for 10-12 mins
Allow cookies to cool on pan 15-20 min before icing.
Glaze Ingredients: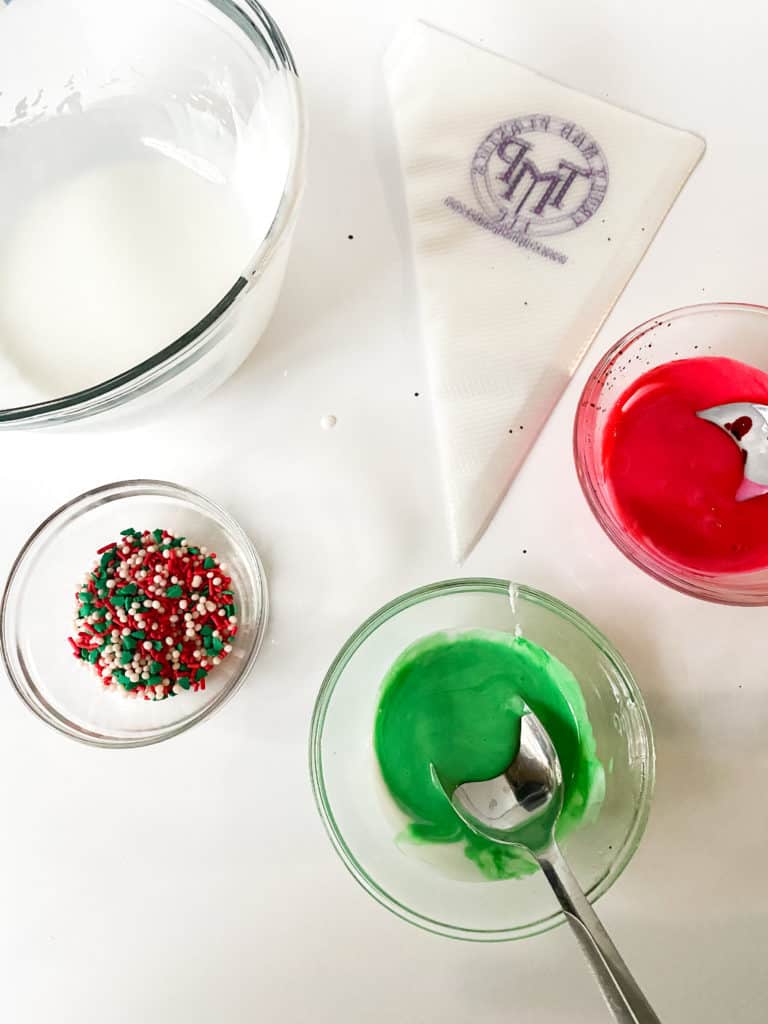 1 lb (453 gr) powdered sugar
1/4 cup corn syrup
1/4 cup water
1/2 tsp clear vanilla (regular vanilla is fine but the glaze will need to be colored)
Red & Green GEL food colors.
Glaze Icing Instructions: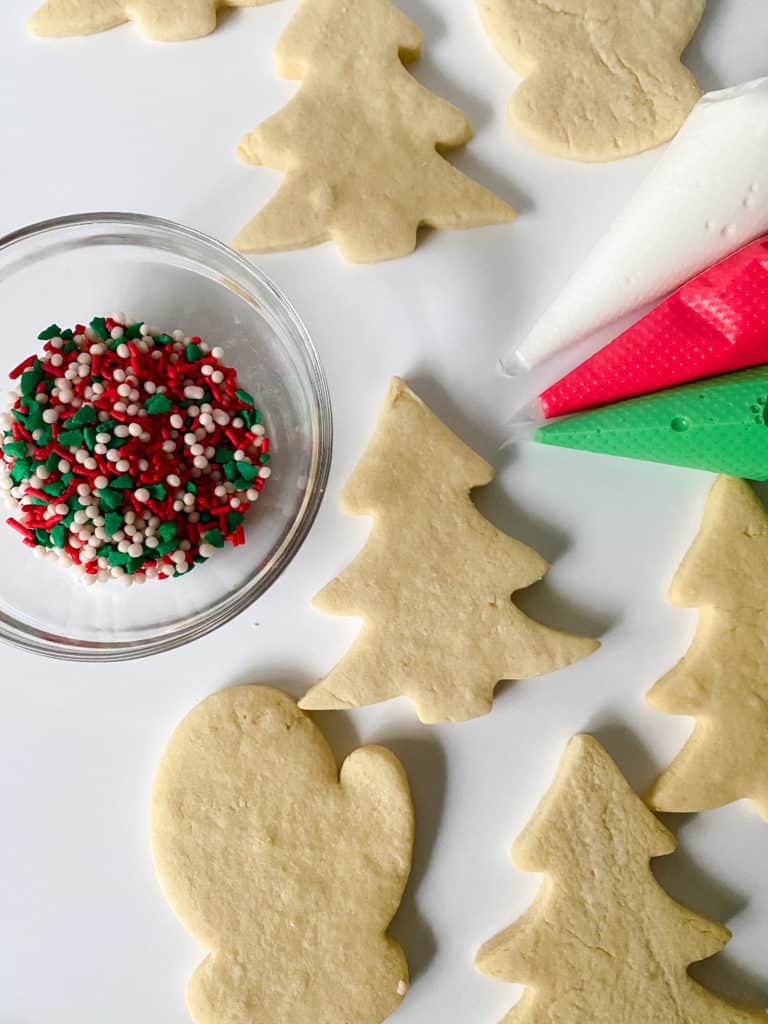 Add powdered sugar, corn syrup, water and vanilla to a bowl.
Mix with an electric mixer until fully mixed in.
For a bright white icing you will need to add 3-4 drops of white gel coloring.
Icing should be thick not runny.
Separate icing into smaller bowls and color with a drop of gel food coloring.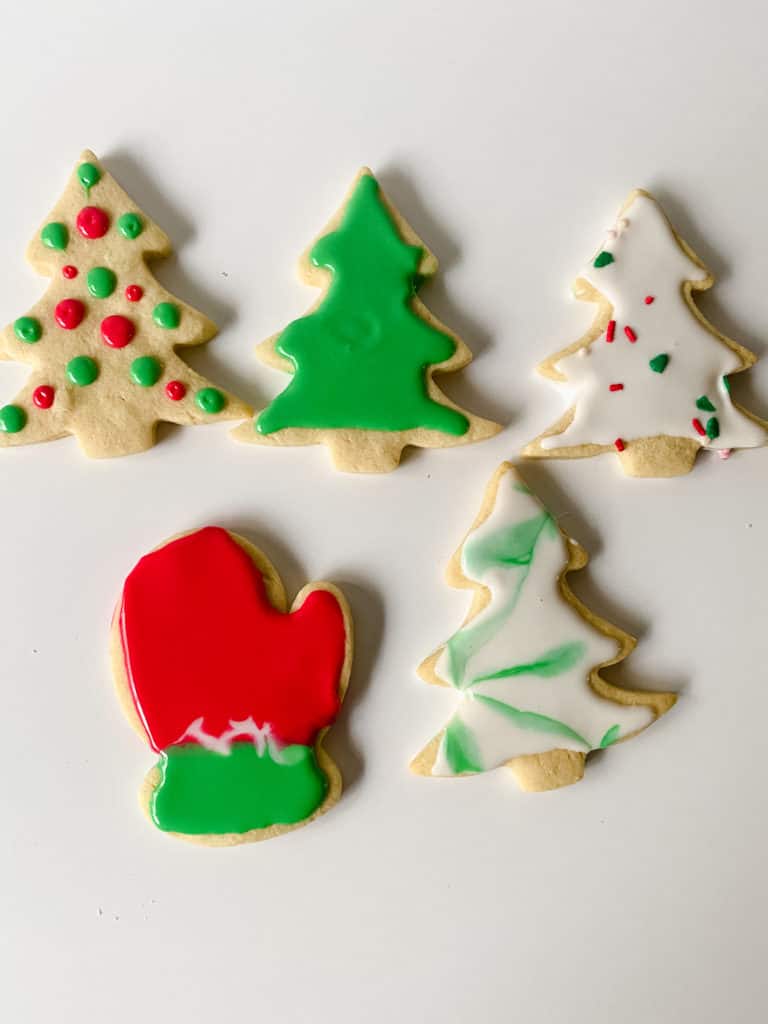 These no spread sugar cookies should not only look amazing but also be absolutely delicious. Let me know if you make them!