7 Must-Read Romance Novels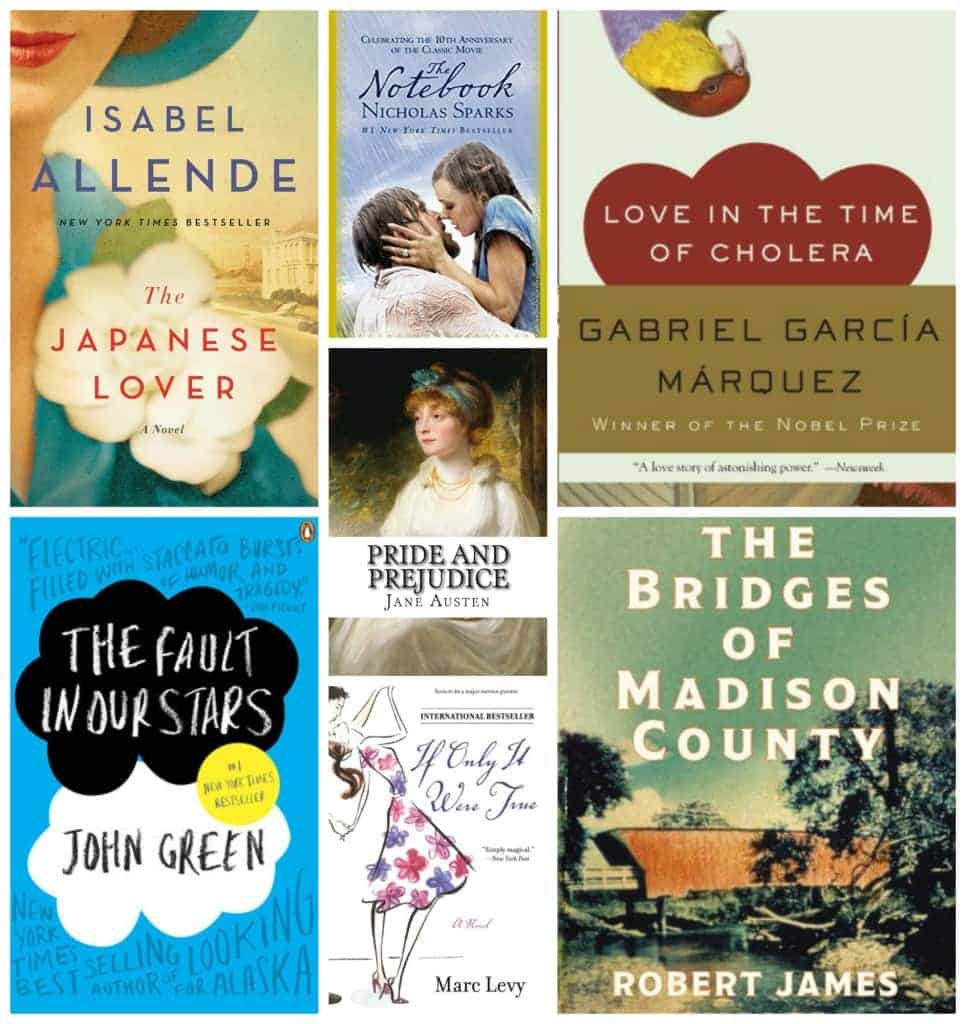 Romance novels are great all year round. I love reading and what it can do — transport you to a different time and place, make you feel and empathize for characters that exist only on the pages. Even when you see the characters on a big screen (as it happens with many great love stories) there is nothing better than being enthralled with a book, when you are hanging on to every single word.
Need some suggestions? Here are 7 must-read romance novels to allow you to get whisked away to lands of passion, romance and true love.
 7 Great Romance Novels
1. The Bridges of Madison County by Robert James Waller
You might have seen the movie, so when you read the book, you will surely see Clint Eastwood and Meryl Streep as Robert Kincaid and Francesca Johnson. This love story is a classic, even if you disagree about adultery. However, you can't help but root for Francesca and Robert… Sometimes love isn't supposed to happen but that doesn't mean it is less true.
2. The Fault in Our Stars by John Greene
The Fault in Our Stars is a teenage love story between two youngsters who have cancer, and meet at a cancer support group. Teenage love is intense; this book will make you remember what that feels like. This novel captures all the emotions the youngsters go through due to their medical conditions. Superbly written, keep tissues handy.
3. The Notebook by Nicholas Sparks
 Who can forget this love story on the big screen? Nicholas Sparks Noah (Ryan Gosling) and Allie (Rachel MacAdams) played youngsters who fall in love despite being from different social classes.
4. Love in the Time of Cholera by Gabriel García Márquez
Imagine falling deeply in love and  then that person marries someone else. So you live your life with affairs, but nothing significant, because you're reserving your heart for the woman you fell for in your youth. That's exactly what happens in this novel by Nobel Prize winner García Márquez.
5. Pride and Prejudice by Jane Eyre
A timeless classic, it is possible that you read this in HS English literature. Even if you did, I invite you to consider exploring it again.  Set in 19th century England, Elizabeth and Mr. Darcy's relationship is still considered one of the best love stories of all time, despite having been written over 200 years ago.
6. If Only It Were True by Marc Levy
You may remember the movie Just Like Heaven with Reese Witherspoon and Mark Ruffalo. That movie was based on "If Only It were True" by Marc Levy, France's best-selling author, and has been translated into 40 languages.  It mixes romance, comedy and the supernatural. Set in San Francisco, Levy's detailed and vivid description of the city and of the character's thoughts and actions are highly entertaining.
7. The Japanese Lover by Isabel Allende
Isabel Allende's latest novel is a love story spanning over 70 years between a young Polish woman and a young Japanese man. It is not only about romance; it also examines race, history (the harsh treatment of Japanese immigrants during WWII) and love in a variety of ways.
What book would you add to this list? Share your recommendations below! I'm always looking for some great romance novels for my Kindle!