How To Make The Best Rainbow Bagels
Rainbow bagels are bursting with bright colors, and are so tasty. A homemade bagel that is swirled with all the colors of a rainbow.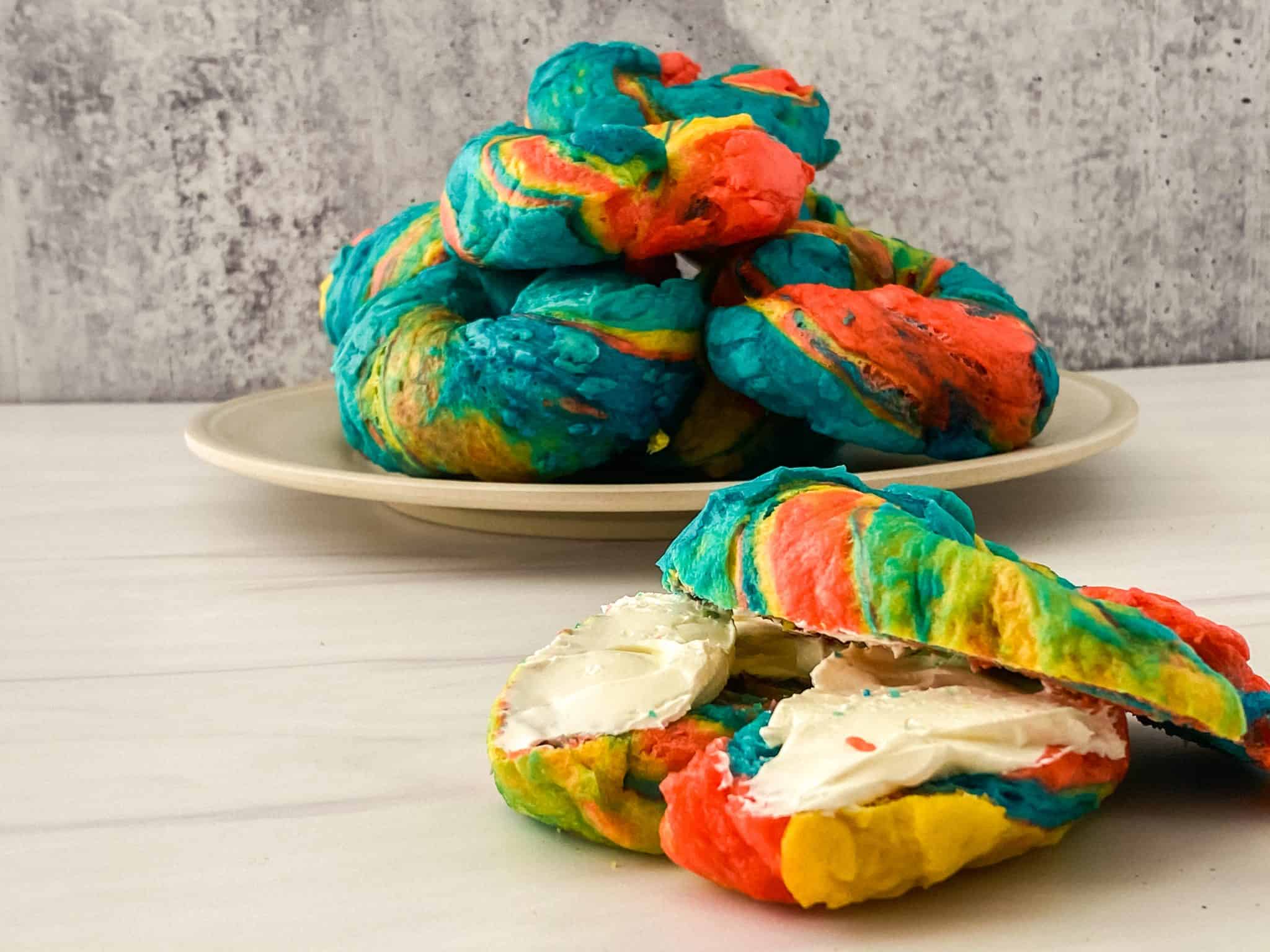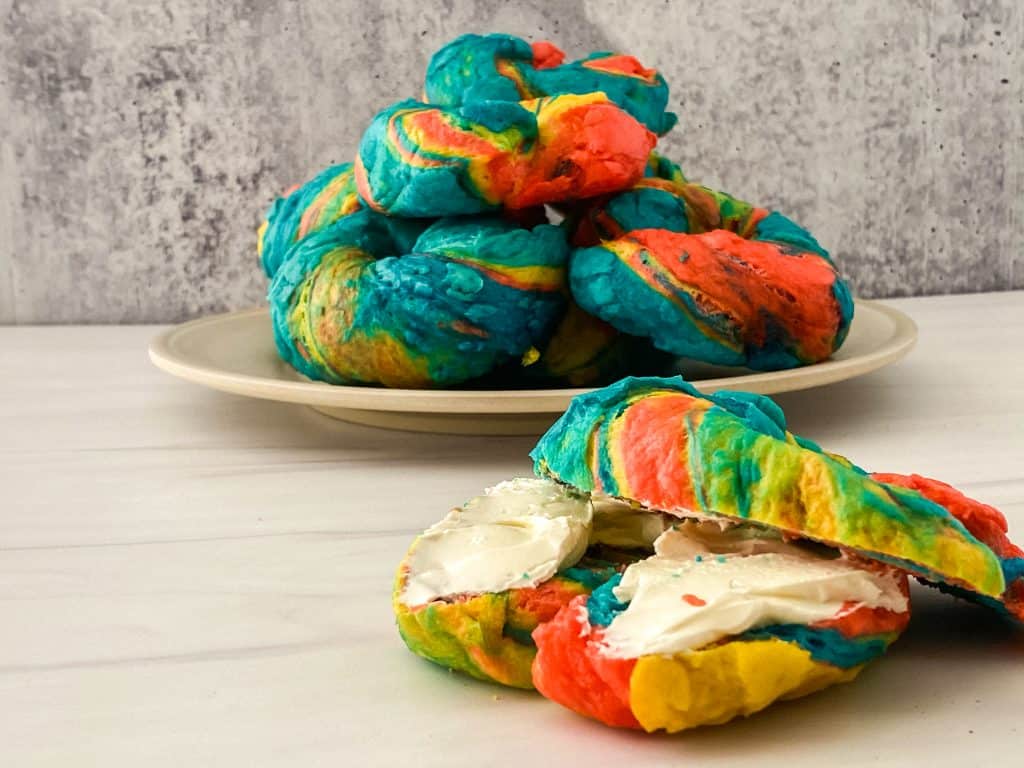 This is a fun way to serve up breakfast or celebrate Pride! Learn how to make rainbow bagels from scratch.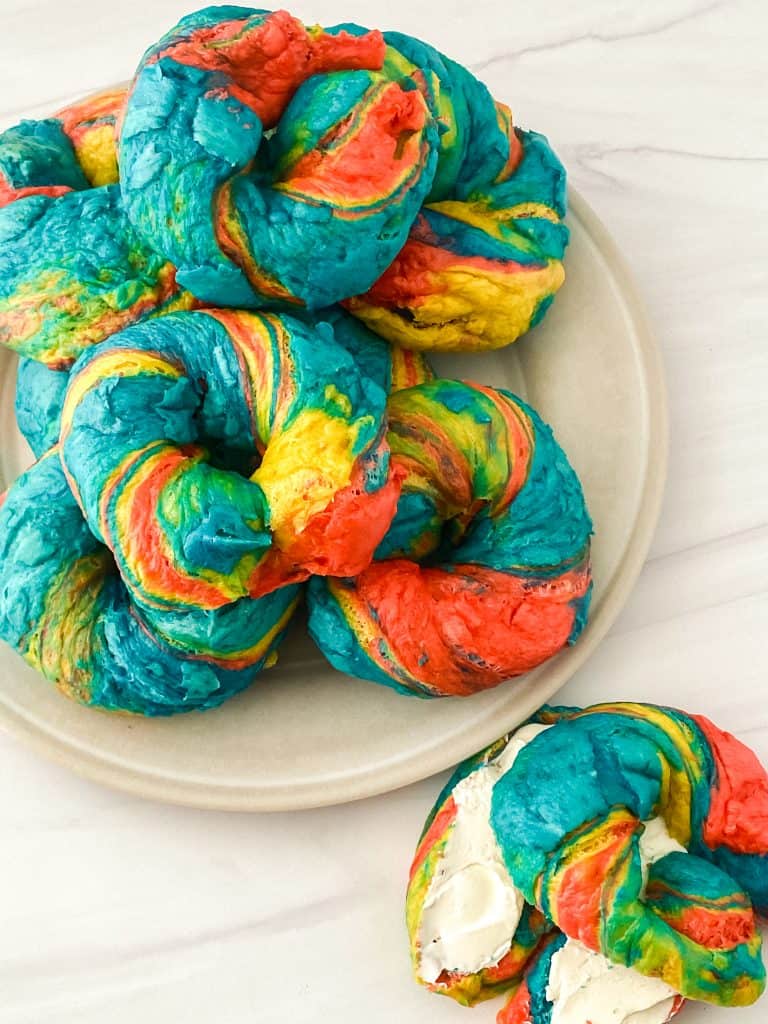 Brighten up your day! Give this rainbow bagel recipe a try and let me know how much you enjoy it. These bagels are also perfect for a tie dye party.
Rainbow Bagels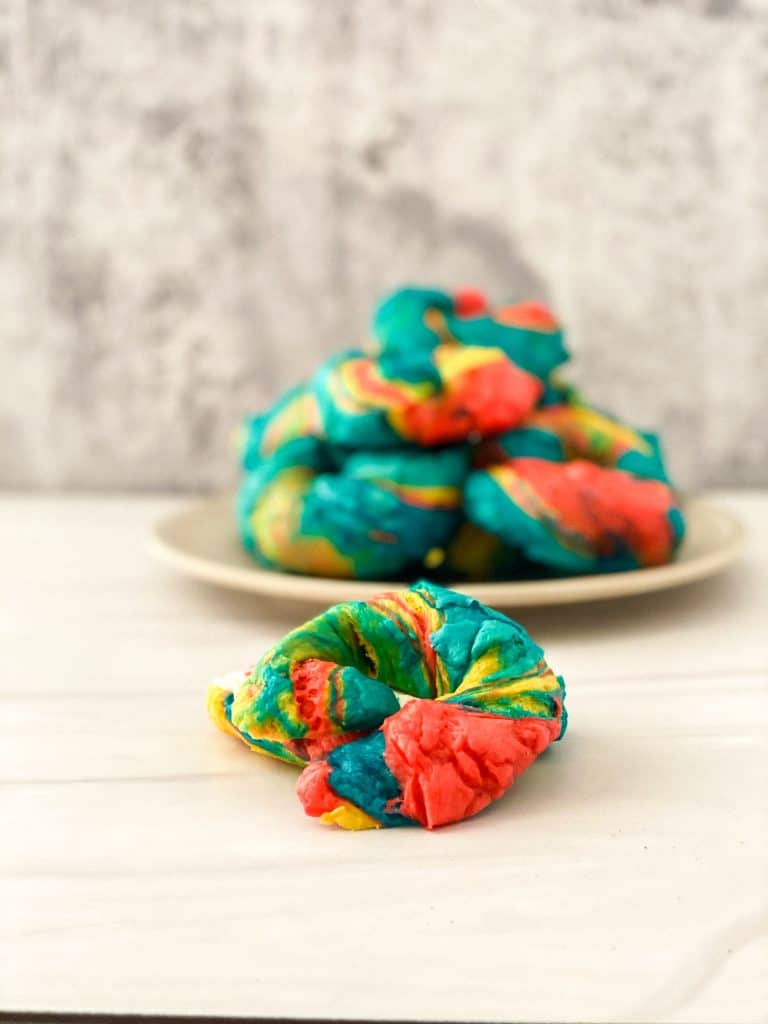 You could also call these colorful bagels a tie dye bagel. No matter what the name is you pick, the delicious bagels are a hit.
Ingredients For Rainbow Bagels
Active dry yeast

Water

Sugar

Flour

Salt

Gel food coloring

Oil
How to Make Rainbow Bagels
Full measurements and instructions are in the recipe card below. This is a quick overview.
Start by adding the warm water, sugar, and yeast in a bowl. Stir and allow the yeast to bloom.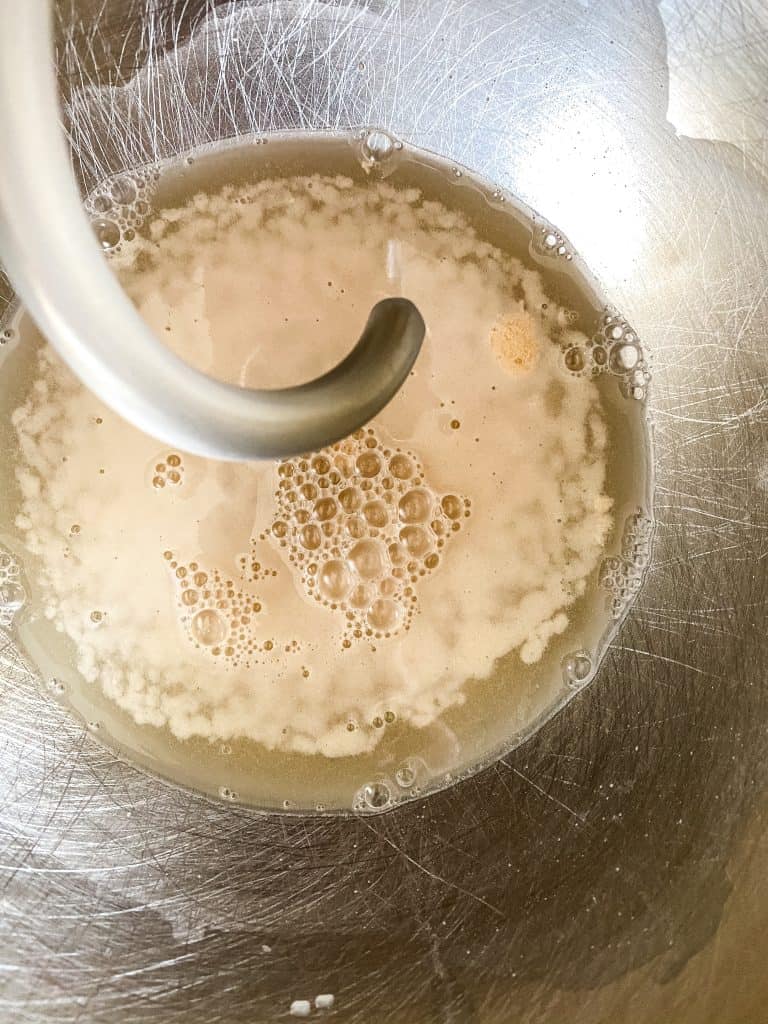 Next you will grab your stand mixer and dough hook. Add in half the flour and food coloring. Start with the lightest color first.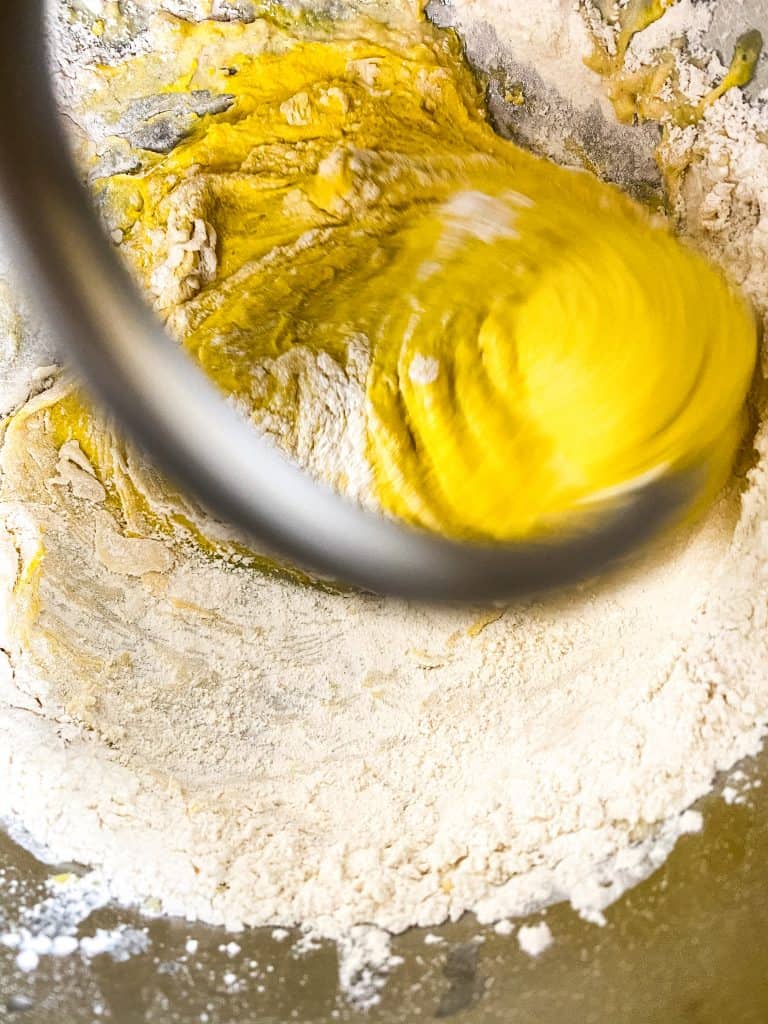 You are going to color sections of the dough and then place each color in a greased bowl and cover. Repeat for all the colors.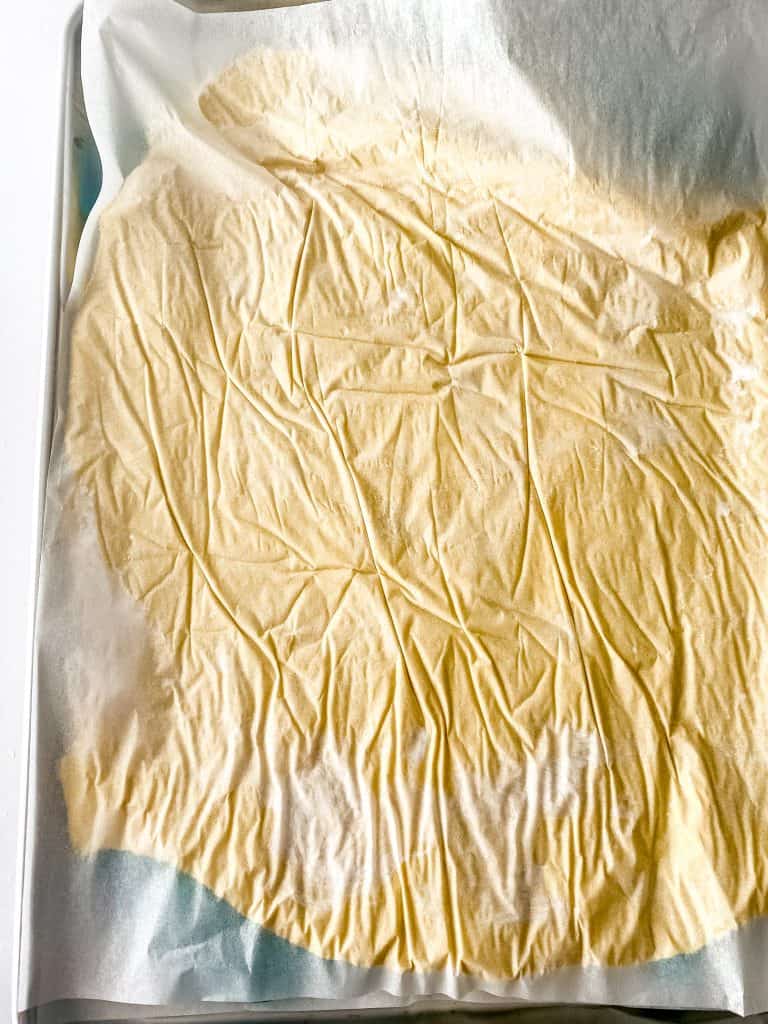 You will want to allow the dough to rise and double in size.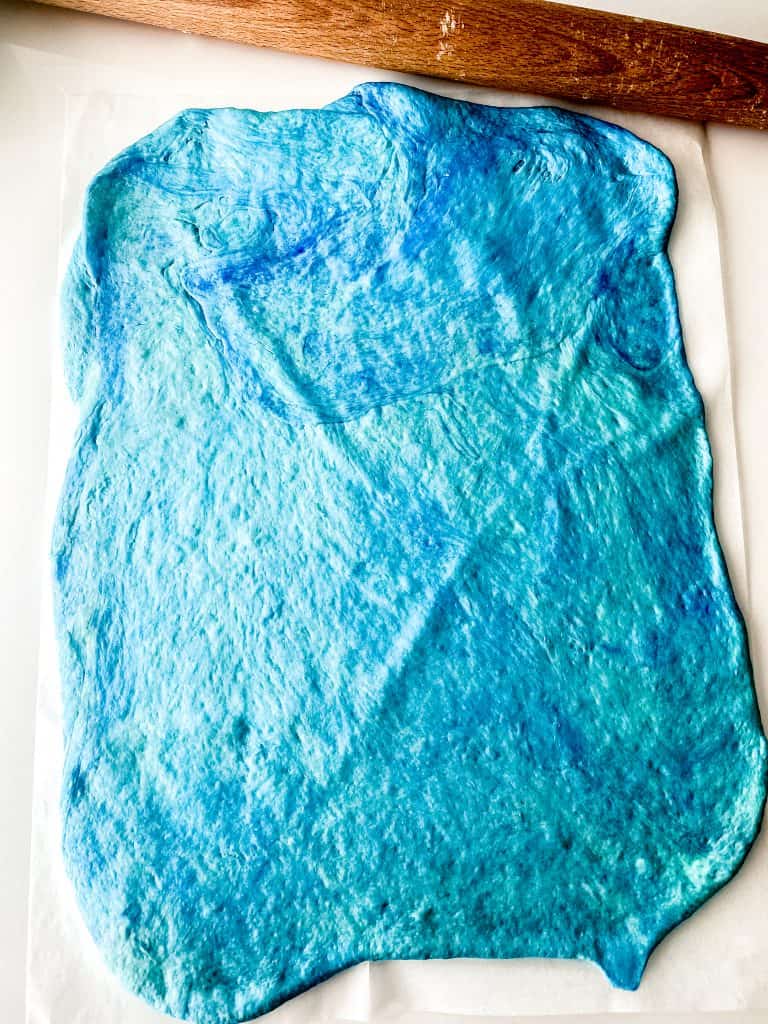 Stack your bagel dough on top of one another, making even layers and shape. Allow dough to rise again.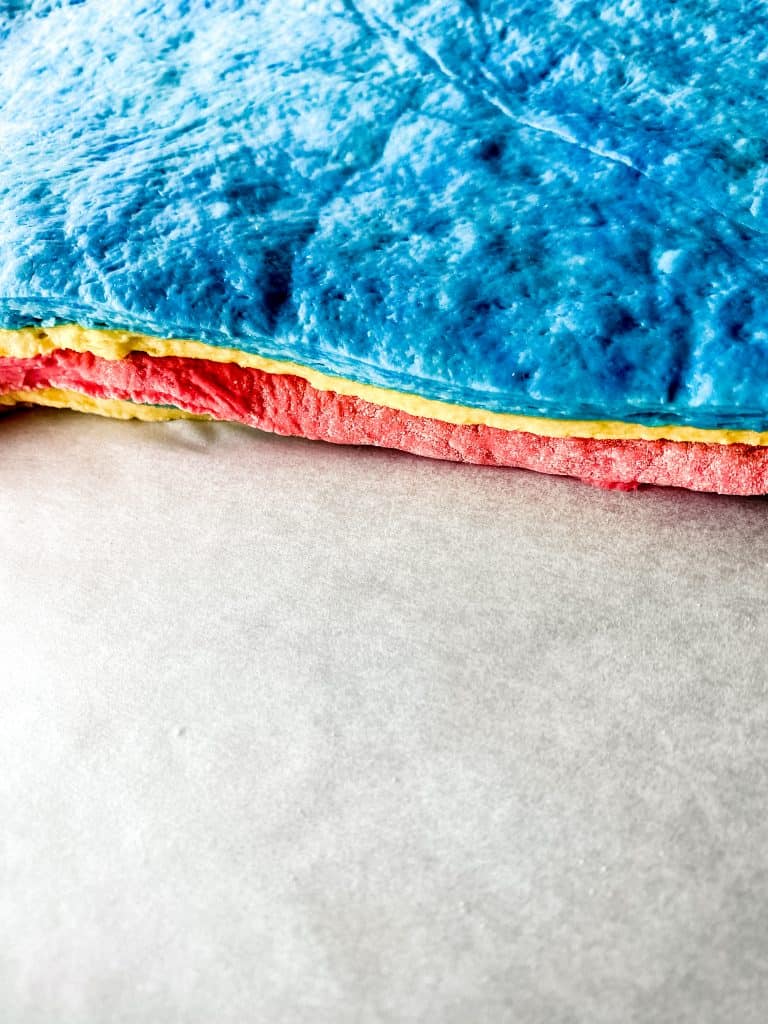 Then you will cut dough and begin twisting and shaping into bagels.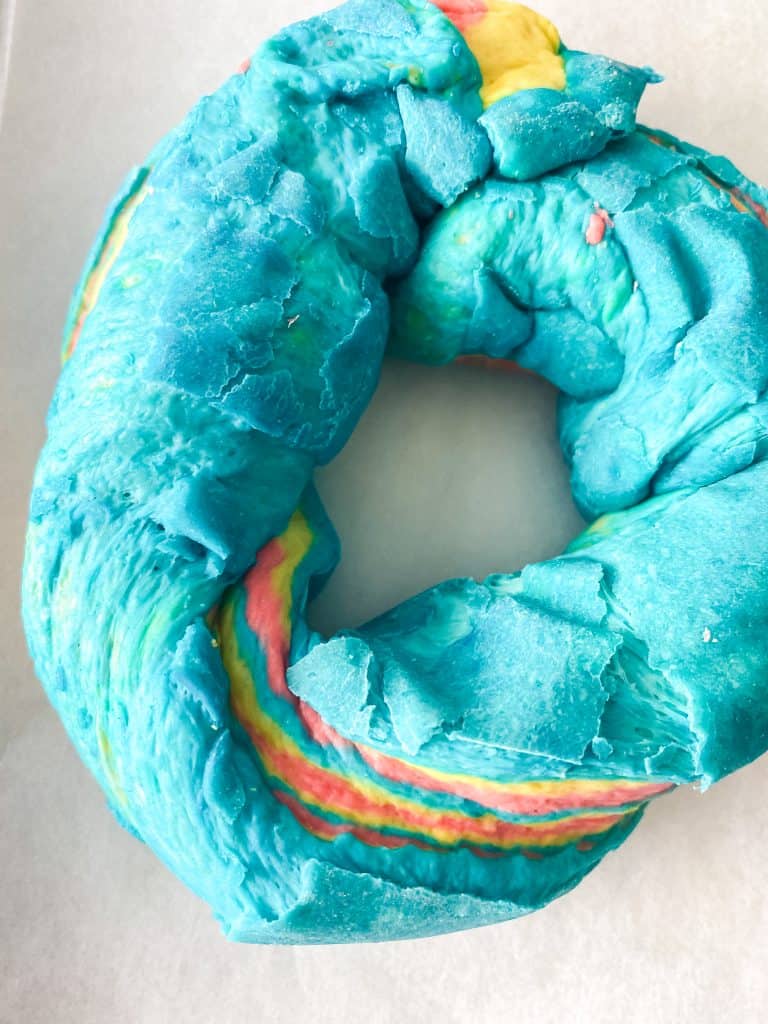 Dip bagels in the hot water, then bake.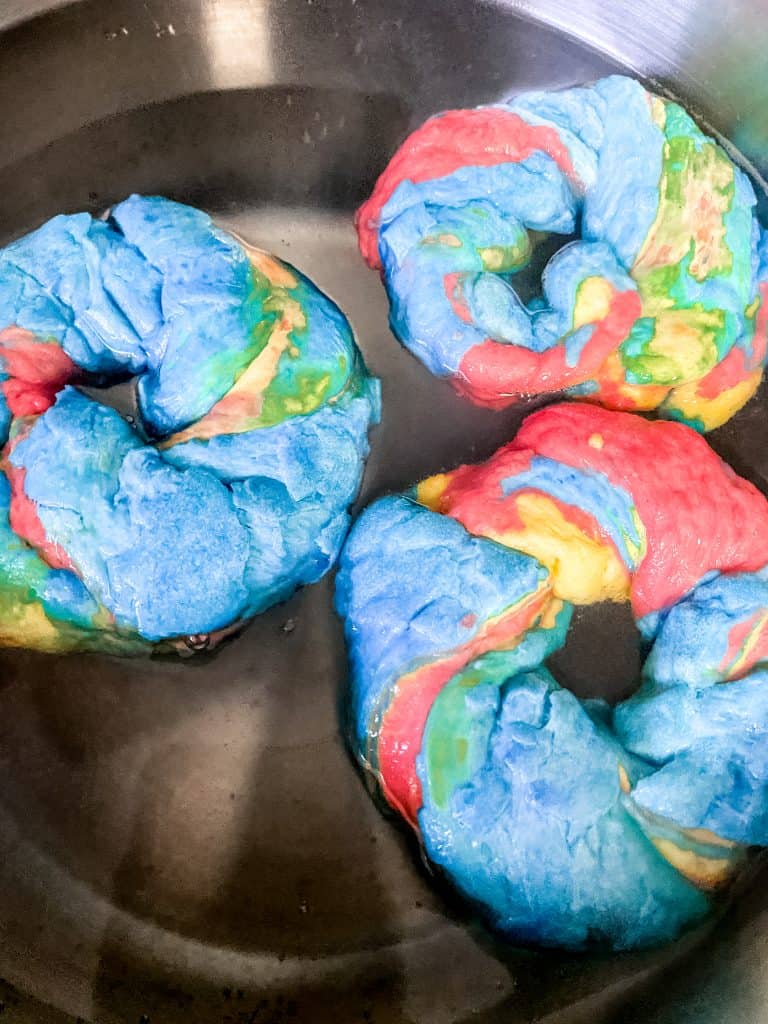 Allow the bagels to cool then serve.
Rainbow Bagels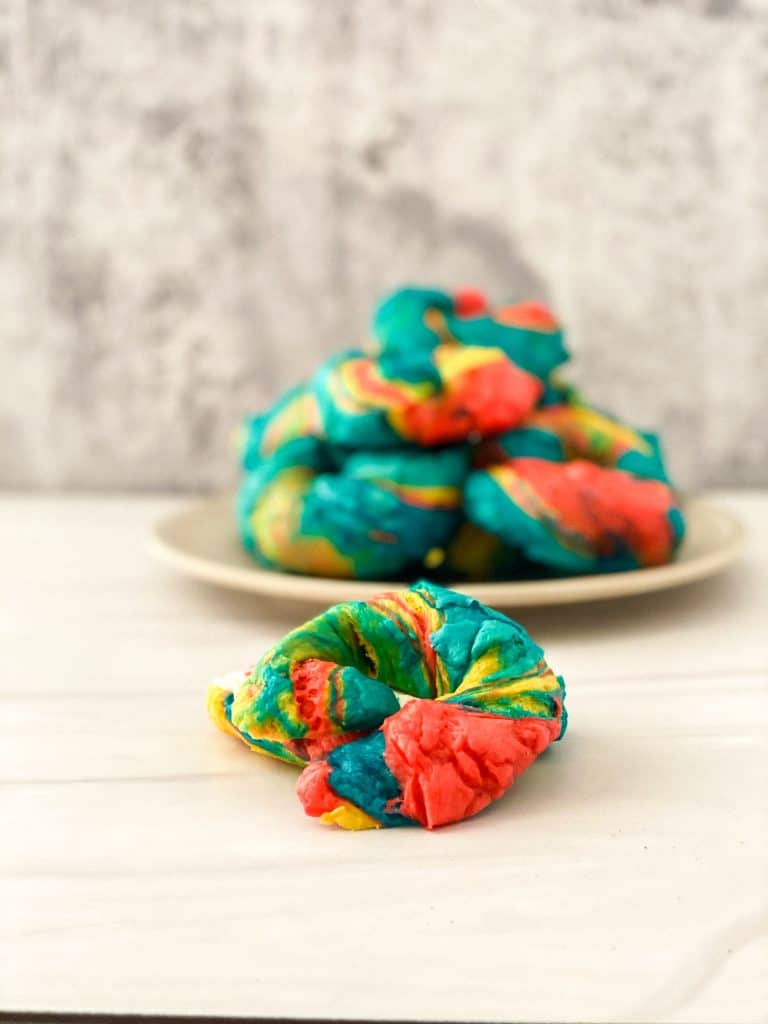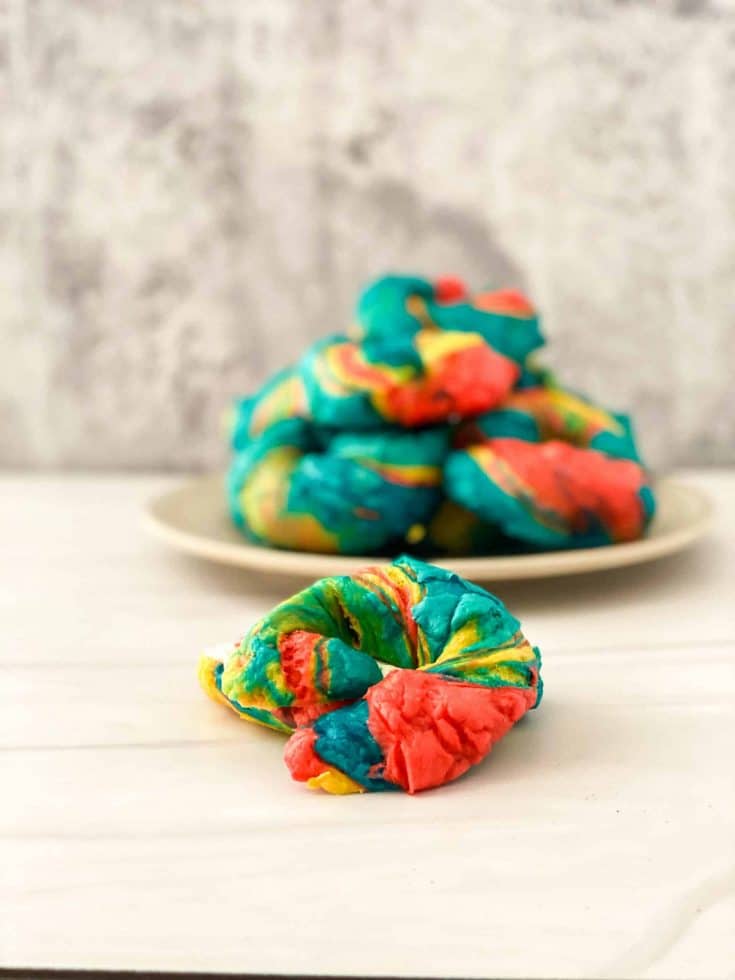 Additional Time
40 minutes
Total Time
1 hour
20 minutes
Ingredients
For the dough, per color:
1 cup warm water
1/4-ounce packet active dry yeast
1 1/2 tablespoons granulated sugar
3 cups all-purpose flour
1 teaspoon salt
1/2 teaspoon gel paste color (1-2 squirts)
1 teaspoon vegetable oil (for bowl when rising)
For bagels:
3+ colored doughs
12 cups water
Instructions
Add yeast and sugar to cup of warm water. Let sit for 10 mins
Pour in the bowl of a stand mixer with a dough hook attachment. Add in half of the flour and food coloring, Start with the lightest color first. Mix until incorporated, add the second half of the flour.
Let mix until it comes together as a stiff dough.
Turn the dough out onto a lightly floured surface and knead until it is no longer sticky. Add olive oil to the bottom of a bowl and place the dough on top.
Set in the refrigerator until all of the colors have been made.
Repeat for each color.
Remove all bowls of dough from fridge and place in a warm area and cover to proof for 40 mins. Setting them on the burners while the oven is on works beautifully.
Punch down dough and knead the doughs slightly.
Roll out into one inch thick rectangles.
Lightly grease a sheet of parchment paper to rest the dough on.
Stack the colors on top of one another, making sure they are the same size and length. Cut the stacked dough in half and add the stack on top of the other.
Cover and let meld together for 30 mins.
Slice 1 inch by 6 inch strips.
Twist the dough to create a spiral and join the ends.
Repeat with remaining dough.
Place on a lightly greased surface (baking sheet)
Cover and let double in size (20-30 mins)
Preheat oven to 400 degrees F
Bring a large pot of water (12 cups) to a boil.
Boil bagels on each side for 30 seconds in batches.
Add to a lightly greased parchment lined baking sheet and bake for 5 mins.
Turn bagels over and bake for an additional 15-18 mins.
Remove from oven and let cool on a wire rack.
Why Do You Soak Bagels in Water First?
Soaking the bagel dough in warm water is done to prevent the bagels from rising as they cook.
If you don't do this step when you go to cook the bagels they will rise up and change shape like a dinner roll.
Why Are My Bagels Flat?
One big factor to flat bagels is one your yeast did not activate properly. Or two, you let your bagel dough sit in the boiling water too long.
Both can cause by flat bagels.
Adjust the Texture Of The Bagel
You will find that the longer the bagel sits in the water the chewier the texture. So if you prefer a softer bagel, do a little less time.
So for a softer bagel, you won't leave the bagels in the water as long. It is all a personal preference on what you like. For me I love the right in the middle. Chewy outside and soft centers.
What Type of Flour Is Best For Making Bagels
All purpose flour is what you will want to reach for, as bread flour has a higher gluten count.
You will find bread flour offers a denser and chewier texture.
It is up to you on what you prefer to use for making bagels. I personally use all purpose flour.
Storage Of Bagels
Bagels can be stored at room temperature in an airtight container or in the refrigerator.
You will find the bagels last a day or two longer in the fridge. If you do store these colorful beauties in the fridge you can allow them to warm up on counter or toss them in to the toaster straight from the fridge.
Can You Freeze Bagels
Go right ahead and freeze any bagels you don't eat right away. Simply place bagels in an airtight container or freezer bag.
The bagels will freeze for 3-4 months. When you want one, just allow it to thaw on the counter, or microwave for a quick thaw.
If you own a vacuum sealer you can extend the shelf life even more. I love using it for freezing items like this.
Are Rainbow Bagels Flavored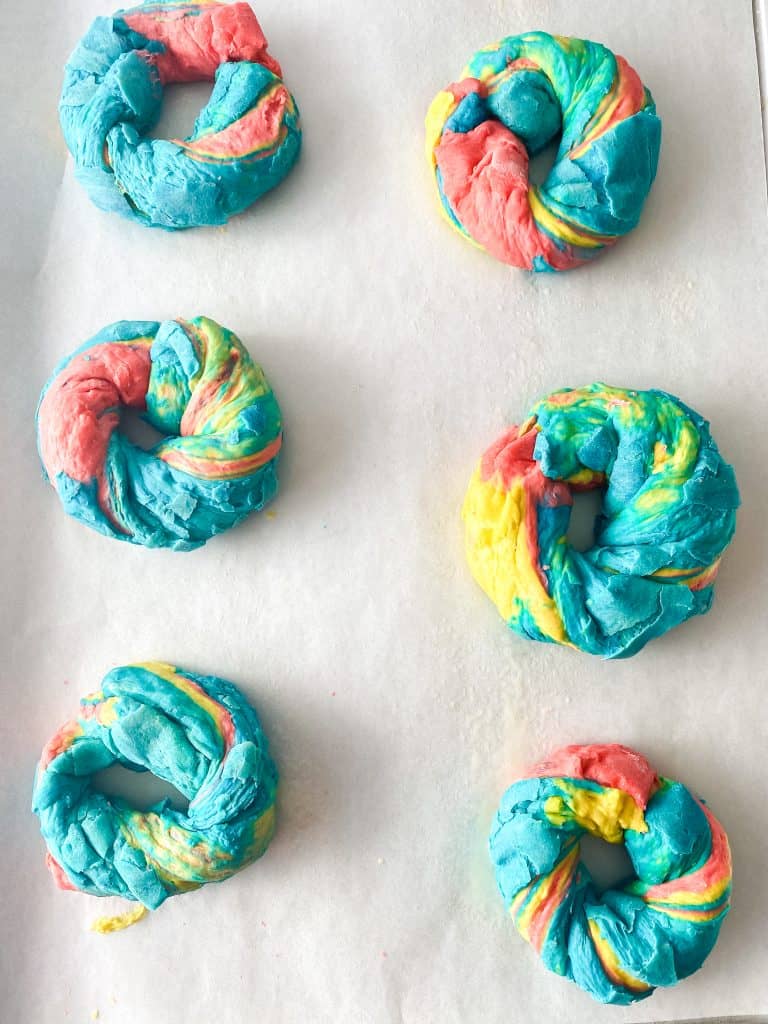 Rainbow bagels are not flavored. You will find they are a plain bagel that is simply colored. Now if you want to flavor the bagels, go right ahead.
You can flavor them by adding in spices, diced fruit, extracts, etc.
More Popular Recipes To Try
Oreo Hot Chocolate Bombs

– These cocoa bombs are cookies and cream versions. Pour warm milk over a ball and watch it magically turn to hot chocolate.

S'mores Dip

– Bring all the flavors of a s'more in dip form! This recipe heats up and gives you a chocolate creamy dip that is crave-worthy.

Air Fryer Doughnuts

– Give this doughnut recipe a try. A fluffy and tasty glazed donut.