Homemade Salted Caramel Hot Cocoa Bombs
There seems to be no end to the delicious combinations you can try when making your own hot cocoa bombs.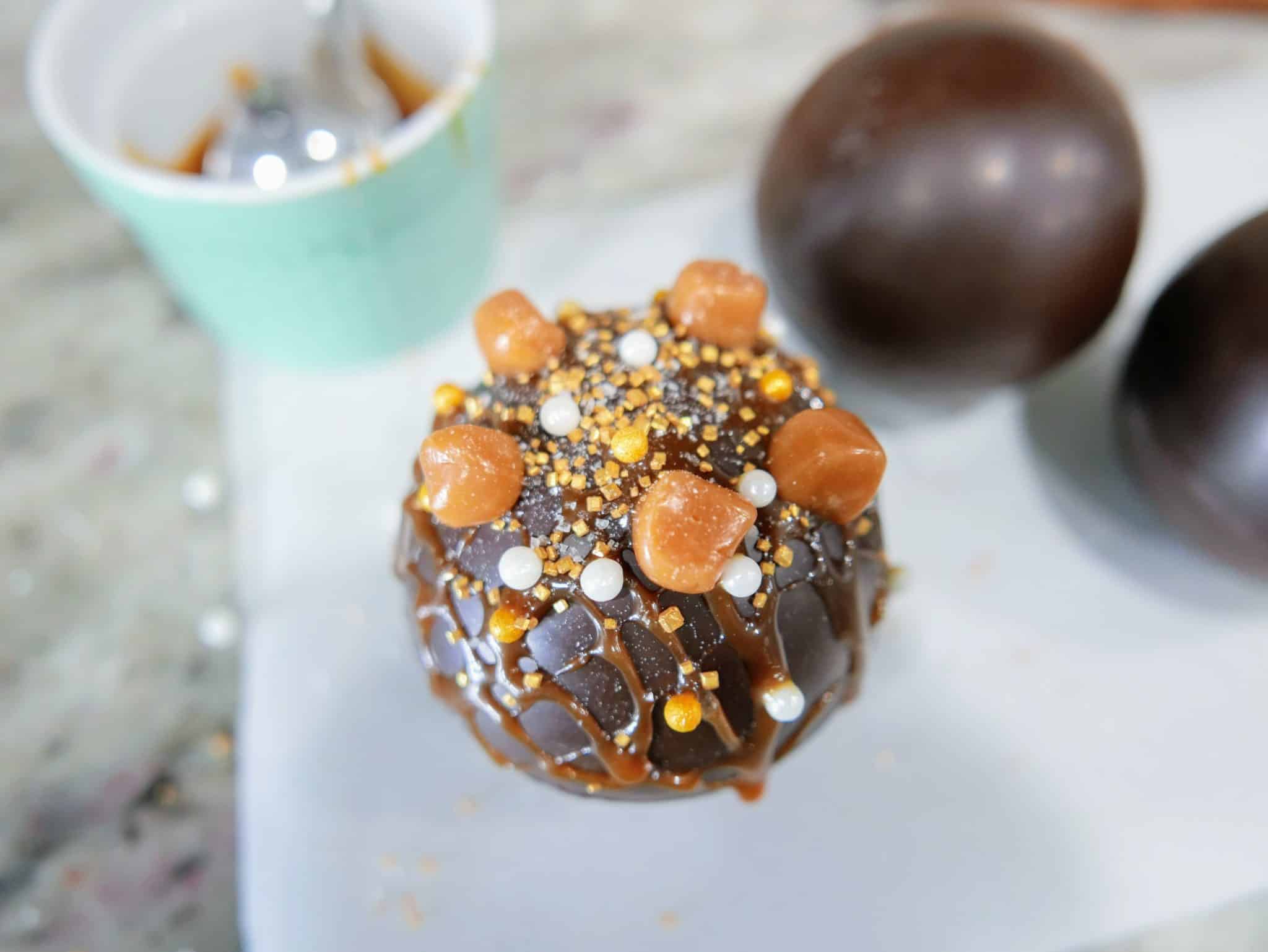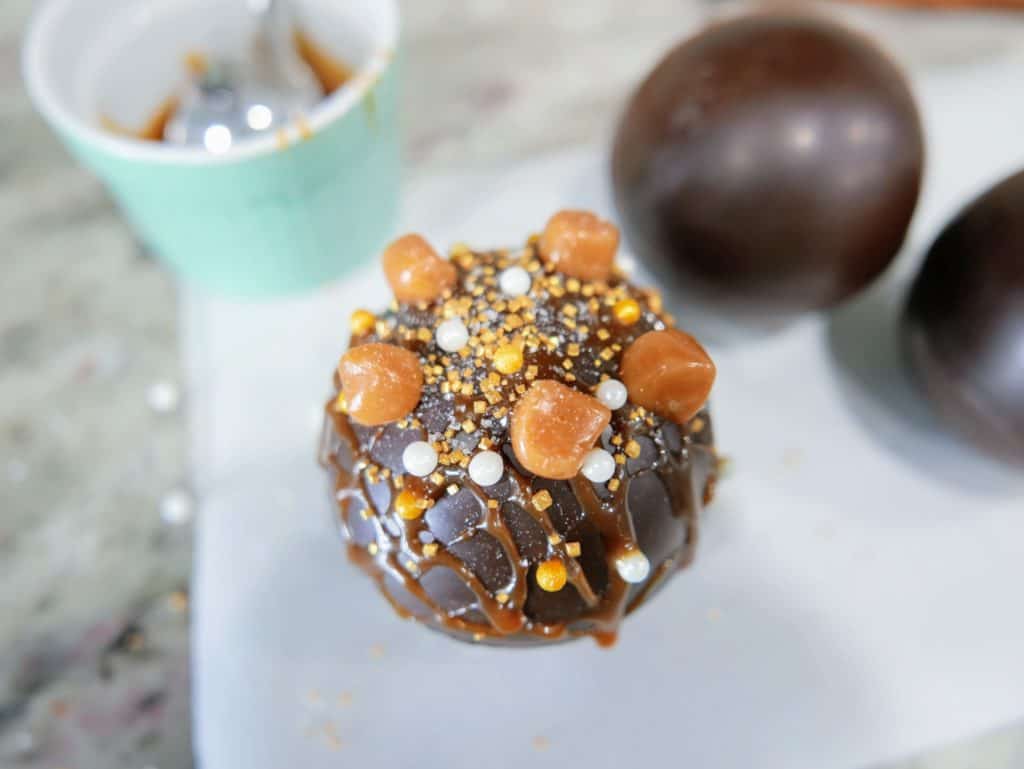 This recipe is so good that I had to share it with you because the mix of dark chocolate, caramel and a touch of sea salt make these hot chocolate bombs irresistible.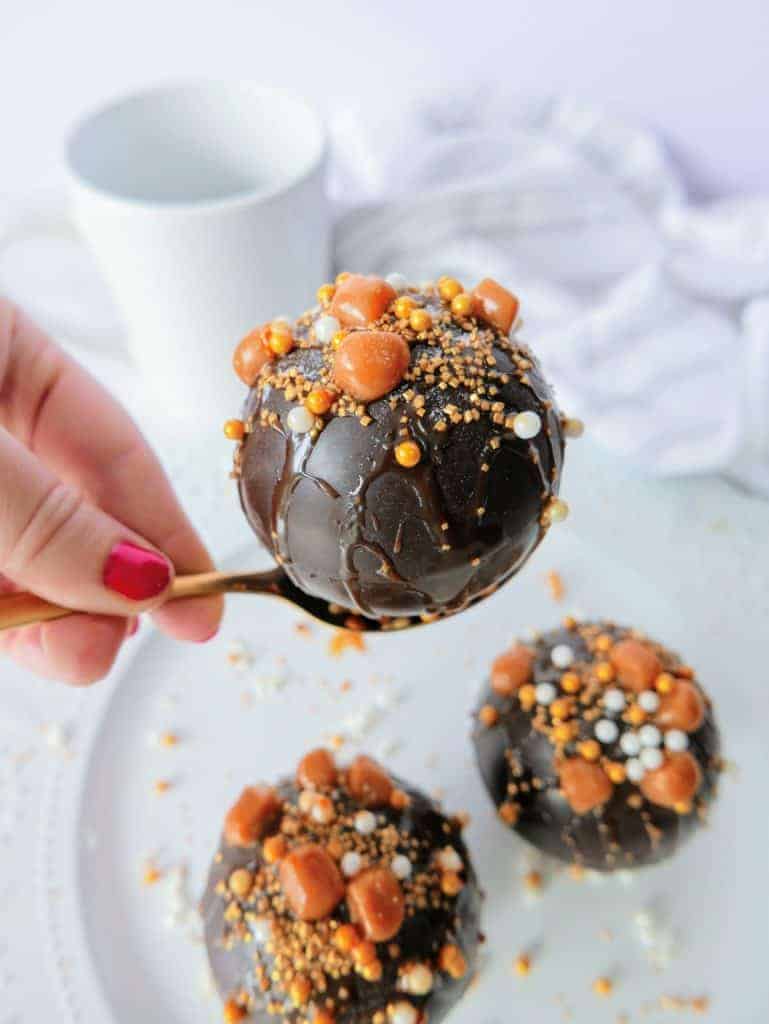 My love affair with caramel started when I was 7 and we moved to Chile. My grandmother would boil cans of sweet condensed milk for a couple of hours to make her own manjar, a Latin American version of caramel. You can totally substitute La Lechera Dulce de Leche for the soft caramels shown in the video if you want a creamier filling.
Salted Caramel Hot Cocoa Bombs
Time: 30 minutes
Servings: 3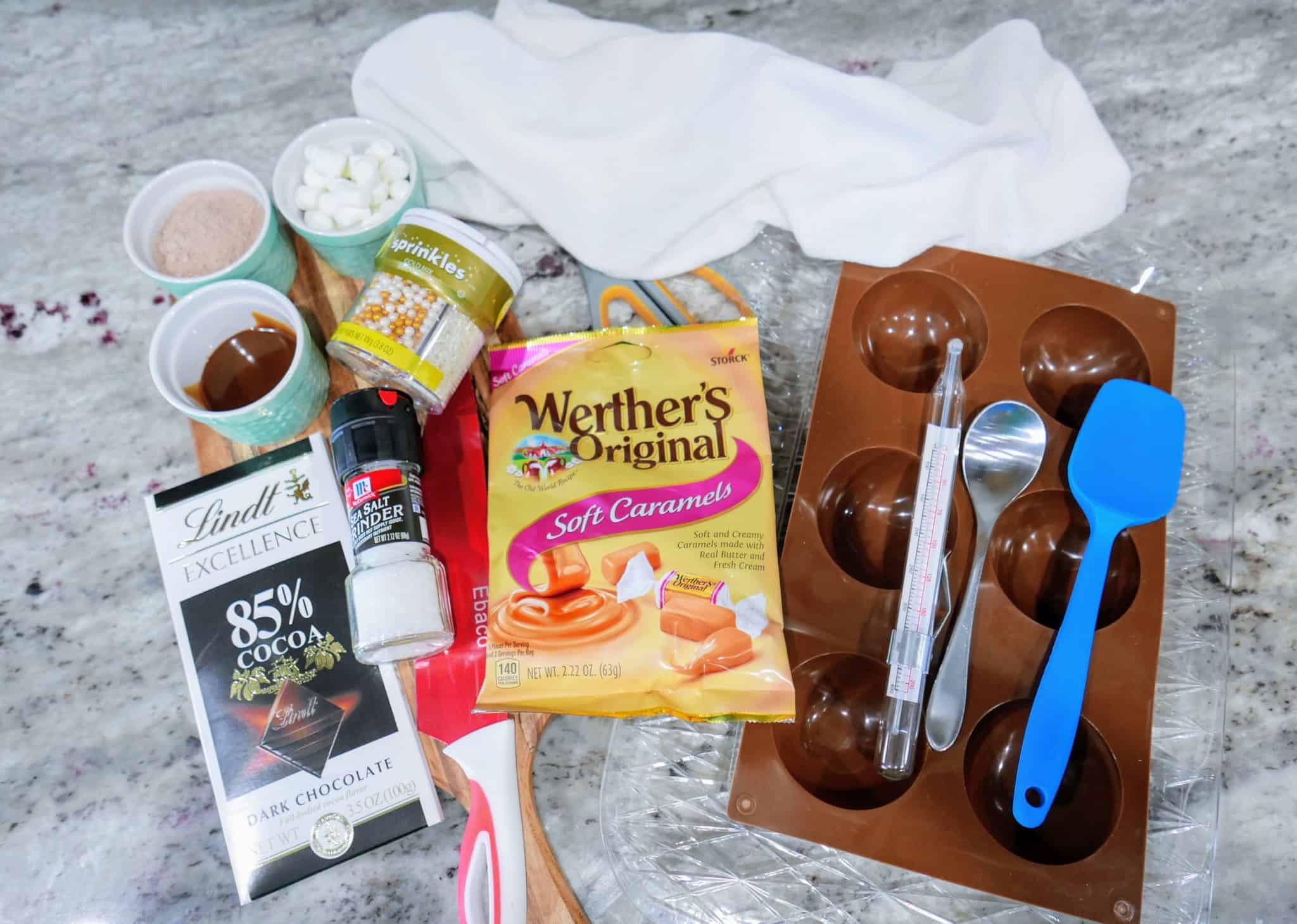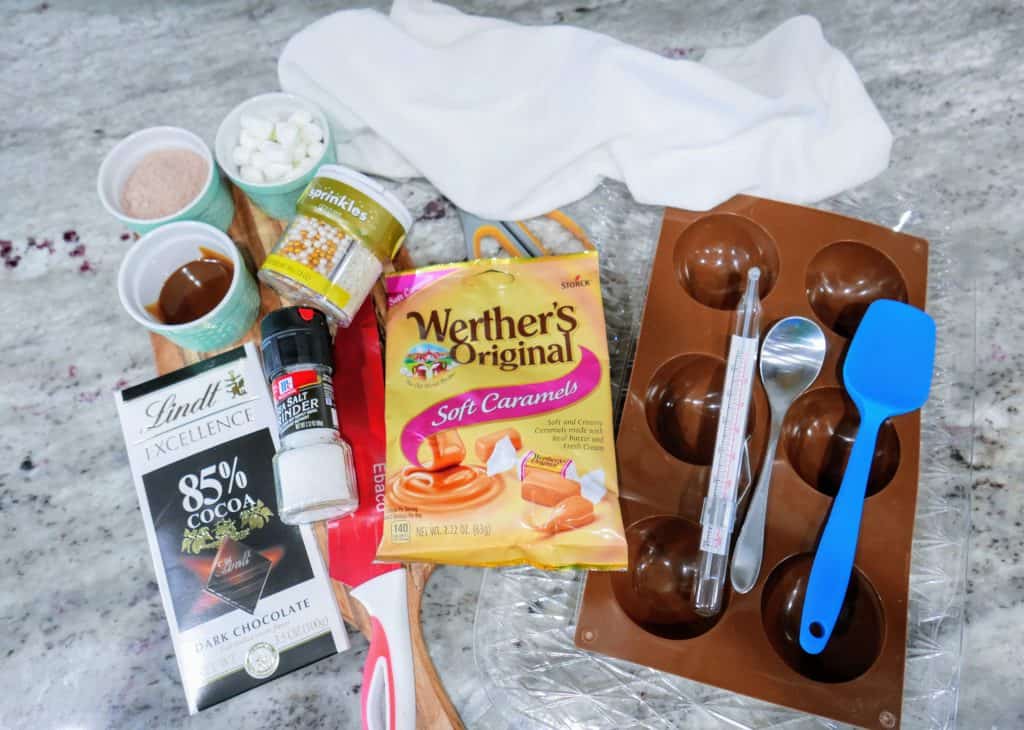 Ingredients:
5oz dark chocolate bar (85% cocoa), chopped
Sea Salt, approximately ¼ tsp
¼ cup mini marshmallows
6 tsp caramel sauce or dulce de leche
Candy thermometer
(2) 2 c sized glass bowls
Silicone spatula
Small spoon
3 heaping tbsp hot cocoa mix
Silicone half sphere mold (look for one at least 1.37" deep)
2 small plates
Food safe gloves (optional)
Directions:
Roughly chop the dark chocolate bar into small pieces.
Place ½ of the chopped pieces in a 2 c glass bowl, and microwave for 30 seconds at 50% power. The chocolate will look like there is hardly any change, but you will still need to stir the chocolate. Return it to the microwave, heat another 15 seconds, and then stir again. Once it begins to look melted with a few chunks of chocolate left, insert your candy thermometer into the chocolate. You want your dark chocolate to be no higher than 90℉, or the chocolate will be untempered, and will have a chalky appearance with possible streaks of white. Once you reach your desired temperature, continue stirring until all chocolate is smooth and creamy with no lumps.
Place the silicone sphere mold on a flat serving tray or baking sheet, and spoon approximately a tbsp of the melted chocolate into the molds. Thoroughly coat the inside of the mold with a small silicone spatula, or the back of a spoon. Make sure to make the edges a little thicker, so that they don't break when melding together. If the candy is pooled at the bottom, spread again to evenly coat all sides, or your sphere will be less circular, and more flat on the bottoms from the pooled candy. Cool in the refrigerator for 1-2 minutes to set, and then remove. Heat the remaining chocolate repeating step 1, and make a second layer of dark chocolate, again paying special attention to the edges. It's crucial to do two layers, or your sphere will crack and break when removed. Once all molds are fully coated, pop in the refrigerator for 5-10 minutes for them to set.
While the chocolate is setting, open 4 Werther's Original Soft Caramels and cut into quarters. Set aside. Open 2 more caramels, and using your fingers, smooth and shape into a rectangle, as the ends can be jagged from the wrapper. Cut into eighths.
Once the chocolate is set, remove from the refrigerator, and begin slowly pulling the mold away from the spheres on the sides first, and then lightly push from the bottom to remove them. You can either place them on the serving tray/cookie sheet, or I placed them on a piece of parchment paper for the next steps. Try to handle them as little as possible to avoid fingerprints or melting. (To reduce fingerprint smudges, wear food safe gloves)
Place two small plates in the microwave and heat for approximately 20 seconds. Place a chocolate sphere open side down onto one plate. Twist it a little to get the edges slightly melted, and then immediately flip back over and fill with a heaping tbsp of hot cocoa mix, 4-5 pieces of the quartered caramel (or a teaspoon of dulce de leche or caramel sauce), and about 5-6 marshmallows.
Now place another chocolate sphere on the second plate and twist, and once the edges are slightly melted, place it on top of the filled sphere. You can twist them slightly to help meld them together. If you have any cracks that didn't seal, heat a spoon in hot water, dry thoroughly, and use it to smooth around the seam. You could heat and use only one plate, but I found it helpful to use two plates, as they retained heat for longer than repeatedly using the same plate. If the plate cools too quickly, pop back in the microwave for an additional 10 seconds.
Dip a spoon into the caramel sauce and drizzle the caramel back and forth across each chocolate bomb. Immediately sprinkle with gold and white nonpareils, and gold sparkling sugar sprinkles. Sprinkle with sea salt, and then place 4-5 small pieces of Werther's Original Soft Caramels on top. The caramel sauce will drip down the sides, and some of the sprinkles may slide, so lightly push them into place.
When you're ready to enjoy your hot cocoa bomb, heat 8oz of milk in the microwave, or on the stovetop. Place your cocoa bomb in a mug, and slowly pour the milk over it. Stir lightly to open the bomb and see the hot cocoa explode. Continue stirring until the chocolate and caramel have melted and enjoy! If not using immediately, refrigerate until ready to use, as the caramel will begin to melt.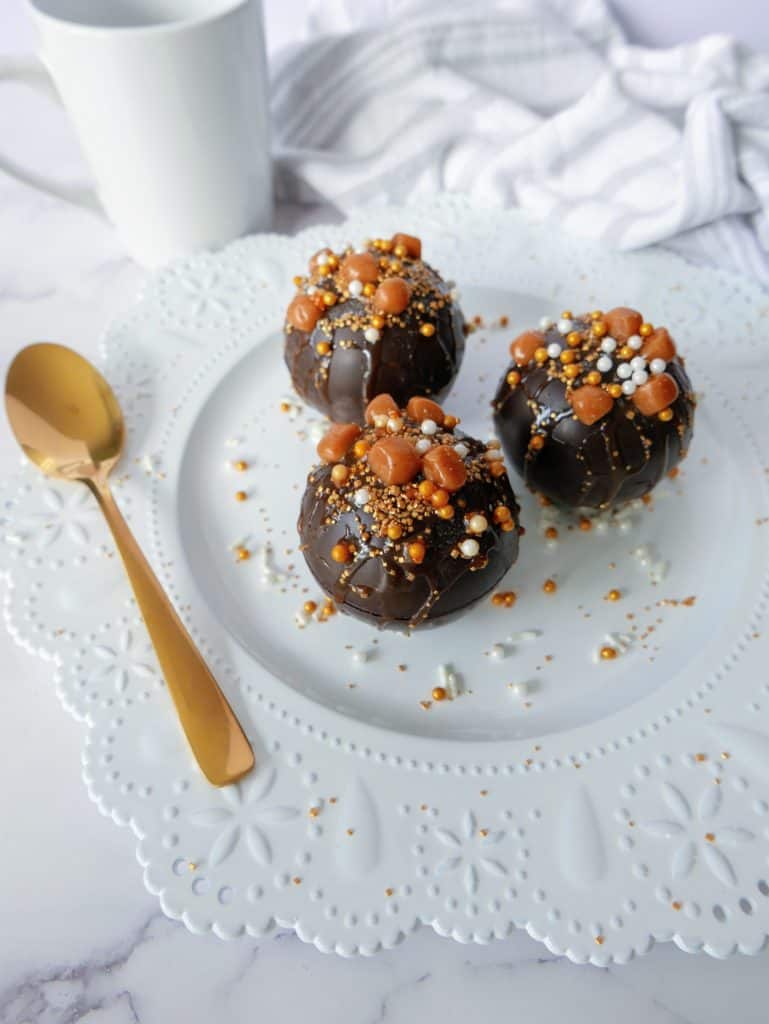 More homemade hot cocoa bombs