Spectacular Heart Shaped Hot Cocoa Bombs
These spectacular heart-shaped hot cocoa bombs are the perfect winter treat.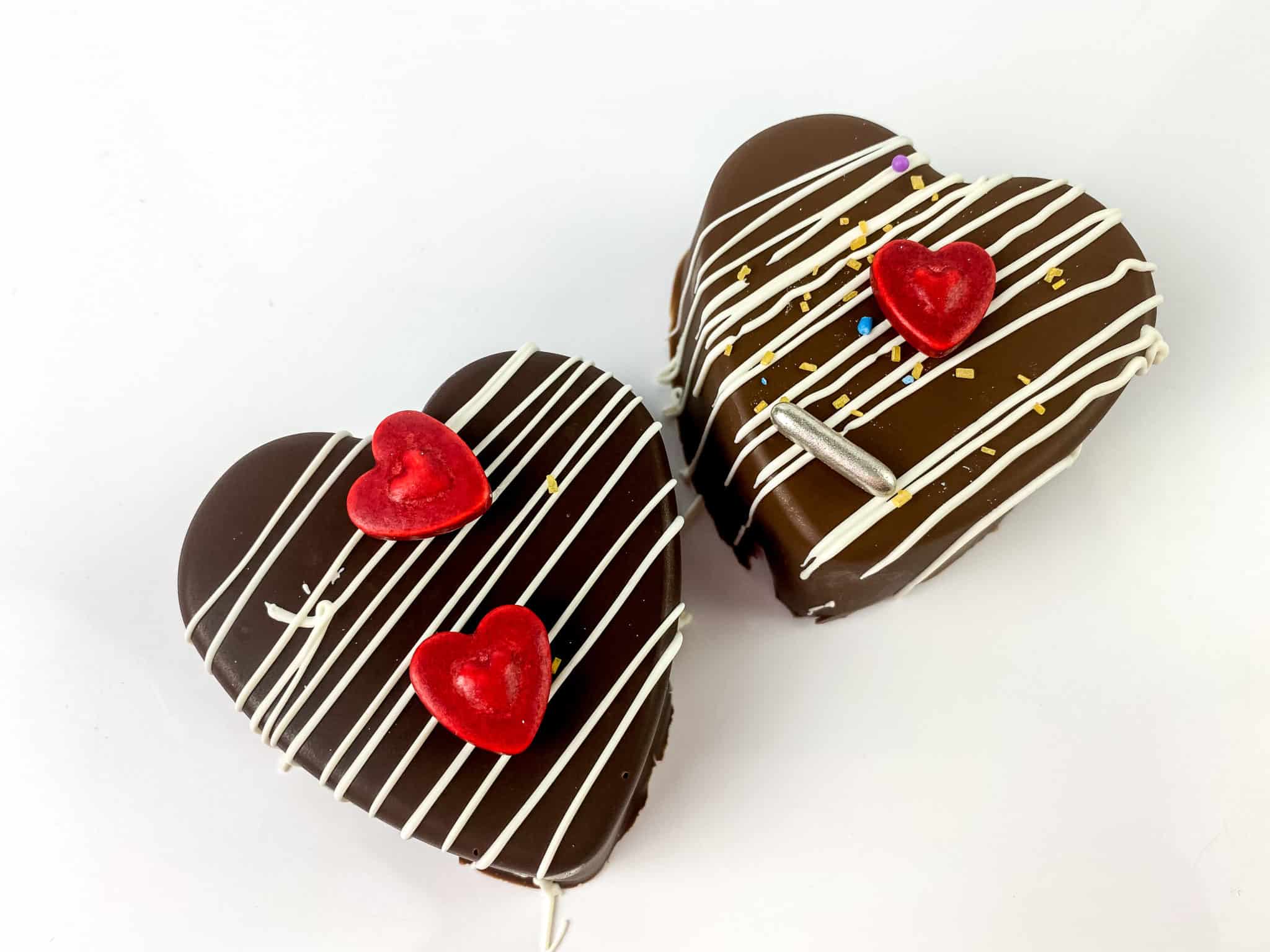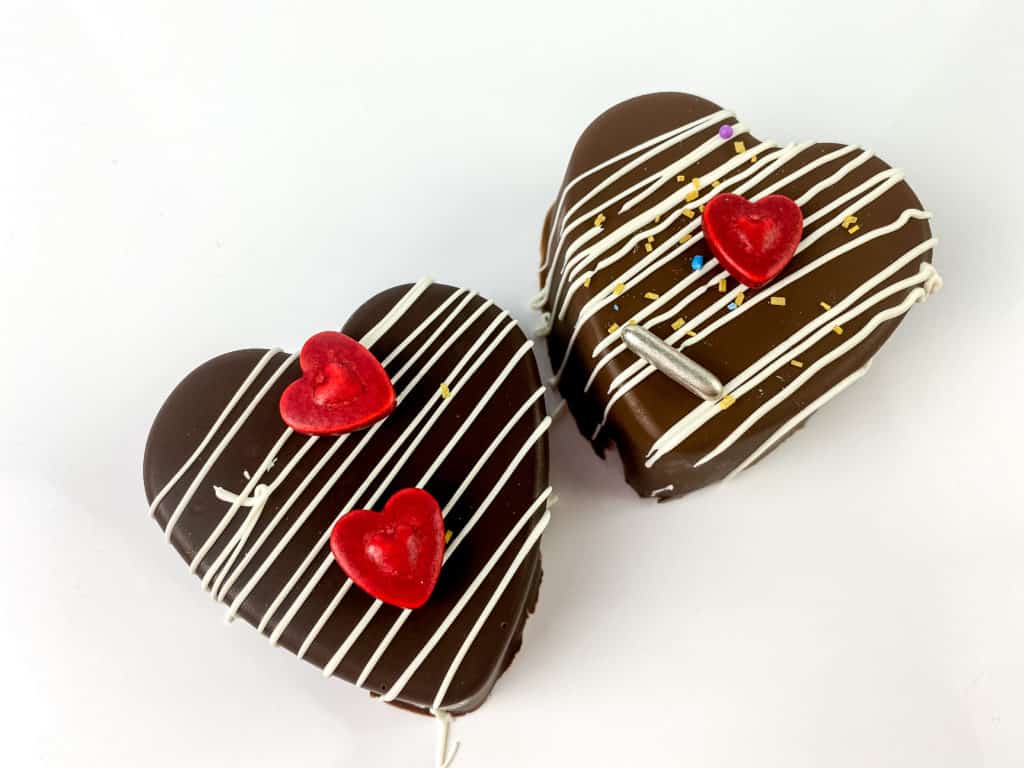 Their heart shape also make them the ideal Valentine's Day gift. You can even freeze them until you are ready to use them or to give them away. I personally like to gift cocoa bombs in small cellophane sleeves or containers. You can even put one in a Mason jar, wrap and gift away.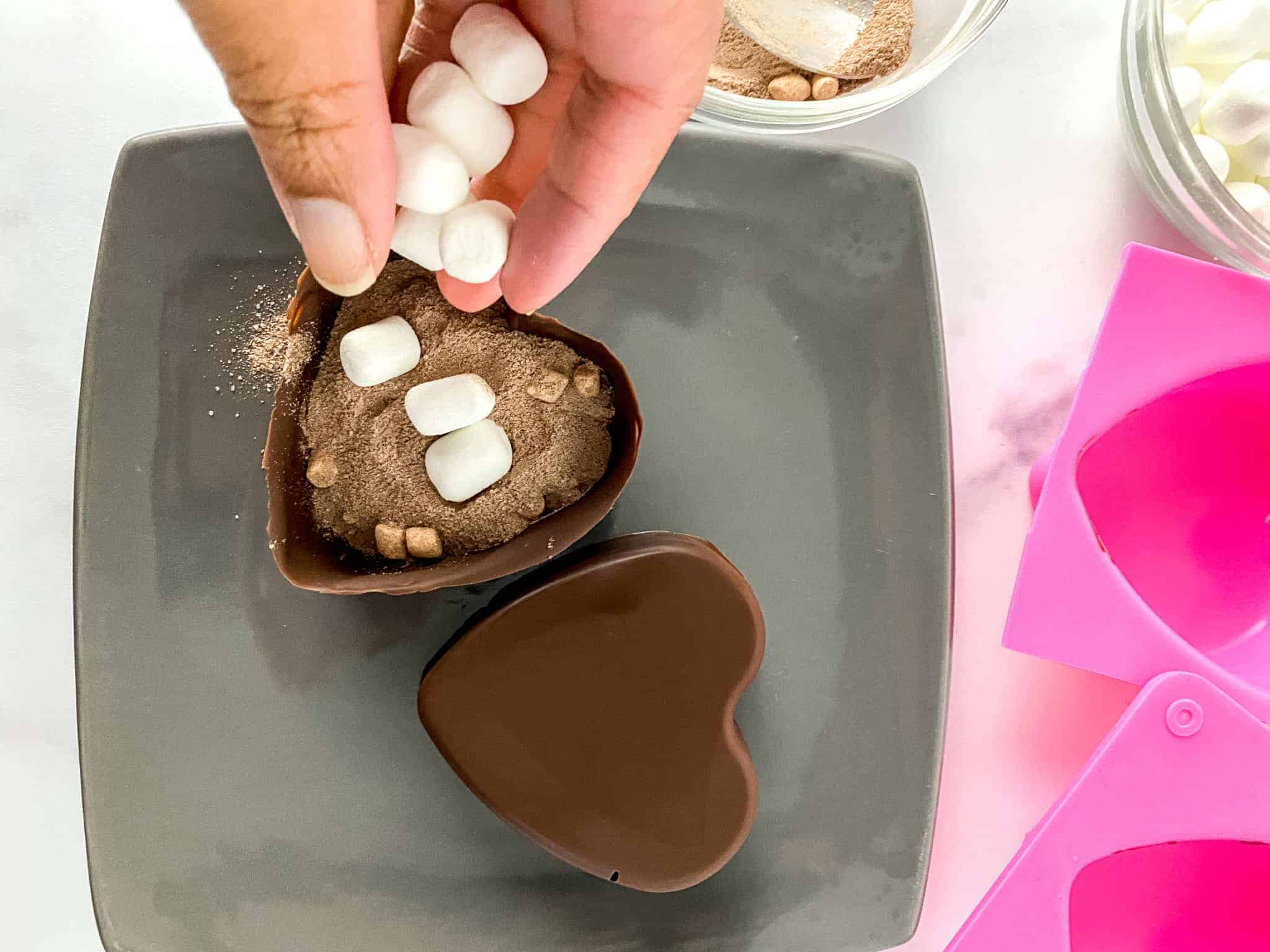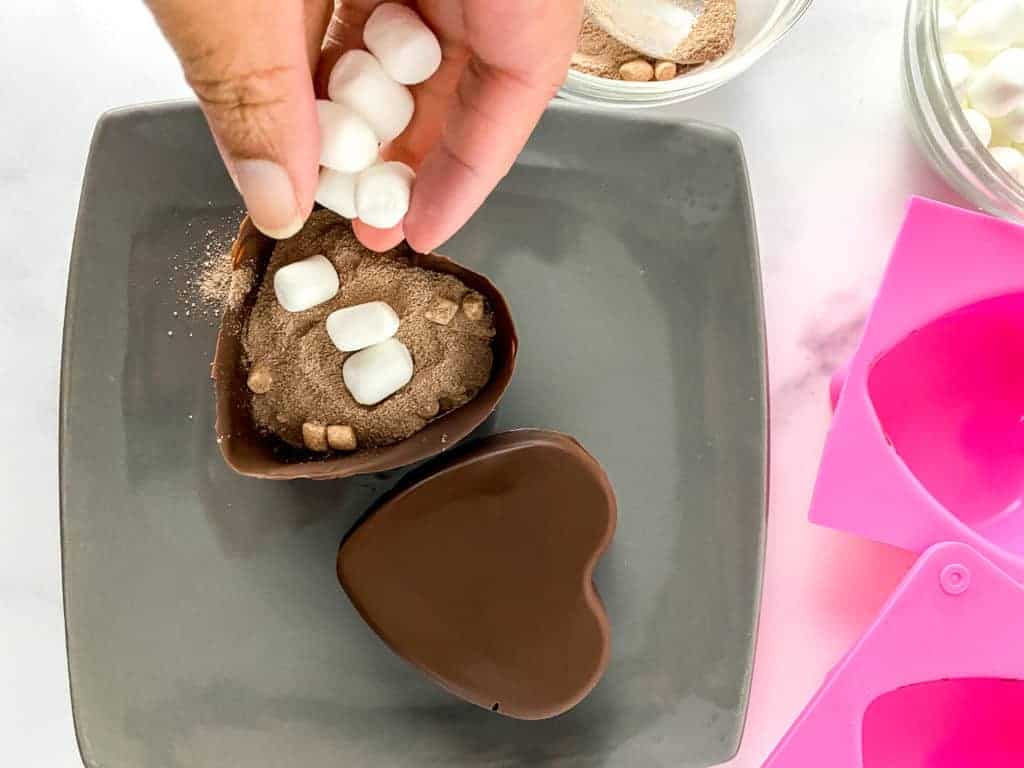 Although there are several steps involved, the cocoa bomb making process is quite easy. To save time, cut the mold ahead of time, so it's easier to peel out the chocolate hearts.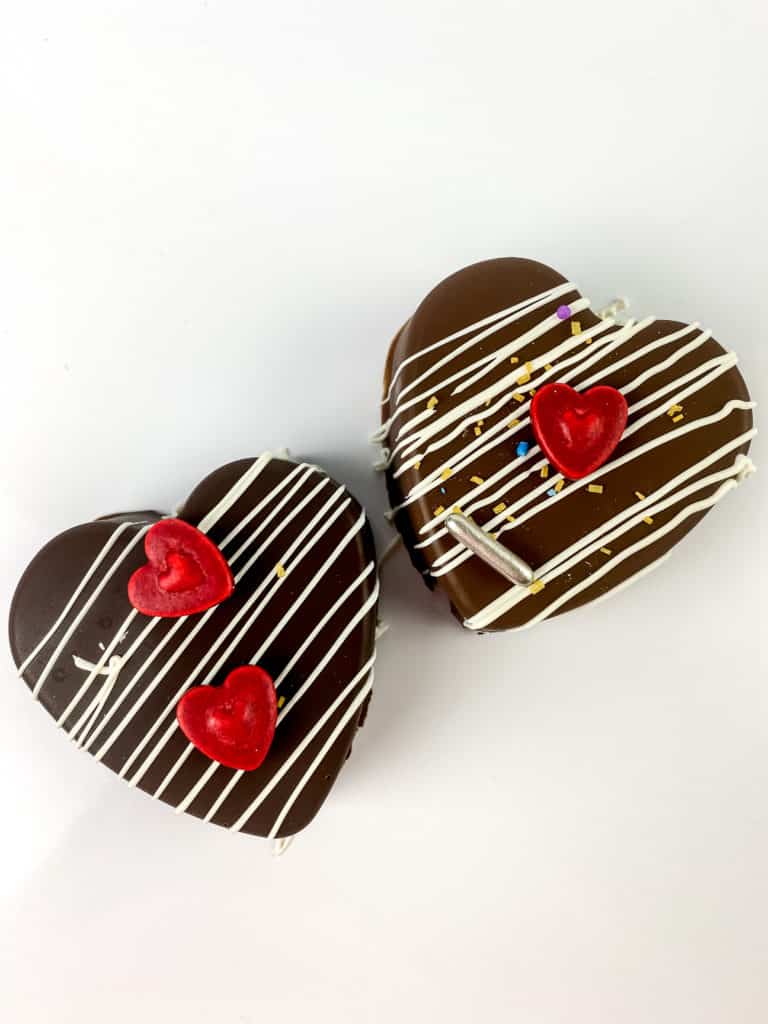 Remember whatever you put inside the hot cocoa bomb will end up in your hot chocolate. All candy and sprinkles do not melt. While it is nice for presentation, be selective on what you put inside of your hot cocoa bombs. Some sprinkles may be a choking hazard to small children so keep that in mind when deciding what to include in your hot chocolate bombs.
How to connect the chocolate bombs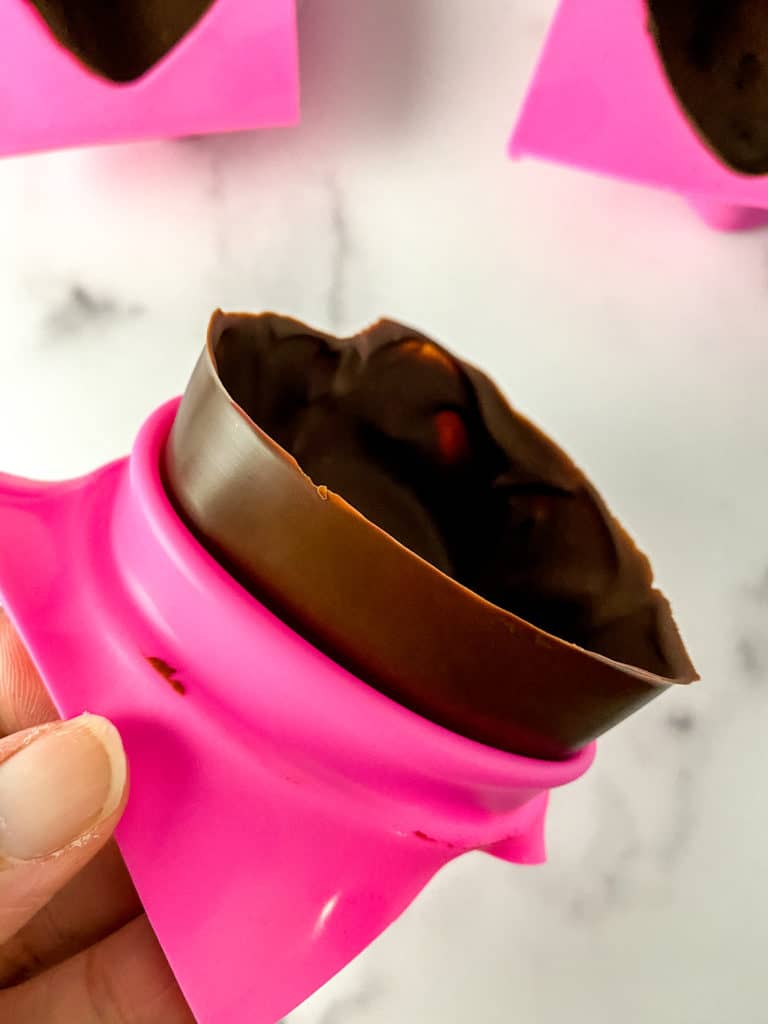 There are three ways to connect the heart bombs:
Use a frying pan. Heat the frying pan and remove from heat. Carefully melt the rim of the sphere and immediately attach to one of the bottom halves.
Hot plate method: Place a plate in the microwave for 1.5 minutes and remove. The plate will hold the heat without the risk of burning yourself.
Pipe melted chocolate: Use leftover melted chocolate. Add to a piping bag or small ziploc bag. Cut a small hole at the end of the piping bag (or one corner of the ziploc bag). Squeeze chocolate around the rim of the bottom sphere and simply place the other sphere on top. Using your finger, smooth the chocolate out. (leave as is or add sprinkles or crushed candies)
How to make heart-shaped cocoa bombs
Makes 3 bombs
You will need:
Microwave Safe Bowl
Spoon
Scissors
Hot plate or frying pan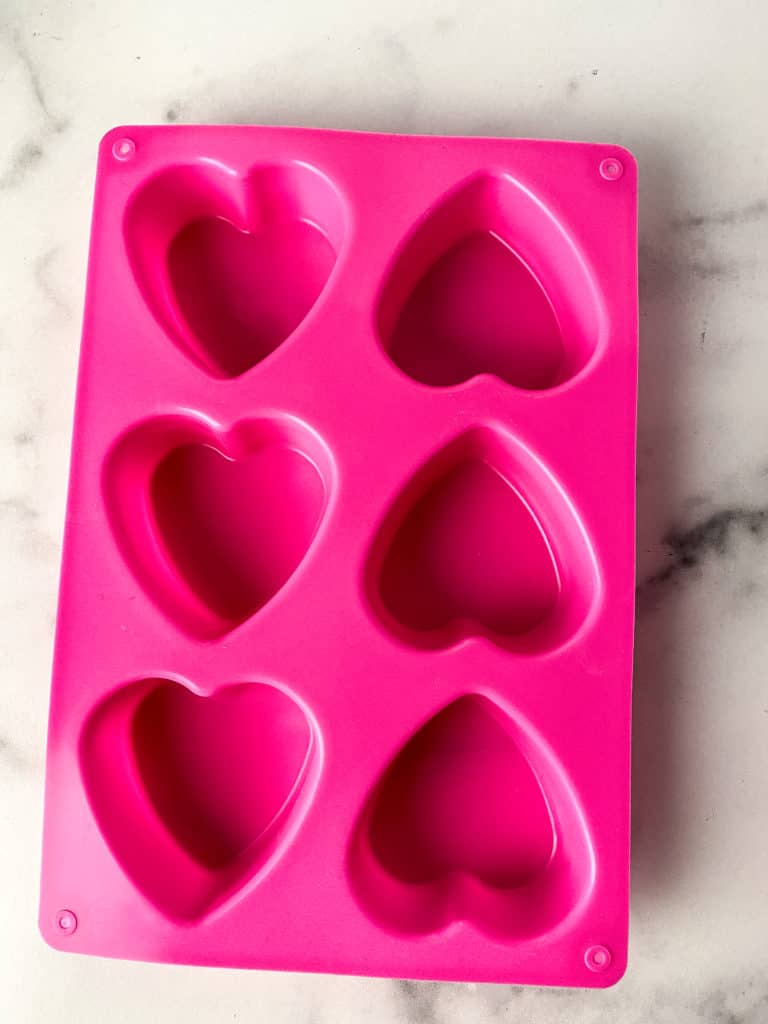 Ingredients
1 cup good quality chocolate chips (Nestle is fine, Ghirardelli is better)
Cocoa mix of your choice
Sprinkles or crushed candies (optional)
Marshmallows (large cut in half or mini)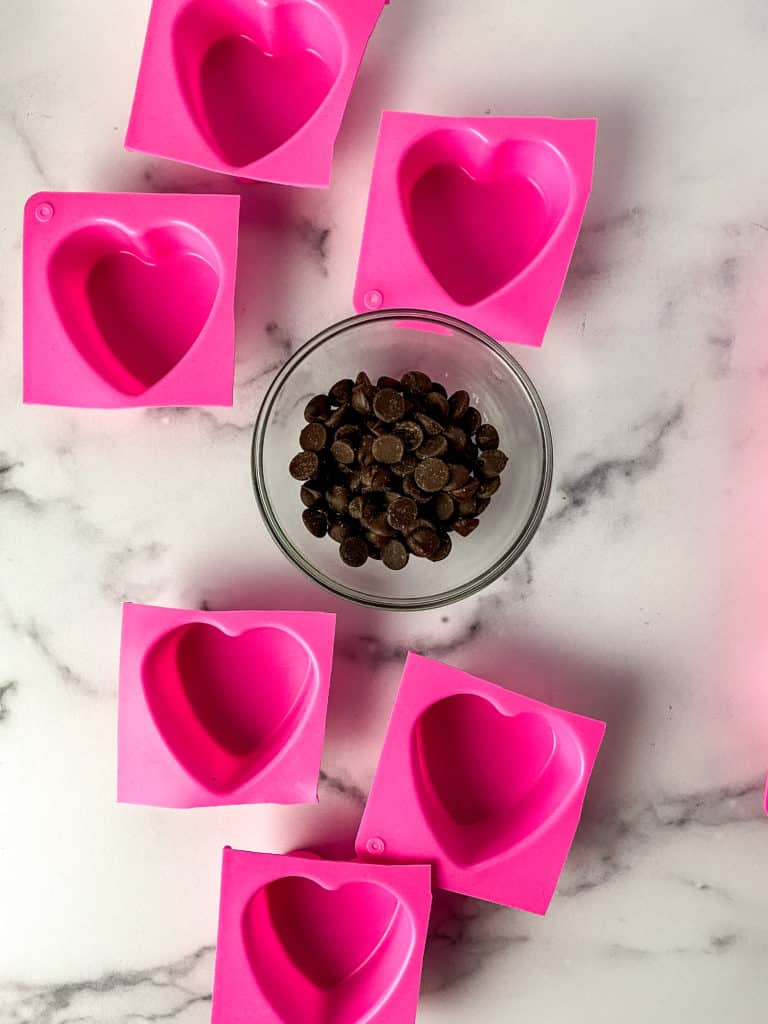 Directions
First, place a plate in the freezer. Freezing a plate will help make sure your cocoa bombs don't melt once you unmold them.
Melt chocolate in a microwaveable bowl on high for 60 seconds.
Stick a spoon in the chocolate to see if it's beginning to melt. If it is ,you will need to decrease the power percentage on your microwave down to 60 percent and continue.
Continue to warm up chocolate in 30 second intervals, stirring between each time. You do NOT want to burn the chocolate, so be careful.
This may take 2-4 times.
When you stir the chocolate and see it's mostly melted, heat for 15 seconds and stir until all lumps are gone and the chocolate is smooth.
Use a spoon to drop a dollop into the first cavity of the silicone mold.
Use the back of the spoon to coat the mold completely.
Wipe away any excess chocolate.
Freeze for 10-15 mins.
Prepare your set up for the contents inside of the cocoa bombs.
Remove plate and mold from the freezer.
Carefully remove each half heart from the mold and set them on the now cold plate (this keeps them from melting)
Spoon in 2 spoonfuls of hot cocoa mix (not an entire packet).
Add your surprise (marshmallows, sprinkles, or candies)
Connect the two ends of the heart together by either melting chocolate to serve as a glue (piping bag method) or place the top heart onto a heated plate to lightly melt the edges and stick together.
Once you are ready to use your delicious hot chocolate bombs, heat your milk of choice. It should be piping hot or almost boiling for best results. Place the hot cocoa bomb on its side in the mug and pour the milk over the seam so it opens up quickly. Stir and enjoy!
More hot cocoa bomb recipes