Easy And Refreshing Strawberry Lemonade Popsicles
As the temperature rises and summer approaches, there's nothing quite like a cold and refreshing treat like strawberry lemonade popsicles to help beat the heat. What could be better than enjoying a homemade popsicle on a hot summer day? 
I found a simple yet delicious recipe for Strawberry Lemonade Popsicles that you will love thanks to its easy ingredients. Bursting with the flavors of ripe, juicy strawberries and tangy lemons, these frozen delights are sure to become a favorite for both kids and adults alike. The bright lemon flavor goes so well with the sweetness of a fresh strawberry that this treat will become one of your true favorites.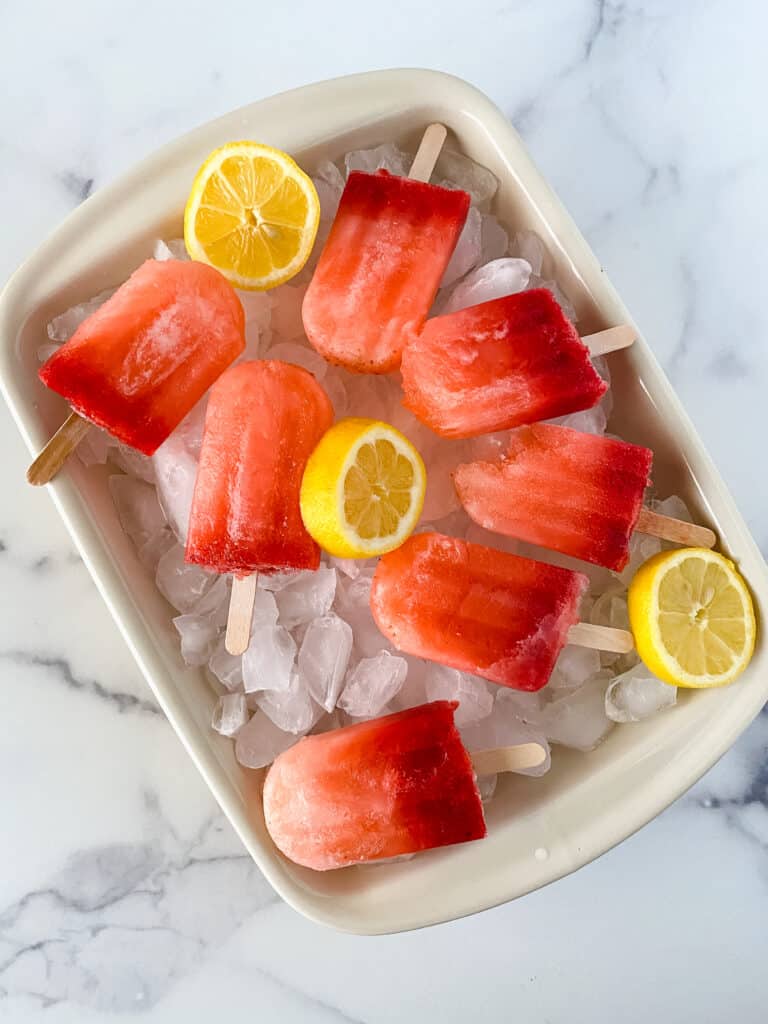 This homemade strawberry lemonade popsicle recipe just uses a handful of ingredients to create the perfect treat for the whole family. Even picky eaters will love these tasty popsicles made with natural ingredients. These pops are also a different way to stay hydrated during the summer.
After making this recipe a few times already, I am sure these tangy popsicles will surely delight your tastebuds. You can also enlist your kids to make them. It's so much fun, especially as a rainy day activity. Let's grab our popsicle molds and get ready to indulge in this delightful summertime treat that is a great way to stay refreshed during a hot day! Plus, take advantage of the deals during strawberry season to make this sweet treat at a super decent price.
What ingredients do I need to make strawberry lemonade pops?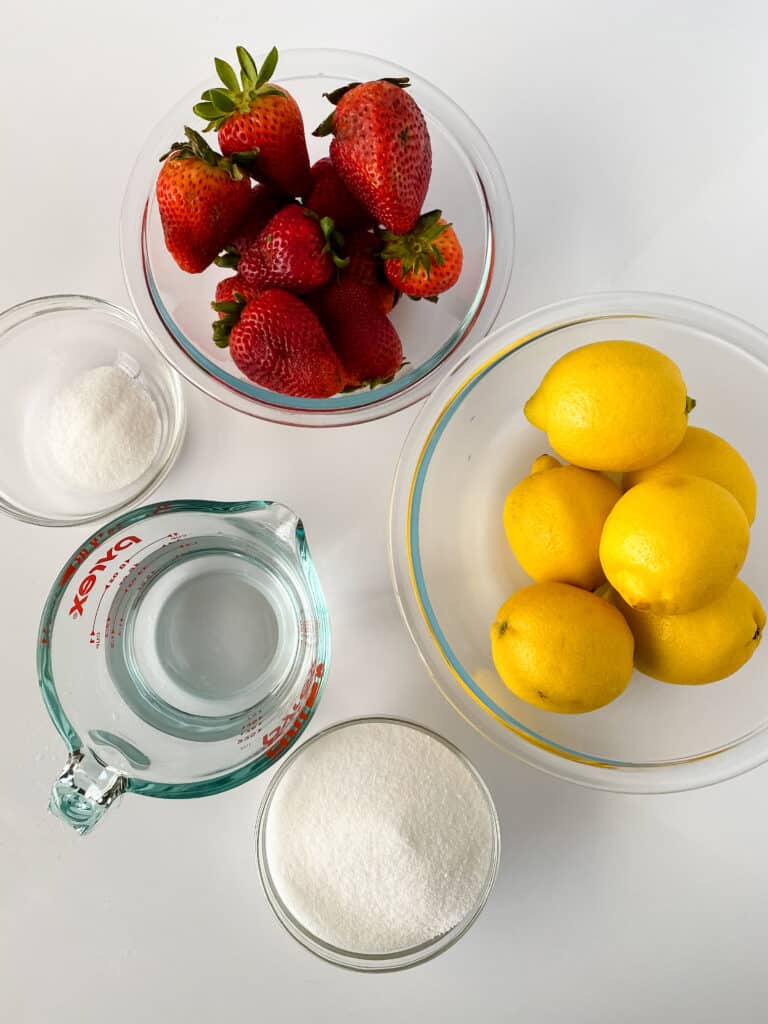 To make these delicious homemade popsicles you will need a few fresh ingredients:
fresh organic strawberries
granulated sugar
fresh lemon juice
water
You can use regular strawberries but I prefer organic. If you don't have access to fresh strawberries, you may substitute for frozen strawberries, but thaw them first.
Are popsicles the same as paletas?
While paletas and popsicles share some similarities, they are not exactly the same. Paletas are a type of frozen treat that originated in Mexico and are often made with fresh fruit, water or fruit juice, and sweeteners. Popsicles, on the other hand, are a generic term used to describe frozen treats typically made with fruit juice, flavored water, or artificially flavored and sweetened ingredients.
The main difference between paletas and popsicles lies in their ingredients and flavors. Paletas are known for their use of fresh fruit, which gives them a more authentic and natural taste. They often include chunks of fruit or even whole pieces within the frozen treat. Popsicles, on the other hand, can have a wider range of flavors, including artificial flavors that may not be derived from real fruit.
Ultimately, while both paletas and popsicles are frozen treats enjoyed during hot weather, paletas have a distinct Mexican influence with their use of fresh fruit and unique flavors, while popsicles encompass a broader range of frozen treats that can be commercially produced and have more varied flavor options.
What equipment do I need for this recipe?
If you've never made your own popsicles, this is all you need (may contain affiliate links):
Small pot
Pairing knife
Small bowl
Strainer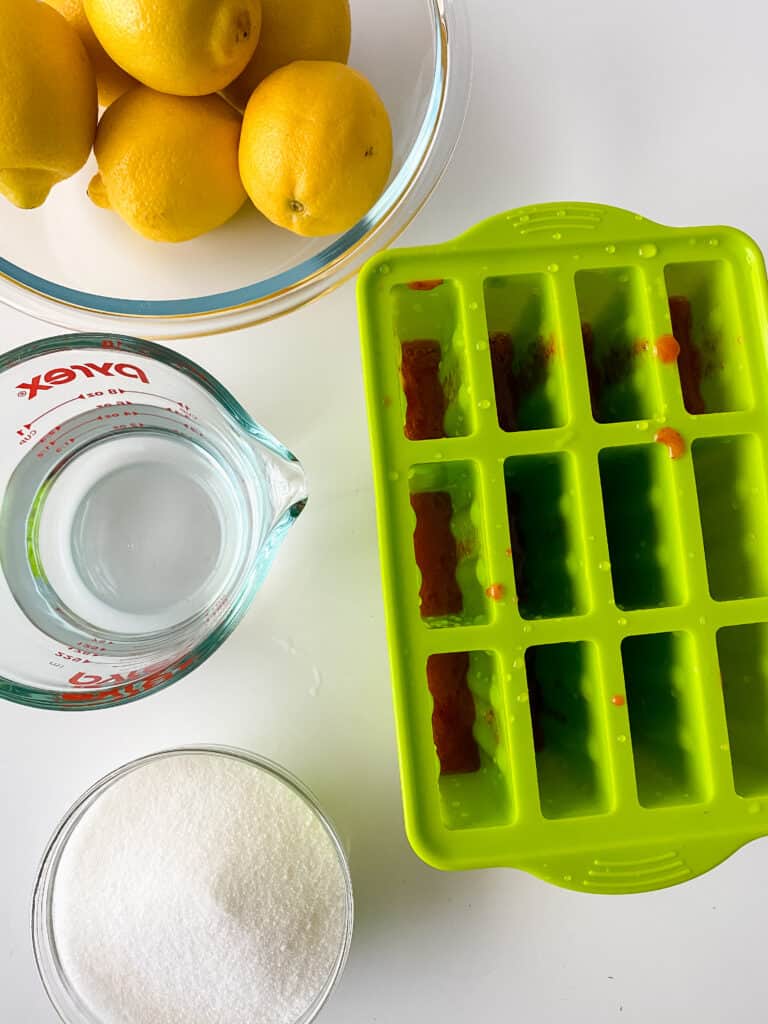 What steps do I need to follow to make strawberry lemonade popsicles?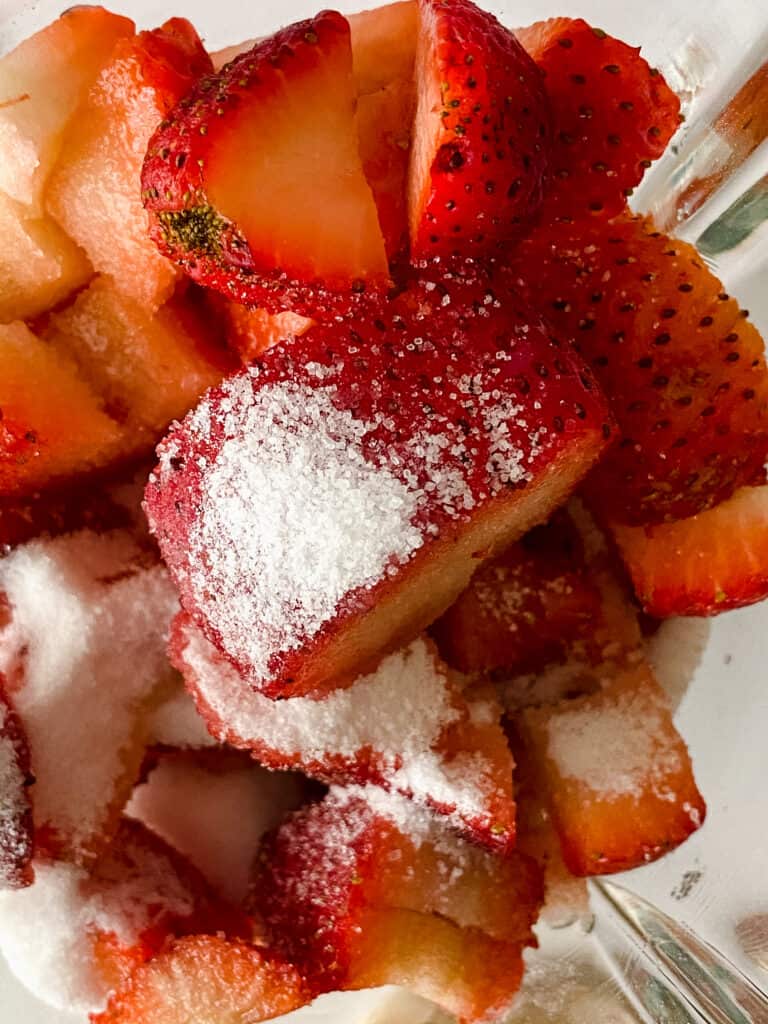 Prepare the Strawberry Puree:

In a blender, combine the diced strawberries and 1 teaspoon of granulated sugar.
Blend until smooth, creating a vibrant strawberry puree.

Fill the Popsicle Molds:

Pour the strawberry puree into the top cavities of the popsicle mold, distributing it evenly.
Place the mold in the freezer, allowing the strawberry layer to partially freeze for about 1 hour.

Prepare the Lemonade Syrup:

In a small pot, combine 1 cup of water and 1 1/2 cups of granulated sugar.
Cook the mixture over medium-high heat, stirring occasionally, until the sugar dissolves completely.
Remove the pot from the heat and add the fresh lemon juice, stirring well.
Taste the syrup and adjust the lemon juice quantity to suit your preference.

Add Lemonade to the Popsicle Mold:

Pour the lemonade syrup into a glass measuring cup or use the funnel provided with the popsicle mold.
Fill the remaining cavities of the popsicle mold with the lemonade syrup, gently pouring it over the semi-frozen strawberry layer to create the delicious popsicle mixture.

Insert the Sticks and Freeze:

Carefully insert the popsicle sticks into the mold, ensuring they are positioned securely.
Place the popsicle mold back into the freezer and allow the popsicles to freeze completely for approximately 8 hours or overnight.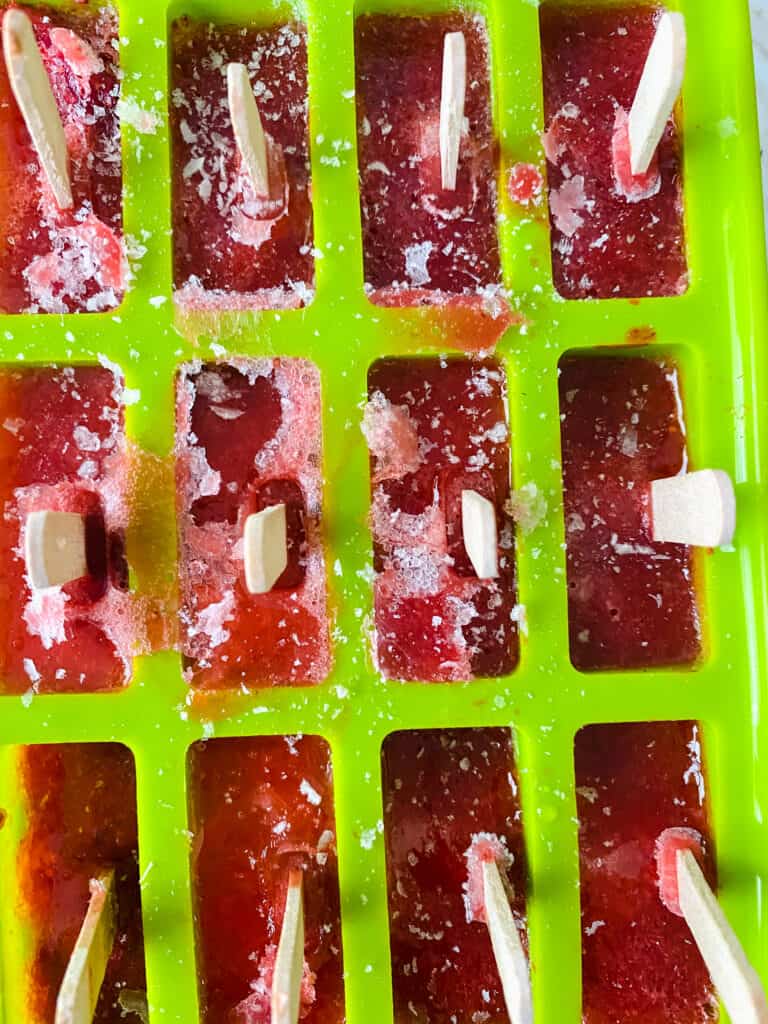 Can I create a layered look?
To create layered popsicles:
Add the strawberry purée to each mold and freeze for 1-2 hours until solid.
In the meantime, allow the lemon syrup to cool completely.
Pour the lemonade layer into the popsicle mold.
Add the sticks and freeze for 7-8 hours
Once removed from the molds, your icy popsicles will show separate layers that look extra fancy.
Yield: 8
Strawberry Lemonade Popsicles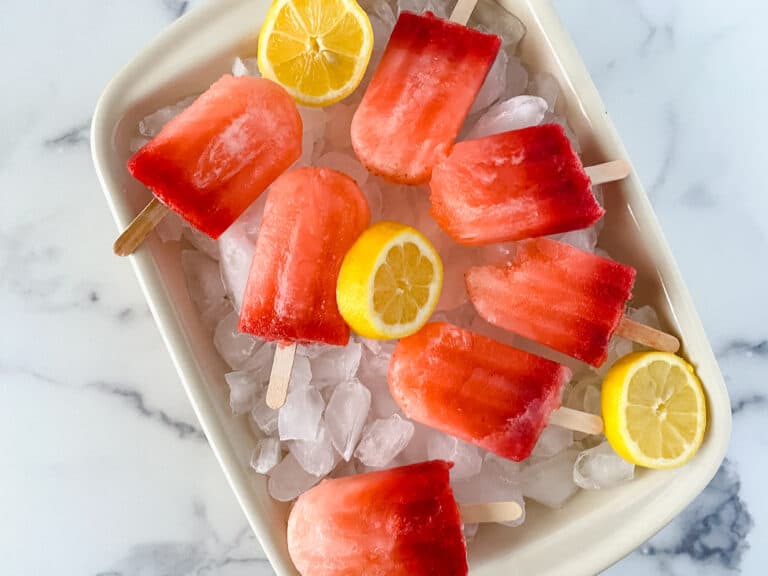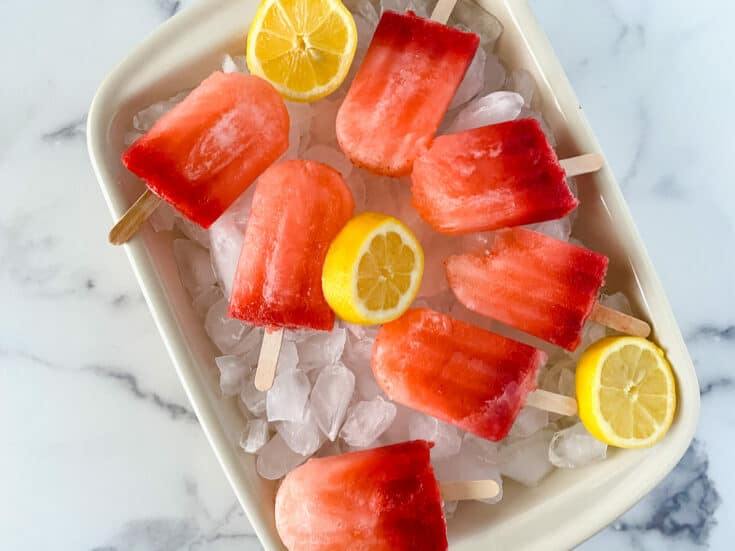 Total Time
8 hours
20 minutes
Ingredients
2 cups fresh strawberries, hulled and diced
3/4 cup (about 4-5 medium lemons) fresh lemon juice
1 cup water
1 1/2 cup granulated sugar plus 1 tsp
Instructions
Add strawberries and tsp of granulated sugar to a blender and mix until smooth.
Pour into the top of the cavities of the popsicle mold and set in freezer.
Add 1 cup of water and 1 1/2 cups granulated sugar to a small pot.
Cook over medium high heat, stirring occasionally until the sugar dissolves. Remove from heat and add fresh lemon juice.
Taste the homemade lemonade syrup. Decide if you need more lemon juice or not.
Pour into glass measuring cup or use the funnel that comes with the popsicle mold to fill the cavities.
Add the sticks and freeze the strawberry lemonade mixture for 8 hours or overnight.
With their vibrant colors and zesty flavors, these Strawberry Lemonade Popsicles are the epitome of summer bliss. Whether you"e lounging by the pool or hosting a backyard barbecue, these homemade treats will keep you cool and satisfied. The combination of sweet strawberries and tangy lemons is simply irresistible, making these popsicles a crowd-pleaser for all ages.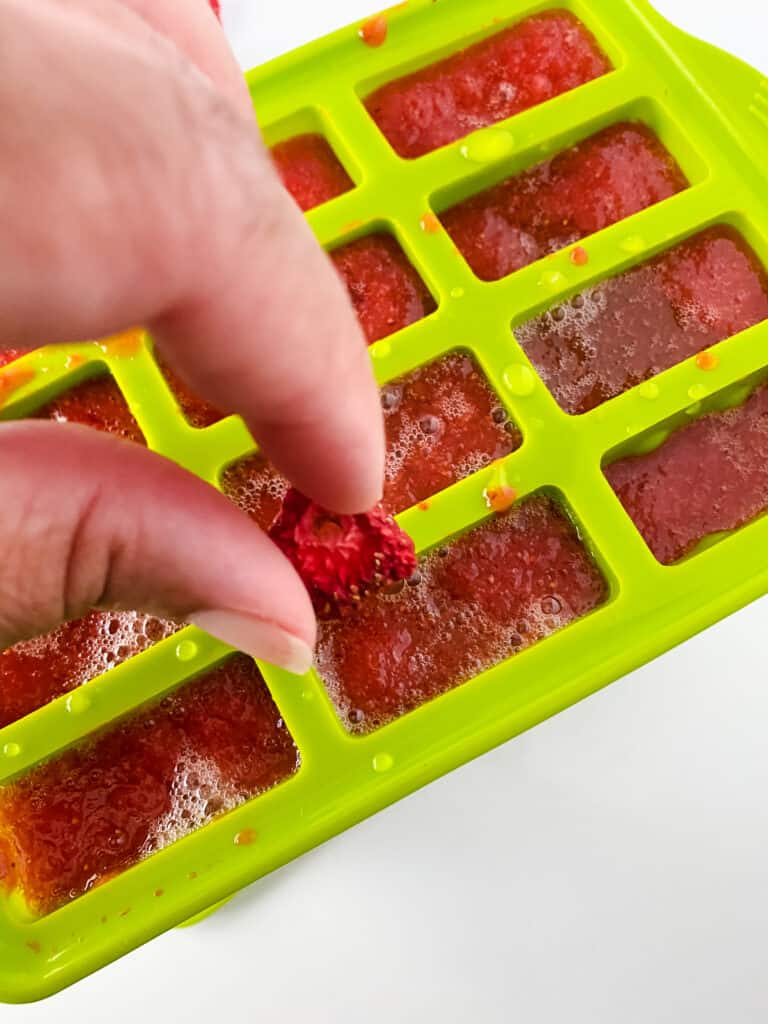 So, grab your favorite popsicle mold, follow the easy steps outlined above, and treat yourself to these refreshing delights that capture the essence of summertime in every bite. Let me know if you make this sweet treat and feel free to share with me on social media.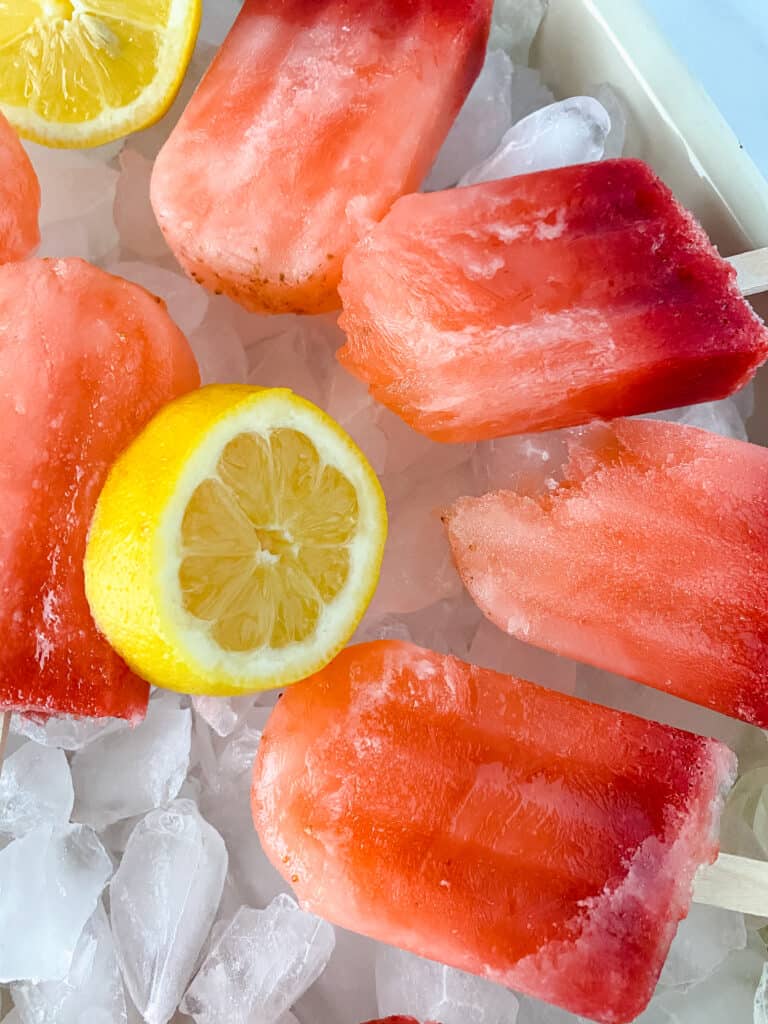 Enjoy and stay cool!
More refreshing recipes