How To Make A Festive Christmas Yule Log Cake
The Christmas yule log cake is a traditional Christmas dessert that has been making waves across the globe as it's become more popular year after year.
Bake a festive and delicious Christmas Yule log cake in just minutes with this proven recipe.
Where did the Christmas yule log originate?
It is said to have first come from France. However, this scrumptious treat has now spread to America and beyond. In this blog post we share how to make the perfect Christmas Yule Log Cake as well as its history and why it makes such a festive holiday dessert!
This Christmas Yule Log cake is a traditional French dessert that has been popular for quite some time. It was originally brought to the US by none other than Thomas Jefferson when he left France.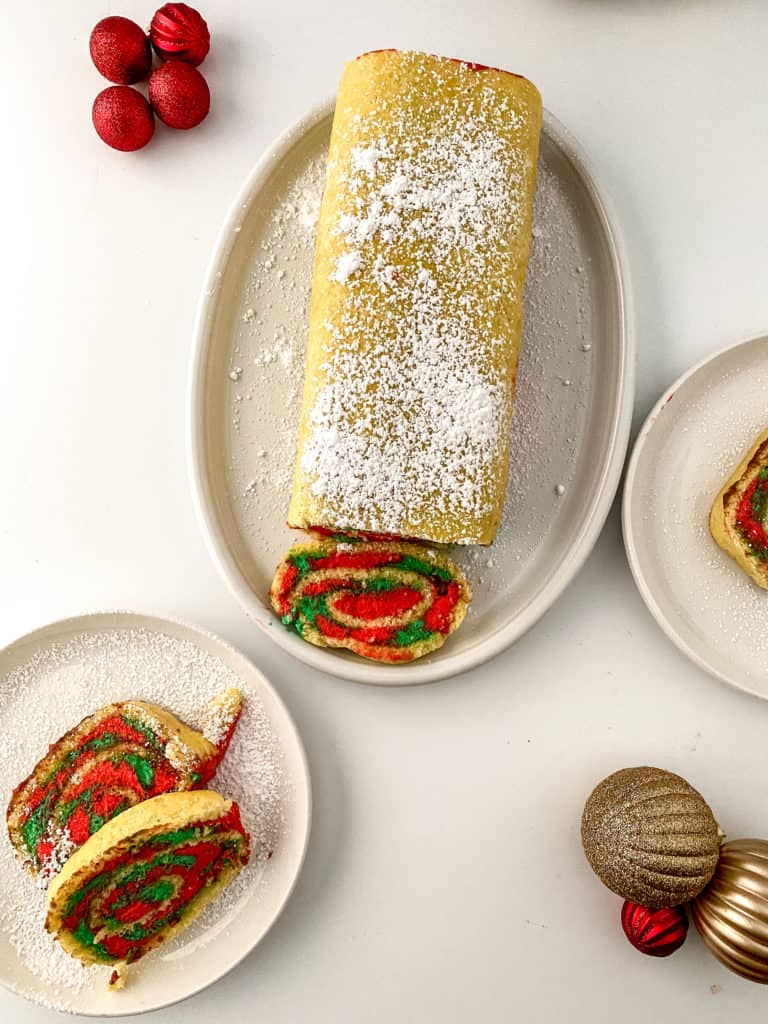 Where does it get its name from?
The Christmas yule log got its name from how it's shaped – like a large wooden Christmas log! It's a spongy Christmas cake that can been flavored with liqueur, filled with cream and covered in chocolate ganache.
What makes Christmas roll cake special?
The Christmas yule log cake is delicious any time of year but we especially love to make it during the holidays. This version adds food coloring to make it extra festive and colorful.
The red and green sponge cake honestly add such a great touch to this Christmas log cake. That's why this Christmas dessert recipe makes such a great addition to your feast. Not only is it festive and delicious, but it's also easy to make!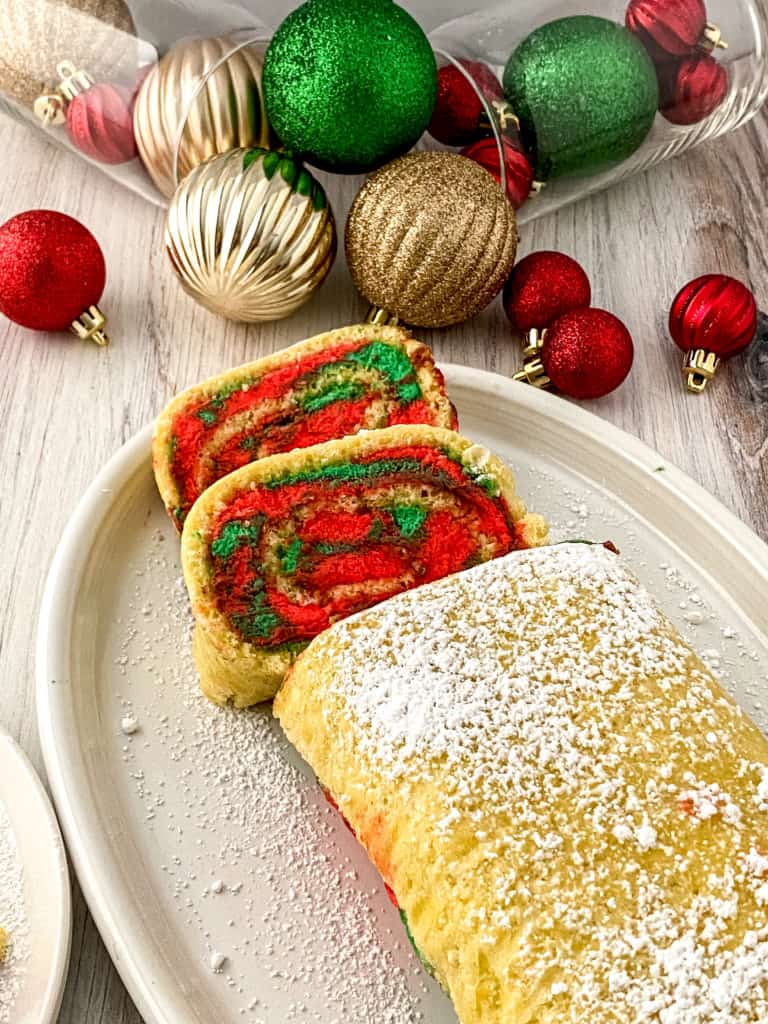 Now that we've shared all of that, are you ready to learn how to make this amazing Christmas yule log cake?
Christmas Yule Log Cake Recipe
Servings: 6
Prep time: 15-20 min
Bake: 8 min
Rest: 2 hours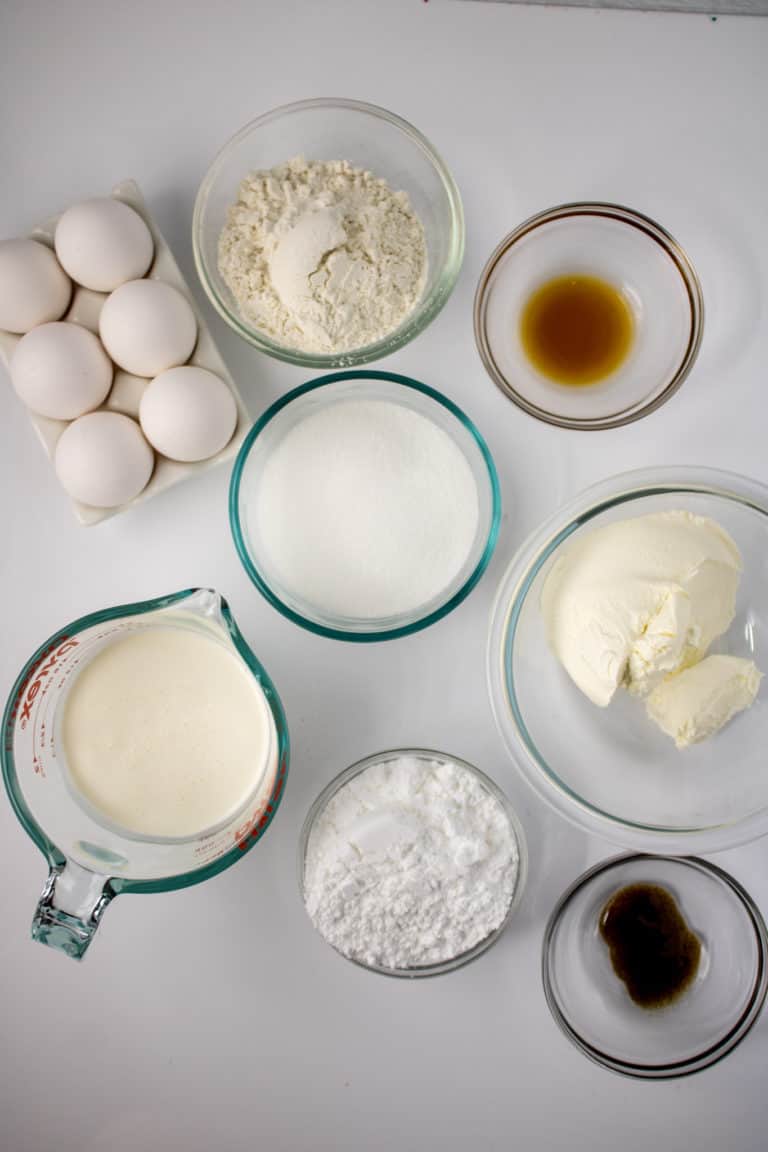 Ingredients
Baking Spray

6 large eggs

3/4 cup (6 oz) granulated sugar

3/4 cup (6 oz) all-purpose flour

1/4 tsp salt

1 tsp vanilla bean paste or vanilla extract
Filling
1 1/4 cups heavy whipping cream, cold

1 cup powdered sugar

1 tsp vanilla extract

1/8 tsp (pinch) salt

8 oz mascarpone cheese, softened but still chilled*
Instructions
Make the cake:
Preheat the oven to 400F.

Spray a 13*18 sheet pan with baking spray.

Lay a single piece of parchment on top making sure to smooth down the parchment (especially in the corners)

Spray the top of the parchment paper well, use a paper towel to wipe away excess buildup but also make sure the entire sheet is non-stick spray on it.

Fill a saucepan with 2-3 inches of water and bring to a boil. Reduce to medium heat and then allow the water to simmer.
Place eggs, sugar, and salt into the mixing bowl. Blend together with a whisk.
Constantly stir until the sugar dissolves (it will be about 110F), we don't want to cook the mixture. Remove from heat.
Add to stand mixer with a whisk attachment or use a hand mixer. Mix for 5-7 mins until the mixture triples in size and turns a few shades lighter.
Sift in 1/3 of the flour and fold it into the mixer. Do this step 2 more times until it's all folded. Take extra precautions not to break the egg emulsion.
Make sure to fold from the center of the bowl to ensure there are not any clumps of flour sitting in the center of the bowl. Fold until the flour is just incorporated.
Once you have made sure there are no lumps of flour, pour it out onto the baking tray. Spread the batter evenly all the way across the parchment.
Bake for 8 mins and then remove from the oven.
Immediately use a pairing knife or sharp knife to carefully cut the edge of the sponge away from the side of the pan.
Dust the surface with powdered sugar
Add a second sheet of parchment to the top then flip the cake onto a cooling rack or second baking sheet. Remove the parchment paper very carefully from the baked cake.
Dust that side with powdered sugar and lay a tea towel on top.
Flip it over once more, removing the parchment and carefully rolling the cake into a spiral Set aside seam side down while making the filling.
Filling
Add mascarpone cheese, vanilla, and powdered sugar in a bowl and mix until smooth.

In a separate bowl mix the heavy cream on high until stiff peaks form.

Fold in the heavy cream into the mascarpone cheese mixture until no streaks are left. Split the filling into two bowls.
Dye one bowl green.
Dye the other bowl red: First dye it pink with pink gel food colors, then add red.
Add to piping bags and set aside.
Assembly
Once the cake is cooled, unroll it.

Snip the tip off the ends of the piping bags and pipe alternating lines of filling

Carefully roll the sponge back up.

If possible wrap in plastic wrap and let chill until firm (at least 3 hours, but preferably overnight). Remove from the fridge after set,
Unwrap from plastic wrap . Slice the cake cold.
It can be tempting to simply buy a Christmas roll cake but making it from scratch is so worth it. Let us know if you make this cake!
Yield: 6
How To Make A Festive Christmas Yule Log Cake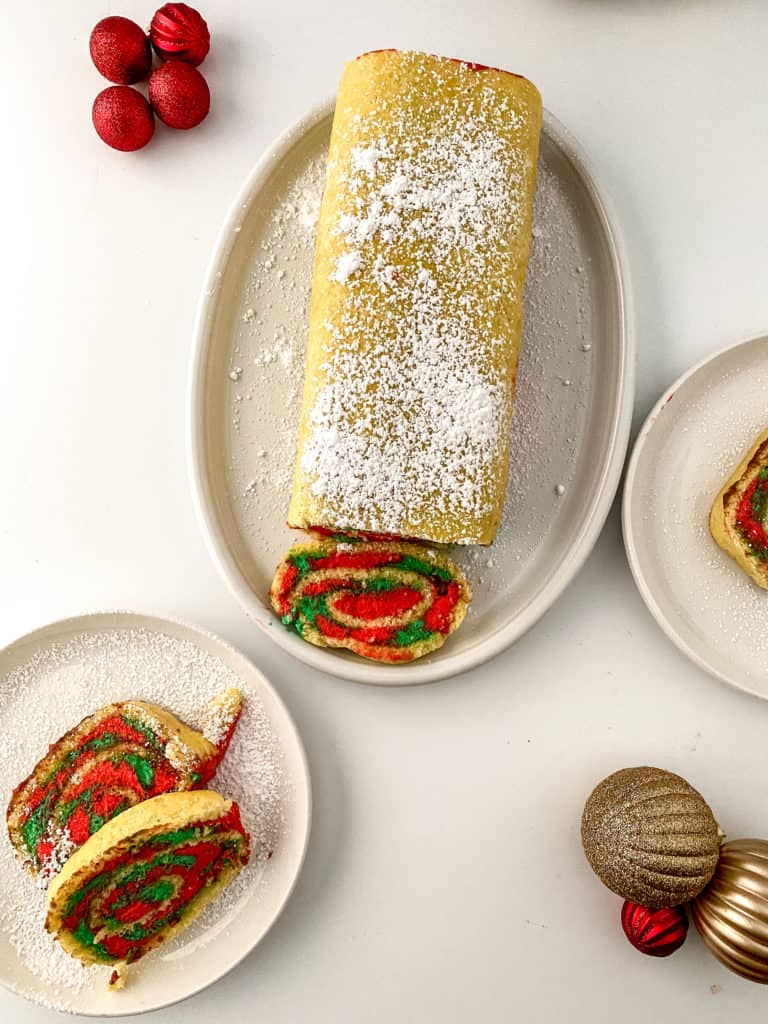 Total Time
2 hours
28 minutes
Ingredients
Baking Spray
6 large eggs
3/4 cup (6 oz) granulated sugar
3/4 cup (6 oz) all-purpose flour
1/4 tsp salt
1 tsp vanilla bean paste or vanilla extract
Filling
1 1/4 cups heavy whipping cream, cold
1 cup powdered sugar
1 tsp vanilla extract
1/8 tsp (pinch) salt
8 oz mascarpone cheese, softened but still chilled*
Instructions
Preheat the oven to 400F.
Spray a 13*18 sheet pan with baking spray.
Lay a single piece of parchment on top making sure to smooth down the parchment (especially in the corners) Spray the top of the parchment paper well, use a paper towel to wipe away excess buildup but also make sure the entire sheet is non-stick spray on it.
Fill a saucepan with 2-3 inches of water and bring to a boil.
Reduce to medium heat and then allow the water to simmer.
Place eggs, sugar, and salt into the mixing bowl.
Blend together with a whisk.
Constantly stir until the sugar dissolves (it will be about 110F), we don't want to cook the mixture. Remove from heat.
Add to stand mixer with a whisk attachment or use a hand mixer.
Mix for 5-7 mins until the mixture triples in size and turns a few shades lighter.
Sift in 1/3 of the flour and fold it into the mixer. Do this step, 2 more times until it's all folded. Take extra precautions not to break the egg emulsion.
Make sure to fold from the center of the bowl to ensure there are not any clumps of flour sitting in the center of the bowl.
Fold until the flour is just incorporated.
Once you have made sure there are no lumps of flour, pour it out onto the baking tray. Spread the batter evenly all the way across the parchment.
Bake for 8 mins and then remove from the oven.
Immediately use a pairing knife or sharp knife to carefully cut the edge of the sponge away from the side of the pan.
Dust the surface with powdered sugar
Add a second sheet of parchment to the top then flip the cake onto a cooling rack or second baking sheet. Remove the parchment paper very carefully from the baked cake.
Dust that side with powdered sugar and lay a tea towel on top.
Flip it over once more, removing the parchment and carefully rolling the cake into a spiral Set aside seam side down while making the filling.
Filling
Add mascarpone cheese, vanilla, and powdered sugar in a bowl and mix until smooth. In a separate bowl mix the heavy cream on high until stiff peaks form.
Fold in the heavy cream into the mascarpone cheese mixture until no streaks are left. Split the filling into two bowls.
Dye one bowl green.
Dye the other bowl red: First dye it pink with pink gel food colors, then add red.
Add to piping bags and set aside.
Assembly
Once the cake is cooled, unroll it.
Snip the tip off the ends of the piping bags and pipe alternating lines of filling
Carefully roll the sponge back up.
If possible wrap in plastic wrap and let chill until firm (at least 3 hours, but preferably overnight) Remove from the fridge after set,
Unwrap from plastic wrap
Slice the cake cold
More Christmas Recipes