7 Expert Tips When Creating Vision Boards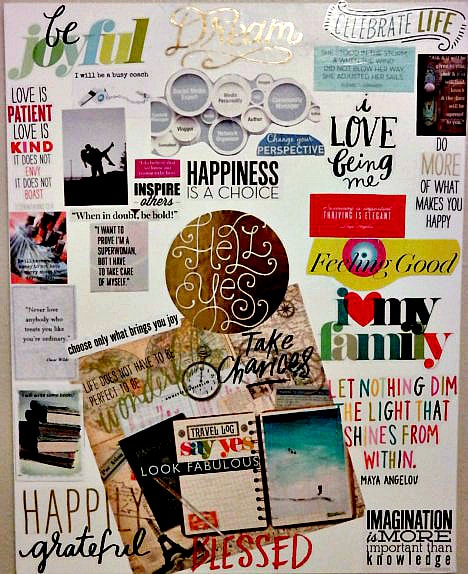 When a new year begins, it's the perfect time to create vision boards. I've always been a believer that you attract what you put out there. That's exactly what a vision board does, it helps you visualize what you desire. I've never created a vision board; I discovered vision boards via social media. People shared their vision boards and encouraged others to put out into the Universe whatever it is that you desire. I started meeting very happy, positive and successful people who shared their stories about success and putting something on their vision board and it becoming a reality. So, I've been thinking about giving it a try.
READ ALSO: 7 Financial Resolutions You Need To Make
I asked some experts in visioning and positive thinking to share their best tips for creating vision boards.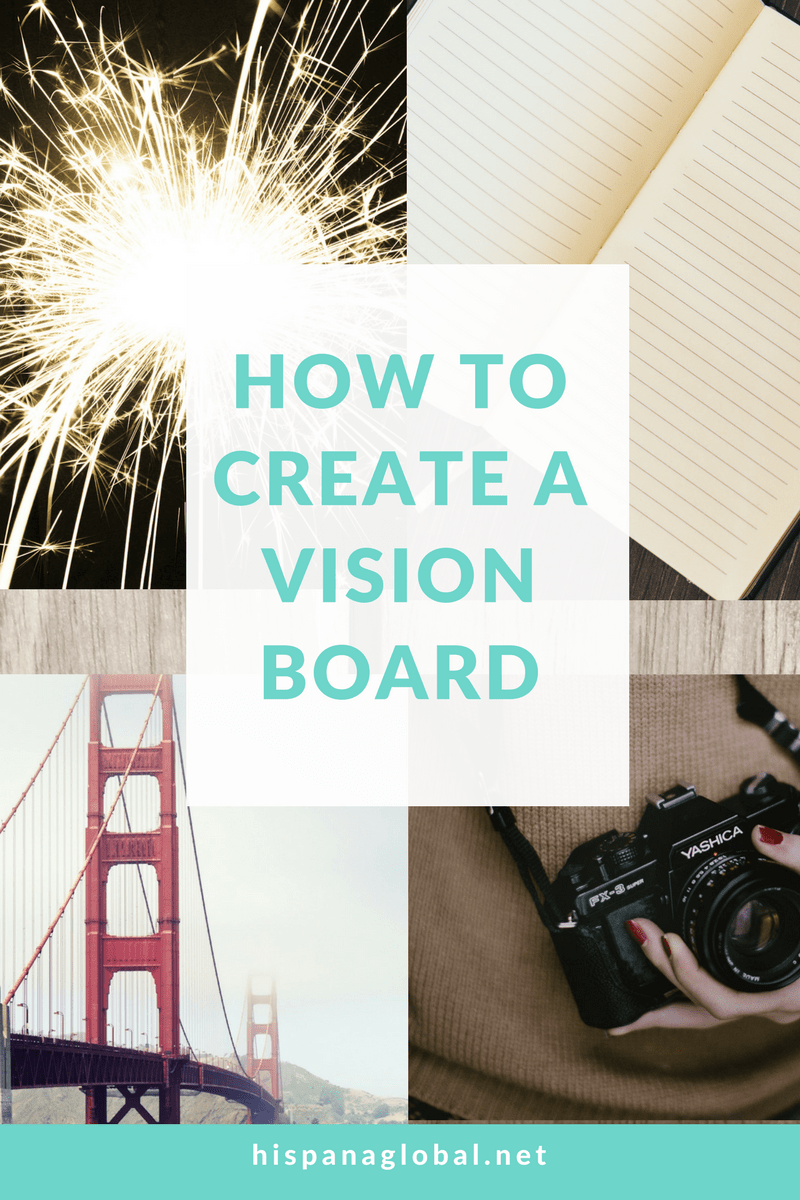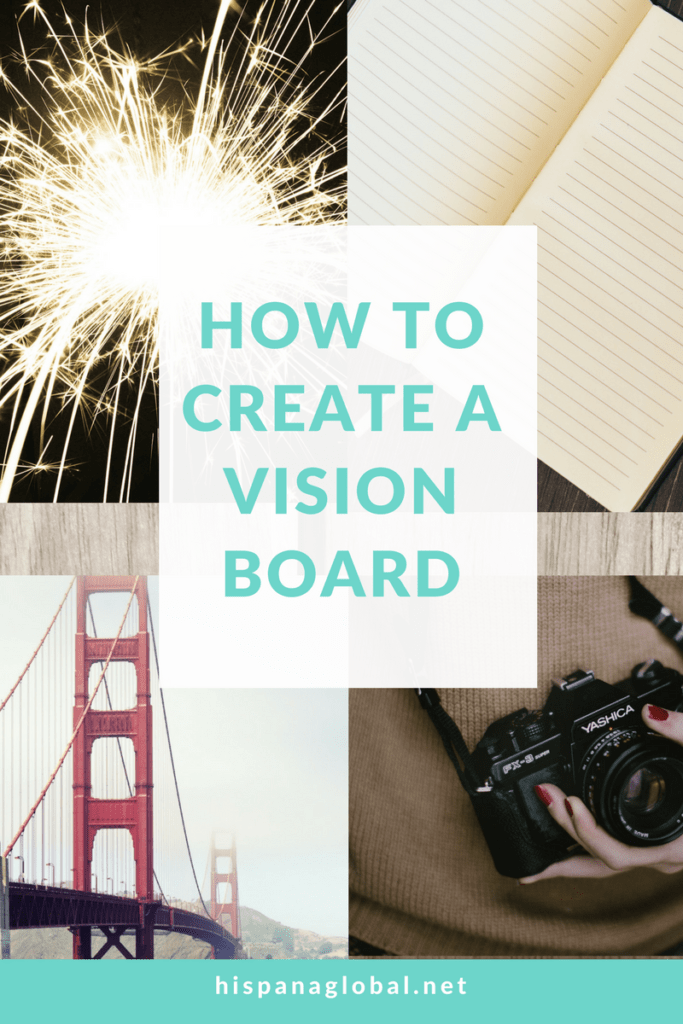 7 tips when creating vision boards
Trust the process. It may not end up looking like you thought it would in when you started creating, so just trust and enjoy the process.– Helena Osorio-Zavala, a visioning expert.
Update it and change it as you change; it's not set in stone. – Helena Osorio-Zavala .
"Include both short term and long term goals on the board." Kimberly Thomas from Valley Stream Mom has made vision boards with her friends. She says it's important to be realistic in setting goals.
"Focus on the essence of what the item will bring you not the thing itself. For example if you want a new job don't put a women in an office put a woman experiencing freedom. It is the quality/emotion that is magnetic." Deborah Deras is a motivational speaker and coach. She has extensive information on creating vision boards, check out Deborah's Youtube channel all about Vision Boards tips.
Look for things that bring you joy. Cynthia Alfaro, a life coach, explains. "It's doesn't have to make sense, but if something inside sparks joy, then grab it and give it a space on the board." Check out her site, Moms Winning, for more life coaching tips.
Pick images that are calling your heart. "This is heart-centered work. As you peruse through magazines etc., collect only the images that your heart is calling. Try to release intellect, and only pick images and text that are calling your heart." – Hope McGrath, an expert on visioning, says. "Your vision board can empower you with a fresh sense of clarity, excitement, acceptance and even, dare I say…fearlessness." Check out more of her tips on visioning here.
Create a vision board on canvas. "The most important thing about vision boards and the reason I prefer to do them on canvas is that you need to be able to see them every day. You have to take in whatever you set out otherwise they don't work." Sili Recio, from My Mamihood says. Check out her tips on how to create a vision board on canvas here.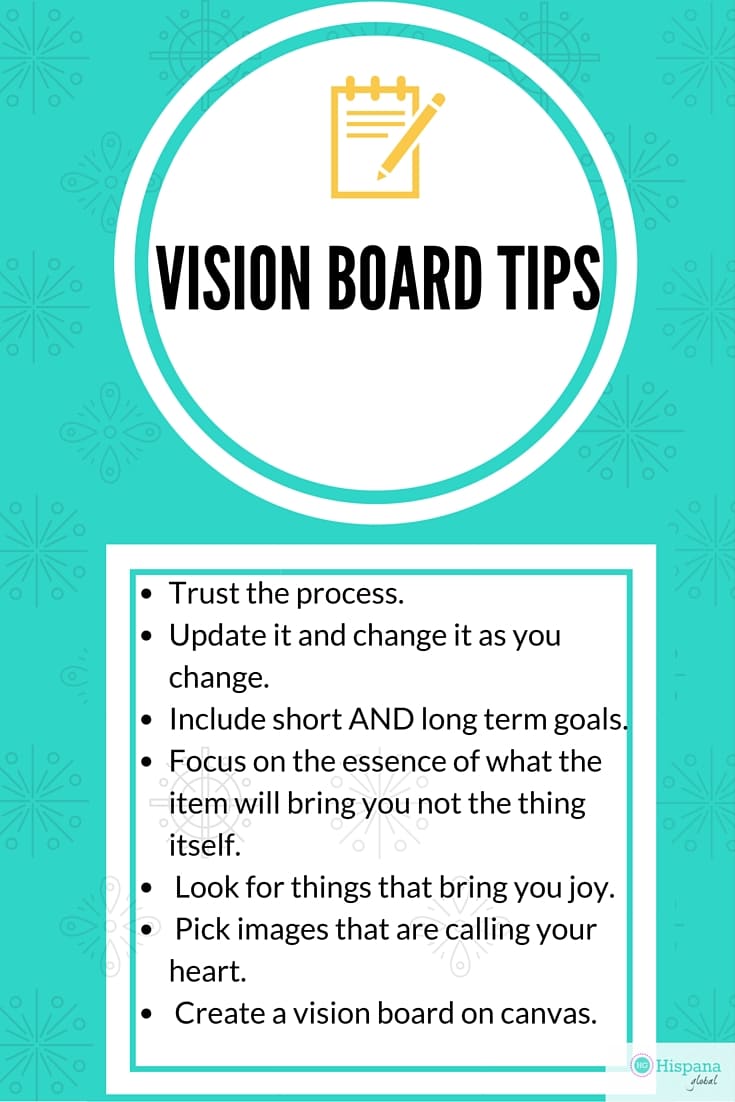 Have you created a vision board? What tips would you add? Share you pictures of vision boards on Instagram with us, tag @hispanaglobal and me, @dianalimongi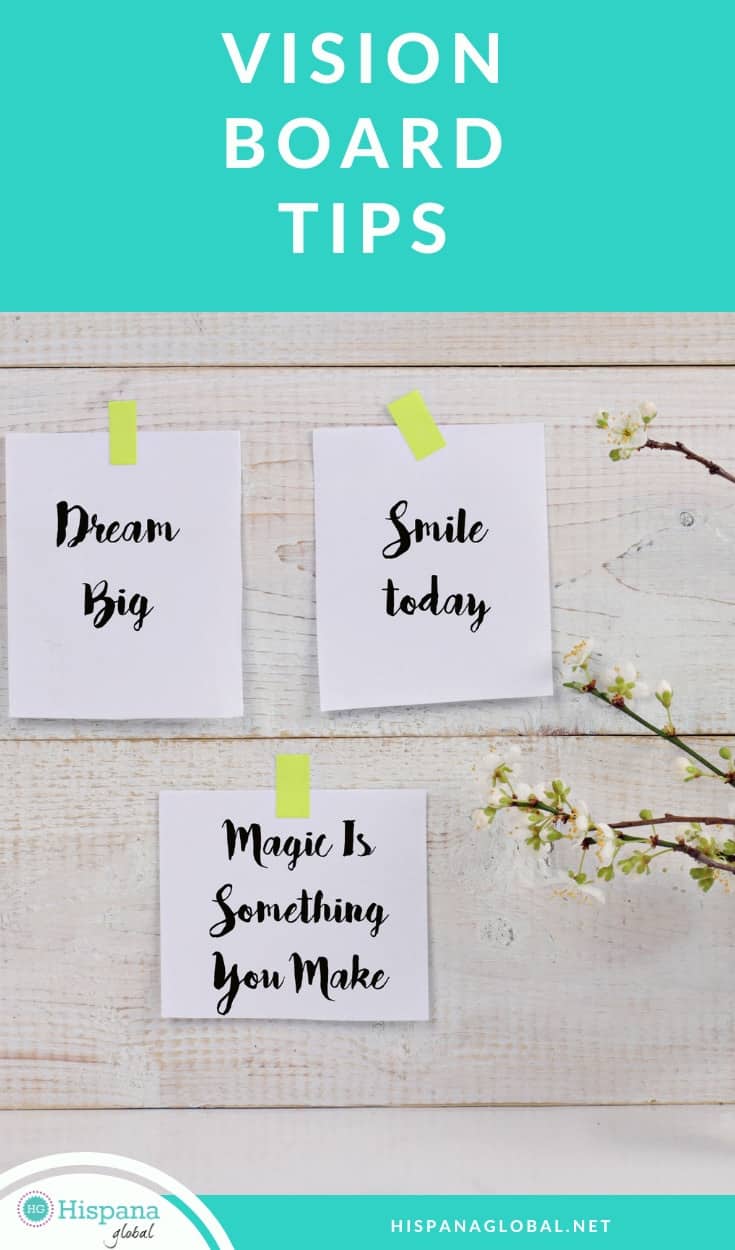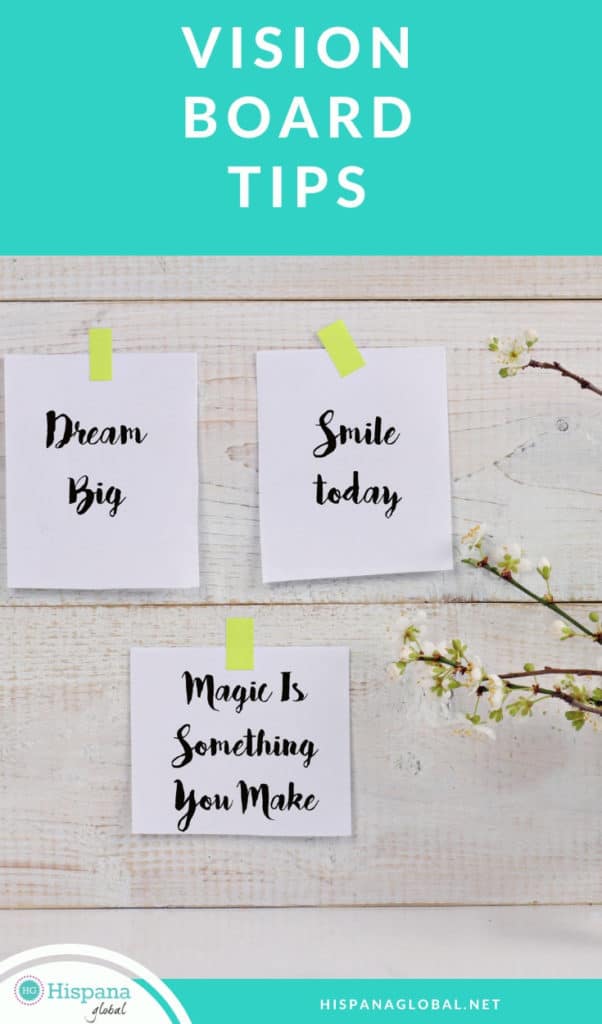 vision board photo credit: Sili Recio