A delicious and hot bowl of soup can be so comforting and it's even better when it can be prepared in 30 minutes or less. Here are three quick and easy soup recipes that can be made in minutes.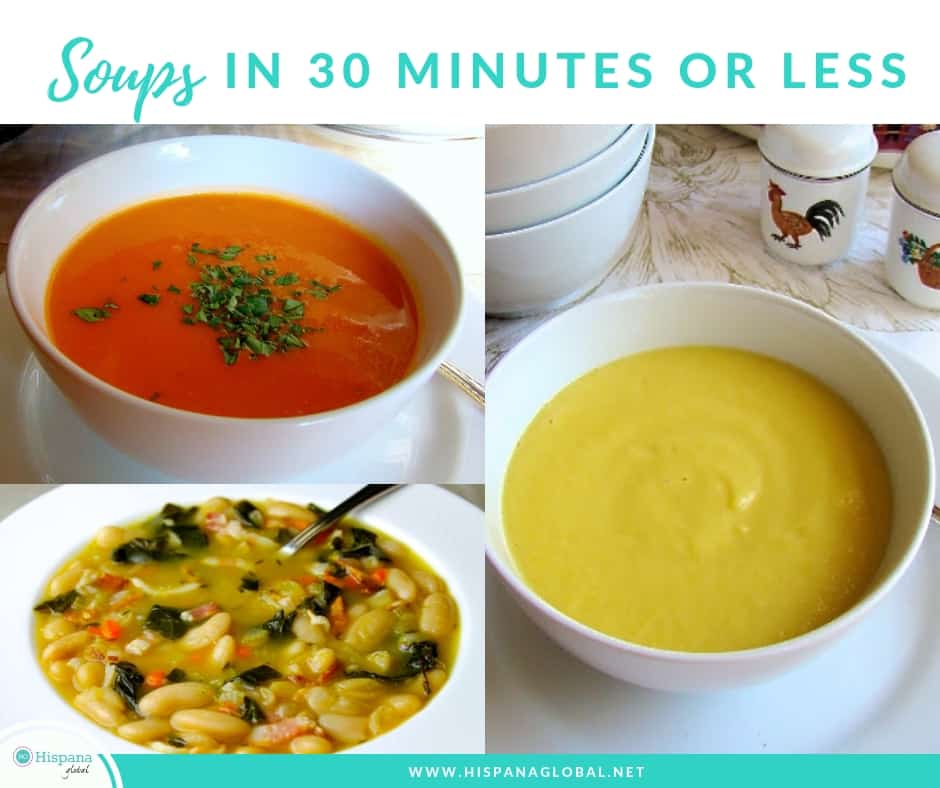 If you want to save even more time, use canned tomatoes that already come peeled and cubed. You can also use canned beans. Make these quick and easy soup recipes in batches so you can quickly heat them up for dinner during the week. I recommend using a blender (like this immersion blender that is super easy to use and clean) to get the creamiest consistency.
Quick and Easy Soup Recipes
CREAM OF SQUASH RECIPE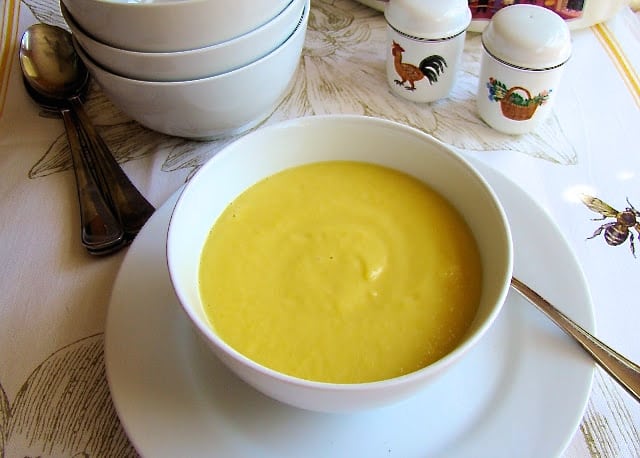 INGREDIENTS:
1 chopped white onion
4 tablespoons of butter
4 cups chopped yellow squash
2 cups of water
salt
DIRECTIONS:
In a covered pot, melt 3 tablespoons of butter and sauté the onion over medium heat until it withers. Add the onion, yellow squash, and water; cook covered for 8 more minutes. Remove from heat and blend until it has a creamy consistency. Add the spoonful of the remaining butter and stir until it dissolves. Add salt to taste.
TOMATO AND RICE SOUP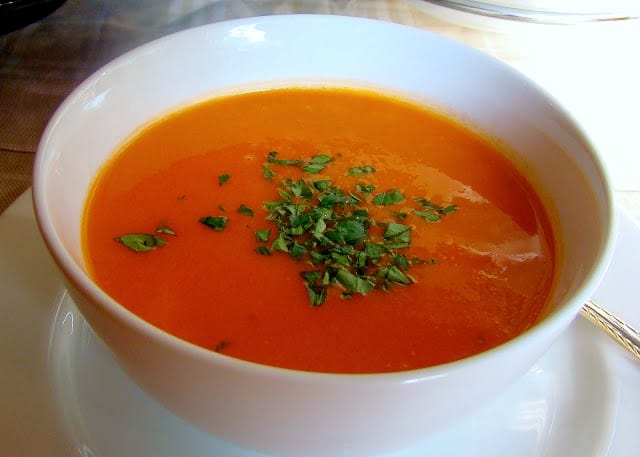 INGREDIENTS:
4 tablespoons butter
1 large onion, chopped
4 cans of peeled tomatoes (diced)
2 sprigs of fresh thyme
1 liter of boiling water
4 tablespoons rice
Salt
3 tablespoons chopped fresh parsley
INSTRUCTIONS:
In a covered pot melt 3 tablespoons of butter over medium heat and sauté the onion until it withers about 5 minutes. Add tomatoes and thyme, and cover for 5 more minutes. Remove the thyme and discard. Blend until the mixture has a smooth texture. Add the rice and water and cook over low heat for 20 minutes, stirring occasionally. Add salt to taste. Add the remaining spoonful of butter and stir. Serve with a little parsley.
WHITE BEAN SOUP WITH SWISS CHARD RECIPE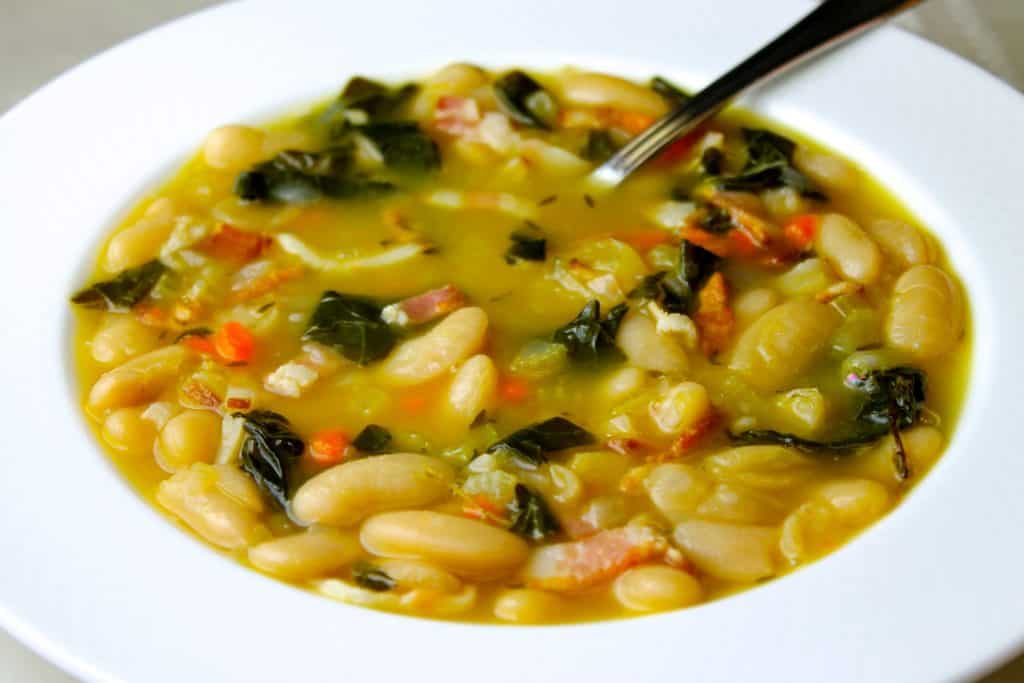 INGREDIENTS:
4 bacon strips, minced
1 tablespoon olive oil
1 cup chopped onion
2 garlic cloves, minced
1 cup of minced celery
1 cup chopped carrot
2 cans of tomatoes, peeled and cut in small cubes
3 small cans of beans, rinsed and drained
1 liter of water
4 cups Swiss chard leaves cut into pieces
1 ½ tablespoon of dried thyme
Salt
Freshly ground black pepper
INSTRUCTIONS:
Fry the bacon for 3-4 minutes over medium heat. Discard the fat from the bacon. Add the olive oil to the pan. Sauté the onions, garlic, celery, and carrot with the bacon, for about 5 more minutes. Add the tomato and cook for about 5 more minutes. Blend 1 cup of the beans, rinsed and drained, with a cup of water, until a homogeneous puree forms. In a pot over medium-high heat, add the water and the mashed beans, the drained beans, the sofrito, and cook, covered, for 15 minutes. Add salt and pepper. Add the chard, stir and serve immediately.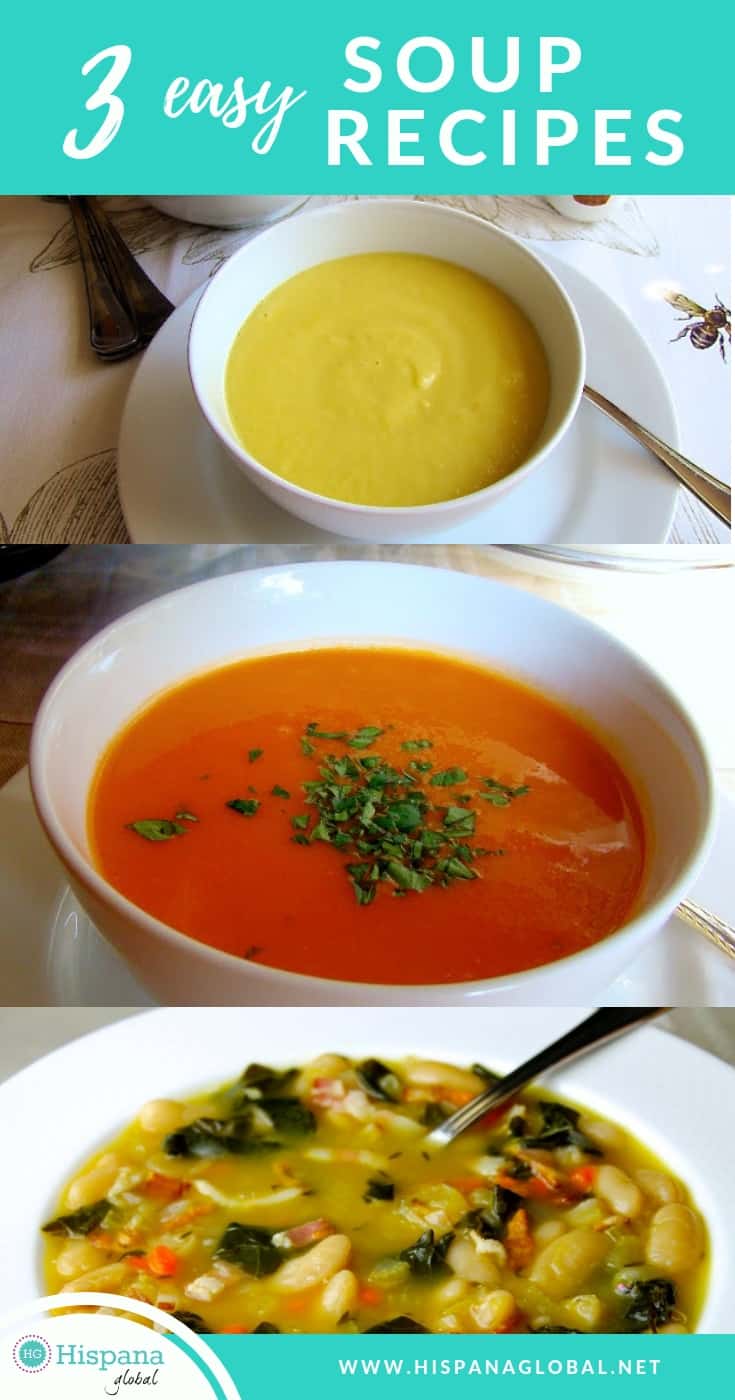 Recetas en español: 3 sopas que se preparan en 30 minutos