Got Itchy Skin? It Might Be Eczema
This post is sponsored by Med-IQ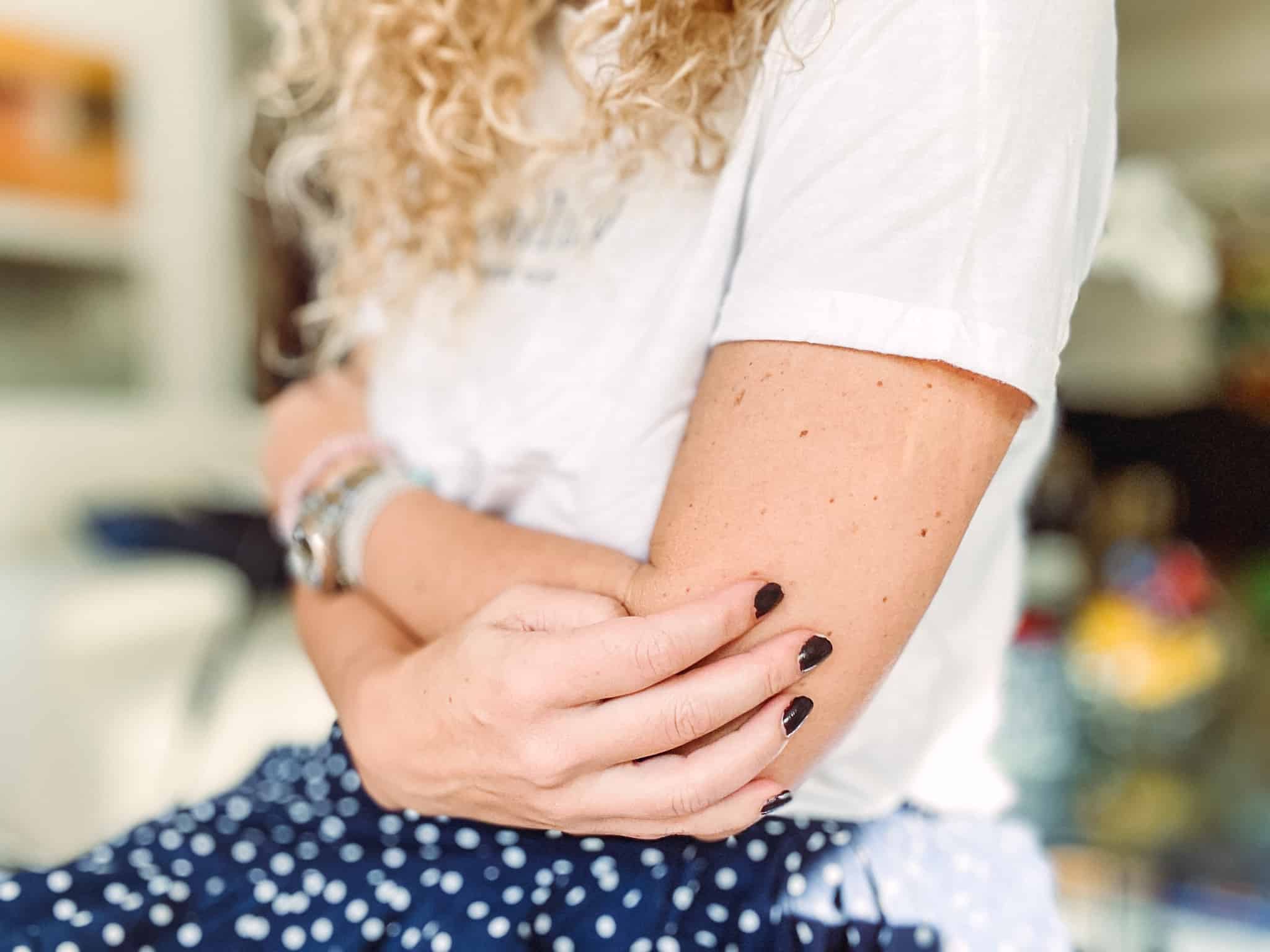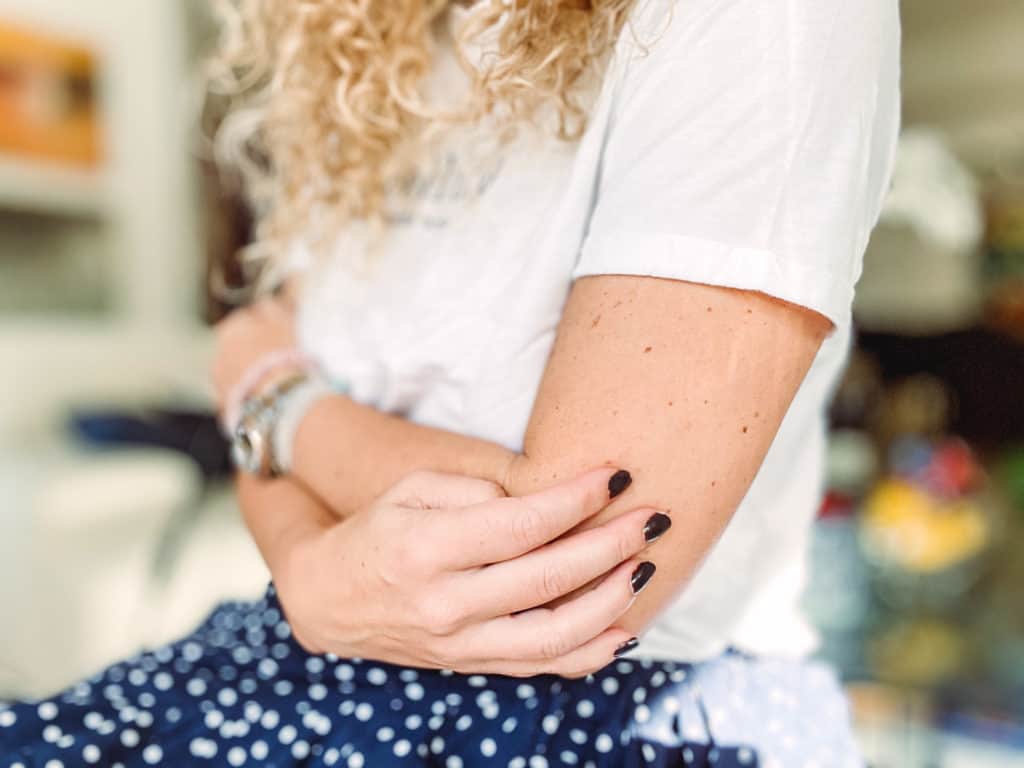 Itchy skin is no laughing matter. Sometimes the tiniest things can set off an allergic reaction and I have to hold back the urge to scratch the itch. If I don't, my skin will get even angrier and I might even end up with scabs. Yes, it can get that bad.
My daughter's skin also is very reactive, easily develops hives, and she has been diagnosed with atopic dermatitis. She is one of the 31 million Americans who have some sort of eczema. This skin disease can be quite uncomfortable, especially for the 10% to 25% of children who have atopic dermatitis. It affects all races; however, it is more common among Black children and Black and Hispanic children are more likely to experience more severe cases.
That is why I decided to work with Med-IQ to help generate awareness around the signs and symptoms of eczema and atopic dermatitis. Med-IQ is an accredited medical education company that provides an exceptional educational experience for physicians, nurses, pharmacists, and other healthcare professionals. In the past I have partnered with them and I continue to be impressed by the information and tools they provide.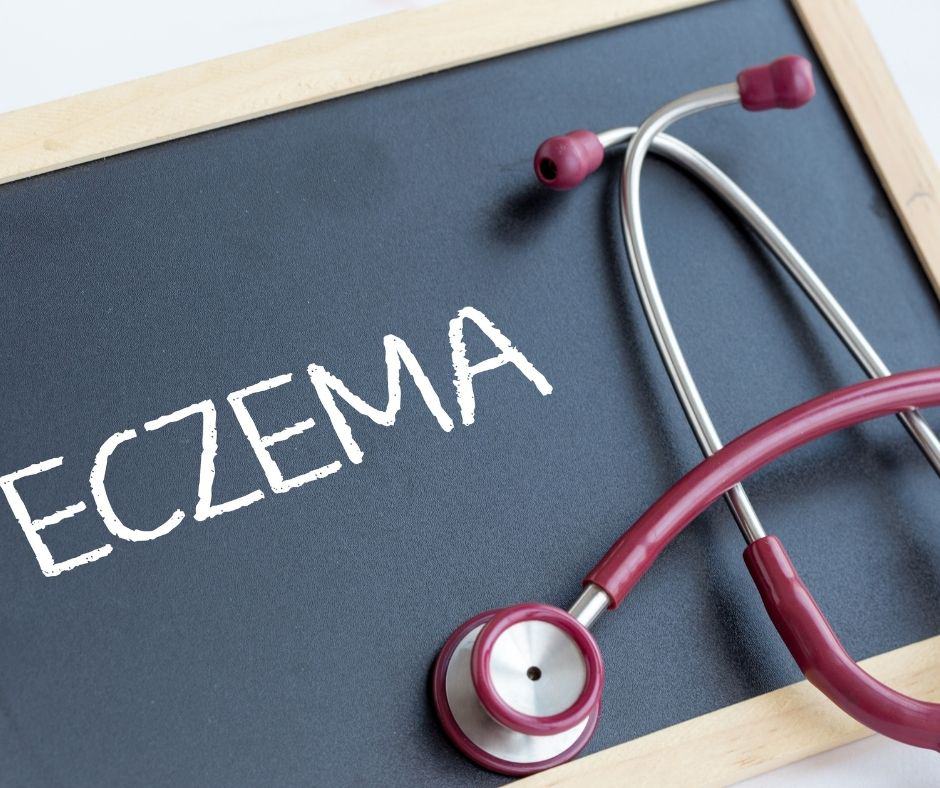 If you or somebody you love has itchy skin, it might be more than just dryness or an allergic reaction to soap. Eczema can also affect self-esteem, sleeping patterns, and stress levels. Keep reading to learn the facts.
What are eczema and atopic dermatitis?
Eczema is the general name for a group of skin conditions including contact dermatitis and atopic dermatitis, among others.
Atopic dermatitis (also known as atopic eczema) can be a chronic condition that requires long-term treatment. It is an intrinsic process influenced by the environment but not caused by the environment. It presents itself as a red, itchy rash that can happen any time of year. It can get worse in the winter months due to the increased dryness, but for some patients, it can worsen in the summer due to the heat and humidity.
More severe cases of atopic eczema can be quite painful and cover large areas of the body. In school-aged children it is often found in the inner creases of their arms, back of legs, and the back of their neck.
Keep in mind that atopic dermatitis presents differently on pigmented skin tones and can appear grey or purplish or darken affected skin. Once it resolves, it can leave pigmentary changes, either darker or lighter pigmentation for weeks or months. One type of eczema is often confused for ringworm, so make sure your doctor has experience treating darker skin tones.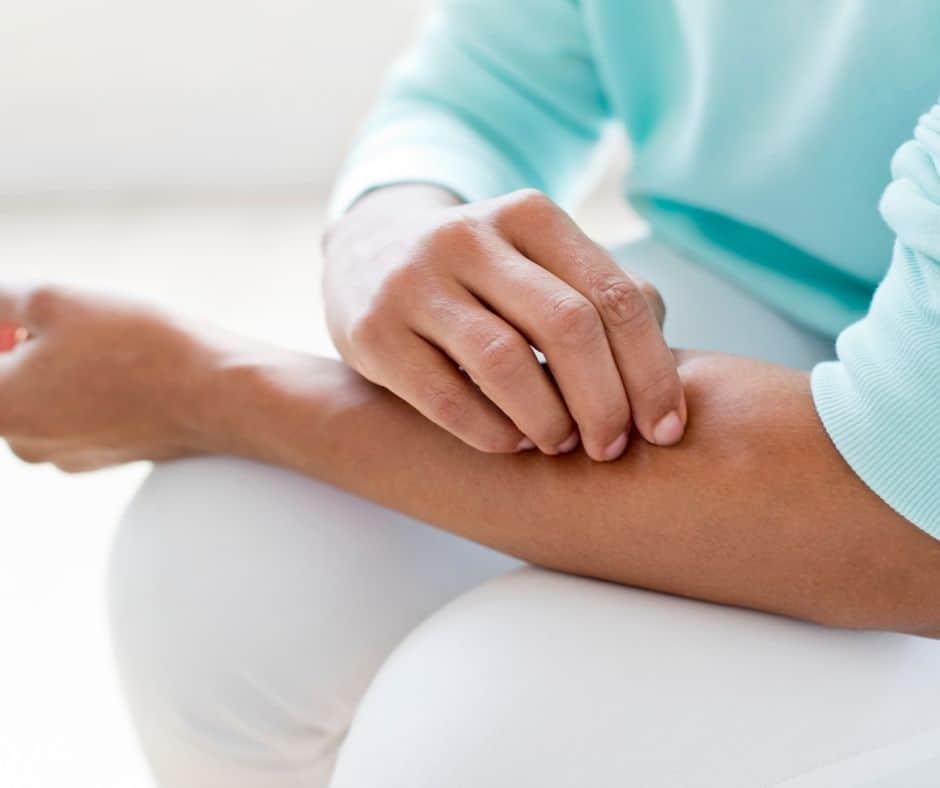 What causes eczema?
Some patients may have a genetic predisposition that causes their skin to be more reactive. This can make them more prone to allergic factors on the surface of the skin which can trigger redness, scaling, bumpiness and itchiness. That is why doctors ask whether the patient has asthma and seasonal allergies when they examine a patient with atopic dermatitis. Remember to mention your family history to your dermatologist in case they don't ask.
In my case, I have suffered from seasonal allergies my entire life, just like my parents. My daughter also has allergies.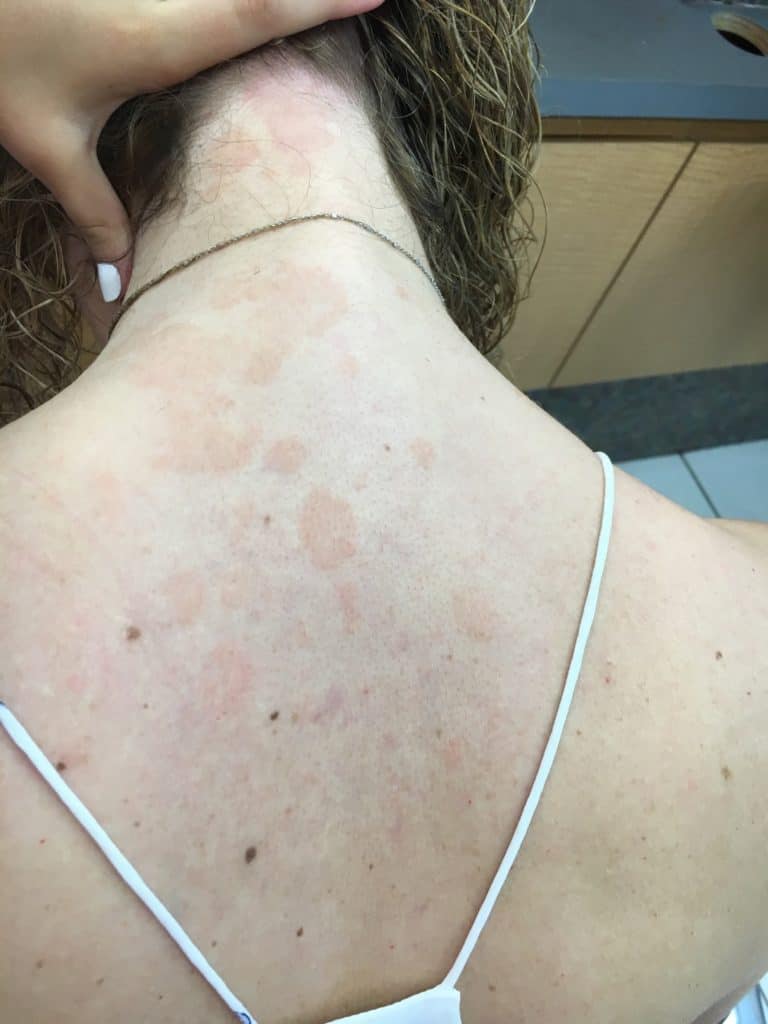 Does eczema need treatment?
Yes! Atopic eczema is chronic and does not just "go away." Parents of children and individuals with atopic dermatitis should seek treatment and consult a dermatologist. There are medications and treatments available. There are also simple lifestyle changes that can go a long way in relieving the discomfort from eczema and reducing flare-ups.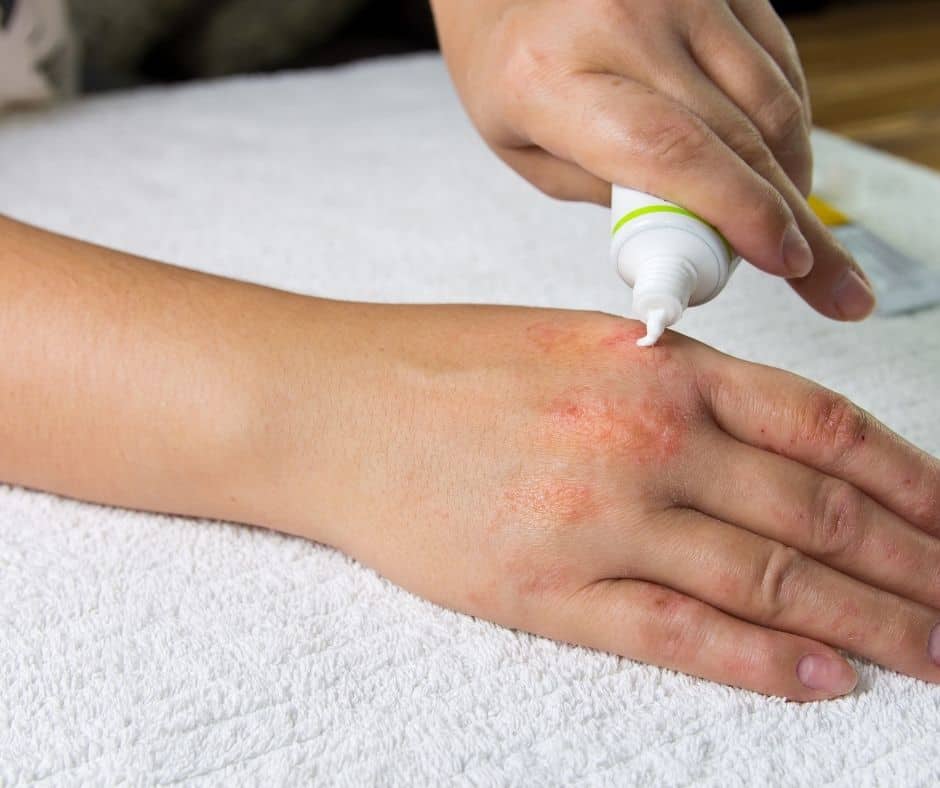 What if there is not a pediatric dermatologist in your area? You can take your child to their pediatrician for atopic dermatitis treatment, even if it's for moderate or severe eczema. Remember that now there are many doctors offering telemedicine services, so you can consult an expert regardless of their location.
Where can I find more information about eczema?
On December 15 I will be interviewing renowned expert Dr. Andrew F. Alexis from 6 -6:30 PM ET during a Facebook Live, so take advantage of that opportunity to bring all your questions. Dr. Alexis is Director of the Skin of Color Center, Professor of Dermatology at the Icahn School of Medicine, and Chair, Department of Dermatology at Mount Sinai West and Mount Sinai Morningside in New York, NY.
Here are a few websites that can give you more information.
Make your voice heard and win a $100 VISA gift card
Med-IQ is conducting an anonymous survey and would appreciate your input. The survey will take less than 10 minutes to complete. Survey responses are shared only in aggregate. Your responses to these survey questions will provide Med-IQ with important information about your experiences with atopic dermatitis, which will help us develop future educational initiatives. Once you've completed the survey, you will have the option of providing your email address to be entered into a drawing administered by SOMA Strategies to win 1 of 10 $100 VISA gift cards. If you choose to enter, your email address will be used only to randomly draw the winners and notify them of their prize and to send a follow-up survey as part of this same initiative.
I was compensated by Med-IQ through an educational grant from Pfizer, Inc. to write about the signs, symptoms, and treatments available for eczema/atopic dermatitis in communities of color. All opinions are my own.
Links to external sites are provided as a convenience and for informational purposes only. They are not intended and should not be construed as legal or medical advice, nor are they endorsements of any organization. Med-IQ bears no responsibility for the accuracy, legality, or content of any external site. Contact the external site for answers to questions regarding its content.