How To Make Your Own Forky Inspired by Toy Story 4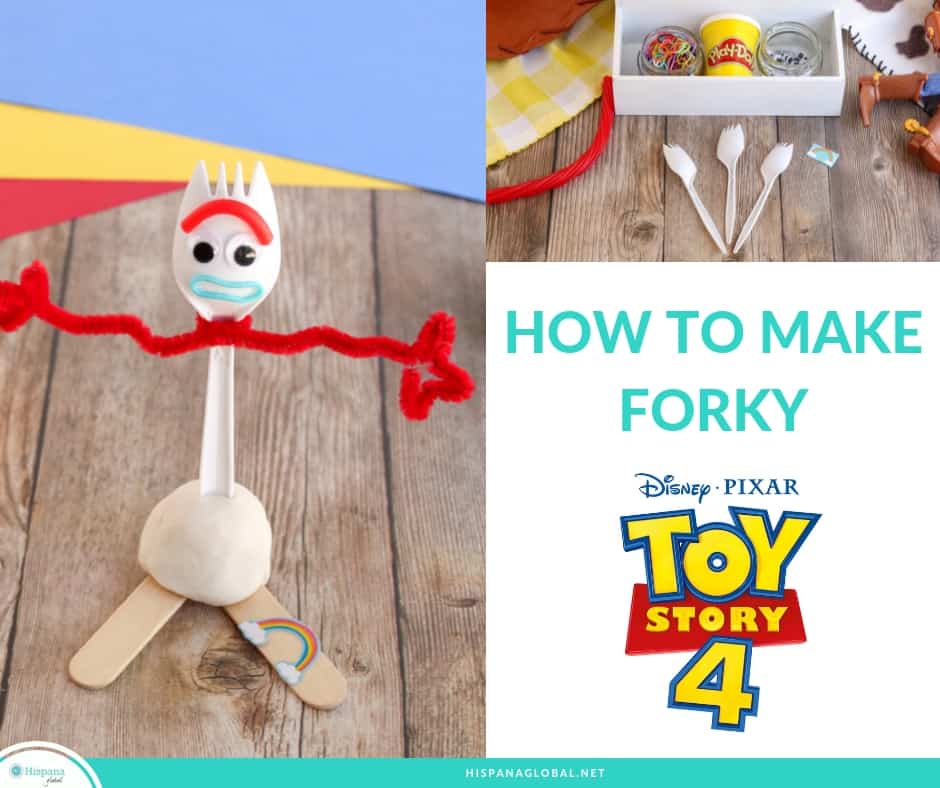 If you've seen Disney's Toy Story 4, then you know how cute Forky is. Besides being instrumental to the story, you see in the movie that he has an existential crisis. Forky, declares himself trash and not a toy, but Woody takes it upon himself to show Forky why he should embrace being a toy. "Forky is like a newborn," says producer Mark Nielsen. "He doesn't know anything about life—he doesn't even understand why he's alive or what a toy even is. He makes Woody vocalize what it means to be a toy—what it means to be needed."
Underneath the googly eyes, pipe-cleaner arms and red waxy mouth, he's a discarded spork. In the movie, Forky is made using playdough but you can use any kind of molding clay you have on-hand  OR make your own at home.
Here's how to make your own Forky at home.
Step by step instructions to make Forky from Toy Story 4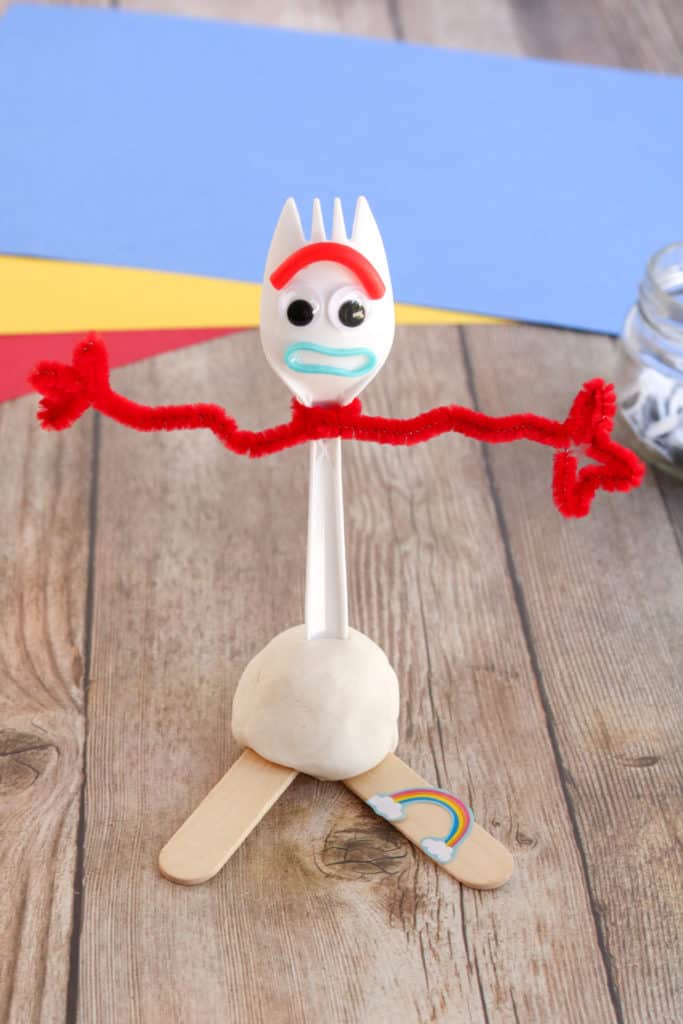 Makes 1 "Forky" character
Time : 10 minutes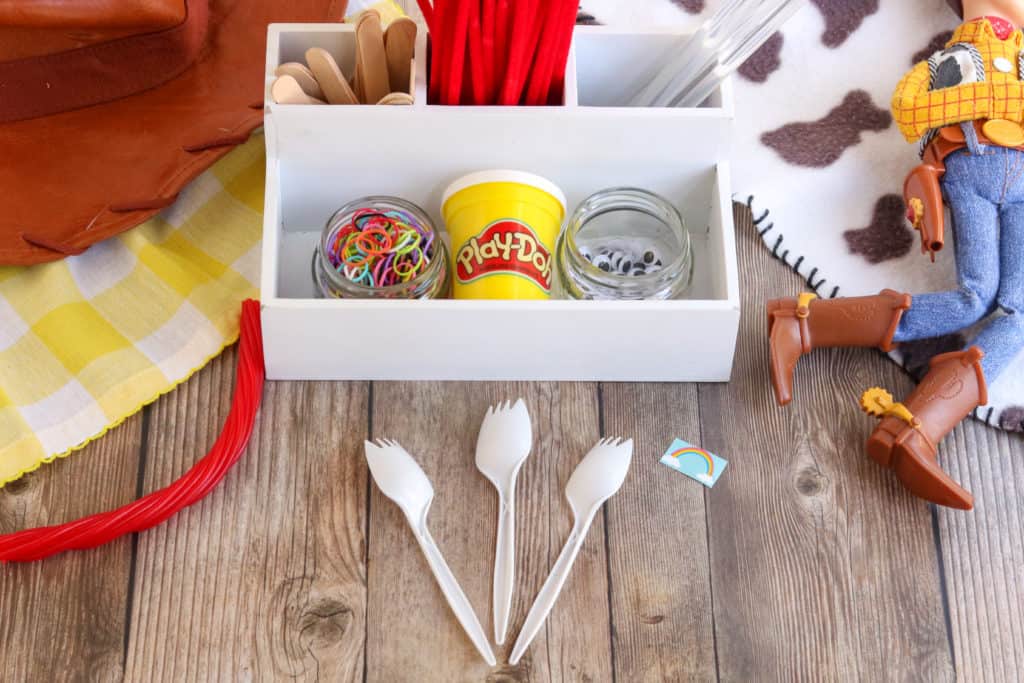 Special Supplies:
1 spork (you can get yours online here)
2 small googly eyes
1 small blue rubber band; find the small blue rubber bands at craft stores.
1 Twizzler Pull n Peel
1 red pipe cleaner
White playdough
1 craft stick
1 small rainbow sticker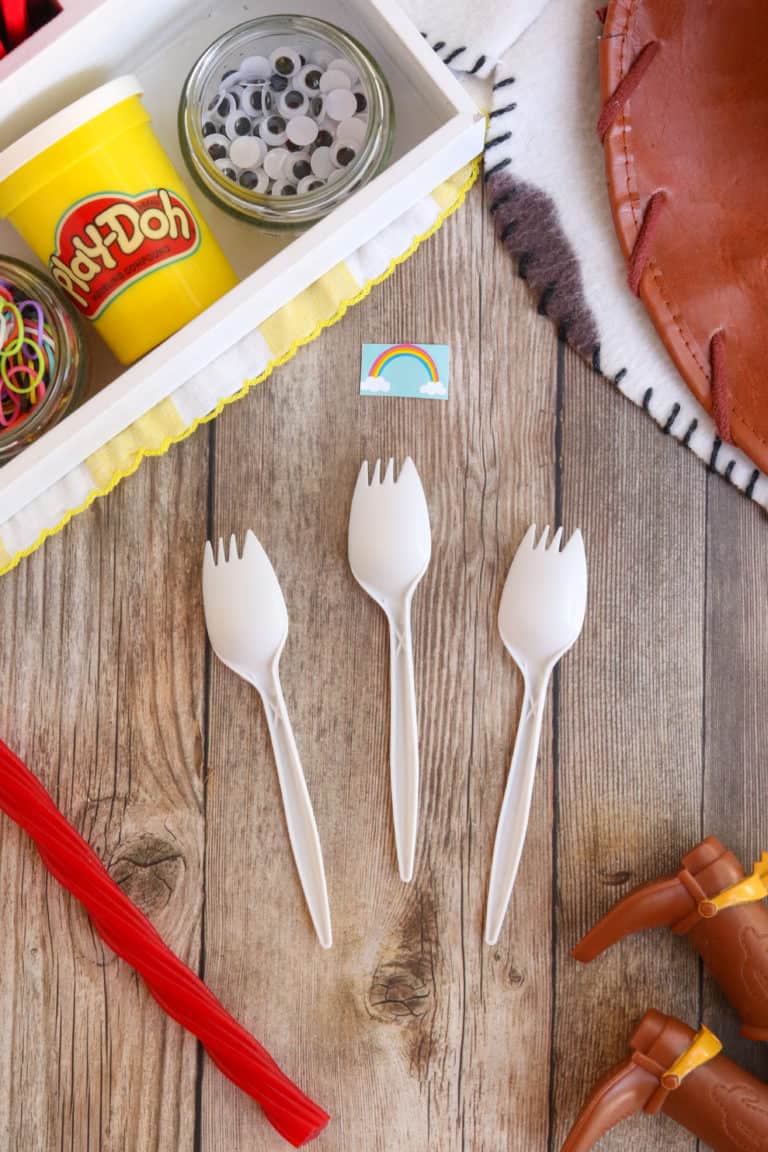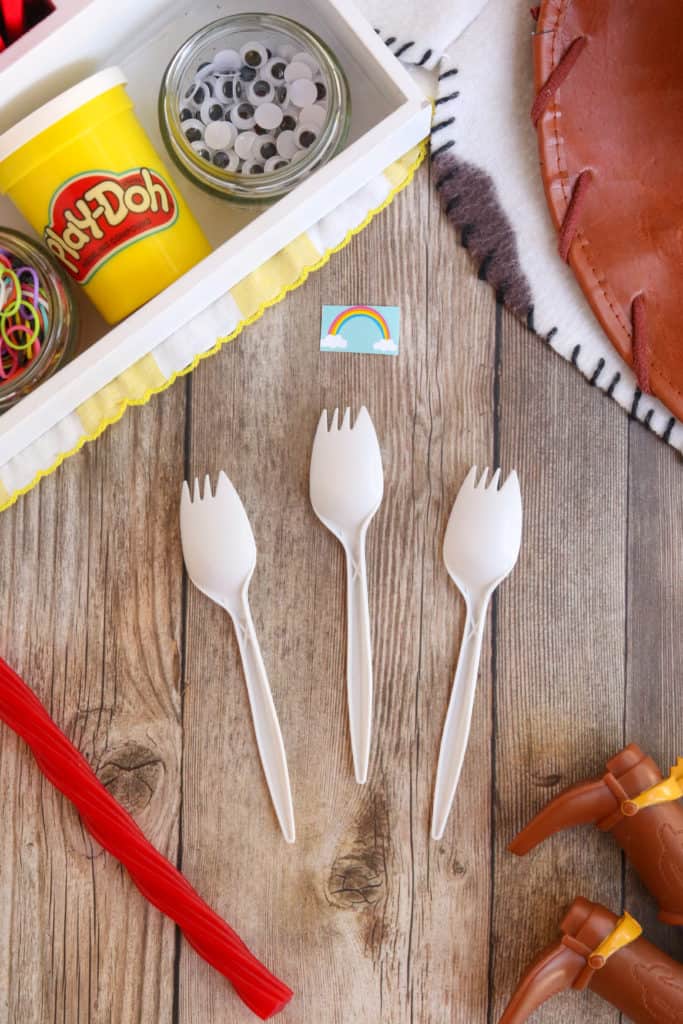 Standard craft items:
Hot glue
Optional- E6000 is ideal for the rubberband
Scissors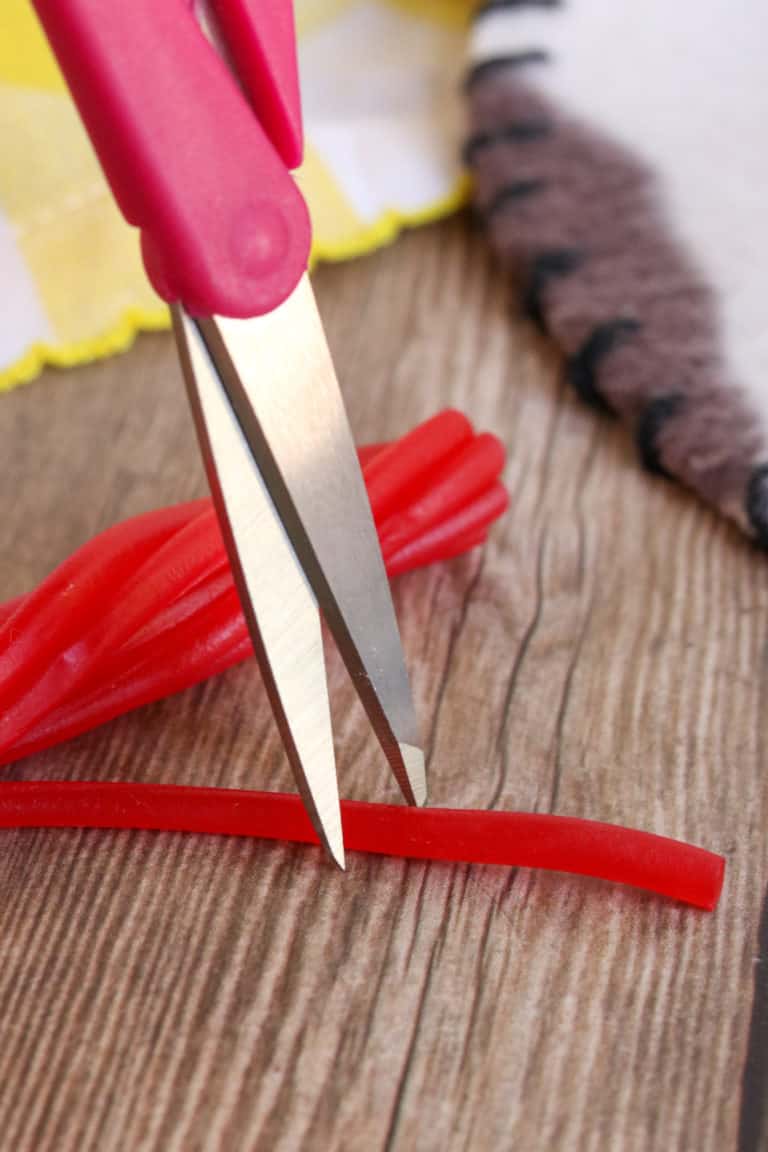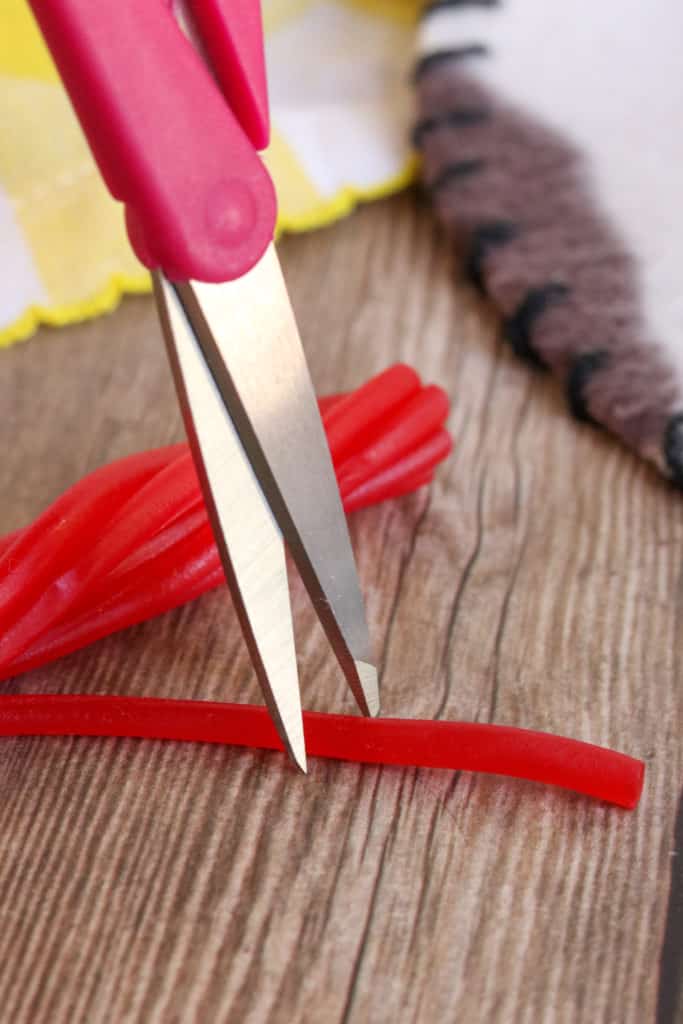 Directions: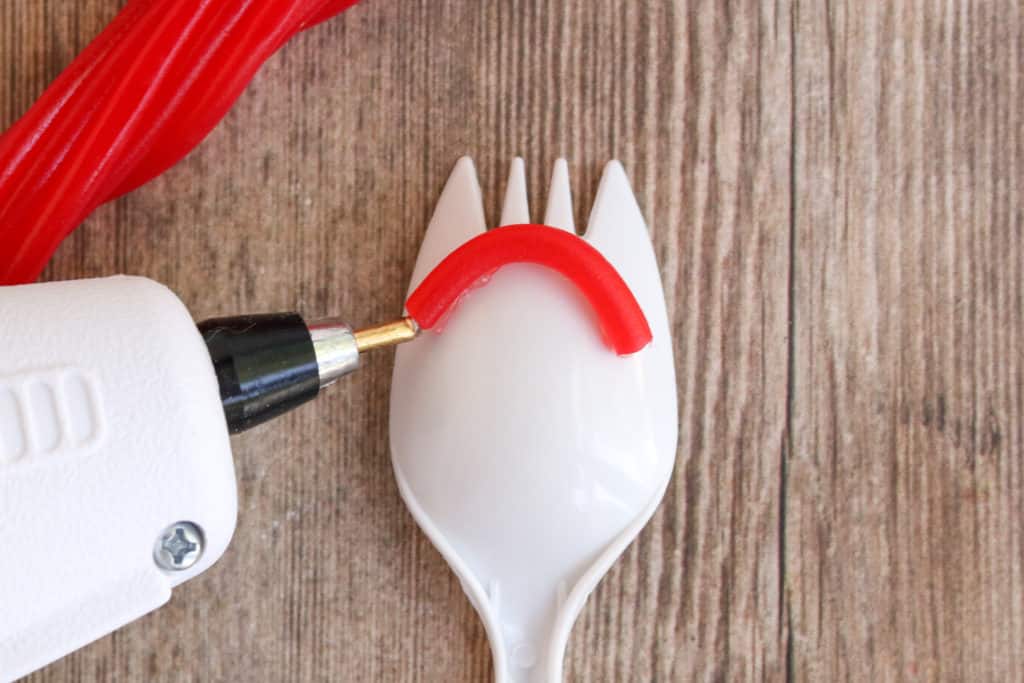 Pull one strand of licorice off the Twizzler pull and peel and use the spork to measure for an eyebrow. Use scissors to cut to desired width and glue the eyebrow on with a hot glue gun.
To place the mouth, apply using hot glue or E6000. When your applying it, be sure to squish the rubber band to make a mouth-like shape. Pro tip: Hot glue is ideal because it dries so quickly, but for the mouth the E6000 is best. It dries clear, and the rubberband REALLY sticks.
Glue the googly eyes into place using hot glue or E6000.
Place the spork in the center of the red pipe cleaner, and twist each side around the base of the spork twice to secure.
Bend the tips of the pipecleaners three times, to make Forky's hands.
Roll a small 2 inch round ball out of white playdough.
Break the craft stick in half and apply the rainbow sticker to one half.
Place the spork into the top of the playdough ball, and insert the craft sticks into the bottom as feet.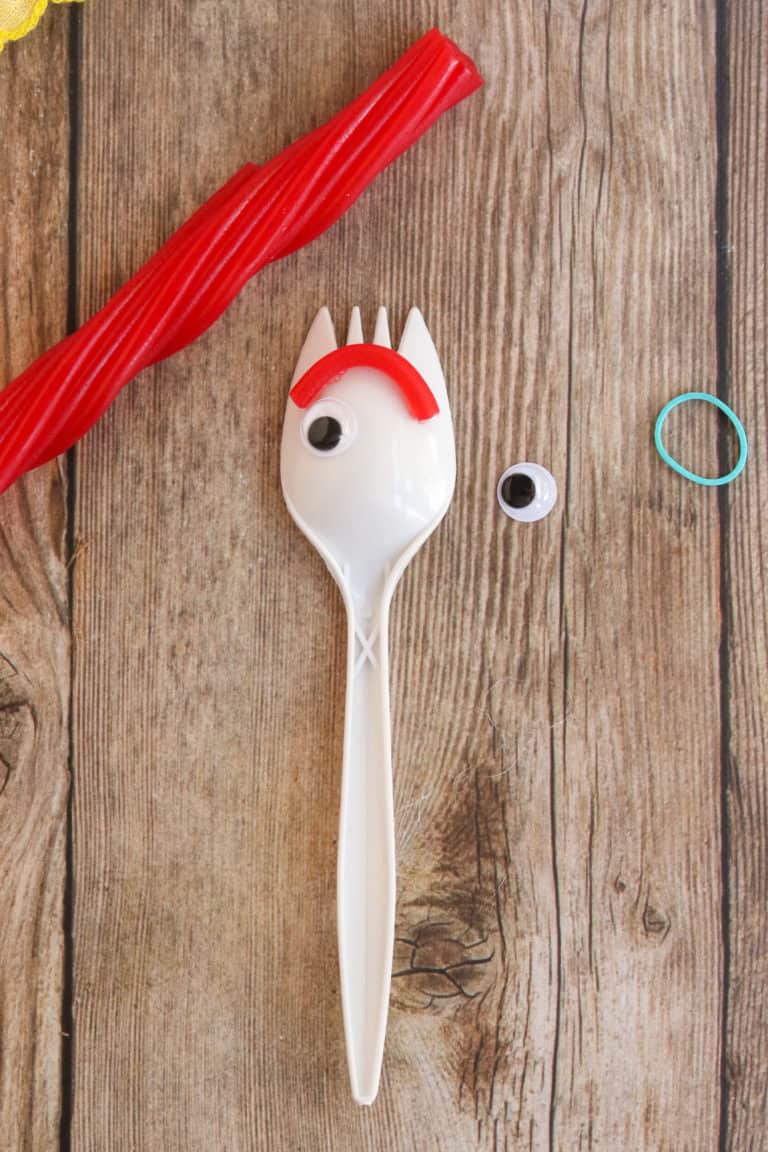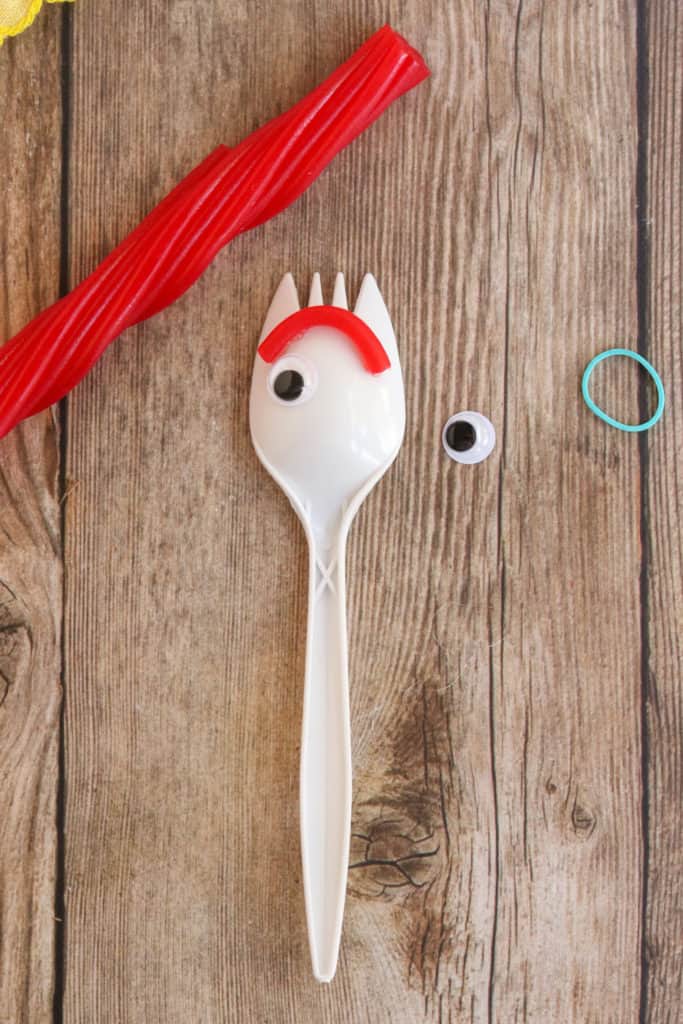 Tip: Be sure to place the mouth before the eyes, so you can ensure you have enough space!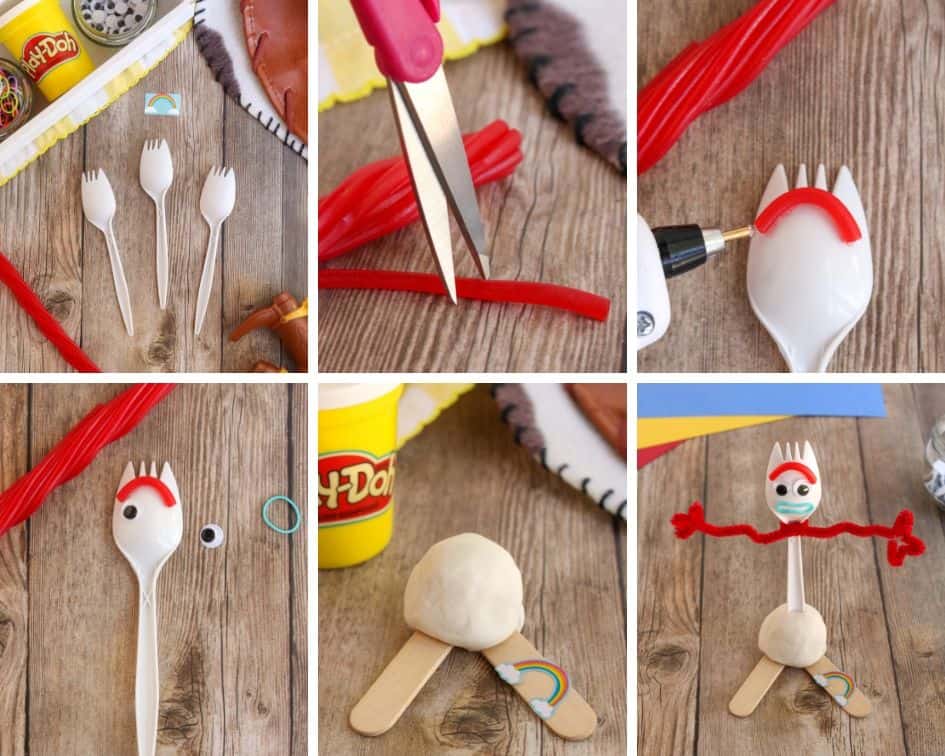 About Toy Story 4
Woody (voice of Tom Hanks) has always been confident about his place in the world, and that his priority is taking care of his kid, whether that's Andy or Bonnie. So, when Bonnie's beloved new craft-project-turned-toy, Forky (voice of Tony Hale), declares himself as "trash" and not a toy, Woody takes it upon himself to show Forky why he should embrace being a toy. But when Bonnie takes the whole gang on her family's road trip excursion, Woody ends up on an unexpected detour that includes a reunion with his long-lost friend Bo Peep (voice of Annie Potts). After years of being on her own, Bo's adventurous spirit and life on the road belie her delicate porcelain exterior. As Woody and Bo realize they're worlds apart when it comes to life as a toy, they soon come to find that's the least of their worries.
"Toy Story 4" is directed by Josh Cooley, and produced by Mark Nielsen and Jonas Rivera. Andrew Stanton, Lee Unkrich and Pete Docter are executive producers, and Stanton and Stephany Folsom wrote the screenplay. Longtime "Toy Story" collaborator Randy Newman composed the score and wrote two new original songs, "I Can't Let You Throw Yourself Away," performed by Newman, and "The Ballad of the Lonesome Cowboy," which is performed by Chris Stapleton for the end credits.