My Daughter's Favorite Kale Dish (Plus 4 Others Your Family Will Love)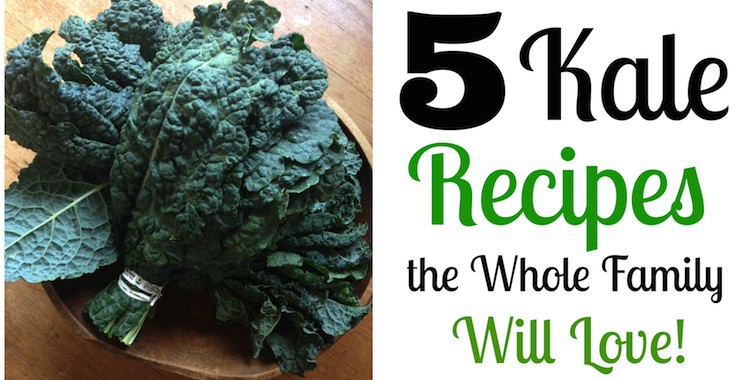 What I am about to tell you is a true story. No, really it is. This past January my little girl turned eight. To celebrate her big day I asked her what she wanted to do for dinner.
Did she want to go to sushi? No.
Did she want to go to our favorite steak house? No.
Did she want to go carnitas tacos (one of her favorite things… like ever)? No.
"I want your kale, bean and sausage dish, mama," she demanded.
"Really," I asked.
"YES! It's my favorite dish EVER!"
It not only warmed my heart that she preferred my cooking to going out, but that she requested a dish that is heavy on the kale really impressed me (and still does).
This is hands down her favorite versiom, but I've experimented with others. And being that kale is the showing up everywhere from four star restaurants to Disney World to our local supermarket's deli, working the leafy green into your families meals isn't just healthy, it's in style!
In addition to my own Kale, Sausage and Bean recipe, I've included links to four other recipes that are very kid friendly. Enjoy!
Kale, Sausage and Beans
This is a lovely rustic dish that is simple, filling and relatively healthy (depending on what kind of sausages you use).
Ingredients:
2 TBSP Olive Oil
1 Bunch kale (chopped)
4 Sausages (we like to use mild Italian) precook sausage for a bit in boiling water (about 7 minutes) then chop into 1 inch chunks.
1 Onion (chopped)
1 Clove garlic
2 Cups chicken Broth
1 Can Cannellini Beans (White Kidney Beans)
Parmesan Cheese (optional)
Directions:
On medium heat, heat olive oil in a Dutch Oven or a wide deep pan.
Add onion and garlic, heat until the onion is almost translucent.
Add in kale and stir.
Add in chicken broth
Let the kale cook down (about eight minutes or so)
When the kale is starting to get nice and soft, add in sausage and the white beans.
Stir and then cover.
Let it cook down for about 15 or 20 minutes.
Keep an eye on the liquid, if it starts to disappear, add a bit more chicken stock or water. It should have a stew like consistency, and when all the elements are cooked through, it will be ready.
Season with salt and pepper to taste.
I like to sprinkle freshly grated Parmesan to finish off the dish (and my husband and I both add a little red pepper flake to add a bit of zing).
And if you have it, serve it with a chunk of rustic bread.
If you family enjoys this simple kale dish, you might try these ones as well:
Kale Chips:
The one hard thing about these kale chips is to not devour the entire serving before sharing with everyone else! I like to use a high end sea salt and for my serving, I add a bit of red pepper. You can check out this easy recipe for making kale chips right here.
Kale Tacos:
This is a great way to sneak in kale into Taco Tuesdays. It works really well with carnitas. I just saute the kale with onions and garlic, and season with salt and pepper and then add with the carnitas and pinto beans. Simple and yummy.
Kale Pizza:
Our family makes a homemade pizza about once a week. We go to our local pizzeria, buy a chunk of their dough and create our own masterpiece in the comfort of our own home. One thing we've been adding is sauteed kale, it pairs well with sausage and olives.
Lemony Kale Salad:
My daughter isn't that fond of salads, but there is something about the lemony kale salad that not only does she eat it, but she actually enjoys it! One thing I do is to massage the kale leaves, it (somehow) makes the kale less bitter and of course rough. You can get a great simple recipe for a lemony kale salad dressing right here.
 Photo Source: Sunny Chanel